Defining Amazon Business Model can be kind of a curious task, as we observe that this global trade giant increases its reach year by year, both geographically and in terms of products and services offered.
To give you an idea of ​​the size of the business we're talking about, in the time it takes you to read this simple article, Amazon may have added about a million dollars more to its revenue.
Amazon Business Model
Well, Amazon went from a bookstore to an "everything store" and then to a worldwide e-commerce giant. But the brand definitely didn't stop there – and its potential never seems to end.
Today, the Amazon catalogue has grown to encompass everything from music and entertainment to cloud technology. And perhaps what keeps its audience so close is its profit margin, which remains low on any product/service offered by the company.
For the buyer, it is comfortable to know that Amazon will always bring a reasonable and competitive price in all fields and products. And for sellers who use the multisided platform, it's convenient to be sure they can easily display their products on the website and make sales on all continents on Earth.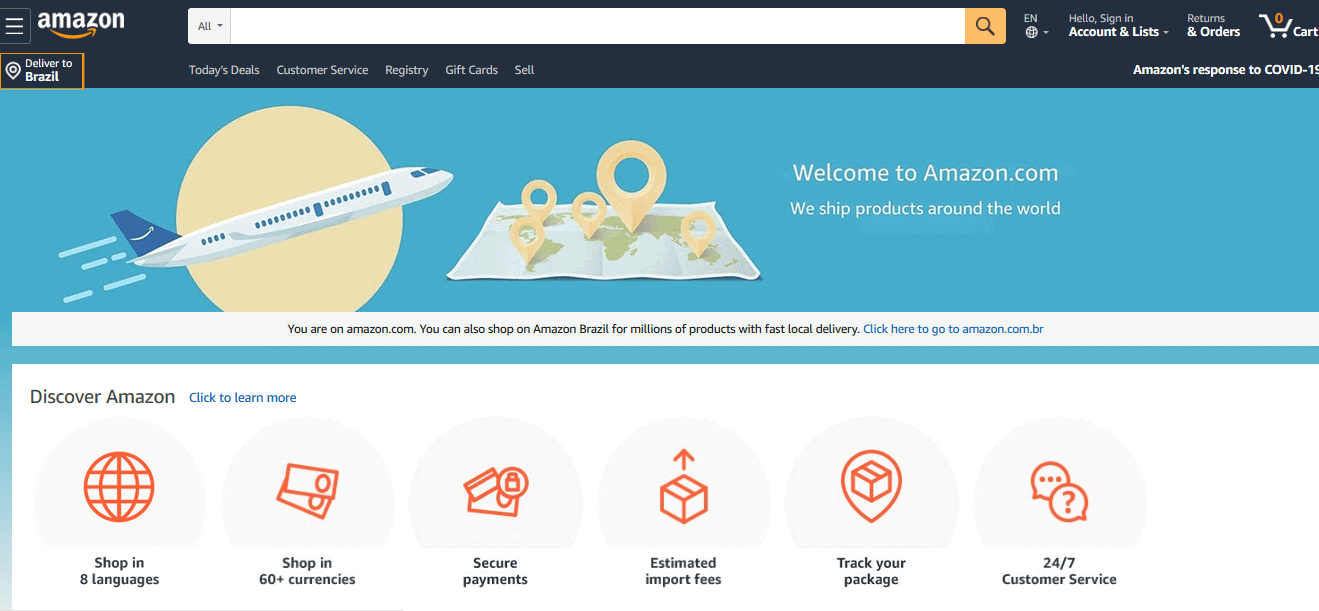 So let's design Amazon's business model canvas, to understand how a simple bookstore, founded in 1994 in the United States, was carried by its visionary founder Jeff Bezos to the title of largest retailer on the planet, a brand for which not even the sky seems to be the limit.
Amazon Business Model Canvas
The Amazon Business Model can be seen in the business model canvas below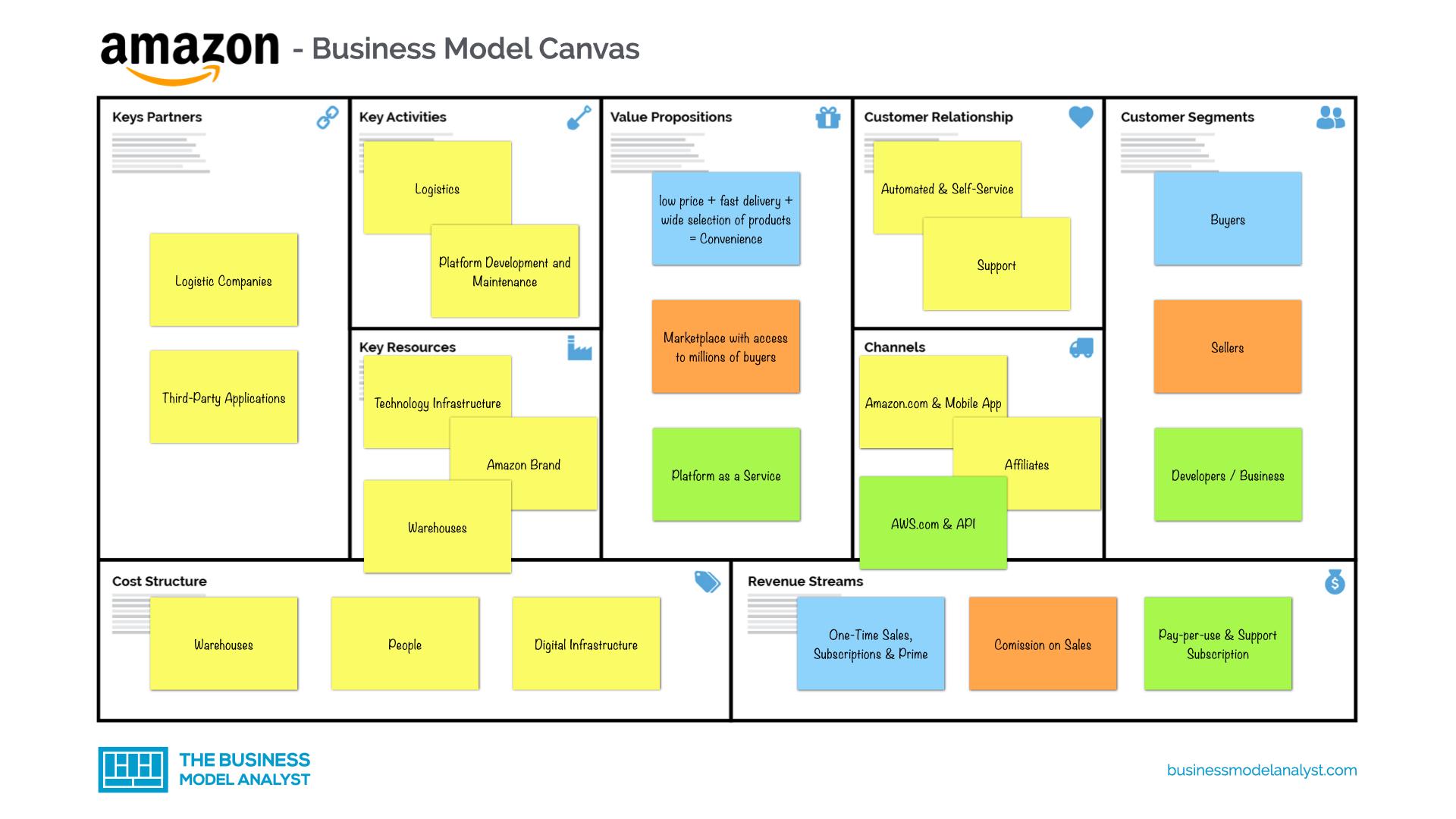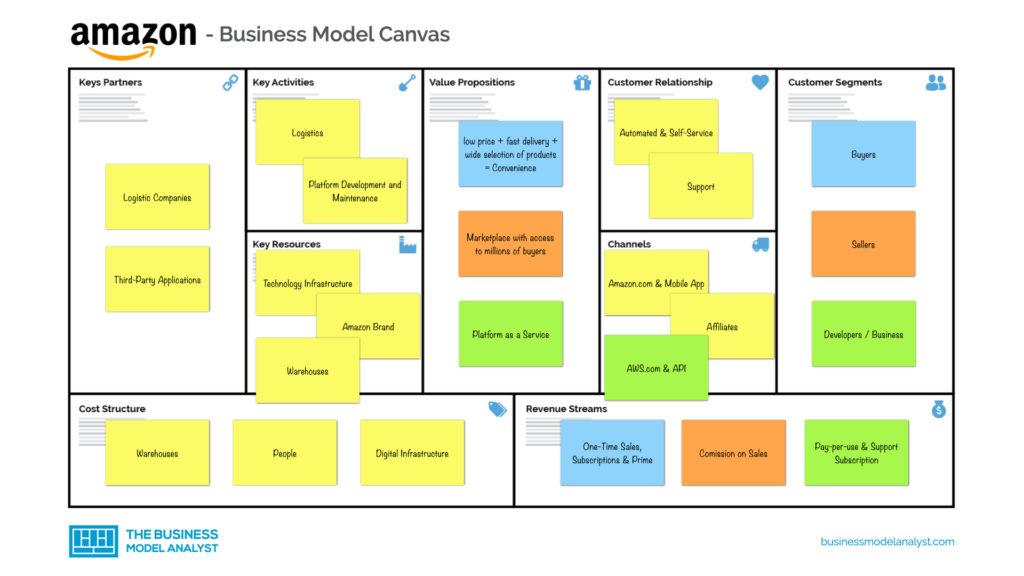 Download High-Resolution PDF of the Amazon Canvas
Customer Segments of Amazon
The customer segments of Amazon can be divided into basically three groups: sellers, buyers and developers.
Sellers are all the companies that use the Amazon's e-commerce platform to sell their products to its wide audience.
Developers are all the community involved with the Amazon Web Services (AWS) – Amazon's cloud computing platform. As its own website states, they are customers and partners "across virtually every industry and of every size, including startups, enterprises, and public sector organizations".
And the buyers are the millions of people across the world who acquire products and services through Amazon's channels. Amazon tracks its customers based on some characteristics, such as interest, engagement and personal information (age, gender, geographical space, language, among others).
Value Proposition of Amazon
Jeff Bezos defines that Amazon's business model is based on three value propositions: low price, fast delivery and a wide selection of products.
However, looking at these three consumer benefits, we can say that Amazon's greatest value proposition is convenience.
Because the audience understands that, with just the help of a device connected to the internet, they have access to the product catalog of the largest retailer in the world, with a reasonable price and an agile, safe and reliable delivery service.
Channels of Amazon
Certainly, the Amazon website is its largest and most important channel. But important channels also include the brand's app, Amazon Prime (its streaming, entertainment and subscription platform) and its affiliate program.
As an internet-based company, its marketing is basically digital, including advertisements, sponsored publications and e-mail marketing. Overall, the company invested more than ten billions of dollars in media in the year 2019.
Customer Relationships of Amazon
Amazon's focus, no doubt, is to have a healthy and long-lasting relationship with its customers. For this reason, they maintain several communication channels open with their consumers – such as reviews and comments on the platform, telephone, online chat and email contact. And they don't usually take a lot of days to give a feedback.
Key Activities of Amazon
Amazon's key activities are all about the development, maintenance and expansion of its gigantic platform.
Therefore, the brand invests in website and app development and management, management of the entire supply chain, storage and logistics, information security on all platforms (including e-commerce, streaming, cloud computing etc.), production of films, series and other products from its video platform, as well as marketing all of its products and services.
Key Resources of Amazon
"The one" Key Resource of Amazon is, with no doubt, its technological infrastructure, which needs to be broad and very secure, in order to keep the whole chain running without interruption and without losses (in 2013, Amazon was down for about 40 minutes, and that meant a loss of more than $ 5 million in sales).
Aside from that, other key resources include physical spaces of the company, such as offices, warehouses, supply chain structure and automation, among others.
And, of course, human resources are essential for Amazon, which needs to guarantee A-players among its designers, engineers, developers etc.
Key Partners of Amazon
Sellers: certainly the most important partners of the brand, since they are the generators of Amazon's first source of revenue. There are approximately 8 million worldwide, which guarantee more than half of the company's revenue.
Affiliates: bloggers who earn a commission for any referrals that lead to a sale. In addition to helping with sales, they promote traffic to the platform.
Developers: are the partners of the AWS segment, or, as Amazon itself defines, "thousands of systems integrators who specialize in AWS services and tens of thousands of independent software vendors (ISVs) who adapt their technology to work on AWS".
Content creators: independent authors who can publish their works through Kindle Direct Publishing.
Subsidiaries: include companies that provide storage spaces, stores and systems, in addition to brands and products developed by Amazon itself, such as Amazon Essentials, Amazon Elements, Kindle, Alexa, etc.
Cost Structure of Amazon
The cost structure of Amazon includes its complete IT structure, customer service center, software development and maintenance, information security, marketing, as well as all expenses involved in maintaining its physical spaces, such as fulfillment centers, sortation centers and delivery stations.
Revenue Stream of Amazon
After understanding the entire Amazon chain of operation, we finally come to the question of the majority: how does Amazon make money? Well, for that, we need to take a look at each of the different operations that are under this big corporate umbrella.
Amazon Marketplace: the company's first revenue stream, Amazon.com accounts for more than 50% of the income. Basically, Amazon asks for a fee from its sellers to promote and advertise their products.
Amazon Prime: it is Amazon's subscription business model and has been vital to the brand's growth. In exchange for a monthly fee, subscribers have access to the platform's video and music streaming catalog, free two-day shipping, unlimited photo storage etc. Prime currently has more than 150 million members.
Amazon Web Services: it is a low-cost complete IT structure platform, whose services are contracted by companies, organizations and institutions around the world.
Amazon Kindle: it is Amazon's e-reading service. Users can buy, browse and download books, magazines and newspapers, available at Kindle Store. Amazon doesn't make much money from Kindle itself, but by attracting traffic to the Prime membership plan. Besides, the platform allows independent authors to publish their info-products and e-books, charging something between 30-70% of royalty fees from the sales.
Amazon Patents: the company has more than 1,000 patents, several of which are licensed by other companies.
Amazon Advertising: Amazon Ad platform offers sponsored ads and video. It is a very efficient marketing channel, since the audience that accesses the platform is already there with the intention of buying.
In Conclusion
It can be said that Amazon is the face of the current market – global, digital, constantly expanding. It is an increasingly productive brand, which adapts quickly to new demands, in a fast, effective and original way.
For this reason, for now, even though it faces competition on all its fronts, individually, its corporate umbrella remains unparalleled and, therefore, must remain in the lead, years to come.