The Google business model is a multisided platform. What started as a search company is nowadays a tech giant that has multiple offers. Can you imagine business, studies, and entertainment without Google today? Google ended the yellow pages by providing the possibility to find, with a click of a mouse, not only the businesses of your city but of the whole world!
The search engine also reduced students' visits to libraries at their educational institutions by allowing access to collections and files spread across the planet. Anyway, any question that comes to our mind, at any time of the day, it's enough picking up the phone and doing a quick search for the answer. But what does Google gain from this? Understand how the search engine monetizes this service, turning it into a billion-dollar machine.
What is the Google business model?
Google is based on a hidden business model pattern, which means that it's not the user who pays for the service.
In the case of Google, its main revenue is the same as the communication companies: paid media. Companies pay to advertise on the search engine and be seen first by the users who make up their target audience. And this is a good deal for brands due to the massive reach of Google, which covers more than 90% of all searches performed on the internet, totaling more than 80 billion searches per year.
A brief history of Google
Google's history goes back to 1995, at Stanford University when Larry Page was to get to know the university facilities, and Sergey Brin, one of the current students, was attributed to show the place. At the beginning of what became a friendship, they did not agree on almost anything. But both wondered how the whole mass of information on the Internet was found by the search engines of that time.
Then, they started working on a type of technology where the searches would rely on website backing links (the number of other pages linked to them). They called their brand-new search engine "BackRub" due to its processing system. Not long later, the name was replaced by "Google", mirroring the term googol, which means the number one followed by 100 zeroes.
After raising one million dollars of investment from family, friends, and other investors, Google Inc. was officially born. In the following years, the company grew exponentially, hired engineers and salespeople, and moved to its current headquarters, known as "Googleplex", in California. Google's initial public offering in 2004 raised $1.66 billion, thus creating 7 billionaires (including the two founders, of course) and other 900 millionaires from the early stockholders.
By the end of 2011, Google was processing three billion searches every day. The company needed to build eleven data centers around the planet, each with hundreds of thousands of servers. Nowadays, Google relies on 60,000 employees in 50 different countries, to develop hundreds of products, used by billions of people.
Who Owns Google
Google is the main subsidiary of the holding group Alphabet Inc., which has Google's founders Larry Page and Sergey Brin as the CEOs. As for Google, Sundar Pichai has replaced the founders and nowadays holds the position of chairman and CEO, since December 2019.
Google's Mission Statement
Google's mission statement is to "organize the world's information and make it universally accessible and useful."
How Google makes money
More than 80% of Google's 2019 revenue came from ads (Google Ads and YouTube Ads). But the company also has other important businesses and acquisitions, take a look:
Advertising
Google works with something called Performance Advertising. This means that the advertiser only pays when the user takes the action, such as clicking on a link. These links are tracked and the cost per click (CPC) is measured by the average cost per click during the time that a particular ad was shown. In addition, there is also Brand Advertising. In this case, advertisers pay for cost-per-impressions (CPM). This strategy works best when a brand wants to reach a much broader target audience, in order to increase brand visibility. There are five advertising platforms:
Google Pixel
It is the smartphone brand of Google. It still does not have a large representation among market players or among Google's revenue streams, but it has been growing. When Google acquired Nest Labs, it merged the acquisition with Google Home. The company develops technology gadgets for homes, such as cameras, doorbells, alarm systems, smoke systems, locks, and thermostats.
YouTube Premium
YouTube Premium is a subscription model that offers ad-free streaming content across YouTube, YouTube Music, and YouTube Gaming.
Google Cloud
It's a suite of cloud computing services that runs on its own infrastructure, providing resources for operating applications on the web. It's a subscription business model, in which companies pay according to the number of resources they use. It represented 5.5% of Google's total revenues. Finally, it is worth noting that, in addition to these revenue streams, Google has also been investing in other acquisitions, such as Waze, Motorola Mobility, DoubleClick, Looker, Fitbit, and ITA Software. And the company also invests in bets for the future that include Loon, Waymo, Wing, Verily, and Sidewalk Labs, all aimed at technological innovations, in different places on the planet.
Google's Business Model Canvas
Let's take a look at the Google Business Model Canvas below: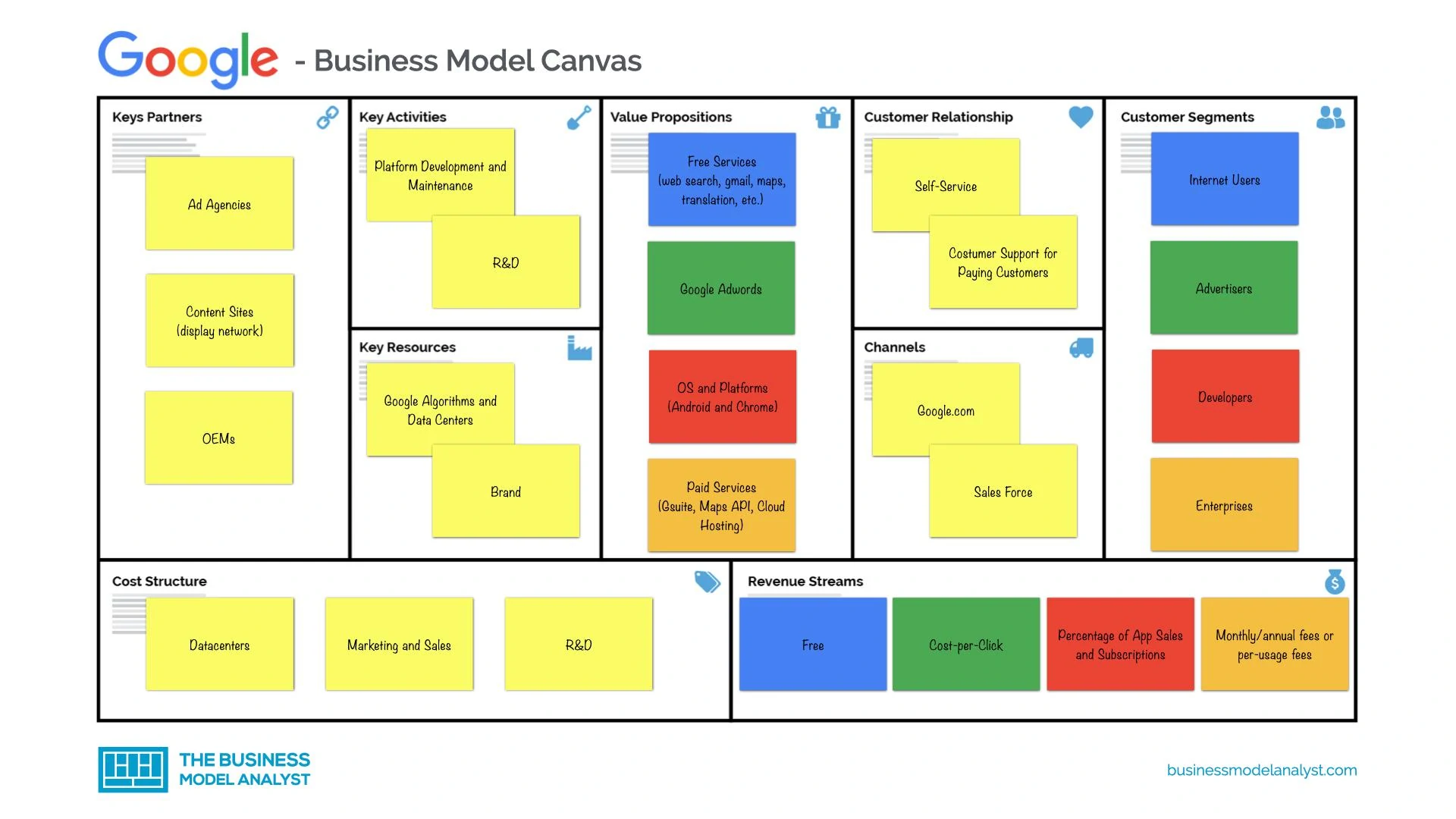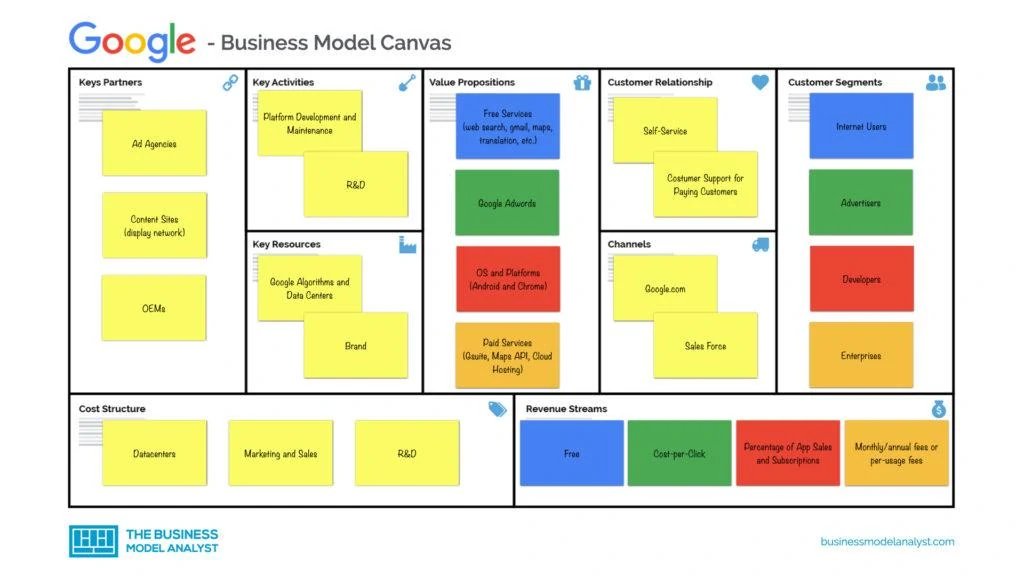 Google's Customer Segments
Google's customer segments are divided into three: advertisers, content publishers, and users.
Advertisers include all entrepreneurs who want to market products and services online, whether they are large or small businesses, advertising agencies, or individuals;
Content publishers are the people or companies that create content to publish on the web in order to monetize it, such as bloggers, news sites, entertainment sites, digital influencers, and more;
Users include everyone who searches Google — me, you, and everyone who wants to find something on the internet. This is the segment that supports Google and the other two segments, after all, without an audience, there is no reason for advertising.
Google's Value Propositions
Google has a value proposition for each of its customer segments.
For advertisers, the biggest advantage is being able to invest in advertising knowing that they will spend money only on their specific audience. That's because Google Ads are based on the keywords users are looking for. People often look to buy something. More than 80% of today's buyers do some research on Google before purchasing a new product. So, advertisers' ads will be shown to people with purchase intent, which increases the level of advertising accuracy;
For content producers, the value proposition is being able to monetize their work. Generating revenue from the production of content takes a lot of traffic. Google makes it possible for these producers to explore possibilities both for organic traffic and through paid media;
For users, the big benefit is being able to use the largest search engine in the world for free. With Google, they have access to information from around the world, in an organized, fast, simple way, from anywhere (with their phones) and in order of relevance.
Google's Channels
Google's main distribution channels are certainly its own search engine and apps, such as Android, Chrome, Maps, and Gmail. The company also uses notifications (Gmail, News, Chrome, etc.) and recommendations (YouTube, Play Store, Play Music, etc.) a lot. Google also uses its own ecosystem for its products to advertise to each other.
Google's Customer Relationships
Google is basically self-service. But its customer relationships involve ensuring that search results are organized for accuracy and relevance so that users find what they're looking for more quickly and with less risk of misinformation. This is also true for ads that are shown according to keywords.
Google's Revenue Streams
Free
Cost-per-click
Advertising
Percentage of app sales and subscriptions
Sales of products and services
Subscriptions from YouTube
Monthly/annual fees or per-usage fees
Google's Key Resources
The biggest key resources of Google are not physical, but intellectual property and patents. Besides that, there are the search algorithms and Googlebot (the robot that checks content), the global technology infrastructure, and Android (the mobile operating system).
Google's Key Activities
Google's key activities aim to ensure a good experience for users, avoiding negative network effects. They include:
Crawl and index: Google searches all existing pages on the World Wide Web and indexes them according to their content, in a kind of gigantic worldwide index;
Search, match, and present: It is estimated that there are more than 8 billion pages on the web and Google is responsible for organizing the results of each search by keywords according to the relevance of the matching pages found;
Improve searching: Google tries to understand what the user is looking for, in order to make it easier for them to find what they are looking for. When presenting the most recent high-volume searches, through autocomplete or suggestions, Google believes that it has improved results by more than 30% of searches. For the same reason, Google is always trying to disqualify sites that promote misinformation, spam, and click-baiting;
Build ecosystems: This is the objective when the company promotes the integration and communication between its tools, such as Google Search Engine, Android, Chrome, YouTube, Gmail, etc.;
Marketing: Google also needs to promote its products and services.
Google's Key Partners
Google's business model is a multi-sided platform, which means that all sides of the equation are important to making the business work. Its key partners, therefore, are basically its customers:
Users: Not only from the search engine but from related products, such as Gmail, Maps, Android, etc.;
Content producers: Websites owners, bloggers, influencers, and YouTube publishers, which produce the content to be displayed as a result of searches and which insert Google advertising spaces (such as banners) on their own pages and portals;
Advertisers: Brands and businesses that create their websites (which will be displayed among search results), register with Google My Business, and advertise with Google.
In addition, Google has other partners that guarantee its global infrastructure, such as SEO partners (search engine optimization professionals who work so that companies and content producers attract more and better traffic), shareholders, developers, and manufacturers, in addition to Alphabet, the parent company of Google.
Google's Cost Structure
Google's cost structure consists of:
Research and development
Traffic acquisition costs (TAC)
Sales and marketing
Data centers
General, administrative, and legal operations
Google's Competitors
Search Engines
Bing: This Microsoft's search engine accounts for something between 2% and 6% of the market share worldwide. But is still the closest that another company has come to competing with Google in this industry. While the Google algorithm prefers engaged and fresh content, Bing opts for old and reputable pages;
Yahoo!: Yahoo was one of the biggest search engines on the planet, but now accounts for around 2% of the market share. It still has a strong portal with sports, music, movies, games, and more;
DuckDuckGo: This 2008's search engine calls itself the "anti-google" because what differentiates the mechanism is that DuckDuckGo does not track the user. Its growth comes in the wake of serious privacy issues, but it still has just 0.3% of the global market share;
Baidu: This is the Google of China, and it dominates more than 60% of the search engine market in the country. Globally, it holds fourth place, with 0.8% of the market share, but it is the greatest obstacle for Google in the Chinese market;
Yandex: The same story of Baidu, but now in Russia. Yandex takes almost 45% of the engine search market share in the country, and Google has even suffered some bans from the Russian government, due to so-called prohibited content.
Advertising
Facebook: Facebook and Google together dominate the advertisement on the Internet. Facebook has around 22% of the money invested in online advertising in the U.S., while Google is the leader in the market, with around 37% of the investments;
Amazon: If this competition seems odd at first, it actually makes sense because Amazon has taken the lead in the product search category, thus accounting for 8.8% of the ads share nowadays.
Video-Sharing (YouTube's Competitors)
TikTok: With more than 1 billion users in just four years, TikTok is currently the most downloaded app on mobiles, and that might take some audience out of YouTube. However, TikTok is focused on short clips and snippets, while YouTube is about long-form content;
Instagram: Despite Instagram's and YouTube's different operations and services, they clash when it comes to video-sharing since Instagram enables publishing videos on the feed, stories, IGTV, and, more recently, Reels.
Mobile Industry
Apple: Android leads the market (about 75%) and surpasses iOS easily, since Apple's operating system is only used in iPhones. However, Apple is a threat in both the software and hardware market, since Google also has its Pixel phone and acquired Motorola.
Cloud
Amazon Web Services: AWS is the clear leader in the field, with 33% of the cloud infrastructure on the globe. Google is third, with just 8%;
Microsoft Azure: The company holds second place, in the middle of Amazon and Google, accounting for 16% of the cloud market.
Google's SWOT Analysis
Below, there is a detailed swot analysis of Google: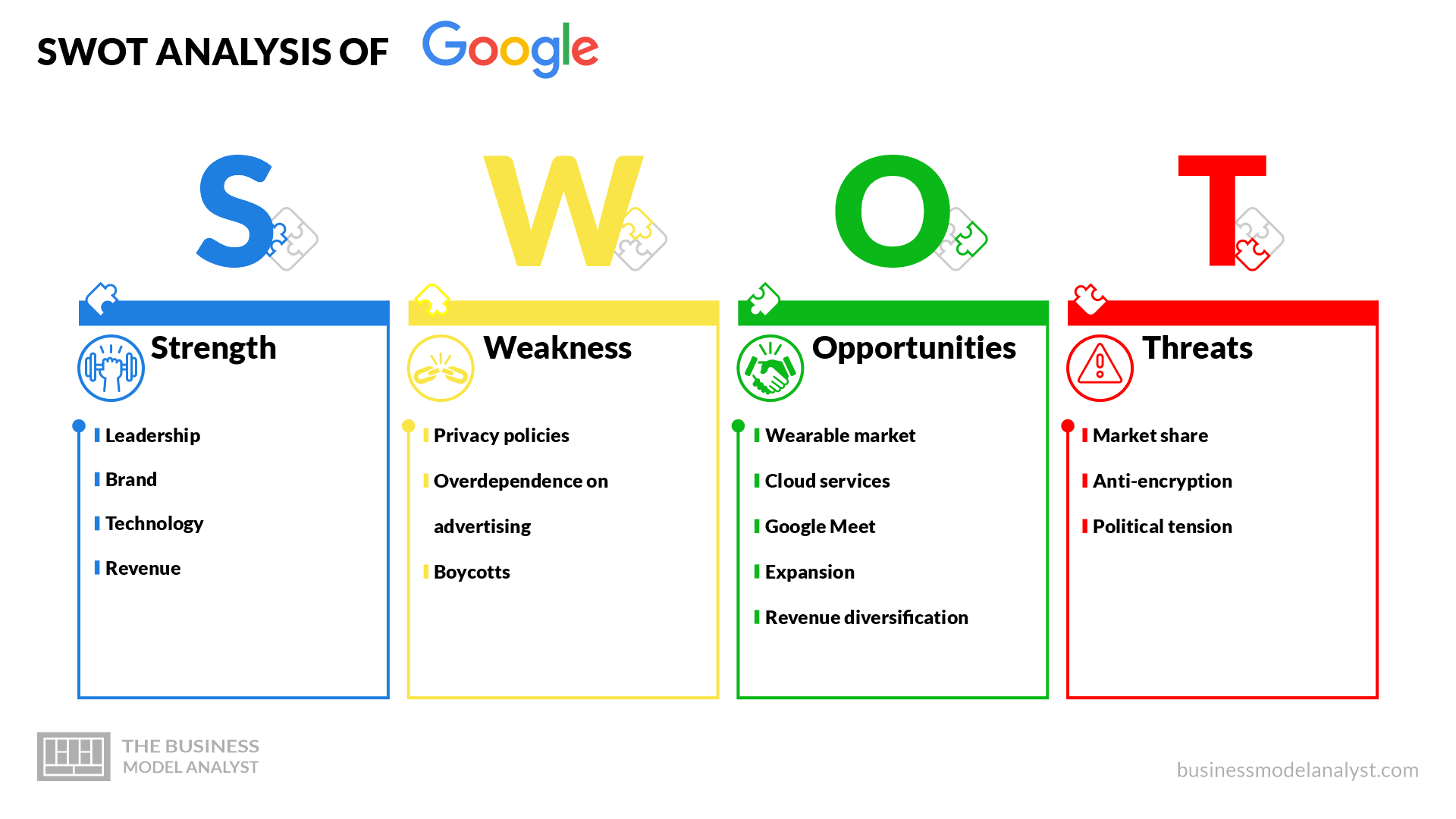 Google's Strengths
Leadership: Google is the indisputable leader of the online search engine market, and no competitor has come to a threatening position;
Brand: Google is one of the most famous in the world and, according to Forbes, the second most valuable one, only behind Apple;
Technology: Google's processing system is able to process over 40,000 queries per second, or 3.5 billion per day;
Revenue: Google's huge revenue has ensured one of the fastest growths in the world, and permits the company to invest in innovation and new products or acquisitions on a regular basis.
Google's Weaknesses
Privacy policies: Google is frequently questioned about its inner policies of hiding information on its algorithms and similar;
Overdependence on advertising: More than 80% of its revenue comes from this source of revenue, and that can suffer from the competition and political/economic conditions;
Boycotts: Major brands have boycotted Google and YouTube for having their ads alongside extremist content.
Google's Opportunities
Wearable market: Google has acquired Fitbit to enter the growing wearable (smartwatch and fitness band) market;
Cloud services: Although Google is still the third in this market and is behind the first two when it comes to services offered, the company is investing in this industry to enhance it and diversify its own revenue streams;
Google Meet: Recent pandemics have made Google exploit the demand for remote work solutions;
Expansion: Emerging economies are open to receiving cloud services and high-speed internet;
Revenue diversification: Google has businesses to avoid dependence on advertising (YouTube TV, Google Cloud, Google Play, hardware, etc.).
Google's Threats
Market share: Online advertising market is watching competition take share from Google regarding online ads, especially from Facebook and Amazon;
Anti-encryption: Governments and child welfare groups are pushing for the elimination of encryption technologies to ensure child exploiters online are revealed promptly. However, the lack of user anonymity can make it lose customers;
Political tension: Google was to provide cloud service in China, but the plan was aborted due to geopolitical tensions with the country. If that problem repeats in many countries, that may affect global operations.
-> Read More About Google's SWOT Analysis
Conclusion
Taking a step back and looking at the big picture, it's clear that Google's business model isn't just about search engines or ads. It's a tapestry woven from various segments and unique ventures in the tech world. Everywhere you turn in the industry, Google's presence is felt, making it a formidable contender against virtually any tech giant globally. Now, if you've ever wondered about the nuts and bolts behind Google's meteoric rise and sprawling empire, you're in for a treat. We've delved deep and crafted an insightful guide all about Google's business strategy. Want a closer look? Dive in and discover the Google business model super guide here.