Google Business Model is a Multisided Platform. What started as a search company is nowadays a tech giant that has multiple offers. Can you imagine business, studies and entertainment without Google today?
Google ended the yellow pages by providing the possibility to find, within a click of a mouse, not only the businesses of your city, but of the whole world!
The search engine also reduced students' visits to libraries at their educational institutions by allowing access to collections and files spread across the planet.
Anyway, any question that comes to our mind, at any time of the day, it's enough picking up the phone and doing a quick search for the answer.
But what does Google gain from this? Understand how the serach engine monetizes this service, turning it into a billion dollar machine.
What is the Google business model?
Google is based on a hidden business model pattern. This means that it's not the user who pays for the service.
In the case of Google, its main revenue is the same of the communication companies: paid media. Companies pay to advertise on the search engine and be seen first by the users who make up their target audience.
And this is a good deal for brands due to the massive reach of Google, which covers more than 90% of all searches performed on the internet, totaling more than 80 billion searches per year.
Google Business Model Canvas
Let's take a look at the Google Business Model Canvas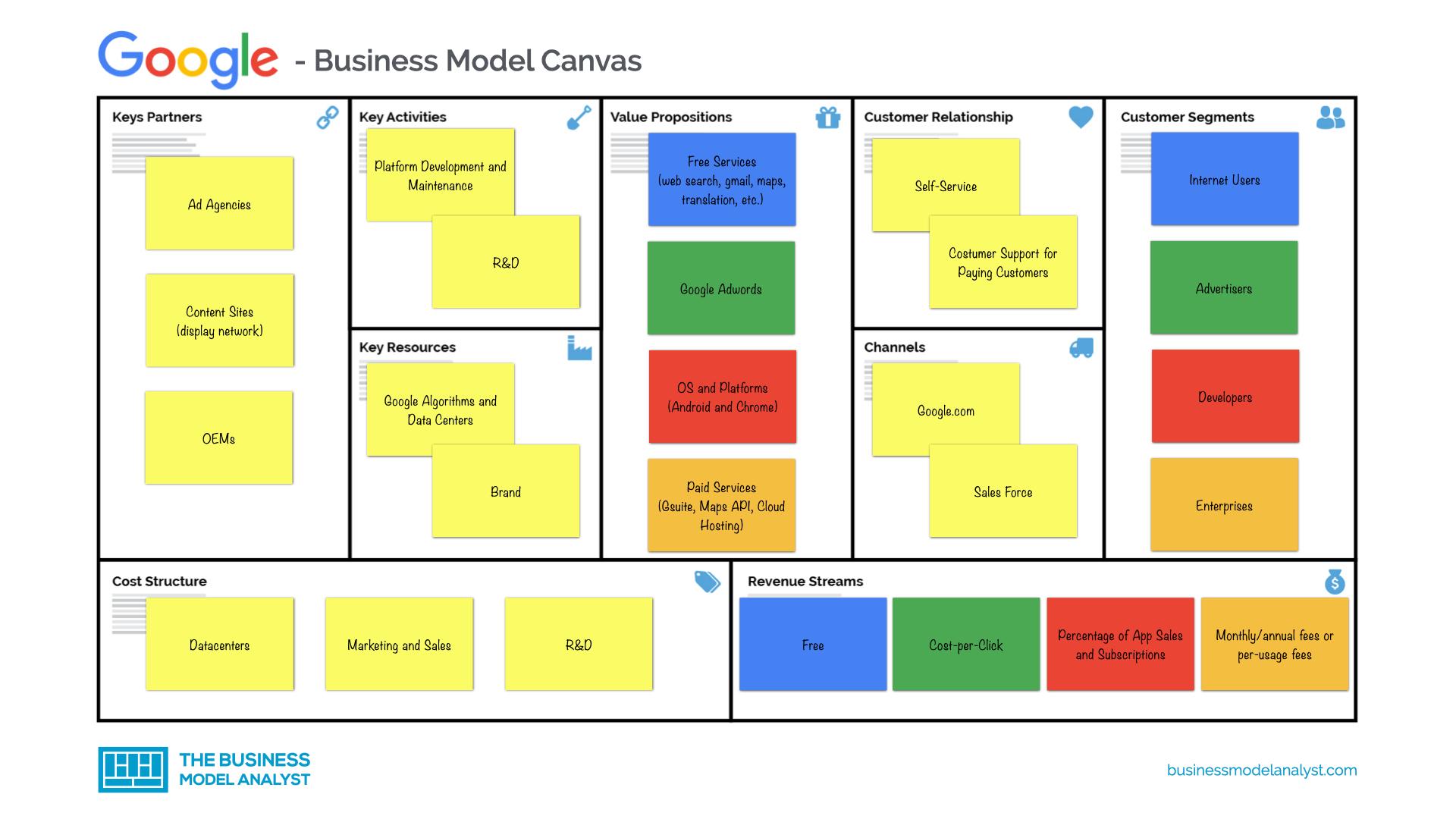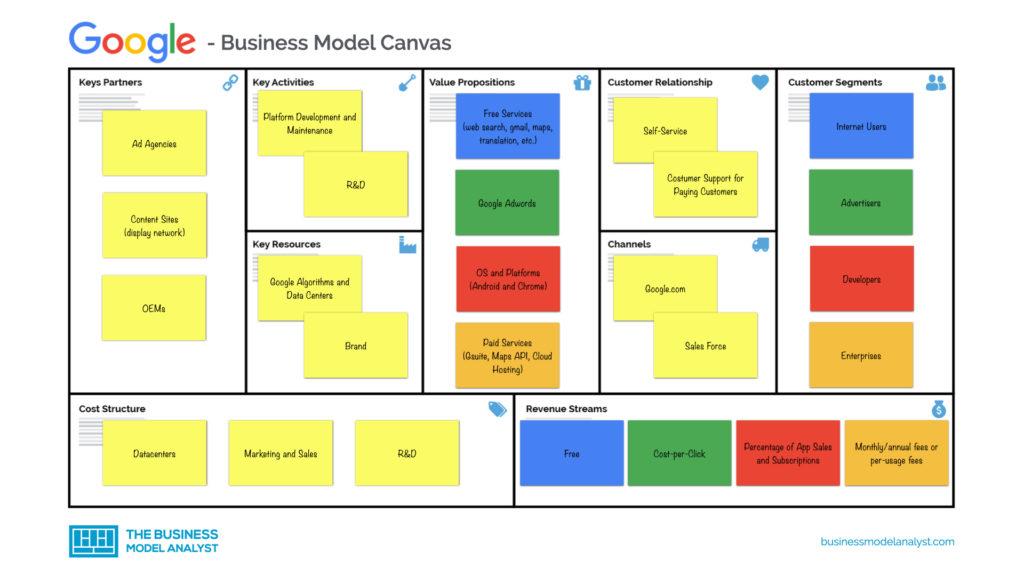 Download a High-Resolution PDF of the Google Business Model Canvas
Customer Segments of Google
Google's customer segments are divided into three: advertisers, content publishers and users.
Advertisers include all entrepreneurs who want to market products and services online, whether they are large or small businesses, advertising agencies or individuals.
Content publishers are the people or companies that create content to publish on the web in order to monetize it, such as bloggers, news sites, entertainment sites, digital influencers, and more.
Users include everyone who searches Google – me, you and everyone who wants to find something on the internet. This is the segment that supports Google and the other two segments, after all, without an audience, there is no reason for advertising.
Value proposition of Google
Google has a value proposition for each of its customer segments.
For advertisers, the biggest advantage is being able to invest in advertising knowing that they will spend money only on their specific audience. That's because Google ads are based on the keywords users are looking for.
People often look to buy something. More than 80% of today's buyers do some research on Google before purchasing a new product. So, advertisers' ads will be shown to people with purchase intent, which increases the level of advertising accuracy.
For content producers, the value proposition is being able to monetize their work. To generate revenue from the production of content, it takes a lot of traffic. Google makes it possible for these producers to explore possibilities both for organic traffic and through paid media.
For users, the big benefit is being able to use the largest search engine in the world for free. With Google, they have access to information from around the world, in an organized, fast, simple way, from anywhere (with their phones) and in order of relevance.
Key Partners of Google
Google business model is a multi-sided platform, which means that all sides of the equation are important to making the business work. Its key partners, therefore, are basically its customers:
Users: not only from the search engine, but from related products, such as Gmail, Maps, Android etc.;
Content producers: websites owners, bloggers, influencers and YouTube publishers, which produce the content to be displayed as a result of searches and which insert Google advertising spaces (such as banners) on their own pages and portals;
Advertisers: Brands and businesses that create their websites (which will be displayed among search results), register with Google My Business, and advertise with Google.
In addition, Google has other partners that guarantee its global infrastructure, such as SEO partners (search engine optimization professionals who work so that companies and content producers attract more and better traffic), shareholders, developers and manufacturers, in addition to Alphabet, the parent company of Google.
Key activities of Google
Google's key activities aim to ensure a good experience for users, avoiding negative network effects. They include:
Crawl and index: Google searches all existing pages on the world wide web and indexes them according to their content, in a kind of gigantic worldwide index.
Search, match and present: it is estimated that there are more than 8 billion pages on the web and Google is responsible for organizing the results of each search by keywords according to the relevance of the matching pages found.
Improve searching: Google tries to understand what the user is looking for, in order to make it easier for them to find what they are looking for. When presenting the most recent high volume searches, through autocomplete or suggestions, Google believes that it has improved results by more than 30% of searches. For the same reason, Google is always trying to disqualify sites that promote misinformation, spam and clickbaiting.
Build ecosystems: this is the objective when the company promotes the integration and communication between its tools, such as Google Search Engine, Android, Chrome, YouTube, Gmail etc.
Marketing: Google also needs to promote its products and services.
Key Resources of Google
The biggest key resources of Google are not physical, but intellectual property and patents. Besides that, there are the search algorithm and Googlebot (the robot that checks content), the global technology infrastructure, and Android (the mobiles 'operating system).
Customer relationships of Google
Google is basically self-service. But its customer relationships involve ensuring that search results are organized for accuracy and relevance, so that users find what they're looking for more quickly and with less risk of misinformation. This is also true for ads that are shown according to keywords.
Distribution channels of Google
Google's main distribution channels are certainly its own search engine and apps, such as Android, Chrome, Maps and Gmail. The company also uses notifications (Gmail, News, Chome …) and recommendations (YouTube, PlayStore, PlayMusic…) a lot. Google also uses its own ecosystem for its products to advertise to each other.
Cost structure of Google
Google's cost structure consists of:
Research and development
Traffic acquisition costs (TAC)
Sales and marketing
Data centers
General, administrative and legal operations
Revenue Streams of Google
The nearly $ 162 billion in Google's reported revenue on the last day of 2019 comes from different revenue streams, but most of it comes from online advertising.
How does Google make money?
More than 80% of Google's 2019 revenue came from ads (Google Ads and YouTube Ads). But the company also has other important businesses and acquisitions, Take a look:
Advertising
Google works with something called Performance Advertising. This means that the advertiser only pays when the user takes the action, such as clicking on a link. These links are tracked and the cost per click (CPC) is measured by the average cost per click during the time that a particular ad was shown.
In addition, there is also Brand Advertising. In this case, advertisers pay for cost-per-impressions (CPM). This strategy works best when a brand wants to reach a much broader target audience, in order to increase brand visibility.
There are five advertising platforms:
Google Pixel
It is the smartphone brand of Google. It still does not have a large representation among market players or among Google's revenue streams, but it has been growing.
When Google acquired Nest Labs, it merged the acquisition with Google Home. The company develops technology gadgets for home, such as cameras, doorbells, alarm systems, smoke systems, locks and thermostats.
YouTube Premium
YouTube Premium is a subscription model that offers ad-free streaming content across YouTube, YouTube Music, and YouTube Gaming.
Google Cloud
It's a suite of cloud computing services that runs on their own infrastructure, providing resources for operating applications on the web. It's subscription business model, in which companies pay according to the amount of resources they use. It represented 5.5% of Google's total revenues.
Finally, it is worth noting that, in addition to these revenue streams, Google has also been investing in other acquisitions, such as Waze, Motorola Mobility, DoubleClick, Looker, Fitbit and ITA Software.
And the company also invests in bets for the future that include Loon, Waymo, Wing, Verily and Sidewalk Labs, all aimed at technological innovations, in different places on the planet.