The Netflix business model is a mix of On-Demand Subscription with All You Can Eat business models types. Let's better understand that in this article. Quite possibly, you've been in a circle of friends in which somebody comments about a series they watched recently and someone else asks, "Is that on Netflix?".
That's because Netflix is ​​now the largest streaming provider of entertainment content on the planet — and perhaps the biggest responsible for the series growth of recent years. What you may not know is that Netflix is ​​more than 20 years old and when it was founded, back in 1998, it was just a DVD rental service by mail.
However, the company has not stopped in time, like many others in the entertainment industry, and its current success is due precisely to its ability to follow trends and break standards. Therefore, let's get to know how Netflix's business model works, which has been transforming over the years to keep up with the market and reach the level it is today.
What is Netflix?
Well, to begin with, Netflix is ​​a streaming content provider, specialized in entertainment. Subscribers to the platform have a huge catalog of films, series, documentaries, and television shows at their disposal, to be watched anytime and through any device connected to the internet (smartphone, smart TV, laptop, etc.). But, as mentioned above, Netflix did not start directly with this business model, let alone with this value purpose. On the contrary, its first business model was based on a DVD rental system sent by mail to the entire United States. Let's understand a little bit about how it all happened to get here.
A brief history of Netflix
Netflix was founded in 1997, by Marc Randolph and Reed Hastings, in California. They had the idea during a commute between their homes in Santa Cruz and Pure Atria, Hasting's company, where Randolph was working as marketing director. Netflix was launched in April 1998 as one of the world's first online DVD rental companies, with a small and under 1,000 titles.
Their initial business was to send physical copies of films, shows, video games, and other media through the American standard mailing system, in a pay-for-use model. The following year, they changed to a subscription model. To order the films, users would browse Netflix's website, choose the title, and put in an order. After watching, they just had to post the DVD back.
The name Netflix (as you may have noticed) is a combination of "net", from the internet, and "flix", a variation of "flick", an abbreviation for a movie. However, over the next decade, Netflix watched the DVD rental market begin to decline and soon adapted its business model. They stopped sending physical copies and made a catalog of titles available online, to be consumed by the public, at any time, in their home.
Video streaming was launched in 2007, with only 1,000 titles, and only worked on PCs and Internet Explorer, with a limit of 18 hours of free streaming a month, based on the users' subscription plan. At the end of that year, Netflix had 7.5 million registered subscribers.
By 2016, Netflix had already expanded to other 190 countries, offering programming in 21 languages. And, in the following years, the company would win Academy Awards for some of its original productions. By transforming its business model, Netflix was also transforming the way people would come to consume video entertainment.
Today, the streaming service is a strong reality that has even attracted several competitors, with names such as Amazon Prime Video, Apple TV+, and HBO Max. Nevertheless, Netflix remains the absolute leader in the segment, with over 180 million subscribers worldwide.
Who Owns Netflix
Netflix's first CEO was one of its founders, Marc Randolph. However, right before the company gets really bigger, he left the post, leaving it for Reed Hastings, the other co-founder. Nowadays, Hastings is the president and shares the CEO position as Co-CEO with Ted Sarandos, which is also the COO of the company.
Netflix's Mission Statement
"At Netflix, we want to entertain the world. Whatever your taste, and no matter where you live, we give you access to best-in-class TV shows, movies, and documentaries."
How Netflix makes money
As mentioned, Netflix has a subscription-based Business Model. That means that its main revenue stream is the monthly fees. It has over 180 million subscribers pay, all over the world. There have been many analysts who suggested Netflix could enhance its revenue by using advertisement, but the streaming provider reclined, explaining that this would lower the customer experience, which is its main value proposition, after all. Nowadays, Netflix offers three different plans of membership, which may be upgraded or downgraded at any time. They are:
Basic: For the lowest fee, you have unlimited movies and TV shows, and you can watch the content on any device (laptop, TV, smartphone, tablet …), but HD is not available, and you can watch only one screen at a time;
Standard: With this plan, you have HD available, and you can have two screens on at the same time;
Premium: The top plan of Netflix offers content in Ultra HD and the possibility to watch four screens at the same time.
All the plans can be canceled anytime, and the cost of the plans changes according to the country, but they are usually very affordable.
Is Netflix profitable?
For sure, Netflix has a huge cost structure and, at the beginning of the current business model, the company had to invest a lot in order to accomplish the kind of video collection it wanted to offer the customers. So, Netflix hasn't always been a profitable business. But it is now. In 2018, Netflix generated over 1 billion dollars, and this was 116% bigger than the income in the previous year. The following year, it generated over 1.8 billion dollars, an increase of 154% over 2018. And the expectation is that cash flow will only improve in the coming years, moving to a much more positive result. These days, Netflix's valuation is 155 billion dollars… and counting!
Netflix's Business Model Canvas
Netflix's business model is subscription-based. It is a streaming platform, which offers on-demand video. Netflix makes money with three plans, in fixed fees, which vary by country: basic, standard, and premium. Its initial hook is a free month offer, for a trial period. Now, take a look at Netflix's business model canvas: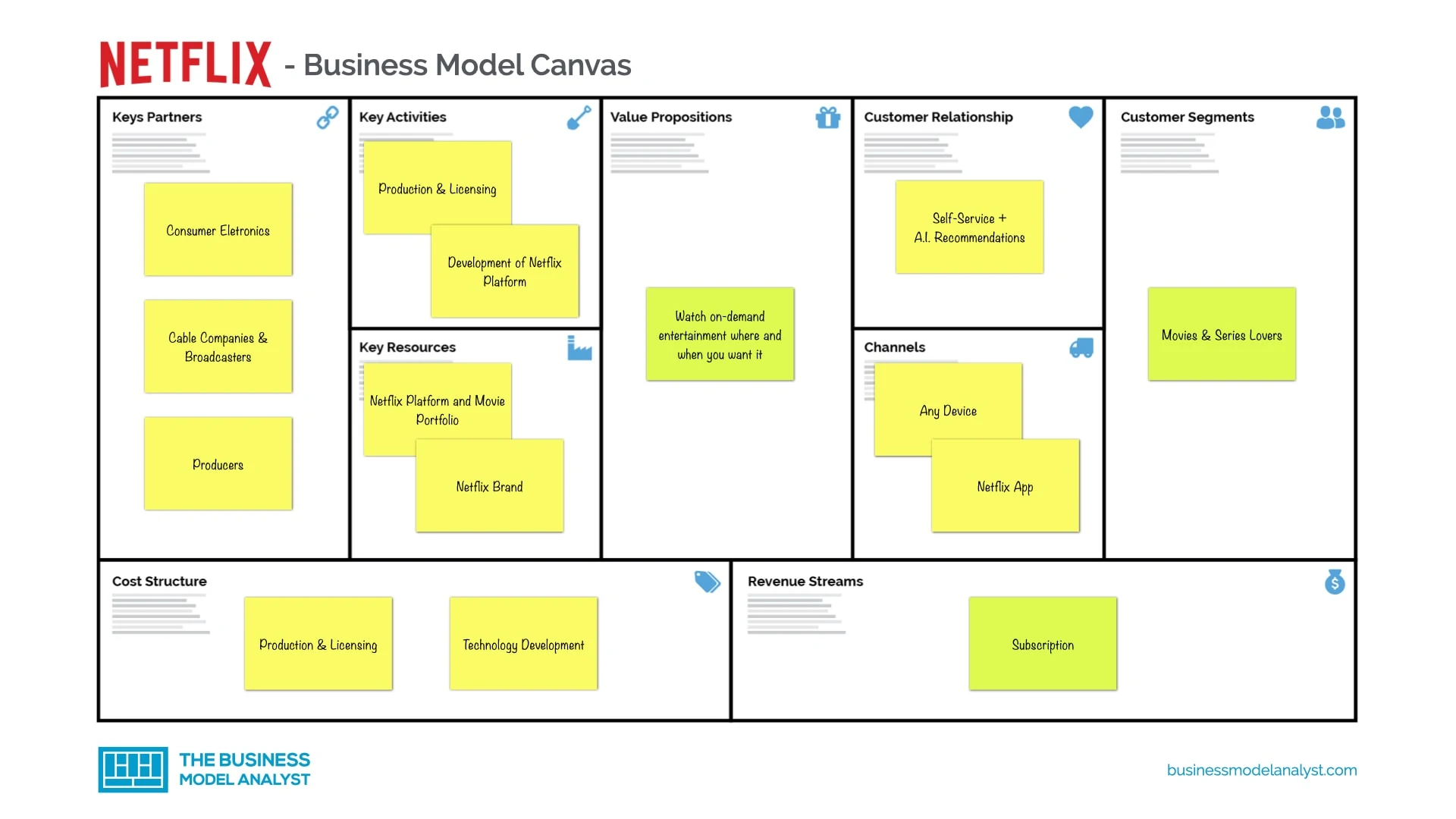 Netflix's Customer Segments
The Netflix platform is designed to please a wide range of subscribers. For this reason, its catalog covers the most varied titles, able to entertain fans of films, series, documentaries, and shows of all genres, for all ages and preferences. For this reason, customer segmentation is both usage and geographical, but only to verify what type of content works best for each audience.
Netflix's Value Propositions
Netflix's entire value proposition is linked to the fact that it provides quality entertainment to its user, 24/7. This proposition includes:
Access to a huge catalog of products, with content for all tastes;
On-demand streaming, with 24/7 access (without ads!);
Possibility of binge-watching;
Offering personalized lists and recommendations, based on the content watched;
Original and high-definition content;
User accounts, which allow each person in the family to have a personalized profile;
All of this can be accessed through any device connected to the internet.
Netflix's Channels
The main channels of Netflix are, no doubt, its own website, and app. But they also invest in online and offline advertising, take advantage of social media and benefit a lot from word of mouth among its users.
Netflix's Customer Relationships
Netflix's customer relationship is built primarily on the platform itself. First of all, it is user-friendly and, therefore, allows the user to configure it in the way that best suits them. Secondly, it uses an algorithm that suggests content based on what users usually consume. Netflix's user support also allows access via website, email, chat, and telephone. And finally, the company's work with social media is very strong. Netflix uses networks like Instagram, Facebook, and LinkedIn to update the audience about releases and promotions. Plus, the company really "talks" to their users, answering a great part of the comments in their posts.
Netflix's Revenue Streams
Netflix's Key Resources
In addition to its own platform, website, and app, Netflix's key resources are mainly human and digital resources. Among them, there are: software developers, the content library, the recommendation algorithm, filmmakers and producers, the brand, and the studios that Netflix is ​​developing to support its own creations.
Netflix's Key Activities
Netflix's key activities are all about offering the best streaming content experience to its users. This means that, in addition to investing in technology, and hiring and retaining talent to keep its platform running at high performance, the company also needs to focus on its content offering. That is, besides maintaining and expanding its platform on the website and apps, Netflix needs to produce, select, license, and acquire relevant content, besides building partnerships and negotiating with studios, content producers, and movie production houses, while also analyzing and understanding customer behavior to improve their experience. Last but not least, Netflix must keep developing its subscription model and pricing strategy, to keep and grow its customer base.
Netflix's Key Partners
Netflix has a wide range of key partners. Among them, media producers and TV networks stand out, which license their content to Netflix; consumer electronic producers such as Wii, X-Box, PlayStation, which bundle Netflix with their systems; and Amazon AWS, since the Netflix platform is totally hosted on AWS. Besides those, there are investors and regulators.
Netflix's Cost Structure
The cost structure of Netflix is huge and that's why the company had a bad cash flow during its first years — the new business model demanded a huge investment to reach the position where the company has gotten today. This huge cost structure involves:
Producing movies, series, and other new content
Purchasing content and rights
Providing recommendations through artificial intelligence
Platform maintenance
Data centers for streaming content
Research, patents, and software development
Amazon Web Services (AWS) and technology
Marketing, human resources, and infrastructure
Netflix's Competitors
Disney Plus: One of the top competitors, since it offers a wide variety of content, from its animated masterpieces to Marvel franchises, plus Fox's catalog. Also, it highlights its classics since the 1950s;
HBO Max: With more than 40 years of experience and a great variety of original content, including some audience's favorites, like Harry Potter, Game of Thrones, and Friends;
Amazon Prime Video: The streaming service of the biggest retailing online platform in the world offers a nice selection of award-winning movies and subscribers can download videos to watch offline;
CBS All Access: With a long history, CBS offers an interesting selection of originals and popular franchises, as well as football matches and shows like the Grammy Awards;
Hulu: It enables access to shows on major networks and cable TV, exclusive rights to most of FX's original series, and some strong originals like The Handmaid's Tale;
Peacock: Founded by NBC, it provides access to the NBC Universal catalog, with lots of popular comedies and dramas. Some NBC shows that were streaming on Netflix have switched to Peacock;
Apple TV+: Launched in 2019, it signed with some of the best directors, writers, and actors to create new content, under the strength of the Apple brand;
YouTube TV: It has been increasing its content, thus offering more channels than any other competitor, plus unlimited storage. It dominates 75% of Android phone usage all over the world;
FuboTV: With the second-widest selections of channels, only behind YouTube, it includes a great variety of sports channels, making it the favorite choice for soccer and football fans;
Sony Crackle: This free streaming service from Sony offers movies, TV shows, and even some original content at no cost;
Showmax: It is the Netflix of sub-Saharan Africa, with content geared towards African consumers;
Curiosity Stream: It's a streaming service targeted to documentaries and educational-content fans, with channels such as Discovery, Animal Planet, and The Learning Channel.
Netflix's SWOT Analysis
Below, there is a detailed SWOT Analysis of Netflix: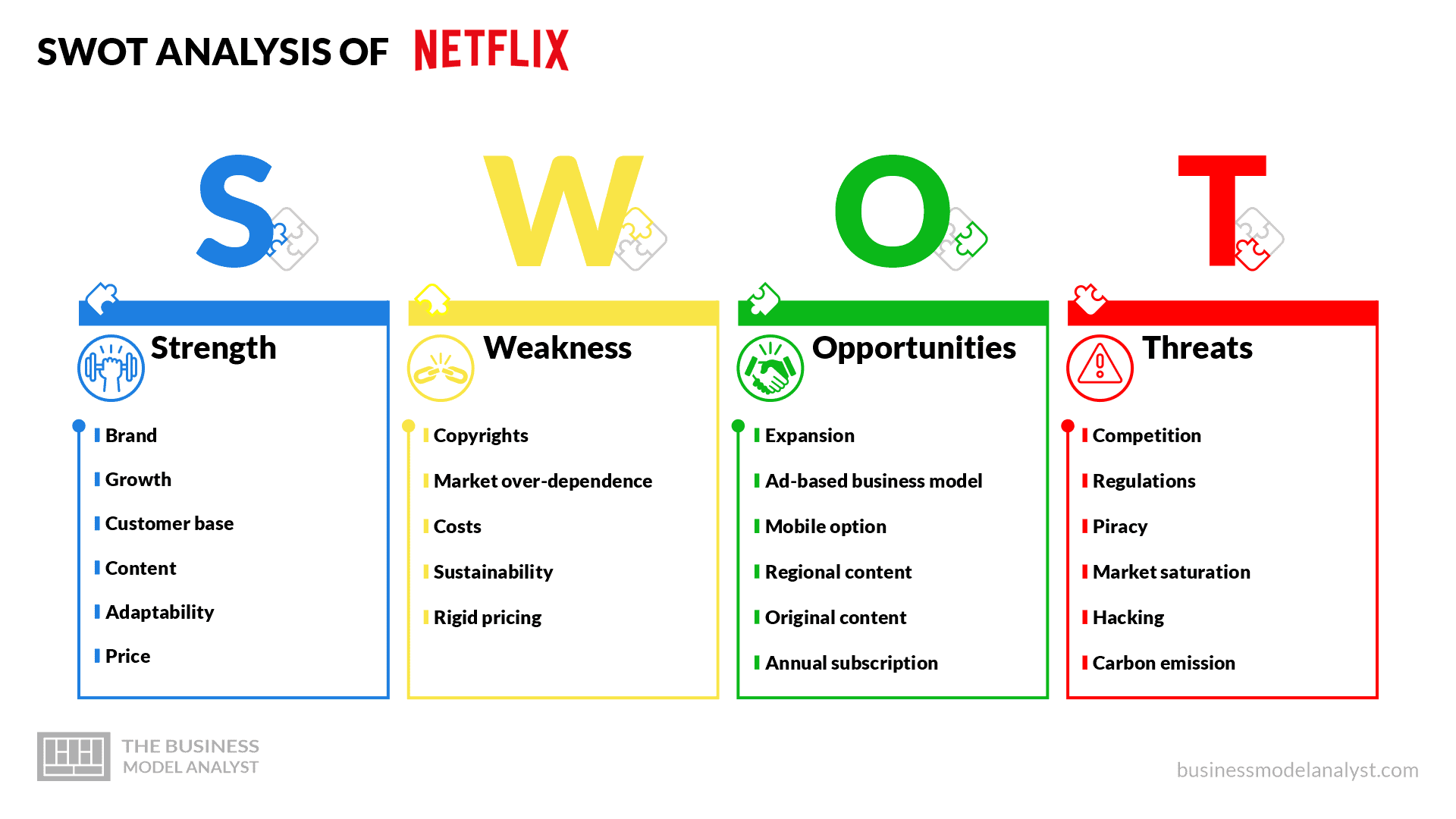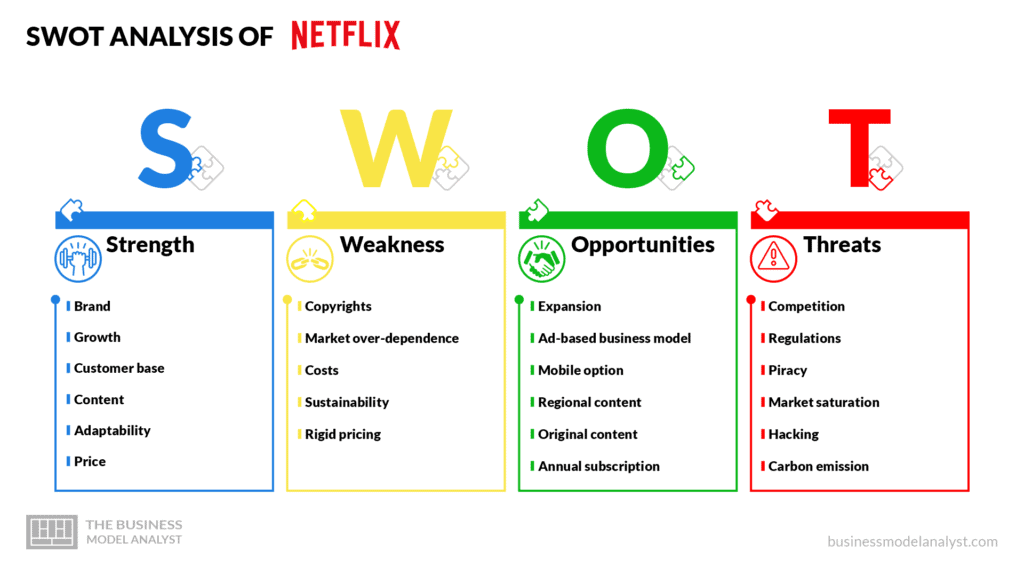 Netflix's Strengths
Brand: Netflix has a strong brand and reputation. In 2020, it was the 26th most valuable brand in the world, but it had the biggest value gain from 2019 to 2020 (72%). Besides, in 2019, it was the 4th most regarded brand;
Growth: Netflix has been growing steadily in the past ten years, ensuring its presence in 190 countries worldwide;
Customer base: There are more than 180 million subscribers, which gives the company strong bargaining power with studios;
Content: It has been producing top-quality movies and TV shows that engage the audience. It has also been beating traditional networks in award nominations;
Adaptability: It modifies the service according to the market's demand and changeable technologies;
Price: Netflix's plans offer great value for a reasonable price. It is cheaper than cable TV or going to the cinema, with a wider selection.
Netflix's Weaknesses
Copyrights: The company has limited copyright and the content rights taken from other studios expire after some years, thus allowing the content to be accessed on other platforms;
Market over-dependence: Netflix operates globally, but its revenue heavily depends on the North American market (around 50% of the total). Plus, the lack of original content in several countries lowers the demand outside America;
Costs: Its global presence requires huge amounts of money, which increases its debt every year. In April 2020, it reported $14.17 billion in debt;
Sustainability: Unlike other tech companies such as Amazon, Google, and Apple, Netflix hasn't utilized renewable energy yet, which brings a negative impact on its image;
Rigid pricing: Netflix does not offer much customization by offering only three plan options. Besides, it has raised its prices, while other streaming services' prices are much lower.
Netflix's Opportunities
Expansion: It can still get into many other countries where the service is not available, such as China. The company may make strategic partnerships in the local market to increase its presence in new markets;
Ad-based business model: Netflix has said no to this traditional business model, but many other service providers make billions in revenues from ads;
Mobile option: The company can offer a lower-priced option with a mobile-only plan, to expand globally and compete more efficiently against cheaper competitors;
Regional content: Region-specific content in local languages has proved to be positive in many countries;
Original content: Its exclusive content can bring in other product lines, such as video games or comic books;
Annual subscription: This annual subscription with discounts over monthly fees can encourage users to switch to yearly plans, avoiding the subscribers that Netflix loses when they cancel right after finishing watching their favorite shows.
Netflix's Threats
Competition: The streaming service has been growing all over the world, and so does the number of competitors, which are names as strong as Netflix;
Regulations: Some strict governmental regulations can hold expansion, such as China's restriction on foreign content;
Piracy: Thousands of people still find ways to download pirate content, and many people share one account simultaneously;
Market saturation: The overdependence on North America can cause a market saturation, and the American base growth has already slowed down;
Hacking: The number of hacked Netflix accounts has been increasing and, if that persists, it can cause users to migrate to rivals;
Carbon emission: This is a major threat in this age, and video streaming generates a heavy footprint of nearly 1% of global emissions — larger than the aerospace industry. That can make countries demand a reduction in usage.
-> Read more about Netflix's SWOT Analysis.
Conclusion
As you can see, Netflix's business model is entirely built on subscriptions from people all around the world. They do not have an ad-based business in their service, as this is something they do not intend to run, avoiding the risk of losing clients to a competitor – and it's surely a good call, because, as days go by, more and more video streaming services seem to emerge in the market.