Netflix Business Model is a mix of On-Demand Subscription with All You Can Eat business models types. Let's better understand that in this article.
Quite possibly you've been in a circle of friends in which somebody comments about a series they watched recently and someone else asks, "Is that on Netflix?" That's because Netflix is ​​now the largest streaming provider of entertainment content on the planet – and perhaps the biggest responsible for the series growth of recent years.
What you may not know is that Netflix is ​​more than 20 years old and when it was founded, back in 1998, it was just a DVD rental service by mail.
However, the company has not stopped in time, like many others in the entertainment industry, and its current success is due precisely to its ability to follow trends and break standards.
Therefore, let's get to know how Netflix's business model works, which has been transforming over the years to keep up with the market and reach the level it is today.
What is Netflix?
Well, to begin with, Netflix is ​​a streaming content provider, specialized in entertainment. Subscribers to the platform have a huge catalogue of films, series, documentaries and television shows at their disposal, to be watched anytime and through any device connected to the internet (smartphone, smart TV, laptop, etc.).
But, as mentioned above, Netflix did not start directly with this business model, let alone with this value purpose. On the contrary, its first business model was based on a DVD rental system sent by mail to the entire United States.
Let's understand a little bit about how it all happened to get here.
A brief introduction to Netflix
Netflix was founded in 1998. Its initial business was to send physical copies of films, shows, video games and other media through the American standard mailing system, in a pay-for-use model. The following year, they changed to a subscription model.
However, over the next decade, Netflix watched the DVD rental market begin to decline and soon adapted its business model. They stopped sending physical copies and made a catalogue of titles available online, to be consumed by the public, at any time, in their home.
By transforming its business model, Netflix was also transforming the way people would come to consume video entertainment. Today the streaming service is a strong reality that has even attracted several competitors, with names such as Amazon Prime.
Nevertheless, Netflix remains the absolute leader in the segment, with over 180 million subscribers worldwide.
What Is Netflix Business Model?
Netflix business model is subscription-based. It is a streaming platform, which offers on-demand video. Netflix makes money with three plans, in fixed fees, which vary by country: basic, standard and premium. Its initial hook is a free month offer, for a trial period. Now, take a look on Netflix business model canvas: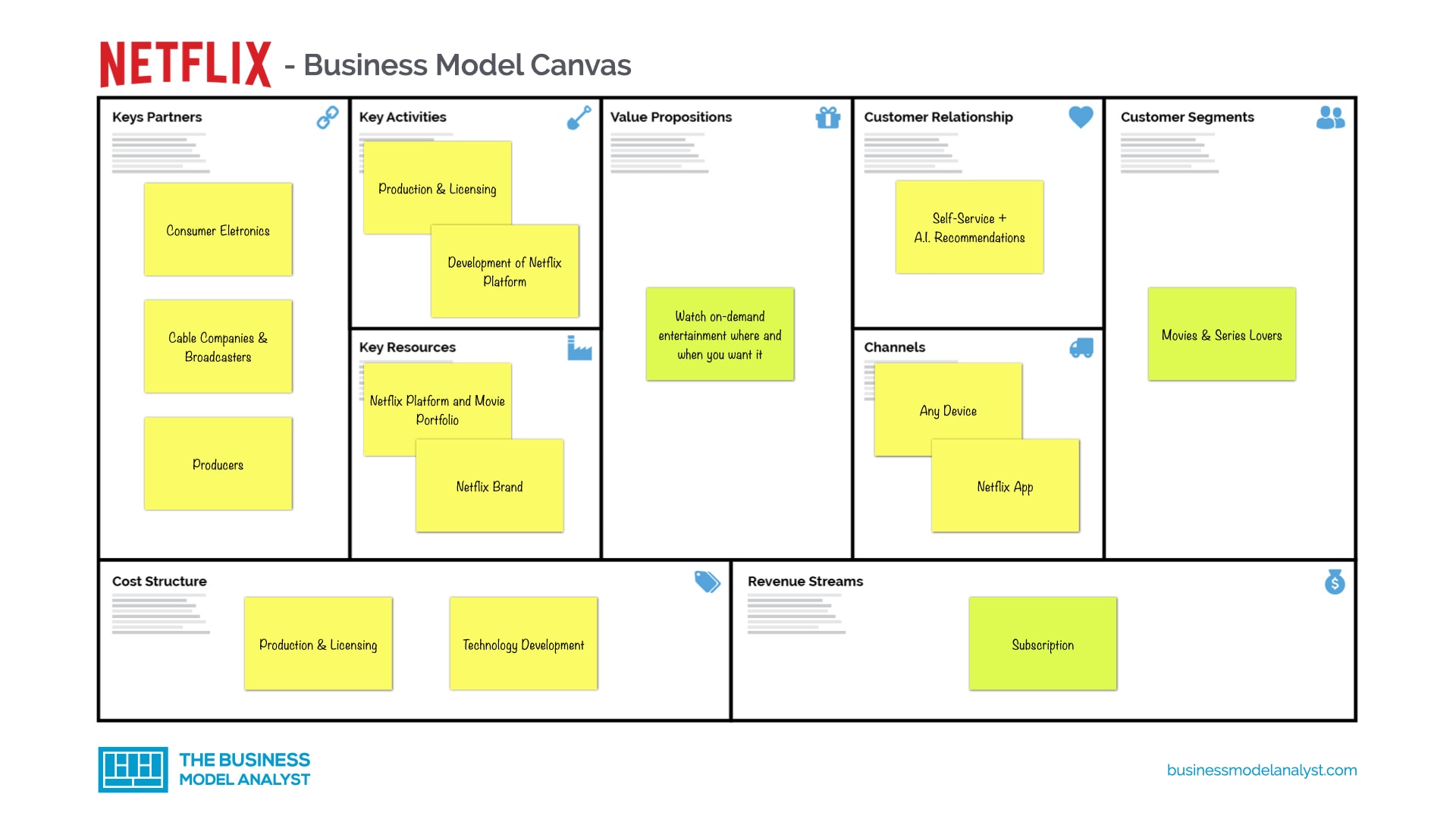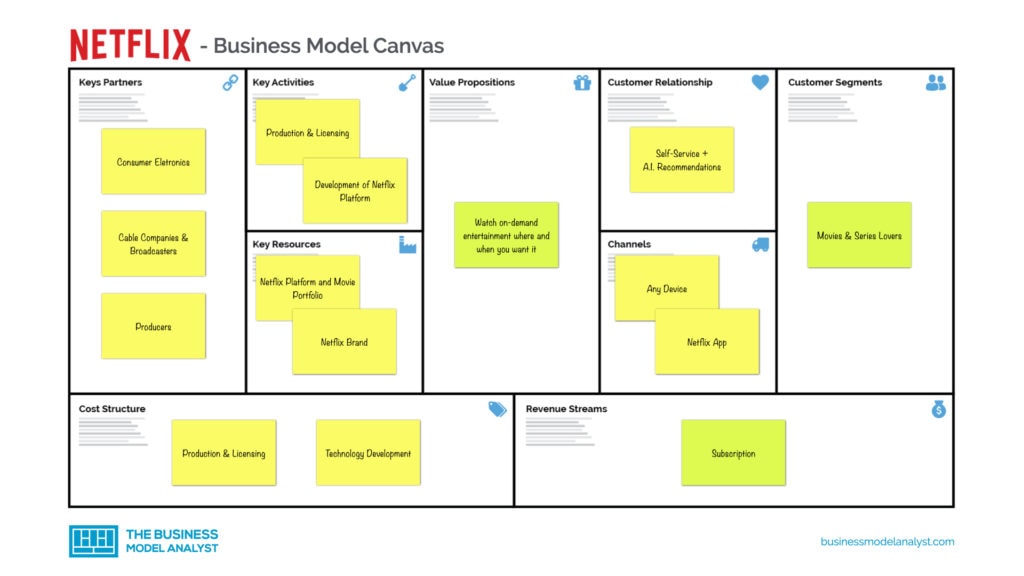 Download High-Resolution PDF of the Netflix Canvas
Customer Segments of Netflix
Netflix platform is designed to please a wide range of subscribers. For this reason, its catalogue covers the most varied titles, able to entertain fans of films, series, documentaries and shows of all genres, for all ages and preferences.
For this reason, customer segmentation is both usage and geographical, but only to verify what type of content works best for each audience.
Value Proposition of Netflix
Netflix's entire value proposition is linked to the fact that it provides quality entertainment to its user, 24/7. This proposition includes:
Access to a huge catalogue of products, with content for all tastes.
On-demand streaming, with 24/7 access – without ads!
Possibility of binge-watching.
Offering personalized lists and recommendations, based on the content watched.
Original and high-definition content.
User accounts, which allow each person in the family to have a personalized profile.
All of this on any device connected to the internet.
Key Partners of Netflix
Netflix has a wide range of key partners. Among them, media producers and TV networks stand out, which license their content to Netflix; consumer electronic producers such as Wii, X-Box, PlayStation, which bundle Netflix with their systems; and Amazon AWS, since Netflix platform in totally hosted on AWS. Besides those, there are investors and regulators.
Key Activities of Netflix
Netflix's key activities are all about offering the best streaming content experience to its users.
This means that, in addition to investing in technology, and hiring and retaining talent to keep its platform running at high performance, the company also needs to focus on its content offering.
That is, besides maintaining and expanding its platform on the website and apps, Netflix needs to produce, select, license and acquire relevant content; build partnerships and negotiate with studios, content producers and movie production houses; while analyze and understand customer behaviour to improve their experience.
Last but not least, Netflix must keep developing its subscription model and pricing strategy, to keep and grow its customer base.
Key Resources of Netflix
In addition to its own platform, website and app, Netflix's key resources are mainly human and digital resources. Among them, there are: software developers, the content library, the recommendation algorithm, filmmakers and producers, the brand, and the studios that Netflix is ​​developing to support its own creations.
Customer Relationships of Netflix
Netflix's customer relationship is built primarily on the platform itself. First, because it is user-friendly and therefore allows the user to configure it in the way that best suits them. Second, because it uses an algorithm that suggests content based on what users usually consume.
Netflix user support also allows access via website, email, chat and telephone. And finally, the company's work with social media is very strong. Netflix uses networks like Instagram, Facebook and LinkedIn to update the audience about releases and promotions. And the company really "talks" to their users, answering to a great part of the comments in their posts.
Channels of Netflix
The main channels of Netflix are, no doubt, its own website and app. But they also invest on online and offline advertising, take advantage of social media and benefit a lot from word of mouth among its users.
Cost Structure of Netflix
The cost structure of Netflix is ​​really big and that's why the company had a bad cash flow during their first years because the new business model demanded a huge investment to reach the position where the company has gotten today. This huge cost structure involves:
Producing movies, series and other new contents,
Purchasing content and rights,
Providing recommendations through artificial intelligence,
Platform maintenance,
Data centers for streaming content,
Research, patents and software development,
Amazon AWS and technology,
Marketing, human resources and infrastructure.
Revenue Streams of Netflix
Since Netflix's business model is grounded on subscriptions, it is simple to say that its revenue streams are based on the monthly fees paid by its millions of subscribers. However, as seen above, Netflix's cost structure is also huge, which makes us question whether the company is indeed profitable. Let's look at this point a little more closely.
How does Netflix Make Money?
As mentioned above, Netflix has a subscription-based Business Model. That means that its main revenue stream is the monthly fees. It has over 180 million subscribers pay, all over the world.
There have been many analysts who suggested Netflix could enhance its revenue by using advertisement, but the streaming provider reclined, explaining that this would lower the customer experience, which is its main value proposition, after all.
Nowadays, Netflix offers three different plans of membership, which may be upgraded or downgraded at any time. They are:
Basic: for the lowest fee, you have unlimited movies and TV shows, and you can watch the content at any device (laptop, TV, smartphone, tablet …), but HD is not available and you can watch only one screen at a time.
Standard: in this plan, you have HD available and you can have two screens on at the same time.
Premium: the top plan of Netflix offers content in Ultra HD and possibility to watch four screens at the same time.
All of the plans can be cancelled anytime. And the cost of the plans changes according to the country, but they are usually very affordable.
Is Netflix profitable?
For sure Netflix has a huge cost structure and, in the beginning of the current business model, the company had to invest a lot in order to accomplish the kind of video collection it wanted to offer the customers.
So, Netflix hasn't always been a profitable business. But it is now. In 2018, Netflix generated over 1 billion dollars, and this was 116% bigger than the income in the previous year. The following year, it generated over 1.8 billion dollars, an increase of 154% over 2018. And the expectation is that cash flow will only improve for the coming years, moving to a positive.
These days, Netflix's valuation is in 155 billion dollars… and counting!