Is Netflix Profitable? Yes, Netflix is profitable. It first became profitable in 2003 and has grown steadily since then, reaching a profit of $4.49 billion in 2022, a 12.2% decline from its record profit of $5.11 billion in 2021.
Founded in August 1997 by Reed Hastings and Marc Randolph, Netflix is an American streaming service that offers original content, as well as movies and television series from other studios. The company became incredibly popular within the last decade, with millions of subscribers worldwide. Despite its immense popularity, there have been doubts about Netflix's profitability, since similarly innovative companies — like Uber — are not profitable. However, it is a fact that Netflix is indeed very profitable today.
Timeline of Netflix's financial growth and funding
From its humble beginnings as a DVD rental business to its current status as an industry-leading entertainment platform across the globe, Netflix has undertaken numerous changes throughout its history to become one of the world's most successful media companies.
1997: Netflix launches as a DVD rental-by-mail business with an initial investment of $2 million from venture capital firms in its Series A funding stage. This funding would help create online ordering for customers, launch their website, and purchase inventory for mail delivery.
2002: With over 600,000 customers, Netflix went public with an IPO market capitalization of $300 million on May 23rd, 2002. The stock starts trading on Nasdaq under ticker NFLX for $15 per share, closing at $16.75.
2005: In 2005, Netflix launched its subscription service with one-month unlimited rentals for monthly plans starting at $17.99. However, following a court-issued settlement over an alleged influence of advertised subscription perks through the company's algorithm, Netflix had to provide former subscribers with a DVD rental worth $17.99 free of charge and current subscribers with an upgrade to a $6.00 one-month subscription at no cost.
2007-2008: In January 2007, Netflix revolutionized the entertainment industry with its launch of online video streaming. This allowed subscribers to access a vast library of content without any additional costs as part of their regular subscription plan. Specifically, customers paid a flat-rate fee for their mail delivery plans and could use each dollar spent for an hour's worth of streaming; for example, a $9.99 subscription equated to 10 hours worth of streaming content in total.
2010: Reed Hastings' keynote speech at the Consumer Electronics Show in Las Vegas marked a major milestone for Netflix, as it announced that all members would have access to its streaming content on most TV brands and Blu-ray Disc players. Additionally, Netflix integrated with Microsoft's "Metro interface," which was launched alongside Windows 8, allowing users to access their services through an app without needing an additional download.
Netflix also secured rights deals with film studios such as Paramount Studios and Lionsgate to make exclusive films available across all subscription plans — bolstering their library of titles accessible to users. Through these strategic partnerships and initiatives, Netflix was able to become a highly profitable company ($160.85 million) with a growing consumer base.
2012–2019: In 2012, when Netflix was launched in the UK and Ireland, monthly payments were set to a minimum of £5.99/month (€6.99 in Ireland).  
In 2014, Netflix became significantly more profitable due to its December 2012 exclusive deal with Disney Studios and multiple other cable networks. This allowed them access to some of the biggest names in Hollywood, enabling them to expand their library selection both locally and internationally, making it possible for customers of all tastes and backgrounds to enjoy their selection of films and shows.  
The addition of original content, such as House of Cards and Narcos, proved to be a lucrative investment. This and later additions helped build out their customer base across growing areas and countries — a success that was repeated in 2017 onwards with the release of Stranger Things, further contributing to its overall brand recognition and popularity amongst viewers, both old school and new.
Whilst margins stayed relatively steady between 5% to 8% throughout 2018, growth rates in top-line revenues surged nearly double digits by Q1 FY 2020 despite pandemic conditions already underway. 
2020-2023: By 2020, Netflix already had over 120 million subscribers worldwide, before finally midway through April figures surpassing a staggering 182 million — providing a note of optimism for future potential earnings. While the pandemic brought a lot of industries to a halt, the streaming industry, and Netflix in particular, saw an influx of new customers and revenue. Netflix continued on its upward trajectory and would reach 203 million subscribers by the end of 2020.
As of December 2022, Netflix had about 230 million subscribers and reported an annual revenue of $31.616 billion, with a net income of $4.492 billion. It currently has a market cap of $162.37 billion (as of January 26th, 2023).
When did Netflix first become profitable?
Netflix first became profitable in 2003, when the streaming giant earned $6.5 million on a reported revenue of $272.24 million. This was a major milestone for the company, which had been founded only six years prior and had yet to generate any profits ($20.95 million net loss the year prior). The timing couldn't have been better; this happened shortly before digital streaming took off, allowing Netflix to capitalize on the market and serve as an early mover in what would become a dominant industry sector. 
By 2004, Netflix had already seen a dramatic increase in profits to $21.38 million on over $500 million in revenues, and these figures continued to grow even more by 2005. However, it wasn't until 2007 that Netflix began to truly establish itself as a major player in the entertainment industry, with streaming becoming available to customers that year. This proved instrumental for their business. By 2009, the company's annual revenue had skyrocketed to over $1.5 billion — more than five times higher than six years earlier, when it first posted its profit.
Financial Performance of Netflix
Netflix's revenue has grown at an astonishing rate since its inception. In 2017, their total revenue was a modest-yet-impressive $11.7 billion; however, just five years later, in 2022, it skyrocketed to a staggering $31.6 billion — an increase of 170% year-over-year (YOY).
Between 2012 and 2022, their operating margin expanded from 8.10% in Q1 2012 to 20.42% in Q1 2022, mainly driven by cost-saving measures implemented by management. Their net profit margin also grew from 4.81% in Q1 2012 to 14.21% at the end of 2022, indicating that they are becoming more efficient at generating profits off every dollar earned. 
Their free cash flow, too, has sustained healthy growth rates over time; it increased tenfold within five years, expanding from -$421.75 million (Q1 2017) to over $800 million (Q1 2022). In Q3 2020, they recorded a peak free cash flow of $1.15 billion, due primarily to the positive influence of the COVID-19 pandemic on Netflix's subscriber count. For that year only, Netflix reported a record-breaking 37 million subscriber growth.
Given all these financial metrics taken into account, it can safely be concluded that Netflix is highly profitable and well positioned for future growth opportunities, especially with expansion into international markets where demand remains strong despite competition from competing content providers such as Amazon Prime Video, Hulu, Disney Plus, HBO Max, and others.
Overview of revenues, expenses, and profits
Netflix's Revenue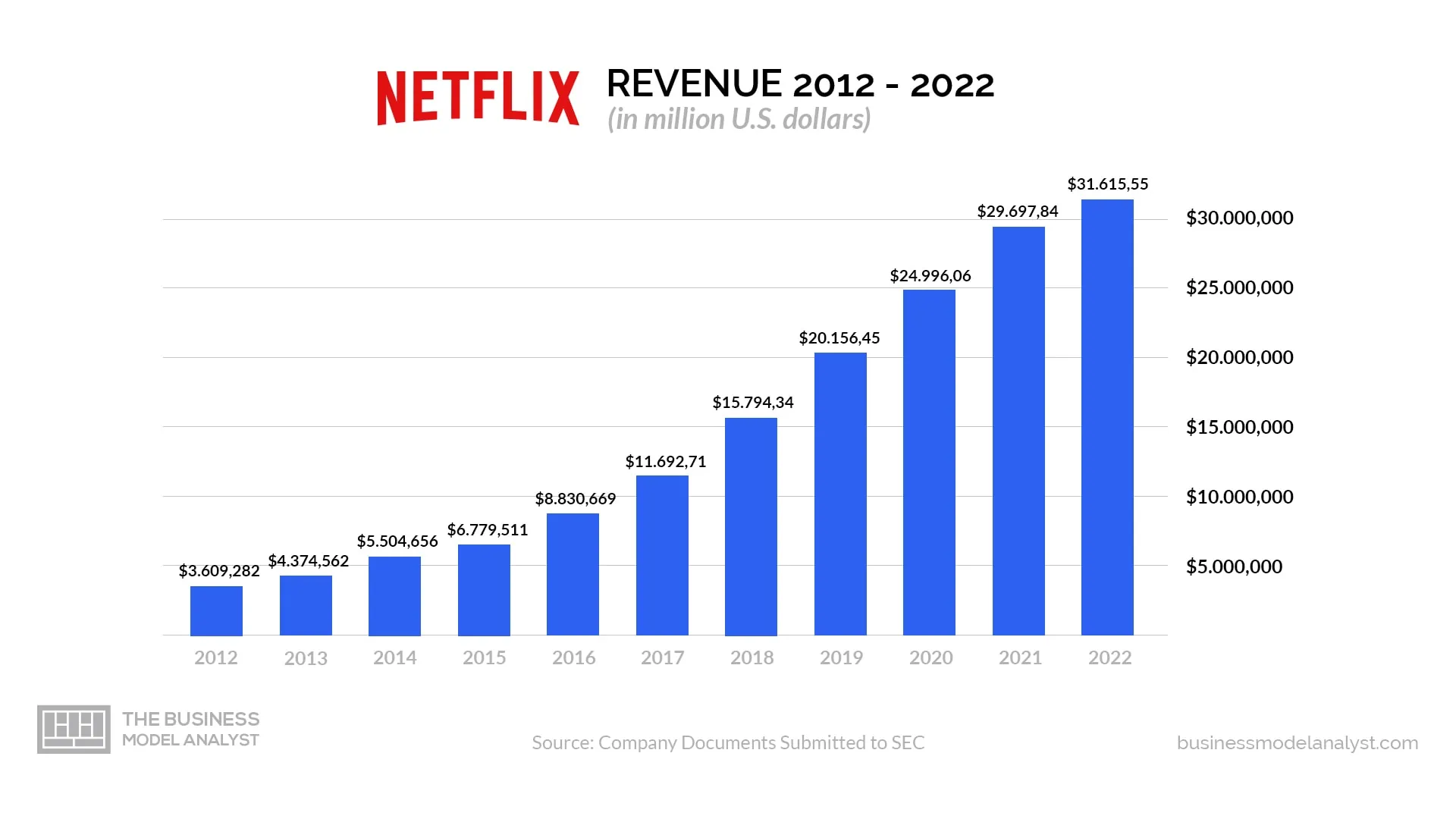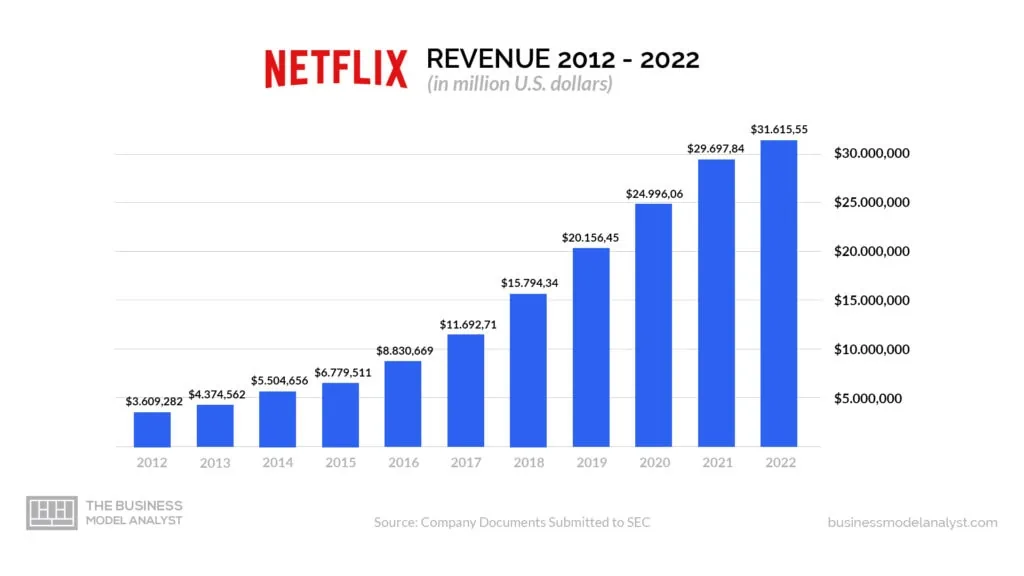 As one of the largest streaming-video companies in the world, Netflix has generated substantial revenue over the past few years. In 2020, it earned nearly $25 billion in revenue with a $2.7 billion net income; this would rise the following year to a net income of $5.116 billion on revenue of $29.6 billion, making it one of the most profitable media companies in the industry. 
Netflix's Expenses
Netflix's expenses consist mainly of content, marketing, and research and development. Content is the biggest expense for Netflix, accounting for $16.84 billion in 2022 compared to $17.70 billion in 2021. Marketing costs were also up year-on-year; in 2021, the company spent $2.55 billion on marketing, compared to $2.23 billion in 2020. Research and development saw a similar increase, with $2.71 billion being spent in 2022 compared to $2.27 billion in 2021.
Netflix's Profits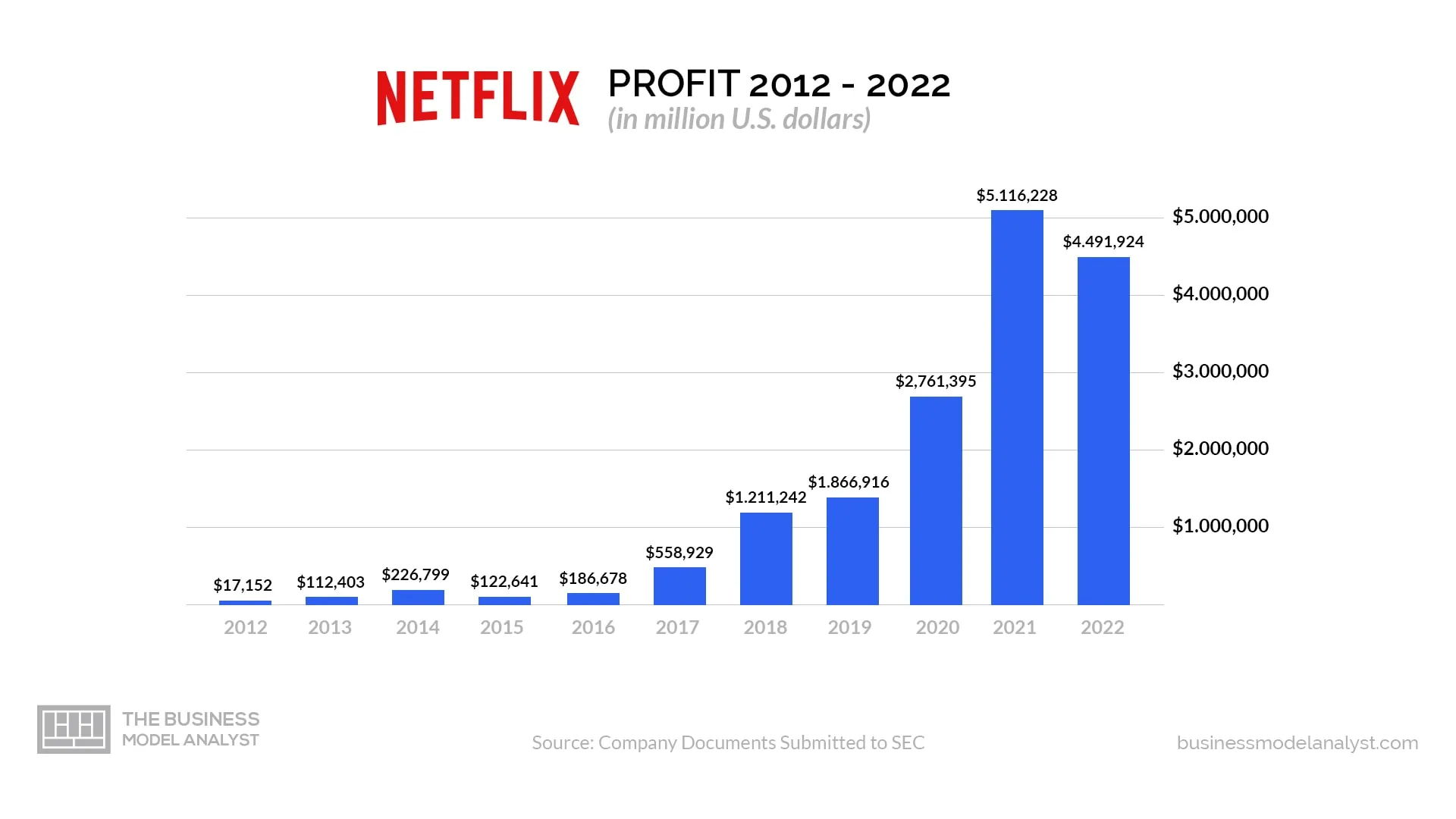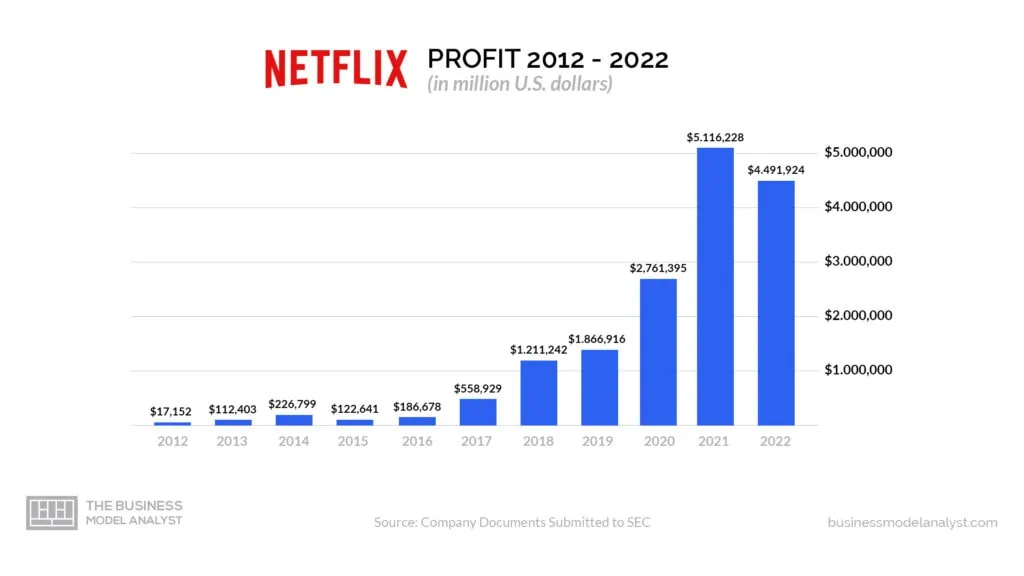 Despite increasing expenses associated with producing quality programming for viewers around the globe, profits have continued to increase ever so slightly each quarter, reaching just above $2 billion in the second quarter of 2020 – far exceeding initial expectations. From Q1 of 2021 to Q4 of 2022, Netflix's net income averaged $4.744 billion.
With millions of customers worldwide and diverse viewing options (i.e., basic vs. premium subscriptions), overall net profits are constantly increasing, resulting in greater returns for shareholders (most significantly, The Vanguard Group, Inc., and BlackRock Fund Advisors).
Conclusion
Netflix has had an incredibly successful journey as a leader in the digital entertainment industry. With its remarkable rise to prominence, a vast library of content, and regular releases of original productions, the streaming service has become one of the most attractive options for millions of customers across the globe. In addition to this, Netflix has also demonstrated that it can remain highly profitable amidst competition — all while not relying on advertising revenues. 
This success is likely to continue even further with their recent price increases (January 2022). As such, if Netflix maintains its commitment to high-quality content, it will most certainly continue recording year-over-year profits in return.