Very few sectors advance at the pace of the tech and entertainment industry. Therefore, it's unsurprising that the intersection of both fields has led to the rise of one of the most rapidly growing business models ever seen: over-the-top media services (or online streaming platforms, as most people call them). One of the industry leaders in this field is Netflix, a multi-billion dollar streaming service which has seen explosive growth in recent years. Let's explore the Netflix SWOT analysis, breaking down its advantages, shortcomings, potential threats, and opportunities for further growth.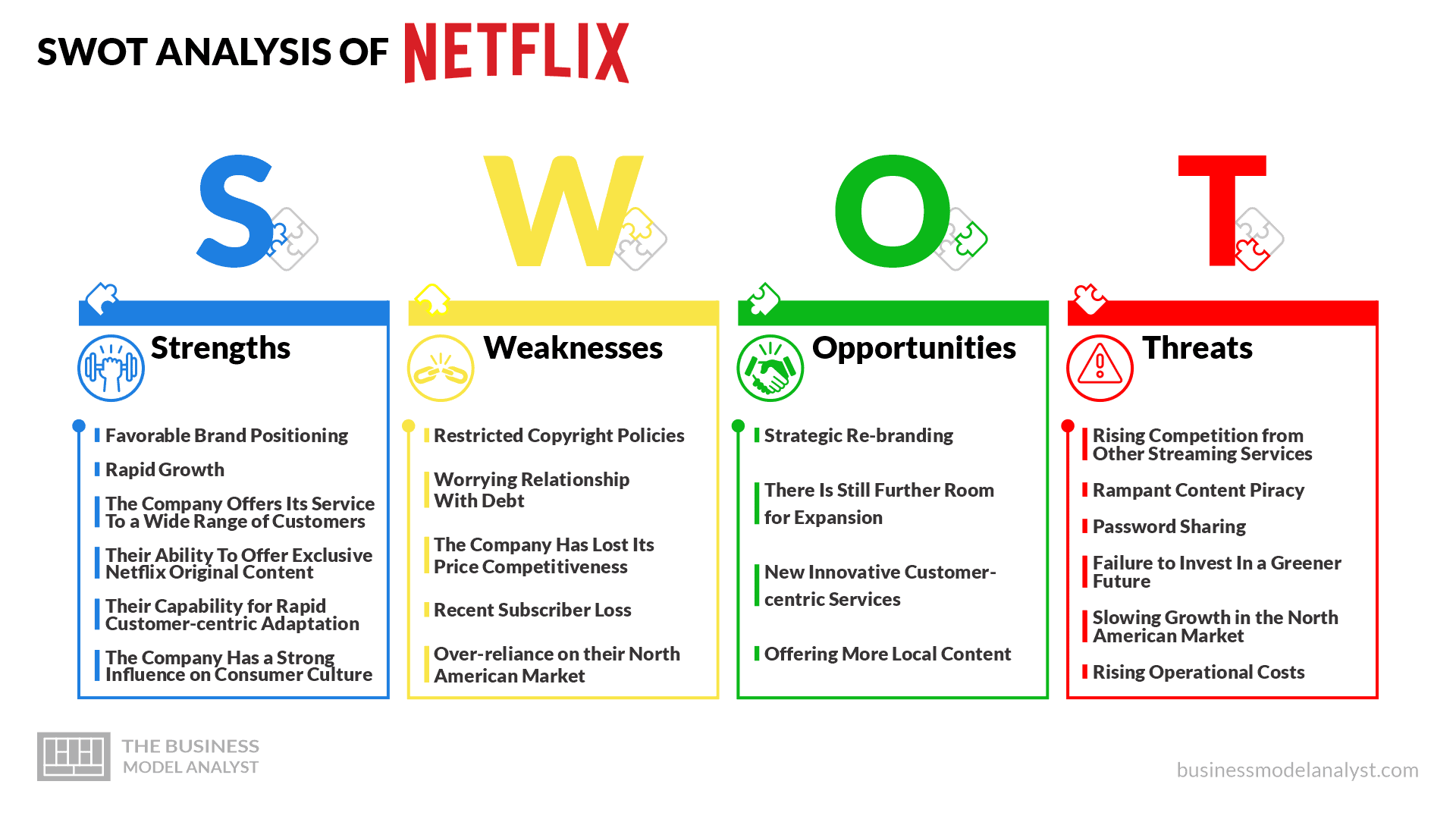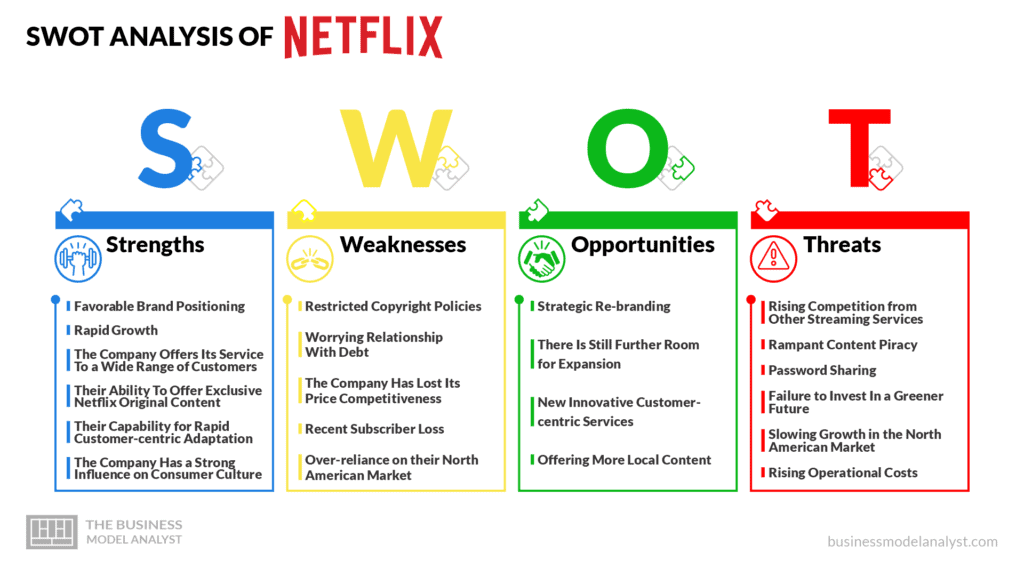 A Brief Look at the History of Netflix 
Netflix, Inc. is an over-the-top (OTT) media service that gives users access to a wide range of video content through a subscription-based model. An OTT streaming service is simply a platform that provides users with various forms of digital entertainment directly via the Internet instead of cable, satellite TV, or broadcasting services. Even though online streaming technology has been available since the 1990s, the technology required for widespread adoption was not available to the public until the mid-2000s.
This explains why Netflix started in 1997 as a DVD home-video and rental company, not a streaming service. According to Randolph, the idea for the company stemmed from his admiration for the Amazon business model, and they sought to replicate this system. After considering several options, they settled on a home-video rental service, but rejected VHS tapes due to their difficulty in stocking and delicate nature. They eventually chose DVDs (which had just been introduced into the U.S. earlier that year).
The company soon started recording steady growth and even received a buyout offer from Jeff Bezos himself, the founder of Amazon. After turning down the multimillion-dollar offer, they focused on expanding their services. In 1999, they shifted from a per-rental business model to a subscription model, allowing members access to a wide range of rental DVDs in exchange for a monthly subscription fee.
Despite some difficulties in the late 1990s and early 2000s following the dot-com bubble, Netflix eventually went public in May 2002. The company posted its first profit the next year and encountered rapid growth, which saw its profits increase by more than seven-fold in 2004.
The company first started transitioning into an online streaming service in 2007. Due to the technological constraints at the time, the initial idea was to develop a "Netflix box" device that allowed users to download movies overnight and watch them the next day. However, technological improvements and the astronomical rise in popularity of YouTube forced the company to abandon this idea and stick to a strictly online OTT streaming service.
Though the available online movie titles were limited, Netflix initially continued offering both its DVD rental and online streaming services. Significant growth in online streaming began in 2010 when the company assigned several landmark deals with streaming companies such as Paramount Pictures, Lionsgate, Metro-Goldwyn-Mayer, and Dreamworld Animation the next year. It also expanded its streaming services to Canada that same year.
The company has since expanded its services to over 190 countries and currently offers over 17000 titles globally. This extensive catalog, as well as its far-reaching services, are integral to the success of the platform. Also, the added flexibility of having the option to watch what you want, when you want it, is also a key driving force.
Netflix Strengths
Let's take a look at some of the factors which set Netflix ahead of its competition.
Favorable Brand Positioning
Not only is Netflix a wildly successful company commercially, but it's also possibly one of the most well-recognized brands of the 21st century. The Netflix brand takes advantage of its strong position as a customer-centric service, as well as the first-mover advantage it enjoys from being one of the first successful online streaming services.
According to current estimates by Interbrand, the Netflix brand was the 40th most valuable brand in the world, with an estimated brand value of around $16.4 billion in 2022. Also, it doesn't hurt that the Netflix logo has become a cultural icon, and phrases like "Netflix and chill" and the "Netflix effect" have made their way into the common lexicon.
Rapid Growth
If there is one thing the Netflix company is known for, it's rapid growth. The company burst onto the scene and quickly increased its streaming service subscriber base by about 10% yearly for the last few years. Although this growth is showing signs of slowing down, it offered them the critical advantage of outpacing all their early competitors.
The Company Offers Its Service To a Wide Range of Customers
One of the advantages that OTT services such as Netflix enjoy over more traditional media channels is their ability to offer their services to a broader range of users over the Internet. Netflix currently offers its services in 190 countries and supports over 220 million paid subscribers. Such a large subscriber base gives them key leverage when bargaining with studios and production companies.
Another important fact is that the brand has about 150 million subscribers outside the U.S. and Canada. Having a large base of international subscribers allows the brand to reduce its reliance on its North American market, a feature for which they have been strongly criticized.
Their Ability To Offer Exclusive Netflix Original Content
The idea of Netflix Original content usually causes polarizing opinions. Some people have accused the service of favoring quantity over quality, with the company churning out a litany of questionable and even obviously low-budget shows. However, many Netflix Originals have also attained both critical and commercial success, with shows like Stranger Things, Orange Is the New Black, Ozark, Mind Hunter,  and Squid Game being a few. With original content making up 40% of the Netflix library, it's impossible to deny the role they played in increasing the popularity of the platform.
It's also essential to understand the full scope of the term "Netflix Original". Despite what most people believe, a Netflix Original does not mean that a specific movie or series was created and produced by Netflix. It simply means that the platform has exclusive rights to the show. There are generally four categories of Netflix Original content:
Shows commissioned and produced by the company (officially known as Netflix Original Programs);
Shows for which Netflix has obtained exclusive streaming rights;
Shows the company co-produced with another studio; and
Shows which were canceled and subsequently revived by Netflix.
Therefore, the platform can use this opportunity to obtain exclusive access to a wide range of shows and movies.
Their Capability for Rapid Customer-centric Adaptation
If there is one thing that could be said about the online streaming service, it is that they are not scared of change. The Netflix corporation is well-known for continuously modifying its business model based on both changing customer preferences and the shifting market environment.
While some of these changes have been met with chagrin by subscribers (such as various methods used by the platform to crack down on password sharing), generally, they have seen the platform stay competitive in an industry rife with competition. Some of these include their innovative content recommendation algorithm, ability to work with a range of devices (such as smart TVs, gaming consoles, and even Blu-ray players), and their popularization of "binge-watching" culture by offering entire series at once.
The Company Has a Strong Influence on Consumer Culture
Netflix has spawned several contemporary phenomena, such as the aptly named "Netflix effect", a term used to refer to the sudden rise in fame of a relatively unknown actor or actress after appearing in a Netflix show. The term was thought to have originated following the sudden rise in the crime drama Breaking Bad after Netflix purchased the series from the fourth season.
Another essential feature of the platform is how it popularized the concept of binge-watching (consuming multiple series episodes in rapid succession) by releasing entire seasons of shows at once. This was in contrast to the standard weekly episodic format used by most platforms at the time.
Netflix Weaknesses
Despite all its strength, there are still some areas of weakness in the Netflix business model.
Restricted Copyright Policies
Although the platform enjoys a large amount of original content, which offers them exclusive streaming rights, most of the shows and movies which can be accessed through the service are not exclusive to the platform. This limits the amount of revenue they can generate from such shows.
Worrying Relationship With Debt
Despite the strong growth the company has seen in revenue over the last decade or so, it seems to have a worrying relationship with debt. Due to the large amount of content the service offers, the platform has invested billions of dollars into improving its streaming services, especially in-house content development. This means that the company often struggles to outgrow its spending habits.
One potential evidence of this issue is a quick look at a chart displaying the company's total revenue, the cost of producing content, and the free cash flow within the business. At first, it may seem surprising that a company that posts profits year after year could have a negative cash flow. However, a quick look at how the business amortizes the expenses incurred in purchasing its content may suggest that the business is not as profitable as it seems, and that purchasing content consumes a more significant part of its expenses than it would like to admit.
The Company Has Lost Its Price Competitiveness
When the service initially rolled out, it offered some of the cheapest subscription plans in the industry. However, over the years, the company has gradually increased the prices of its basic, standard, and premium plans, which now cost $9.99/month, $15.49/month, and $19.99/month, respectively.
While the absolute value of these subscriptions may not be a major expense, questions arise if you consider the fact that several top competitors such as Amazon Prime Video, Disney Plus, Hulu, HBO Max, Apple TV+, and so on offer basically the same services for significantly lower prices. This has discouraged a significant number of subscribers, especially users outside of North America, where this price increase may prove too much to bear.
Recent Subscriber Loss
Due to the platform's astronomical rise in revenue and the number of subscribers, it's hard to imagine that the Netflix corporation could ever post a net loss in subscribers. However, the streaming platform lost about 1.2 million subscribers in the second quarter of 2022 alone. While a host of factors has been offered to explain this trend, such as an increase in subscription prices, more competition from other streaming platforms, slowing expansion into new markets, as well as specific global macroeconomic factors.
Over-reliance on their North American Market
While the company has been making significant inroads into international countries outside of North America, the U.S. and Canada still make up a fairly large share of their paid subscribers and about 50% of the company's revenue. Though successful expansion into various international markets has blunted the threats of this trend to some extent, it still highlights the company's vulnerability.
Netflix Opportunities
There are a few areas the business could potentially look into as potential room for improvement.
Strategic Re-branding
Netflix is still by far the most popular online streaming service used around the world, and still enjoys — to a large extent — a positive brand image. However, many subscribers have associated the platform with creating a large number of low-budget productions. Perhaps producing a smaller amount of shows will allow the platform to focus more closely on the quality of entertainment they create, as well as potentially drive down costs associated with content creation.
Also, the adoption and near-adoption of various not so customer-friendly policies left a negative impression on a lot of subscribers. The company should invest significant time and resources into rebuilding this trust by positioning itself as the number one customer-centric streaming service.
There Is Still Further Room for Expansion
Despite the recent growth in subscribers, some critics believe that the pace of the growth of the online streaming company is waning. This is likely due to a loss in potential new subscribers, as well as an increased number of users being poached by cheaper streaming alternatives from the platform.
One way the platform could do this is by offering local content to users streaming from a particular country or region. This would not only improve the brand's image internationally but also position itself as a strong force within the country and potentially one which offers exclusive streaming rights to a wide range of local content.
New Innovative Customer-centric Services
The Netflix corporation has always been known as a company that is not afraid to push boundaries in terms of innovative design. However, the last few years have seen them hit-and-miss regarding new policies and platform adjustments, suggesting that the company may not be perfectly in tune with current consumer preferences due to placing too much emphasis on monetization and profitability.
Offering More Local Content
Even though Netflix offers a wide range of local content for international subscribers, the company places significantly more focus. It invests more resources into content targeted towards its North American subscribers. Offering more local content could drive positive growth in the international market, as well as offer subscribers access to a more diverse range of programming.
Netflix Threats
Here are a few threats to the Netflix, Inc. business model and how they can be handled.
Rising Competition from Other Streaming Services
While Netflix has certainly enjoyed several key advantages as a first-mover within the industry, this is not enough to protect the company from competition from other streaming services. Platforms like Hulu, Amazon Prime Video, Apple TV+, and HBO Max have seen strong growth in recent years.
In terms of raw numbers, the streaming giant is still ahead of its closest rivals (e.g., Amazon Prime Video: 200 million subscribers; Disney+: 164.2 million subscribers; HBO Max: 76.8 million subscribers). However, the quick rise and fall of companies, such as Blockbuster, just highlight the fickle nature of the industry and how rapid changes in user preference can be the ultimate undoing of a corporation.
Recent price hikes in the prices of their packages, as well as specific policies Netflix plans to roll out in 2023, have spooked both subscribers and investors. Wisely, many of its competitors have sat back to observe the market reaction to these policies to capitalize on the potential exodus of users from the streaming service once they are rolled out.
Rampant Content Piracy
Content piracy is a serious threat to any streaming service, and understandably, Netflix has invested heavily in protecting both its content and intellectual property. The platform is seen as one of the most secure anti-party services in the industry and makes use of effective anti-piracy solutions such as Digital Right Management (DRM).
However, despite their best efforts, an estimated 16% of worldwide piracy content comes from the platform. This could potentially translate to billions of dollars in lost revenue due to content piracy.
Password Sharing
Though this may not favor certain subscribers, it is undeniable that the company has to quickly find a solution to the issue of password sharing among users. It is estimated that over 100 million subscribers globally share their Netflix account login details, including 30 million users in the U.S. The loss of potential revenue caused by the practice (estimated to be as high as $6 billion yearly) has motivated the company to adopt several policies to address this issue.
Some of these policies include potentially adding a feature that notifies primary account users if a subaccount has logged into their account and charging an additional fee for each subaccount. They also made significant investments in data security, IP address tracking, account monitoring, and so on. Another idea considered by the platform included creating a pay-per-view system that would ultimately discourage users from actively sharing their subscriptions.
Failure to Invest In a Greener Future
While this may not appear as a direct threat to the survival or profitability of the Netflix company, many other tech giants in the industry, such as Amazon, Facebook, Apple, and Google, have invested heavily in renewable energy. Failing to follow this trend may weigh negatively on the brand image of the company, especially as awareness of climate change and the responsibility of mega-corporations towards achieving 100% sustainability become mainstream considerations for users.
Slowing Growth in the North American Market
We have previously mentioned the over-reliance on streaming services in their North American market. This is a worrying trend since the U.S. posted the largest loss of subscribers from any single country as growth in the region has stalled in the last few years. This may be due to a combination of factors such as market saturation, increased competition, and the failure of the company to adapt to changing consumer preferences.
Rising Operational Costs
While it's obvious that the Netflix model of releasing an astronomical amount of content has been successful so far, it comes at the cost of ever-rising production and operating expenses. This was sustainable as the number of subscribers (and, by extension, revenue) increased at pace with rising costs. However, with growth stalling, the company might have to consider reducing the quantity of new content they offer and focus on producing higher-quality content.
Conclusion
The Netflix, Inc. streaming service is still definitely at the top of the game regarding the number of subscribers and the sheer amount of content the platform supports. Innovative policies, shrewd branding, marketing, and a first-mover advantage have kept the service ahead of its competition for quite some time.
However, all this may be poised to change with the recent upsurge in the popularity of several alternative streaming services, coupled with the reduced cost competitiveness of the Netflix platform and several financial cracks which are beginning to show in the Netflix business model.
All this might just be another hurdle for the platform to overcome on its path to greatness, or the beginning of a continuing trend that will eventually see it lose its dominance in the streaming industry. Without trying to make any predictions, one thing is for sure: The company was instrumental in changing how we consume TV shows and movies, possibly forever.