The idea behind the creation of the Alibaba business model was to rewrite the way e-commerce was made. They created a platform where small and medium-sized Chinese companies could sell their products and services globally in a simplified model. Throughout the years, the company grew to become the world's sixth-largest brand in value, with businesses that engulf payments services, e-commerce, retail shopping, and supermarkets.
Their main business is:
Alibaba.com
The Group arm specializes in business to business (B2B), connecting buyers and suppliers around the world, in a quicker and easier way. Usually, this branch of the business is destined for great corporations that deal with massive trading in quantity and value.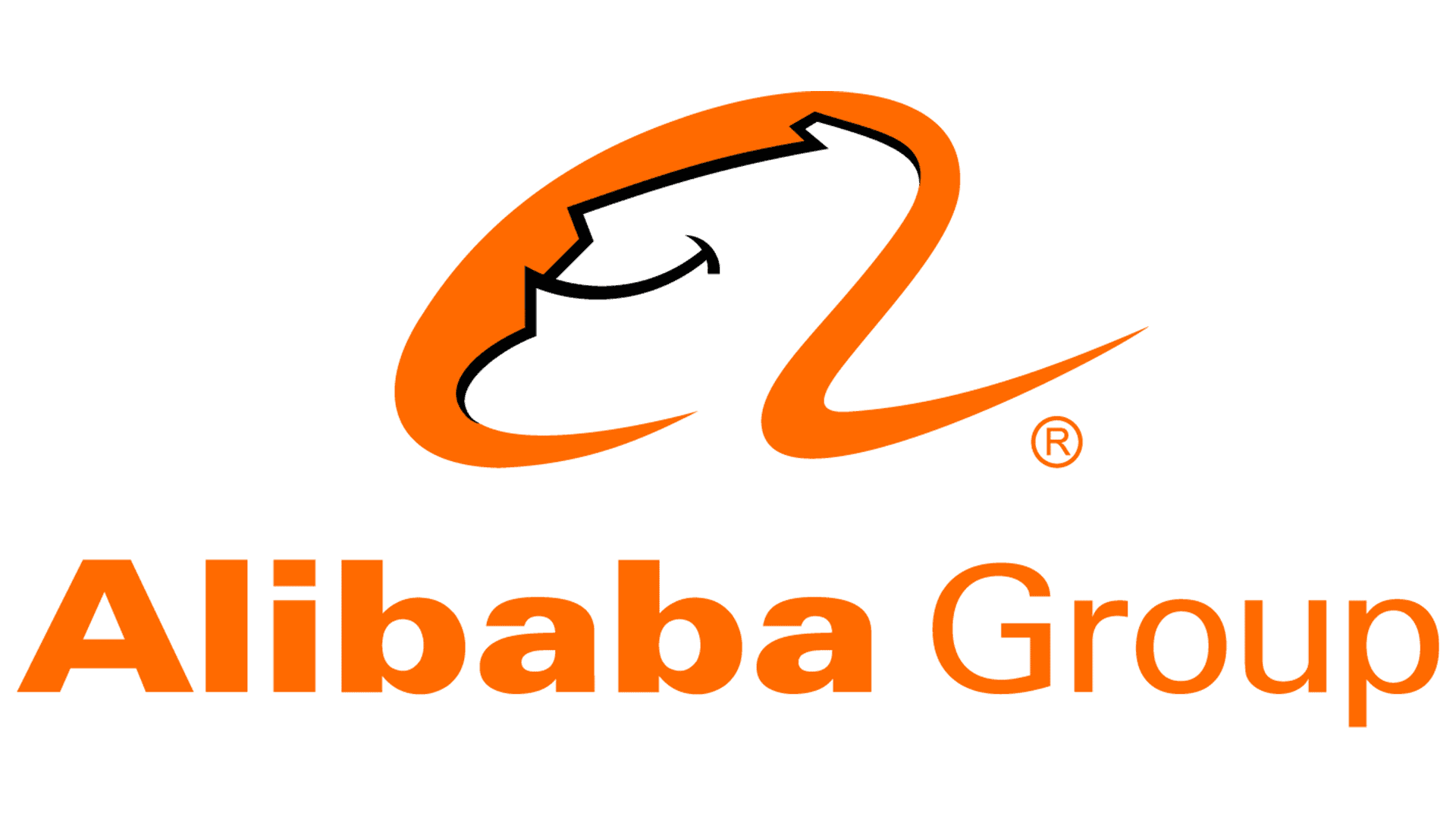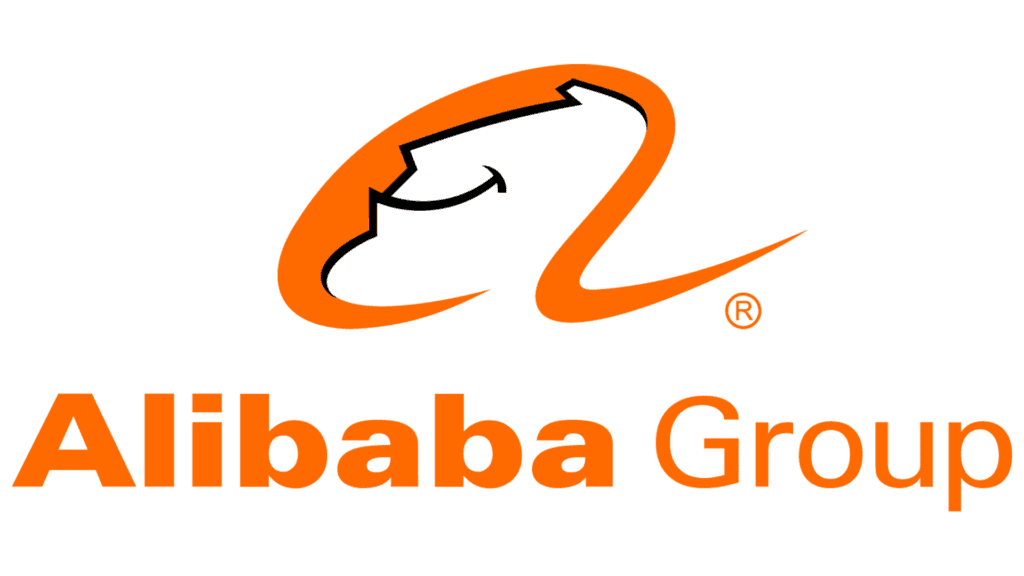 Taobao.com
The brightest stone on Alibaba Group's crown, Taobao is their largest website, focused on consumer to consumer (C2C), providing small entrepreneurs with a clear road to offer their products to an avid web of consumers that reaches the vast corners of the world.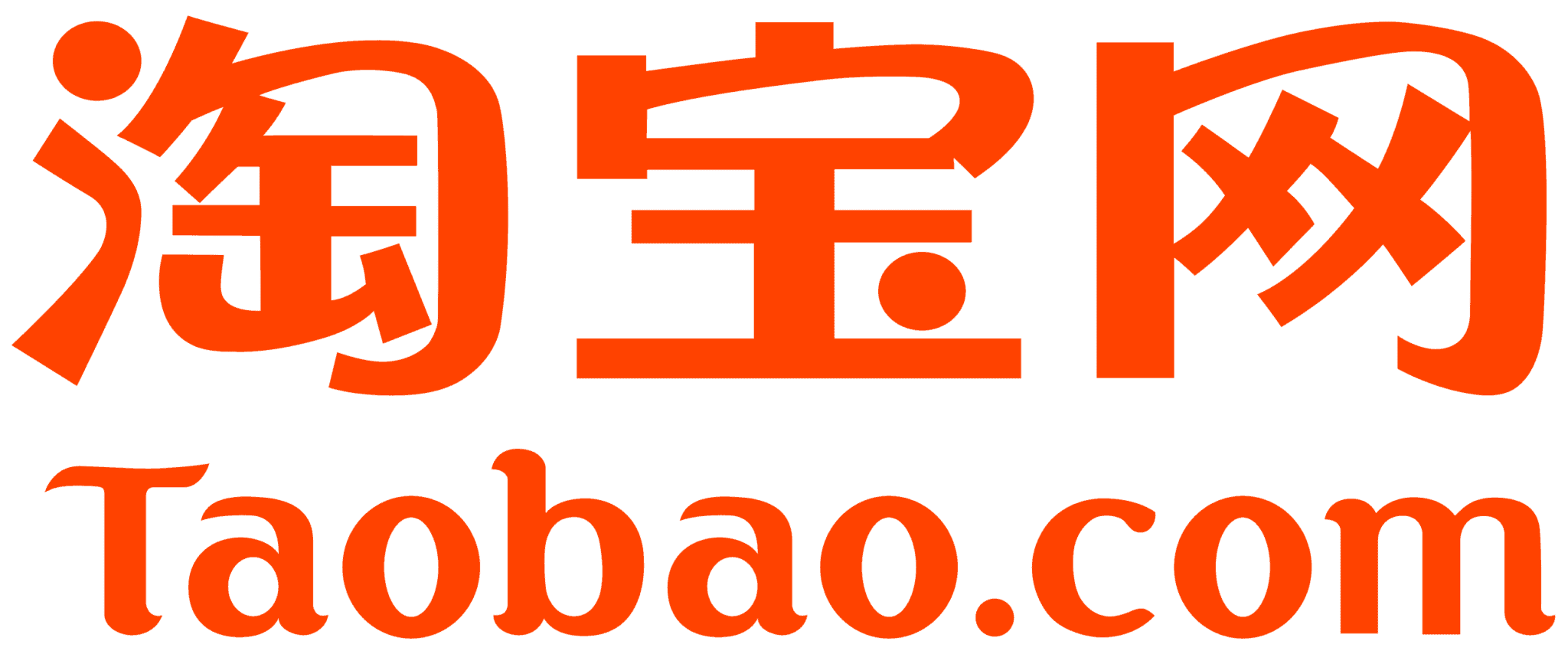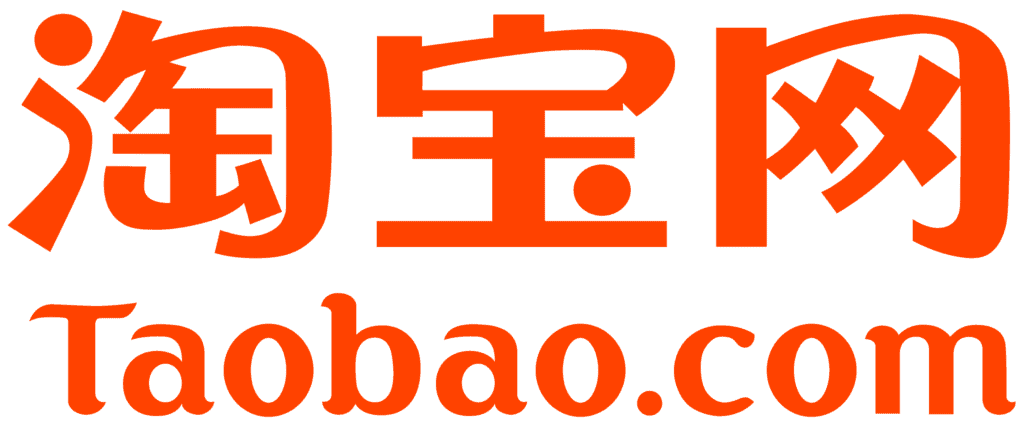 Tmall.com
The website is designed to be a portfolio of high-class brands, such as Gucci, Louis Vuitton, Armani, etc. It means that most of its users are members of the affluent middle and upper classes of China, who are not keen to spend big money on the best goods that capitalism can produce.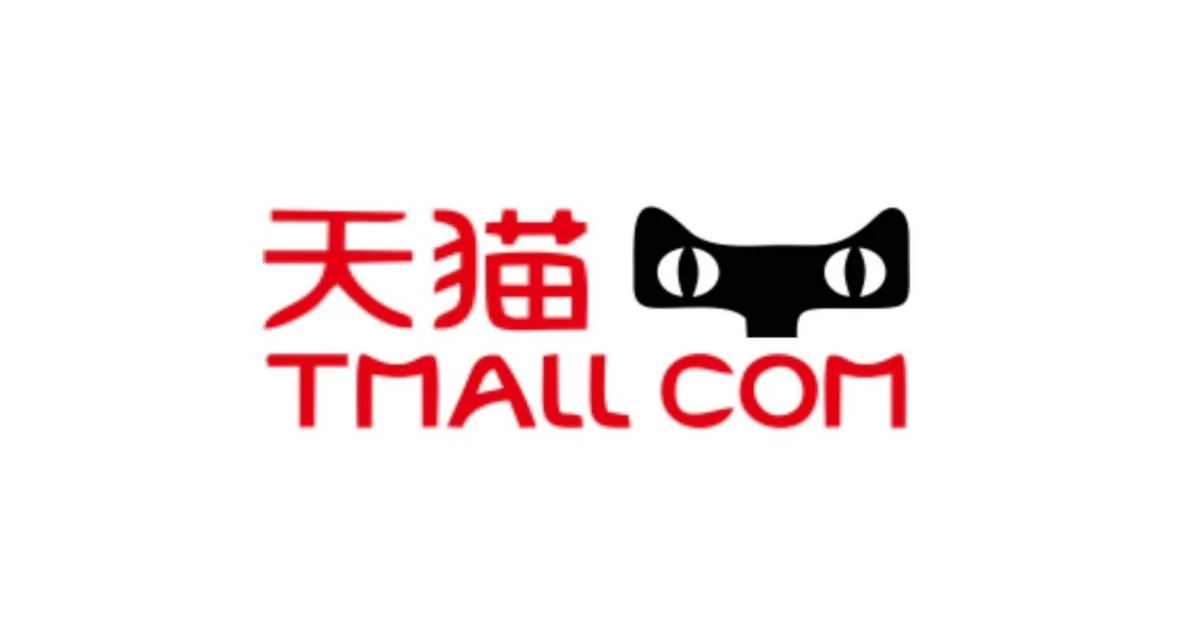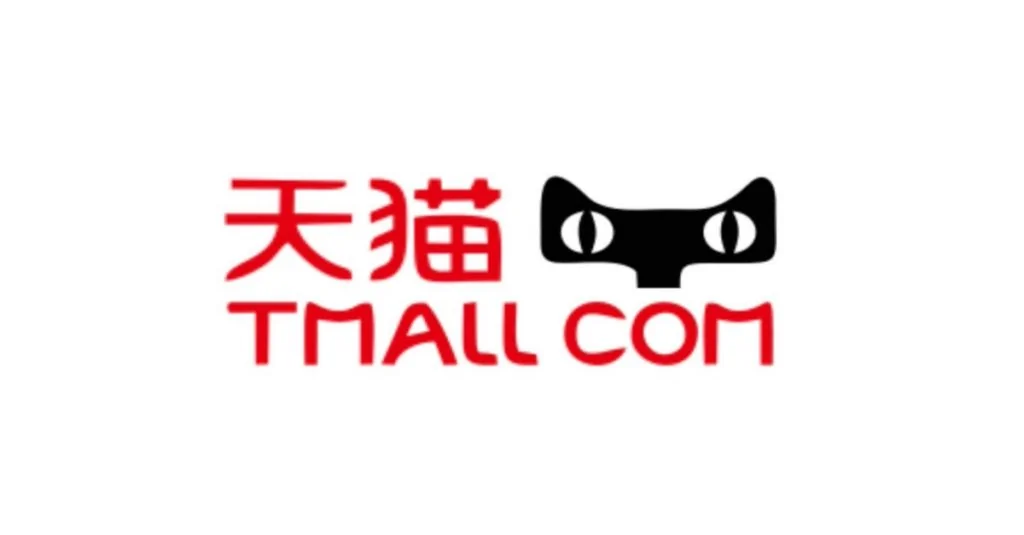 A brief history of Alibaba
Alibaba was founded in the late '90s when the internet bubble was at its highest point. Its founder Jack Ma, gathered around his small apartment in Hangzhou, located in east China, a group of 17 tech experts, to draft the first impressions of what was designed to be the Alibaba Business Model.
The idea that laid the foundation for the creation of this business model was born during Mr. Ma's trip to San Francisco, California, where he had his first contact with the capitalist economic system, which made him realize the potential of the free market economy.
That's why Alibaba's website was created, by the nowadays holding group, intended to formulate a business-to-business marketplace, focused on connecting emerging Chinese businesses to the globalized world economy, providing access for the ever-growing China's entrepreneur class to buyers from around the world.
Ma's beliefs paid themselves when in the year 2002, just after three years after being launched, Alibaba's business model became fully profitable. By 2005, Yahoo bought around 40% of Alibaba for the price of US$ 1 billion, giving the company an opportunity to partner with a search engine in order to offer its services to other countries.
The company's zenith came with the public offering in 2014, when its IPO achieved the estimated value of US$ 25 billion, a higher offer than Apple and Amazon, by that time. The year 2021 also was special for Alibaba, since the COVID-19 pandemic boomed the online market in the whole world, which made the company reach a net income of US$ 21 billion.
Who Owns Alibaba
The Alibaba Group is owned by Jack Ma, still up today. The Alibaba Group Holding Limited owns several subsidiaries, such as Taobao, Tmall, UCWeb, Aliyun, and the soccer club, Guangzhou Evergrande Football Club.
Alibaba's Mission Statement
"Alibaba Group's mission is to make it easy to do business anywhere"
How Alibaba makes money
Alibaba Group is a massive holding that controls numerous subsidiaries and profits for a long-range of services, spearheaded by the e-commerce initiative, which represents almost 90% of the group's revenue.
The Group also counts on other means of making money, such as advertising, membership fees, cloud computing, and also on delivery service sales. Alibaba's income, although diverse, centers on its marketplace offerings, which connect users from every corner of the world to Chinese businesses that sell a variety of goods.
Alibaba has a commission granted for every transaction made on the sphere of its websites Alibaba.com and Tmall.com, also, concerning the functioning of Taobao.com, it operates similarly to eBay and other companies alike, but, instead of gaining money through a transaction, they charge the merchants for advertising.
Tmall.com generates revenue for the group by the annual fees paid by the users, which can change depending on certain pre-agreements made by the users and the Group, related to the volume of transactions.
Membership is also a solid source of revenue for Alibaba and offers the user/merchant the opportunity to subscribe to the Gold membership program, which gives them an upper hand against the other business in matters of advertised items.
Also, since they have a solid presence in the technology realm, they offer plans for storage services, networking, and security. In this list, we can mention Alipay, a tool to facilitate the payment process, and charges for every transaction and for the use of the platform.
Another ramification of the Business Group is Aliexpress, a global marketplace with a strong presence in big markets such as Russia, Brazil, and the United States, with an on-demand service.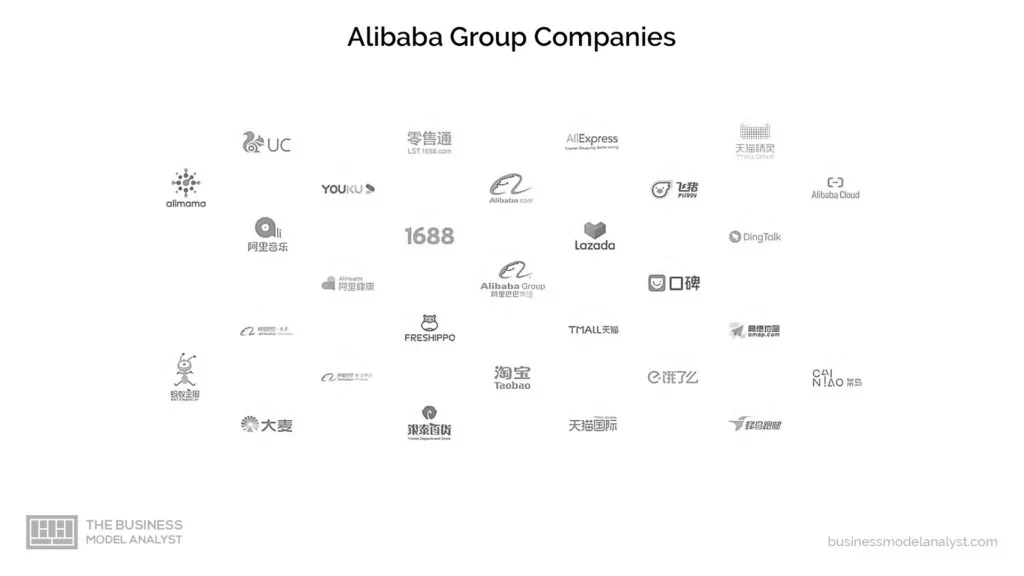 Alibaba's Business Model Canvas
Let's take a look at the Alibaba Business Model Canvas below: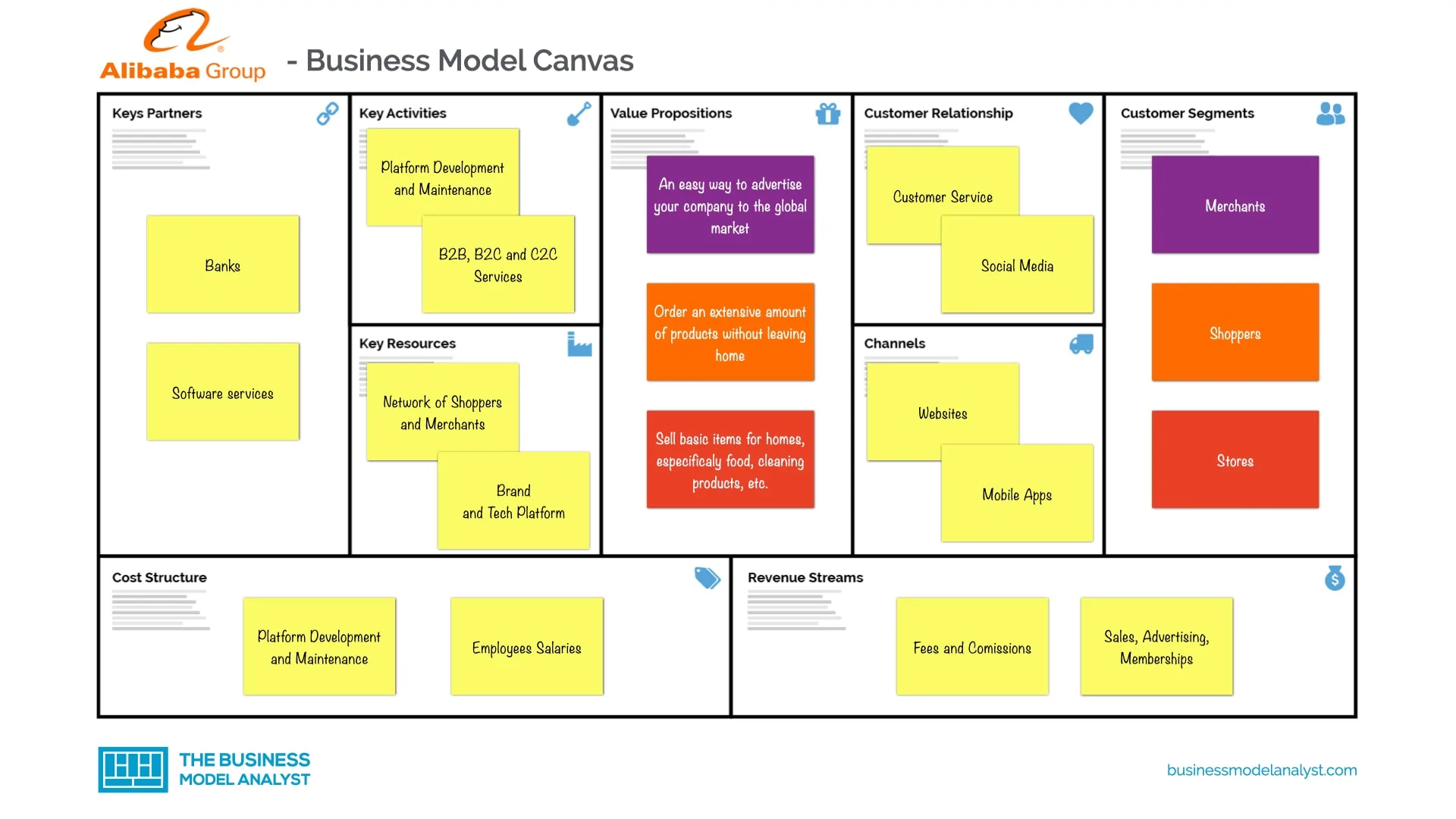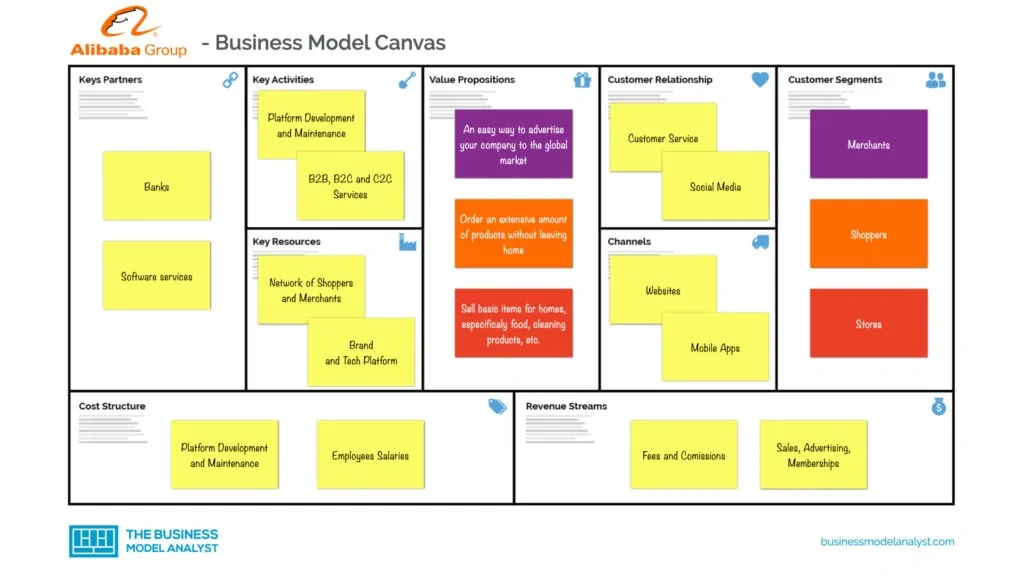 Alibaba's Customer Segments
Alibaba's customer segments consist of:
Merchants: Chinese merchants and companies that want to advertise their products for the Chinese society and the world market;
Shoppers: People who search for ways to shop without leaving the comfort of their houses, manufacturers that want to find suppliers in order to buy raw materials for their production;
Stores: Through their supermarket chain, Hemma, the Group sells food, groceries, tools, beverages, and everything that a traditional supermarket should offer.
Alibaba's Value Propositions
Alibaba's value propositions consist of:
Merchants: An easy way to advertise your company to the global market, in order to increase your demands and profit margin;
Shoppers: Order an extensive amount of products without leaving home or set foot in China;
Stores: Sell basic items for homes, specifically food, cleaning products, and other simple goods. Also, available through delivery.
Alibaba's Channels
Alibaba's channels consist of:
Alibaba's Customer Relationships
Alibaba's customer relationships consist of:
Social media
Users' channels
Q&A
E-mail
Telephones
Alibaba's Revenue Streams
Alibaba's revenue streams consist of:
Fees
Membership programs
Advertising
Commissions
Sales
Alibaba's Key Resources
Alibaba's key resources consist of:
Network of shoppers and merchants
Brand
Technology platform
Alibaba's Key Activities
Alibaba's key activities consist of:
Business to business services (B2B)
Consumer to consumer services (C2C)
Business to consumer services (B2C)
Retail
E-commerce
Supermarkets
Payment services
Cloud computing
Search engine
Alibaba's Key Partners
Alibaba's key partners consist of:
Small businesses of all kinds
Medium-large manufacturers
Tech companies
Banks
IT services
Software companies
Shoppers
Alibaba's Cost Structure
Alibaba's cost structure consists of:
Salaries
Bonus payments
Marketing
Taxes
Legal fees
General maintenance
Development programs
Training
Structures
Investments
Administrative and legal departments
Alibaba's Competitors
Amazon: One of the five greatest technology companies in the U.S., and one of the largest retailers companies in the world. Its aggressive competition culture, combined with massive financial and influential power, gives Amazon an edge when it goes toe to toe against its primary competitors;
eBay: Pioneer in creating the actual model of an online marketplace for C2C. Has an efficient delivery system and intuitive web design, that facilitates users' experience when dealing with it.
Walmart: The second-largest retail company in the US (only behind Amazon), has an attractive membership program and a loyal set of consumers;
Tencent: One of Asia's most valuable companies and the first to surpass the mark of US$ 500 billion in market value. Its solid position in the IT and tech spheres always posed a great threat to Alibaba Group's business, since it has not only traditional and mass approval in China, but also because of the economic and political power that it possesses in that country.
Alibaba's SWOT Analysis
Below, there is a detailed swot analysis of Alibaba: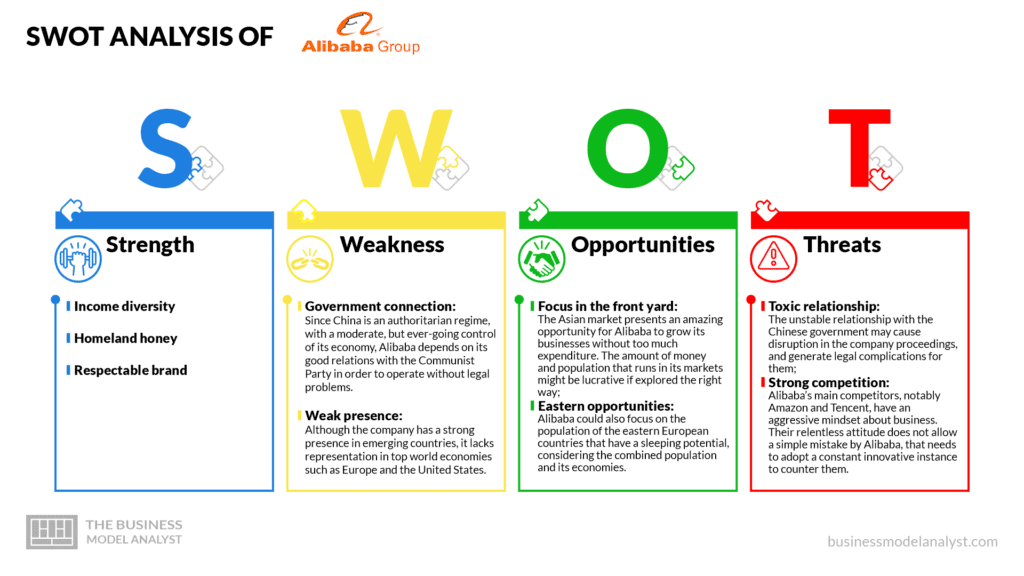 Alibaba's Strengths
Income diversity: The extension of the company, which runs through a large range of different products and services, grants a large fountain of income to subsidize the company's expenditure;
Homeland honey: In its country of origin, China, the company enjoys a good reputation among users and shoppers, maintaining a large contingent of loyal consumers;
Respectable brand: Worldwide, the company has been seen as a corporation that applies transparency in its operation, with an efficient compliance program to avoid corruption in its administration.
Alibaba's Weaknesses
Government connection: Since China is an authoritarian regime, with a moderate, but ever-going control of its economy, Alibaba depends on its good relations with the Communist Party in order to operate without legal problems.
The slightest opposition or consideration towards the Chinese regime may result in complications for their operations. Such actions happened in early 2020, when the judiciary launched an obscure operation against the company, after some derogatory comments of its founder against the communist party.
Weak presence: Although the company has a strong presence in emerging countries, it lacks representation in top world economies such as Europe and the United States.
Alibaba's Opportunities
Focus in the front yard: The Asian market presents an amazing opportunity for Alibaba to grow its businesses without too much expenditure. The amount of money and population that runs in its markets might be lucrative if explored the right way;
Eastern opportunities: Alibaba could also focus on the population of the eastern European countries that have a sleeping potential, considering the combined population and its economies.
Alibaba's Threats
Toxic relationship: The unstable relationship with the Chinese government may cause disruption in the company proceedings, and generate legal complications for them;
Strong competition: Alibaba's main competitors, notably Amazon and Tencent, have an aggressive mindset about business. Their relentless attitude does not allow a simple mistake by Alibaba, that needs to adopt a constant innovative instance to counter them.
Upgrades: Alibaba must keep its momentum when the meter is about technology. The company needs to maintain overflow money for creative e tech departments, in order to have an edge against its competitor, since this sector is key to the development of a modern business.
Conclusion
Alibaba's business model has enough strength to build a solid apex for the company's future, since it has a diverse operation, with many ways to generate income, and a brand that enjoys large appreciation from the public. This kind of model is very suggestive for other companies that apply in their line of business, but its flaw is concentrated in the importance that it gives to the company's respective national market, and forces their owners to overlook potential investments abroad, so, in the long run, it may affect your plan, if you desire to expand your business beyond your country's border.