If the Internet has changed the way we communicate, watch TV and listen to music, the same is so true about the way we do business. Products, services, and business models, which we could have never thought of before, have been coming out every day. And that is especially giving rise to the peer-to-peer business model, also called P2P. Many of these peer-to-peer businesses are having a direct and strong impact on other traditional ones, which demand adaptations – such as changes in regulations and legislation – as well as some hard reactions – such as strikes against rideshare apps. However, it's impossible to deny that the Internet revolution is – and will be for good – taking place, and that opens space for all kinds of disruptive and innovative businesses, and the peer-to-peer economy is benefiting from that.
What is the peer-to-peer economy?
The peer-to-peer (or P2P) economy is the model where two individuals buy (demand) and sell (supply) goods directly, in terms of delivering the product or service. The seller is a private independent individual who produces the merchandise or offers the service themselves.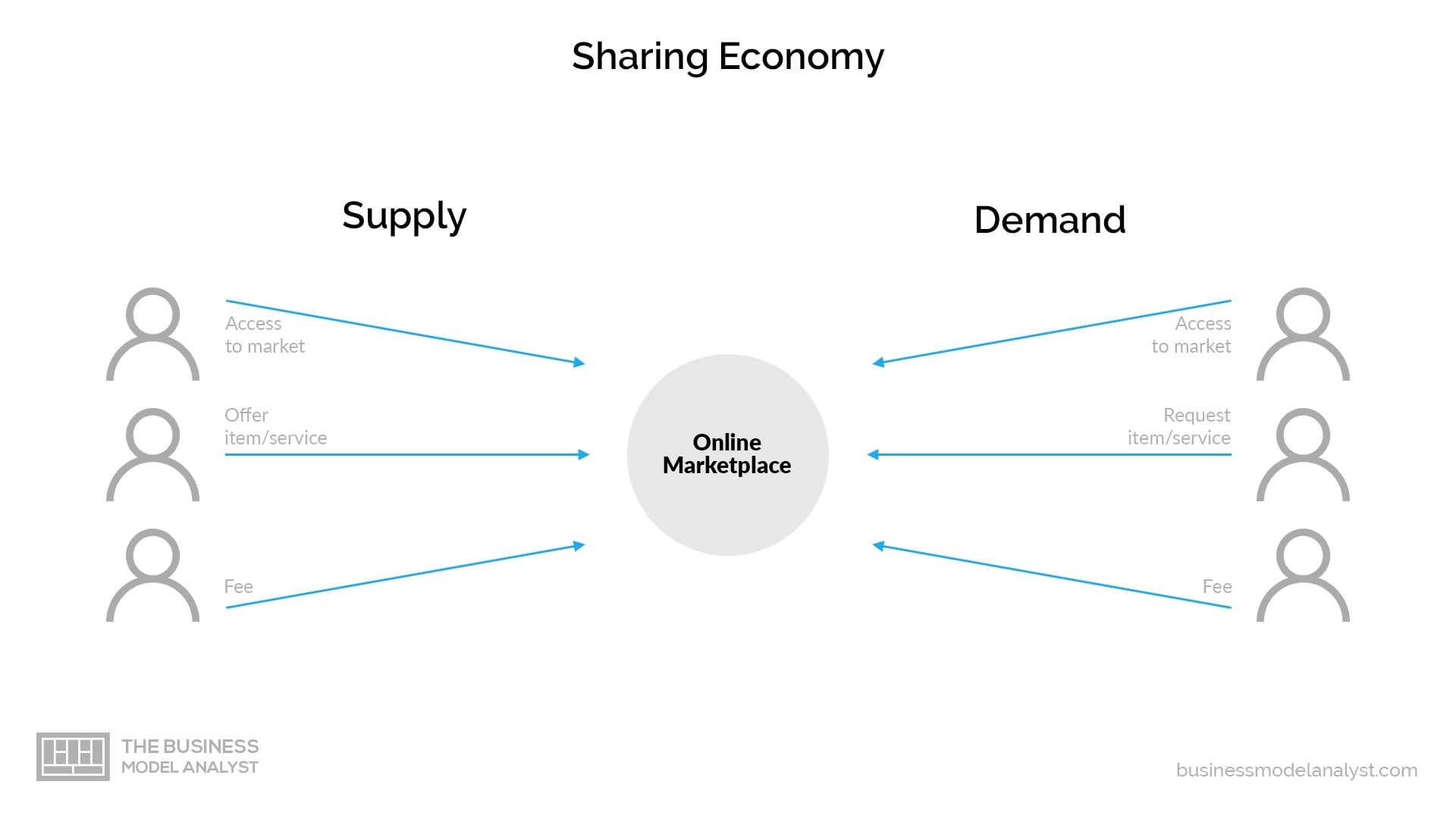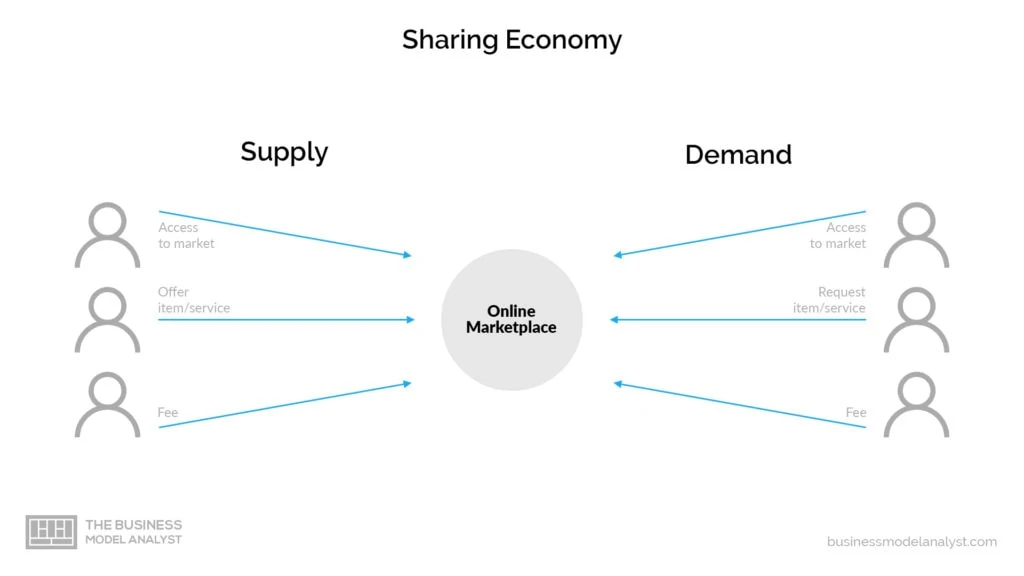 Buyer and seller don't need a firm that owns all the means of production and labor to perform the whole production process. On the other hand, they benefit from companies that operate as intermediary firms, in order to connect both sides. Even because, although this peer-to-peer concept aims for a direct connection between the parties, with no middleman, this is not totally practicable. This connection will always have to be mediated by some source of technology or business. The Internet has turned this P2P economy into such a viable system, by making transactions more accessible, quicker, and safer. And the term peer-to-peer has been caught on, indeed, with Napster. This file-sharing system, launched in 1999, would allow individuals to share music by using the internet. Napster changed the whole musical scenario by connecting people who could exchange music files, for free. The music industry has never recovered from that. But this P2P "movement" didn't come down to that. It actually permitted that millions of users could connect, making up groups, and collaborating with each other. This P2P economy has allowed a wide variety of business models, such as multisided platforms, marketplaces, or crowdsourcing.
What is the peer-to-peer business model?
The peer-to-peer business model's purpose is to act as an intermediary between individuals. It works as a matchmaker in the middle of two sides: one who has something to offer (a product or service) and others who can benefit from this offer. Usually, the peer-to-peer business model involves a kind of platform that provides contact between both sides, while establishes rules and regulations, payment systems, and any kind of process that may be necessary for the transaction to work out. This third party reduces the risk of the seller to fail on delivery as well as the buyer to fail on payment. Besides, it reduces production costs and investments, allowing lower prices for the consumer.
Some of the most famous examples of companies based on peer-to-peer business models are:
Uber, Lyft, Blablacar: rideshare apps, who connect drivers/car owners and riders.
Fiverr, Freelancer, Upwork, Toptal, Guru: platforms who connect freelancers and clients, in different areas, such as marketing, translation, graphic design, and programming.
eBay, Amazon, Etsy, Alibaba: sellers list their products for a small fee (or free) and buyers purchase through the platform.
Airbnb, Tripping, HomeToGo: the apps connect people who can earn extra income by renting underutilized property to people who need accommodation.
In all of them, one side of the equation provides the service (the car, the space for rental, the merchandise) while the other side consumes it. And the company delivers the platform for making the match, will all of its structure, mechanism and regulations.
The peer-to-peer business model canvas
In the ideal world the peer-to-peer business model canvas would be represented by the following canvas – no intermediaries, just direct relationship.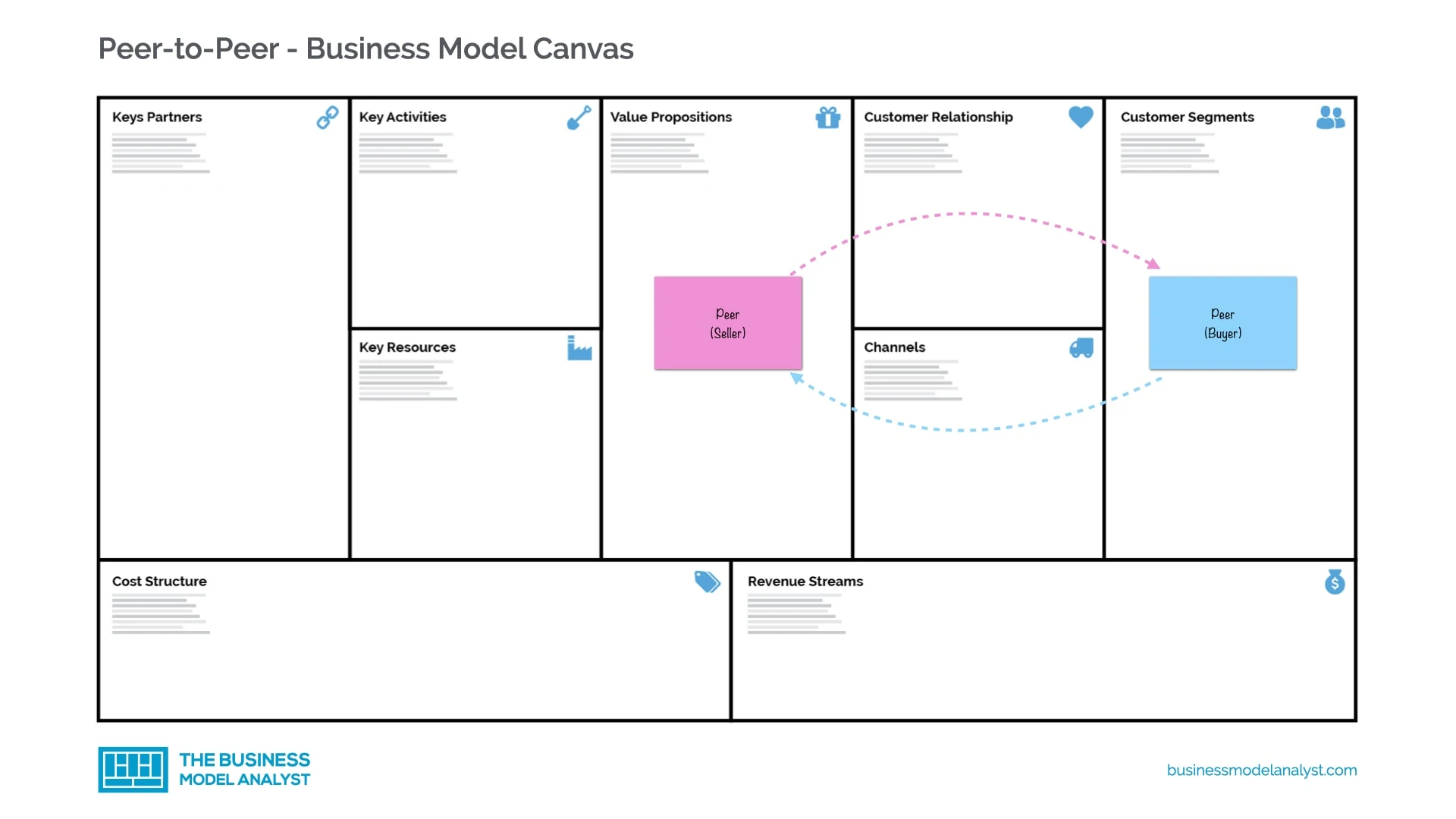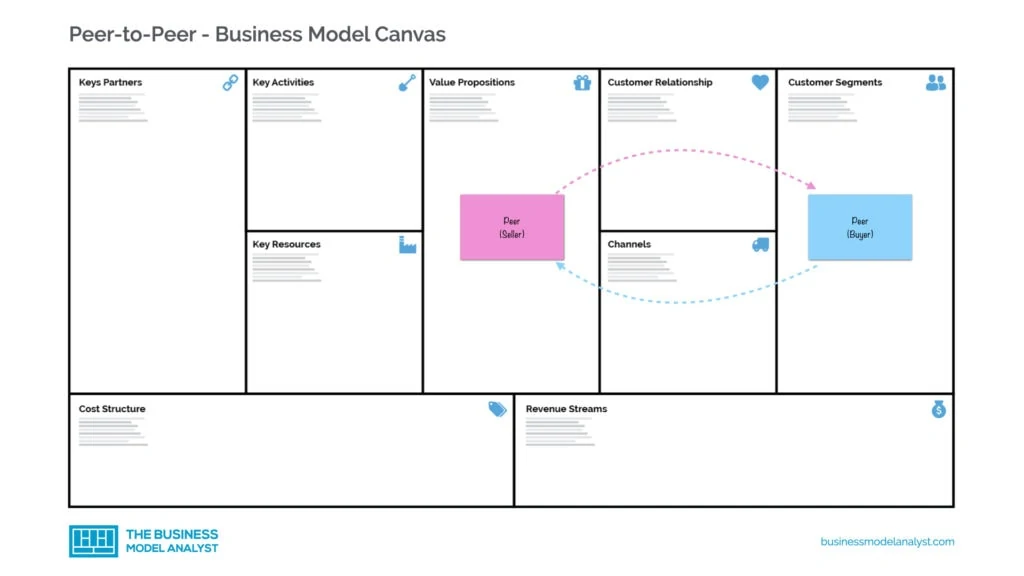 But there's a business opportunity in organizing this relationship between peers (and profit from it). This opportunity gave rise to the so-called marketplaces (or platform) making the peer-to-peer business model canvas look a lot more like this: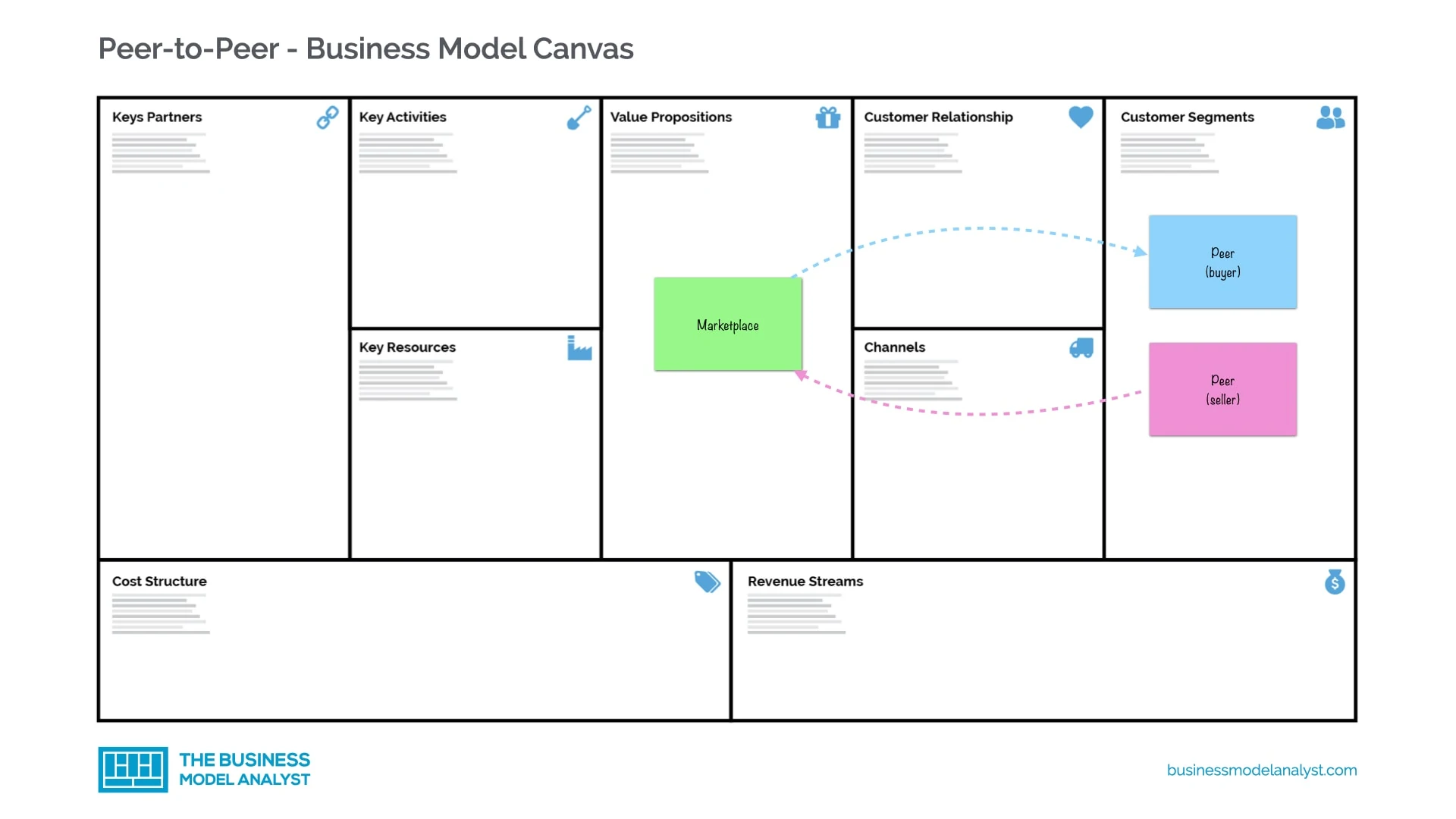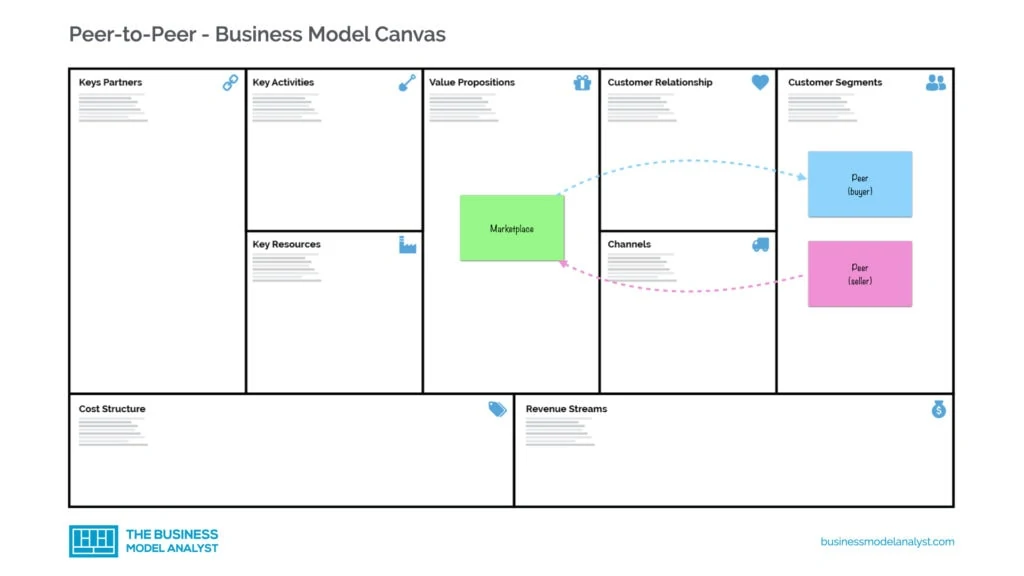 How the peer-to-peer business model makes money
There are some different kinds of revenue streams the P2P business model may employ. The most commons are transaction fees (fixed or percentage of the value), charge for access (or enhanced access), and advertisement.
Peer-to-peer business model's advantages
Costs
On a regular basis, all the production process involves countless expenses and investments, which often cannot be afforded by the producers, especially when we are talking about goods and services delivered by individuals. Traditional firms have to invest in designing, manufacturing, hiring, transporting, negotiating, marketing, advertising, insuring and so many other assets and transaction costs, that it is not even worth enumerating here. But these P2P businesses have helped reduce this kind of expense, by offering individuals the structure they need to deliver their goods and services. They provide search engines and platforms that make it easier for people to share and filter data, in order to find each other and meet each other's' needs.
Labor Specialization
The peer-to-peer business model allows individuals who are selling their products or services to specialize more deeply in their area of expertise. Because, as the specialist doesn't need to focus on other tasks necessary to commercialize their goods or activities, they can invest all their capital and energy to develop their expertise, improving, also, the quality of what they are delivering.
Risk Reduction
Political, social, and economic conditions are always uncertain, unstable, and, therefore, involve risks. When major changes occur in the market, in customer behavior, or even when crises and natural disasters occur, it is the producers who need to take the loss. In the peer-to-peer business model, in addition to the cost reduction highlighted above, the company that acts as an intermediary also ends up embracing a good part of the direct risks arising from the management of a business. By comprehending a large part of the processes involved in offering goods and services, these platforms significantly reduce the losses and uncertainties that the producer would need to face.
Well, one thing is for sure: the connectivity, new technologies and economic instability (especially during and after COVID-19's lockdown) are going to foment the development of new P2P businesses, and will certainly keep transforming traditional sectors and activities.