The Snapchat business model is a multisided platform totally based on a camera app for smartphones. That's precisely why the company, now called Snap Inc. describes itself as a "camera company". It states, in its own site, that "reinventing the camera represents our greatest opportunity to improve the way people live and communicate" and that it contributes "to human progress by empowering people to express themselves, live in the moment, learn about the world, and have fun together."
Snapchat is basically a social networking app that allows people to connect with each other, by exchanging photos or videos, and by chatting. So, the company faces big players, such as WhatsApp, Facebook, Twitter, and Instagram. But its big idea, which differs from the competitors — and that was copied a while later —, has been to let the content vanish in 24 hours. Let's check how this insight has been an empowering feature for the social network, how Snapchat business model works, and how Snapchat makes money from that.
What makes Snapchat different?
If you think about other social media sites, such as Instagram or Facebook business model, you may say that probably their core value proposition is to keep users' photos, like a kind of virtual album, that can be revisited by your friends and followers anytime. But Snapchat grew in the opposite way, and that's exactly how it attracted users: by offering a tool for sharing pictures and videos temporarily. And that is based on the "philosophy" of the app, as the company states on its site, of "living the moment". The truth is: every moment is going, indeed, to disappear.
So, people must let me fade away. This living-the-moment idea deeply matched teenagers and young adults, especially because it permitted privacy by avoiding parenting observation. Their parents could find them on Facebook or Instagram. And the real thing is that youngsters don't want to be where their folks are. This innovative feature from the Snapchat business model was their unique advantage over its competitors — and that's the reason why they copied the platform sooner. So, now, let's move to the core question…
A brief history of Snapchat
Launched exclusively for iOS devices, Snapchat was first introduced in 2012, created by  Evan Spiegel, Bobby Murphy, and Reggie Brown, three former students at Stanford University. The Android version came out by the end of the same year. Different from Facebook or Instagram, where you would post a picture for your friends and family to like and comment on, Snapchat was a distinct social media app, where users could record ten-second videos and send them to friends.
Between 2013 and 2014, plenty of new features came up on the platform: Stories, Chat, Geofilters, Community Geofilters, Snapcash, and "Our Story". Now, people could post pictures and ten-second videos on their Stories profile — it remained viewable and active for exactly 24 hours after posting them —, as well as talk with their friends through a chat, which worked with live video chat in a window where users could talk to each other.
With "Our Story", users could gather pictures and videos of live events happening all around the world, such as sports games and music concerts. Snapcash was a money transaction feature between users and, lastly, Geofilters brought interesting geolocation features, which allowed users to post their location at the moment of the publication.
Also in 2013, Mark Zuckerberg tried to purchase Snapchat, offering the amount of $3 billion dollars, but it was turned down by its owners. After that, Snapchat expanded its features in 2016 even further, bringing group messages, so that users could send their posts to a selected group of people at once, and it would remain active only for 24 hours — the same way as Stories work —, and Memories, a function where users could search their archive of past Stories.
Who Owns Snapchat
Snapchat is owned by Snap Inc., which has two of its founders in control: Evan Spiegel as the CEO and Bobby Murphy as the CTO.
Snapchat's Mission Statement
"To empower people to express themselves, live in the moment, learn about the world, and have fun together".
How Snapchat makes money
Snapchat is downloaded for free, and all of its features are also free of charge. But the app is designed to drive user engagement and, thus, attract advertisers for Snap Ads and Sponsored Creative Tools. According to Snap, advertisers on Snapchat can reach an audience of 218 million users daily, who spend an average of 30 minutes on the app every day. The cost of ads fluctuates depending on the campaign (on objective and duration, for example). But the advertisers can set a specific budget, with a minimum daily spend requirement of $5. They will all be billed on CPM (cost per thousand impressions), according to the defined campaign strategy.
Virtually all of Snap Inc.'s revenue is generated from the Snapchat business model's advertising. It stands for 98% of the company's $1.7 billion made in 2019. The other 2% comes from Spectacles, physical sunglasses that connect to the Snapchat app and record videos to be shared on the platform.
Now, let's move on to check the whole Snapchat business model canvas.
Snapchat's Business Model Canvas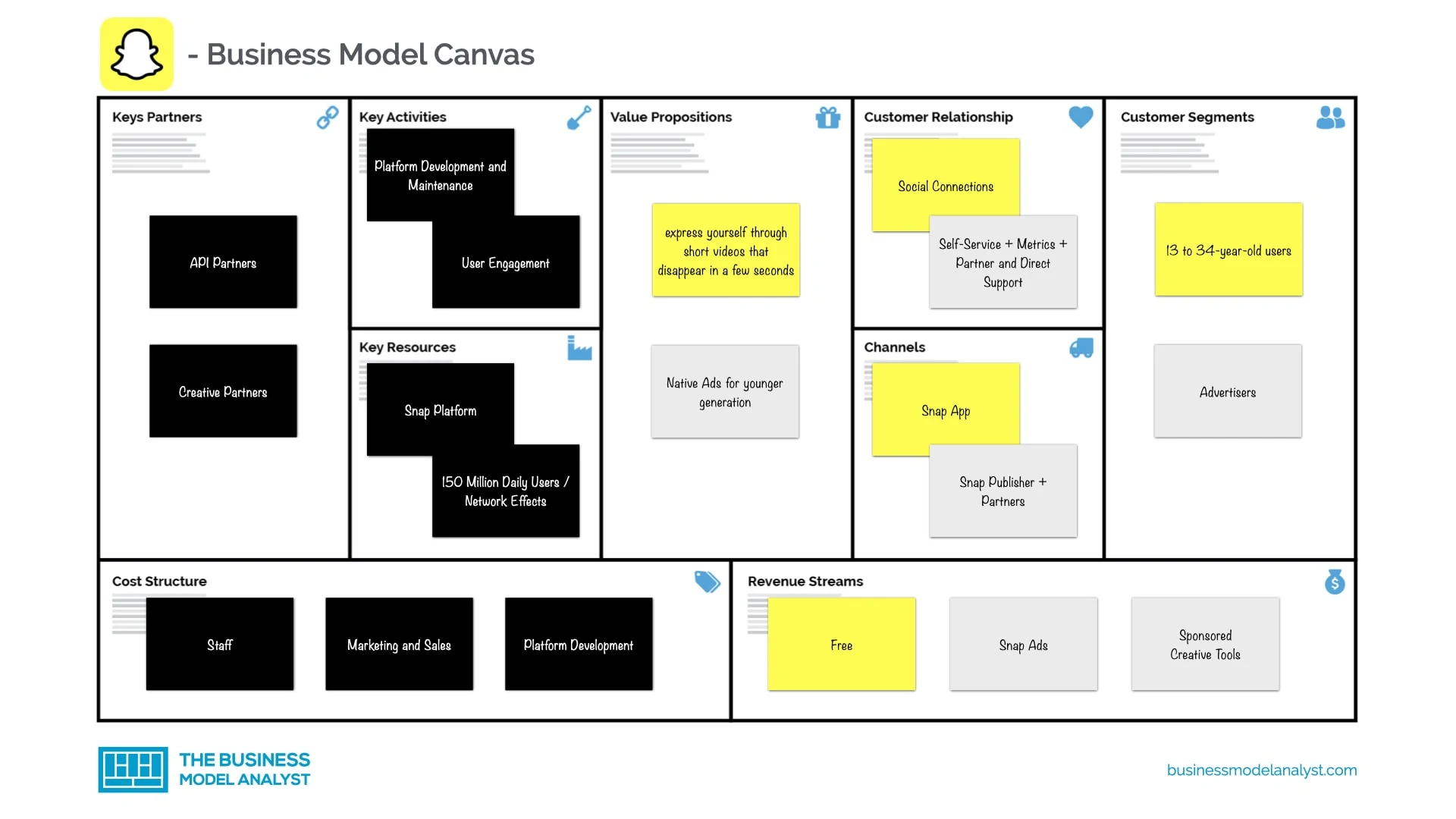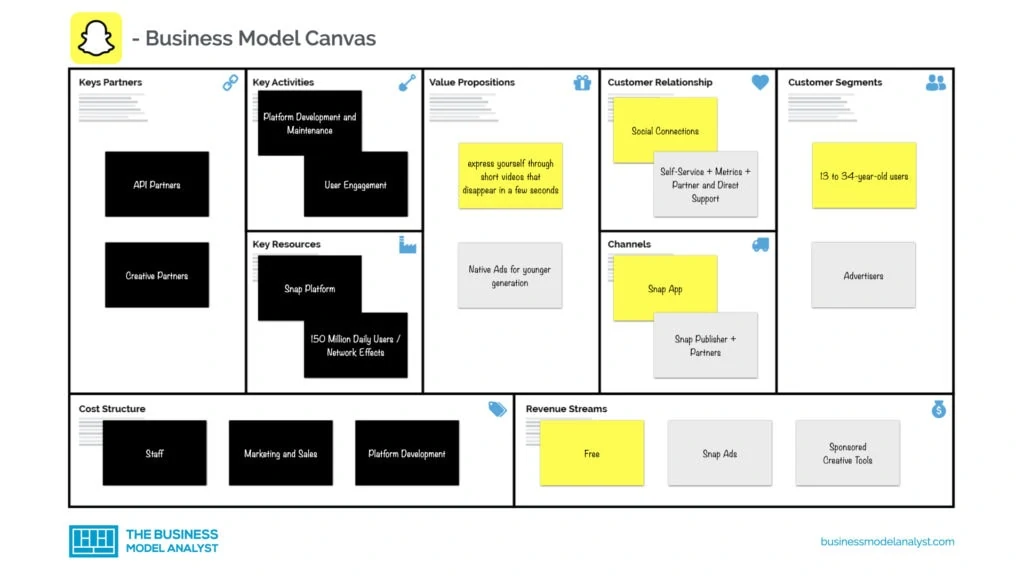 Snapchat's Customer Segments
As with any multisided platform, the Snapchat business model has more than one customer segment. In this case, they are two:
Users: 218 million active users, almost 70% 13-17-year-old, fastest-growing in the U.S., India, Brazil, and France. This audience will be micro-segmented for advertisement;
Advertisers: The businesses that advertise on the Snapchat app. They are divided by size, interest target, geography, types, and more.
Snapchat's Value Propositions
There are different value propositions for each of the customer segments:
Users: Snapchat is a fast means of communication, that allows users to express themselves through photos and videos (with help of its filters/editions), but also live the moment, without having to care about their looks or something, since the posts are going to disappear soon. They can also learn about other people around the world while having fun. And everything is designed for mobile;
Advertisers: Snapchat is probably one of the highest-penetration vehicles among 13-24-year-old. There is the possibility of reaching the audience through creative tools, so, users will interact with ads and brands without noticing, and still less feeling "invaded" by them. Snapchat also provides easy self-serving tools, for businesses to create their own ads. Besides, there are e-commerce tools and APIs for integrations.
Snapchat's Channels
The core distribution channel of the Snapchat business model is the app/website. But other channels include:
App stores
Social media
Word of mouth
Snap publishers and partners
Snapchat's Customer Relationships
Again, we have to divide the customer relationships among customer segments.
Users: Snapchat has to show its snapchatters that the platform prioritizes their interests rather than advertisers, by ensuring a nice user experience;
Advertisers: Besides metrics (business will perceive value according to financials), advertisers appreciate will self-serving ad development, partner and direct support models (for the ones that prefer to have a team setting ads up), and the possibility to connect to users directly.
Snapchat's Revenue Streams
The biggest share of Snapchat's revenue comes from North America — almost 60%. The United States alone stood for 56% of 2020's second quarter's income. 18% comes from Europe and the last share of revenue streams are from all the rest of the world.
Finally, it is unusual that Snap Inc. grew much slower during the second quarter of 2020, in comparison to its figures from 2018 and 2019. By the end of Q2 2020, Snapchat grew only 17%, while its annual growth in 2019 was 43.1% and, in 2018, 45.3%.
Snapchat's Key Resources
The most significant key resources of a social network are the app/platform and its network effects. For that to keep working, other important assets encompass: content, users, relationships with advertisers, staff, brand, tech infrastructure, and intellectual property.
Snapchat's Key Activities
The Snapchat business model's key activities are all about engaging users. So, the platform focuses on growing the base (of all key partners), innovating and improving user experience, growing content, maintaining and developing the app and website, enhancing algorithms, and marketing.
Snapchat's Key Partners
Users: The majority of the content (which drives engagement) is provided by the users;
Content creators: Influencers, media outlets, magazines, websites, and many others that develop content, especially for this platform;
Advertisers: Businesses that support the Snapchat business model by paying for advertisement and sponsorship;
Ad technology and agency partners: Partners that develop ads, target, and track audiences using Snap APIs;
Developers: Third-party apps that integrate with Snapchat.
Snapchat's Cost Structure
The Snapchat business model's cost structure revolves around any multisided platform expense:
Research and development of the app/website and algorithm
Technology infrastructure maintenance
Sales and marketing
Staff
General and administrative expenses
Snapchat's Competitors
Facebook: Mark Zuckerberg's primary project has been enhanced throughout the years, with the "Stories" feature imported from its sister social network, Instagram, which causes a direct competition with Snapchat;
Instagram: The prior competitor when both were at the apex, Instagram's Stories launch was actually a direct response to Snapchat's success;
TikTok: The short videos from the Chinese social network are probably the biggest competition there is nowadays, since TikTok is on a nonstop rise since the beginning of the COVID-19 pandemic;
YouTube: Google's video-sharing tool, YouTube, recently launched a direct response to TikTok's short videos: YouTube Shorts, which makes it another competitor to Snapchat as well;
Twitter: Although Twitter Fleets — their version of Stories — did not work and was officially removed from the app, Twitter Spaces and other features also create certain competition with Snapchat.
Snapchat's SWOT Analysis
Below, there is a detailed swot analysis of Snapchat:
Snapchat's Strengths
Easy interactive interface: The app offers a wide range of filters and effects, with an intuitive and accessible interface, providing plenty of space for the user's creativity;
Innovation: Some know features of the market — such as the ten-second photo that can be sent through the Direct Message on Instagram — were first created and announced by Snapchat;
Free: The app is entirely free — with the exception of the recently announced Snapchat Premium subscription option —, which can always bring new people to use it.
Snapchat's Weaknesses
Limited features: Limited features when compared to its direct competitors, such as TikTok and Instagram;
Most of the same: After years since its peak, the app did not innovate enough to remain in the top downloads of Google's Play Store and iOS App Store.
Snapchat's Opportunities
Personal marketing for content creators: Possibility of exploring personal marketing and building a network of followers, which can lead to profitable content production and monetization for content creators;
Further enhancements: If apps like Instagram and TikTok often copy features from their competitors, such as Snapchat itself, they can do the same, adapting new functionalities based on their competitors to bring back some of their lost share of users;
Snapchat Premium: The new subscription option will bring many more features to the users.
Snapchat's Threats
Generic features: Snapchat's features can be easily replaceable by other applications with similar functionality;
Inappropriate content: The production and dissemination of inappropriate content, especially involving minors, such as teens and even kids;
Competition: Snapchat has faced, in the past few years, a gradual decrease in access, which is mostly due to its direct competitors.
Conclusion
The refusal of the acquisition by Mark Zuckerberg's Facebook Inc. for the amount of $3 billion back in 2013 proved to be a well-played move by the company's founders, as Snap Inc., the parent company of Snapchat, is worth around $37 billion nowadays.
Although the Snapchat app may be responsible for most of its value, Snap Inc. has grown big in the technology market, with the launch of the Spectacles gadget, as well as with the acquisition of Bitmoji and Zenly companies.