The Wayfair business model is a multisided platform that works as a furniture and home-goods online drop-shipping marketplace. Formerly known as CSN Stores, the company was founded in 2002 and offers over 18 million items from more than 11,000 global suppliers nowadays.
The American e-commerce company is focused on furniture and decorative items, which "is becoming the Amazon of the home goods market". In the first quarter of 2020, Wayfair sales grew by almost 20%, compared to the previous year.
In spite of that, the company is still thriving to prove its profitability. While Wayfair generated more than $9 billion in annual sales in 2019, it also lost almost $1 billion the same year, besides spending another $1 billion on advertising.
A brief history of Wayfair
The history of Wayfair in fact starts with its two founders, who were classmates in college. Niraj Shah and Steve Conine first created CSN Stores, which would sell home entertainment and storage furniture in a drop-shipping model. So, in the beginning, CSN operated through the website racksandstands.com. But, as the company began selling other kinds of goods, it started launching other niche websites, such as cookware.com or strollers.com.
In 2010, CSN Stores had more than 200 niche sites, with $380 million in annual sales. Then, the next year, the founders decided to gather all of these websites into only one: The Wayfair. In 2012, Wayfair was offering millions of goods and launching new brands, and, thus, it went public in 2014. Nowadays, Wayfair accounts for more than 16,000, over $10 billion in annual sales, and has other four brands under its umbrella: Joss & Main, AllModern, Birch Lane, and Perigold.
Who Owns Wayfair
Wayfair Inc. is headquartered in Boston, MA, and has Niraj Shah as the Co-chairman, President, and CEO, while Steve Conine is the other Co-chairman.
Wayfair's Mission Statement
"To help anyone, anywhere, to create their feeling of home".
How Wayfair makes money
Wayfair's business model makes money through the so-called drop-shipping. In this business model, the company doesn't need to own any inventory. Instead, it has a wide supplying network, which will ship its products directly to the end consumer.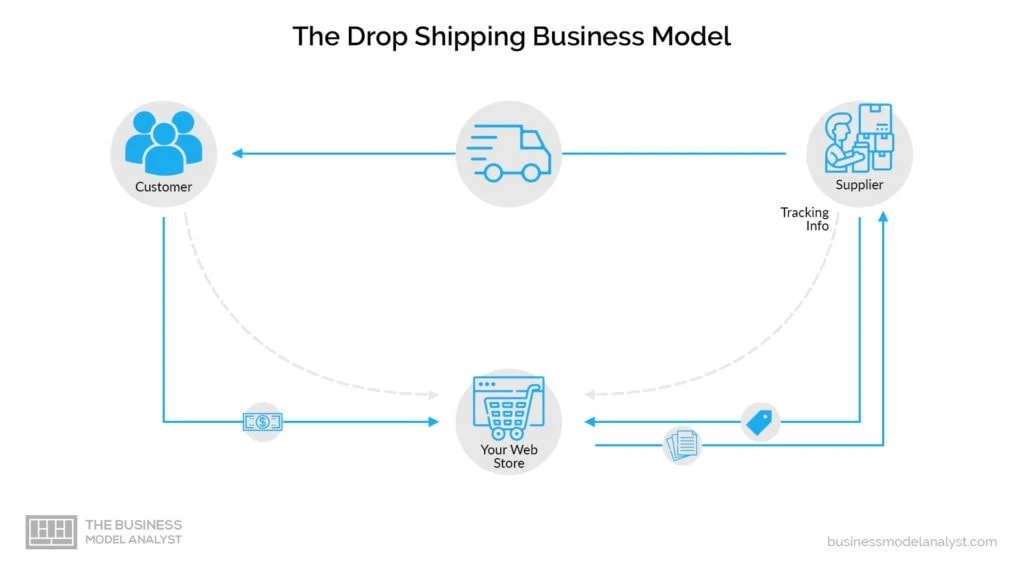 This way, whenever merchandise is sold on one of Wayfair's websites, the appropriate supplier is notified. Then, it packages the product and ships it directly from its storage place to the customer who's purchased that. Wayfair currently offers more than 18 million items, from over 7,000 suppliers, and doesn't handle 95% of the goods its own websites sell.
It, thus, creates income from commissions it gets, cutting off some percentage over each sale. In addition to that, Wayfair also makes money from advertising. The company charges to promote products and retailers on its website. Now, let's take a look at the whole Wayfair business model canvas.
Let's understand better how the Wayfair business model works.
Wayfair's Business Model Canvas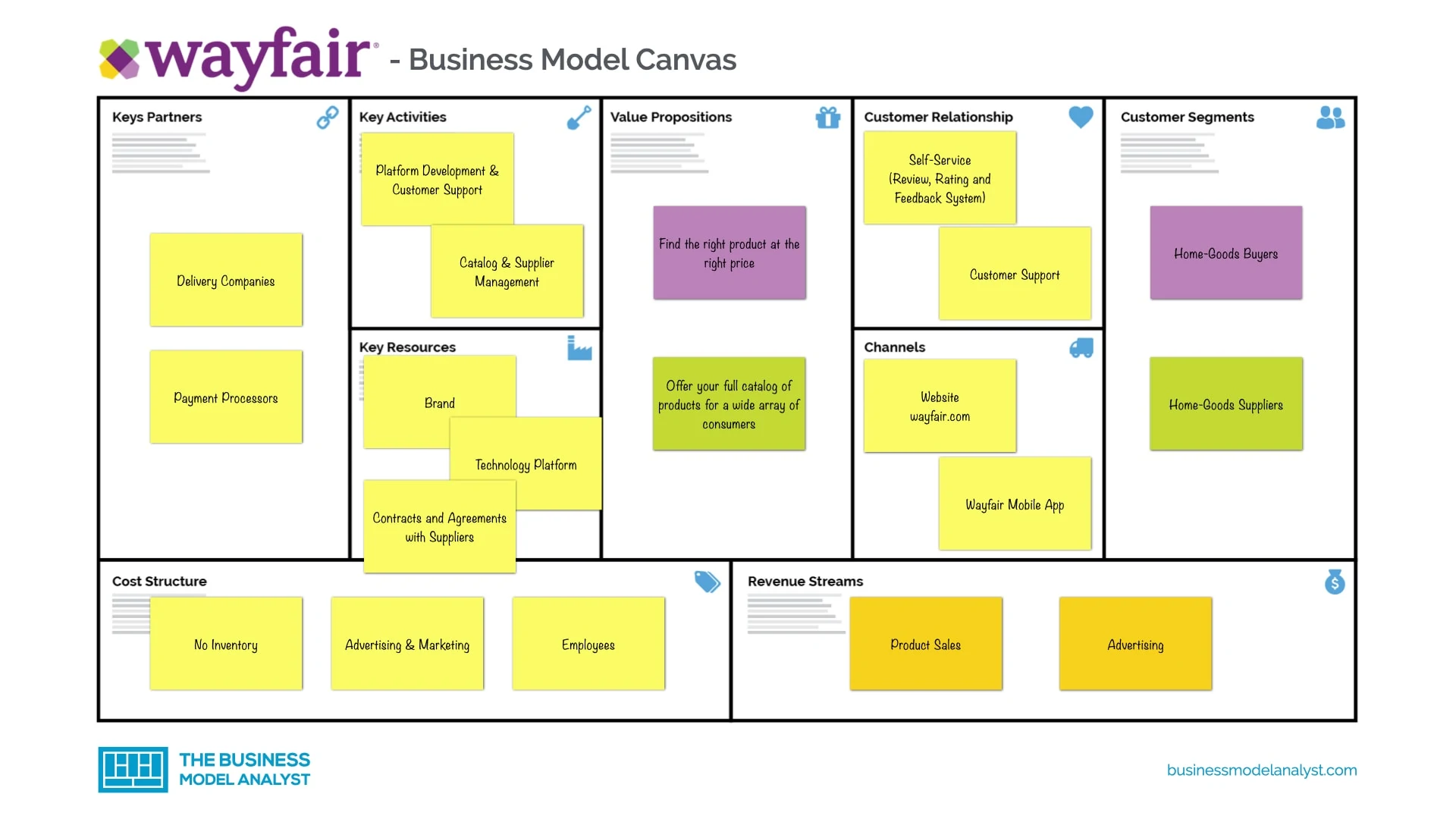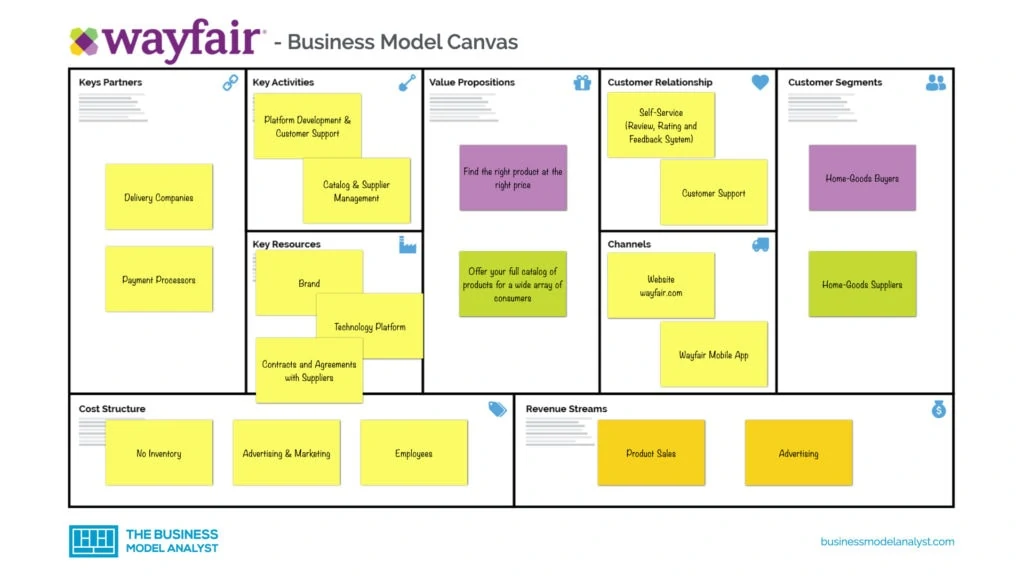 Wayfair's Customer Segments
Wayfair, like most multisided platforms, has two customer segments:
Customers looking for home-goods
Suppliers of home-goods
Wayfair's Value Propositions
The main value propositions Wayfair promises with its business model are:
Offer a wide range selection of products, with different styles and prices;
Allow you to find the right product at the right price;
To empower providers to offer their full catalog of products to a wide array of consumers.
Wayfair's Channels
Wayfair's primary channels are its mobile-optimized websites and mobile app. Besides that, we can mention its Gift Cards and well-managed Social Media networks.
Wayfair's Customer Relationships
The customer relationship of Wayfair is, actually, concentrated on providing a great shopping experience through its websites, since it's a pure online retailer. Thus, it focuses on ensuring a personalized experience, through a user-friendly website with an interface based on browsing and shopping patterns and habits; Besides that, Wayfair also runs some flash sales on festivals and holidays, offers exclusive offers to current shoppers, provides customer service 24/7 and a flexible return policy, and makes available four different delivery options. Regarding suppliers, Wayfair helps them ship directly to customers, cutting costs, and investments in creating and promoting their own channels.
Wayfair's Revenue Streams
Wayfair's revenue streams and product sales and advertising (as explored above). But we may add the information that 86% of the income comes from the United States, which stands for almost 30 million orders per year.
Wayfair's Key Resources
Surely the fundamental to Wayfair's key resources are its tech platform, 11,000 suppliers, and its 16,000 employees. In addition to that, there are:
Its five brands
The contracts and agreements with its suppliers
Its algorithm and system that track the consumer patterns and habits
Automated payment and logistics processes
Wayfair's Key Activities
Wayfair's key activities are focused on developing and maintaining its multisided platform — to connect customers and suppliers, through a positive experience — and on building a wide range selection of furniture and home goods. To achieve that, it also has to:
Analyze customer behavior and shopping habits
Launch products designed by experts
Update and enhance algorithms
Ensure agile delivery
Manage and update the catalog
Provide customer service
Handle contracts with suppliers
Wayfair's Cost Structure
Wayfair's drop-shipping and automated business model aims for its cost structure to be shortened and simplified. As the company ships its item directly from suppliers to customers and, thus, has no inventory, its biggest cost driver is employees, advertising, and marketing expenses. In addition to that, there are the costs of research and development, besides operational, administrative, legal, technological, and other general costs.
Wayfair's Key Partners
The most important key partners of Wayfair are the delivery partners, such as UPS, DHL, and FedEx.
Wayfair's Competitors
IKEA: This Swedish company was founded in 1943 and operates globally, making it one of the top competitors for Wayfair. IKEA offers about 12,000 products on their website, and they're responsible for approximately 1% of world commercial-product wood consumption;
Ashley Furniture: Headquartered in Wisconsin, it is a home furnishings manufacturer and retailer company operated by the Wanek family. They operate over 1,000 retail furniture stores operating worldwide, including over 120 countries;
Williams-Sonoma.: It is a California-based home-furnishings company, which operates 625 brick-and-mortar stores and distributes to more than 60 countries. Their most famous brands include Pottery Barn, Pottery Barn Kids, PBteen, West Elm, Mark and Graham, and Rejuvenation;
RH (Restoration Hardware): Another California-based company, RH operates through retail stores, catalogs, and online, including 36 outlet stores in the U.S. and Canada;
Target Corporation: This Minnesota-based company operates in over 1,900 stores in the U.S., employing over ​​400,000 collaborators. Although Target Corporation is a big box department store chain, it also competes with Wayfair in the furniture and decor sectors;
Walmart: The world's largest company by revenue, Walmart operates over 10,500 stores and clubs in 24 countries. Same as Target, it is a multinational retail corporation that operates a chain of hypermarkets and department stores, which encompasses the furniture and decor sectors as well;
Amazon: Jeff Bezos' gigantic company also competes — among many, many other sectors — in the furniture and decor market, which makes it a potential competitor for Wayfair as well.
Wayfair's SWOT Analysis
Below, there is a detailed swot analysis of Wayfair: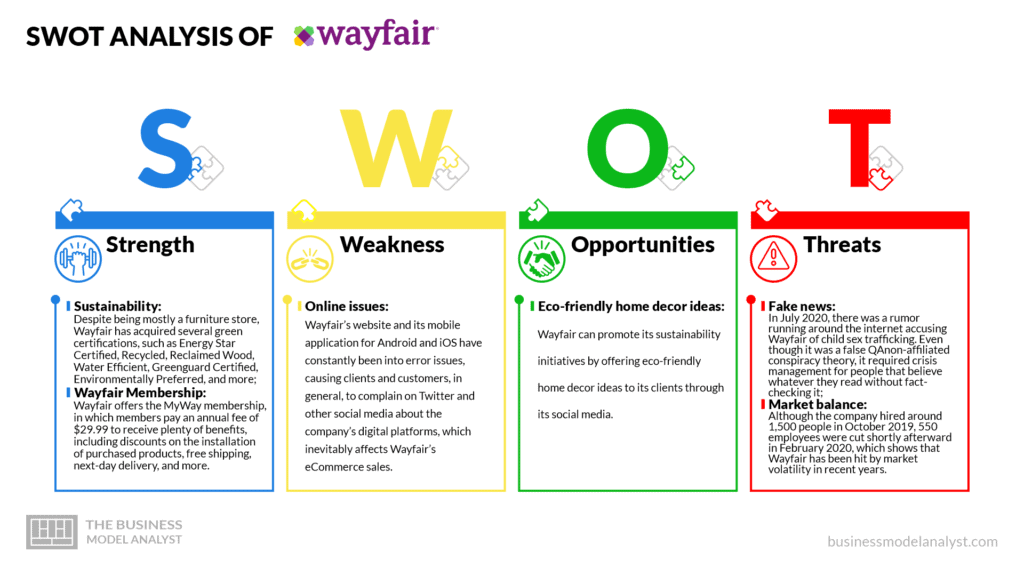 Wayfair's Strengths
Sustainability: Despite being mostly a furniture store, Wayfair has acquired several green certifications, such as Energy Star Certified, Recycled, Reclaimed Wood, Water Efficient, Greenguard Certified, Environmentally Preferred, and more;
Wayfair Membership: Wayfair offers the MyWay membership, in which members pay an annual fee of $29.99 to receive plenty of benefits, including discounts on the installation of purchased products, free shipping, next-day delivery, and more.
Wayfair's Weaknesses
Online issues: Wayfair's website and its mobile application for Android and iOS have constantly been into error issues, causing clients and customers, in general, to complain on Twitter and other social media about the company's digital platforms, which inevitably affects Wayfair's eCommerce sales.
Wayfair's Opportunities
Eco-friendly home decor ideas: Wayfair can promote its sustainability initiatives by offering eco-friendly home decor ideas to its clients through its social media.
Wayfair's Threats
Fake news: In July 2020, there was a rumor running around the internet accusing Wayfair of child sex trafficking. Even though it was a false QAnon-affiliated conspiracy theory, it required crisis management for people that believe whatever they read without fact-checking it;
Market balance: Although the company hired around 1,500 people in October 2019, 550 employees were cut shortly afterward in February 2020, which shows that Wayfair has been hit by market volatility in recent years.
Conclusion
As Wayfair's website states: "Steve and Niraj continue to build Wayfair into their biggest business endeavor yet still innovating every day to create the ultimate home goods shopping experience". With that, we can assume Wayfair has kept its main purpose of business up to today.