Airbnb Business Model is a Multisided platform that connects travelers with hosts from all corners of the planet. By commoditizing trust between property owners and short-term renters, Airbnb has become one of the most recognized companies in the hospitality industry.
If you like to travel, you've certainly heard of or used Airbnb's services. Airbnb is, in a nutshell, a marketplace that allows owners of space to rent to find people who need a place to stay.
However, when the company was founded, back in 2008, it was just a simple idea from two friends who needed money to pay their own rent. They put together three air mattresses and put them up for rent. And then they realized that the idea could go much further than that.
Currently, Airbnb is a fully digital platform, which operates via app and website only. There is no face-to-face service, there is no physical space where you need to go.
And Airbnb does not own any property itself. It only makes it possible to connect people who have something to offer with others who are interested in what they are offering.
In a simple comparison, just like Uber provides over 1 million rides a day without owning a single car, Airbnb makes almost 80,000 reservations a day, without having a single room of its own. Check out how the Airbnb business model works.
What is Airbnb?
According to its own website, Airbnb "connects people with places to stay and things to do around the world. The community is powered by hosts, who provide their guests with the unique opportunity to travel like a local ". Basically, it is a marketplace, accessed via app or website, which connects travelers and hosts. That is, people who have extra space or underutilized property can earn extra income by renting them.
And, on the other hand, people who need accommodation, can rent these spaces directly with the owners, guaranteeing a lower price than those of hotels or real estate listed in an agency, and sometimes they can interact with the owners, bringing them closer to the local culture.
How it all works out
The hosts include in the Airbnb app all information about the space they are placing for rent, including the asking price.
If available, Airbnb sends a photographer to the location to record high-quality photos of the place.
The traveler accesses the app, searches for a property on site, with the features and price range he needs.
Then, they make the reservation via digital platform, without having to contact the host.
The traveler makes the payment to Airbnb, including transaction fees.
The host must agree with the rent.
When everything is okay, the traveler stays in the rented space and Airbnb pays the host the rent, deducting its commission.
Finally, both host and traveler can rate the experience and write reviews about it.
It is worth remembering that Airbnb is present in more than 190 countries, with more than 650,000 hosts and around 30 million reservations per year.
Airbnb business model canvas
The Airbnb business model is an example of the sharing economy, so much so that the company itself considers it a "community built on sharing". The sharing economy industry allows people to add value to assets that are idle or underused. In that case, to their accommodation spaces. Let's take a closer look at the Airbnb business model canvas.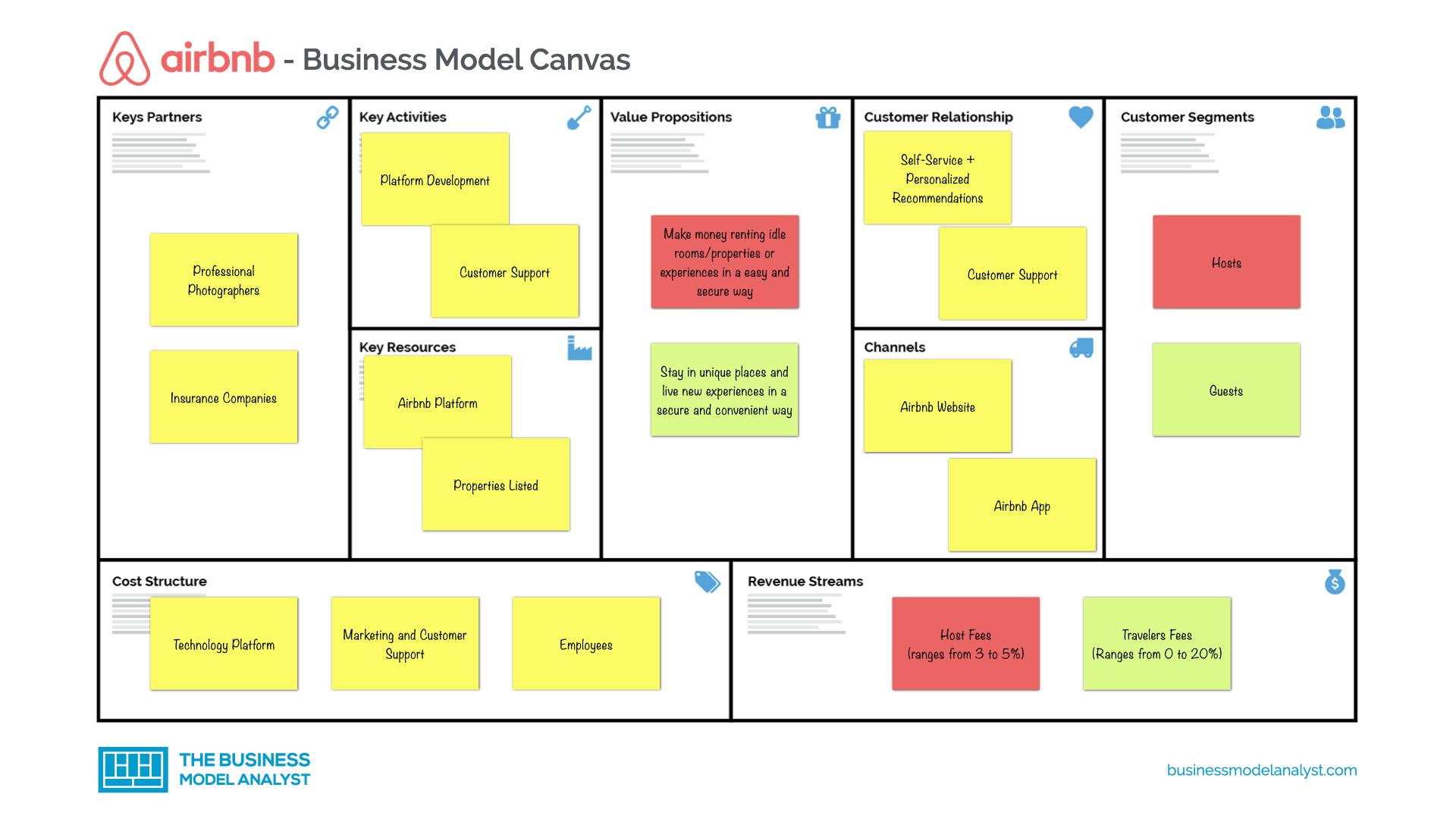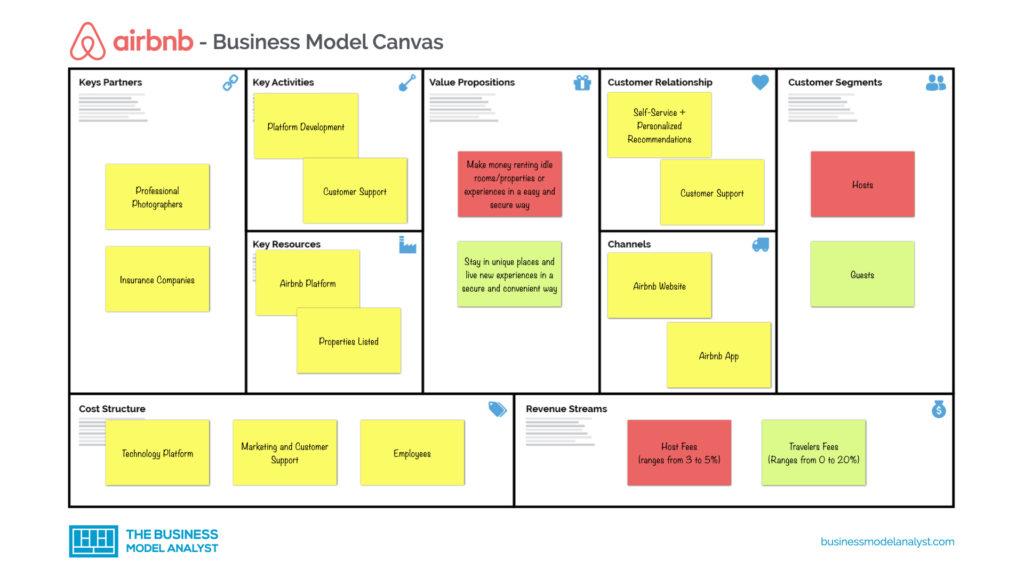 Download High-Resolution PDF of the Airbnb Business Model Canvas
Customer Segments of Airbnb
There are two customer segments that define the Airbnb business model. They are:
Hosts: the people who have spaces available for rent and want to make money from that. In the app, they can include their properties under certain conditions, such as available period, check-in and out times and other "rules". They will also accept or reject the requested reservations and evaluate travelers later.
Guests: the people who are looking for a place to stay. They can search by location, type of property, price, among other filters that the app offers. They book and pay through Airbnb.
Value Proposition of Airbnb
Airbnb's value proposition is different for each segment:
For Host: the biggest value proposition here is just being able to make money through the platform. In addition, there are the benefits of doing so comfortably and safely, with total control over bookings and even insurance against damage and accidents. It also has the advantage of being able to check the profile of those who are requesting a reservation and even declining the offer. All this with 24/7 support via phone, email and chat with Airbnb.
For Guest: the biggest value proposition here is to save money on rent. In addition, the convenience of being able to choose a place according to all your preferences, only with the help of a device and without having to negotiate with anyone. Furthermore, the traveler can also check the owner's profile and, in some cases, exchange experiences with them during the stay. And, finally, you have payment security, intermediated by Airbnb.
Key Partners of Airbnb
Certainly Airbnb's biggest key partners are its hosts (which can be private owners or hotels and inns, for example). If there are no people interested in listing their rooms and properties in the app, the platform has no reason to be.
Other partners include professional photographers, who provide their services for the platform, insurance companies which secure the rental properties, as well as investors, who have made it possible to build the entire Airbnb structure.
Key Activities of Airbnb
Undoubtedly, Airbnb's main key activity is the development and maintenance of the platform itself, where all the experience takes place. Aside from that, other key activities include sales and marketing for acquiring new hosts and guests, information security for all partners and users, and customer service (on both sides), including conflict intermediation.
Customer Relationship of Airbnb
Airbnb's entire customer relationship is based on a high level of trust in transactions carried out through the marketplace. For this reason, the company acts strongly in the communication between the segments, to avoid damaging its name and reputation. If the brand is tarnished by any inconsistency, it will be pretty easy for a competitor to take the lead.
In this way, Airbnb works to avoid conflicts, manage bad behavior and risks, ensure the protection of data and private information, and offer support to answer questions and solve problems.
Its greatest customer relationship tools are the platform itself, making it as user-friendly as possible, the app's personalized recommendations and customer service support, available 24/7.
Key Resources of Airbnb
Among the Airbnb key resources are the platform and mobile app itself (first), the content generated by the partners (both the properties available and the assessments and reviews), its human resources and its algorithm.
Channels of Airbnb
Now, what are the channels that allow Airbnb to reach its hosts and guests? Its primary channel are the website and app itself. In addition, the company uses social media, digital marketing, affiliate model and, of course, it benefits substantially from word of mouth.
Cost Structure of Airbnb
Airbnb's cost structure includes investment in all of its key activities and resources, as well as its channels, which are: software maintenance and development, marketing, salaries, customer acquisition, insurance, credit card fees, legal and administrative costs.
Revenue Streams of Airbnb
Finally, having viewed the entire Airbnb canvas, we've got to its revenue model, that is, what Airbnb's revenue streams are, how it sustains itself and guarantees an annual billing of a few billion dollars.
How does Airbnb make money?
The revenue of Airbnb comes from two main sources:
Commission from Hosts: this fee varies from 3 to 5% of the amount charged for the rent. The host can list their properties for free. And with each booking, Airbnb deducts its commission. For hosts offering experiences (events and activities), the commission is 20%.
Fees from Guests: Airbnb charges 0% to 20% of the booking amount as transaction fees. This charge is also made with each reservation and varies according to the courses involved.
To end this up, it's worth to say that, considered the Uber for short-term rentals, Airbnb is currently a multimillion-dollar company, and while there are several competitors on the market, none are even close to taking its lead.