The Airbnb business model is a multisided platform that connects travelers with hosts from all corners of the planet. By commoditizing trust between property owners and short-term renters, Airbnb has become one of the most recognized companies in the hospitality industry. If you like to travel, you've certainly heard of or used Airbnb's services.
Airbnb is, in a nutshell, a marketplace that allows owners of space to rent to find people who need a place to stay. However, when the company was founded, back in 2008, it was just a simple idea from two friends who needed money to pay their own rent. They put together three air mattresses and put them up for rent. And then, they realized that the idea could go much further than that.
Currently, Airbnb is a fully digital platform, which operates via app and website only. There is no face-to-face service, there is no physical space where you need to go. And Airbnb does not own any property itself. It only makes it possible to connect people who have something to offer with others who are interested in what they are offering.
In a simple comparison, just like Uber provides over 1 million rides a day without owning a single car, Airbnb makes almost 80,000 reservations a day, without having a single room of its own. Check out how the Airbnb business model works.
What is Airbnb?
According to its own website, Airbnb "connects people with places to stay and things to do around the world. The community is powered by hosts, who provide their guests with the unique opportunity to travel like a local". Basically, it is a marketplace, accessed via the app or website, which connects travelers and hosts.
That is, people who have extra space or underutilized property can earn extra income by renting them. On the other hand, people who need accommodation can rent these spaces directly with the owners, guaranteeing a lower price than those of hotels or real estate, that are listed in an agency, and sometimes they can interact with the owners, bringing them closer to the local culture.
How Does Airbnb Work?
The hosts include in the Airbnb app all information about the space they are placing for rent, including the asking price;
If available, Airbnb sends a photographer to the location to record high-quality photos of the place;
The traveler accesses the app and searches for a property on-site, with the features and price range he needs;
Then, they make the reservation via a digital platform, without having to contact the host;
The traveler makes the payment to Airbnb, including transaction fees;
The host must agree with the rent;
When everything is okay, the traveler stays in the rented space and Airbnb pays the host the rent, deducting its commission;
Finally, both host and traveler can rate the experience and write reviews about it.
It is worth remembering that Airbnb is present in more than 190 countries, with more than 650,000 hosts and around 30 million reservations per year.
A brief history of Airbnb
Airbnb was born due to its funders' necessity for extra money. Brian Chesky and Joe Gebbia were housemates and were having difficulties paying their rent. At the time, there was going to have an industrial design conference in San Francisco and all the hotels were fully booked up. So, they gathered three air mattresses and offered beds and breakfast for designers looking for a room for the conference.
To advertise it, they created a website: airbedandbreakfast.com. After that, they called Nathan Blecharczyk, Gebbia's former housemate and computer science graduate, to build a more complete platform for home-sharing among users. The website was ready in 2008 when Denver was going to host the Democratic National Convention.
Targeting the area, they had hundreds of listings. Believing the idea, the founders wanted to raise money for the brand-new company. With the American election, they created custom-made Obama-O's and Cap'n Mccain's cereal boxes and, with that, they were able to raise $30,000. Anyway, at the time then, venture capitalists began noticing and investing in the startup.
In March 2009, the company changed its name to the current Airbnb. It didn't take long for the company to grow exponentially towards profit. In 2014, the startup added Airbnb Experiences to the platform, where people can run tours, go sightseeing, cook, eat, have classes, and do other activities.
Who Owns Airbnb
The three Airbnb co-founders, the company's owners, are still up today. While Brian Chesky is the CEO, Joe Gebbia is the CPO, and the third co-founder, Nathan Blecharczyk, has the position of CSO.
Since its IPO in 2020, Vanguard Group, FMR LLC, Capital Research Global Investors, and Blackrock Inc. have all made investments in the business. Individual stakeholders in the company hold an estimated 11.28% of its shares, while mutual fund holders have about 35.69% of the company's shares. Although individual holders hold fewer of the company's shares than institutional holders, they still have a significant influence on the company's decisions.
Airbnb's Mission Statement
"Airbnb's mission is to create a world where anyone can belong anywhere, and we are focused on creating an end-to-end travel platform that will handle every part of your trip."
How Airbnb makes money
The revenue of Airbnb comes from three main sources:
Commission from Hosts
This fee varies from 3 to 5% of the amount charged for the rent. The host can list their properties for free and, with each booking, Airbnb deducts its commission. For hosts offering experiences (events and activities), the commission is 20%;
Fees from Guests
Airbnb charges 0% to 20% of the booking amount as transaction fees. This charge is also made with each reservation and varies according to the courses involved. To end this up, it's worth saying that, considering Uber for short-term rentals, Airbnb is currently a multimillion-dollar company and, while there are several competitors on the market, none are even close to taking its lead.
Host-only fee
Hosts who list traditional hospitality listings, such as hotels and serviced apartments, or software-connected hosts—via software integrations with Airbnb—pay host-only fees. However, unless a major part of their listings are in the US, Uruguay, Canada, etc., software-connected hosts don't have to pay a host-only fee.
Host-only fees are usually between 14% and 16%, but for hosts with Airbnb Plus listings or who have a very strict cancellation policy, the payment is likely to be higher. To streamline payment, the fee is taken out of the host's payout before disbursement.
Airbnb's Business Model Canvas
The Airbnb business model is an example of the sharing economy, so much so that the company itself considers it a "community built on sharing". The sharing economy industry allows people to add value to assets that are idle or underused. In that case, to their accommodation spaces. Let's take a closer look at the Airbnb business model canvas.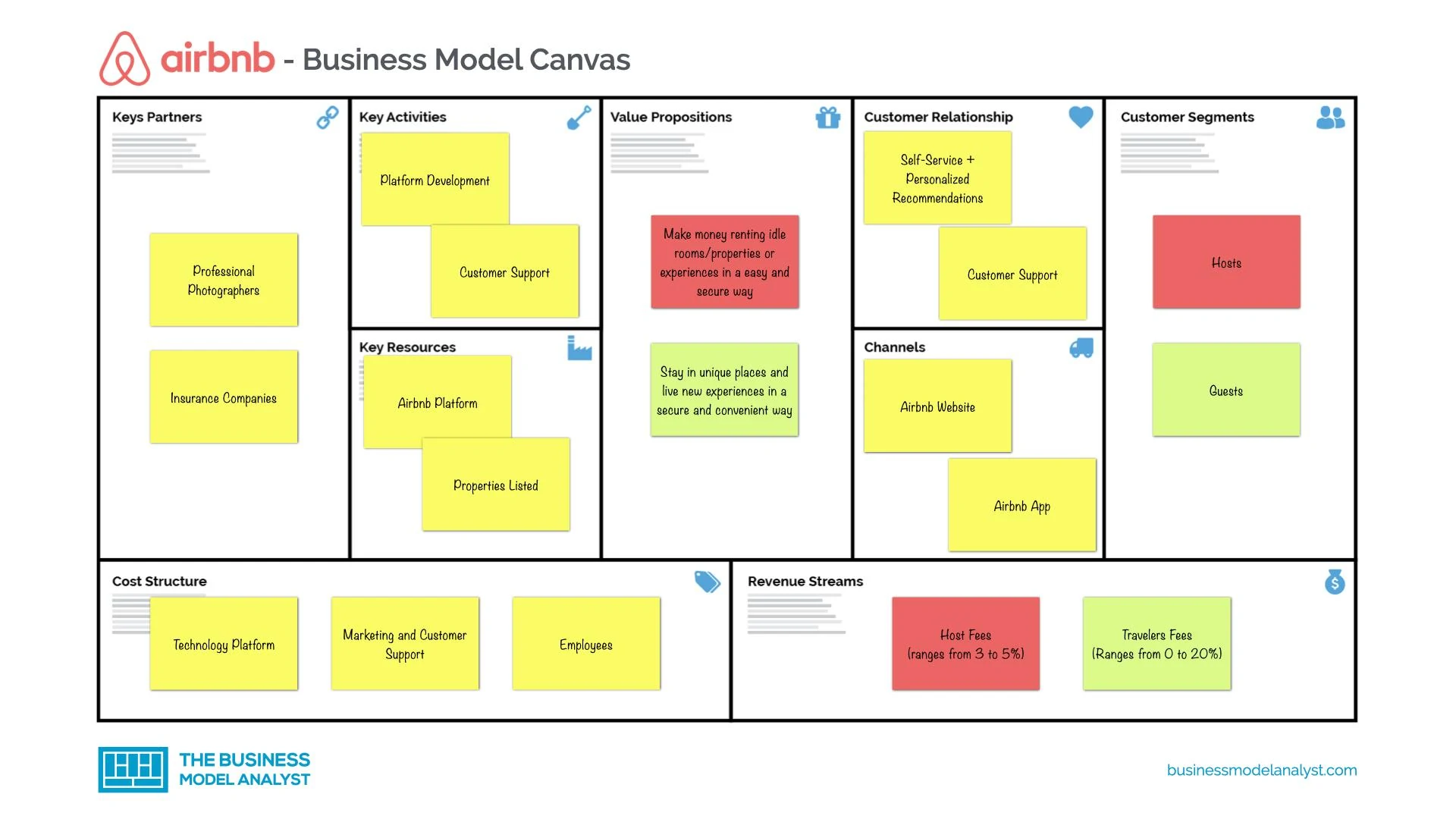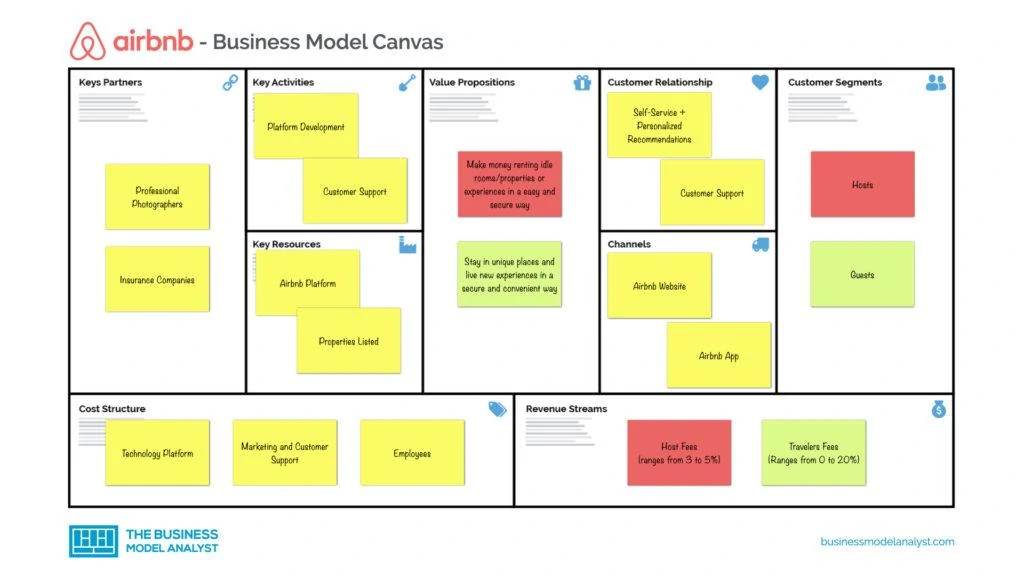 Airbnb's Customer Segments
There are two customer segments that define the Airbnb business model. They are:
Hosts: The people who have spaces available for rent and want to make money from that. In the app, they can include their properties under certain conditions, such as available period, check-in and out times, and other "rules". They will also accept or reject the requested reservations and evaluate travelers later;
Guests: The people who are looking for a place to stay. They can search by location, type of property, price, among other filters that the app offers. They book and pay through Airbnb.
Airbnb's Value Propositions
Airbnb's value propositions are different for each segment:
For Host: The biggest value proposition here is just being able to make money through the platform. In addition, there are the benefits of doing so comfortably and safely, with total control over bookings and even insurance against damage and accidents. It also has the advantage of being able to check the profile of those who are requesting a reservation and even declining the offer. All this with 24/7 support via phone, email and chat with Airbnb;
For Guest: The biggest value proposition here is to save money on rent. In addition, the convenience of being able to choose a place according to all your preferences, only with the help of a device and without having to negotiate with anyone. Furthermore, the traveler can also check the owner's profile and, in some cases, exchange experiences with them during the stay. And, finally, you have payment security, which is intermediated by Airbnb.
Airbnb's Channels
These are the channels that allow Airbnb to reach their hosts and guest
Website and smartphone app
Social media
Digital marketing
Affiliate model
Word of mouth
Airbnb's Customer Relationships
Airbnb's customer relationships consist of:
Trust in transactions through the marketplace
Strong communication between segments to maintain reputation
Avoiding conflicts and managing bad behavior
Ensuring the protection of data and private information
24/7 customer service support
User-friendly platform
Personalized recommendations through the app
Airbnb's Revenue Streams
Airbnb's revenue streams consist of:
Host's fees (range from 3 to 5%)
Travelers' fees (range from 0 to 20%)
Airbnb's Key Resources
Airbnb's key resources consist of:
Platform and mobile app
Listings and content generated by partners (properties, assessments, reviews)
Human resources
Algorithm
Airbnb's Key Activities
Airbnb's key activities consist of:
Development and maintenance of the platform
Sales and marketing for acquiring new hosts and guests
Information security for all partners and users
Customer service, including conflict intermediation.
Airbnb's Key Partners
Airbnb's key partners consist of:
Hosts (private owners, hotels, inns)
Professional photographers
Insurance companies
Investors
Airbnb's Cost Structure
Airbnb's cost structure includes investment in all of its key activities and resources, as well as its channels, which are:
Investment in key activities and resources
Software maintenance and development
Marketing
Salaries
Customer acquisition
Insurance
Credit card fees
Legal and administrative costs
Airbnb's Competitors
Vrbo: This veteran in the industry — it was founded in 1995 — focuses on unique accommodations, like beach houses, condos, cabins, villas, boats, and castles. It attracts around 16 million unique visitors per month;
Booking.com: This large online travel agency lists more than 6 million private homes and apartments, besides hotel accommodations. The website receives over 100 million visits a month;
HomeToGo: This aggregator gathers lists from over 600 websites, summing up to more than 18 million offers in over 200 countries. Based in Berlin, the startup acquired Tripping.com to build a strong presence in the American industry;
Google: Partnered with online travel agencies and managers, Google has been increasing its presence in the accommodations market, including vacation rentals in Google Maps also. The lists on Google may be gotten by Google's millions of users — free of charge;
Holidu: This is another German aggregator, like HomeToGo, but based in Munich. The website receives more than 11 million visits per month and offers over 15 million options. It is popular among Europeans, especially German-speaking ones;
Tripadvisor: The world's largest review site, this online travel agency is accessed by 490 million travelers every month. Founded in 2000, it has over 800 million reviews for accommodations, restaurants, attractions, and more;
Expedia: In this online travel agency, visitors can book accommodation, flights, rental cars, and activities. It focuses on guests who don't want to spend a lot of time researching the best deals;
Trip.com: It is the number one online travel agency in China and parents several other brands, like Skyscanner, for example. It offers 1.2 million rentals, in 200 countries, and has over 400 million users worldwide;
TUI Villas: Part of TUI Group, the largest travel and tourism company in the world. It lists about 300,000 properties, which will also appear on more than 1,000 other platforms;
misterb&b: The largest gay accommodation brand on the planet, with over 250,000 hosts in more than 135 countries. Only gay-friendly hosts can list on the platform;
Plum Guide: This luxury vacation rental website is carefully curated and accepts only about 3% of the received applications, in order to ensure only homes of the finest quality;
Glamping Hub: It is the leader for online booking luxury camping and outdoor accommodation, with more than 30,00 rentals like treehouses, huts, and tiny houses. It targets, of course, a niche audience of nature and outdoors lovers.
Airbnb's SWOT Analysis
Below, there is a detailed SWOT Analysis of Airbnb: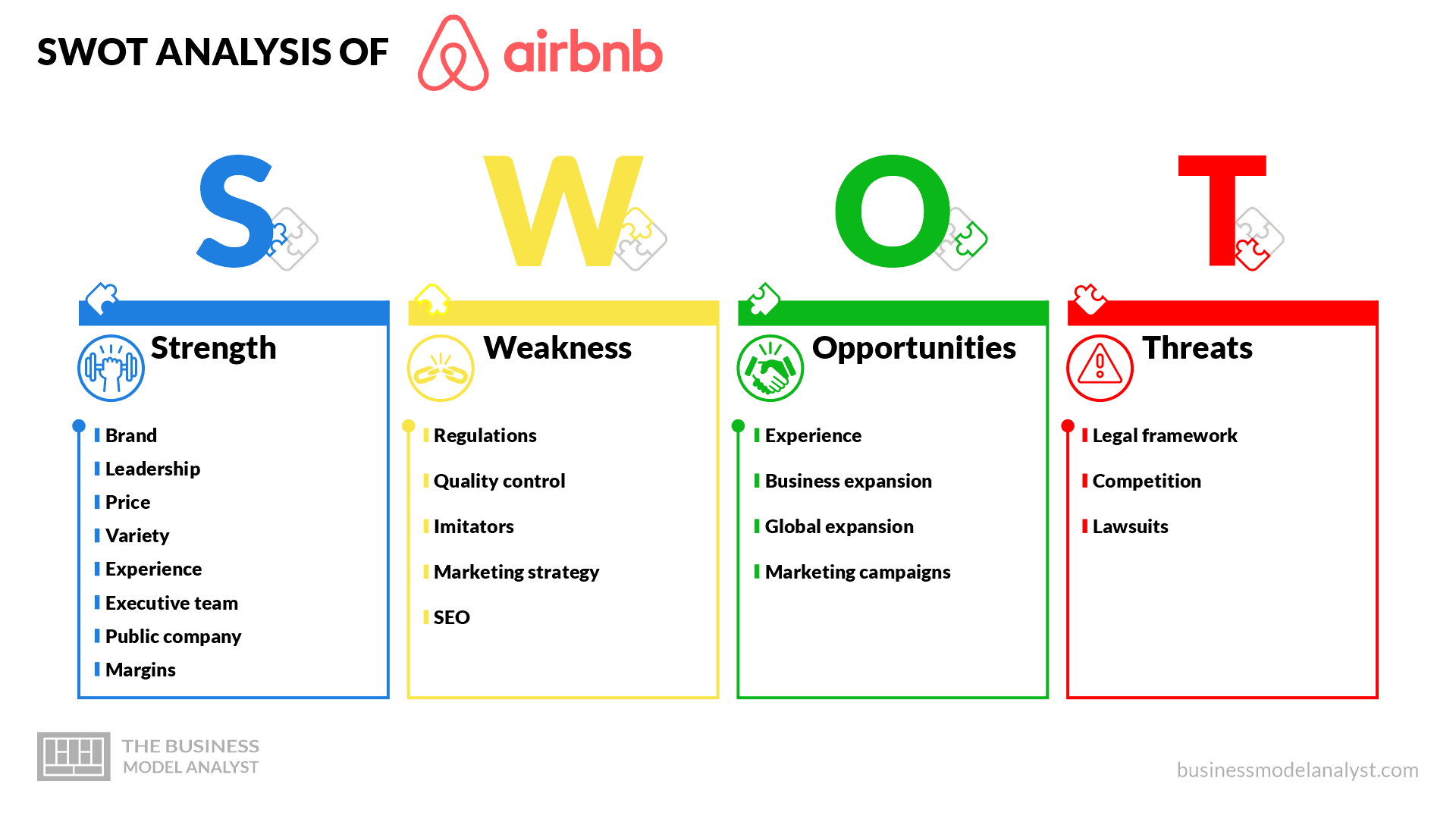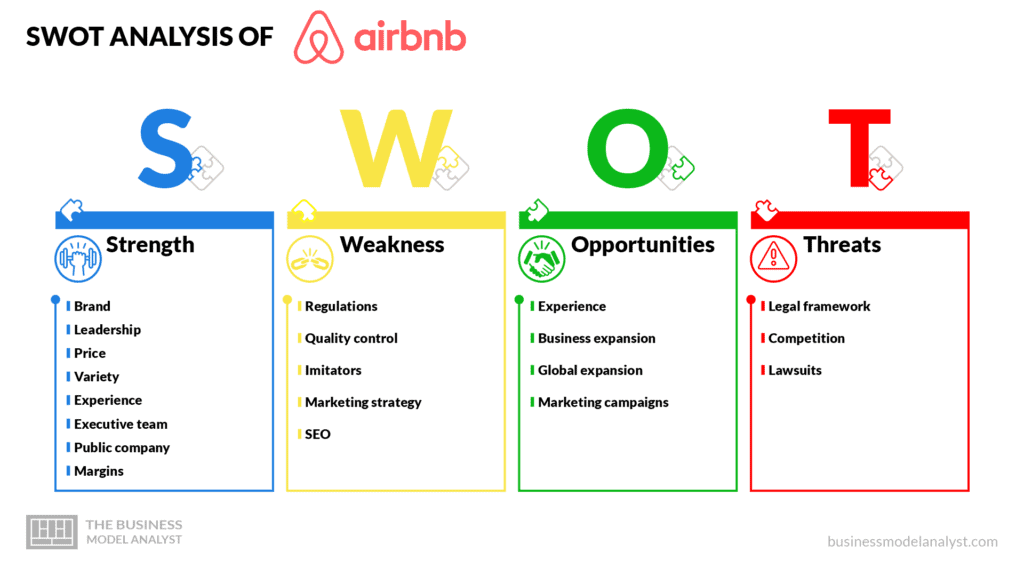 Airbnb's Strengths
Brand: It is the most recognized name in the vacation rental industry. "To find an Airbnb" means to find alternative lodging for your next vacation;
Leadership: The company is the leader for travelers looking for the best deal that doesn't want to be tied to a hotel reservation in a standardized room;
Price: Booking an Airbnb is usually cheaper than a hotel room because the hosts normally don't have as many costs as a hotel;
Variety: Hosts can list available rooms anywhere in the world, with no geographic limitations;
Experience: With Airbnb, the experience is part of the journey. While hotels offer the same kind of experience, Airbnb provides unique spaces that are more than just a place to sleep;
Executive team: The three founders are part of the leadership team, ensuring Airbnb its original vision and business model;
Public company: Airbnb went public in December 2020, giving it access to capital from public markets for investments, and ensuring credibility and enhanced public image;
Margins: The costs are carried by the hosts, enabling the platform to invest profits in marketing and operations.
Airbnb's Weaknesses
Regulations: As there are few regulations regarding homestays, Airbnb was able to expand rapidly, but now some issues are rising and some of those can be pretty strict;
Quality control: The accommodation can be anywhere, but with no standards, such as the ones that hotels need to follow;
Imitators: The simplicity of the business makes it easier for new entrants to open a similar platform;
Marketing strategy: It is not cohesive, since it has to appeal to both hosts and travelers, from different places all over the world;
SEO: Airbnb will only appear in top search engine results if Airbnb is searched directly.
Airbnb's Opportunities
Experience: Airbnb focuses on selling more than just a place to stay, and appealing to the uniqueness of the experience is essential for Airbnb's businesses;
Business expansion: Airbnb may offer long-term rentals to meet this demand, besides traditional vacation stays;
Global expansion: It can still expand to some markets, especially emerging ones;
Marketing campaigns: Airbnb could engage in marketing campaigns targeting niches of travelers, creating an idea of exclusivity.
Airbnb's Threats
Legal framework: Local and state governments keep changing laws and regulations regarding rentals, which can turn into a potential threat to business;
Competition: As seen above, the list is notable, from direct competitors as much as from hotels and aggregators;
Lawsuits: Airbnb has faced — and surely still will — lawsuits from hots and travelers, due to its policies, fees (lack of) standards, variety of spaces and locations, etc.
-> Read more about Airbnb's SWOT Analysis.
Conclusion
Airbnb's business model is mainly focused on the intermediation of a property that someone owns, to another person that wishes to rent it for a short period. Airbnb offers a place for the property owners to make it available for people to find it. It's also built on trust, as both owners and renters need to review the stay, for other people to analyze if it's a recommended place for them to stay or not.