Etsy Business Model is a multi-sided platform focused on handcrafted goods. With 15 years of activity and around 2 million active sellers worldwide (although two-thirds of them are in the United States), Etsy has become a giant e-commerce marketplace. The interesting thing about Etsy is that it is a niche marketplace – and a very specific niche.
As About Us on its website says, "Etsy is the global marketplace for unique and creative goods. It's home to a universe of special, extraordinary items, from unique handcrafted pieces to vintage treasures."
Etsy connects artists who make handmade unique products to buyers all over the world. On Etsy, people can sell and buy handmade custom items – such as accessories, clothes, shoes, toys, decoration -, vintage items, and crafting supplies.
Launched in April 2005, the company had a successful trajectory leading to its IPO in 2015.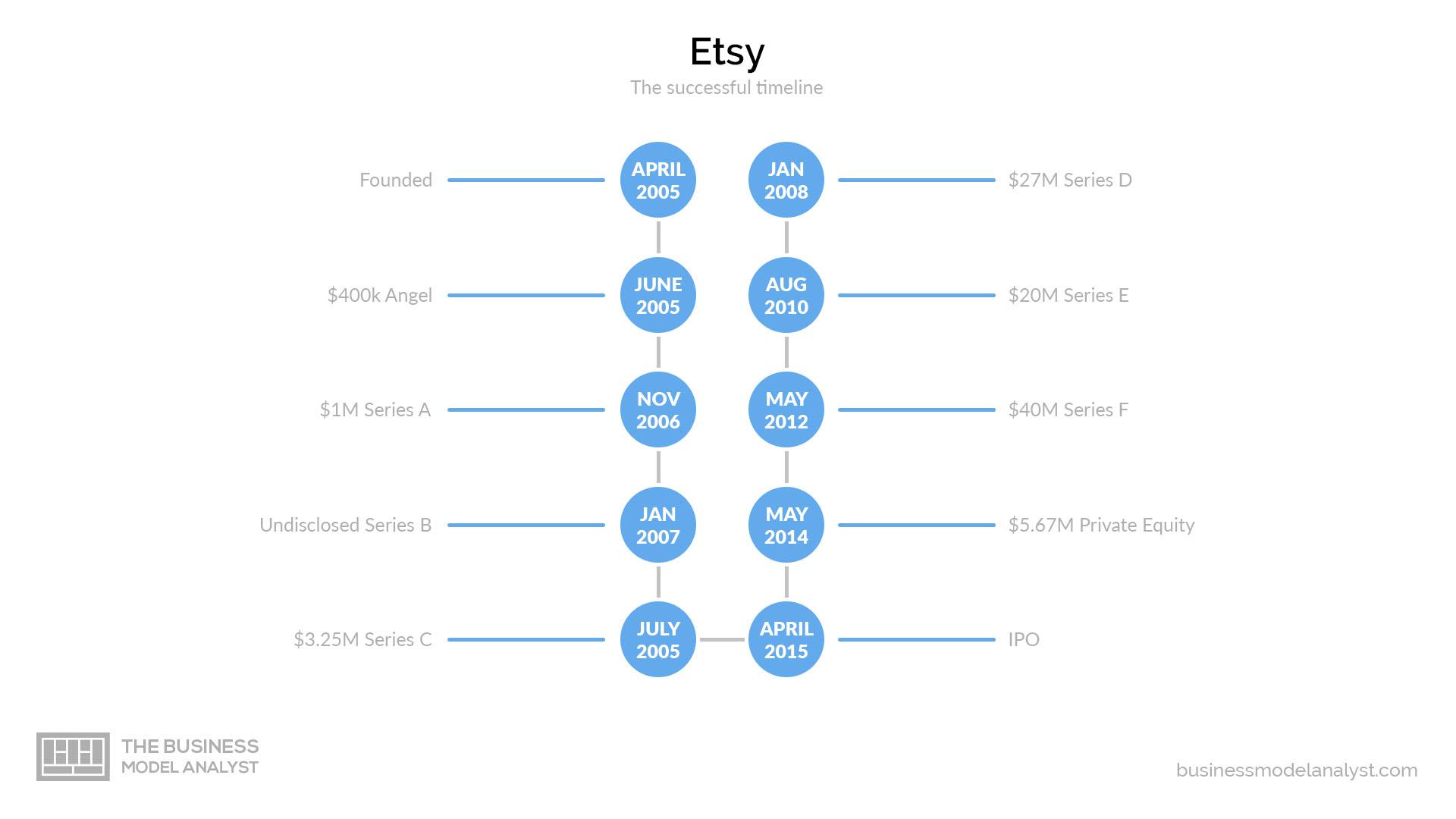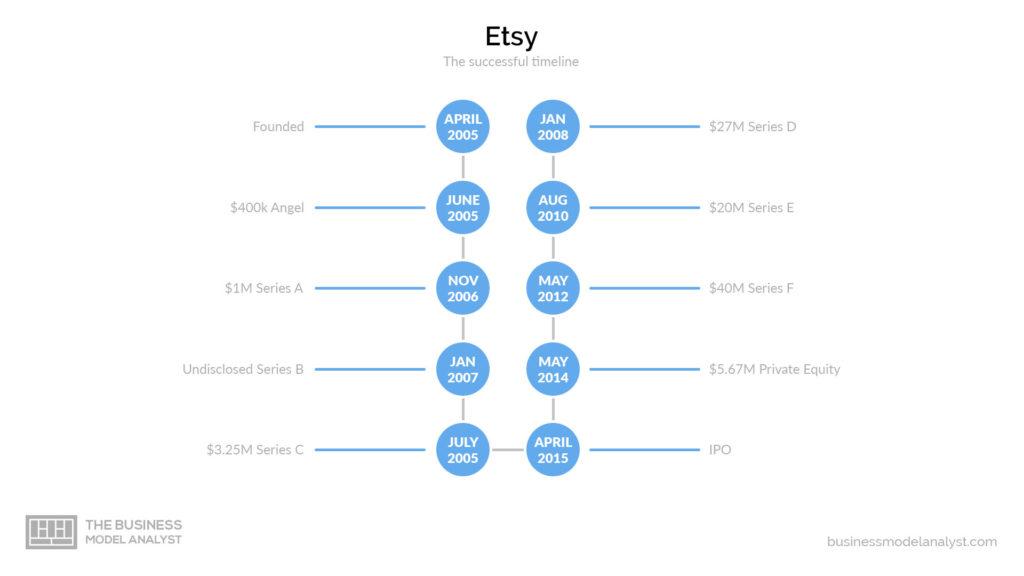 According to Etsy itself, the goal is to allow its community of artists to develop successful businesses, selling their unique and creative products, "something special with a human touch".
It's like an Amazon or an eBay, which connects, on the one hand, artists who want to make a living – or at least an extra money – with buyers who are looking for a "one of a kind" product.
Follow this article to understand how Esty's business model works, which started with a small website aimed at artisans and became a public corporation of more than 360 million dollars.
A brief history of Etsy
The history of Etsy begins in 2005 when Rob Kalin, a bookseller and construction worker, and two other friends – Chris Maguire and Haim Schoppik – were trying to figure out how to sell their handcrafted goods online.
Then, Kalin thought of creating an online marketplace for handmade products, and, in a Brooklyn apartment, the three of them created Etsy. Throughout the first year, the site boosted traffic by adding new tools to help sellers gain exposure.
So, two years later, Etsy has nearly 450,000 registered sellers, who generated $26 million in annual sales. Also in 2017, the company raised over $3 million in venture funding.
The following year, Chris Maguire and Haim Schoppik left the company, and Chad Dickerson, the Senior Director of Product at Yahoo, was hired as Etsy's new Chief Technology Officer and began building an engineering team.
In 2011, Dickerson would replace Kalin as CEO of the company. The next year, Etsy raised $40 million in funding and used it to expand to international markets.
And the turning point came in 2013 when Etsy would allow sellers to sell manufactured goods as well as handmade items. There was a certain resistance from the community but, as they knew they would not sell as much out of Etsy, most of them remained.
Dickerson made other strategic moves, and one of them was hiring Mike Grishaver (from music streaming service Pandora) because he had experience in developing mobile use and Etsy would have to make that shift.
Over the years, Etsy also invested in some acquisitions. And, in 2015, Etsy went public and raised $237M in IPO proceeds. Nowadays, Etsy has over 80 million active buyers and more than four million registered sellers.
Etsy Mission Statement
To keep commerce human.
How Etsy Works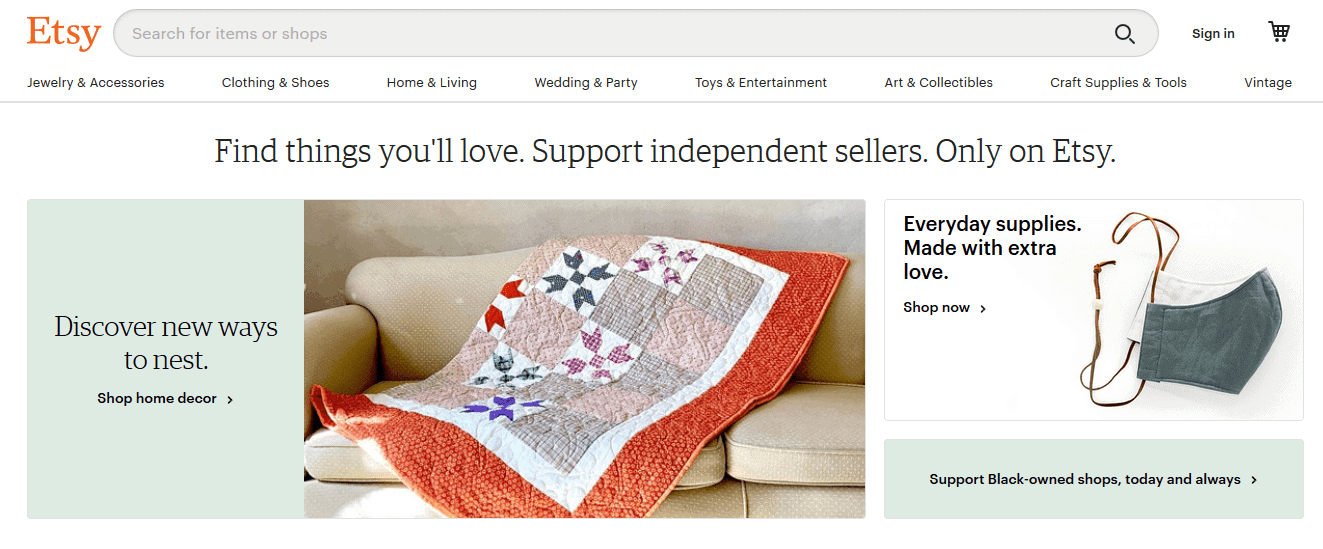 Sellers sign up on the marketplace and list their products for sale. They will have to pay a fee for getting their items listed, which is valid for 4 months.
Buyers search for items on the platform, having the option to apply advanced filters that help make the search easier. Buyers can ask the sellers questions before the purchase, or just add the products to the chart.
The buy-and-sell transaction is done through Etsy, which transfers the payment to the seller's bank account. The marketplace charges a commission on every sale.
After receiving their goods, buyers can rate the sellers write a review over the product. This enhances the experience for the next buyers.
Etsy Differentials
At first sight, Etsy is a regular e-commerce marketplace, which sells goods and earns revenue from commissions – like a lot of others. In spite of that, this simple business model has some special features, that make it exclusive:
Products listed as art & craft are always unique;
Products listed as vintage must be 20 years of age or older;
Products can be shipped globally;
Sellers can create their own shops inside the platform;
Sellers can choose more than one option for payment;
Buyers can rate the sellers, thus helping the next buyers;
Etsy's major growth came from word of mouth in women circles (67% of its users are female);
Etsy has its own API, so developers can build their own applications for the web and devices;
Etsy has given support to artists, by running supporting workshops, services as business advice, and even small loans.
Etsy's Business Model Canvas
Let's take a look at the Etsy Business Model Canvas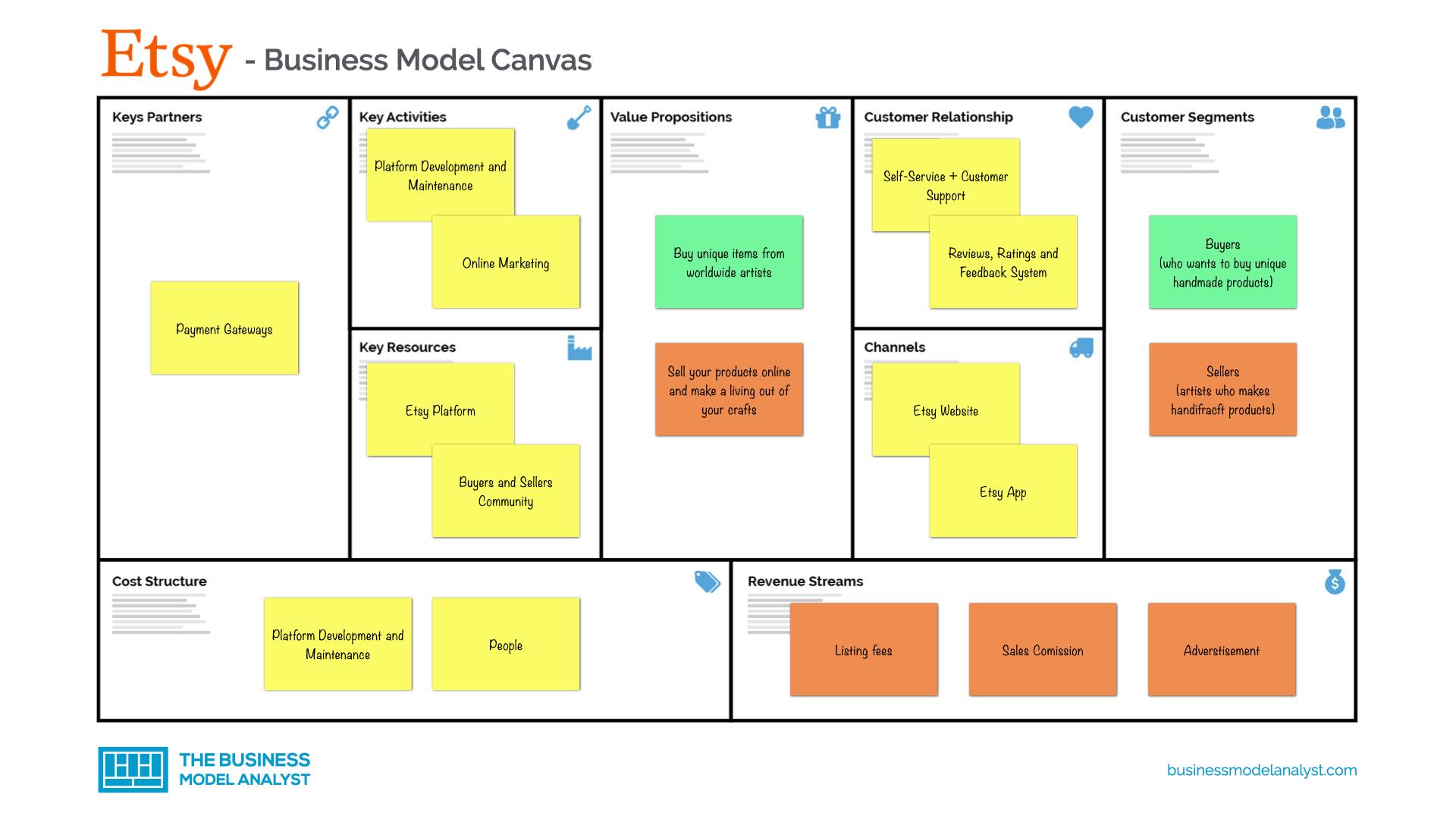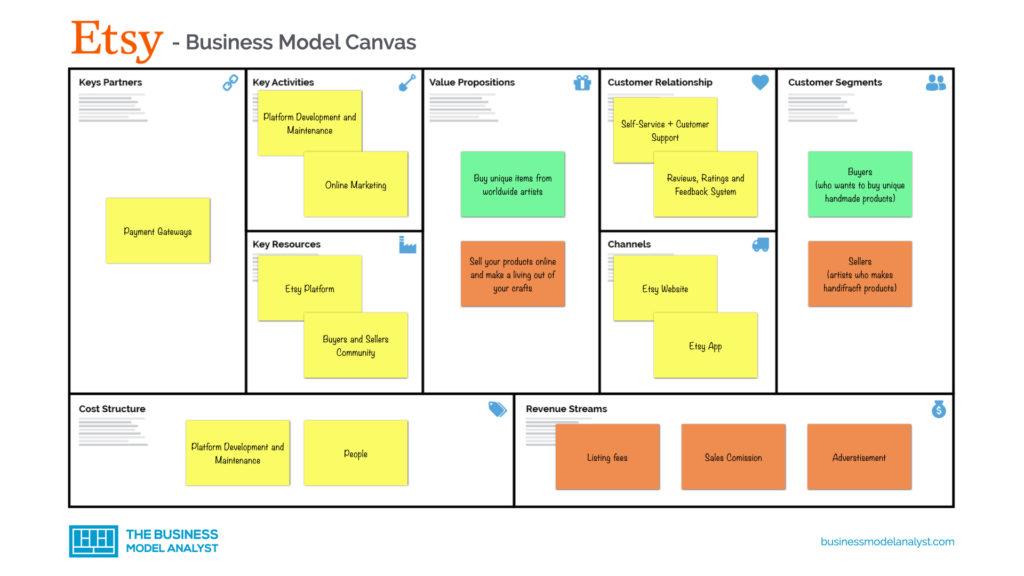 Download High-Resolution PDF of the Etsy Business Model Canvas
Customer Segments of Etsy
Etsy's business model can be identified as a two-sided marketplace, that is, its customer segments involve both buyers and sellers.
Buyers are the people who purchase unique products, whether craft or vintage items on the platform.
Sellers are the people or smalls manufacturers that produce handmade items. Either they want a shop online or just to earn some money by selling their products.
Value Proposition of Etsy
Etsy provides value to both its customer segments, buyers, and sellers. For buyers, the main value proposition is the fact that they can browse unique products, from artists across the globe, or singular vintage items, and have their goods delivered to their home, wherever they live, because Etsy provides international shipping.
For sellers, Etsy allows them to show the world their pieces of work, choosing the selling price they find fair. Also, sellers can create shops with as many items as they want to offer, and they can even add tags to the products, so the items may be searched more easily.
Distribution Channels of Etsy
The distribution channels of Etsy are mainly:
Etsy platform itself;
Social media;
Etsy workshops and events;
Partner programs;
Online and offline advertising;
Word of mouth.
Key Partners of Etsy
The key partners of Etsy are the same as its customers: buyers and sellers. Because a marketplace only makes sense if there are people who trust its structure to sell their goods through the platform.
But, at the same time, if there aren't people interested in the products and who rely on the website to purchase, then the sellers wouldn't be attracted by the marketplace. When there is a two-sided platform, the two sides are, indeed, the key partners of the business.
Key Activities of Etsy
The key activities that enable Etsy to run its business successfully are, first, the development and maintenance of the platform itself, with all of its tools, processes, and features, including payment and shipping.
Besides that, another important activity is to build the community of buyers and sellers the make the marketplace work properly. As mentioned above, there is no point in a two-sided platform if there is no interest from one or two sides of it.
Key Resources of Etsy
The key resources of Etsy are the ones that allow the company to provide its key activities in order to deliver its value proposition. So, they are the e-commerce platform, where all the transactions take place, all the structure behind it, with payment and shipping systems and processes, and the buyers-and-sellers community, that promotes the experience in the marketplace.
Customer Relationship of Etsy
The customer relationship of Etsy is based on building the online community, that supports the two-sided marketplace. Besides that, the company works on seller education and support, both by customer support and by hosting events where knowledge is shared, and the local commerce is increased.
Cost Structure of Etsy
The cost structure of Etsy is composed of:
Platform development and maintenance;
Customer support;
Shipping;
Marketing and advertising;
Staff salaries;
Seller education initiatives.
Revenue Streams of Etsy
The revenue model of Etsy is very similar to other marketplaces, such as Amazon. It makes money from different fees, according to the features the users need.
How does Etsy make money?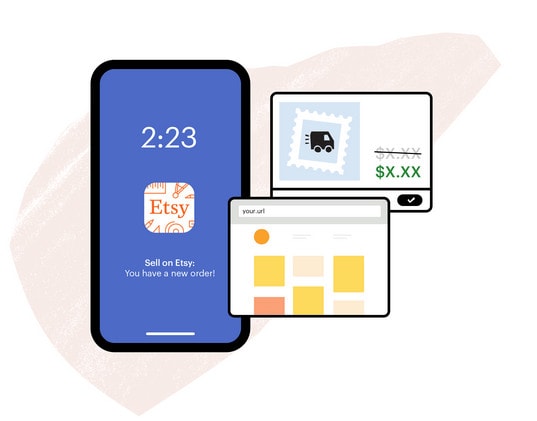 The major revenue streams of Etsy comprise the following:
Listing fees: Etsy charges sellers at least $0.20 for each product they list on the platform. And the listing is valid for four months. If there are multiple quantities of the same item, the listing fee will be automatically renewed after each of the items sells. That's a profitable stream considering that thousands of products are listed regularly on Etsy.
Commissions: Etsy also charges sellers transaction fees, which are commissions of 3.5% of the total amount for every sale made on the platform. As the payment is processed by Etsy, the company gets its percentage and sends the seller the rest of the money.
Advertisements: Sellers can advertise their items or shops on the platform. The ads are charged on a cost-per-click (CPC) basis.
Subscriptions: All Etsy's users have the Etsy Standard suite of tools to help them manage their shops and products. But the company offers a premium option, Etsy Plus, with some extra tools. The subscription fee is $10 per month.
Pattern: Sellers can build a personalized website to sell their products inside and beyond the platform. But the Pattern shop is free only for the first 30 days. After this period, Etsy charges $15 per month.
Payment processing: Some sellers are eligible to use Etsy Payments, which provides different methods to facilitate the purchase, such as credit/debit cards, gift cards, online wallets, and coupons. Etsy charges a fee for each kind of transaction, which varies according to the total amount of the sale and the country it takes place.
Currency conversion: When converting the sale to the seller's chosen currency, Etsy charges a percentage of 2.5% of the entire product amount.
Etsy Competitors
ArtFire: it is a platform for crafters to buy, sell and interact. It has the option for buyers to post a "wanted" ad for something specific to be made.
Amazon Handmade: Amazon's platform for crafters to sell their work, but all the products have to be handmade, hand-altered, or hand-assembled.
Big Cartel: made for makers, to help them succeed in a mass-produced-good world. You can customize the themes to personalize your store.
eCRATER: a marketplace for sellers and buyers, with access to a forum where users can talk and share experiences. It also has customizable online shops.
iCraftGifts: the Canadian marketplace only allows handmade art, craft, and fashion items. The stores can access marketing services, community blogs, message boards, and arts and crafts events.
IndieMade: this website offers photo galleries, web hosting, marketing tools, and support to help artists manage their stores.
Misi: UK marketplace for handmade and personalized goods, for designers to create, build and expand their businesses and boost their sales.
Shopify: it enables the seller to create an online store (optimized for mobile also), with a custom domain and layout, without any previous knowledge.
Society6: the sellers must be verified artists of Society, and they have total control of the rights of their artwork.
Volusion: similar to Shopify since the seller can build its own responsive website, with a custom domain, and many resources such as order, payment, and shipping processing.
Zibbet: it is the space for over 55,000 independent individual handmade sellers, who manage their work from creation to shipping. It offers numerous tools and support opportunities.
Etsy Swot Analysis
Strengths of Etsy
Customer satisfaction: the company has a reputation of delivering unique products, thus offering a nice experience for both buyers and sellers. Besides, the customer can post reviews on the platform, giving them a sense of importance.
Credibility: everything that is sold on the platform has to be previously approved by Etsy, which makes the company more credible. The online payment method is also reliable and flexible, enabling the audience to trust the website.
Cash flow: Etsy has several regular consumers who assure it a steady cash flow, able to maintain the company profitable.
Distribution: each state of the USA has an outlet of Etsy. Besides, there are outlets in many other countries. All of them supported by a reliable supply distribution network, that ensures delivering the products on time.
Relationship with dealers: the relationship between Etsy and the sellers who promote their products on the platform is based on loyalty and great services, keeping a strong dealer base.
Reputation and brand: Etsy has been gaining market share slowly, but steadily, which has been increased its market value and brand name.
Workforce: Etsy can offer a safe and nice experience for its customers because it counts on qualified and well-trained professionals working from the inside.
Website: it is very user-friendly enabling a pleasant experience for both buyers and sellers, and the mobile app has made it even easier and more convenient.
Reach: the website is global – anyone, from any part of the planet, can buy or sell their products on Etsy.
Weaknesses of Etsy
Technology: although Etsy is the leader in its segment, it is behind some competitors when it comes to technology. And it spends less than many other players in research and development.
Shipping: as the website operates all over the world, sometimes there are huge shipping and handling costs of purchase. Moreover, sometimes it takes more than a week just to process the order.
Guarantee: the concept of Etsy includes arts and crafts, handmade or vintage products, but the customers frequently do not know if these items are authentic or not.
Opportunities for Etsy
New markets: there are still plenty of markets for Etsy to explore and expand to.
Globalization: any person, anywhere, is able to get to know Etsy, buy and seller over the platform. That can result in more customers and dealers.
CSR activities: these can empower local artists and, thus, encourage them to use Etsy to sell their products.
R&D: Etsy can invest more in developing the website and app, so they would enable a better and more appealing experience for customers, who would get more engaged with the brand.
Threats for Etsy
Unique products: although that guarantees Etsy's reputation, sometimes rare items have strong public demands that cannot be met due to a shortage of copies.
Exchange rate: as Etsy sells internationally, it has to deal with fluctuating exchange rates that can be responsible for great profits but heavy losses as well.
Competition: many new entrants are getting into Etsy's market, which can represent less revenue and profit for the company.
Online threats: the whole business is set up online, and no website is completely invulnerable to hackers or viruses, and that can put the business at risk.
The bottom lines
The conclusion reached, after having analyzed the Etsy business model, is that the company built its name on the trust of its customers – who are at the same time its main partners.
It is an entrepreneurial ecosystem that created a virtuous cycle that keeps getting strong over time. It's a flywheel that generates network effects that keep adding value to buyers and sellers as shown in the graphic below.
As Etsy itself highlights on its website, with low fees, powerful tools, and support and education, it helps creative entrepreneurs start, manage, and scale their businesses. "All it takes is 20 cents to get started."