Costco's mission statement is "to continually provide our members with quality goods and services at the lowest possible prices." And Costco's vision statement is to make their business "a place where efficient buying and operating practices give members access to unmatched savings." 
Costco Wholesale is an American multinational retail chain that operates on a wholesale membership basis with operations in the United States, Canada, Mexico, Puerto Rico, the UK, Japan, Australia, etc. Founded in 1976 by James Sinegal and Jeffrey Brotman, Costco has experienced consistent growth over the past four decades to become one of the world's largest retailers, offering unbeatable prices as well as superior customer service. Such success can be mainly attributed to their mission and vision statements.
The importance of mission and vision statements cannot be understated — they are essential elements for guiding corporate strategy development while also articulating philosophies central to achieving a desired future state. For Costco Wholesale, evaluating these documents offers invaluable insight into how such a giant corporation strives for success and what principles are core to its values-driven approach, painting a clear picture regarding its business objectives from day one.
Costco Mission Statement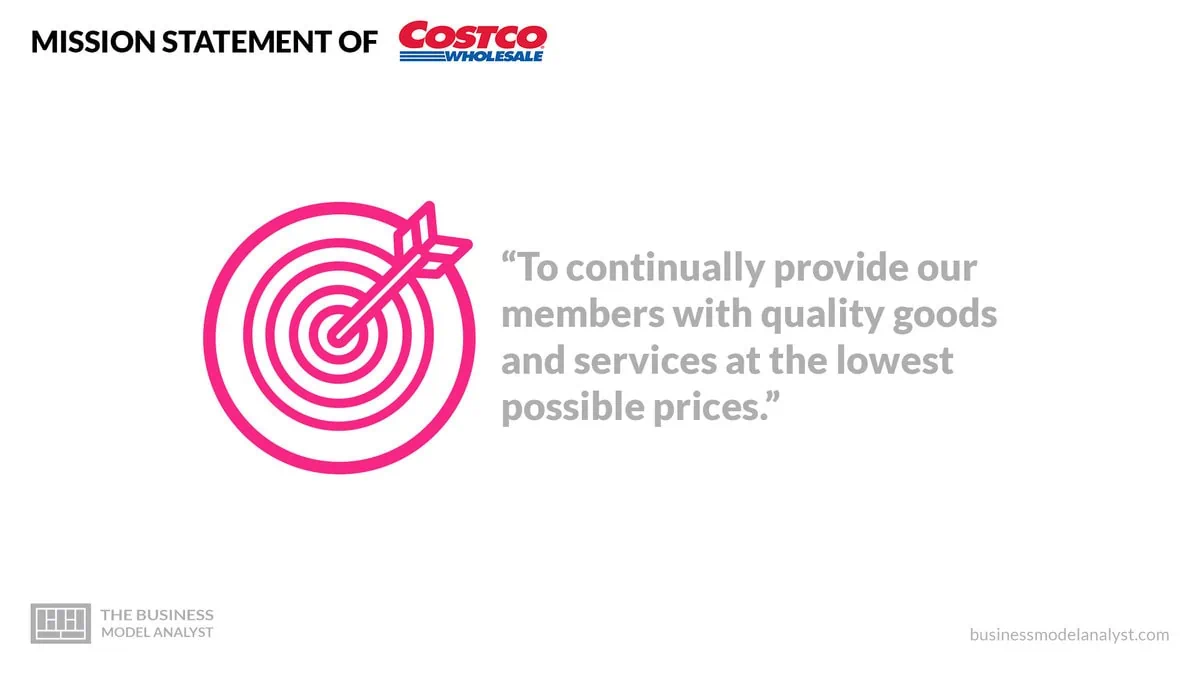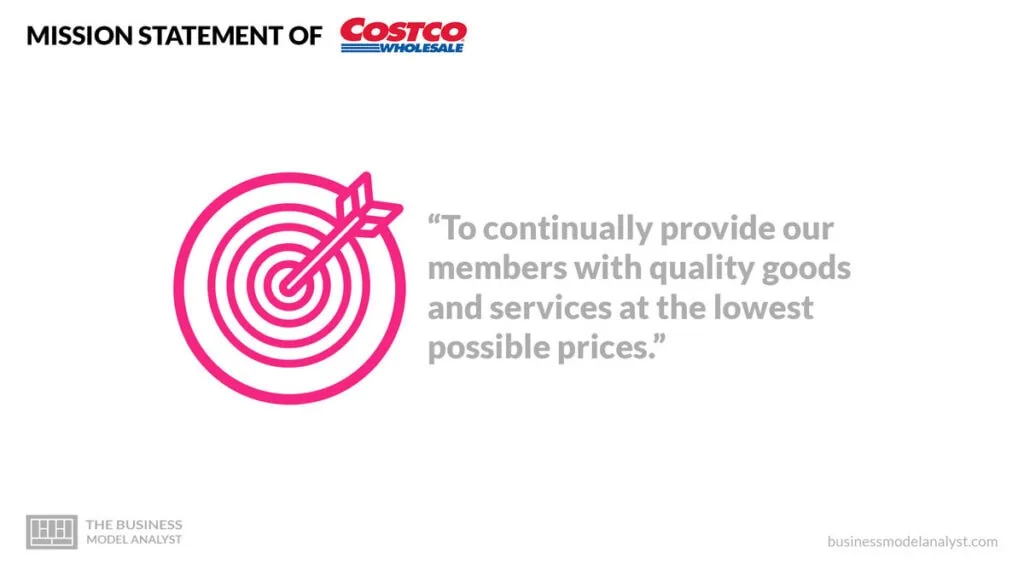 Costco's mission statement is "to continually provide our members with quality goods and services at the lowest possible prices." In order to accomplish this goal, Costco emphasizes the advantages that its customers gain from shopping with them. The company recognizes that putting a focus on quality goods and services will help them stay competitive in the market, as well as make their customers happy. By offering customers high-quality goods and services at low prices, Costco hopes to build lasting relationships with each of its members. The mission statement can be divided into these key points:
Growing in the retailing sector
Costco is committed to growing the retail sector by creating innovative and customer-centric experiences that are beneficial for society. The company has taken a holistic approach to its mission statement, aiming to provide both products and services in the most efficient and accessible way possible. By introducing sustainable commitments and charitable contribution programs, Costco seeks to create an environmentally friendly retail experience for customers while providing valuable benefits to the communities near its stores. By utilizing a proper and open structure of retailing practices that illustrate their societal value, Costco is able to significantly influence the way in which other companies carry out business within the industry.
Costco's sustainability initiatives also have a positive effect on driving growth within the retail sector as well as the environment. Most notably through efforts like reducing plastic packaging or energy consumption while using renewable alternatives like solar energy [2] — which not only reduces costs but boosts public opinion on both how they're responsible corporate citizens and also as an innovator leading other companies in these areas too.
Quality goods and services
Since its inception in 1976, Costco has been unwavering in its commitment to providing only the highest quality goods and services. This is a major factor contributing to their competitive edge over other retail companies in the market, like Walmart and Target. Backing this up, Costco offers an unparalleled return policy that guarantees complete satisfaction with every purchase, emphasizing its dedication to fulfilling its mission statement. To guarantee customer satisfaction, Costco continually strives to source and provide only the best merchandise available at all times. Regardless of what shoppers decide on, they can be certain that they will get their money's worth when buying from Costco.
Quality also extends beyond just clothes or furniture — it includes customer service as well. At Costco, customer service representatives make every effort possible to assist shoppers before, during, and after-sales transactions, with promptness and politeness being a priority for their employees. In addition, Costco stands behind its products, providing helpful tips and advice whenever necessary and offering top-notch technical support if needed. They also offer free delivery or pick-up options, which makes shopping convenient and easy for everyone involved.
Reasonable prices
Costco's mission statement is to offer value and quality to its customers at reasonable prices. This means that they are willing to sacrifice some of their profit margins [2] in order to ensure that the products they offer are both high-quality and priced fairly. From a consumer standpoint, this allows them to shop affordably and within a budget. They can trust that when purchasing from Costco, they won't be paying more than what items are really worth. 
The company has taken its commitment to offer reasonable prices very seriously, going as far as testing its products for quality assurance before approving them for sale. To make sure it doesn't pass on the costs of such tests or any other costs associated with producing top-notch products to consumers, Costco regularly works with vendors who match their standards but offer better rates than larger national retailers.
By introducing its membership program, the company made sure that even loyal customers could save money every time they visit a store or take advantage of online options like home delivery or 2-day shipping services. Those enrolled in their program have access to exclusive deals, cheaper gas prices at select petrol stations around the country, and free emergency roadside assistance coverage [2] if something goes wrong while driving an eligible vehicle. Such incentives help keep loyal shoppers satisfied while making shopping incredibly attractive for those just starting out with the retail giant.
Costco Vision Statement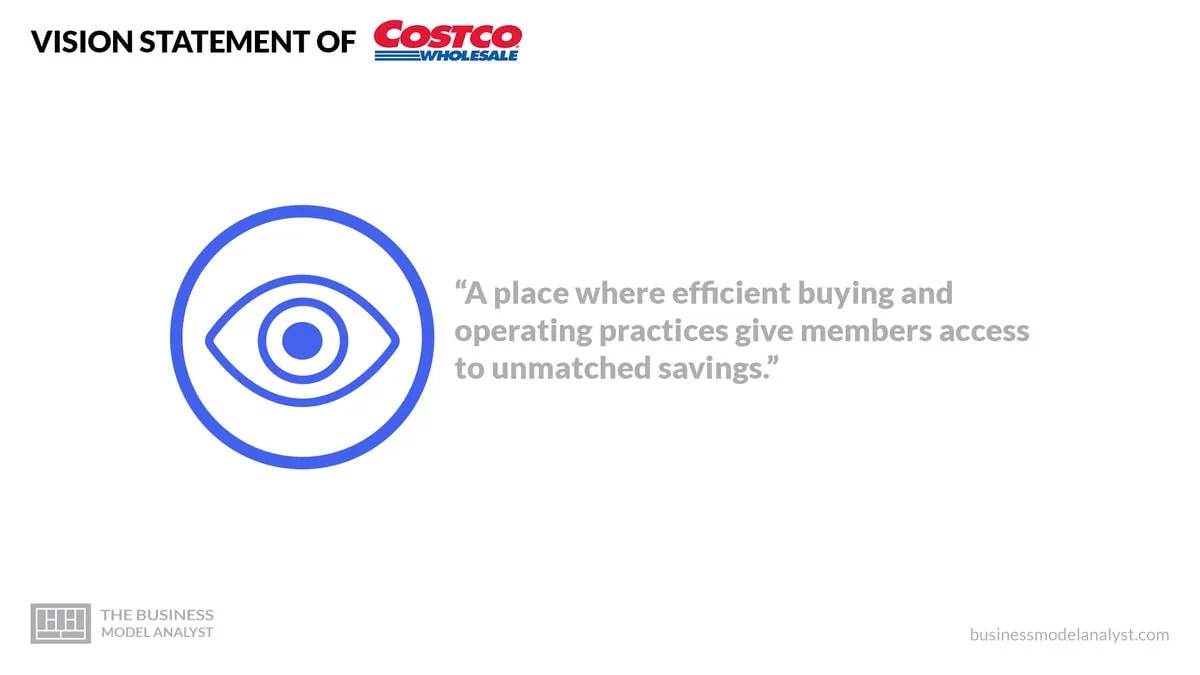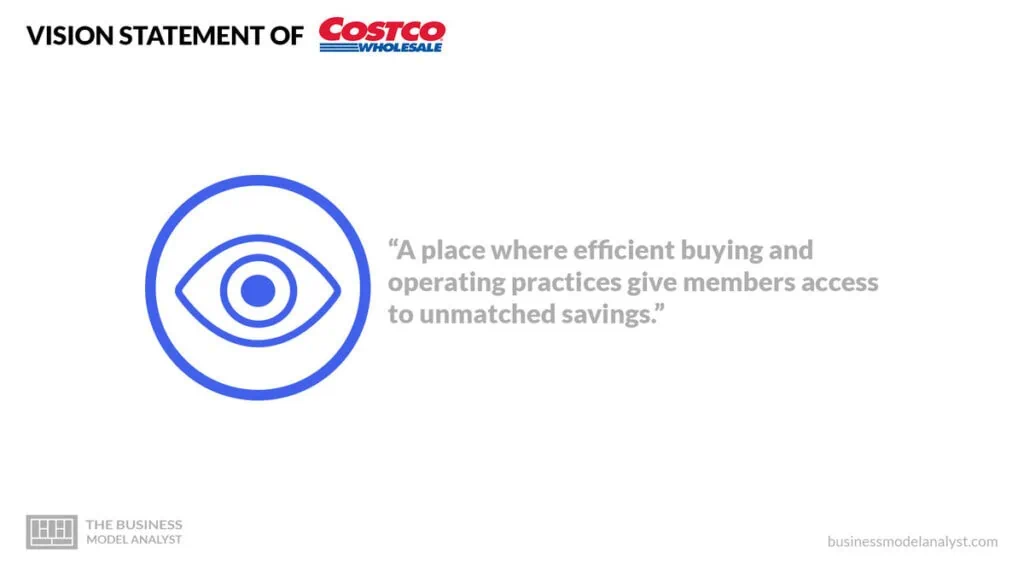 Costco's vision statement is to make their business "a place where efficient buying and operating practices give members access to unmatched savings." 
The core message behind Costco's vision statement is that it strives for excellence in all aspects of its operations, with an emphasis on customer satisfaction and convenience. This starts with ensuring efficient buying processes so that members can save time as well as money. Costco seeks to provide an expansive product selection that meets the needs of customers from different walks of life. By constantly improving these services and offering low prices, the company hopes to create a better shopping experience for its millions of customers each year. 
The vision statement also emphasizes that at the heart of their business is "membership," — meaning they are focused on creating loyalty among their existing customers while continuing to attract new ones through unbeatable prices and quality service. In other words, Costco's big goal is to make sure everyone who shops there feels valued by demonstrating respect for their wallet as well as their time in terms of shopping assistance and easy returns.
Wide variety of goods
To satisfy its goal of providing customers with a wide variety of goods, Costco has worked tirelessly to expand its range of offerings. It now stocks a large selection of groceries and pharmaceuticals, as well as optical products and photo services. Customers can purchase virtually anything they need in one place at Costco. The company also offers invaluable savings on everyday items like food, appliances, electronics, and more. By leveraging its buying power and passing on those savings directly to customers, Costco has become an attractive option for budget-conscious shoppers. In addition to general merchandise items, the company has also diversified into specialty retail, with exclusive partnerships that give members access to unique items from luxury brands. 
Costco's commitment to providing customers with greater choice is matched by the breadth of services it offers through its various subsidiaries, such as Costco Business Centers, Gas Stations & Tire Centers, Food Courts & Restaurants, Pharmacies & Optical Centers, and Travel Services. Through these different outlets, customers can access services like car repair & maintenance or shop for bulk foods at wholesale prices in addition to traditional store offerings. With all these options available in one place — and often at significant discounts — it's easy for customers to find exactly what they need without having to go elsewhere or pay more than necessary for quality goods or services.
Affordable and convenient shopping
Costco strives to provide the most convenient and enjoyable shopping experience for its customers. Through its well-designed website, Costco.com features an easy-to-navigate site with various categories that allow customers to shop by product name or company. It also has a wide selection of products from top brands at competitive prices. 
Customers can easily order online from anywhere in the world, with fast delivery times on orders placed online. The website's secure checkout ensures that personal information remains safe and secure at all times during the shopping process. And when orders arrive, a streamlined returns process allows clients to send back any product for a full refund without even having to step outside their front door, making it easy and worry-free for anyone looking to make an online purchase from Costco's vast selection of products. 
Costco also makes sure customers have access to their products quickly and reliably by utilizing internal warehouses located in strategic locations throughout North America, Europe, Australia, and Japan — giving them the benefit of being able to ship quality items closer than ever before — so they don't have to wait long after ordering before receiving them.
Core Values
Costco's core values of "obeying the law, taking care of our members, taking care of our employees, and respecting our vendors" enable the company to maintain its reputation as a leader in business ethics and operate in accordance with high standards of integrity.
The company insists that acting within the law is an indicator of respect for all entities involved in its operations. This includes members, vendors, and employees alike. In addition to adhering to legal restrictions, Costco also places great value on taking care of its members, treating them fairly, and providing value for money. It acknowledges that without loyal customers, there would be no business, and it seeks to ensure they feel respected through a quality customer service experience. 
In relation to its employees, Costco has a clear commitment to fair pay scales, and an overall positive work environment wherein each employee is respected equally, regardless of race or gender identity. This commitment is reflected in the long history of increased wages given by the company to its workers at regular intervals while still delivering strong results year after year. The recognition that those who make up their workforce are essential cogs in driving success further strengthens the importance of this core value for Costco. 
Respecting vendors is another part of the core values integral to how Costco does business, as it prioritizes fairness when dealing with suppliers. By treating them with respect for their time and effort, it allows for mutually beneficial relationships, leading to better outcomes across different facets, such as cost-effectiveness, which ultimately has far-reaching benefits for members too, since lower costs can translate into more savings per purchase over time.
Conclusion
Costco is an undeniable retail powerhouse that has transformed the industry through its ethos and vision. Committed to providing superior customer service, respecting people and the planet, achieving excellence in business operations, and adhering to ethical principles like obeying laws and valuing employees, vendors, and members, Costco has remained successful even in a high-stakes sector. Distinguishing itself from other wholesale stores by its commitment to quality goods and services, sustainability, and affordability, the company's mission statement firmly outlines the purpose of its ongoing enterprise.
As warehouse shopping evolves into the future, Costco stands as a beacon of leadership within this industry.