The Masterclass business model is centered around providing high-quality courses or educational content to anyone with an internet connection. It is built on the idea that education should be accessible to everyone, regardless of their background or location.
However, MasterClass' approach goes beyond just delivering content. The company invests heavily in key resources like experienced instructors and production equipment to create polished video lessons. 
They basically find top talents and turn them into instructors, with experts like Serena Williams, Gordon Ramsay, and Martin Scorsese teaching courses in areas such as acting, sports, filmmaking, and cooking. Compared to other online education platforms that offer thousands of courses from various sources, MasterClass focuses on a smaller selection of world-class instructors.
So, let's run through MasterClass' processes, business model, history, strengths, and weaknesses, and wrap up with the factors that have contributed to its growth so far.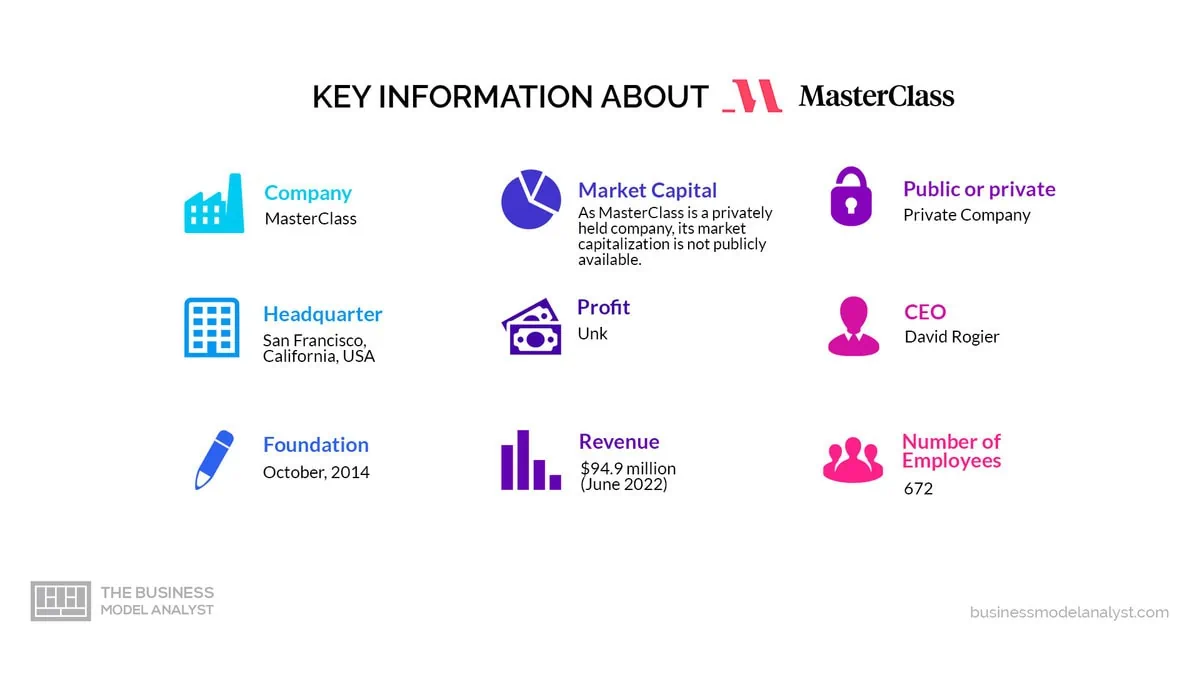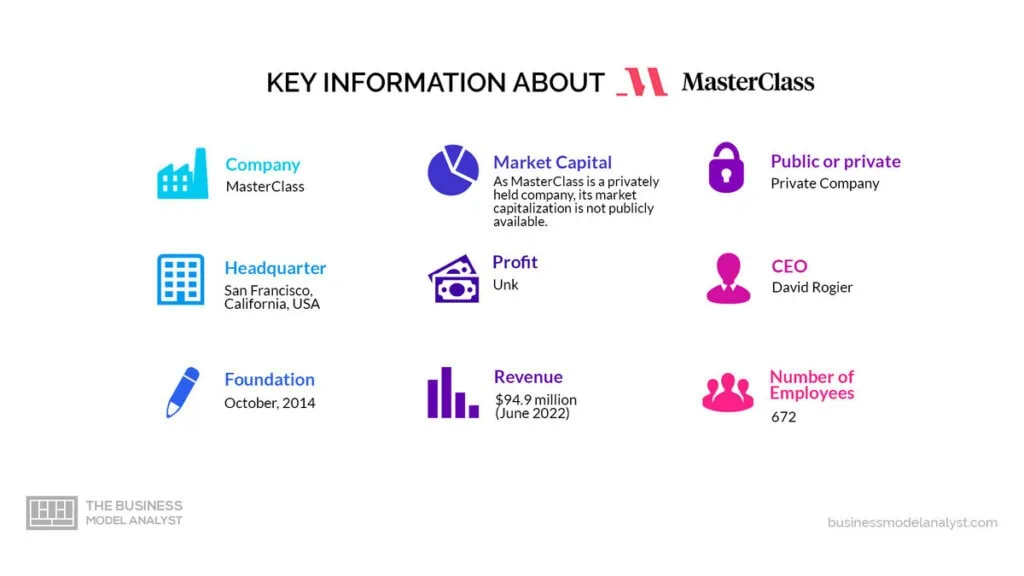 A brief history of MasterClass 
David Rogier and Aaron Rasmussen saw the potential for an online education platform to give people access to some of their favorite artists' knowledge and expertise, so they launched Masterclass in 2015. 
Rodger's inspiration to launch MasterClass came from a piece of advice he received as a boy from his grandmother, who told him that the best way to learn a new skill was to learn from the best. This idea stayed with him throughout his life, and in 2014, Rodger founded MasterClass with his friend Aaron Rasmussen, a co-creator of the video game BlindEye.
MasterClass began with three classes: Dustin Hoffman on acting, Serena Williams on tennis, and Patterson on writing. The classes quickly gained popularity, and the founders soon expanded into other areas, including music and cooking. In its early days, MasterClass relied heavily on word-of-mouth marketing and its instructors' reputation to attract students.
By 2017, the company had raised $56.4 million in funding, including investments from IVP, New Enterprise Association, Javelin Venture Partners, and Advancit Capital. The company used this funding to expand its offerings and improve its platform, focusing on creating a high-quality and engaging learning experience. MasterClass was also able to add twelve more classes in the same year, 2017.
In 2018, the company raised $80 million in a Series D funding round led by IVP. This funding doubled the previous year's sales, indicating the platform's growing popularity among learners worldwide.
MasterClass also introduced a new subscription model in 2018. Customers could pay an annual fee of $180 for unlimited access to all MasterClass lessons, which previously cost $90 each. With this new pricing model, more people were able to use and afford the platform.
Also, in 2018, MasterClass released its first-ever mobile app, marking a significant milestone in its growth. Prior to the launch of the app, the company's growth had mainly come from desktop users.
David Schriber was appointed the company's Chief Marketing Officer in June 2019. The company also expanded into topics such as politics, economics, and video game design. 
Co-founder Aaron Rasmussen also announced his departure from the company to start Outlier in 2019, a similar online education platform that offered college credits and glammed-up university professors.
MasterClass made headlines throughout 2020, with new courses and celebrity instructors joining the platform. 
The COVID-19 pandemic cannot be ignored in Masterclass history because it impacted the company mightily, but Masterclass adapted quickly by offering free classes to affected students and launching MasterClass Live. This initiative allowed students to participate in virtual events like cooking demonstrations, writing workshops, and live Q&A sessions with instructors.

MasterClass currently has over 1 million registered subscribers worldwide; these users pay $180 per year for unlimited access to all classes on the MasterClass site.
Who Owns MasterClass 
MasterClass is a private company co-founded by David Rogier and Aaron Rasmussen.
These are the Key People in the Company: David Rogier, Valen Tong, David Schriber, and Len Amato
MasterClass Mission Statement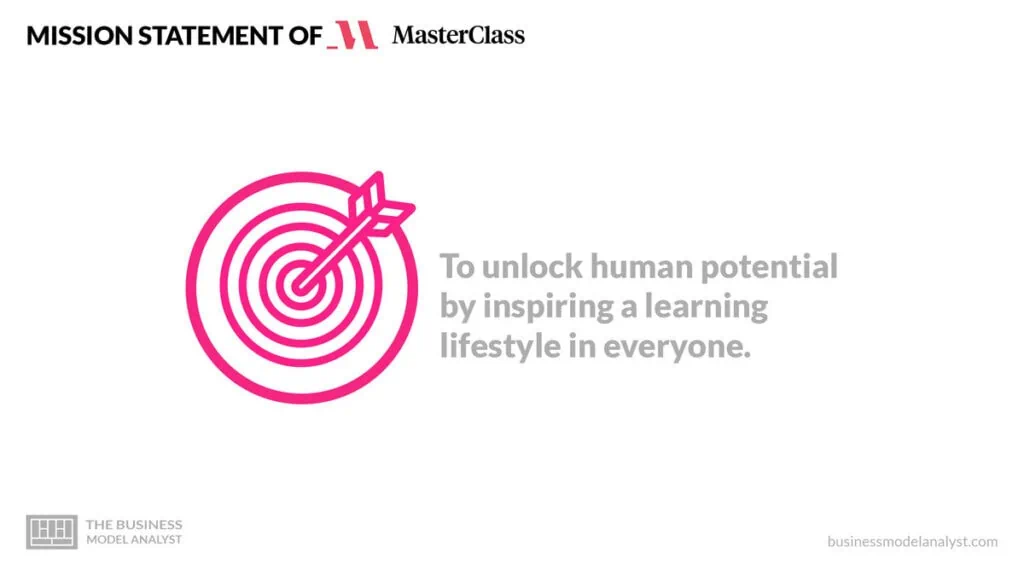 The MasterClass mission statement is "to unlock human potential by inspiring a learning lifestyle in everyone."
How MasterClass works
MasterClass is a platform to learn from the best. It's a way for you to connect with top artists, creators, and thought leaders in your field of interest. The company offers access to expert-led classes on any device, which you can stream or watch offline.

The company gives subscribers access to high-quality, pre-recorded video courses that range in length from 10 to 30 minutes and have clear audio, visuals, and interactive sections.
Now, all of this is available for a subscription fee of $180 per year.
MasterClass courses, unlike traditional education, aren't meant to cover everything. Instead, they're meant to give unique ideas, tips, and inspiration that aren't usually available. You can learn at your own pace, with the flexibility to take courses that interest you and skip those that don't.
How MasterClass makes money
Subscription
The primary way that MasterClass makes money is through subscriptions. Subscribers can purchase individual courses for $90 or $180 for an all-access pass, which gives them unlimited access to all courses in the MasterClass library. Each course features multiple video lessons, downloadable materials, and access to a community forum.
Partnerships
MasterClass has partnered with a number of companies and organizations to make their classes more accessible. For example, you can use the MasterClass app to watch videos on your phone or tablet through Apple TV. Apple has worked with MasterClass to make a version of the app that works best with Apple TV 4K HDR. This version lets users watch videos in high definition and the Dolby Vision color space.
Affiliate Marketing
MasterClass' affiliate program lets bloggers and influencers make money by promoting MasterClass courses on their sites. Affiliates can earn a percentage of the sale when someone clicks on their unique referral link and purchases courses on the MasterClass website.
MasterClass Business Model Canvas
The MasterClass Business Model can be explained in the following business model canvas: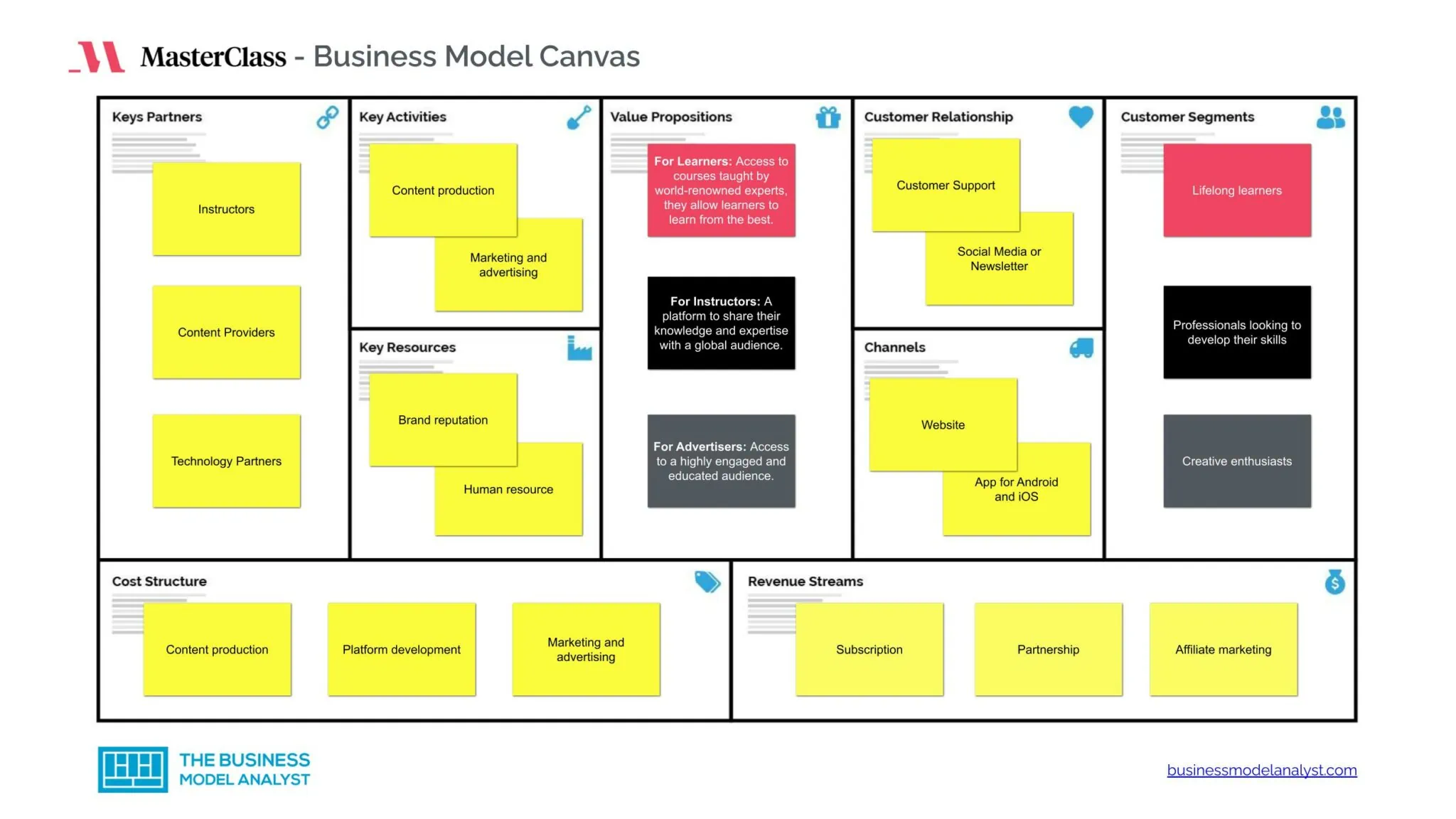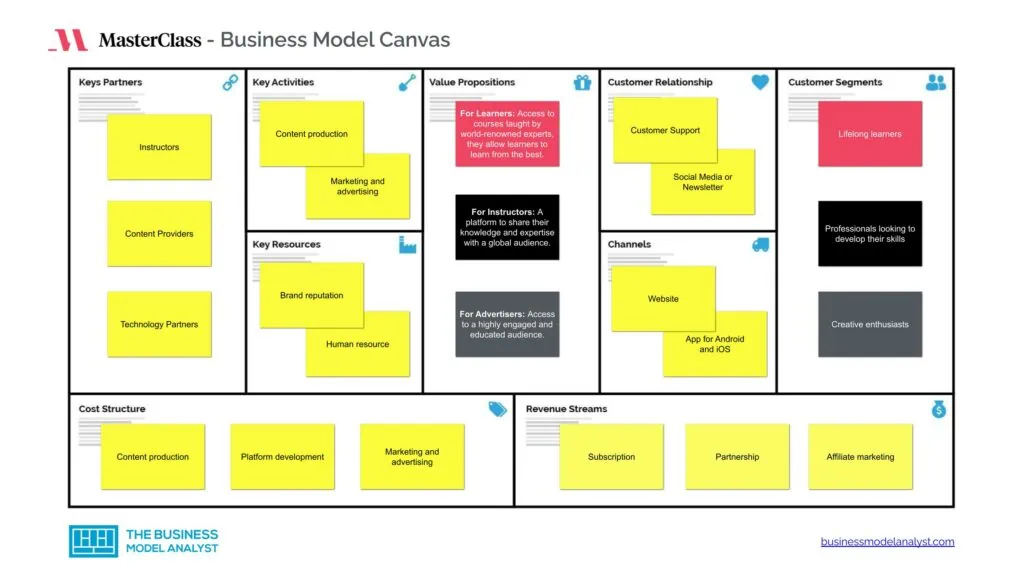 MasterClass Customer Segments
MasterClass customer segments consist of:
Lifelong learners: These are people who have a strong passion for learning and are ever willing to pay any amount for quality educational content;
Professionals looking to develop their skills: This group includes professionals who want to improve their skills or learn new ones to advance in their careers;
Creative enthusiasts: This segment involves people who are interested in creative fields such as music, writing, and filmmaking.
MasterClass Value Propositions
MasterClass value propositions consist of:
For Learners: MasterClass provides access to courses taught by world-renowned experts, they allow learners to learn from the best. By partnering with renowned experts and industry leaders, MasterClass offers a unique and valuable learning experience that cannot be found anywhere else. The courses are designed to be engaging, with a high-quality video and interactive parts to give learners information and advice that aren't usually taught in traditional classrooms.
For instance, MasterClass offers writing courses from authors like James Patterson and Margaret Atwood, cooking courses from chefs like Gordon Ramsay and Wolfgang Puck, and music production courses from Grammy-winning producers, such as Timbaland and Hans Zimmer. MasterClass gives users access to these experts so that they can learn from the best in their field, get valuable tips and insights, and improve their skills and knowledge. Learners can also access the courses at any time, from anywhere, making it convenient and accessible for everyone.
For Instructors: The most significant value proposition that MasterClass offers for instructors is a platform to share their knowledge and expertise with a global audience. MasterClass provides instructors with the best tools and resources they need to create high-quality courses, which they can use to reach a broader audience. The platform allows instructors to engage with their learners through live Q&A sessions, virtual events, and workshops, providing them with the opportunity to share their insights and interact with their audience in a meaningful way.
For Advertisers: MasterClass provides advertisers access to a highly engaged and educated audience. With a user base that is interested in learning and self-improvement, MasterClass provides a unique opportunity for advertisers to reach a targeted audience that is receptive to messages that offer opportunities for personal and professional growth. Advertisers can create sponsored content or add their products and services to courses on MasterClass. This gives them a creative way to show off their products and services to a highly targeted and interested audience.
MasterClass Channels
The MasterClass channels consist of the following:
Website
App for Android and iOS
YouTube
MasterClass Customer Relationships
The MasterClass customer relationships consist of the following:
Customer Support
Social Media or Newsletter
Community
MasterClass Revenue Streams
The MasterClass revenue streams consist of the following:
Subscription
Partnership
Affiliate marketing
MasterClass Key Resources
The MasterClass key resources consist of the following:
Brand reputation
Human resource
Partnership with instructors
Technology infrastructure
Video production and editing equipment.
MasterClass Key Activities
The MasterClass key activities consist of the following:
Content production
Marketing and advertising
Customer support
Business development 
MasterClass Key Partners
The MasterClass key partners consist of the following:
Instructors
Content Providers
Technology Partners
Payment Processing Partners
Marketing and Promotion Partners
MasterClass Cost Structure
The MasterClass cost structure consists of the following:
Content production
Platform development
Marketing and advertising
Staffing
Infrastructure
Licensing fees
MasterClass Competitors
MasterClass SWOT Analysis
Below, there is a detailed swot analysis of MasterClass:
MasterClass Strengths
Brand recognition: Masterclass has built itself as a trusted and reliable brand with a reputation for providing top-tier educational content. This brand recognition helps attract new users while retaining existing ones, thanks to the strong marketing strategy that includes celebrity endorsements, social media campaigns, and partnerships with other major brands;
High-Quality Content: MasterClass has a roster of world-class instructors who are experts in what they do. The quality of the content is top-notch, well-produced, and engaging, with the production value being one of the company's biggest strengths;
User Experience: The website and app for MasterClass have a clean, easy-to-use design that makes it easy for users to look through the different courses, see previews of the lessons, and choose the courses they want to sign up for. The platform's interface is visually appealing, and the videos are of high quality;
Investment in improvements: Masterclass has invested heavily in resources like experienced instructors and state-of-the-art production equipment to create polished video lessons that engage and captivate users.
MasterClass Weaknesses
Limited Course Offerings: Although MasterClass has a diverse range of instructors, the platform has a limited number of courses compared to some of its competitors, which could be a weakness and also  not appeal to students who are looking for a broader range of topics;
High Price Point: MasterClass' subscription fee is relatively high compared to other online education platforms. This is something not everyone can afford, thereby limiting the platform's reach;
No Certificate or Degree: Masterclass courses do not offer a certificate or degree upon completion of a course, which is really not attractive to students who want to receive a formal qualification.
MasterClass Opportunities
Expansion of Course Offerings: Masterclass has the opportunity to expand its course offerings beyond the current limited number of courses to attract more people. Offering classes in emerging fields such as blockchain technology or virtual reality;
International Expansion: There is an opportunity for Masterclass to expand its reach to international markets by targeting demographics, such as by offering courses in languages other than English;
Partnerships with Institutions: Masterclass could explore partnerships with educational institutions to offer accredited courses or professional development. This would definitely interest people who are looking for a more formal approach to learning.
MasterClass Threats
Competition: The online education market is highly competitive, with new platforms entering the market regularly, as well as existing platforms like Coursera, Udemy, and Skillshare. These platforms offer a more comprehensive range of course offerings at a lower price point and could pose a threat to Masterclass' market share;
Economic Factors: Economic downturns or changes in consumer behavior could impact Masterclass' subscription-based revenue model (e.g., when a user may not be able to afford the high subscription fee);
Instructor Availability: MasterClass relies on the availability of its instructors. If an instructor is unable to teach due to scheduling conflicts or other reasons, it will affect the platform's course offerings significantly.
Conclusion
Masterclass is a thriving online education platform that features world-renowned experts as instructors, high-quality production, and a subscription-based revenue model that has allowed it to stand out in a crowded market.
Although it battles with some challenges, the company has continued to grow and expand its offerings. As the online education industry continues to change, it will be interesting to see how MasterClass adapts and innovates to maintain its position as a leader in the market.