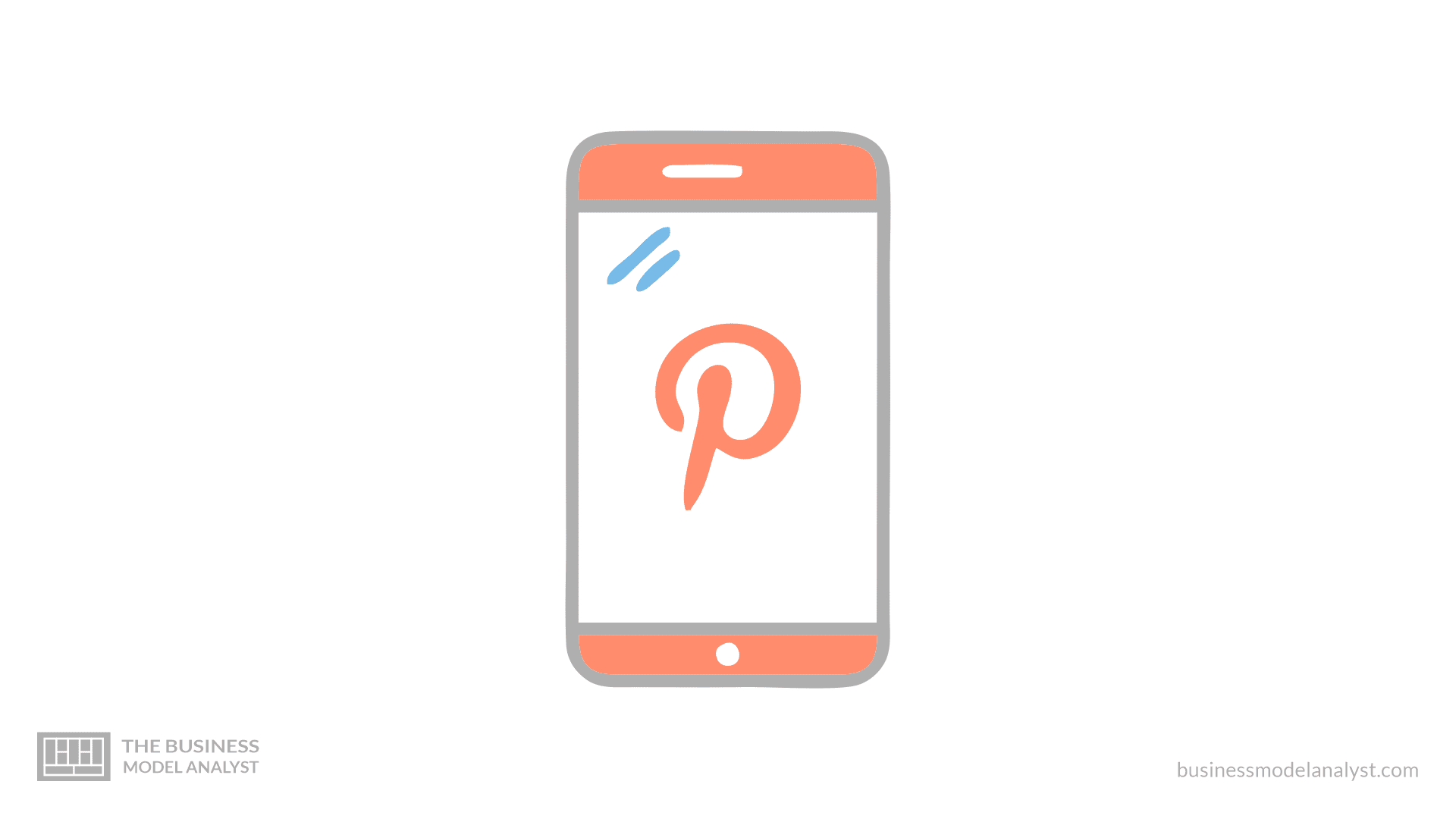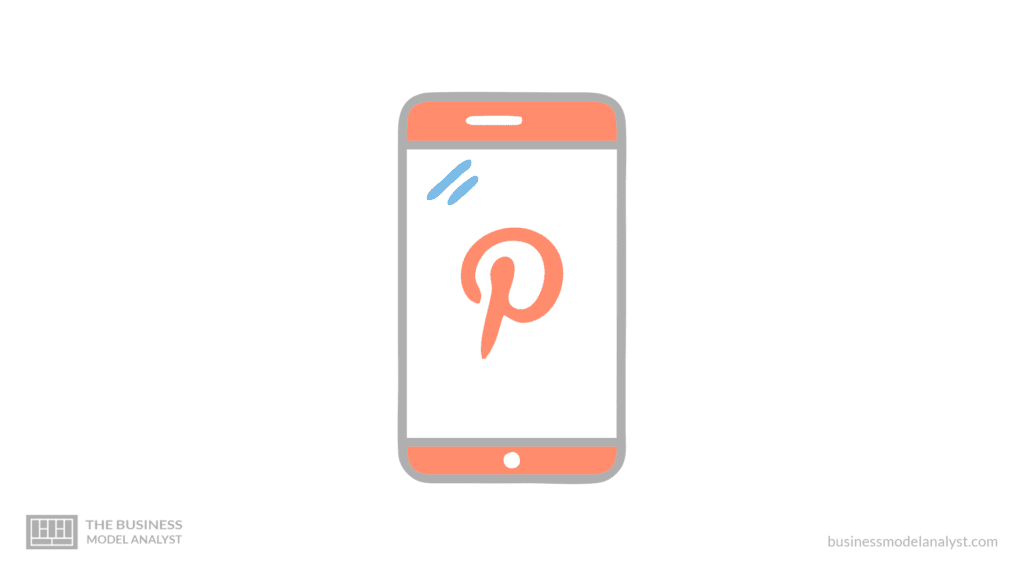 The Pinterest Business Model has managed to dominate almost all other social networking platforms that generate revenue from ads. It's so dominant to the point that almost all internet users now view Pinterest as the home of ideas. And indeed, Pinterest contains lots of ideas ranging from home improvement ideas to recipe ideas. As of the first quarter of 2022, Pinterest had 433 million monthly active users, and more than 70% of them are women.
A brief history of Pinterest
The development of Pinterest dates back to December 2009, when Ben Silbermann and Paul Sciarra created the first version of Pinterest. The first version was too basic, so both Silbermann and Sciarra kept working on it until it looked suitable for publishing. By March 2010, Pinterest had already reached that level, so they published it for the world to see, though an invitation or request was needed to join the site at that time.
Pinterest already had up to 10,000 users by December 2010 as the world began to embrace the new company. Pinterest had massive downloads and success in 2011 to the point that Time magazine listed it among the "50 Best Websites of 2011." Pinterest encouraged more people to create personal accounts by changing its policy on August 10, 2012, to allow anyone to join without invitation or request. In October of the same year, Pinterest rolled out business accounts.
Who Owns Pinterest
Ben Silbermann owns Pinterest, as he is the largest individual shareholder of this publicly-traded company and also the CEO of the company. Silbermann shares worth up to $50.83M. Anyone who knows the founding history of Pinterest might expect Paul Sciarra to still be a joint owner of the company. Still, Sciarra left Pinterest in 2012 to join an entirely different company. So Silbermann is the only CEO of Pinterest right now.
Mission Statement
The Pinterest mission statement is "to bring everyone the inspiration to create a life they love."
How Pinterest works
Basically, Pinterest works as a social media that allows people to showcase creativity on virtual pinboards. Of course, Pinterest allows users to do more than showcase ideas and creativity. The full features of Pinterest include the following:
Search Bar
The search feature works just like a regular search engine like Google. It allows users to find various ideas. Due to the high number of ideas already on Pinterest, the search feature always returns relevant results for almost any keyword users input into it. For instance, if a user searches for "flamingo," the result will consist of several images of flamingos. Those images are called pins on Pinterest.
Boards
Virtual boards on Pinterest work almost exactly like a physical board, where you pin important pieces of information for people to see. The difference here is that users can pin only pictorial information on virtual boards and not texts. Each business account can create as many boards as necessary and categorize them for convenience. Users can use keywords to search boards and follow the ones that interest them, so they will always get a notification each time new ideas are added. For instance, a fashion business can create a board to display men's clothes and create another board to display women's clothes separately.
Feeds
Pinterest has three different feeds, which include:
Home Feed: The home feed contains Pins from boards users follow and saved Pins. It also contains Pins suggested by Pinterest based on users' behavior and search pattern. In the Pinterest app, the home feed is denoted by a P logo in the bottom left corner of the application. In the desktop version of Pinterest, the home feed is within the navigation bar at the top of the Screen;
Following Feed: Just as the name implies, this feed is where users follow topics, boards, and accounts. Also, it contains posts from accounts or boards users follow. In the Pinterest app, the following feed is denoted by a "Following" logo at the bottom of the application. In the desktop version of Pinterest, the following feed is within the navigation bar at the top of the Screen;
Explore Feed: The explore feed is where users browse through trending ideas. The contents of explore feed change regularly, just as trends change. Users don't have to enter any search keyword or follow any account to see inspirations from explore feed. In the Pinterest app, the explore feed is denoted by a "compass" logo at the bottom of the application. In the desktop version of Pinterest, the explore feed is denoted by the same "compass" logo in the top right corner of the screen.
How Pinterest makes money
While Pinterest is free to use, the company still makes lots of money via some means. Here are the ways the Pinterest business model makes money:
Promoted Pins
Promoted Pins are adverts designed to appear almost like regular Pins. Various businesses worldwide pay Pinterest to promote adverts on their behalf. Pinterest shows promoted Pins to as many users as possible because the amount each promoted pin generates depends mainly on the performance of the Pin. This type of promotion is ideal for promoting new products from well-known businesses.
Brand Promotion
Brand Promotion is quite similar to promoted pin above. However, the focus of this advert is to bring businesses to the limelight via Pinterest Pins. The adverts here also appear almost exactly like regular pins.
Influencer Collaborations
Pinterest works jointly with influencers to promote products and receives commissions for the collaboration. Lots of merchants and influencers aiming to sell products on eCommerce platforms like Amazon partner with Pinterest. The partnerships allow Pinterest users to buy promoted products right from Pinterest using the "Buy It" button on Promoted Pins. Pinterest receives commissions or referral fee for every sale that occur, as described in the previous sentence. Also, Pinterest connects companies with influencers on the platform. And, of course, Pinterest gets commissions for the collaboration.
Acquired Businesses
Pinterest sometimes acquires new businesses that can increase its income generation. Thus far, it has acquired a notable number of businesses. Recently, Pinterest acquired an AI-powered shopping platform for fashion. Most times, the technological resources and team that created the businesses being acquired are the primary focus of the acquisition.
Pinterest Model Canvas
Let's take a look at the Pinterest Business Model Canvas below: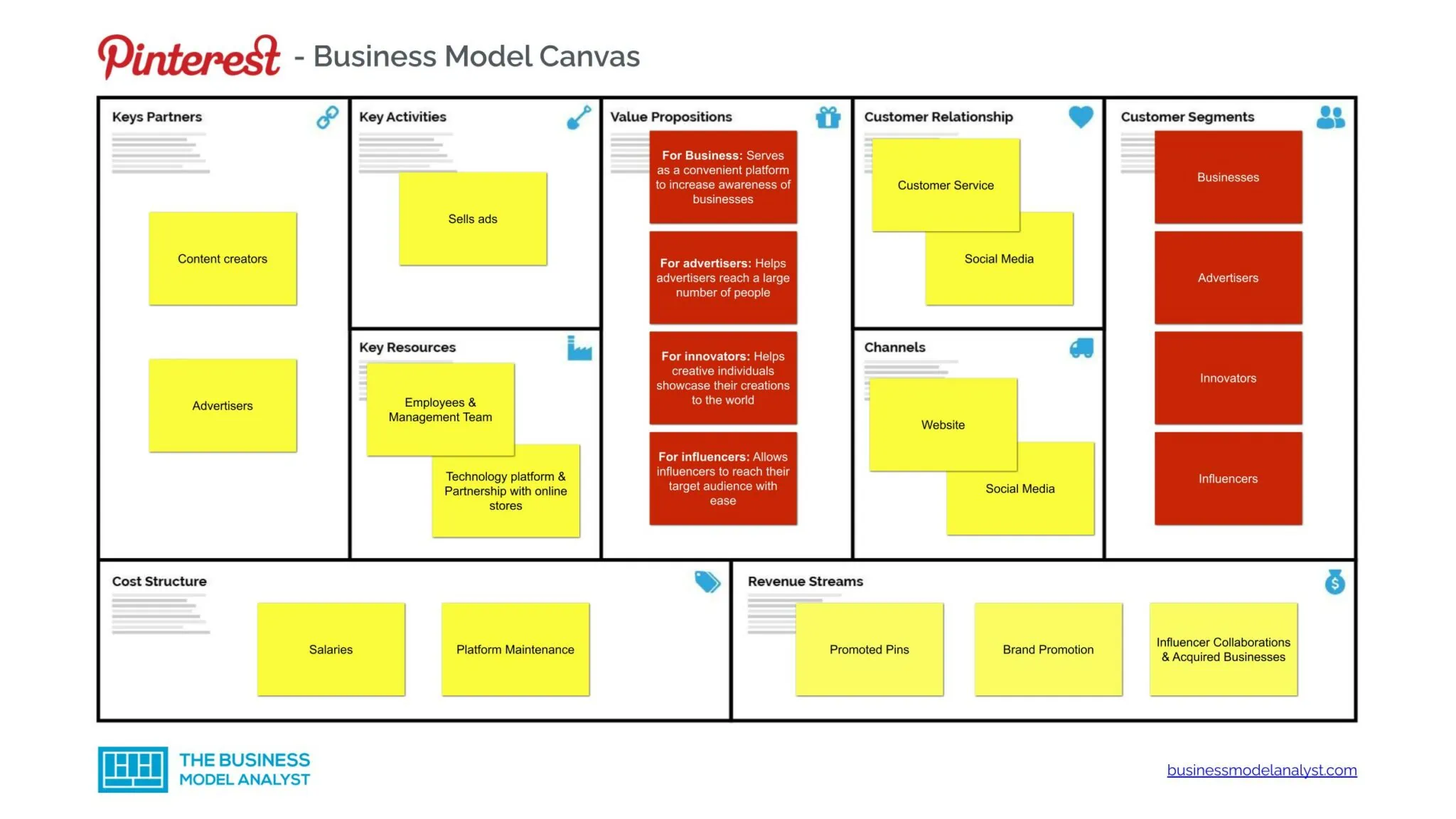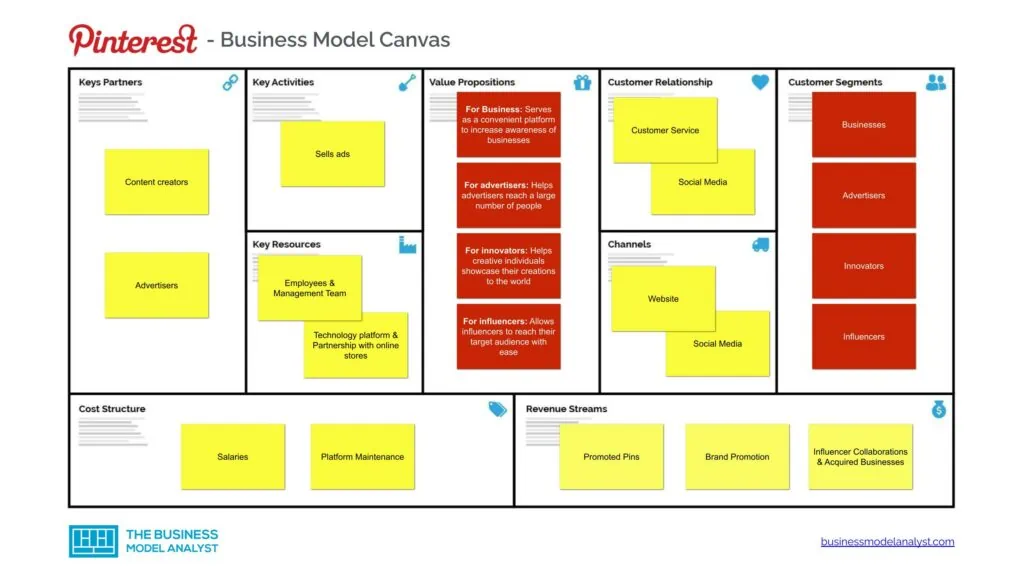 Pinterest Customer Segments
Pinterest's customer segments consist of:
Businesses: These include businesses creating awareness of products, especially online shops;
Advertisers: This category consists of advertisers using pictorial adverts;
Innovators: Creative individuals use Pinterest to showcase ideas they invent to the world. People in this category include artists, engineers, architects, chefs, and lots more;
Influencers: Influencers who promote products make up this category;
Buyers: Some Pinterest users search for Pins with the intention of finding promoted Pins to buy;
Idea Finders: People searching for ideas to replicate or get inspiration from fall within this category.
Pinterest Value Propositions
Pinterest's value propositions consist of:
For businesses: Pinterest serves as a convenient platform to increase awareness of businesses among millions of Pinterest users;
For advertisers: With millions of users, Pinterest helps advertisers reach a large number of people;
For innovators: Pinterest helps creative individuals showcase their creations to the world;
For influencers: Pinterest allows influencers to reach their target audience with ease;
For buyers: Pinterest serves almost as a marketplace to buyers, as they can purchase items directly on the platform or find affiliate links to direct them to the exact place to buy the items they want;
For Idea Finders: It brings ideas like home decoration styles and recipes to people who need them.
Pinterest Channels
Pinterest's channels consist of:
Pinterest Customer Relationships
Pinterest's customer relationships consist of:
Customer Service
Social Media
Pinterest Revenue Streams
Pinterest's revenue streams consist of:
Promoted Pins
Brand Promotion
Influencer Collaborations
Acquired Businesses
Pinterest Key Resources
Pinterest's key resources consist of:
Employees
Management Team
Technology platform
Partnership with online stores
Pinterest Key Activities
Pinterest's key activities consist of:
Pinterest Key Partners
Pinterest's key partners consist of:
Content creators
Advertisers
Pinterest Cost Structure
Pinterest's cost structure consists of:
Salaries
Platform Maintenance
Pinterest Competitors
Houzz: Houzz is one of the major competitors of Pinterest, as it also contains lots of great home design and remodeling ideas. Houzz was founded in 2009, and it is an American platform whose fame has gone around the world. Aside from presenting ideas to users, Houzz also has features to hire home professionals and purchase home improvement materials;
Tastemade: Tastemade is a video network with video content about travel, food, home, and designs. The contents on Tastemade compete keenly with those on Pinterest. Larry Fitzgibbon, Steven Kydd, and Joe Perez founded the company jointly in 2012, and it has continued to grow ever since then;
Instagram: Instagram is a social media for sharing photos and videos. Users can add filters to media and keep them well organized with hashtags and tagging. Users can like posts, add comments, and share them with more friends on Instagram. Meta, an American multinational technology conglomerate, is the parent company of Instagram;
Twitter: Twitter is a social media for posting tweets and sending messages. Most tweets contain pictures and videos, which is why Twitter is a competitor of Pinterest. Besides, it competes with Pinterest for advertising revenue, just like all the other aforementioned competitors. Twitter's current CEO is Elon Musk.
Pinterest SWOT Analysis
Below, there is a detailed swot analysis of Pinterest: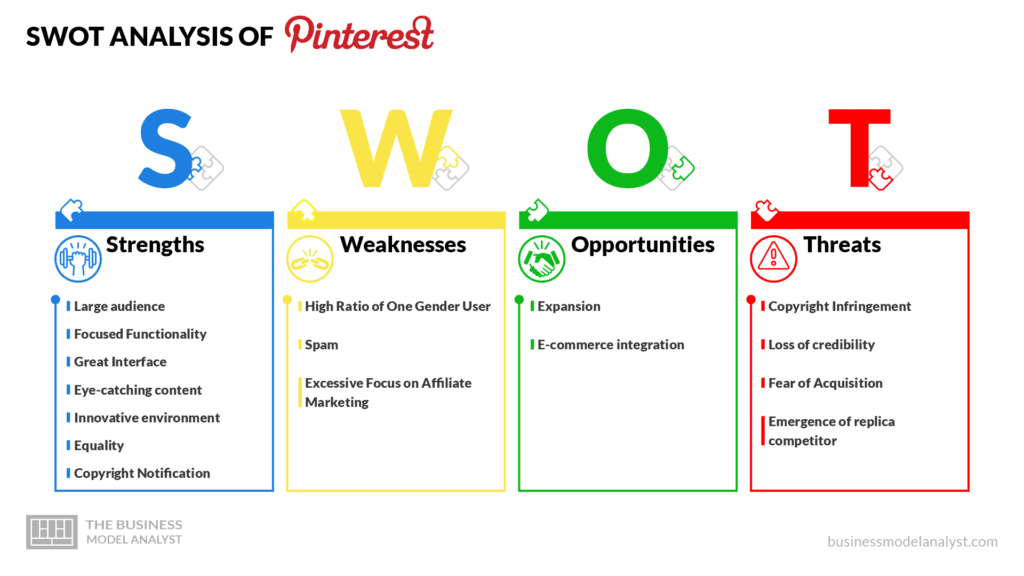 Pinterest Strengths
Large audience: With millions of active users, Pinterest is guaranteed to keep progressing;
Focused Functionality: The focus functionality of Pinterest makes it unique from almost all other social networking platforms competing with it. Its focused functionality makes it very easy for users to understand the full use of the platform. Also, the focus drives Pinterest toward perfection rather than towards diversification;
Great Interface: The interface is extremely easy to navigate;
Eye-catching content: The layout, as well as the attractive content of Pinterest, makes it quite browsable;
Innovative environment: Pinterest's layout is quite different from other social media, and it contains some unique ideas and products;
Equality: Pinterest doesn't offer special features such as verification badges to verified accounts, and that makes all users enjoy a sense of equality;
Copyright Notification: Copyright holders can use Pinterest's notification system to request content removal. Thus enabling Pinterest to avoid legal issues;
Pinterest Weaknesses
High Ratio of One Gender User: More than 70% of users are women, and this makes people consider the platform to be meant for women;
Spam: Since anyone can create Pins, spam, including link spam, are unavoidable on Pinterest;
Excessive Focus on Affiliate Marketing: As Pinterest revenue generation depends largely on ads, users come across them a lot, and it can be bothersome at times;
Pinterest Opportunities
Expansion: Pinterest has the potential to increase its number of active users, especially to balance the gender ratio;
E-commerce integration: Pinterest will have more active users if it becomes fully integrated with e-commerce, as users will enjoy the ease of shopping on the same platform they find ideas of items to buy;
Pinterest Threats
Copyright Infringement: The freedom that users have to create Pins, especially content copied from other websites, may drag Pinterest into legal issues about copyright.
Loss of credibility: Some pins on Pinterest are scams, and such pins can make the company lose credibility;
Fear of Acquisition: Bigger tech companies like Google are very likely to make propositions to acquire Pinterest, considering its uniqueness.
Emergence of replica competitor: As most people tag Pinterest to be for women, some inventors may someday create a platform that works exactly like Pinterest but is tailored particularly for men. If such happens, Pinterest's active users may reduce significantly;
Conclusion
Pinterest will continue to dominate several other platforms in terms of ideas databases as long as the management of Pinterest continues to improve on the platform. If the right features are added, men may eventually grow a bigger interest in Pinterest and use it more actively. Thus, the ratio of men users to women users will increase.