With over 2 billion monthly active users and 95 million visuals uploaded daily, Instagram is recognized as a giant in the social media industry. Also referred to as IG or gram, Instagram was founded by Mike Krieger and Kevin Systrom and was first published in October 2010 for iOS users only. It has its headquarters in Menlo Park, California, United States.  Within two months, it already had a million registered users. It got 10 million registered users in a year, and by June 2018, it had a billion registered users. In April 2012, Instagram developed another version for Android users, and in November of that same year, it developed a desktop interface.
The Instagram app allows users to upload their content on the app. The uploaded content can be edited with filters embedded in the app, and tags and hashtags can be added to the pictures, videos, or captions. These posts can be shared publicly. IG users can also browse other users' content using tags, but must follow others to have their content in personal feeds.
In 2014 the company launched another version, a Fire OS app, two years after the creation of the Android version, and the brand launched a Windows 10 app in October 2016. Since its creation, over 40 billion pictures have been uploaded onto the platform. The company was acquired by Meta Platforms (Facebook) in 2012. In 2020, it was the 4th most downloaded mobile application in the world. According to recent research, Instagram has over 400 million users every day and 2 billion users every month. Approximately, it generated revenue of about $24 billion in 2020. Instagram's business model mainly operates on advertisements. Currently, it supports roughly 32 languages, including English, Korean, German, French, Chinese, and others. Asides from being a social networking platform, Instagram is used to promote services and products. It currently serves as the leading digital marketing source.
Instagram Strengths
Here, there are some factors considered to be Instagram's strengths: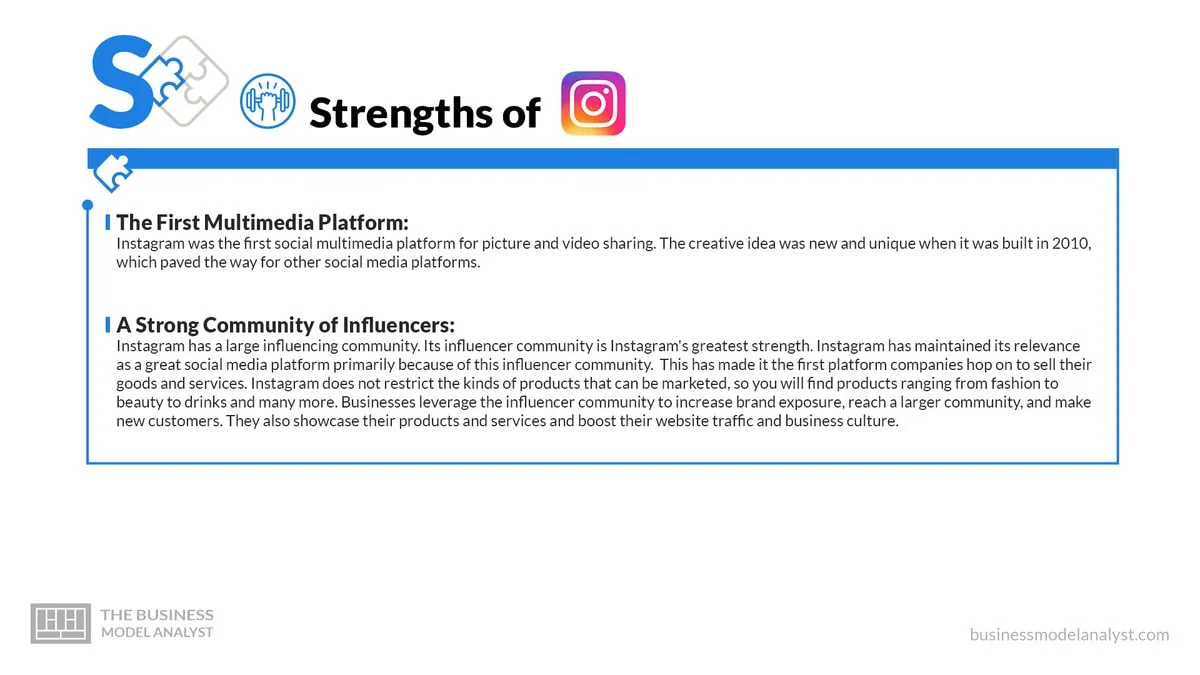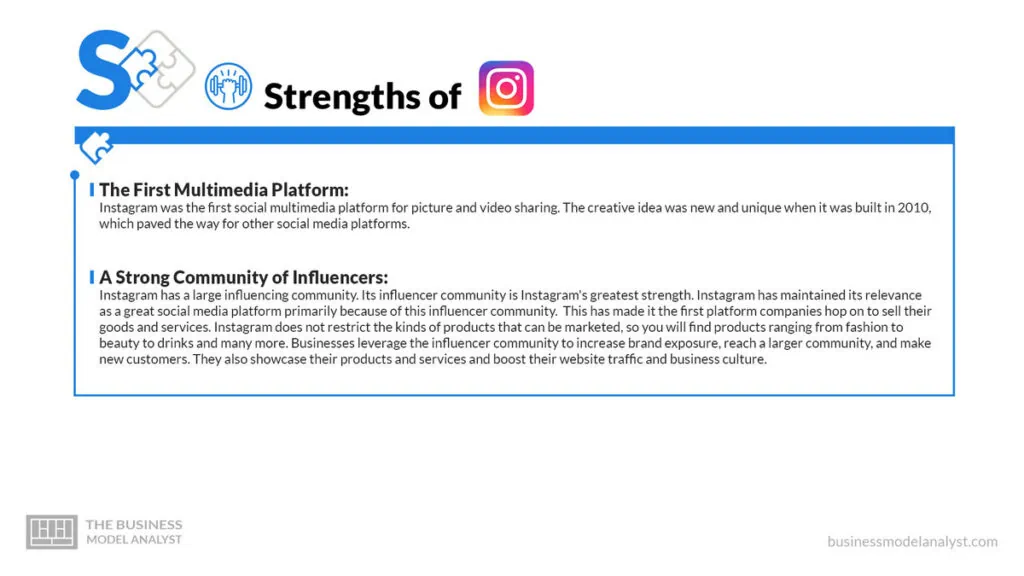 The First Multimedia Platform
Instagram was the first social multimedia platform for picture and video sharing. The creative idea was new and unique when it was built in 2010, which paved the way for other social media platforms.
A Strong Community of Influencers
Instagram has a large influencing community. Its influencer community is Instagram's greatest strength. Instagram has maintained its relevance as a great social media platform primarily because of this influencer community.  This has made it the first platform companies hop on to sell their goods and services. Instagram does not restrict the kinds of products that can be marketed, so you will find products ranging from fashion to beauty to drinks and many more. Businesses leverage the influencer community to increase brand exposure, reach a larger community, and make new customers. They also showcase their products and services and boost their website traffic and business culture.
Strong Parent Company 
A few years after the establishment of Instagram, Facebook (now Meta Platforms Inc.) bought it. Meta Platforms Inc. is the parent company of Instagram. With this, Instagram enjoys some benefits by being a subsidiary of Meta Platforms. Continually, Instagram leverages the opportunity of being a subsidiary of Meta Platforms to increase its membership steadily. It has a unique cross-platform login that once you have a Facebook account, you can automatically create an Instagram account without going through the stress of setting up a new Instagram account. The cross-platform login is one of the benefits Instagram enjoys from being a subsidiary of Meta Platforms. With just a few taps, an Instagram account becomes operational by signing up or logging in with an existing Facebook account.
The Use of Hashtags
Another strength of Instagram is its innovative idea, which is hashtags. Hashtags direct an audience to a post, who will seem captured by the visual content they see. Using the right hashtags allows firms, companies, and businesses to reach a wider audience. Hashtags also promote more interaction and audience engagement. Instagram also does not restrict the number of hashtags used on a post, whether one, ten, thirty, or fifty. Posts with a hashtag get 12.6% more interaction than posts without any hashtag. Add the hashtags you want, upload your post, and boom, Instagram does its magic and fosters audience interaction and engagement. However, to grow your Instagram account, you must follow a strategy – being consistent with your hashtags.
Large User Base 
Since its creation, Instagram users have been increasing daily. Currently, it has over 2 billion registered active users. This figure is enviable, given that the social media platform was established a few years ago. Instagram achieved this growth within a few years of its establishment. This steady growth and large user base have put the platform on par with other social media giants like Facebook and YouTube. Many investors rely on large numbers before they make investment decisions. The numbers of registered active users also entice marketers, who are the primary source of income for Instagram.
Multi-language Support
One of the reasons why Instagram remains one of the top three social media platforms is that it supports over 32 global languages. Instagram's users can navigate the app in their official or native language, considering that Instagram supports all the top international languages. This feature is accessible on both the web version and the mobile application. Though checking for various contents does not necessarily need language translation, language support allows Instagram's users to understand how to use its features like maps, locations, hashtags, likes, and comments.
The New Thing: IG Stories
IG stories, also known as Instagram stories, have been a hit and a significant feature of Instagram. On the social media platform, IG stories have been an enormous success. The segment has been estimated to have attracted about 400 million users each day. The introduction of IG stories has changed how Instagram users consume its content. IG stories gave the social media platform a chance to fight against its significant competitors, TikTok and Snapchat.
Easy Communication with Direct Messaging 
Although Instagram is a picture and video-sharing platform, it also allows its users to communicate with themselves. Instagram's direct messaging allows its users to share pictures, videos, posts, and texts amongst themselves privately. This feature allows for making friends, strengthening relationships with loved ones, and making sales with a one-on-one conversation with interested buyers, business owners, and their businesses.
Filters
Being a social media platform such as Instagram — where photos and videos are shared —, users want to share their best pictures and videos of themselves or their products. To this effect, Instagram made available the use of filters, which enables its users to edit their photos and videos without leaving the app. The filters also serve as a prompt for users to share their pictures and videos.  
Unlimited Enticing Content
Instagram is a social media platform where lots of content is uploaded. This allows Instagram to get new users daily because they enjoy different content from diverse sources. The app has over 40 billion pictures and videos to keep users motivated, entertained, and happy. This is one of the reasons why Instagram has a large user base.  There is content for everyone.
Integration
The social media giant has integrated itself with other popular social media platforms like Google, Twitter, Facebook, Tumblr, etc. This implies that people can easily share their content directly to these other platforms without exiting the app. This feature is very effective, allowing users to remain active.
Diverse Usage
The social media giant has over 2 billion registered users and 400 million active users daily, utilizing the social media platform for their benefit. Some of its users use it to promote goods and services; others share their pictures and videos; some use it to generate funds through product sponsorships, while others sit, watch, and enjoy all different content from diverse individuals. You can use your Instagram account to do what you want, and if anchored rightly, you will reach the right audience and get the proper response.
Instagram Weaknesses
The following are considered to be weaknesses of the social media giant: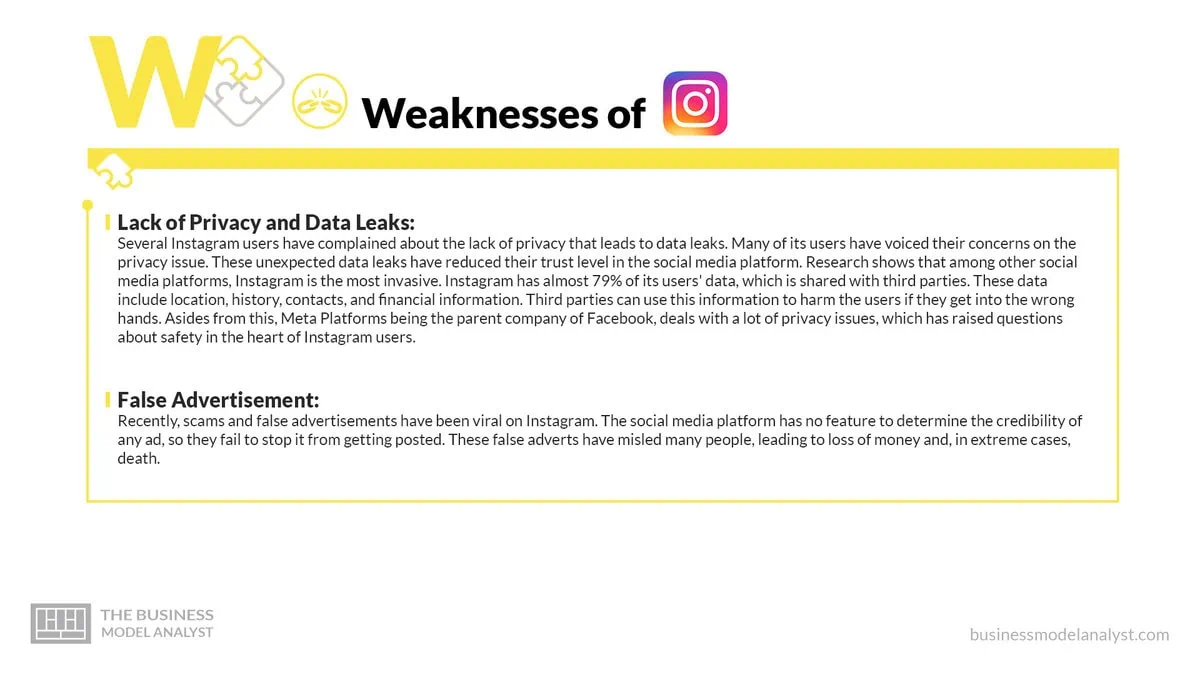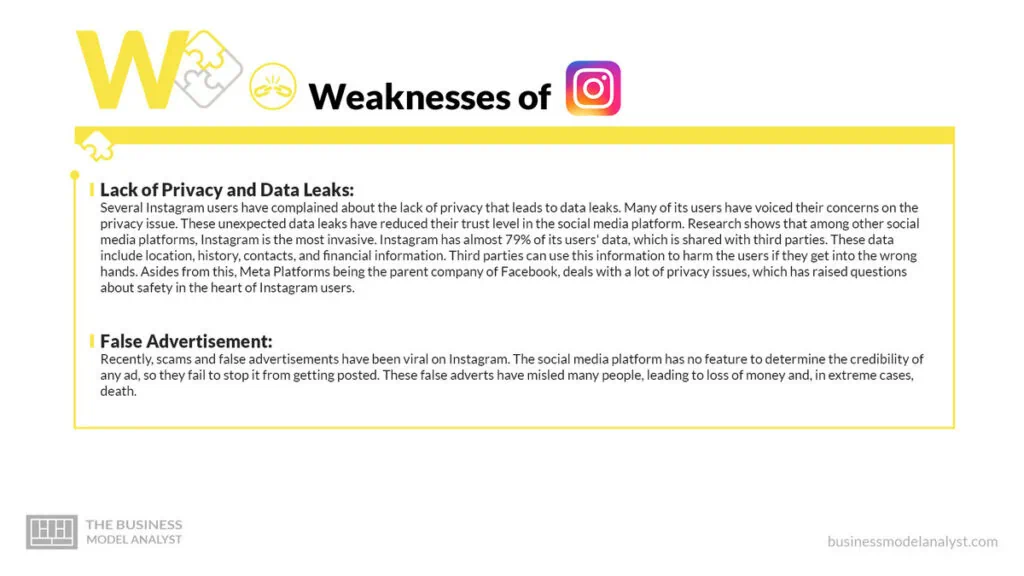 Lack of Privacy and Data Leaks
Several Instagram users have complained about the lack of privacy that leads to data leaks. Many of its users have voiced their concerns on the privacy issue. These unexpected data leaks have reduced their trust level in the social media platform. Research shows that among other social media platforms, Instagram is the most invasive. Instagram has almost 79% of its users' data, which is shared with third parties. These data include location, history, contacts, and financial information. Third parties can use this information to harm the users if they get into the wrong hands. Asides from this, Meta Platforms being the parent company of Facebook, deals with a lot of privacy issues, which has raised questions about safety in the heart of Instagram users.
False Advertisement
Recently, scams and false advertisements have been viral on Instagram. The social media platform has no feature to determine the credibility of any ad, so they fail to stop it from getting posted. These false adverts have misled many people, leading to loss of money and, in extreme cases, death.
Ineffective Paid Promotion
Some people and businesses use paid advertisements and the promotional tools of Instagram. But the issue with this is that the social media platform does not assure that users who see this advertisement will leave Instagram to visit that website and check out the business. Some Instagram users will most likely swipe up while being uninterested in the ad that they saw.
Purchase is not Guaranteed 
Instagram supports advertising, but marketers are unsure if their ads will convert. The traffic is regarded as one-way mainly because after a person views an advert, such a person does not buy within the platform but is primarily directed outside the platform. Outside the social media platform, it is hard to figure out whether such a person who clicked the link was converted to an active customer.
Image Theft
Image theft is one of the issues Instagram users face. Once content creators upload their pictures on social media platforms, they immediately face image theft issues. Some other people can see the pictures in passing and decide to use these pictures without getting the owner's consent or putting a photo credit. Some even claim ownership of other people's pictures outrightly. Business owners suffer from this more; other business owners steal their images.
Instagram Opportunities
Below, there are opportunities Instagram can leverage to grow its market share: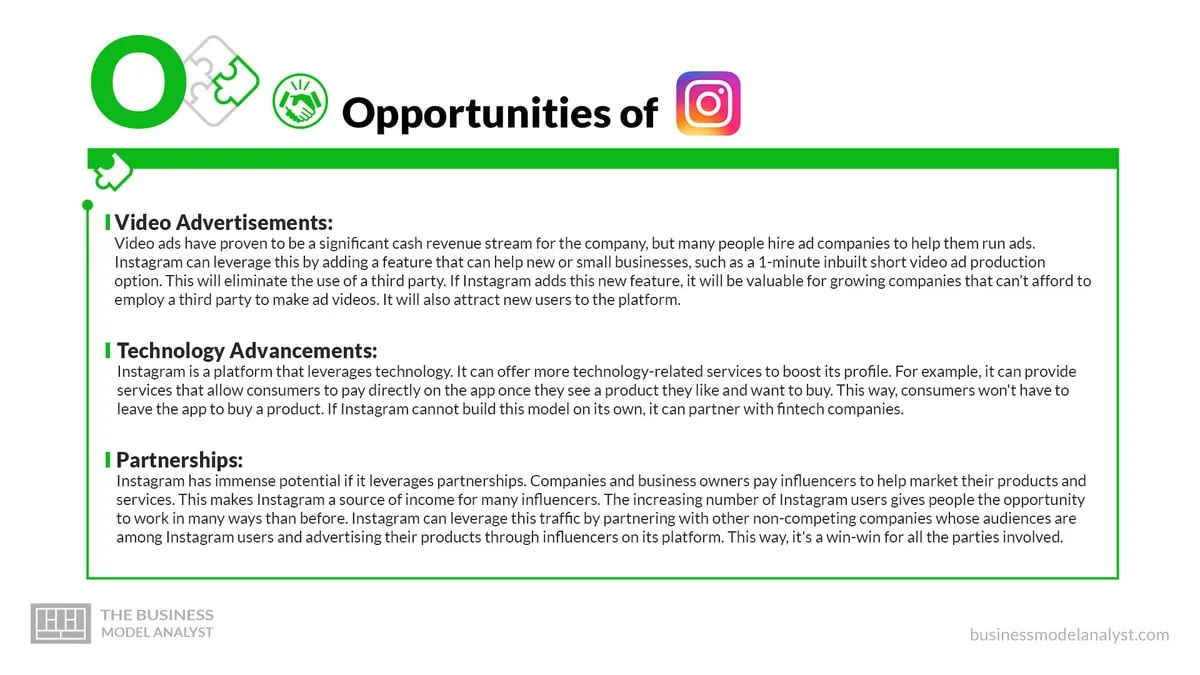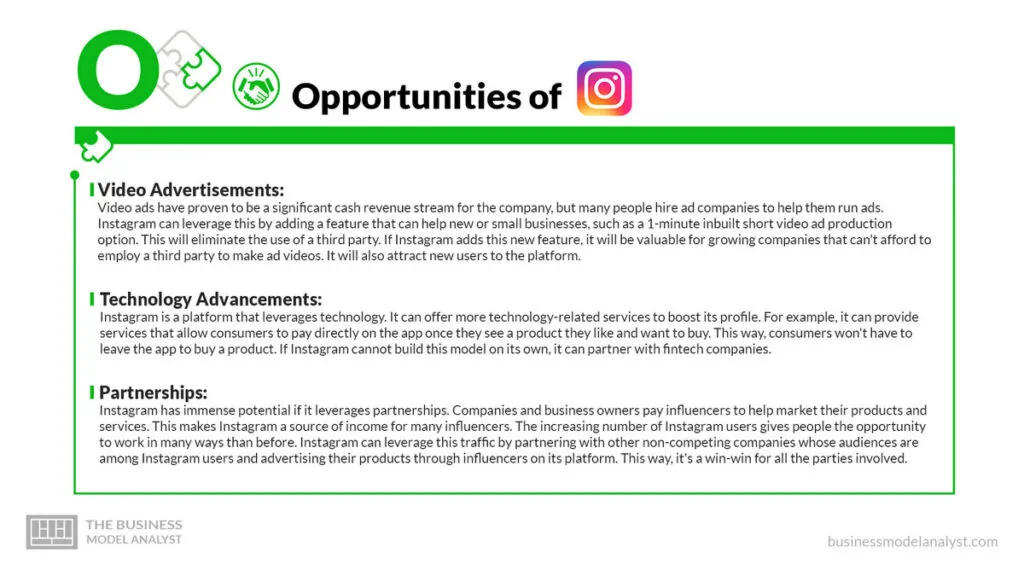 Video Advertisements
Video ads have proven to be a significant cash revenue stream for the company, but many people hire ad companies to help them run ads. Instagram can leverage this by adding a feature that can help new or small businesses, such as a 1-minute inbuilt short video ad production option. This will eliminate the use of a third party. If Instagram adds this new feature, it will be valuable for growing companies that can't afford to employ a third party to make ad videos. It will also attract new users to the platform.
Technology Advancements
Instagram is a platform that leverages technology. It can offer more technology-related services to boost its profile. For example, it can provide services that allow consumers to pay directly on the app once they see a product they like and want to buy. This way, consumers won't have to leave the app to buy a product. If Instagram cannot build this model on its own, it can partner with fintech companies.
Partnerships 
Instagram has immense potential if it leverages partnerships. Companies and business owners pay influencers to help market their products and services. This makes Instagram a source of income for many influencers. The increasing number of Instagram users gives people the opportunity to work in many ways than before. Instagram can leverage this traffic by partnering with other non-competing companies whose audiences are among Instagram users and advertising their products through influencers on its platform. This way, it's a win-win for all the parties involved. 
The Social Media and Smartphones
Following recent statistics, there is a massive rise in the purchase of smartphones and the usage of social media platforms. This allows Instagram to enlarge its platform. This can be used to the benefit of the company. According to recent research by Statista, the approximate number of smartphone users is 6.4 billion, increasing annually by 5.3%. The more people buy smartphones, the larger Instagram's user base grows. As such, Instagram needs to strengthen its position to remain relevant and capable enough to absorb these new smartphone users, year by year.
New Branding Strategies
Instagram can introduce a new branding strategy to increase its brand presence and market share further. For example, Instagram can leverage Augmented Reality to promote its services and make the same available to the companies, businesses, and powerful individuals on the app. This will boost the brand's recognition and secure the loyalty of its users.
Instagram Threats
Here, there are Instagram's threats: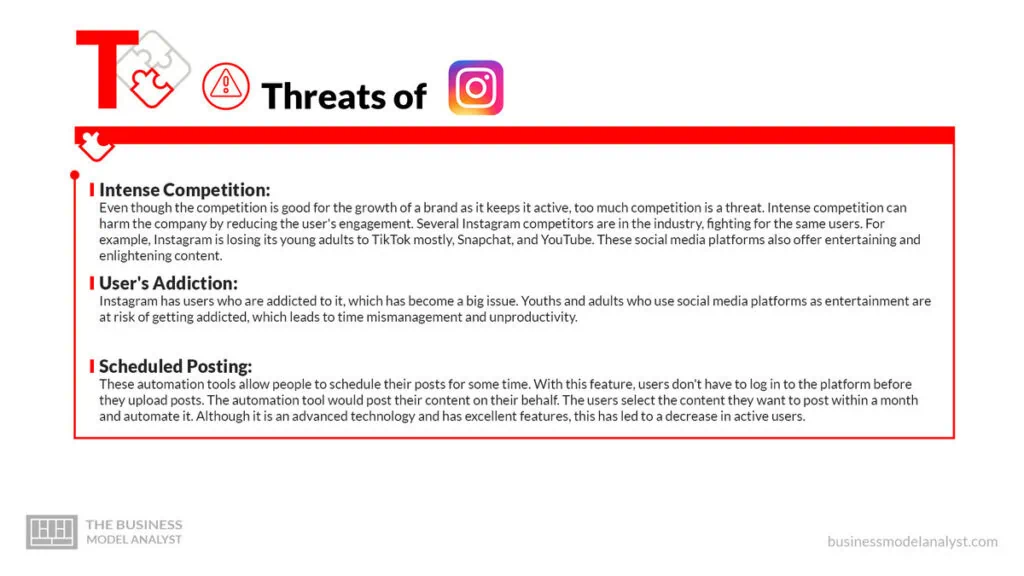 Intense Competition
Even though the competition is good for the growth of a brand as it keeps it active, too much competition is a threat. Intense competition can harm the company by reducing the user's engagement. Several Instagram competitors are in the industry, fighting for the same users. For example, Instagram is losing its young adults to TikTok mostly, Snapchat, and YouTube. These social media platforms also offer entertaining and enlightening content.
User's Addiction
Instagram has users who are addicted to it, which has become a big issue. Youths and adults who use social media platforms as entertainment are at risk of getting addicted, which leads to time mismanagement and unproductivity.
Scheduled Posting
These automation tools allow people to schedule their posts for some time. With this feature, users don't have to log in to the platform before they upload posts. The automation tool would post their content on their behalf. The users select the content they want to post within a month and automate it. Although it is an advanced technology and has excellent features, this has led to a decrease in active users.
Data Consumption
Much more than other social media platforms, Instagram consumes data. Many users have complained that the rate at which Instagram consumes data is alarming.
Limited Visibility
It was easy to be seen when Instagram was just created. With the large number of users that Instagram has now, it is easy for users to get lost. Considering many paid promotional and business campaigns, it is difficult for users to be famous and visible. Almost everyone is on Instagram, so only a few people get attention and popularity. For regular businesses to be visible, they have to use influencers or sponsored posts.
Low self-esteem 
Most content on Instagram is on beauty, fashion, skincare, etc. Selfies, pictures, and videos, which mostly result from excellent editing, filters, and Photoshop, increase beauty, body, and figure consciousness. This has led some people to do plastic surgeries – Botox, butt lifts, and fillers because they want to look like the pictures and videos Instagram vendors share. In the end, they end up beautifying themselves to their health detriment.
Conclusion
Instagram is a world-leading social media platform for sharing videos and pictures. The brand's greatest strengths are its large influencer community and user base, while its key weaknesses are scheduled posting and fierce competition. Over the years, Instagram has been leading in the social media industry. However, to maintain its market presence, it needs to use advanced technology to retain old users and attract new ones. It should focus on reducing the impact of its threats and weaknesses, while leveraging its opportunities and strengths to keep leading as the best video and picture-sharing platform.