The Lululemon business model revolves around designing and producing athlete and yoga apparel that are both stylish and functional. The famous athletic apparel company Lululemon has won the hearts of yoga lovers and fitness fans worldwide. The company was established in 1998 by Canadian businessman Chip Wilson as a small shop in Vancouver focusing on producing premium yoga clothing that not only made practicing yoga simpler but also made the wearer seem fashionable.
The company immediately became well-known, and over time it developed shops in more than 25 nations and increased its product line. Lululemon is a publicly traded business today and is denoted by the ticker "LULU" on the Nasdaq stock exchange. The company aims to develop products that help people live happier, healthier, and longer lives.
A brief history of Lululemon
A Canadian founded the company Lululemon in 1998. Chip Wilson, the founder, is a Canadian entrepreneur who started a surfwear company before starting Lululemon. Wilson's idea behind Lululemon was to create a brand or line of quality Yoga wears that made doing yoga easy and also helped the wearer look stylish while doing yoga. The Lululemon branch was launched first in Vancouver, Canada, having only a tiny store and few products to sell.
The brand's popularity quickly spiked, especially among yoga enthusiasts. By 2000, Lululemon already had another store in Vancouver, and after that, the company began to expand in terms of geography and product line. It opened more stores in the United States and Canada and also made room for the production and provision of other athletic wear, such as cycling and running clothes.
Around 2009, it added a new product to its line; it created athletic wear for girls. This move was part of a broader effort to refocus the company's efforts on its core business. Having stores in over 25 countries, Lululemon is now a brand recognized globally. It was making high-quality and innovative athletic wear and promoting a healthy and active lifestyle.
Who Owns Lululemon
Lululemon Athletica Inc. is publicly-traded, meaning its shares are up for sale on a stock exchange. It is listed on the Nasdaq stock exchange under the ticker symbol "LULU." Being a publicly traded company, the company is owned by a group of shareholders who have purchased shares of the company's stock. These shareholders can either be private institutions or individuals of the public. As of the end of 2021, Chip Wilson was the largest individual shareholder of Lululemon, as he owned 16% of the company's outstanding shares. However, most of Lululemon's ownership is held by institutional investors, including mutual funds, pension funds, and other investment firms.
Lululemon Mission Statement
The Lululemon mission statement is focused on creating components for people to live longer, healthier, fun lives.
How Lululemon works
Lululemon, as earlier stated, is an athletic clothing brand recognized globally. It is currently known for its high-quality and stylish workout apparel. Lululemon first focuses on product design and innovation. So, it is no surprise that the company is continuously finding ways to develop innovative and high-quality athletic wear which are functional and fashionable. When designing and making these clothes, Lululemon pays attention to every detail, and also makes use of technical fabrics. The focus on quality and innovation is part of what helps the company stand out amongst its Competitors.
Lululemon also operates on a vertical integration model, which controls every part of its supply chain. It sources and finds its materials and does the same for manufacturing and retailing. By doing this, its focus on quality is not shifted, and it has better control over the quality of its products. Having a vertical integration model also means that the company can quickly respond to any change in consumer demands. It helps them control its costs as it does not need to rely on third-party suppliers for its products. Lululemon has a distinctive approach to retail. In addition to operating its retail locations, the company sells products through independent retailers.
On the other side, Lululemon's retail strategy is focused on creating a unique in-store experience that engages customers and promotes a sense of community around the brand. Lululemon's stores are designed to provide their customers with an exceptional shopping experience by including amenities like in-store yoga classes and local events. As a result, the brand's relationship with its customers is strengthened, and a sense of community is fostered.
How Lululemon makes money
An international sports clothing manufacturer, Lululemon primarily generates revenue from retail sales. Yoga pants, sports bras, and running shorts are just a few of the athletic clothing and accessories that the brand sells at its retail stores, which are located in major cities all over the world.
Lululemon has a strong online presence in addition to its physical stores, allowing customers to order goods directly from the internet through its e-commerce website and mobile app. The brand's emphasis on e-commerce has contributed to growing its audience and clientele, as well as bringing in money through its membership program, wholesale, and overseas sales. Lululemon makes money through the following:
Retail sales
E-commerce
Wholesale
International Sales
Membership Programs
Retail Sales
Lululemon primarily makes money through retail sales. It operates its retail stores located in major cities worldwide. This, of course, did not just happen all of a sudden; it has been a method of sales since the inception of the business. These stores sell athletic apparel and accessories, including yoga pants, sports bras, and running shorts.
E-commerce
Through its e-commerce website, Lululemon also offers its products for purchase online. Consumers can order products directly from the internet and deliver them to their homes. Lululemon has a significant online presence. Customers have access to the company's mobile app and online store. On the company's website, there is further information about health and well-being, including videos of exercises. This focus on e-commerce has helped Lululemon to increase its reach and grow its customer base.
Wholesale
The business also sells and makes its items available in other retail stores. This indicates that Lululemon sells its goods through outlets like department shops and other athletic merchants that are wholesalers. Even if this is not the company's primary source of income, it nonetheless adds to overall sales.
International Sales
Lululemon is a well-known multinational brand with a sizable following in numerous foreign countries. The business makes money through its online store and physical locations worldwide.
Membership Programs
Many companies use membership programs as a popular marketing strategy to boost client loyalty and engagement. Customers can receive many advantages from Lululemon's membership program, "Lululemon Rewards," including free shipping and returns, early access to the debut of new products, and invites to special events. The fact that membership programs encourage customers to make recurring purchases is one of their main advantages. Members often experience a sense of exclusivity because of early access to new product releases and limited-access events, which can boost their brand loyalty and compel them to make more purchases.
Lululemon Business Model Canvas
The Lululemon Business Model can be explained in the following business model canvas: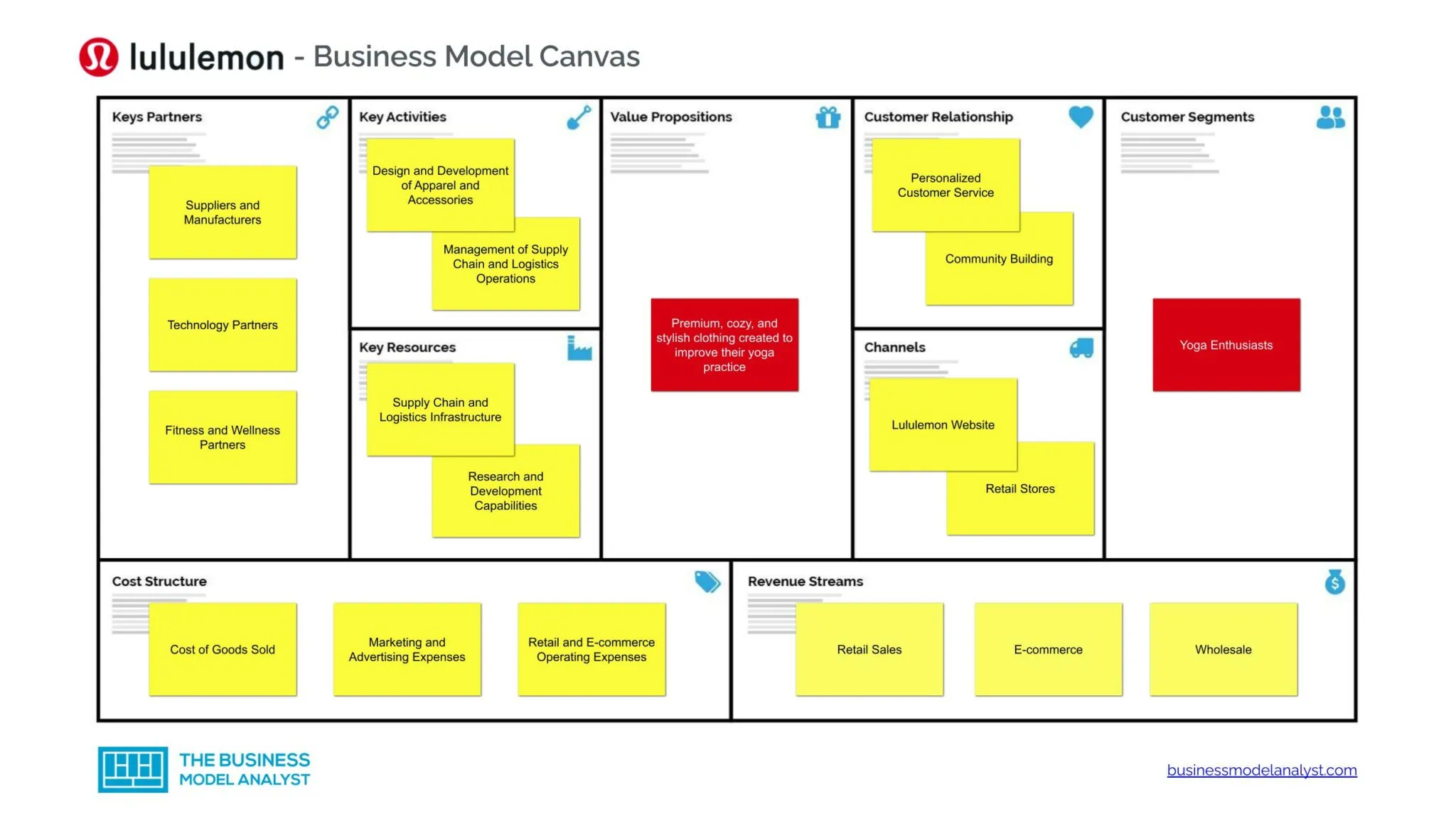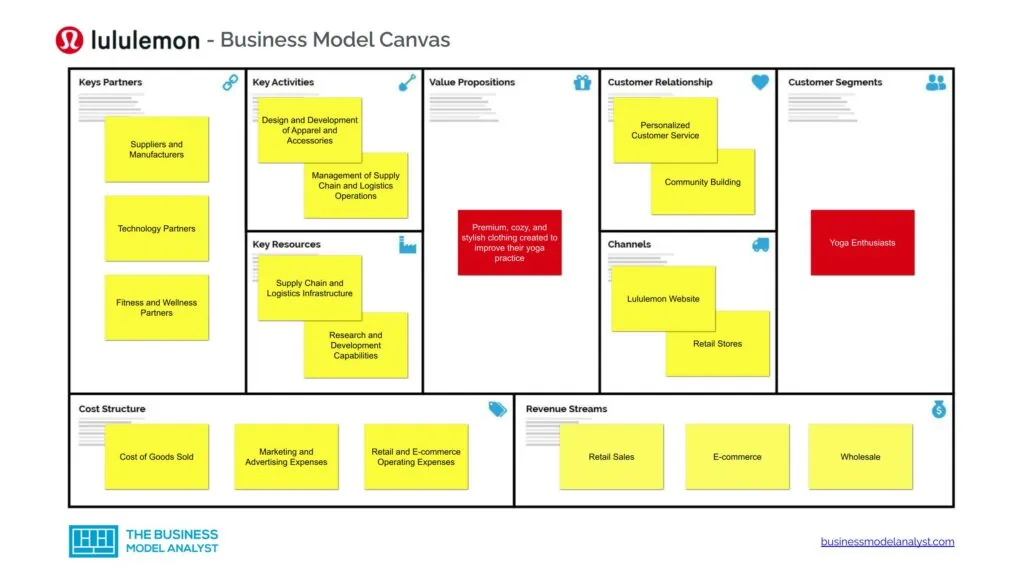 Lululemon Customer Segments
Lululemon's customer segments consist of:
Yoga Enthusiasts: Initially, Lululemon was known for its stylish and premium yoga clothing. Yoga devotees continue to be a significant customer group for the business today. These clients frequently prefer items with trendy designs as well as comfort, flexibility, and breathability;
Fitness Enthusiasts: Lululemon offers athletic wear for various fitness pursuits, including running, cycling, training, and yoga clothing. Another important consumer group for the business is fitness fanatics, who place a high value on quality, performance, and style;
Athleisure Shoppers: Beyond merely those who emphasize physical activities, Lululemon has grown significantly among customers who value style and comfort in their daily attire. These buyers seek fashionable, multipurpose products that may be used in various situations;
Men: Although Lululemon has historically been identified with women's clothing, the firm has increased its selection of items for guys, such as activewear, outerwear, and accessories. A key market for the business is males who value quality, performance, and style in their athletic clothing;
Sustainable Shoppers: Lululemon has prioritized sustainability and has introduced programs like its "Impact Agenda" and its "Earth Dye" line. Another target market for Lululemon is customers that highly value ethical and sustainable production methods.
Lululemon Value Propositions
Lululemon's value propositions consist of:
Yoga Enthusiasts: Lululemon's value proposition for yoga aficionados is focused on premium, cozy, and stylish clothing created to improve their yoga practice. The clothing line uses technical fabrics that wick away moisture and promote easy movement. It also offers a variety of designs and hues to suit individual tastes;
Fitness Enthusiast: Lululemon's value offer for fitness enthusiasts is concentrated on premium, performance-driven clothing that is made to complement a variety of fitness activities, such as running, cycling, and training. The company's goods are designed to be comfortable and fashionable while still moisture-wicking, breathable, and strong;
Athleisure Shoppers: Lululemon's value proposition for athletes is built on fashionable, adaptable, and cozy clothing that can be worn inside and outside the gym. The company creates products that are both aesthetically pleasing and effective for sporting endeavors;
Men: The core of Lululemon's value offer for guys is high-performance clothing created to support various athletic activities. The business provides a variety of items for men that are made to be cozy, strong, and fashionable, including outerwear, accessories, and gym clothing;
Sustainable Shoppers: Lululemon's value offer for environmentally conscious customers is founded on a dedication to sustainability and moral production methods. Customers who value sustainability can choose eco-friendly options thanks to the company's goods, such as the "Earth Dye" collection, which uses sustainable and ecologically friendly components in their manufacture.
Lululemon Channels
Lululemon's channels consist of
Lululemon Website
Retail Stores
E-Commerce Marketplaces
Partnerships and Collaborations
Wholesale
Lululemon Customer Relationships
Lululemon's customer relationships consist of:
Personalized Customer Service
Community Building
Customer Engagement
Brand Loyalty
Lululemon Revenue Streams
Lululemon's revenue streams consist of
Retail Sales
E-commerce
Wholesale
International Sales
Membership Programs
Lululemon Key Resources
Lululemon's key resources consist of
Supply Chain and Logistics Infrastructure
Research and Development Capabilities
Store and Retail Infrastructure
E-commerce Platform and Technology
Brand and Intellectual Property
Talented Workforce
Marketing and Advertising Capabilities
Partnerships and Collaborations.
Lululemon Key Activities
Lululemon's key activities include:
Design and Development of Apparel and Accessories
Management of Supply Chain and Logistics Operations
Operation of Retail Stores and E-commerce Platforms
Marketing and Advertising Campaigns
Research and Development of New Products and Technologies
Management of Partnerships and Collaborations
Financial Management and Planning.
Lululemon Key Partners
Lululemon's key partners consist of:
Suppliers and Manufacturers
Technology Partners
Fitness and Wellness Partners
Brand Partners
Non-profit Partners
Lululemon Cost Structure
Lululemon's cost structure consists of:
Cost of Goods Sold
Marketing and Advertising Expenses
Retail and E-commerce Operating Expenses
Research and Development Expenses
General and Administrative Expenses
Depreciation and Amortization Expenses
Lululemon Competitors
Nike: Nike is a well-known company with a significant market share in the sportswear sector. The brand has a devoted consumer base and offers a wide selection of products, including both casual and performance clothing. Nike is a formidable rival to Lululemon in the online market because it also has a significant web presence;
Adidas: Adidas, like Nike, offers various products, including activewear and casual clothing. Also, the business has invested in sustainability programs, which can appeal to clients who favor companies that take environmental responsibility seriously;
Under Armour: Like Lululemon, sportswear company Under Armour focuses on performance apparel. The business is renowned for its cutting-edge technology, such as its moisture-wicking fabric, which can appeal to clients that place a high value on practicality. Also, Under Armour is a formidable rival in the e-commerce market thanks to its robust online presence;
Athleta: Athleta specializes in women's sportswear and similarly emphasizes sustainability. Customers who emphasize inclusivity and diversity may be drawn to the organization. Athleta has a significant retail presence because it is a Gap Inc. affiliate;
Outdoor Voices: A relatively new company in the athleisure sector, Outdoor Voices has attracted much interest. Customers that value functionality and variety in their sportswear may find the company's singular focus on "doing things" to be appealing. Also, Outdoor Voices places a lot of emphasis on social media marketing and community building, which can entice younger clients.
Lululemon SWOT Analysis
Below, there is a detailed swot analysis of Lululemon: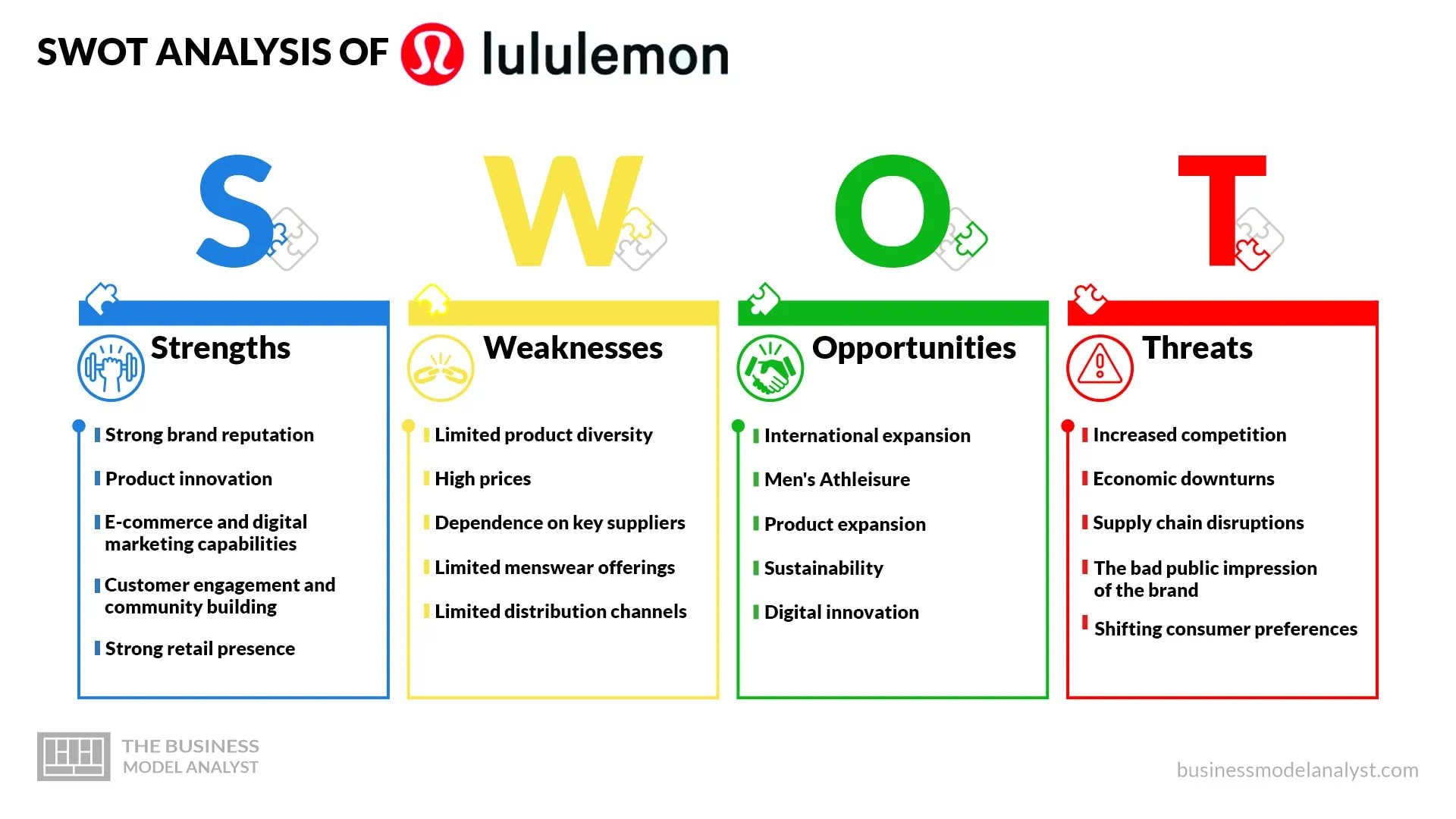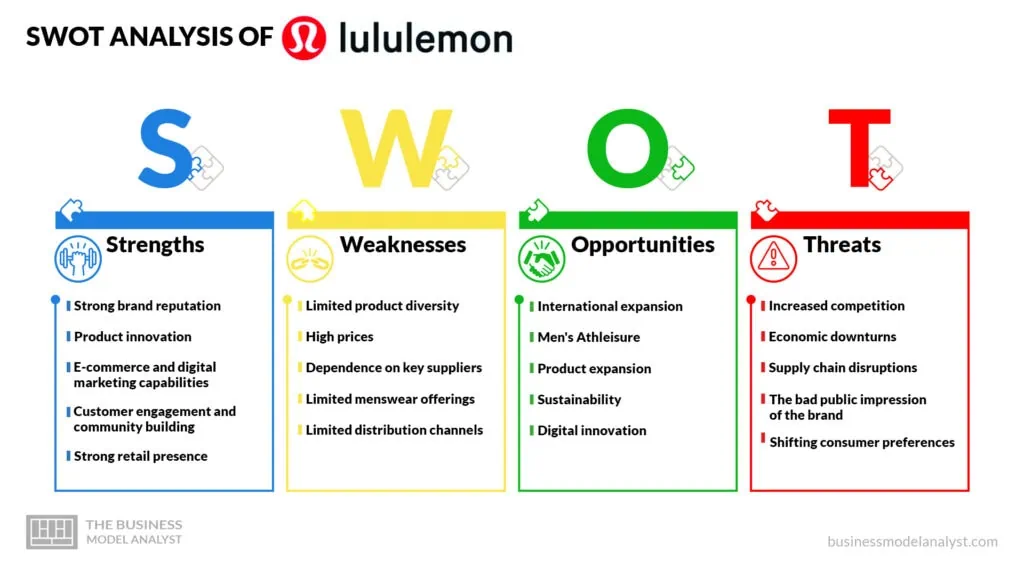 Lululemon Strengths
Here, there are Lululemon's strengths;
Strong brand reputation: Lululemon enjoys a solid brand name that has assisted the business in gaining a following of devoted customers. The business stands out from its rivals thanks to its renowned high-quality products, distinctive designs, and dedication to sustainability;
Product innovation: Lululemon prioritizes product creation, which has enabled the firm to stay ahead of athleisure industry trends. The business has invested in novel materials like Luon fabric and created new goods like its well-liked Align leggings;
E-commerce and digital marketing capabilities: Lululemon has a solid e-commerce infrastructure and digital marketing skills, which have assisted the business in expanding and gaining new clients. To increase brand recognition and boost sales, the business has engaged in internet advertising, social media marketing, and influencer relationships;
Customer engagement and community building: Lululemon heavily emphasizes client involvement and community building, which has helped the business develop a following of devoted customers. The business sponsors neighborhood activities provide free in-store yoga sessions, and have a sizable online community of brand ambassadors and influencers;
Strong retail presence: With locations in important cities worldwide, Lululemon has a significant retail presence. Stores operated by the company are renowned for their distinctive designs, superior levels of customer service, and in-store amenities like free hemming and alterations.
Lululemon Weaknesses
Below, there are Lululemon's strengths;
Limited product diversity: Lululemon is well renowned for its premium athleisure clothing, yet the company only sells items in this niche market. This restricts the company's capacity to expand into new markets and diversify its sources of income;
High prices: Compared to many of its rivals, Lululemon's items are typically more expensive. For some customers, the company's emphasis on premium and environmentally friendly materials justifies this pricing, but it can alienate others searching for more reasonably priced athleisure solutions;
Dependence on key suppliers: Due to its reliance on a small number of significant suppliers for its raw materials, Lululemon may be sensitive to supply chain interruptions or changes in price;
Limited menswear offerings: Offerings for men's clothing are still very small compared to those for women's clothing, despite Lululemon's progress in the market for men's athletic clothing;
Limited distribution channels: When compared to some of its rivals, Lululemon's distribution methods are constrained because the company's retail presence is predominantly concentrated on standalone stores. Although the business has a robust e-commerce infrastructure, there may be room for growth into further retail or wholesale partnerships.
Lululemon Opportunities
Here, there are Lululemon's opportunities;
International expansion: Although Lululemon now dominates the North American industry, there are enormous opportunities for the firm to expand elsewhere. Although the business has already entered Europe and Asia, there is still a possibility for expansion in these and other areas;
Men's Athleisure: Lululemon has traditionally concentrated on women's athleisure, but the market for men's athleisure presents a sizable opportunity for the brand. Although the organization has already progressed in this area, there is still much room for expansion;
Product expansion: Lululemon places a lot of emphasis on product innovation, and the business has the chance to keep growing the range of products it offers. This could involve developing new products, like performance clothing for particular sports or activities, or branching out into other product categories, like footwear;
Sustainability: Lululemon has made sustainability a priority for the business. There is still much room for the company to grow in this regard. This might entail making investments in more environmentally friendly products or production techniques, as well as looking into fresh approaches to waste management and circular economy;
Digital innovation: Although Lululemon has a robust e-commerce infrastructure, there is always room for the business to innovate. This can entail enhancing the business' mobile app, investing in cutting-edge technologies like augmented reality, or looking at novel approaches to tailoring the consumer experience.
Lululemon Threats
Below, there are Lululemon's threats;
Increased competition: Lululemon has a lot of rivals in every price range in the fiercely competitive athleisure business. This may impact the company's market share and revenue growth;
Economic downturns: Because Lululemon's products are typically considered luxury goods, the company may be more susceptible to them. Consumers may be less likely to buy Lululemon products if they reduce their discretionary expenditure;
Supply chain disruptions: Due to its dependence on a small number of significant suppliers for its raw materials, Lululemon may be sensitive to supply chain interruptions or changes in price;
The bad public impression of the brand: Lululemon has previously endured negative press due to disagreements over the caliber of its products and the founder's remarks. The company's capacity to draw in and keep customers may suffer if the perception of its brand is tarnished;
Shifting consumer preferences: Consumer preferences, which can be erratic and challenging to forecast, drive the athleisure sector. Lululemon's sales and growth may be impacted if customer preferences veer away from athleisure or if rival fashion trends appear.
Conclusion
In conclusion, Lululemon's ability to cater to several consumer categories and its broad business strategy are critical factors in its success. The company has developed a strong brand identity due to its emphasis on premium quality, style, and sustainability. Its concentration on e-commerce and membership programs has also helped it to reach a broader client base. Lululemon is well-positioned for continued success in the athletic clothing sector thanks to its ongoing dedication to innovation and satisfying the changing requirements of its customers.