Instagram is a renowned social media platform that allows users to share photos and videos with their followers. The Instagram business model is primarily based on advertising. The platform has many advertising formats, such as photo and video ads, carousel ads, story ads, and sponsored content. 
With over 2 billion active monthly users, the popularity of this social media platform is growing exponentially. Today, India has the highest number of Instagram users — 229 million. Second in command is the United States, with over 143 million users, and Brazil leading, with 113 million users. 
A brief history of Instagram
Founded in 2010 by Kevin Systrom and Mike Krieger, Instagram is among the most popular social media platforms. Systrom came up with the idea when working on a location-based mobile application called Burbn. He realized the photo-sharing feature of this app was the most popular. This was when he and Krieger focused on creating a photo-sharing feature on a new application. 
They launched the initial version in October 2010 for iPhone users. This immediately hit the ground running with the users, who appreciated the easy-to-use interface and adding filters to their photos. Within three months, Instagram reached 1 million registered users. 
The developers worked on making the app more dynamic by adding additional features. It incorporated photo tagging, the use of hashtags, and sharing videos. In 2012, Instagram was acquired by Facebook, now famously called Meta. Facebook paid $1 billion for the acquisition. 
In 2016, Instagram developed a new feature that catapulted its growth in the market. This feature allowed users to share short videos and photos that disappeared after 24 hours. In the following year, users could add links to their stories. A feature that resonated well with business owners as well as consumers. 
By 2018, Instagram had already reached 1 billion users. Its popularity continued to soar, surpassing the 2 billion active monthly users mark in 2021. Currently, Instagram has new features like Reels, which allow users to create short videos and also allow them to shop from the app. Social media has become an essential marketing tool for businesses and for making valid connections. 
Who Owns Instagram
Instagram is currently owned by Meta, formerly known as Facebook, Inc. The company acquired Instagram in April 2012 for $1 billion in cash and stock. However, Instagram remains separate from Meta. This is the same case as other companies owned by Meta, such as Oculus VR and WhatsApp. 
The co-founders, Kevin Systrom and Mike Krieger, continued their positions in the company for several years but resigned in 2018. Today, Adam Mosseri serves as the CEO of Instagram, reporting directly to Mark Zuckerberg. 
Instagram Mission Statement
The Instagram mission statement is "to allow users to experience moments in their friends' lives through pictures as they happen." The company is keen to provide a supportive community for people to express themselves authentically and respectfully. Its main agenda is to foster visual storytelling and community building, aligning with its corporate values. 
How Instagram works
Instagram provides a platform for users to share photos and videos with their followers. To use Instagram, you need to download the application on your android or iOS phone. Create an account and build your profile as you dim fit. Once you are done, you can share content with your followers. You can follow different users to see their posts in their feeds, and they can follow you to see your posts. 
Using a set algorithm, Instagram will determine which posts should appear in a user's feed. The factors that affect the ranking of posts are recency, engagement, and relevancy. Users can like, share, and comment on different content. They can also direct messages. 
In addition, Instagram also features a series of business tools, such as Shopping and Insights. These allow businesses to analyze their performance and directly sell products on the platform. In general, the social media platform provides a visually oriented platform to help people share and connect with others worldwide. 
How Instagram makes money
With over 1 billion active users, Instagram has become a major player in the social media landscape. This has made it a significant source of revenue for its parent company, Meta. The social media platform mainly makes its money through advertisement. However, it also offers a wide range of monetization opportunities for businesses, influencers, and creators. 
Visual Advertising
Instagram provides various ad formats, such as photos, videos, carousels, and stories. These are crucial for businesses to target specific audiences based on demographics, interests, and behaviors. It also utilizes ad placements- as a business owner, you can rely on the in-feed ads, explore ads, and ads in stories to push your product or service. 
Instagram relies on the auction-based system to determine the cost of an advertisement. The highest bidder on the ad's placement wins. Businesses create highly targeted ad campaigns that increase brand awareness and sales. 
Instagram Shopping
Businesses can sell products directly on the platform by creating a shop and tagging the products. This enables users to make several purchases without leaving the app. A checkout feature also allows users to store their payment information securely. 
For each sale, Instagram deducts a percentage of the sale made through the social media platform. With more than 130 million users clicking on shopping posts each month, Instagram shopping has become a great source of revenue for the company. This has also increased sales on the platform by reaching new customers. 
Instagram Business Model Canvas
The Instagram Business Model can be explained in the following business model canvas: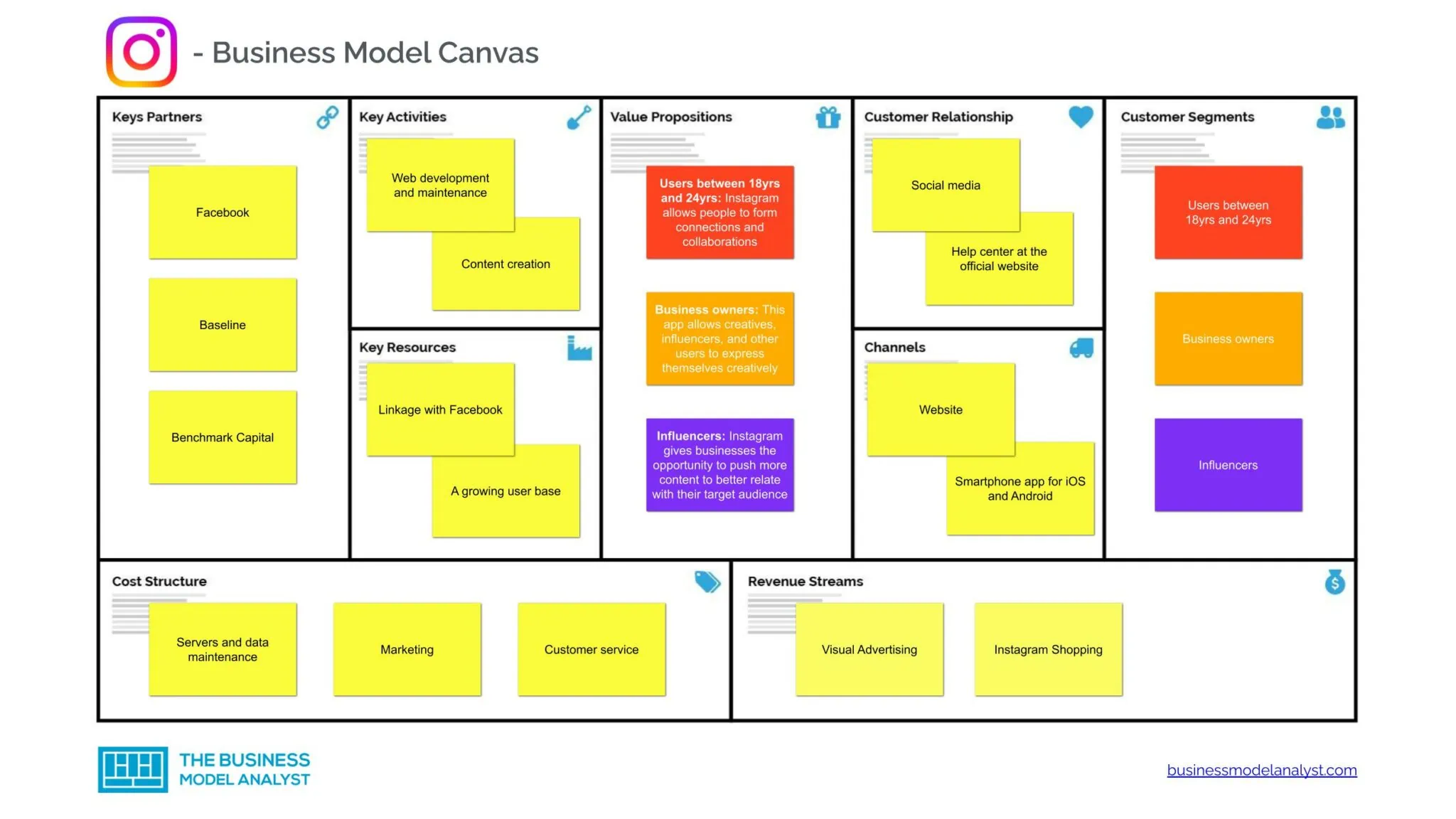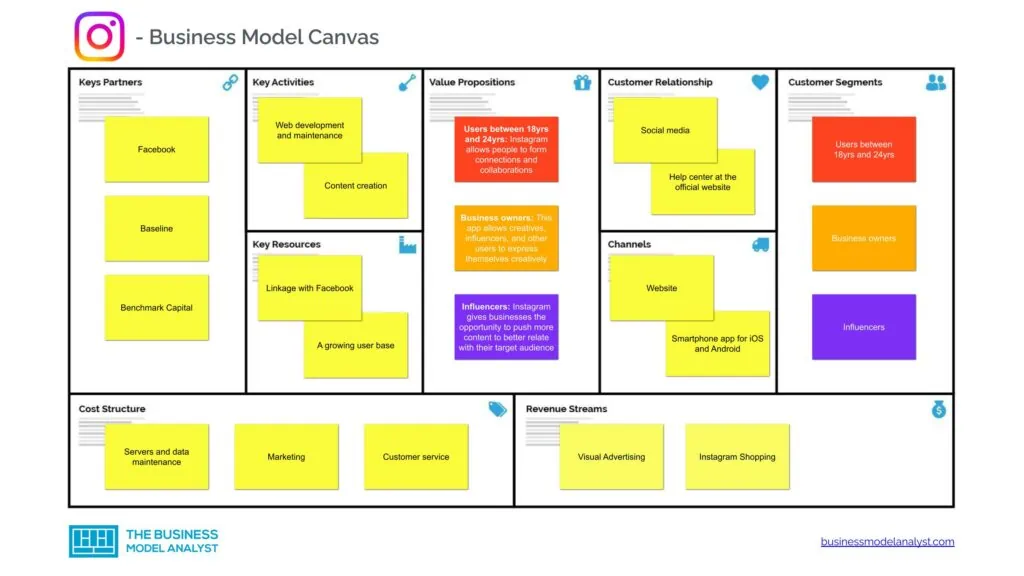 Instagram Customer Segments
Instagram customer segments consist of:
Users between 18yrs and 24yrs: According to a recent study in January 2023, almost 17 percent of active Instagram users worldwide were between 18 and 24. More than 50% global Instagram population is aged 34 years and lower. These are highly engaged and active users on the platform, making them the prime demographic for businesses. In addition, they are more likely to make purchases based on social media recommendations;
Business owners: The social media platform gives business owners a powerful platform to reach new clients and increase sales. Once you create a business profile on the platform, you'll have access to features like call-to-action, insights, and the ability to promote posts. In addition, businesses can leverage influencers to promote products and services;
Influencers: Through Instagram, influencers can build their brand, connect with users, and monetize content. They can easily interact with a larger audience through photos, videos, and stories. They often monetize through affiliate marketing, brand collaborations, product endorsements, and sponsored posts. Instagram relies on them to drive engagement and keep users on the platform, increasing revenue. 
Instagram Value Propositions 
Instagram value propositions consist of:
Instagram allows people to form connections and collaborations: This app enables users to interact effortlessly with family, friends, and new people. The platform emphasizes community and engagement, allowing them to build meaningful relationships. The platform fosters connections and collaborations among people, making it a valuable tool for individuals, businesses, and influencers;
This app allows creatives, influencers, and other users to express themselves creatively: Users can express themselves creatively and visually through the platform. With the main focus on storytelling, the social media platform is jam-packed with filters, editing tools, and effects. This has enabled users to capture and share their uniqueness, promoting inspiration, self-expression, and brand-building;
Instagram gives businesses the opportunity to push more content to better relate with their target audience: Instagram uses algorithms to analyze users' behavior and preferences. This is how they deliver content that aligns with user interests. Through the explore page, they can provide content curated on your activity and engagement, enabling you to discover new accounts, topics, and trends. 
It's a valuable tool for businesses looking to connect more with their target audience.
You can connect with your audience and build your brand through the social media platform. Features like Reels, Stories, and IGTV offer an excellent opportunity for users to share your content and engage with followers. You can obtain valuable feedback and improve your content, and follow through with the engagement metrics. 
Instagram Channels
Instagram channels consist of:
Website
Smartphone app for iOS and Android
Developer tools and APIs
Instagram Customer Relationships
Instagram customer relationships consist of:
Social media
Help center at the official website
Business profiles
Community and forum
Instagram Revenue Streams
Instagram revenue streams consist of:
Visual Advertising
Instagram Shopping
Instagram Key Resources
Instagram key resources consist of:
Linkage with Facebook: The acquisition of Instagram by Facebook helped broaden its user base. This has significantly improved Instagram's potential in terms of content and advertising. In addition, the social media platform has access to Facebook's advertising tools and algorithms for effectively targeting and personalizing ads. With the backing of a renowned technology company, Instagram, has the potential to innovate and grow even faster;
A growing user base: The social media platform prides itself on having numerous users across the globe. This provides an excellent platform for advertising, thereby increasing earning potential. It also enhances the richness and diversity of content. One of the main reasons is that users worldwide engage on the platform. The growing user base is essential for Instagram's success and relevance in a competitive social media market;
Multiple advertisers: A wide array of advertisers is on the platform, making it a stable financial foundation. With the competitive nature of advertisers, there will be more innovative and creative advertising strategies. This diversifies the user base on the social media platform;
Cloud systems and technology: With the top-of-the-line infrastructure in place, Instagram utilizes cloud technology to store user data and content. The enhanced flexibility and scalability allow it to roll out new features to stay ahead of competitors. Moreover, the technology ensures enhanced data security and privacy measures to protect users from unauthorized access and cyber threats;
Community platform: Instagram promotes a sense of belonging and engagement over shared interests and experiences. Loyalty retention leads to valuable feedback and insights that further inform product development. This resource also helps establish Instagram as a trusted and influential voice in the broad social media landscape. 
Instagram Key Activities
Instagram key activities consist of:
Web development and maintenance: The company is keen on constantly improving and maintaining the platform's user interface, features, and functionality. The skilled developers monitor, test, and optimize the platform's performance and security measures;
Content creation: This entails producing high-quality visual content to engage and inspire users. The content can include photos, videos, or stories. To achieve this, constantly investing in content creation tools and resources is needed. It's also essential in collaborating with creators and influencers;
User engagement and retention: Personalized experiences, community-building activities, and social media marketing campaigns are essential in cultivating a loyal user base. Instagram ensures they have a deep understanding of user needs and preferences. They also invest in user engagement strategies and tactics;
Marketing: Monetization strategies through advertising and e-commerce feature creation and execution of revenue-generating strategy. This includes sponsored content, in-app shopping apps, and influencer marketing;
Community building: This involves creating and managing online communities that foster a sense of belonging and engagement. There are a series of community management tools and resources in addition to collaborating with creators and influencers. 
Instagram Key Partners
Instagram key partners consist of:
Facebook
Baseline
Benchmark Capital
Andreesen Horowitz
Greylock Partner
Sequoia Capital
Instagram Cost Structure
Instagram cost structure consists of:
Servers and data maintenance
Marketing
Customer service
Platform and software development
Product roadmap
Marketing and promotion
Traffic acquisition
Customer support
Instagram Competitors
Snapchat: Both platforms allow users to share photos and videos with friends and followers. They use features like reality filters, stickers, captions, and hashtags to post. 
In contrast, Snapchat focuses on ephemeral content, unlike Instagram's more permanent content setup. The former also has a younger user base, which poses a competitive threat to Instagram's user growth and engagement. In addition, Snapchat also partners with Shopify, which is a potential challenge with Instagram's e-commerce capabilities;
TikTok: Its short-form videos, advanced video editing tools, and algorithm-driven content makes TikTok a direct competitor to Instagram. These features attract a younger demographic by emphasizing engagement, creativity, and authenticity. Its main emphasis is on innovation, creativity, engagement, growing user base, and expanding capabilities in the social media landscape;
Twitter: Twitter bases its operations on real-time text-based conversations with character-limited tweets. On the other hand, Instagram focuses on visual-based content. As one of the major competitors of Instagram, Twitter users range from journalists to politicians. This poses a threat to Instagram in the media landscape. In addition, Twitter also has features like Twitter Spaces, which competes with Instagram's live video capabilities;
Pinterest: Instagram primarily focuses on sharing and consumption of visual content, whereas Pinterest focuses on discovery and search engines for visual content. Pinterest's major market share is the female demographic, which focuses on fashion, food, and home decor. This directly poses a competitive threat to Instagram's user growth and engagement. In addition to its discovery, curation, personalized recommendations, and growing e-commerce and advertising capabilities, it has become a significant competitor in the social media landscape. 
Instagram SWOT Analysis
Below, there is a detailed swot analysis of Instagram: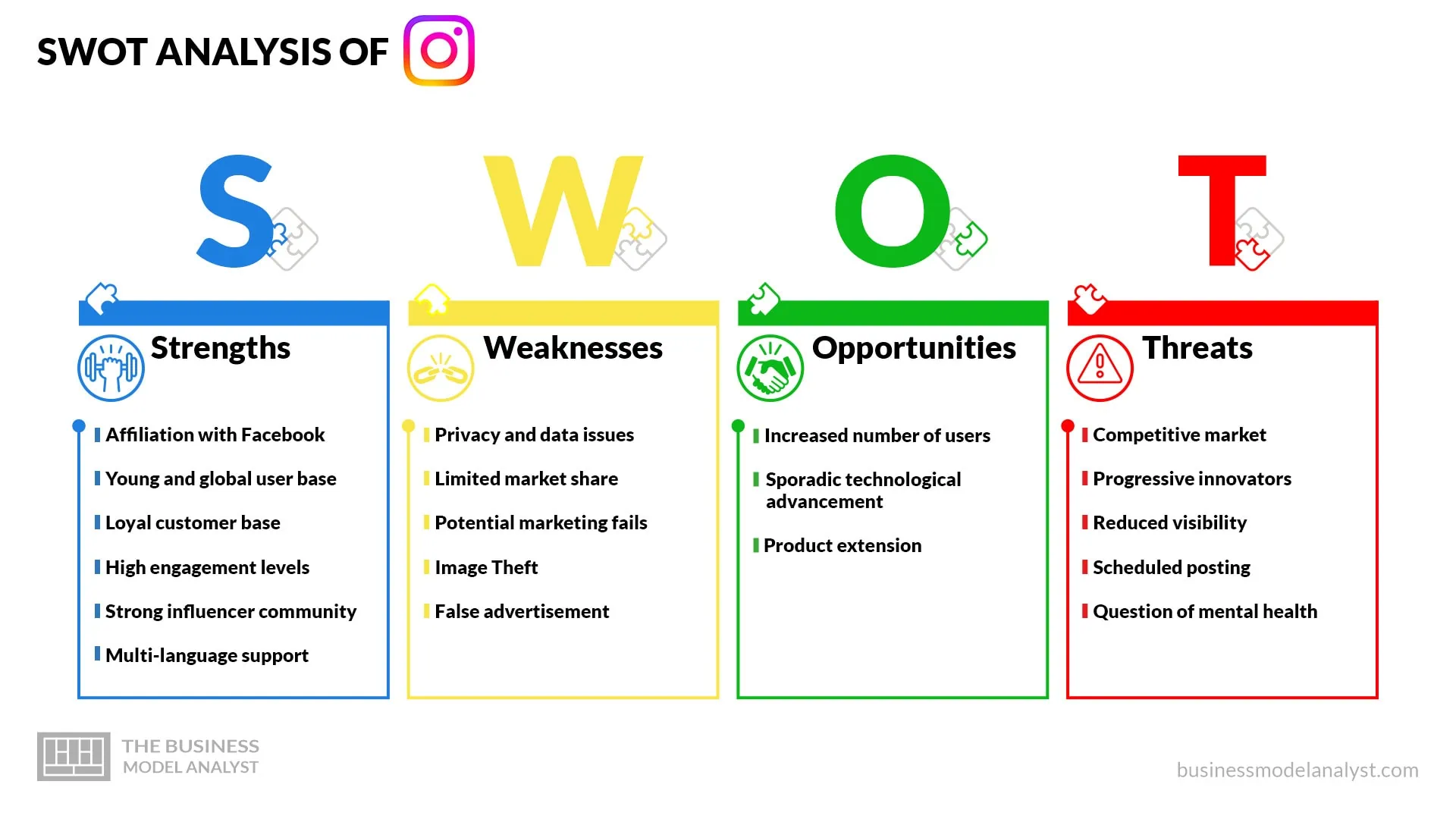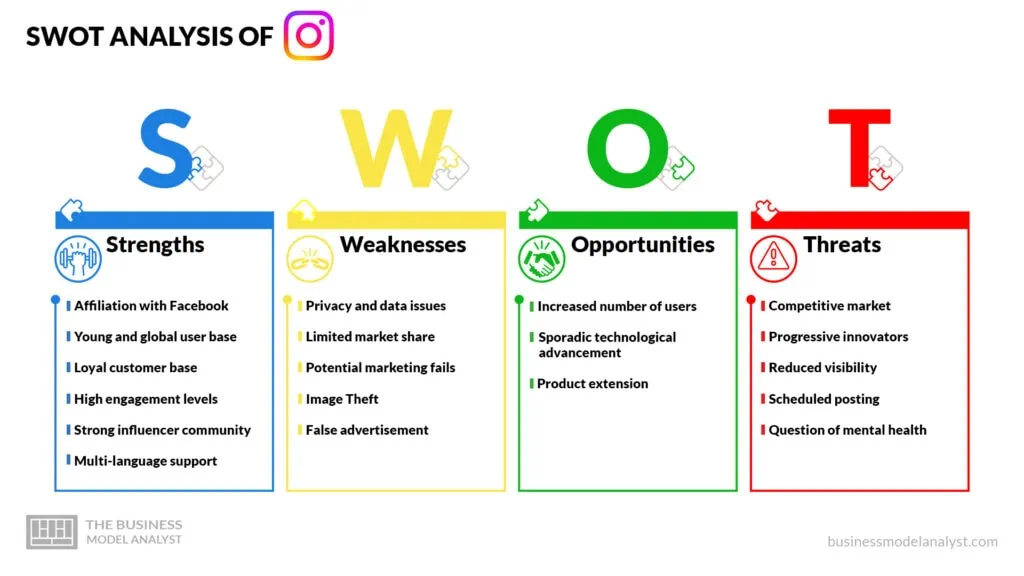 Instagram Strengths
Affiliation with Facebook: Instagram's affiliation with Facebook provides a vast user base and technical and financial resources. The two platforms are well integrated, facilitating cross-promotion and advertisement opportunities;
Young and global user base: The social media platform has a diverse and engaged audience, allowing businesses to reach a larger demographic. With over 1 billion users worldwide, companies can build brand awareness and increase sales;
Loyal customer base: The platform features a highly engaged and active user community. This contributes to the platform's overall appeal and drives user engagement. With a loyal user base, the platform has a strong network effect, with users encouraging their friends and followers to join it;
High engagement levels: The high engagement on Instagram makes it an attractive platform for businesses and advertisers;
Strong influencer community: Instagram is a hub for influencer marketing, enhancing its appeal to advertisers. The influencer community is hugely diverse, spanning a variety of segments such as fashion, travel, food, fitness, and more;
Multi-language support: Instagram translation feature translates comments and captions to the user's preferred language. This presents the social media app with a global user base. 
Instagram Weaknesses
Privacy and data issues: Instagram's vulnerability when collecting and utilizing user data has resulted in several breaches and privacy violations;
Limited market share: The social media platform faces a lot of competition. This significantly reduces its market share;
Potential marketing fails: Inappropriate or harmful user reactions can result in irreversible reputational damage for brands;
Image Theft: The image-centric platform makes it susceptible to image theft and copyright infringement;
False advertisement: False advertising on the platform often misleads and deceives consumers, undermining brands and businesses. 
Instagram Opportunities
Increased number of users: The increased number ensures a more extensive potential customer base, thereby increasing brand visibility and revenue opportunities; 
Sporadic technological advancement: This allows businesses to leverage current and advanced features to enhance their marketing strategies;
Product extension: Introducing new features and integrating with other platforms creates business opportunities. 
Instagram Threats
Competitive market: Several social media platforms are vying for attention. This makes it challenging to take over any market gap;
Progressive innovators: Multiple developers and creatives are coming up with top-of-the-line applications for users. If Instagram doesn't consistently reinvent the wheel, it may become obsolete;
Reduced visibility: With so many users utilizing the app, there is a reduced chance of your brand or business being discovered. However, you can always rely on paid ads;
Scheduled posting: This significantly reduces the number of active users on the platform. Thereby slimming the chances of engagement;
Question of mental health: More and more people are shying away from social media due to its impact on their mental health. With this reduced interaction on the app, businesses may fail to make significant sales. 
-> Read More About Instagram's SWOT Analysis
Conclusion
Instagram has become an integral part of modern culture. With over a billion active monthly users, the social media platform is highly regarded by businesses and brands from all walks of life. It's expected Instagram will stay ahead of its competition despite its weaknesses and threats.