The Sodexo Business Model provides personal and professional home and on-site services to individuals and organizations. Formerly called Sodexho Alliance, Sodexo prides itself on being the global leader in providing essential, quality services such as food catering and supply, facility management, energy management, outsourcing services, benefits, and rewards services,  etc. They have a wide range of clients with over 400,000 employees, a strong presence in over 50 countries, and over 100 million customers. As such, it is among the top five largest companies in Europe in terms of both employees and revenue. 
A brief history of Sodexo
Sodexo was founded by Pierre Bellon in Marseilles, France, in 1966 as Société d'Exploitation Hoteliére (Hotel Services Corporation). Bellon intended this company to provide food services to schools, restaurants, and other organizations. The company expanded from France to Belgium, the Middle East, and Africa in the 1970s. In 1983, it appeared as an IPO (Initial Public Offering) on the Paris Bourse, and expanded to North and South America, Russia, Japan, and South Africa. In 1994, it moved to India, with its central office in Mumbai. However, in 1997, Société d'Exploitation Hoteliére changed its name to Sodexho and merged with Universal Ogden Services, a leading U.S. service company. Sodexho didn't stop there. It joined forces with Marriott Management Services, one of the top North American food providers, in 1998 after acquiring Gardner Merchant Ltd. in 1995. The company got on the New York Stock Exchange in 2002, and in 2005, Michel Landel succeeded Pierre Bellon as the new CEO. 
Shortly after Michel Landel became CEO, the company struck a deal with Magic Johnson and Magic Food Provisions, a subsidiary that belonged to a former NBA star. Sodexho then dropped the "h" in its name in 2007 to become Sodexo, making it easier to pronounce, considering that it has a presence in many countries. It acquired a home care services company, Comfort Keepers, in 2009 and partnered with two large enterprises in 2010 — United Coffee and Numi. It moved on to partner with the U.S. government to provide food for the U.S. Marine Corps in 2011, which happened for the next eight years. In 2018, a new CEO came on board, in the person of Denis Machuel, who eventually handed over to Sophie Bellon in 2022 after the founder's death, Pierre Bellon.
Who Owns Sodexo
Both institutional and individual shareholders own Sodexo. 42.8% goes to Bellon SA, of which 72.6% belongs to Mr. and Mrs. Pierre Bellon and their children. The employees own 1.7%, while 0.6% goes to treasury shares. Individual shareholders own 3.5% of the company, French institutional shareholders own 9.1%, and foreign institutional shareholders own 42.3%. The shareholders include Artisan Partners LP, The Vanguard Group, Inc., Harris Associates LP, First Eagle Investment Management LLC, Fiduciary Management, Inc., etc. However, the current CEO is Sophie Bellon, Pierre Bellon's daughter.
Sodexo Mission Statement
The Sodexo mission statement is "to improve the quality of life of our employees and those we serve, and contribute to the economic, social, and environmental progress in the communities where we operate." 
How Sodexo works
Sodexo offers a range of services, such as food services which include dining, home delivery, and culinary services to hospitals, schools, universities, and other organizations; facilities management services, such as management of hardware and software facilities like technical service facilities, assets, access control, HVAC systems, workspace management, etc.; benefits and rewards services and personal and home services. It caters to its clients' employees through benefits and rewards services which entail wellness programs, training, meals, and incentives to inspire and celebrate employees.
For its personal and home care services, Sodexo provides for senior loved ones and children. They also have children's centers. Businesses and corporations interested in Sodexo's services enter a contract with Sodexo by either procuring a contract form online or from one of its offices. After agreeing on the services to be provided and the price, the business or corporation is registered with Sodexo. Additionally, employees of organizations with Sodexo contracts can access the services available to them by signing up on the Sodexo website. They will have to provide their Employee ID to access the services.
How Sodexo makes money
Sodexo is a multi-billion dollar company. It generated over $23 billion in 2022. It makes money through the following: 
Meal and food passes 
Sodexo issues coupon cards to organizations, governments, educational institutions, etc. Individuals can use these coupon cards to buy food, non-alcoholic drinks, and groceries at Sodexo-affiliated outlets. Mainly, Sodexo gives these coupons to their client organizations, who, in turn, give them to their employees. It also partners with different outlets where people can redeem these coupons. However, some online stores, such as Zopnow, accept Sodexo coupons in exchange for food items. Sodexo earns 5-7% through these meal and food coupon cards.
Facilities management services
Another way Sodexo makes money is by managing facilities for organizations, government agencies, educational institutions, etc. This includes cleaning, repair, refurbishing, etc. Basically, when a company contracts Sodexo to manage its facility, such a company is handing over the welfare of its facilities to Sodexo to ensure proper care and maintenance.
Food outlets
Asides from issuing meal and food coupon cards, Sodexo itself provides for the food needs of individuals and organizations. To do this, they acquire various food companies, such as Marriott Management Services and Nourish Inc. These acquisitions are integrated into the Sodexo group. As such, Sodexo indirectly operates food outlets.
Benefits and Rewards services 
Additionally, Sodexo works with different organizations to develop benefits and rewards services for their employees. These can be meal passes, wellness programs, packages, personal care services, etc. 
On-site care services
Asides from facility management, Sodexo has an arm focused on delivering home care services, especially for clients who need help with their loved seniors, mentally-disturbed family members, and children. The company also has children's centers for children's care.
Sodexo Business Model Canvas
The Sodexo Business Model can be explained in the following business model canvas: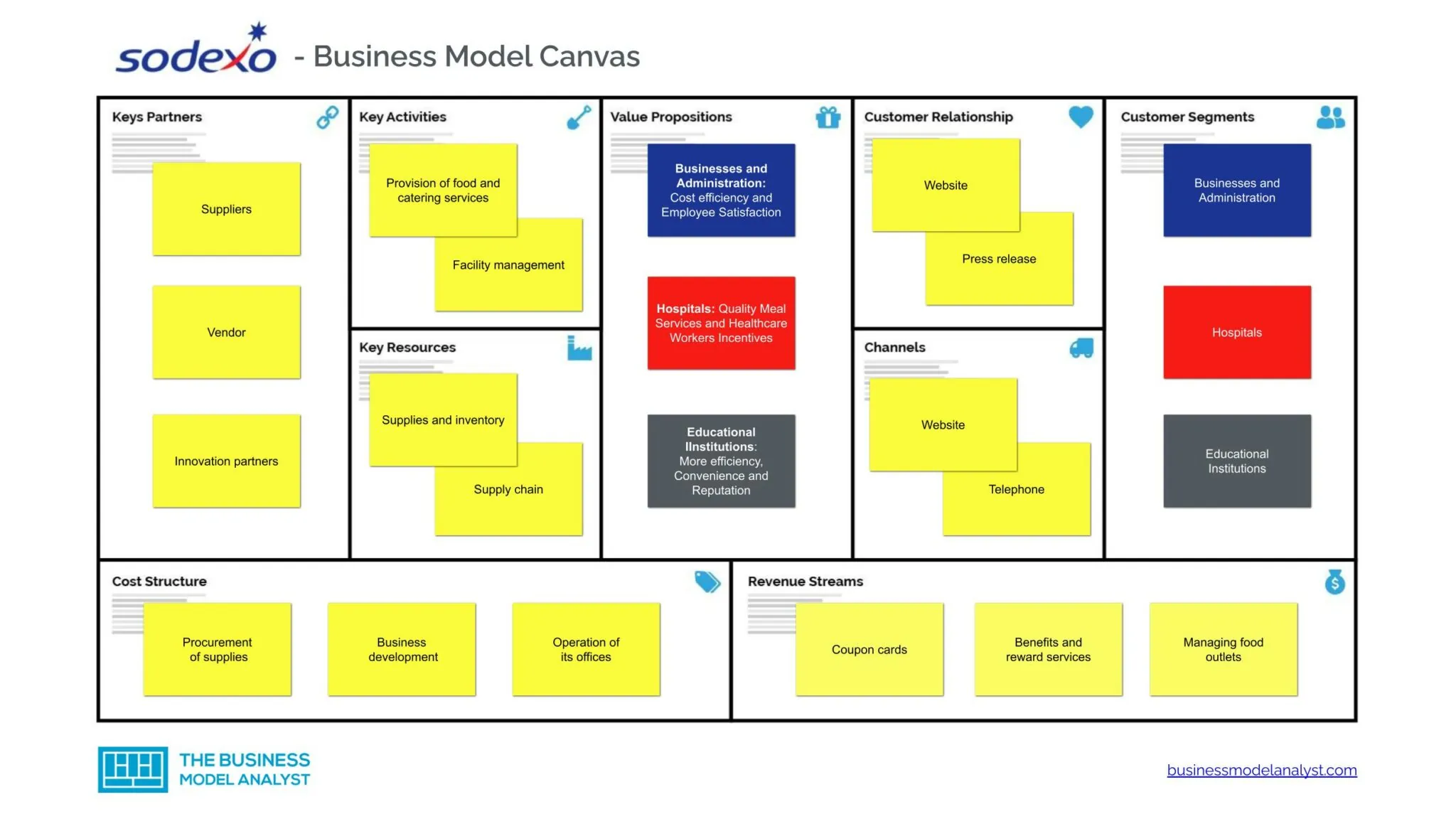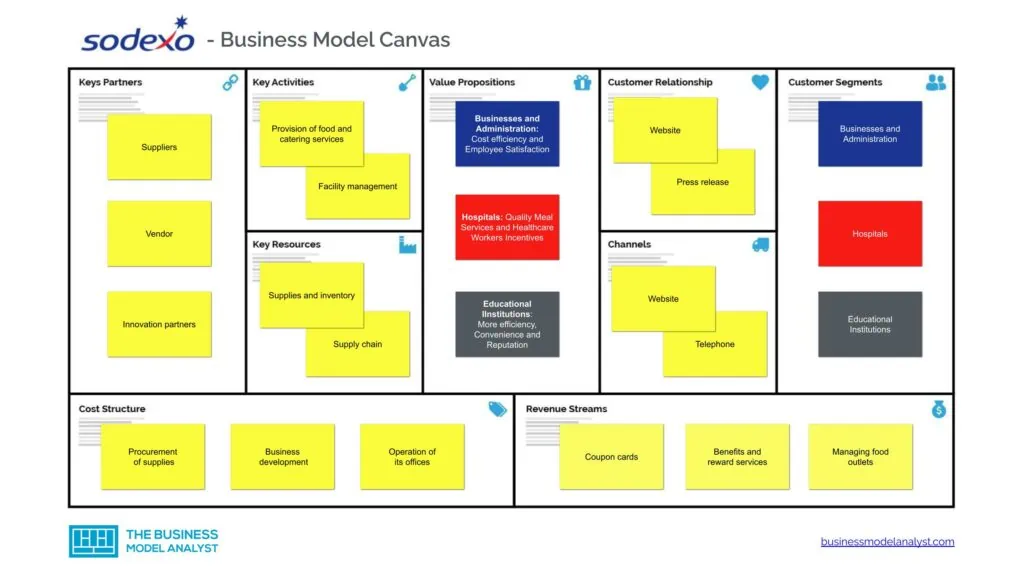 Sodexo Customer Segments
Sodexo's customer segments consist of:
Businesses and Administration: These customers include companies in the financial sector offering services such as financial services and administration;
Hospitals: Sodexo provides for hospitals, clinics, and healthcare clients by offering food and catering services for patients and healthcare workers;
Educational institutions: These include schools, universities, technical schools, and seminaries that need food or facility management services;
Government: Sodexo offers services to various government institutions, including government agencies, prisons, and military organizations. For example, the company partnered with the US government in 2011 to provide for the U.S. Marine Corps.
Sodexo Value propositions
Sodexo's value propositions consist of:
Value Propositions for Businesses and Administrations:
Cost efficiency: Sodexo helps medium and large businesses save money through facility management services. As such, these client businesses don't have to hire independent contractors who charge individually for several aspects of facility management;
Employee Satisfaction: For businesses that contract Sodexo for benefits and rewards services, their employees enjoy several benefits such as food and meal passes, home services for seniors, wellness programs, training, and rewards to inspire and celebrate employees. All these services lead to employee happiness, satisfaction, and increased productivity;
Excellent Reputation: Sodexo has been in the business of providing services for a long time, and its excellence is proven by its growing customer base and increasing income. Businesses served by Sodexo will have a reputation of excellence by association.
Value Propositions for Hospitals:
Quality Meal Services: Sodexo provides quality and healthy food for its consumers. Hospitals get value when they collaborate with Sodexo to feed patients and employees;
Healthcare Workers Incentives: Through Sodexo's Benefits and Rewards services, healthcare workers and employees can enjoy wellness programs, rewards, and recognition;
Effective Waste Management: Sodexo is committed to protecting the environment by following all environmental guidelines. This makes Sodexo perfect for waste management services for hospitals and other healthcare facilities that demand a safe and clean environment.
Value Propositions for Educational Institutions:
More efficiency: Sodexo provides catering, cleaning, and facility management services for schools, universities, colleges, technical schools, etc., through their meal services and benefits and rewards services. As such, these institutions can focus more on improving their learning and administration systems, leading to greater efficiency.
Value Propositions for Government:
Convenience: Sodexo offers various services, from catering services, reception, facility management services, and prison rehabilitation and to fit the needs of the several agencies of government. Additionally, Sodexo's innovation team makes Sodexo able to adapt its services to the unique needs of government agencies in the several companies it operates, thereby improving the company's versatility. This makes it convenient and more manageable for government agencies to focus on their core functions and deliver a high standard of living for their citizens;
Reputation and Transparency: Sodexo is reputed for its excellence and transparency. This will remove doubts about the misappropriation of funds from any administration they partner with.
Sodexo Channels
Sodexo's channels consist of:
Website
Telephone
Social media
Offices (physical interaction with customers)
Blogging
Email
Sponsorships
Partnerships
Influencer marketing
E-commerce marketing 
Sodexo Customer Relationships
Sodexo's customer relationships consist of:
Website 
Press releases
Corporate disclosures
Social media
Customer service
Sodexo Revenue Streams
Sodexo's revenue streams consist of:
Coupon cards 
Benefits and reward services
Managing food outlets
Facility management services
On-site care services 
Selling of shares
Sodexo Key Resources
Sodexo's key resources consist of:
Supplies and inventory
Supply chain
International network
Communications infrastructure
Partners
Workforce 
Customer base
Sodexo Key Activities
Sodexo's key activities consist of:
Provision of food and catering services
Facility management
Benefits and rewards services
Home and personal services
Collaboration and sponsorships
Marketing
Staff welfare
Customer support
Research and Development 
Sodexo Key Partners
Sodexo's key partners consist of:
Suppliers
Vendors
Innovation partners
Charity organizations
Retail and distribution merchants
Investment partners 
Governments, institutions, businesses, and agencies
Sodexo Cost Structure
Sodexo's cost structure consists of:
Procurement of supplies 
Business development
Operation of its offices
Maintenance of communication infrastructure
Partnerships management
Third-party service providers
Personnel expenses
Sodexo Competitors
Sodexo SWOT Analysis
Below, there is a detailed swot analysis of Sodexo: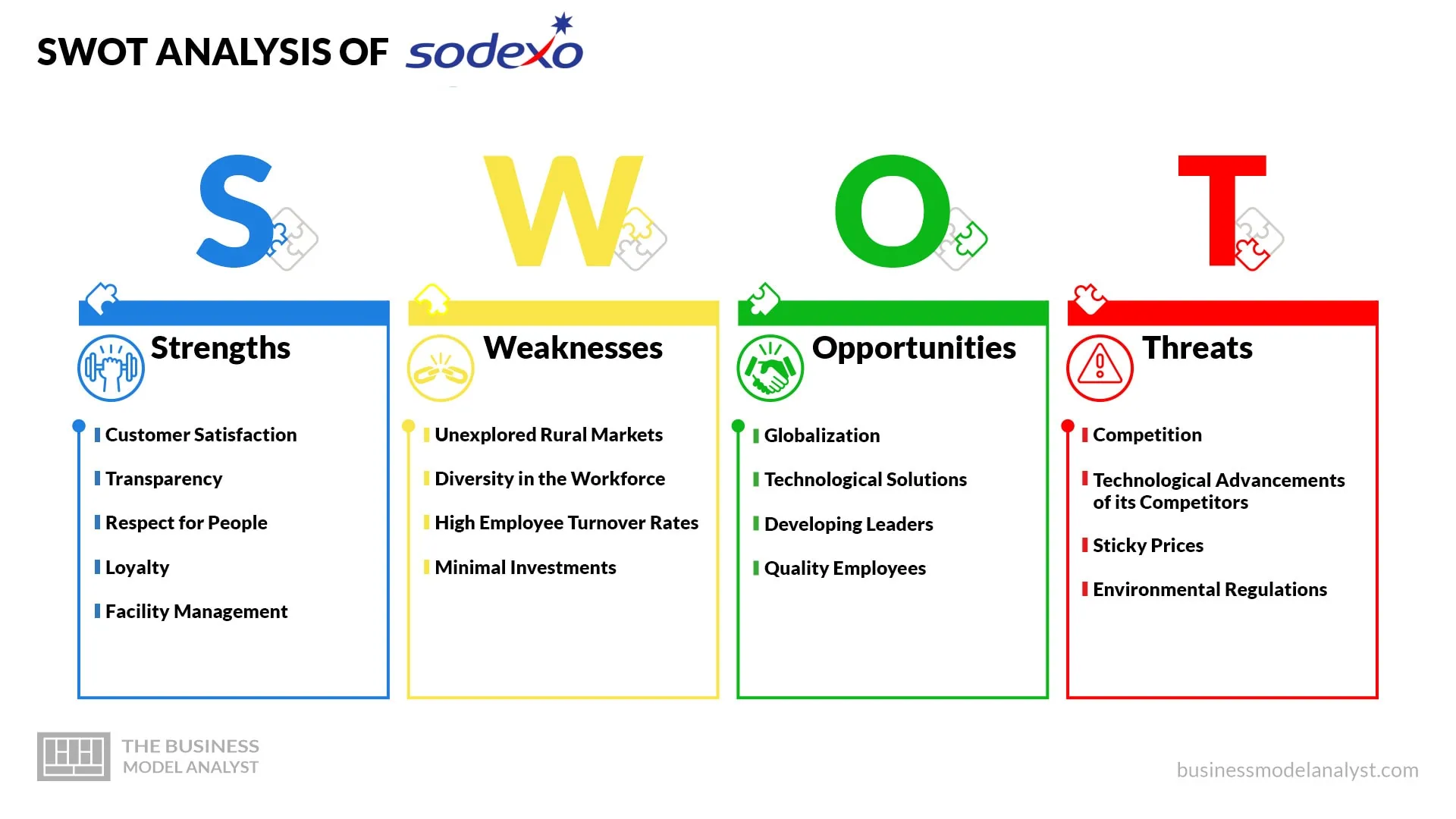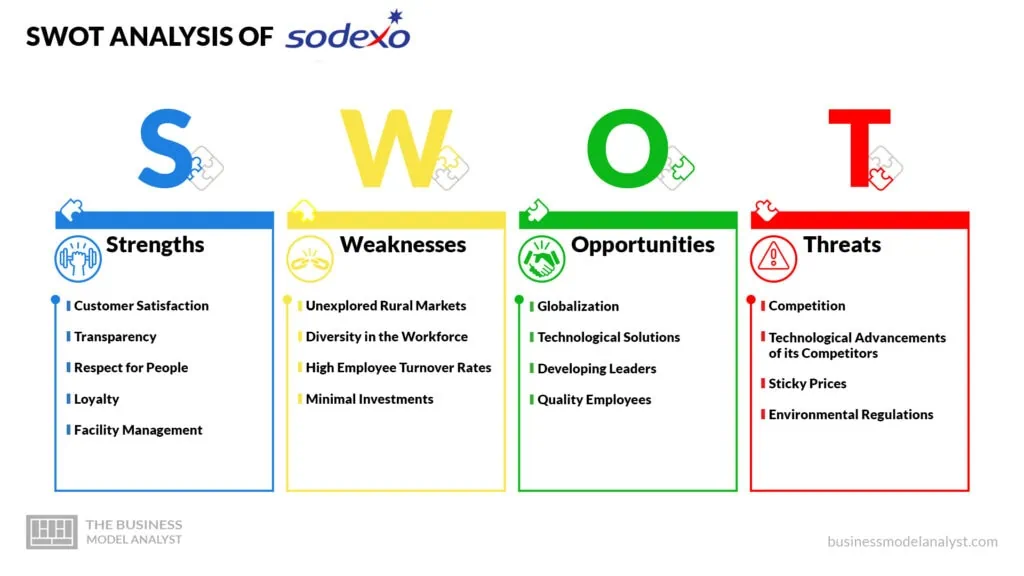 Sodexo Strengths
Sodexo's strengths include the following:
Customer Satisfaction: Daily, Sodexo provides for over 100 million consumers in 56 countries. The company also has a strong customer relationship management team, which keeps its customers satisfied;
Transparency: This is one of the main qualities of  Sodexo. The company treats customers, clients, employees, stakeholders, shareholders, and the general public without bias. It ensures that everyone involved with them is informed about their responsibilities, performance, products, and services;
Respect for People: At the core of Sodexo Group is humanity. The company is committed to acting in favor of civil rights without bias, regardless of ethnic race, gender, age, religion, beliefs, or sexual orientation. They enhance the quality of life by treating each person equally with respect, honor, care, and grace;
Loyalty: Over the years, Sodexo has built its company on a firm trustworthy foundation by being loyal to its customers, employees, and shareholders. Its loyalty is the company's biggest strength that has sustained it to date;
Facility Management: Sodexo facility managers ensure the work atmosphere is adequate, conducive, and efficient by integrating technology, procedures, and people. They also ensure employees are satisfied with their organization and productivity. 
Sodexo Weaknesses
Some of their weaknesses are:
Unexplored Rural Markets: Sodexo has not fully explored rural markets due to the unavailability of needed infrastructure. This has always been one of their major challenges. The restaurant segment of rural markets has been the most affected. Adopting raw products and materials yields slowly, resulting in great problems for the company;
Diversity in the Workforce: The majority of Sodexo's workforce comprises local workers, making it a difficult task for outsiders who work there to adjust. This has also led to the loss of talented workers for Sodexo;
High Employee Turnover Rates: Another weakness of Sodexo is its very high employee turnover rate compared to some of its competitors. This implies that Sodexo spends a lot on training its employees as they keep leaving, and new employees are hired;
Minimal Investments: Sodexo needs to invest more in certain segments due to the ever-changing dynamics of its industry and customer requirements. With the rise of competition, Sodexo should concentrate more on applications related to customer service. Its former concept of one-size-fits should no longer be used for all its customers.
Sodexo Opportunities
Below, there are some opportunities Sodexo can leverage:
Globalization: Sodexo is a global company in other countries besides its home country. However, there are new markets yet to be tapped. It can enter new markets and unleash its potential in them;
Technological Solutions: One of the biggest opportunities Sodexo enjoys is that it is always ahead of its competitors regarding leading-edge solutions like the innovative glass technology used to keep its people safe and asset working. There's also the injection of digital upgrades into traditional workplace restaurants. If Sodexo continues with such significant innovations, it will remain ahead of its competitors;
Developing Leaders: For a business to excel, employing ambitious, diligent, and talented workers can't be enough. There must be plans to develop the personnel and provide growth opportunities continually. Sodexo can innovate different programs to create its personnel, increasing its output and strengthening its market position;
Quality Employees: Managing prisons, schools, and universities is a lot of work, and it takes unique individuals. Sodexo has leaders who continually make their employees feel valued and inspire them always to bring their best game to the table. Sodexo can hire more such people if they want to stay ahead of the competition. 
Sodexo Threats
Here, there are some factors that pose threats to Sodexo:
Competition: Competition is something companies can't evade. There will always be an ongoing competition that puts pressure on prices. This will lead to lower profits and a reduction in market share if customers are not satisfied with their prices;
Technological Advancements of its Competitors: If competitors advance in technology use, it will be a form of threat to Sodexo. This is because today's customers get lured by technological advancements and developments;
Sticky Prices: Sodexo functions in an industry that has a culture of sticky prices. And this will lead to the inability to increase prices to offer the premium services its customers deserve in a diversified climate;
Environmental Regulations: Governments trying to levy higher taxes as regards the environment pose a threat to Sodexo. Although this is done to promote healthy food safety methods, it is still to the company's detriment. From increasing cost components to working in a developed market due to environmental regulations may lead to Sodexo increasing its logistics and packaging budgets without a commensurate turnover in revenue.
Conclusion
Sodexo is the largest private-sector French employer in the world and the 18th largest employer worldwide. It provides food services to private corporations, military bases, government agencies, and schools, including universities, hospitals, correctional facilities, and senior residential facilities. Sodexo is famous for being a provider of hospitable services. The company is reliable and, as such, enjoys global brand recognition and customers who trust its services and its ability to deliver. Regarding marketing, Sodexo is making an ongoing effort and leaving a lasting effect. Sodexo's distribution network is excellent and has spread its influence to all its markets. The company has created for itself a satisfying customer base by making use of technology and its strong social media presence on various social media platforms.