Trader Joe's is a popular chain of grocery stores that operate within the United States. A veritable giant of the retail industry, let's take a closer look at Trader Joe's business model, its rich history, and other important information on how its business structure works.
A Brief History of Trader Joe's
The history of Trader Joe's traces back to 1958 when the founder, Joe Coulombe, took over a small chain of convenience stores known as Pronto Markets in Los Angeles, California. Joe Coulombe was a Stanford University-educated MBA holder who thought up the Trader Joe's brand as a grocery store for "overeducated and underpaid people."
Nine years later, he officially changed the name of the brand to Trader Joe's and opened the first official store in Pasadena, California. At the time of Joe Coulombe's retirement in 1988, the chain had only 19 stores. Three decades and several owners later, the company now boasts over 530 stores in 42 states across the country.
Who Owns Trader Joe's?
Trader Joe's is currently owned by Aldi Nord, a part of the larger German family-owned Aldi brand (not to be confused with Aldi Sud, a brother company that has an interesting history with Aldi Nord). The company entered the ownership of Aldi Nord after Joe Coulombe sold the company to Theo Albrecht, the CEO of Aldi Nord, in 1979.
Trader Joe's Mission Statement
According to the official company website, the official mission statement of the company is "to give our customers the best food and beverage values that they can find anywhere and to provide them with the information required to make informed buying decisions. We provide these with a dedication to the highest quality of customer satisfaction delivered with a sense of warmth, friendliness, fun, individual pride, and company spirit." This mission is also strongly reinforced in the company slogan "Your neighborhood grocery store".
How Trader Joe's Makes Money
Here's the main idea behind how the Trader Joe's business model makes money:
Specializing in Marketing Private Label Items
A private-label item is a product that is designed and manufactured by a company to be sold under the brand name of another company. Over 80% of the items in Trader Joe's catalog consist of private label products. This business model has several advantages:
Firstly, by sourcing their products directly from the supplier, they can cut out the middleman and reduce costs, savings which are passed along to their customers as reduced costs;
Also, the brand sells a limited but dedicated catalog. Most stores have an average of 30,000 SKUs (distinct products), while the average Trader Joe's averages only 4,000 SKUs. This ensures that key items are always available and customers can always rely on the stores;
By sourcing from a few suppliers, Trader Joe's is better able to monitor the quality of the products of their products, especially since many of the products carry their trademark.
Trader Joe's Business Model Canvas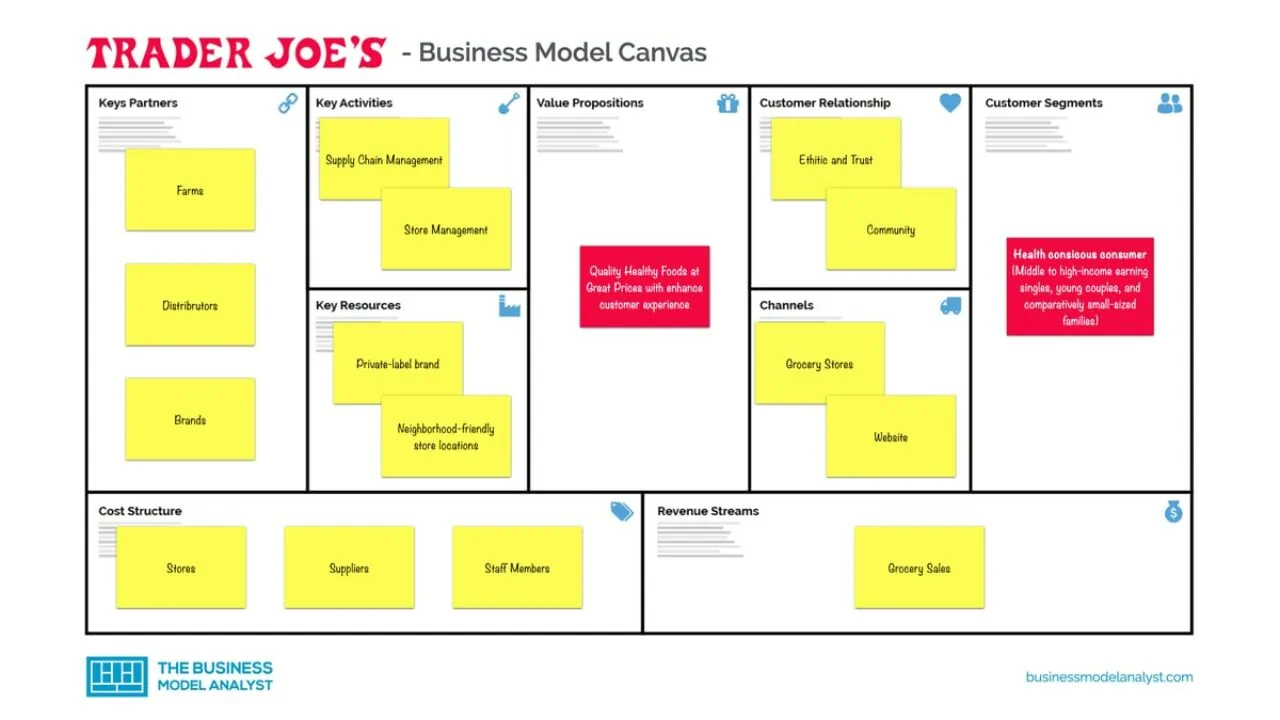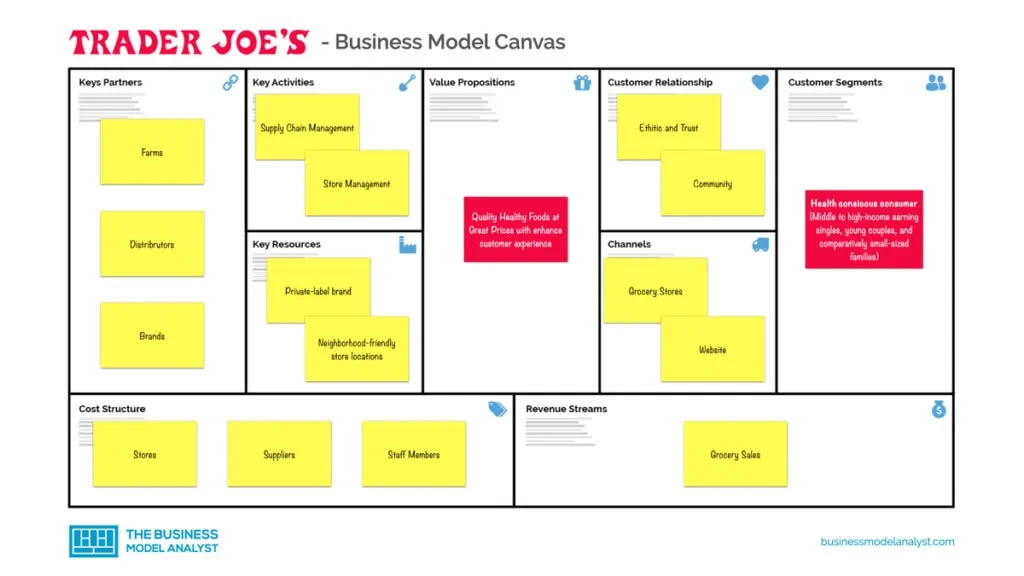 Let's take a closer look at Trader Joe's business model:
Trader Joe's Customer Segments
Shoppers: Middle to high-income earning singles, young couples, and comparatively small-sized families.
Trader Joe's Value Propositions
Healthy Quality: High-quality, healthy and ethically sourced products is the core of the company offerings
Price Advantage: The company offers a dedicated catalog of products at comparatively lower prices than most of its competitors, by using its unique private-label supply chain;
Enhanced Customer Experience: Trader Joe's gives its clientele a personalized shopping experience with friendly and well-trained staff, a cozy store designed with local influences, and a flexible product catalog that changes with customer preference.
Trader Joe's Channels
Physical stores
Website
Social media
Trader Joe's Customer Relationships
Ethic and Trust
Customer service
Social media
Community
Trader Joe's Revenue Streams
Trader Joe's Key Resources
Private-label partnership with third-part manufacturers
Human resources
Cult-like status of the brand
Niche product market
Neighborhood-friendly store locations
Trader Joe's Key Activities
Product sales
Shoppers management
Customer service
Staff training
Trader Joe's Key Partners
Third-party private label manufacturers
Farms
Distributors
Big Brands
Trader Joe's Cost Structure
Suppliers
Administration and operation fees
Marketing
Store maintenance
Staff member salaries
Trader Joe's Competitors
Here are some of Trader Joe's top competitors:
1. Walmart: A multinational company that specializes in discount department stores, grocery stores, and hypermarkets.
2. Kroger: An American company that specializes in multi-department stores and supermarkets throughout the country.
3. Amazon: A diversified American multinational company with significant investments in e-commerce.
4. Target: An American department store chain with over 1,920 stores all over the United States and Canada.
Trader Joe's SWOT Analysis
Let's take a glance at the strengths, weaknesses, opportunities, and potential threats to the Trader Joe's brand:
Trader Joe's Strengths
Low prices due to their unique private label business plan;
Loyal customer base who appreciate their services;
Strong distribution network with 530 stores in 42 states;
The chain has a wide range of products, including some that are exclusively available at their stores;
Their long legacy, trusted reputation, and strong brand name gives them the leverage to charge higher prices due to the additional value they provide;
Their over 50,000 employees are trained to provide efficient and personalized services, which has been one of their strong points since the inception of the brand.
Trader Joe's Weaknesses
They have a strong presence in California, but face some geographical limitations in other states;
Product recall scandals have negatively affected the brand's reputation.
No e-commerce or curbside delivery services;
Their small-sized retail outlets made it hard for them to deal with the social distancing rules enforced during the pandemic;
The brand has been criticized for its lack of transparency concerning the sources of several of its products.
Trader Joe's Opportunities
The growing demand for organic products allows the brand to tap into this market and change its reputation;
The company has no e-commerce or home delivery service, which is a significant opportunity for them.
Trader Joe's Threats
Intense competition from other strong brands, especially in areas like e-commerce and sustainable practices;
Rising manpower costs may threaten the business model;
The lack of home delivery services makes them vulnerable to companies that offer customers this convenience.
Conclusion
Trader Joe's currently enjoys a cult-like status among its clientele and with an annual revenue of $16.5 billion in 2020, the brand is certainly doing well. Their innovative private label business policy and the value they place on customer experience are probably their top strengths. However, they should also be aware of the growing need for an e-commerce presence and curbside delivery, services that are in high demand by consumers.