Zillow Group Inc. owns the world's number one online real-estate marketplace where homeowners, agents, and people seeking to rent or buy houses can meet and transact business. Zillow business model is based on the use of technology to advance sales of advertising spaces and leads and coordinate the buying, selling, and renting of houses to earn commissions/interests. A multimillion-dollar real estate company, Zillow offers most of its services free to its website and app users. 
Today, Zillow is the proud owner of a database with information on approximately 110 million homes scattered all over the United States. And with revenue of $8.1 billion at the close of 2021, and a projected revenue of $5 billion, Zillow is by far the most viable online real estate company.
A Brief History of Zillow:
Though Zillow was registered as a corporate organization in December 2004, it was not until February 2006 before its tech-enabled website was launched. Within the first three days of its existence, the website received over 1 million unique visitors, achieving far beyond the founders' expectations. Despite this uphill achievement, Zillow never relented. Later that same year, the website became a marketplace for posting homes for sale and went into collaboration with Microsoft. The deal gave Zillow the right to use Microsoft Virtual Earth's aerial photographs, which offered potential buyers unobstructed views of listed properties. 
Later on, in December 2013, Zillow started listing rental homes. And with that addition, Zillow built an online tool that serves as a database for prospective renters. This tool accepts applications from renters and gives landlords access to information about every prospective tenant. The main objective of this tool is to help landlords make intelligent decisions. In addition, renters can submit details in their application that expedite actions on credit and background checks.
Between 2013 and 2022, Zillow had a string of real estate outlets' takeovers, from the AOL Real Estate acquisition in 2013 to the purchase of Trulia in 2015 and ShowingTime in 2021.  
In recent times, Zillow has faced some hard times, especially during the COVID-19 crisis. This has most probably culminated in the shuttering of one of its key platforms, Zillow Offers, in November 2021. But Zillow had weathered the fallout perfectly well. Just after the closure, its stock jumped by about 17%, marking its biggest intraday gain.
Who Owns Zillow?
Zillow Group, the parent company of Zillow, is owned by Rich Barton and Lloyd Frink, both former staff at Microsoft.
Zillow Mission Statement:
The mission statement of Zillow is to 'give people the power to unlock life's next chapter.'
How Zillow Makes Money
Zillow makes money through three primary sources. They are the Homes, Mortgages and IMT. 
1. Homes
Zillow rakes in the bulk of its income through sales of homes. Through Zillow Offers, the company bought properties and sold them within a short time. It was a win-win for the sellers and Zillow. Considering the stress that usually surrounds selling a house, Zillow's almost instant cash offer was a massive temptation to sellers. 
And when Zillow buys a property from a seller, it charges a 6% fee as transaction costs. It also sets a fee of between 3.5% and 4.5% to cover taxes and other miscellaneous expenses.
In 2020, this sector brought a whopping $1.7 billion in income. 
2. Mortgages
Zillow, in 2018, became an authorized lender with its purchase of Mortgage Lenders of America. Zillow reengineered the money lending instruments in its now characteristic manner and came up with Zillow Home Loans. The facility allows borrowers to secure a new loan or refinance their loans. 
Zillow charges interests of different degrees, depending on the loan terms. To still broaden its sources of income, Zillow collaborates with more than 50 other lenders via its mortgage platform. When a lender is connected to a prospective borrower through Zillow's platform, a certain amount is paid to Zillow. Besides, Zillow charges lenders to use its Connect Service tool to enhance their chances of being located by lenders. 
At the close of 2021, Zillow's mortgage services have generated $246 million in revenue, a massive leap from the $174 million in 2020. 
3. Internet Media and Technology (IMT) 
Internet and technology are at the core of Zillow's business model. Thus, they, understandably, are part of the forces the company uses to bring in money. In fact, Zillow started in 2006 with ready-to-use software and marketing services made available to real estate professionals and homeowners. 
Zillow's Premier Agents and Premier Brokers programs earn Zillow money through lead generation for real estate professionals. Zillow also sells advertising services to landlords, builders, photographers, etc.
$1.9 was declared as income from IMT in 2021, as against $1.45 billion announced in 2020.
Zillow Business Model Canvas
Let's take a look at the Zillow Business Model Canvas below: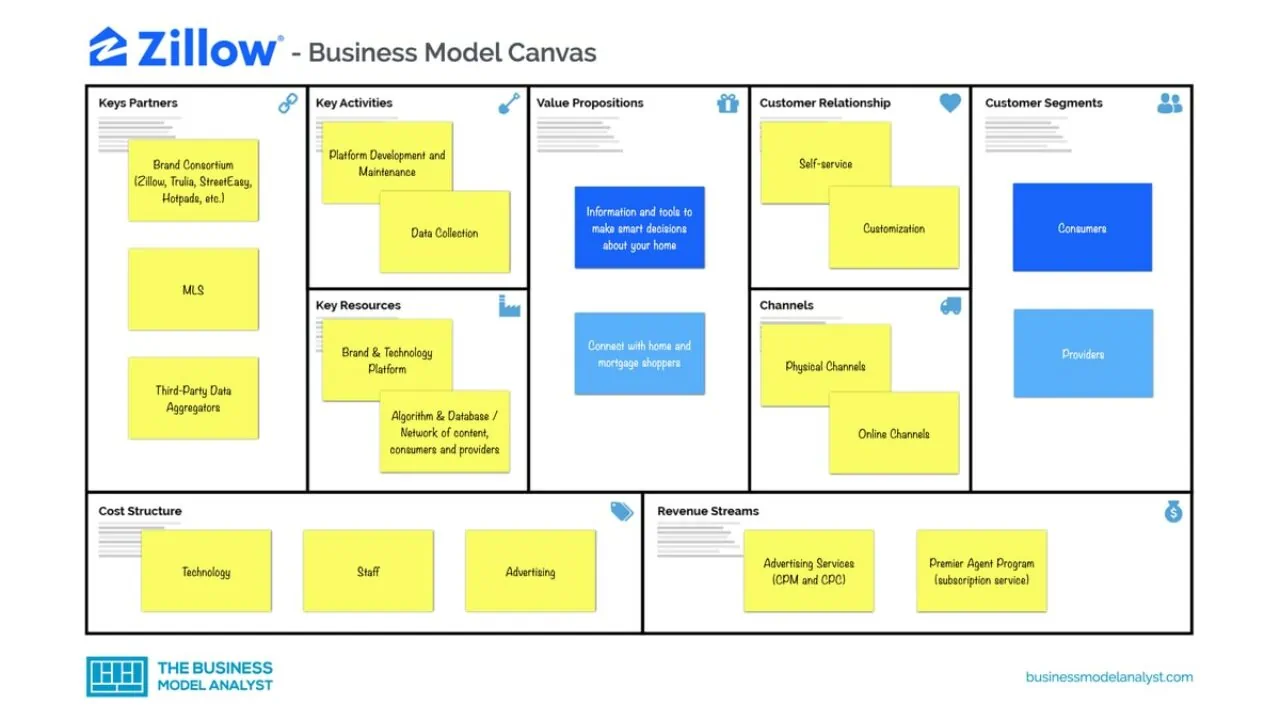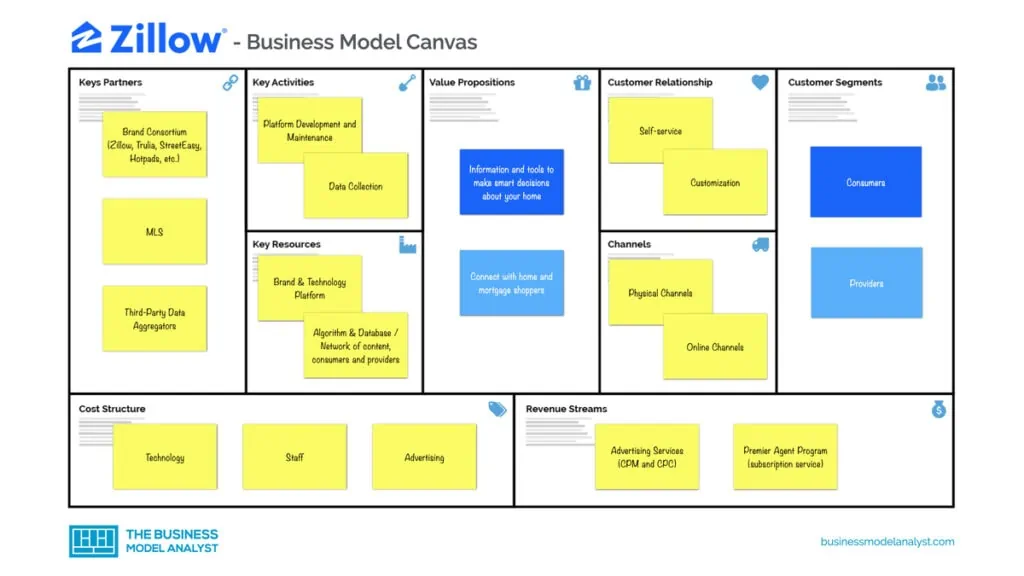 Zillow Customer Segments
Driven by the mission to make available to the people quality services in real estate, Zillow has two complementary customer segments:
Service/Content Consumers: A significant part of Zillow's customer segment is their platforms' over 3 million users: The renters, the homebuyers, and the sellers. 
Service Providers: These are, on one side, homeowners that list their properties on Zillow's platforms for sale or rent; and, on the other side, professionals such as real estate agents, property managers, real estate agents, home improvement professionals, inspectors, photographers who place adverts and subscribe to, etc.  
Zillow Value Propositions
Zillow's value propositions align with the main goals of the organization. They are offered from three distinct yet interwoven perspectives: Ease of Access, Personalized Experience, and Endorsement. 
Ease of Access: Before Zillow, information about real estate was strewn across archives and databases; therefore, it was difficult for people to access needed information. Zillow has changed all of this. It championed a real estate information revolution. Zillow's Zestimate, for example, renders an estimated market value of properties using publicly available data. Homeowners can use this information to know what their properties are worth on the market. 
In the same vein, buyers can explore Zillow's over 110 million listed houses strewn across the US and Canada and save favorites that they can keep close tabs on. 
Personalized Experience: Zillow's website and apps incorporate a high level of flexibility that allows users to enjoy a personalized experience. 
Homeowners, buyers, and renters can explore Zillow's web tools and apps to meet their personal goals. They can pick a location and set their budget using Zillow's affordability calculator. 
Buyers have three options: they can purchase directly from owners, via foreclosure, or with the assistance of a Zillow Premier Agent. They can access house loans for financing their home. 
Renters can submit a comprehensive proposition through Zillow to fast-track the background and credit checks. This process can tremendously improve renters' chances of moving to the place they love. 
Endorsement: Zillow offers Real estate professionals its brand to promote their overall success. Zillow's brand is already synonymous with wins in the real estate industry. Thus, its endorsement almost automatically raises the status of agents registered under its Premier Agent program.
Zillow Channels
Website
Mobile apps (android/Ios)
TV and Print media ads
Blogs
Social media
Zillow Customer Relationships
Zillow builds relationships with its teeming customers primarily through its website. However, the brand also uses social media platforms such as Youtube, Twitter, and Facebook.
Zillow Revenue Streams
Now that Zillow has closed down its home-flipping operation, Zillow Offer, which used to account for about 60% of its annual income, its revenue streams are now. 
Revenue from Ads
Interest from mortgage
Commissions earned from Agent partners
Revenue from Zillow Closing Services
Income from Zillow 360 Bundled Services
Revenue from rentals
Income from other services such as New Construction, StreetEasy, etc.
Zillow Key Resources
Most of Zillow's resources are web-based, and apps mainly there are:
Zestimate
Hosing Super App (Soon to be launched)
Zillow Key Activities
Arrangement of Physical Touring
Home Acquisition Finance
Bridge Real Estate Information Gaps 
Generation of Leads
Zillow key partners
Investors
Buyers
Sellers
Real Estate Agents and other Real Estate Professionals  
Zillow Cost Structure
Overheads
Acquisitions
Technological Innovations and Maintenance costs
Zillow Competitors
Move
ForRent.com
Homes.com
Redfin.com
Apartmemnts.com
MSN
Coldwell Bankers
Movoto.com
Century 21
Zillow's SWOT Analysis
This SWOT analysis x-rays the strengths, weaknesses, opportunities and threats abound in Zillow's business model.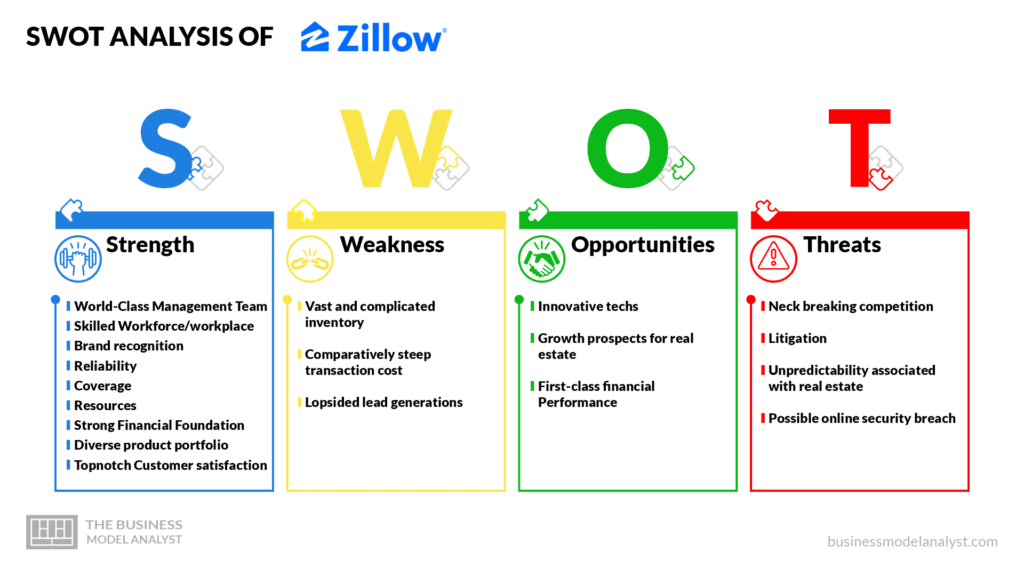 Zillow's Strengths
World-Class Management Team
Skilled Workforce/workplace
Brand recognition
Reliability
Coverage
Resources
Strong Financial Foundation 
Diverse product portfolio
Topnotch Customer satisfaction
Zillow's Weaknesses
Vast and complicated inventory
Comparatively steep transaction cost
Lopsided lead generations
Zillow's Opportunities
Innovative techs
Growth prospects for real estate
First-class financial Performance
Zillow's Threats
Neck breaking competition
Litigation
Unpredictability associated with real estate
Possible online security breach
Conclusion
Zillow Group Inc. is arguably the number online real estate marketplace in the US. Zillow's business model is built on a tripod of homeowners/landlords, homebuyers/renters, and agents' business relationships, where Zillow serves as the umpire.
Though the competition in the industry is growing stiffer by the second, Zillow still has the advantage of financial strength and public trust to remain on top of the situation.