The NetJets business model is based on providing customers with flexible and convenient private jet travel experiences. In short, NetJets is a subsidiary aviation company that provides private jet travel services. It's a subsidiary of Berkshire Hathaway that offers plenty of services, including factional ownership and rental of private jets for business and recreation.
NetJets is the largest private aviation company in the world. It operates on a unique business model that has set it apart from its competitors. In this article, we'll take a closer look at the critical elements of the NetJets business model and how it has contributed to the company's success.
A brief history of NetJets
NetJets was founded in 1964 as an Executive Jet Aviation company. Brigadier General Olbert F. Dick Lassiter and other retired World War II Air Force Generals founded it. This corporation is considered the pioneer of the private aviation industry. It's also considered the largest private jet company in the world.
Richard Santulli, a former Goldman Sachs principal, purchased the then Executive Jet Inc in 1984. He transformed the company into what would later become NetJets. Under Santulli's leadership, the company pioneered the concept of fractional aircraft ownership and became the largest private jet company in the world.
His vision and expertise in finance and business strategy played a crucial role in the company's success and growth over the years. In 1987, Executive Jet Inc launched its NetJets fractional ownership program after purchasing a couple of citation S/IIs.
Over the next few years, The NetJets group would expand to different parts of the world, including Europe and the Middle East. In 2000, this corporation inaugurated the world's most advanced aviation complex at the time. It was a Columbus International Airport.
Because the corporation narrowed down its operations to fractional ownership, it rebranded between 1998 and 2002, changing its name to NetJets after the acquisition of Berkshire Hathaway.
A fractional ownership program is a type of private aviation program in which multiple individuals or companies own a share of a specific aircraft. Instead of purchasing an entire aircraft, each owner holds a fractional ownership interest in the aircraft,
This provides them with a certain number of flight hours per year. The cost of owning the aircraft, including maintenance, fuel, and other expenses, is divided among the owners. Such a program makes private jet travel more affordable, convenient, and accessible.
Soon after, the corporation operated a fleet of nine Boeing 737-700 Boeing Business Jets, which were then sold off. However, the company's noticeable peak came in 2020, during the outbreak of the coronavirus pandemic. There was a boom in demand from wealthy individuals as they wanted to avoid the risks of flying 'public' during the COVID-19 pandemic.
Who Owns NetJets
NetJets is currently owned by Berkshire Hathaway, a multinational conglomerate holding company led by billionaire Warren Buffett. They acquired NetJets in 1998 for an estimated fee of $725 million. Since then, the company has been a subsidiary of the conglomerate.
Berkshire Hathaway acquired NetJets as part of its strategy to expand its well-known and diverse portfolio of businesses and investments. The acquisition has proved to be a successful one for both parties.
Under the ownership of their ownership, NetJets has continued to grow and expand its services and other offerings. The company remains the largest private jet company in the world.
NetJets Mission Statement
NetJets' mission statement is not publicly available on its official website or other publicly accessible sources. However, its philosophy, as stated on its official website, reads,
'We lead the industry because we scrupulously tend to every aspect of our business and hold ourselves to a higher standard. And we do it all for one reason- to provide owners with the ultimate safety, security, and reliability.'
How NetJets works
NetJets works as a private aviation company that offers a wide range of private jet services and programs, including its flagship program, fractional ownership, and leasing. This corporation provides a full suite of aircraft management services, including maintenance, crewing, and scheduling, to ensure that the aircraft is ready to fly when the customer needs it.
As a fractional owner with the NetsJest, you'll buy a share of a private jet, typically between 1/16th and 1/4th of the aircraft. You'll then have guaranteed access to the aircraft for a set amount of time. This is usually a specified number of hours per year. You can also use their hours to fly on similar aircraft within the NetJets fleet.
In leasing, customers can lease a private jet for a specified time without purchasing an ownership share.
For customers who prefer a more flexible option, NetJets offers a jet card membership. Members purchase a specific number of flight hours in advance and can then use those hours to book flights on NetJets aircraft, with access to various jet types.
How NetJets makes money
NetJets primarily makes money through fractional ownership and leasing of aircraft to its customers. According to Havard University, this company operates over 300,000 flights every year.
They also generate a significant amount of revenue through their aircraft management services and partnering with top companies to offer unique and luxurious travel experiences.
Here's a brief overview of how NetJets makes money:
Providing fractional ownership and leasing of jets
To become a new customer, one must 'buy' fractional interest in a jet. This attracts a monthly management fee which covers insurance, fleet maintenance, and pilot compensation. You must also pay an hourly fee while using the aircraft. As a fractional owner, you'll have anywhere from 50 to 400 hours yearly.
Those looking for reliable air travel but are not willing to purchase ownership of an aircraft use the leasing option, which comes with a card. All these fees they charge to customers generate a ton of revenue for the NetJets corporation.
Partnering with top companies in travel and lifestyle
Partnering with top companies in travel and lifestyle is a vital part of NetJets' strategy to provide customers with a premium and personalized private aviation experience. These partnerships allow NetJets to expand its customer base by attracting affluent travelers who may not have previously considered private aviation as an option.
By promoting private aviation as an integral part of a luxury travel experience, NetJets can differentiate itself from competitors and position itself as a top-tier service provider in the travel and lifestyle space.
Aircraft Management Services
NetJets provides reliable and convenient aircraft management services that cover everything from maintenance to flight crew to planning and scheduling. They generate a significant amount of money by charging management fees, typically a percentage of the aircraft's annual operating cost.
NetJets Business Model Canvas
The NetJets Business Model can be explained in the following business model canvas: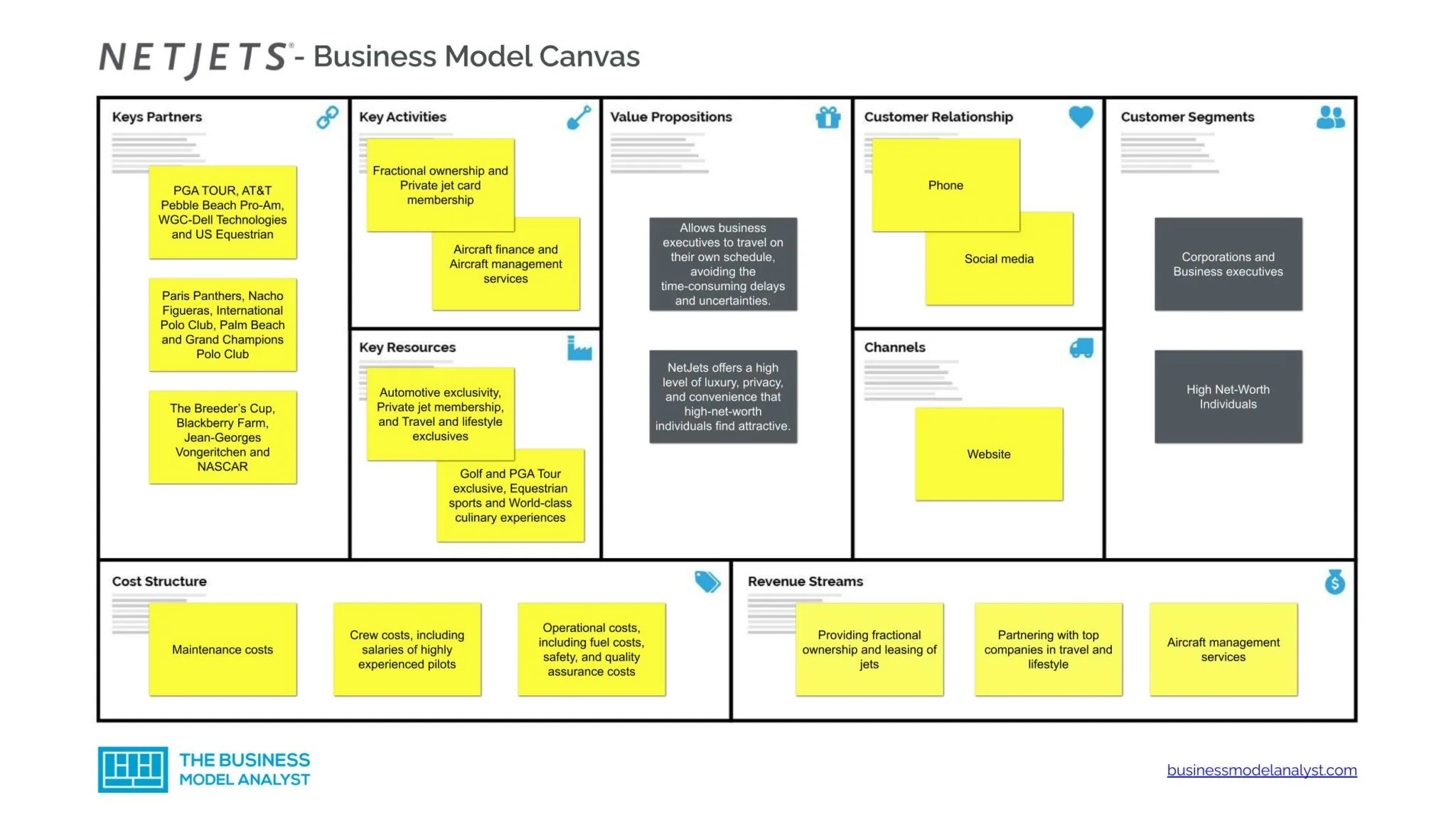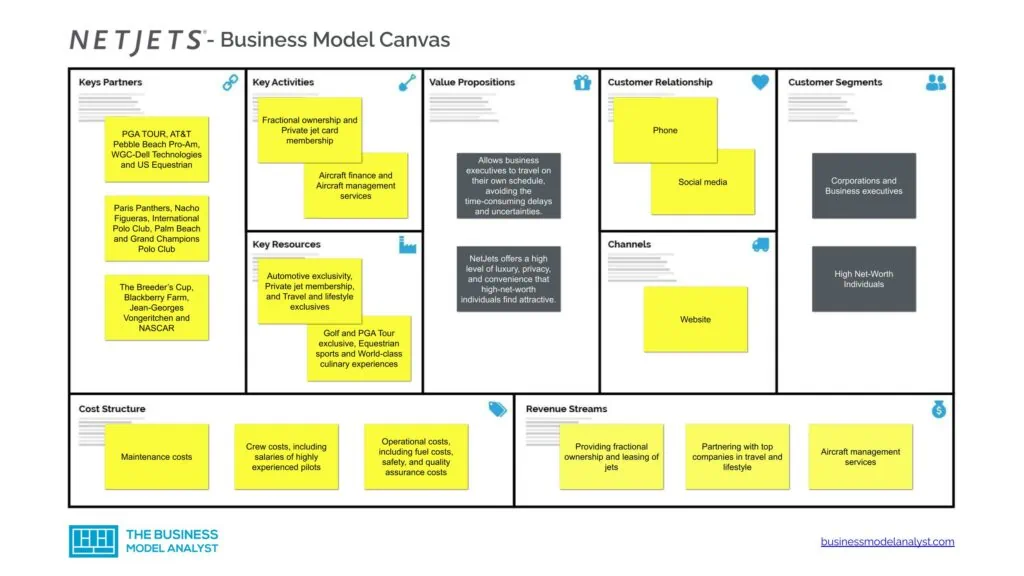 NetJets Customer Segments
NetJets customer segments consist of:
Corporations and Business executives:: NetJets core customers involve corporations who are looking for a fast and reliable way to transport their high-value employees to venues and business meetings. NetJets allows corporations to access a global fleet of private aircraft, including large-cabin jets and airliners, which can accommodate groups of employees or clients traveling together;
High Net-Worth Individuals: High net-worth individuals are known for their high demand for luxury services. They often aspire for a high level of convenience and privacy that only private aviation companies like NetJets can offer.
NetJets Value Propositions
NetJets value propositions consist of:
NetJets allows business executives to travel on their own schedule, avoiding the time-consuming delays and uncertainties associated with commercial air travel. Business executives are one of the core clients of this private aviation company. Business executives fly private because private aviation provides them with a level of flexibility, productivity, and comfort that is essential in today's fast-paced business environment. NetJets allows such individuals to do just that;
NetJets offers a high level of luxury, privacy, and convenience that high-net-worth individuals find attractive. Private aviation companies like NetJets offer these individuals a high degree of luxury, flexibility, and customization. They can choose from a variety of aircraft options, from small jets to large-cabin planes, which can be customized to suit their specific needs.
NetJets Channels
NetJets channels consist of:
NetJets Customer Relationships
NetJets customer relationships consist of:
NetJets Revenue Streams
NetJets revenue streams consist of:
Providing fractional ownership and leasing of jets
Partnering with top companies in travel and lifestyle
Aircraft management services
NetJets Key Resources
NetJets key resources consist of:
Automotive exclusivity: NetJets provides its owners with exclusive access to auctions and speedway events. The company supports reputable services to drivers and teams through its solid partnerships with established racing organizations, automobile dealer associations, and luxury dealerships;
Private jet membership: At NetJets, you will have access to top-of-the-line aircraft. Different solutions depend on your preference: all you have to do is choose one that you feel resonates with you. Whether you want a private jet solution or to buy your own aircraft, you can access any of their merchandise;
Travel and lifestyle exclusives: NetJets partners with companies dealing with high-end travel, arts, and culture expeditions. You will get unforgettable and luxurious experiences, accessing goods, services, and world-class resorts;
Golf and PGA Tour exclusives: Plenty of NetJets owners share a common interest in golf. This is why the company offers sponsorship programs to professional players and events at leading tournaments throughout the year;
Equestrian sports: NetJets owners get a premium experience with top-of-the-line show jumping events. The company partners with and sponsors the most popular and largest running horse show;
World-class culinary experiences: Once you are a member, you will have exclusive access to top-of-the-line chefs and wine festivals across the globe.
NetJets Key Activities
NetJets key activities consist of:
Fractional ownership: As a NetJets owner, you can purchase a portion of an aircraft. Owners get to access the preferred aircraft for a specific duration each year, depending on the ownership share. It's an excellent option to enjoy the benefits of having an aircraft without worrying about the financial burden and maintenance. Individuals and businesses can access private air travel as a convenient option;
Private jet card membership: You can access a fleet of aircraft at subsidized pricing through NetJets. Given their long-standing business in aviation, you will get the luxury of safety and travel needs to give you the most luxurious experience. The company designed the service for clients who enjoy on-demand access to private aircraft without having to substitute with a fractional share;
Aircraft finance: NetJets Customers are able to finance their purchase with a 25 percent discount and interest rates. This solely depends on the number of hours purchased. Given the difficulty of making sound profits, especially during downtime, the company has experienced significant profits over the years. The Berkshire Hathaway credit allows diversification into different markets that help increase revenue and attract clientele;
Aircraft management services: The company launched a new business that provides company resources to aircraft owners. The services include flight planning, hangarage, maintenance, and crew recruitment and training. NetJets also allows aircraft owners to make an extra change by renting their aircraft. This is the case whenever one is not using their aircraft. Regardless of the type of aircraft you own, you can easily make extra income.
NetJets Key Partners
NetJets key partners consist of:
PGA TOUR
AT&T Pebble Beach Pro-Am
WGC-Dell Technologies
US Equestrian
Paris Panthers
Nacho Figueras
International Polo Club, Palm Beach
Grand Champions Polo Club
The Breeder's Cup
Blackberry Farm
Jean-Georges Vongeritchen
NASCAR
Bombardier
Gulfstream
NetJets Cost Structure
The company spends money on the following:
Maintenance costs
Crew costs, including salaries of highly experienced pilots
Operational costs, including fuel costs, safety, and quality assurance costs
NetJets Competitors
Jet Aviation: Both NetJets and Jet Aviation offer private aviation services. However, NetJet's primary products and services include fractional ownership and jet card membership. It also offers aircraft management and maintenance. They also offer trained crew members;
On the other hand, Jet Aviation provides aircraft management, charter, ground handling, and charter. Just like NetJets, it owns a fleet of private aircraft, but also provides services to owners who operate their own aircraft;
Atlantic Aviation: The two companies offer different aviation services to the market. As NetJets provides fractional and jet card membership, Atlantic Aviation offers fixed-base operator services. These services range from hangar services to ground handling and maintaining and fueling aircraft. They mainly target clients in general aviation and business aviation;
Jet Partners: Both NetJets and Jet Partners target clients in need of private jet charter and fractional ownership services. Through these services, clients can access private aircraft without necessarily solely owning the plane. The major differences between the two businesses are the availability of aircraft, membership programs, customized travel, and pricing;
Charter Flight Group: Like the competitors mentioned above, Charter Flight Group also offers private charter services to its clients. In these charter services, each client rents a private aircraft for a specified duration. Unlike NetJets, Charter Flight Group singularly focuses on on-demand private jet charters. The most significant difference between the two companies is the price point, availability of aircraft, and customized concierge services.
NetJets SWOT Analysis
Below, there is a detailed swot analysis of NetJets: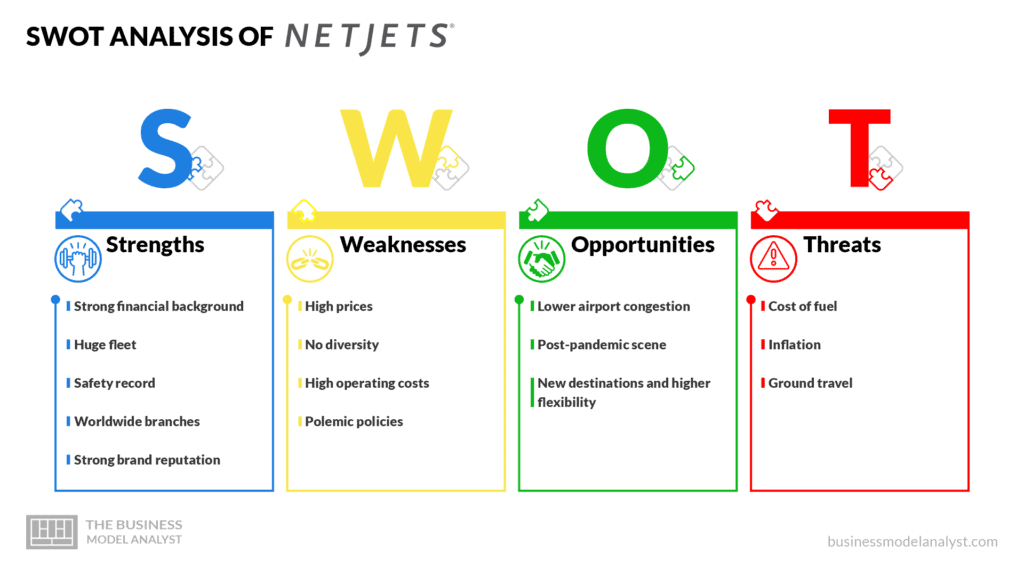 NetJets Strengths
Strong financial background: They have a solid financial background in Warren Buffett's Berkshire Hathaway;
Huge fleet: They possess a massive fleet of aircraft, with more than 800 aircraft;
Safety record: NetJets has a strong safety record;
Worldwide branches: Global outreach with branches in different regions, including the U.S., Europe, and the Middle East;
Strong brand reputation: NetJets' reputation is solid in the market.
NetJets Weaknesses
High prices: They are more expensive, especially when compared to other carriers;
No diversity: They lack diversity in their fleet lineup;
High operating costs: They have relatively high operating costs;
Polemic policies: It faced criticism over some of its policies, including its fees and cancellation policies.
NetJets Opportunities
Lower airport congestion: There is a huge opportunity to lower airport congestion through private aviation companies;
Post-pandemic scene: The pandemic seems to have brought about new opportunities;
New destinations and higher flexibility: There's a lucrative opportunity that would see the brand improve its destinations and date-time flexibility.
NetJets Threats
Cost of fuel: High fuel costs have threatened the target market and their ability to spend on private aviation;
Inflation: The recession and inflation plaguing the global economic scene threaten the operations of such luxury and high-end services;
Ground travel: Gravel travel is becoming more desirable across a younger and emerging demographic.
Conclusion
NetJets has established a unique business model in the private aviation industry that has helped it to become a global leader in the fractional ownership and private jet charter markets. By offering a diverse fleet of aircraft, customized services, and a strong safety record, the company has seen its reputation rise to the top while attracting a loyal customer base.
While the cost of its services may limit its appeal to some potential customers, the company has opportunities to expand its services and develop new pricing models to appeal to a broader range of clients.