The Lemonade business model provides insurance policies that homeowners and renters can buy and manage. Lemonade is an insurance company that operates its online platform via its mobile app and website. The company uses AI to streamline its insurance processes so that customers can purchase and manage their policies faster and without hassle. Lemonade aims to offer transparent, fair, and trouble-free insurance using technology. The company was founded in 2015 and, ever since, has become one of the best insurtech companies in the United States and the world. 
Lemonade sells quite several insurance policies, from homeowners insurance and renters insurance to pet and car insurance. The company makes money by selling these insurance policies, but since it runs a 'giveback' model, it also earns through investors. Lemonade has investors in the persons of different individuals and companies. Its competitors are Policygenius and Wefox, and many other traditional and other insurtech companies. The company has, however, kept on growing and is known now as one of the top insurance companies incorporating the use of technology and AI.
A brief history of Lemonade
Lemonade is a technology-driven insurance company founded by Daniel Schreiber and Shai Winger in 2015. Daniel, who is the former founder of Powermat Technologies, and Shai, a cofounder of Fiverr. The duo founded the company with the aim of using technology to disrupt the traditional insurance and make it possible for customers to manage and buy insurance policies quickly and easily. The two founders were later joined by Dan Ariely, who became Chief Behavioural Officer in 2017.
In May 2016, it became one of the few insurance companies to have a B-corporation certification. When Lemonade started the business, it started by only making insurance policies available for homeowners in New York State, and this was in September 2016. However, ever since, the business has expanded its reach and now provides insurance to pet owners and renters in many states in the U.S. and also in Europe. Lemonade has now become one of the leading insurtech companies, and it has received a lot of investments over the years, the largest being from SoftBank in its April 2019 Series D funding. In this funding, it got a total of $300 million. As part of its many recognitions, Fast Company mentioned Lemonade as one of the 50 Most Innovative Companies in 2018.
In July 2020 became a public company through an Initial public offering (IPO); it went public on the New York Stock Exchange. In November 2021, it announced its intentions to buy Metromile Inc., and this acquisition was completed on 29th July 2022. Today, Lemonade continues to be a leader in the insurtech space and is working to innovate further and transform the insurance industry.
Who Owns Lemonade
As earlier stated, lemonade was founded by Daniel Schreiber and Shai Winger, but that doesn't make them the only owners of the brand. Lemonade is a publicly traded company, and so some of its shares are held by individual public shareholders, which makes them part of the owners.  32% of the company's shares belong to the public. Other company owners are partners and investors from different funding, including SoftBank.
Lemonade Mission Statement
Lemonade's mission statement is "To transform insurance from a necessary evil into a social good."
How Lemonade works
The business model for Lemonade is a situation where an insurance firm may obtain insurance from another insurance company to protect itself from higher risks. Lemonade uses reinsurance to manage any risk or insurance claim which is related to natural disasters or any other general crisis which it might be unable to cover. After offering insurance policies to the public, Lemonade takes out reinsurance coverage. By purchasing this reinsurance coverage, it successfully transfers a portion of the risks it has to bear as an insurance company to the reinsurer. The reinsurance doesn't cover all insurance claims brought to lemonade. Instead, it only covers the more significant issues. So, while Lemonade still maintains control over the claims process and still manages smaller claims, the larger claims are covered by the reinsurer.
How Lemonade makes money
Lemonade is not only an insurtech company; it also donates to charities. When a consumer buys an insurance policy, 25% of the premium is used to pay administrative costs for the company, and the remaining 75% is used to pay any insurance claims the customer may have. After the client has filed a claim for damage at the end of the year, what is left of the 75% used for claims is donated to the customer's preferred charity. The remainder of the 25%, however, after administrative expenses are paid, is what the business refers to as profit. Lemonade also makes money from investments from different investor companies. A breakdown of both ways through which Lemonade makes money is laid down below.
Selling Insurance Policies
By offering clients insurance plans and keeping a share of the premiums as profit, Lemonade generates revenue. The business uses a peer-to-peer insurance concept and provides home insurance, renters insurance, and pet insurance. This implies that Lemonade acts as the insurer, assuming the risk directly instead of serving as a middleman between clients and insurance providers. Lemonade refers to its Insurance policies as its products, and currently, it has five different insurance policies which it offers.
Homeowners insurance: This covers damage to a customer's house and personal property, as well as liability coverage if someone is hurt on the property;
Renters insurance: This insurance covers a client's personal possessions and liability coverage if someone is hurt on the client's rental property;
Pet insurance: This insurance covers veterinarian costs if a customer's animal companion is sick or hurt;
Car Insurance: This specific insurance is a brand-new plan that covers clients' vehicles. When a car accident, a liability lawsuit, a stolen automobile, when the customer is stuck in traffic, or when damage is done to the car, a claim for this insurance may be made.
Additionally, there is Terms Life Insurance, which provides life insurance with monthly premiums starting at $9, depending on the policyholder's health.
Investments
Another way lemonade makes money is by getting investments from different companies. Over the years since it was established, Lemonade has had about four or more funding in total, raising around $480 million in total. The first funding round, the seed capital funding in December 2015, helped them generate a total of $13 million from Sequoia Capital and Aleph. In August 2016, it raised another $13 million from XL Innovate. When its Series B funding round rolled around in December 2016, it raised $34 million.
In April 2017, it announced that Allianz and Ashton Kutcher's Sound Ventures had become part of its investors, and in December 2017, it raised $120 million in its Series C funding round. Series D rolled around in April 2019, and it raised $300 million from  SoftBank and some others, SoftBank being the major investor.
Lemonade Business Model Canvas
The Lemonade Business Model can be explained in the following business model canvas: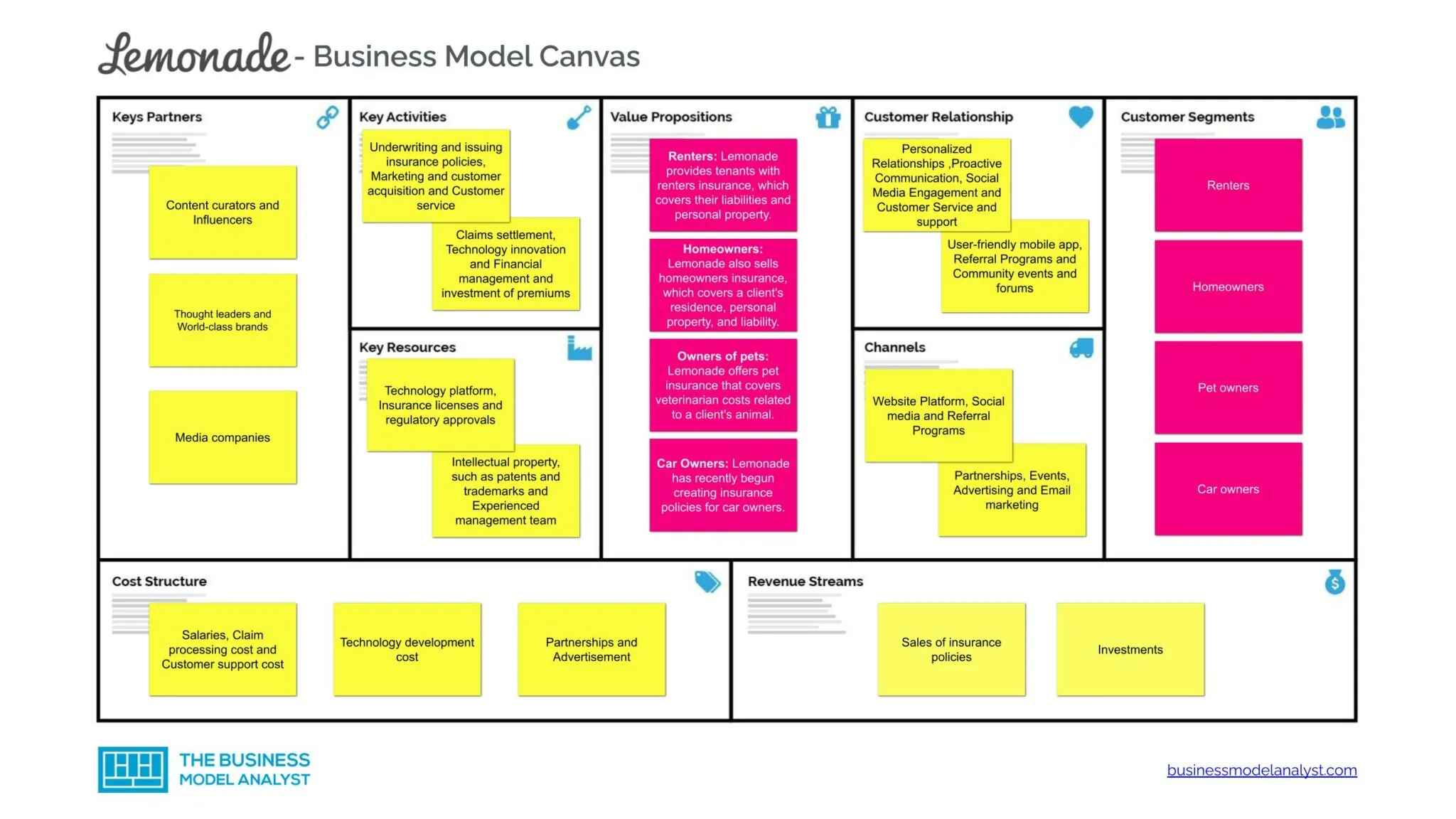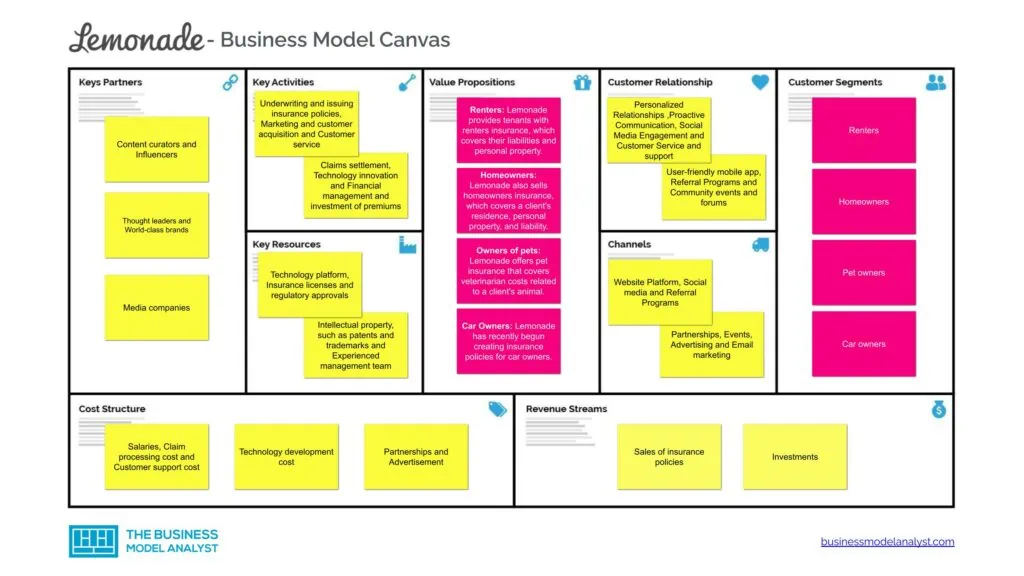 Lemonade Customer Segments
Lemonade's customer segments consist of:
Renters: These are people who have rented a landed property and would like to get insurance for the liability they have to bear as renters;
Homeowners: These customers want to insure their personal landed property, especially those with family homes;
Pet owners: This covers those who would like to insure their pets so that they'd get proper care when they fall sick;
Car owners: Car owners also get to insure their vehicles from any damage with Lemonade, as this is a new feature.
Lemonade Value Propositions
Lemonade's value propositions consist of:
Renters: Lemonade provides tenants with renters insurance, which covers their liabilities and personal property. People who live in apartments or rental homes are among the company's target market for renters insurance;
Homeowners: Lemonade also sells homeowners insurance, which covers a client's residence, personal property, and liability. Single-family home and townhouse owners are among the company's target market for homeowners insurance;
Owners of pets: Lemonade offers pet insurance that covers veterinarian costs related to a client's animal. The company's pet insurance is aimed at people who have pets and want to protect them and ensure they get the best medical treatment possible for them;
Car Owners: There were just three consumer segments as of 2021; however, Lemonade has recently begun creating insurance policies for car owners. A claim for this insurance may be submitted in case of a car accident, a liability lawsuit, a stolen vehicle, a customer getting stuck in traffic, or vehicle damage.
Lemonade targets tech-savvy and price-conscious customers looking for an alternative to traditional insurance companies. The company's technology and customer-centric approach appeal to customers who want a more convenient and efficient insurance experience. Additionally, Lemonade's commitment to social good and its donation of a portion of unclaimed premiums to non-profit organizations resonates with customers who are looking for companies that have a positive impact on society.
Lemonade Channels
Lemonade's channels consist of
Website Platform
Social media
Referral Programs
Partnerships
Events
Advertising
Email marketing
Lemonade Customer Relationships
Lemonade's customer relationships consist of:
Personalized Relationships
Proactive Communication
Social Media Engagement
Customer Service and support
User-friendly mobile app
Referral Programs
Community events and forums
Lemonade Revenue Streams
Lemonade's revenue streams consist of
Sales of insurance policies
Investments
Lemonade Key Resources
Lemonade's key resources consist of:
Technology platform
Insurance licenses and regulatory approvals
Intellectual property, such as patents and trademarks
Experienced management team
Marketing and advertising budget
Financial resources, including premium income and investment income
Strategic partnerships and alliances.
Lemonade Key Activities
Lemonade's key activities include:
Underwriting and issuing insurance policies
Marketing and customer acquisition
Customer service
Claims settlement
Technology innovation
Financial management and investment of premiums
Lemonade Key Partners
Lemonade's key partners consist of:
Content curators
Influencers
Thought leaders
World-class brands
Media companies
Lemonade Cost structure
Lemonade's cost structure consists of:
Salaries
Claim processing cost
Customer support cost
Technology development cost
Partnerships
Advertisement
Lemonade Competitors
Lemonade SWOT Analysis
Below, there is a detailed swot analysis of Lemonade: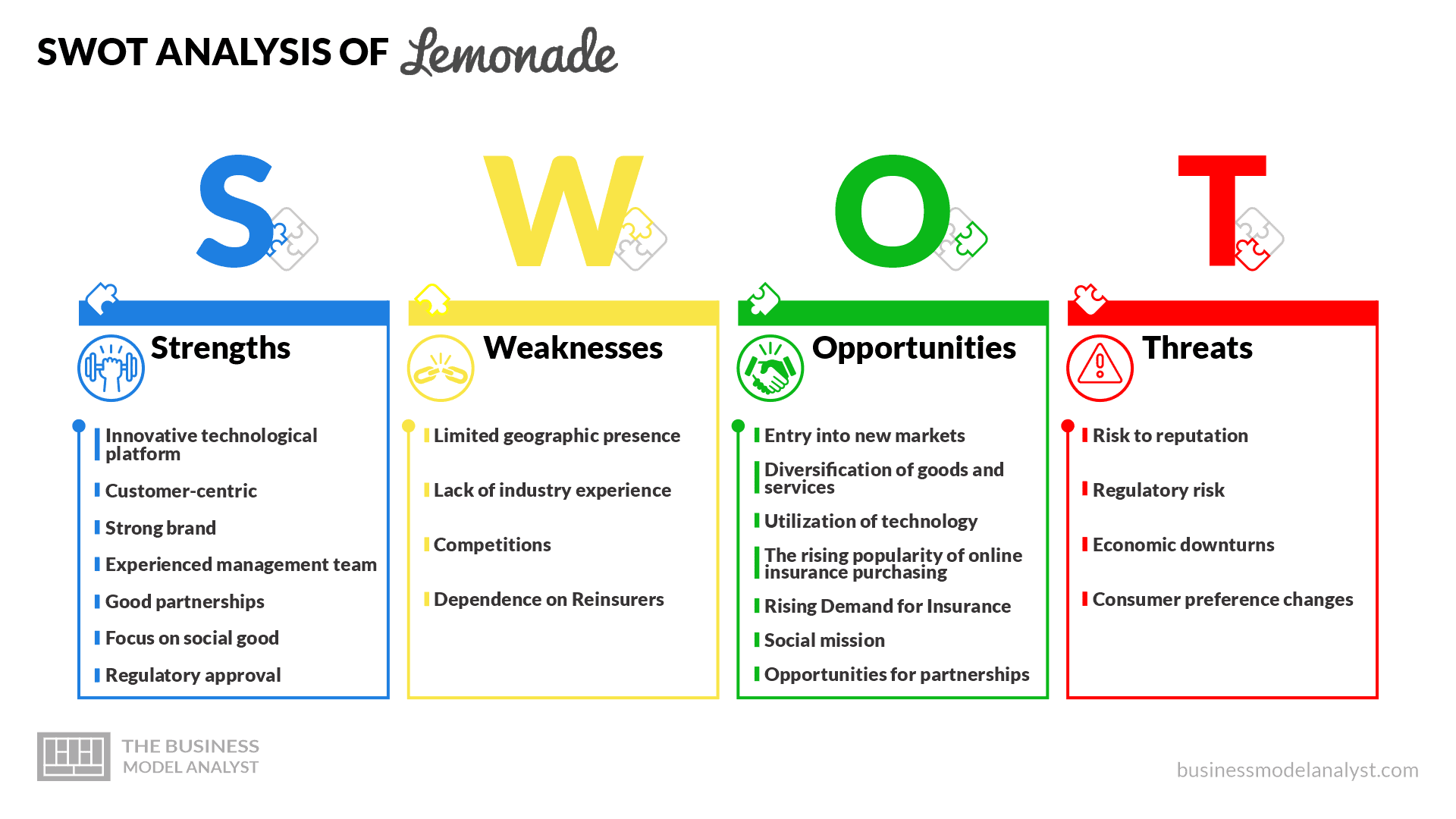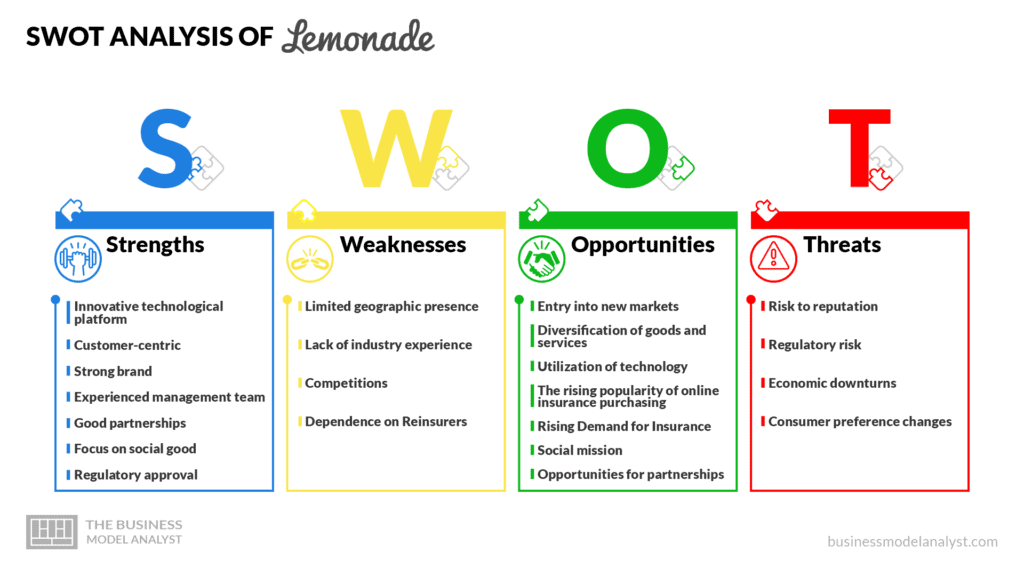 Lemonade Strengths
Innovative technological platform: Lemonade uses state-of-the-art technology to boost productivity and optimize operations while giving customers a quick and simple experience;
Customer-centric: Lemonade is renowned for putting its clients first and concentrating on making insurance easy, quick, and affordable;
Strong brand: Lemonade's creative approach to insurance and dedication to utilizing technology to enhance the customer experience have helped the company establish a strong brand reputation;
Experienced management team: Lemonade's management team is talented and has a successful track record in the insurance sector;
Good partnerships: Lemonade has built strong relationships with influential members of the insurance sector, such as reinsurers and brokers, which assist the company's expansion and success;
Focus on social good: Lemonade's social mission, which distinguishes it from typical insurance providers and fosters steadfast client loyalty, calls for using a percentage of its proceeds to fund good organizations;
Regulatory approval: In the states where it conducts business, Lemonade has all essential licenses and approvals to function as a property and liability insurance carrier.
Lemonade Weaknesses
Limited geographic presence: Lemonade's current operations are only in a few European and American states, which limits the potential size of its clientele;
Lack of industry experience: Lemonade may encounter difficulties creating and putting into practice efficient underwriting processes and managing claims as a relatively recent entry to the insurance sector;
Competitions: Lemonade is up against fierce competition from both long-standing insurance providers and recently emerged players who also aim to upend the status quo;
Dependence on Reinsurers: Reinsurance market changes or the lack of reinsurance coverage could impact Lemonade's operations and financial outcomes because the company depends on reinsurers to bear a portion of its risk.
Lemonade Opportunities
Entry into new markets: Lemonade can enhance the size of its consumer base and income potential by entering new states and nations;
Diversification of goods and services: To diversify its revenue sources and clientele, Lemonade might increase the number of insurance products it offers, such as life, health, and auto insurance;
Utilization of technology: Lemonade's technological platform offers possibilities for innovation and ongoing development, which might help it stand out from rivals and enhance the consumer experience;
The rising popularity of online insurance purchasing: As the insurance sector goes through a digital transition, Lemonade is well-positioned to profit from the rising popularity of online insurance purchasing among consumers;
Rising Demand for Insurance: An opportunity for Lemonade to expand its business is presented by the rising demand for insurance services and products as a result of the expanding global population and increased knowledge of the value of insurance protection;
Social mission: Customers are increasingly looking for organizations with a social mission. Lemonade's decision to utilize a percentage of its income for charitable causes distinguishes it from typical insurance companies, and may help it attract new clients and expand its customer base;
Opportunities for partnerships: Lemonade has good relationships with important figures in the insurance sector, and it has the chance to create more relationships and formalize strategic alliances to help it expand and succeed.
Lemonade Threats
Risk to reputation: Lemonade's brand value and reputation may suffer from unfavorable press coverage or problems processing claims;
Regulatory risk: Because the insurance sector is so closely regulated, adjustments to the laws or their enforcement may affect Lemonade's business operations and financial performance;
Economic downturns: Consumer expenditure on insurance may decline during economic downturns, which has a significant impact on the insurance industry;
Consumer preference changes: Lemonade may have trouble keeping up with these changes and retaining its competitive edge because consumer tastes are changing quickly in the insurance sector.
Conclusion
By employing technology and AI to speed up the process and provide more transparent and equitable insurance coverage, Lemonade has impacted the insurance sector. It is also admirable that the company is on a mission to make insurance a social good. Daniel Schreiber and Shai Winger created Lemonade in 2015 with the goal of turning insurance into a social good. Lemonade is a technology-driven insurance firm. The business serves its clients by providing insurance plans like homeowners, renters, pet, and auto insurance through its web platform and mobile app. A percentage of Lemonade's shares are held by individual public shareholders, along with partners and investors. Lemonade is a publicly traded corporation. Lemonade, like all businesses, has strengths and possibilities to continue its success, as well as weaknesses and threats that must be dealt with.