Google has one of the most profitable business models in the world. A typical Google SWOT analysis places this company's dominant search market share as one of its core strengths. But, there's more — Google is known for its technological innovations that have revolutionized both the workplace and entertainment sectors. 
It's no secret that Google is a household name and one of the most powerful data and technology companies in the world. From product searches to maps to cloud computing and mobile devices, Google has its hand in just about everything. According to one source, Google had approximately 91.9% of the total search engine market.
Founded in 1998 by Larry Page and Sergey Brin, Google has emerged as one of the largest tech companies in the world, employing over 135,000 employees who've helped the company achieve a $1 trillion market cap. In this article, we'll look at some of the key strengths, weaknesses, threats, and opportunities of Google in a SWOT analysis.
Google Strengths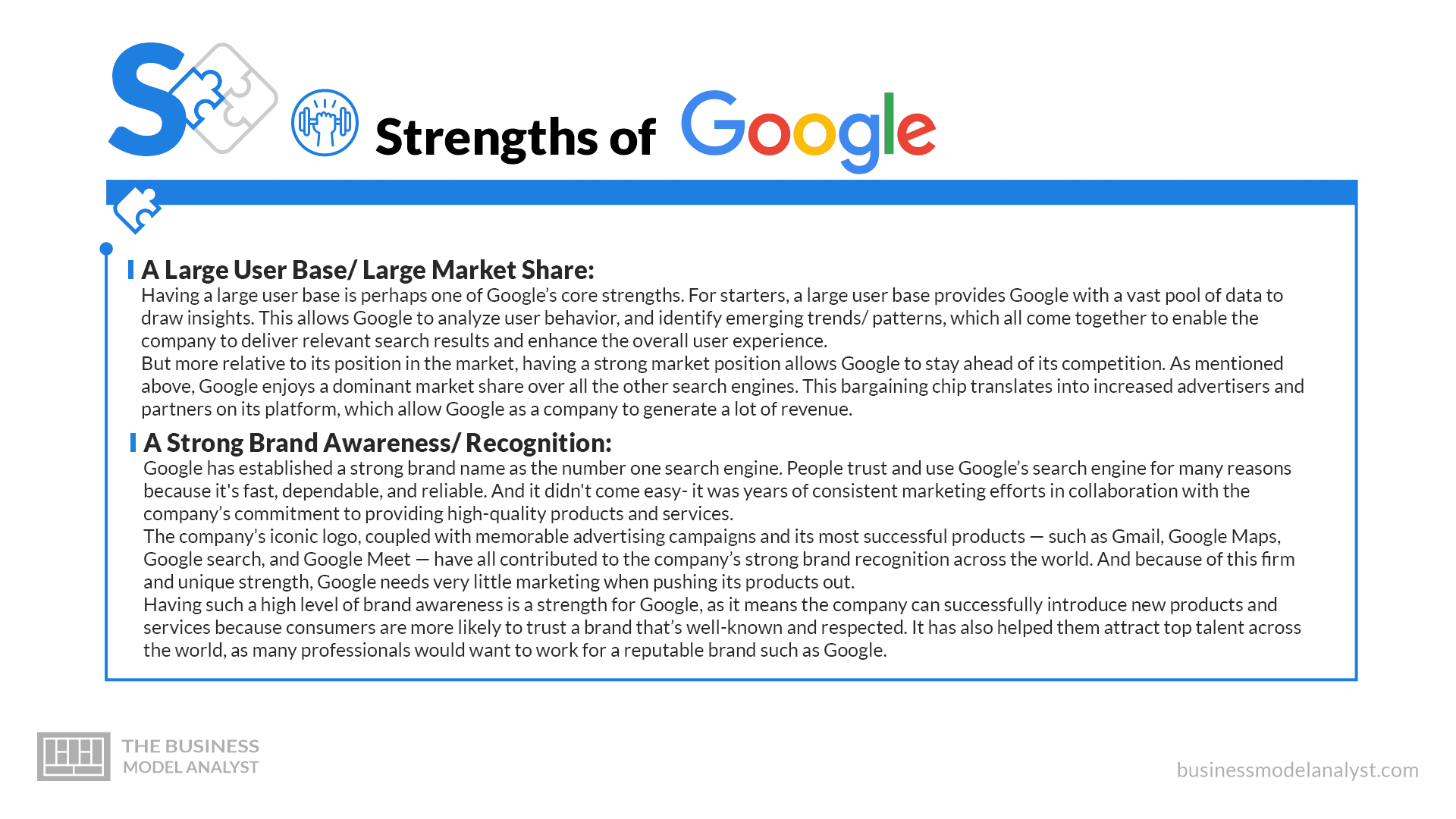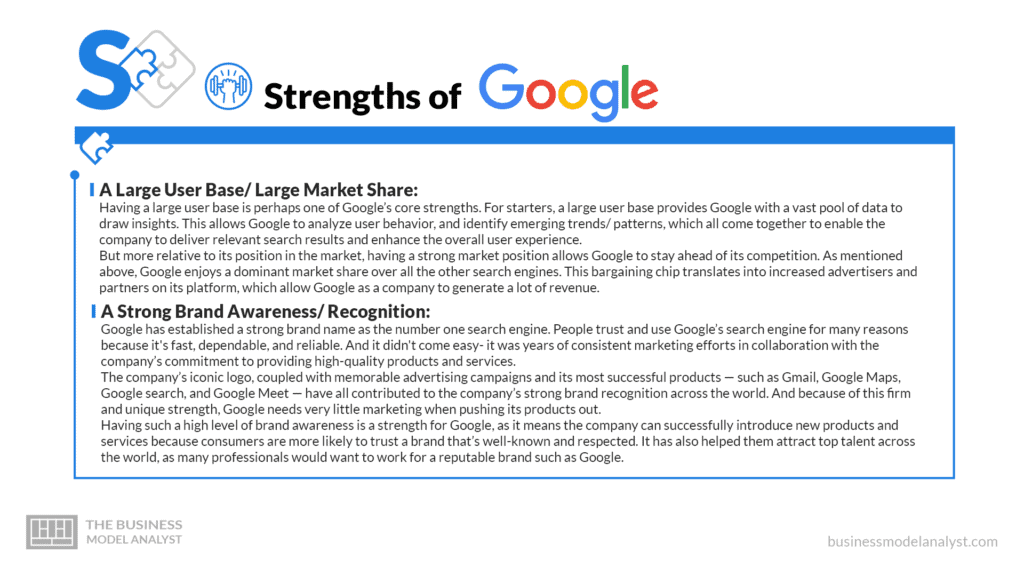 A Large User Base/ Large Market Share
Having a large user base is perhaps one of Google's core strengths. For starters, a large user base provides Google with a vast pool of data to draw insights. This allows Google to analyze user behavior, and identify emerging trends/ patterns, which all come together to enable the company to deliver relevant search results and enhance the overall user experience.
But more relative to its position in the market, having a strong market position allows Google to stay ahead of its competition. As mentioned above, Google enjoys a dominant market share over all the other search engines. This bargaining chip translates into increased advertisers and partners on its platform, which allow Google as a company to generate a lot of revenue.
A Strong Brand Awareness/ Recognition
Google has established a strong brand name as the number one search engine. People trust and use Google's search engine for many reasons because it's fast, dependable, and reliable. And it didn't come easy- it was years of consistent marketing efforts in collaboration with the company's commitment to providing high-quality products and services.
The company's iconic logo, coupled with memorable advertising campaigns and its most successful products — such as Gmail, Google Maps, Google search, and Google Meet — have all contributed to the company's strong brand recognition across the world. And because of this firm and unique strength, Google needs very little marketing when pushing its products out.
Having such a high level of brand awareness is a strength for Google, as it means the company can successfully introduce new products and services because consumers are more likely to trust a brand that's well-known and respected. It has also helped them attract top talent across the world, as many professionals would want to work for a reputable brand such as Google.
Position as Market Leader in Search Engines
At its very core, Google is a search engine company that helps internet users find information. It's the world's most used search engine, with fundamental analysts estimating that this tech giant dominates the market with an estimated 91% market share. This figure rises in places like Europe, where Google controls over 97% of the mobile search market share.
This is a strength because, as stated above, it gives Google all the bargaining chips when it comes to securing partnerships, endorsements, and advertisers. Not only that, but being a market leader in the search engine space also presents a unique strength, as Google has access to vast amounts of data.
This data allows Google to analyze trends, understand user behavior, and improve its search algorithms. This, in turn, helps Google deliver more accurate and relevant search results to its users, which translates into billions of dollars every year in revenue.
Google's position as a market leader in the search engine area is a significant strength that has helped the company establish itself as one of the most successful and influential tech companies in the world.
Google Has a Culture of Innovation and New Product Development
Google is famed for its work culture, which encourages innovation and product development. It is a defining feature that sets the company apart from its competitors and drives its success. Google has been relentless in its pursuit of new and innovative ideas, and this drive for innovation is deeply ingrained in the company's DNA.
One of the key ways that Google fosters a culture of innovation is by encouraging its employees to think outside the box and pursue new ideas with passion and enthusiasm. The company's "20% time" policy, which according to CNBC, encourages employees to spend 20% of their working hours on what they think will most benefit Google.
But it's not just about encouraging individual creativity. Google also places a strong emphasis on collaboration and cross-functional teamwork. The tech giant also encourages its employees to share ideas that'll bring new products to market, and the company provides a range of tools and resources to support this process. This collaborative approach has helped Google to develop a diverse range of products and services, from search engines to self-driving cars.
The constant encouragement of innovation and product development at Google has enabled it to stay ahead of the curve in the business landscape, which is constantly evolving. This approach also allows the company to create new opportunities for growth, expand its existing market share, and attract new customers and partners.
Google Developer Versions of Android OS Used by Billions Worldwide
Android OS is a mobile operating system developed by Google. It is the most popular mobile operating system in the world. According to a report by Statista, Google's Android OS controlled an estimated 71% of the market share, while Apple's iOS controlled about 27% of the same. This domination in the market share has also contributed to Google's success story.
Google's ownership of Android is a key strength that gives the company a unique advantage. For starters, this operating system is being utilized by some of the world's leading smartphone manufacturers in Lenovo, Xiaomi, Samsung, Oppo, and OnePlus. This means that Google can effectively collaborate with such companies to determine which services it will provide, tailoring the mobile-user experience.
It's also a strength because Android's popularity has helped drive Google's revenue off the charts. Google makes money through android apps and related services through a portion of the sales derived from the Play Store. But that's half of it. Because it owns Android, this also leads users to spend more time and money on some of its key apps and services, such as YouTube.
Google Weaknesses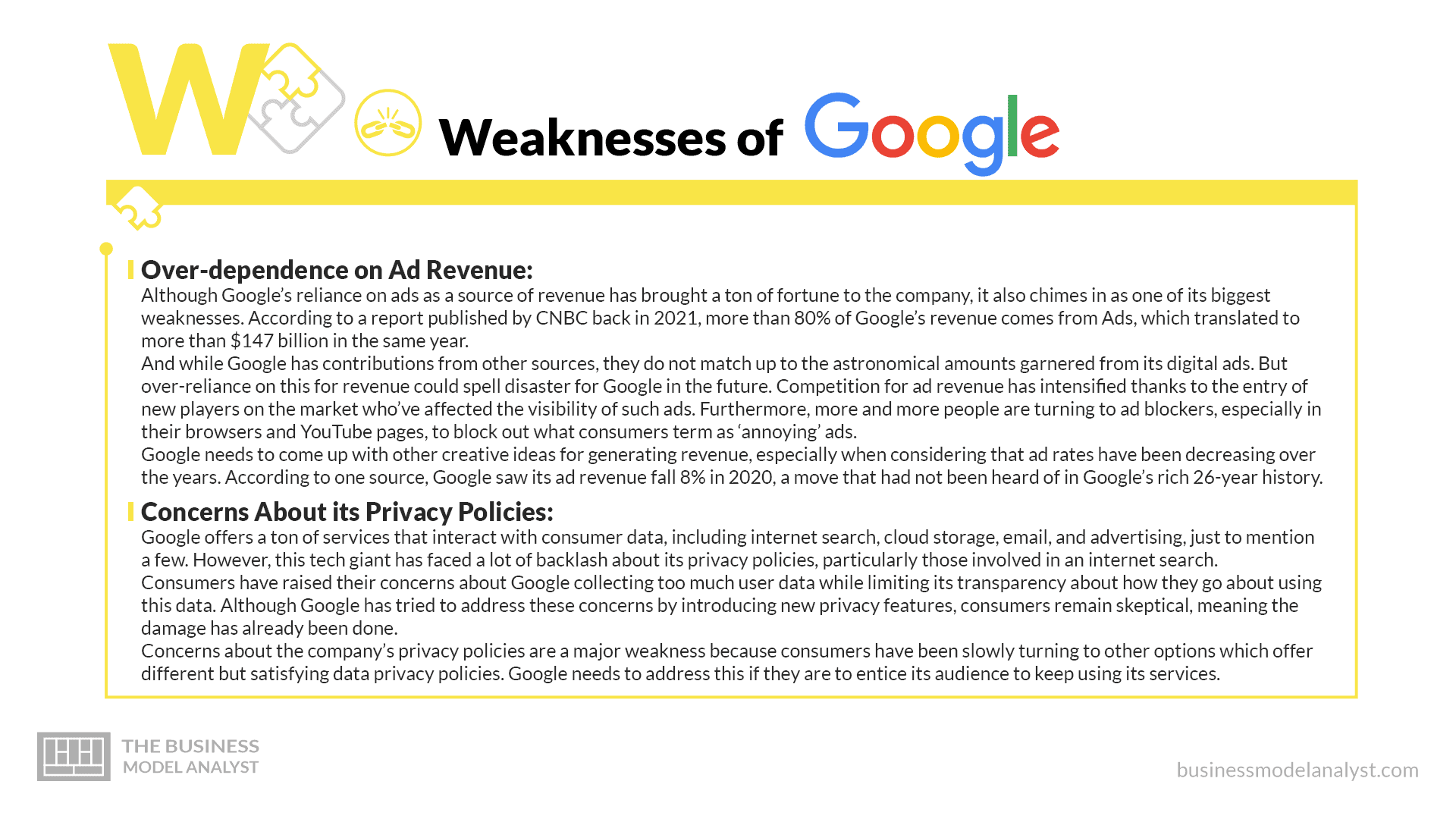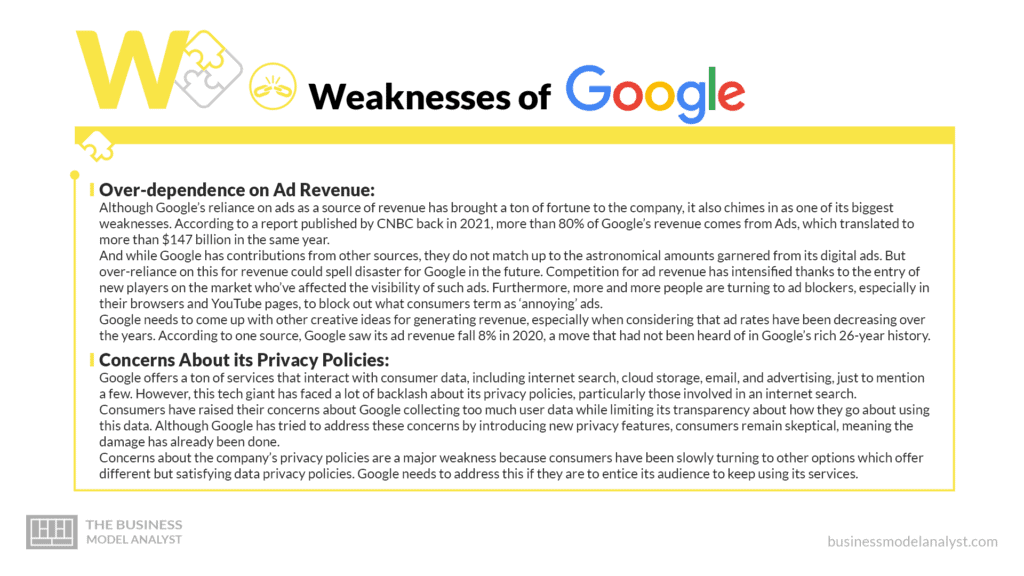 Over-dependence on Ad Revenue
Although Google's reliance on ads as a source of revenue has brought a ton of fortune to the company, it also chimes in as one of its biggest weaknesses. According to a report published by CNBC back in 2021, more than 80% of Google's revenue comes from Ads, which translated to more than $147 billion in the same year.
And while Google has contributions from other sources, they do not match up to the astronomical amounts garnered from its digital ads. But over-reliance on this for revenue could spell disaster for Google in the future. Competition for ad revenue has intensified thanks to the entry of new players on the market who've affected the visibility of such ads. Furthermore, more and more people are turning to ad blockers, especially in their browsers and YouTube pages, to block out what consumers term as 'annoying' ads.
Google needs to come up with other creative ideas for generating revenue, especially when considering that ad rates have been decreasing over the years. According to one source, Google saw its ad revenue fall 8% in 2020, a move that had not been heard of in Google's rich 26-year history.
Concerns About its Privacy Policies
Google offers a ton of services that interact with consumer data, including internet search, cloud storage, email, and advertising, just to mention a few. However, this tech giant has faced a lot of backlash about its privacy policies, particularly those involved in an internet search.
Consumers have raised their concerns about Google collecting too much user data while limiting its transparency about how they go about using this data. Although Google has tried to address these concerns by introducing new privacy features, consumers remain skeptical, meaning the damage has already been done.
Concerns about the company's privacy policies are a major weakness because consumers have been slowly turning to other options which offer different but satisfying data privacy policies. Google needs to address this if they are to entice its audience to keep using its services.
Low Control on Consumer Electronics Using Android OS
Google's Android OS controls about 70% of the total market share. Although this has made Google a ton of fortune, the tech giant has relatively low control over the devices that use this operating system. This lack of control can manifest itself in a number of ways, such as limited access to hardware features, restrictions on software customization, and difficulty in uninstalling pre-installed apps.
Spammers and Bots Manipulating Google's Search Algorithms
Spammers and bots have been a thorn in Google's search intent and overall search algorithms. Over the years, spammers in the search area have adapted and evolved to include new spam techniques and low-quality content.
For instance, one technique that they use to manipulate Google's search algorithms involves using black hat SEO techniques to boost a website's search engine ranking artificially. These tactics include keyword stuffing, spam link schemes, and cloaking. They also create fake websites and low-quality content designed to look like legitimate websites.
They do so to claim Google's coveted top search spot, creating an illusion of popularity, relevance, and content value. While these tactics can be effective in the short term, they ultimately undermine the user experience and harm the integrity of the search engine itself.
Google Opportunities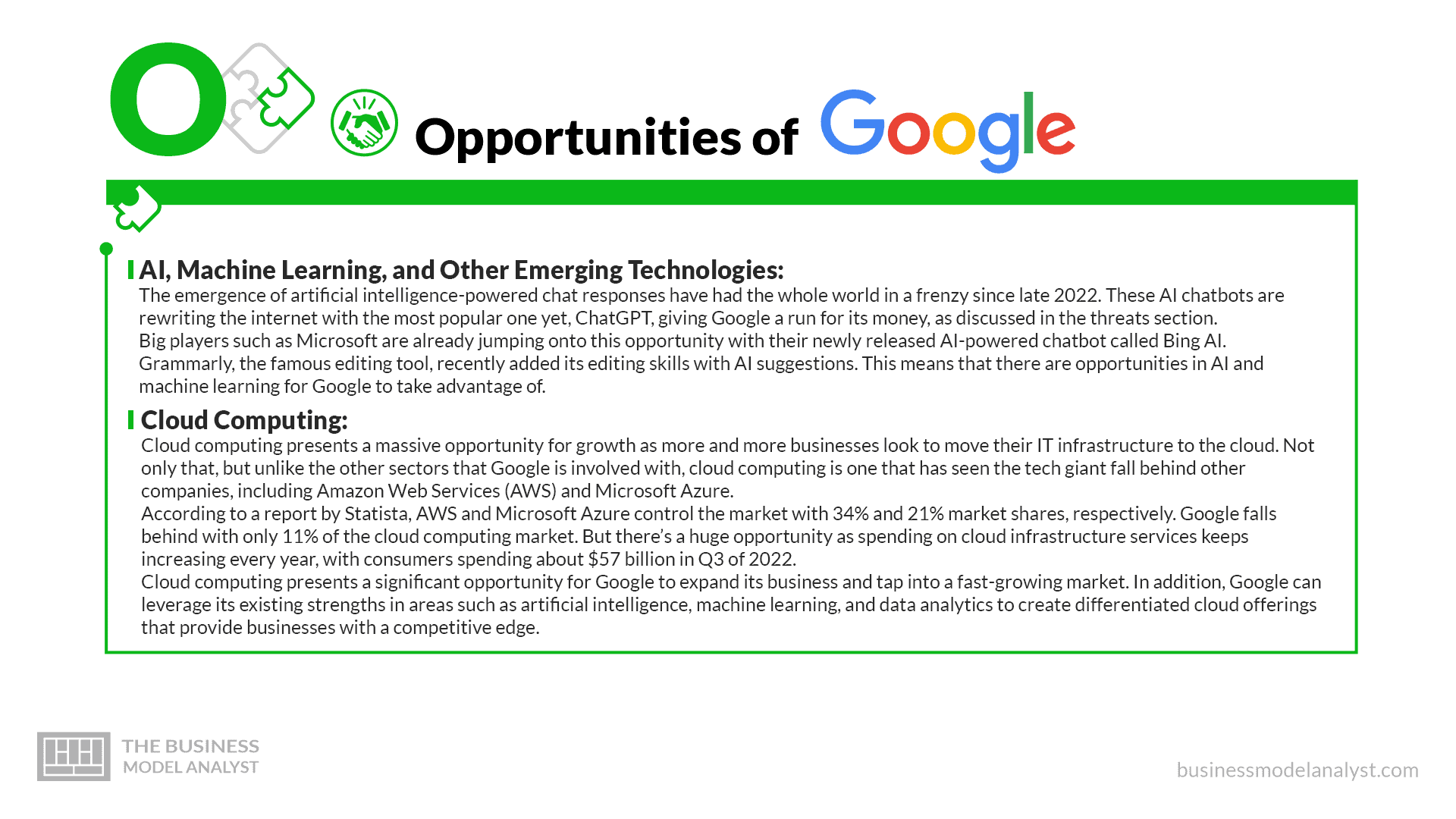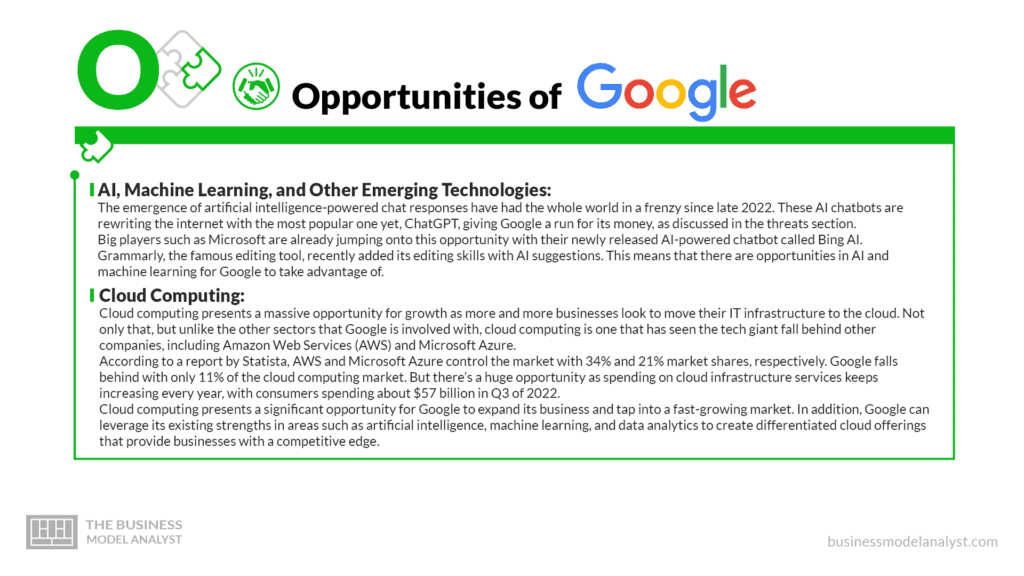 AI, Machine Learning, and Other Emerging Technologies
The emergence of artificial intelligence-powered chat responses have had the whole world in a frenzy since late 2022. These AI chatbots are rewriting the internet with the most popular one yet, ChatGPT, giving Google a run for its money, as discussed in the threats section.
Big players such as Microsoft are already jumping onto this opportunity with their newly released AI-powered chatbot called Bing AI. Grammarly, the famous editing tool, recently added its editing skills with AI suggestions. This means that there are opportunities in AI and machine learning for Google to take advantage of.
Cloud Computing
Cloud computing presents a massive opportunity for growth as more and more businesses look to move their IT infrastructure to the cloud. Not only that, but unlike the other sectors that Google is involved with, cloud computing is one that has seen the tech giant fall behind other companies, including Amazon Web Services (AWS) and Microsoft Azure.
According to a report by Statista, AWS and Microsoft Azure control the market with 34% and 21% market shares, respectively. Google falls behind with only 11% of the cloud computing market. But there's a huge opportunity as spending on cloud infrastructure services keeps increasing every year, with consumers spending about $57 billion in Q3 of 2022.
Cloud computing presents a significant opportunity for Google to expand its business and tap into a fast-growing market. In addition, Google can leverage its existing strengths in areas such as artificial intelligence, machine learning, and data analytics to create differentiated cloud offerings that provide businesses with a competitive edge.
Virtual Reality
Virtual reality presents a lucrative opportunity for Google to invest in. The artificial reality and virtual reality (AR and VR) market is expected to generate revenue north of $31.12 billion by 2023. Not only that, but the number of users in this market is expected to increase to approximately 2.5 billion by 2027.
This shows the massive opportunity that's in AR and VR. Facebook and Sony have already committed to making significant strides in this market. Although Google Has already made previous investments in virtual reality, the sales have been disappointing so far. Not only that, but Google admitted in 2017 that it still had a long way to go before it brought a worthwhile experience to the market.
Autonomous Vehicles
The autonomous vehicle industry has been flourishing over recent years. According to Statista, this industry once had a market value of $106 billion but is now estimated to reach over $2.3 trillion by 2030. This shows the massive opportunity that Google has in relation to the autonomous vehicle industry.
Google has already made significant strides in autonomous vehicle technology through its self-driving car project, Waymo. However, the tech giant has been facing a number of challenges that have inhibited the company's ability to hit the ground running. Nonetheless, Google's self-driving cars have an opportunity to take the autonomous driving market by storm.
The Wearables Market
The global smart wearables market is expected to keep growing at an annual rate of 16.2%, from $17.35 billion in 2021 to $30.88 billion in 2025. All the major players in this space include Samsung, Nike, Motorola Solutions, and Apple.
According to one source, Apple and Samsung are the leading wearable shippers in the world. But Google still has an opportunity to dethrone Apple as the leader in this space with its Pixel watch series. This is because there are more Google-Android users in the U.S. than they are iOS (iPhone) users.
Google Threats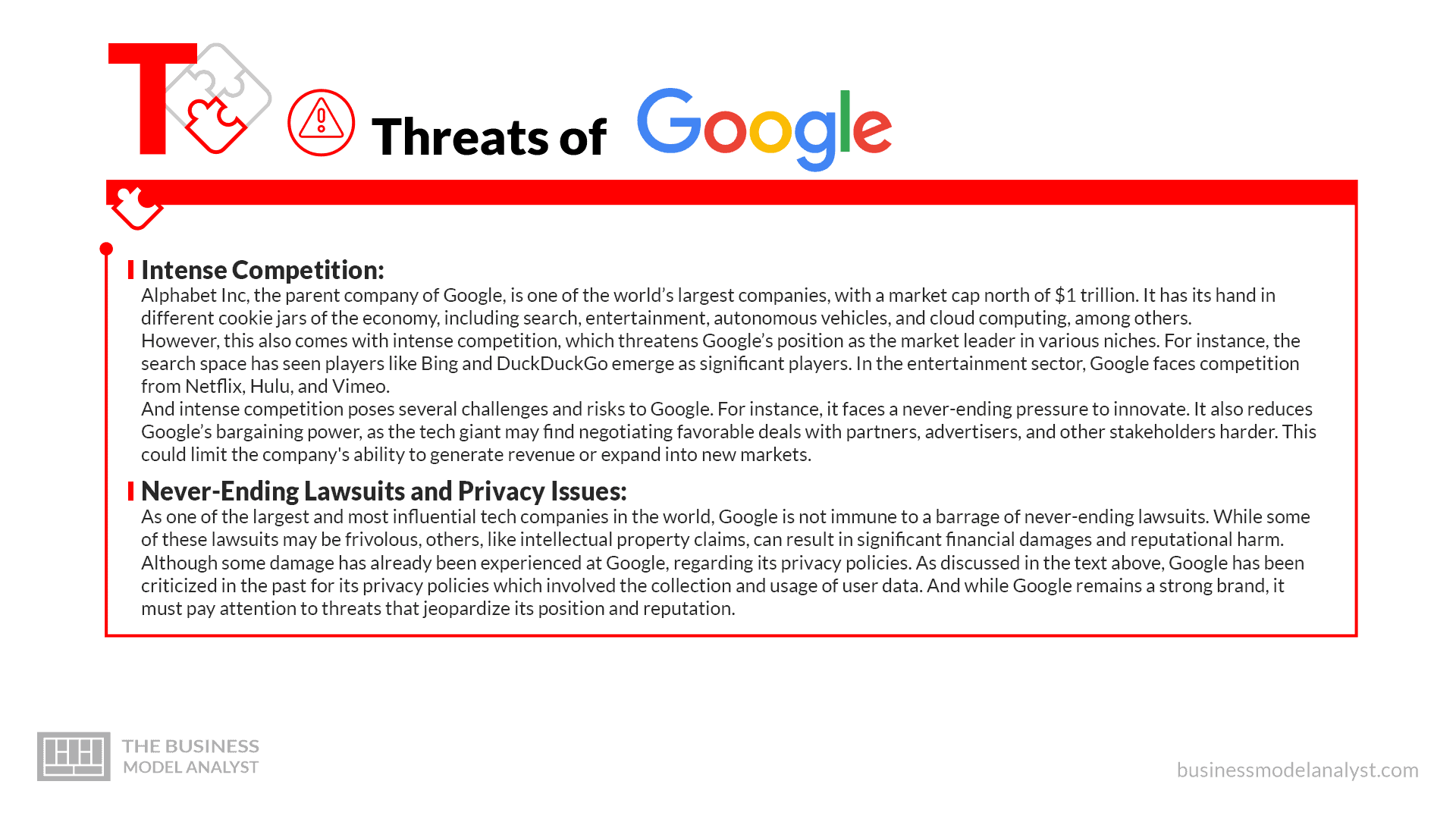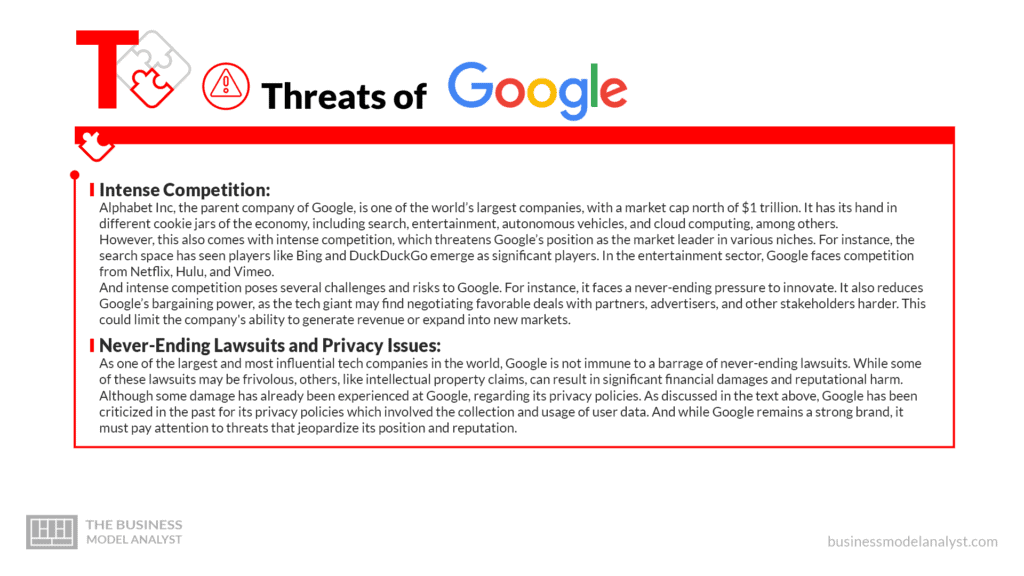 Emerging Technologies
Although Google has been the market leader, enjoying a dominant market share, many businesses have risen to compete with Google in various areas over the years. For instance, in the search engine space, DuckDuckGo and Bing have emerged as strong competitors as they offer different value propositions and better privacy protections.
One of the competitors that Google has seen in the search engine space is ChatGPT. ChatGPT has emerged as a strong search tool in the past year (2022-2023). ChatGPT uses AI to generate fast, accurate, and relevant search results. This has compromised Google's position in the search engine space. In fact, Google released a response to ChatGPT, too much failure, as it shredded about $100 billion in market value after its release.
But search engines are not the only competition area that Google faces. Even in the online advertising space, options like Instagram, Facebook, TikTok, and Amazon are gaining ground as they offer more targeted value propositions and customer engagement options compared to Google.
Cloud computing is also another area in which Google has faced emerging competition from major players like Amazon Web Services and Microsoft Azure. Google has struggled to gain the same level of market share compared to these other services. This goes to show that emerging competition is one weakness that Google needs to address to maintain its current position.
Intense Competition
Alphabet Inc, the parent company of Google, is one of the world's largest companies, with a market cap north of $1 trillion. It has its hand in different cookie jars of the economy, including search, entertainment, autonomous vehicles, and cloud computing, among others.
However, this also comes with intense competition, which threatens Google's position as the market leader in various niches. For instance, the search space has seen players like Bing and DuckDuckGo emerge as significant players. In the entertainment sector, Google faces competition from Netflix, Hulu, and Vimeo.
And intense competition poses several challenges and risks to Google. For instance, it faces a never-ending pressure to innovate. It also reduces Google's bargaining power, as the tech giant may find negotiating favorable deals with partners, advertisers, and other stakeholders harder. This could limit the company's ability to generate revenue or expand into new markets.
Never-Ending Lawsuits and Privacy Issues
As one of the largest and most influential tech companies in the world, Google is not immune to a barrage of never-ending lawsuits. While some of these lawsuits may be frivolous, others, like intellectual property claims, can result in significant financial damages and reputational harm.
Although some damage has already been experienced at Google, regarding its privacy policies. As discussed in the text above, Google has been criticized in the past for its privacy policies which involved the collection and usage of user data. And while Google remains a strong brand, it must pay attention to threats that jeopardize its position and reputation.
Cybersecurity Threats
While Google should be happy about users increasing their reliance on online solutions, it also means an increase in potential cybersecurity threats. Google's vast digital infrastructure and troves of user data make it an attractive target for cybercriminals.
A good example of such a case is the famous hacking attack of 2010. Hackers breached Google's network in 2010 and accessed the company's systems and data. They gained insight into court orders from law enforcement agencies who seek information about user accounts, including classified FISA orders used in investigations.
Although Google has put measures in place to mitigate the risk of cyberattacks, it remains vulnerable to hacking and other cyber threats.
Conclusion
Google is one of the world's largest tech companies, with a market valuation upwards of a trillion U.S. dollars. This tech giant has invested in many different sectors, including search, entertainment, autonomous vehicles, mobile/smart devices, and cloud computing. Some of its key strengths include a fast and dependable search engine, a well-known brand, and a strong financial position to take advantage of market opportunities.
Some of Google's threats and weaknesses include emerging technologies in AI and machine learning, privacy concerns, cybersecurity, spammers and bots, over-reliance on ad revenue, and intense competition from other players in the same space.
However, Google has many opportunities which it can exploit to solidify its position at the top while attracting new customers and clients. These opportunities are in AI, cloud computing, autonomous vehicles, and the wearable markets.