Some companies are more than just internationally recognized brands. They form an integral part of our everyday lives, and their products cut across a wide range of areas. Nestlé is one of such brands which offers a mammoth repertoire of products in the food and beverage industry, as well as other allied and non-allied sectors. Let's examine the Nestlé SWOT analysis to understand how it achieved this massive success and has maintained its dominance in the industry for decades.
A Brief Look at Nestlé
Nestlé is a significant player in the food and beverage industry, and one which has existed for over a century. Founded in 1866 by Henri Nestlé and headquartered in Switzerland, the company offers a wide range of products ranging from powdered and liquid beverages to animal foods and even breakfast cereals. They operate a multitude of sub-brands that work through local subsidiaries in over 190 countries all around the world and employ over 300,000 people worldwide.
Not only are they diverse in terms of product range, but also their investments into certain key areas such as climate change, eco-sustainability, and improving the nutritional status of their customers. This only shows how deeply ingrained the corporation is in both our present and future. However, despite its positive values and investments in noble causes, the company is not without its controversies.
Let's take a closer look at the Nestlé SWOT analysis and examine the various factors which may determine the success (or failure) of the brand.
Nestlé Strengths
Here are some internal factors that give Nestlé an advantage over its competition.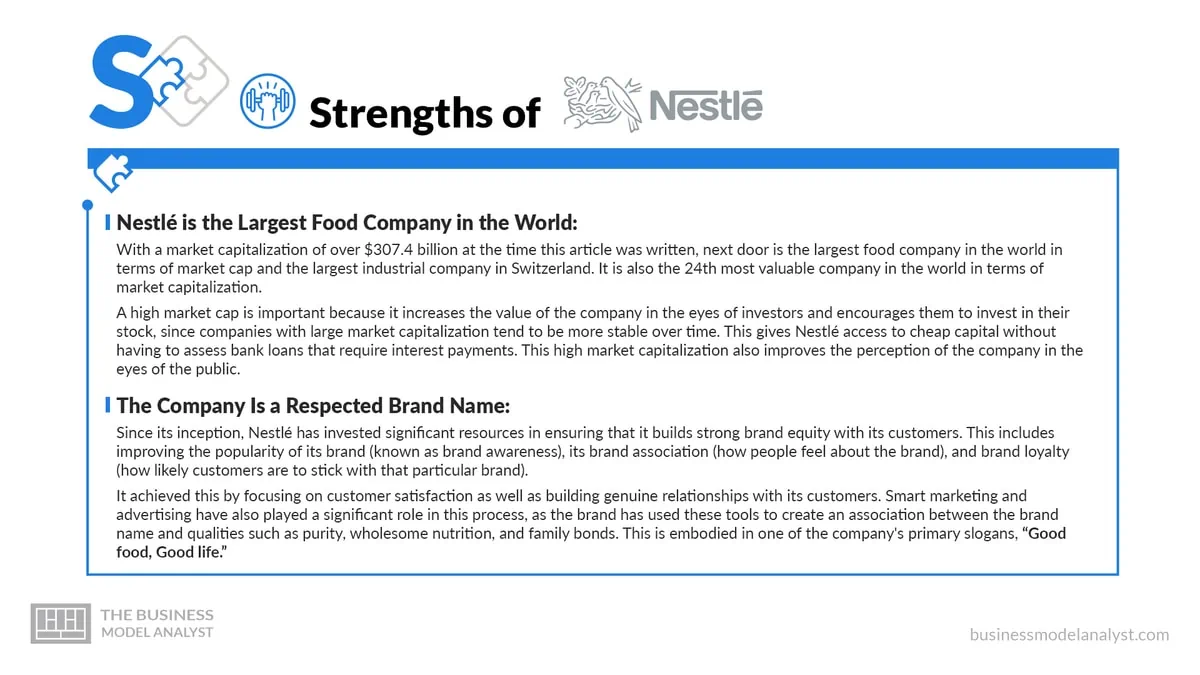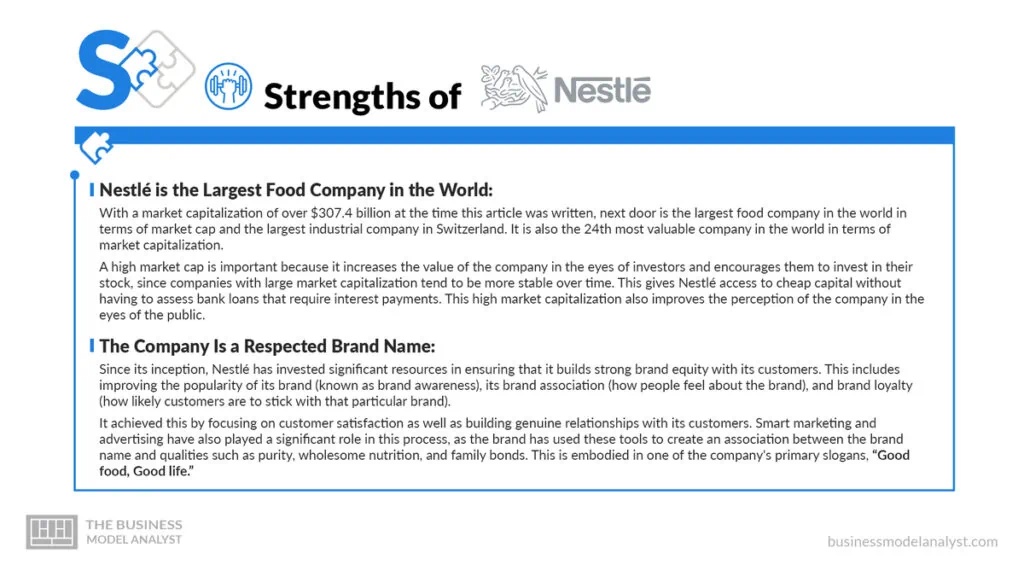 Nestlé is the Largest Food Company in the World
With a market capitalization of over $307.4 billion at the time this article was written, next door is the largest food company in the world in terms of market cap and the largest industrial company in Switzerland. It is also the 24th most valuable company in the world in terms of market capitalization.
A high market cap is important because it increases the value of the company in the eyes of investors and encourages them to invest in their stock, since companies with large market capitalization tend to be more stable over time. This gives Nestlé access to cheap capital without having to assess bank loans that require interest payments. This high market capitalization also improves the perception of the company in the eyes of the public.
The Company Is a Respected Brand Name
Since its inception, Nestlé has invested significant resources in ensuring that it builds strong brand equity with its customers. This includes improving the popularity of its brand (known as brand awareness), its brand association (how people feel about the brand), and brand loyalty (how likely customers are to stick with that particular brand).
It achieved this by focusing on customer satisfaction as well as building genuine relationships with its customers. Smart marketing and advertising have also played a significant role in this process, as the brand has used these tools to create an association between the brand name and qualities such as purity, wholesome nutrition, and family bonds. This is embodied in one of the company's primary slogans, "Good food, Good life."
High Brand Value
A brand valuation can be referred to as the process of calculating the total financial value of a brand based on its tangible and intangible assets. According to Brand Finance, Nestlé had a brand value of $20.8 billion in 2022, up from $19.4 billion the previous year, easily making it one of the most valuable brands in the world and the most valuable food company. This high brand valuation is likely due to the solid financial position of the company, its resilient and well-developed supply chain, the global presence of its products, and its highly diversified portfolio of successful sub-brands.
A high brand value also attracts investors, giving the company access to capital, improving customer confidence in your products, and acting like a positive feedback loop to further increase the popularity of your brand.
Highly Diversified Brand Portfolio
Nestlé is better considered a mega-brand since it owns over 2000 individual sub-brands, including highly successful and popular names like Nescafé, KitKat, Nespresso, Maggi, Toll House, Milo, and so on. Many of these brands are household names in their own right, with high brand values. Such a highly diversified portfolio adds a degree of stability to the company and increases its chances of achieving profitability since its risks are spread over a broader range.
Some key examples include:
Nescafé: A market leader in instant coffee and one of the most valuable beverage brands globally, valued at $13.9 billion;
KitKat: A candy company that is manufactured by Hershey in the United States but produced by Nestlé everywhere else in the world and has a brand value of $2.1 billion;
Nestlé Purina PetCare: A pet food company that the brand purchased for $10.3 billion in 2001 and achieved annual revenue of $11.2 billion barely 12 years later.
The company has not only diversified its portfolio between different brands, but also by investing in several key sectors within the food industry. A quick look at some of these sectors, as well as the respective market dividends that Nestlé enjoys from each of these investments, reveals that the most profitable product segment within the company is its powdered and liquid beverages, which was responsible for up to 25% of its revenue in 2020. This department was followed closely by nutrition and health science, pet care, milk products, and ice cream.
Global Presence of the Brand
Nestlé is truly a global brand and sells its products to over 186 countries all around the world and has operations in 83 of these countries. While its market dominance may vary significantly from country to country as well as from product to product within specific countries, the company, as well as its sub-brands, are market leaders in virtually every region around the world.
In 2021, approximately 45% of its global sales shares came from the Americas (i.e., North and South America), 30% of global sales came from Europe, the Middle East, and North Africa, while the remaining 25% was obtained from sub-Saharan Africa as well as Oceania and Asia. This shows that even though most of the sales occurred in the Americas, the company has managed to significantly distribute its global presence.
Shifting Focus Towards Environmental Sustainability
Environmental sustainability and climate change have become hot-button issues for many globally recognized brands. Therefore, it is no surprise that Nestlé has also taken up this cause by promoting the use of environmentally sustainable practices in its manufacturing process, as well as donating to similar causes within the various countries where it markets its products. This is part of the company's program to increase its ability to create shared value, which means a business model that does not focus only on economic growth, but also on improving the lives and well-being of its customers as well.
Through this initiative, the company has achieved a four million ton reduction in greenhouse gas emissions, dedicated itself to halving its carbon emissions by 2030 and becoming a net-zero carbon producer by the year 2050, as well as has adopted a range of technologies to reduce its waste production and ensure that none of its packaging it becomes a part of environmentally degrading landfills.
Increasingly Focusing on Providing Healthy Food Options
Another key strength of the Nestlé business model is that it does not only focus on providing tasty food, but also healthy options. By improving the nutritional value of its food, the company has been able to improve its brand image by promoting itself as a company with a vested interest in creating shared value.
For example, the company has reduced the amount of sugar in its products by 5.1% since 2017 and fortified 83% of its affordable nutrition products to low-income countries. This is about 124.6 billion servings of affordable nutrition with micronutrient fortification. These improvements are not only included in their human food, but also in their line of pet care products, such as Purina Cat Chow.
Advantageous Partnerships and Smart Acquisitions
One of the strategies used by Nestlé to rapidly upscale its global reach and product line is through key partnerships and acquisitions. For example, the company is partnered with a range of commercial and non-commercial entities, such as research institutions, universities, and other companies. For example, they have key partnerships with other brands such as Starbucks and The Coca-cola Company (as the Beverage Partners Worldwide).
Another useful strategy used by the company is its smart acquisitions. This increases their company's competitiveness, reduces the training costs typically associated with expansion, allows them to easily and quickly gain access to quality skills, and diversifies the business. While Nestlé's acquisitions go back over a century, a few of their most recent top acquisitions include Agropower, The Better Health Company, Altrium Innovations, Gerber, and Ralston Purina.
Highly Efficient Research and Development Team
Research and development is a vital part of any top-ranked company remaining competitive in the field with the continuously increasing competition. Nestlé has the largest research and development department in the food and beverage industry and is dedicated to improving the quality, palatability, and nutritional content of their products.
The company has over 4100 employees working at 23 sites all over the world. Some of the research they focus on include food safety, product development, and packaging, as well as basic nutrition. This all translates into improved products, safety, packaging, and distribution systems, all aimed toward increasing customer satisfaction.
Massive and Efficient Distribution System
Despite its policy of encouraging local supply chains and sourcing raw materials locally from the countries it operates in, Nestlé is one of the most globalized brands in the world. This means a large number of the raw materials and technology required to produce and distribute its products are sourced through infinitely complex international supply chains.
The ability to create and maintain such a system that allows the efficient distribution and delivery of products and raw materials is certainly an asset to Nestlé and one of the key strengths behind its successful business model.
Nestlé Weaknesses
Here are some internal factors that put the company at a disadvantage.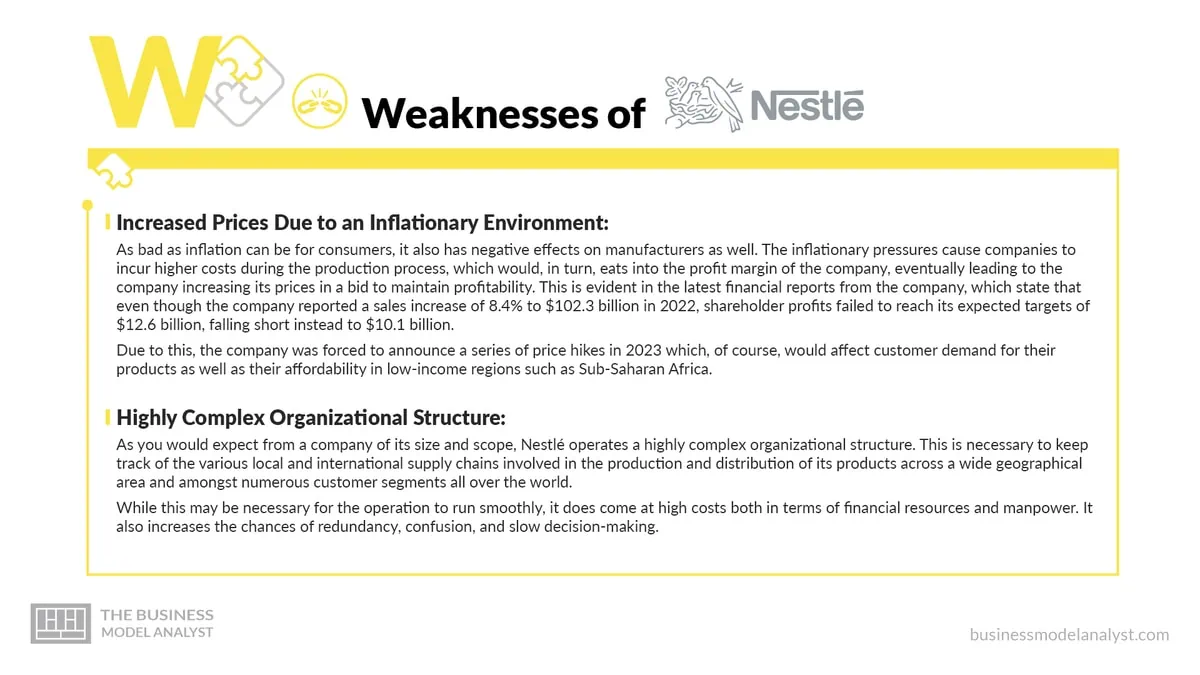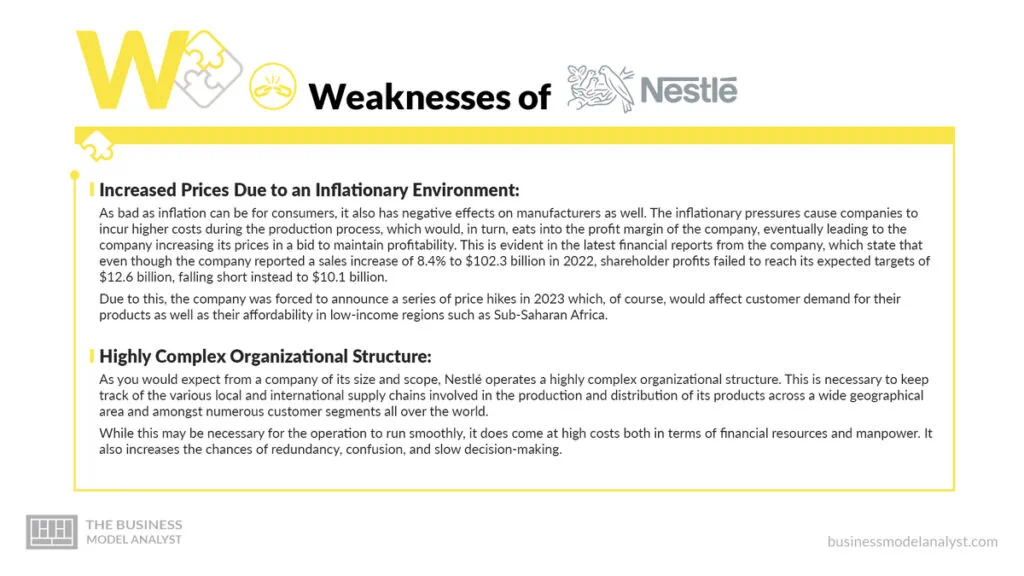 Increased Prices Due to an Inflationary Environment
 As bad as inflation can be for consumers, it also has negative effects on manufacturers as well. The inflationary pressures cause companies to incur higher costs during the production process, which would, in turn, eats into the profit margin of the company, eventually leading to the company increasing its prices in a bid to maintain profitability. This is evident in the latest financial reports from the company, which state that even though the company reported a sales increase of 8.4% to $102.3 billion in 2022, shareholder profits failed to reach its expected targets of $12.6 billion, falling short instead to $10.1 billion.
Due to this, the company was forced to announce a series of price hikes in 2023 which, of course, would affect customer demand for their products as well as their affordability in low-income regions such as Sub-Saharan Africa. The invasion of Ukraine was also a significant contributory factor to the current inflationary environment because Ukraine is one of the top producers of grain in the world, an important raw material that is used in a wide range of Nestlé products The unavailability of cheap Russian fossil fuels is also one of the contributors to energy price increases and a key component to the current inflation.
Highly Complex Organizational Structure
As you would expect from a company of its size and scope, Nestlé operates a highly complex organizational structure. This is necessary to keep track of the various local and international supply chains involved in the production and distribution of its products across a wide geographical area and amongst numerous customer segments all over the world.
While this may be necessary for the operation to run smoothly, it does come at high costs both in terms of financial resources and manpower. It also increases the chances of redundancy, confusion, and slow decision-making.
Long Litany of Controversies
Despite their positive reputation, Nestlé is also a company that has been embroiled in a litany of controversies in numerous regions all around the world. Let's take a look at some of the more recent and significant cases of backlash that the company has faced.
For years one of Nestlé Canada Inc.'s top subsidiaries, Nestlé Pure Life, saw significant backlash from both local and international organizations for depriving local indigenous tribes of access to fresh and safe drinking water. The company was pumping and re-selling millions of gallons of fresh water while residents suffered from droughts and the consequences of water scarcity;
The Nestlé Maggi controversy refers to a food safety issue that emerged in India in 2015, when the popular instant noodle brand Maggi was found to contain excessive levels of lead and MSG (monosodium glutamate), a flavor enhancer, in some samples. The controversy caused significant damage to Nestlé's reputation and business in India. The company faced multiple lawsuits, investigations, and fines. Nestlé also had to destroy thousands of tons of Maggi noodles, and its sales and profits took a hit;
The Nestlé child labor chocolate controversy involves allegations that Nestlé, one of the world's largest chocolate manufacturers, was using child labor in its cocoa supply chain. In response, Nestlé developed a set of labor standards called the "Nestlé Cocoa Plan," which aimed to improve working conditions for farmers and eliminate child labor from its supply chain. However, critics have argued that Nestlé has not done enough to address the issue, and that child labor continues to be a problem in the company's supply chain.
Expensive Advertising Model
Nestlé remains one of the largest advertisers in the world, and its marketing efforts include television commercials, print advertisements, digital marketing, and sponsorships of events and sports teams. Despite the size of the brand, Netflix still primarily operates on a traditional advertising model using channels such as print media as well as television and radio. While these are effective advertising channels, they also come with higher customer acquisition costs, meaning that Nestlé spends a significant amount on advertising. From its financial statements, the company spent about $9.2 billion on advertising in 2020.
Allegations of Poor Product Quality
Nestlé is a brand that has built its reputation on impeccable product quality as well as an undeniable dedication to providing its customers with healthy and tasty options. Therefore, allegations of poor product quality are quite damaging to the reputation of the company and expose them to potential litigation.
Since the company is a mega-corporation made up of many individual brands, many of which operate using local subsidiaries, quality control is quite hard to maintain. Thus, scandals involving contaminated or even potentially hazardous products being released into the market are quite common.
Nestlé Opportunities
Here are a few of the opportunities the company can capitalize on to improve its competitive advantage.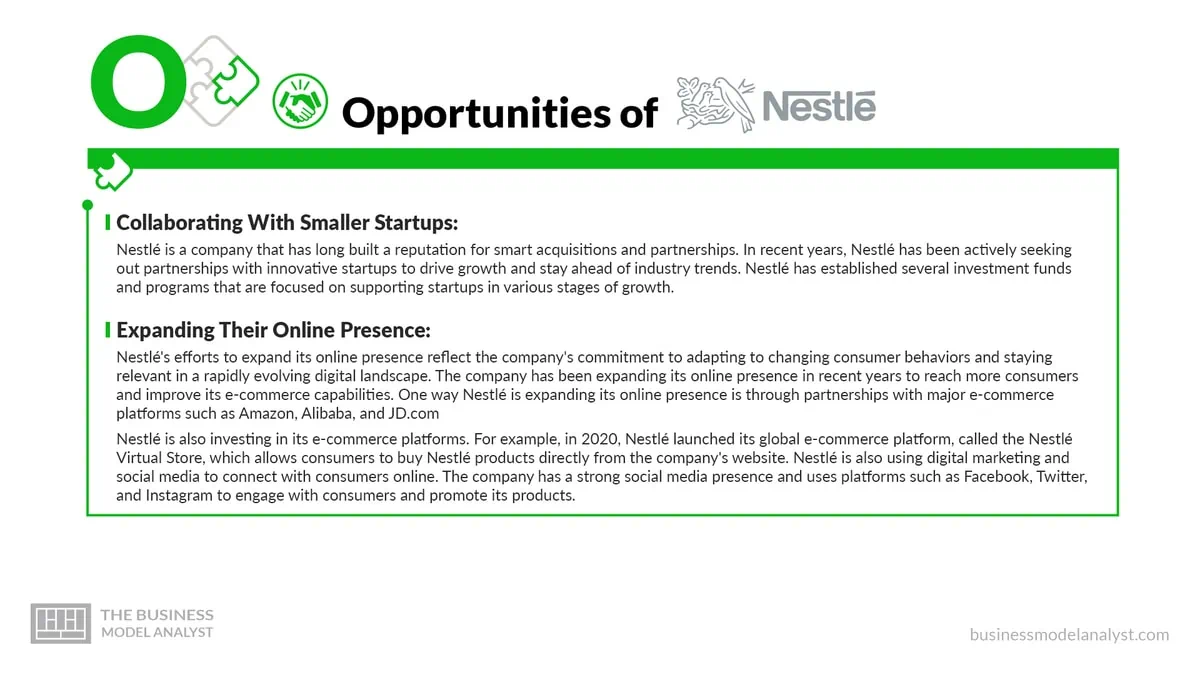 Collaborating With Smaller Startups
Nestlé is a company that has long built a reputation for smart acquisitions and partnerships. In recent years, Nestlé has been actively seeking out partnerships with innovative startups to drive growth and stay ahead of industry trends. Nestlé has established several investment funds and programs that are focused on supporting startups in various stages of growth.
For example, Nestlé's "Nestlé Innovation Accelerator" program provides funding, mentorship, and other resources to early-stage startups in the food and beverage industry.
Nestlé invested in a number of startups over the years. Some notable examples include their investment in Blue Bottle Coffee (a high-end coffee chain), Freshly (a meal delivery service), as well as Terrafertil and Sweet Earth Foods (plant-based food startups). The company aims to take advantage of new technologies and business models to drive future growth and improve its value proposition to its customers.
Expanding Their Online Presence
Nestlé's efforts to expand its online presence reflect the company's commitment to adapting to changing consumer behaviors and staying relevant in a rapidly evolving digital landscape. The company has been expanding its online presence in recent years to reach more consumers and improve its e-commerce capabilities. One way Nestlé is expanding its online presence is through partnerships with major e-commerce platforms such as Amazon, Alibaba, and JD.com
Nestlé is also investing in its e-commerce platforms. For example, in 2020, Nestlé launched its global e-commerce platform, called the Nestlé Virtual Store, which allows consumers to buy Nestlé products directly from the company's website. Nestlé is also using digital marketing and social media to connect with consumers online. The company has a strong social media presence and uses platforms such as Facebook, Twitter, and Instagram to engage with consumers and promote its products.
Expanding Into New Key Sectors
In the past, Nestlé has expanded in key areas such as coffee, bottled water, and pet food. For example, Nestlé has acquired several coffee companies in recent years, including Blue Bottle Coffee, Chameleon Cold-Brew, and Starbucks' retail coffee business. Nestlé has also expanded its bottled water business by acquiring brands such as Poland Spring and Perrier. Additionally, Nestlé made strategic investments in pet food, such as the acquisition of the company Ainsworth Pet Nutrition in 2018.
Further expansions into certain trending key areas, such as vegan food, are a great way for the company to increase not just its product range but also its brand awareness. For example, the company now offers a range of vegan products under its Garden Gourmet brand. Also, despite their global dominance, they continue to make inroads into certain regions, such as key investments the company has made in China in the areas of coffee, baby food, and dairy products.
Improving Its Reputation 
Nestlé can improve its reputation by taking steps to address any negative perceptions or issues that may be impacting its image. This involves being transparent about its business practices, including its supply chain, production methods, labeling, and sustainability initiatives. Also, by taking corporate social responsibility and investing in social and environmental initiatives that align its brand values with creating shared value. This could include supporting community programs, reducing waste and emissions, and promoting sustainable sourcing.
Nestlé has faced criticism over the years for issues such as child labor in its cocoa supply chain and the marketing of baby formula in developing countries. To improve its reputation, the company could take steps to address these concerns, such as implementing stricter supply chain policies and changing its marketing practices to adopt better ethical standards.
Streamline Its Organizational Structure
Nestlé has undergone several changes over the years to streamline its organizational structure and improve its operational efficiency, mostly starting from certain key changes made in 2021. These include the creation of zone offices which allowed the brand to restructure its regional organization into three zones: Zone Europe, Zone Americas, and Zone Asia, Oceania, and Africa (AOA). Each zone is headed by a CEO who is responsible for managing the operations in the respective region.
Also, Nestlé implemented shared services across its global operations to centralize administrative functions such as finance, HR, and IT. The company also introduced global platforms for functions such as procurement, supply chain, and marketing. This helped to standardize processes and reduce duplication of efforts across regions. These measures helped to reduce costs and improve operational efficiency.
Increasing Its Focus on Profitable Ventures
Nestlé can focus on increasing its input into profitable ventures by conducting market research to identify opportunities in profitable markets, as well as evaluate existing ventures to identify which ones are profitable and which ones are not.
This will help the company focus its resources on the most profitable ventures and either divest or restructure those that are not generating profits. It will also help the company understand its customers' needs and preferences, which will enable it to develop products that are in high demand and generate higher profits.
Changes In Consumer Sentiment Favoring Packaged Products
Overall, consumer sentiment towards packaged goods is evolving, with consumers becoming more discerning and seeking out products that align with their values and lifestyles. Consumers are increasingly becoming health-conscious and are seeking out packaged goods that are healthier, with fewer artificial ingredients and preservatives. Consumers are increasingly concerned about the impact of packaged goods on the environment and are seeking out products with eco-friendly packaging and sustainable production methods.
Also, busy lifestyles have made convenience a top priority for many consumers. Packaged goods offer a convenient and easy way to prepare and consume food, especially for on-the-go meals and snacks. The increasing prominence of e-commerce and online shopping has made it easier for consumers to purchase packaged goods directly from manufacturers or retailers.
Nestlé Threats
Lastly, let's examine some threats to the Nestlé business model.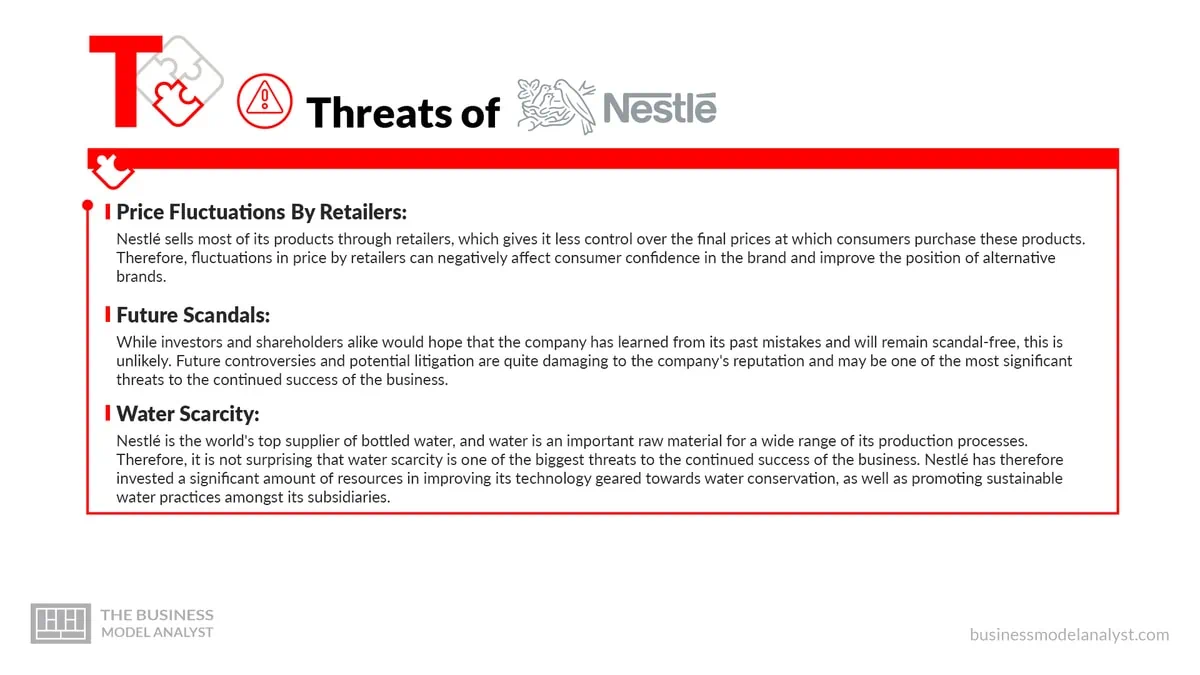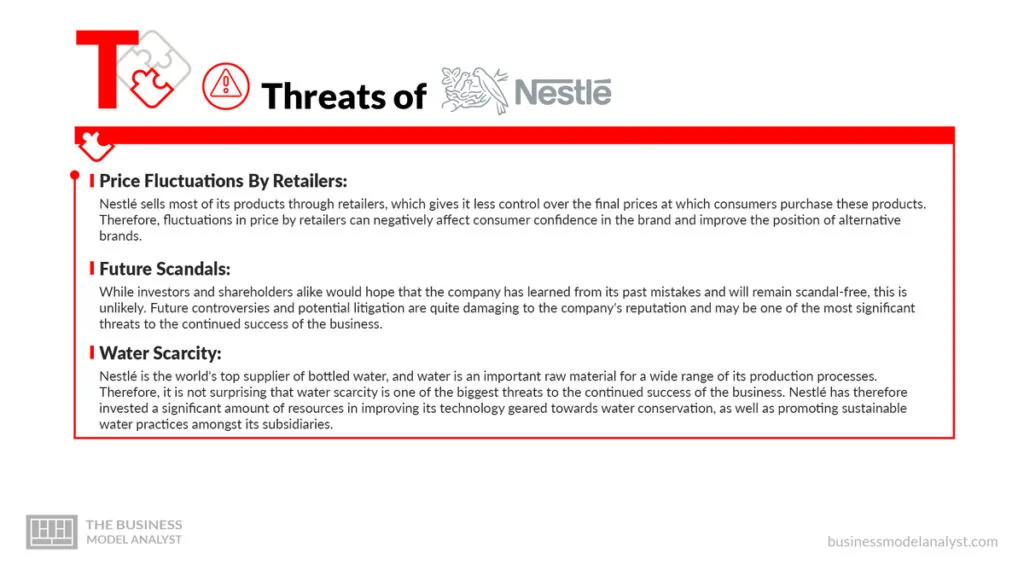 Price Fluctuations By Retailers
Nestlé sells most of its products through retailers, which gives it less control over the final prices at which consumers purchase these products. Therefore, fluctuations in price by retailers can negatively affect consumer confidence in the brand and improve the position of alternative brands.
Future Scandals
While investors and shareholders alike would hope that the company has learned from its past mistakes and will remain scandal-free, this is unlikely. Future controversies and potential litigation are quite damaging to the company's reputation and may be one of the most significant threats to the continued success of the business.
Water Scarcity
Nestlé is the world's top supplier of bottled water, and water is an important raw material for a wide range of its production processes. Therefore, it is not surprising that water scarcity is one of the biggest threats to the continued success of the business. Nestlé has therefore invested a significant amount of resources in improving its technology geared towards water conservation, as well as promoting sustainable water practices amongst its subsidiaries.
Some examples of its efforts include zero water technology which has been implemented in several factories, improving its water treatments and recycling facilities as well as initiating various Water Resource Reviews. Even with its efforts and the fact that the company has reduced its water consumption by 41% since 2005, by its projections, it is expected that global water demand will exceed available supply by 40% in the year 2030.
Increasing Competition From Other Brands
Even though Nestlé has remained a dominant force in the market in a wide range of food segments over the years, numerous competitors are striving tirelessly to unseat it from this status.
It is hard to name the top competitors of the brand since it is involved in a wide range of product lines. However, some other large food and beverage corporations that posed a threat to the success of the Nestlé business model include Coca-Cola, PepsiCo, Kellogg, Hershey's company, Unilever, and General Mills.
Future Global Economic Uncertainty
As mentioned earlier, Nestlé is a company that has built a global supply chain distribution system that requires the cooperation of dozens of distinct supply chains and regulatory bodies. Therefore, global shocks and events such as pandemics, recessions, wars, and political upheaval are significant threats to the company's business model.
Also, certain experts have predicted a significant shift away from globalization and increasing trends toward protectionism. This will have profound effects on the Nestlé business model, which has been one of the greatest beneficiaries of the current globalist model driving the economies of many countries today.
Unfavorable Changes In Government Policy
Nestlé is a company that operates across a wide range of regions, each of which has unique taxation and health regulatory laws. This puts the company at the mercy of these governments and requires significant resources to navigate all the red tape associated with the bureaucratic process. Thus, unfavorable changes in government regulation, such as increased taxes or certain import bans, could cause the company to raise its prices or hinder them from marketing certain products within the region.
Climate Change
Nestlé is a world leader among businesses when it comes to investing in sustainability and supporting innovative technologies aimed towards mitigating the effects of climate change. However, there is more to this than simply the company's dedication to creating shared value with its consumers. Companies such as Nestlé rely heavily on agricultural and water resources and would be one of the first affected by climate change.
Therefore, climate change and all the consequences associated with it or one of the biggest challenges to the continued survival of the company. It will lead to water scarcity, lower agricultural outputs due to unfavorable weather conditions, increased pests, and diseases, as well as reduced consumer purchasing power across a wide range of regions.
Conclusion
Nestlé is more than just a global brand, it is a repeatable colossus in the food and beverage industry. It has deep-reaching fingers in nearly every aspect of our lives, and their decisions, to a large extent, affect our consumption habits. The brand is still standing firmly in its position at the top of the industry, and despite the controversy surrounding it, it does not seem poised to relinquish its hold anytime soon.