The dropshipping business model is, in short words, a store that doesn't have a stock. It purchases the products from a third-party supplier – commonly a wholesaler or a manufacturer – who ships them directly to the end consumer. So, there is no need for inventory and the seller doesn't have to handle the product. It is usually a good option for entrepreneurs, especially beginners, because there is no need to open a brick-and-mortar store, and that normally means smaller investments. So, the drop-shipper is essentially a middleman. It's possible to build a sustainable business from a simple laptop.
How dropshipping works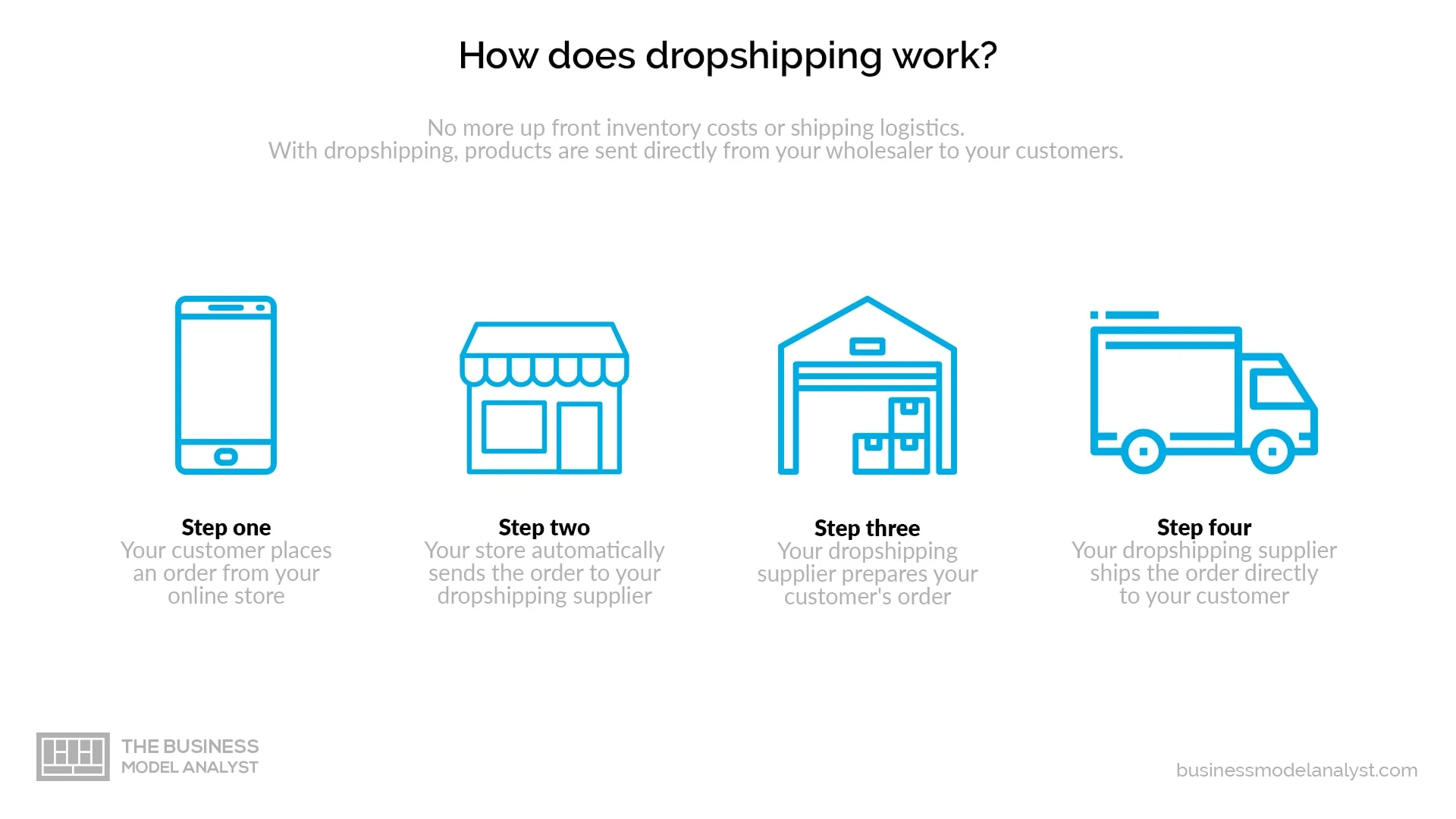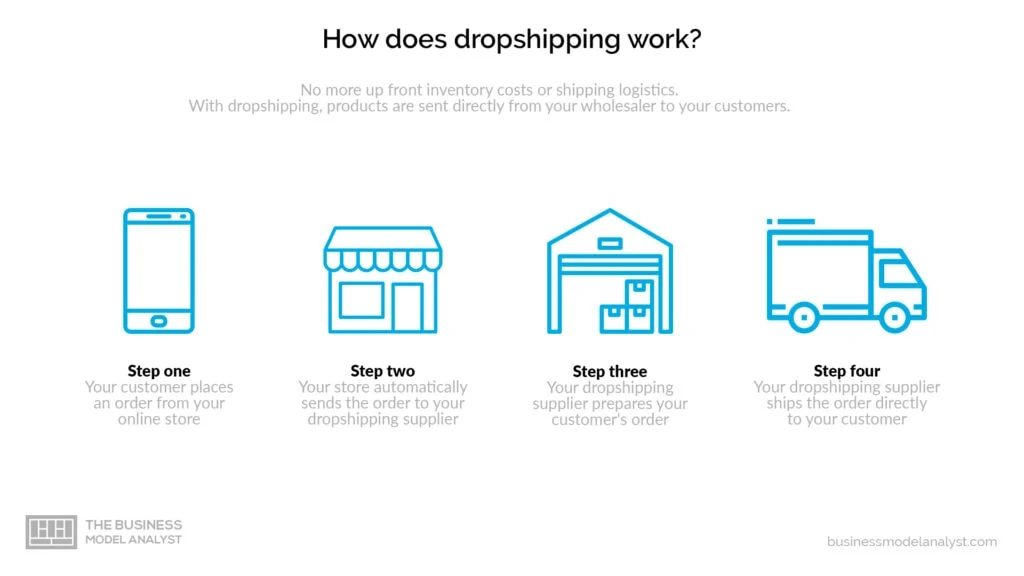 There is a partnership between an online retailer and a supplier. The retailer passes the orders to the supplier, which will package and ship the items directly to the end customer, but in the retailer's name. Virtually any product can be dropshipped. Some of the most successful are beauty and health, drones, jewelry, pet products, tech supplies and accessories, and more. In order for the dropshipping business to be profitable, it is important to find good suppliers and market to the right audience. This way, the profit margins range from 15% to 45%, and, for some luxury items, it can reach up to 100%.
Dropshipping Business Model Canvas
Let's see the Dropshipping business model in the business model canvas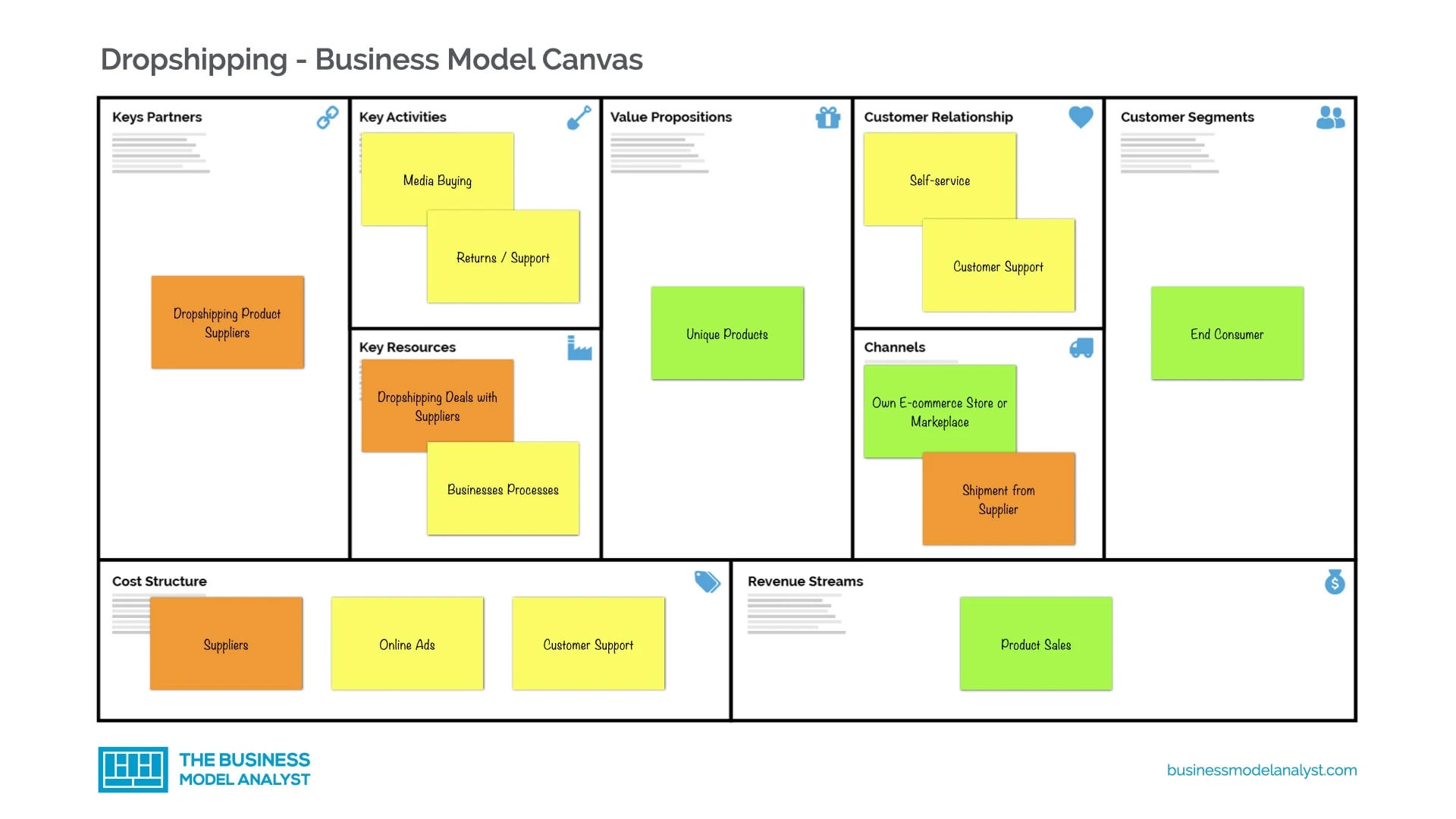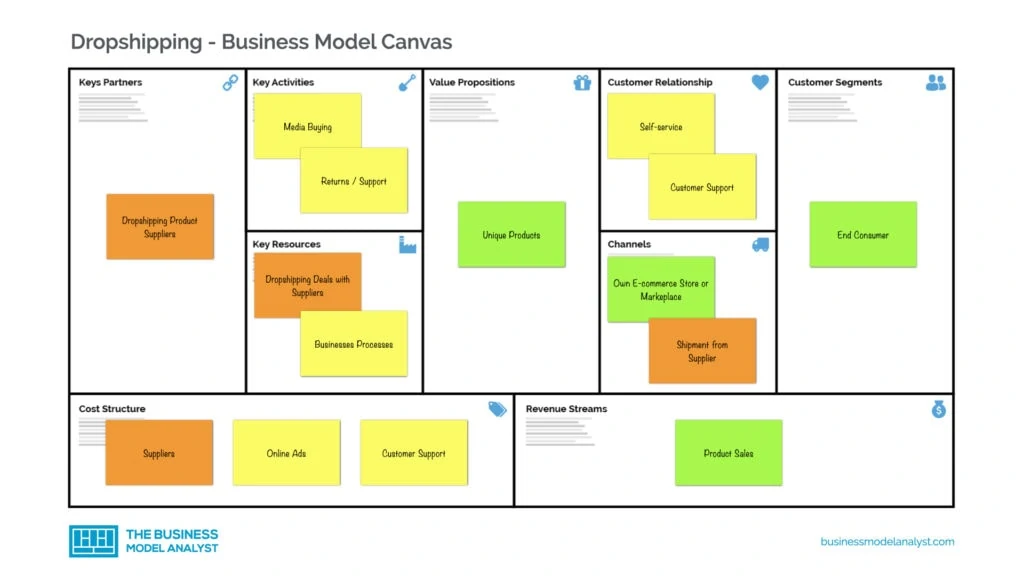 Dropshipping Customer Segments: Dropshopping business targets end consumers who are usually just scrolling social media a may buy impulsively at a low Cost of Acquisition. Dropshipping Value Proposition: The model usually try to offer something unique, that's not usually widely available at general stores. Dropshipping Channels: businesses usually have their own e-commerce store or use third party marketplaces. The product is shipped directly from the supplier. Dropshipping Customer Relationship: Sales self-service to keep cost low, but serious dropshippers need a good customer support in place to deal with delivery issues and returns. Dropshipping Revenue Streams: product sales are the only revenue stream. Dropshipping Key Resources: Deals with suppliers and good set of business processes are fundamental resources. Dropshipping Key Activities: Media buying is a key activity, as well as customer support. Dropshipping Key Partnerships: The most important partnership is with the product supplier. It's quality has direct impact on customer satisfaction and business health. Dropshipping Cost Structure: the biggest cost is the supplier product costs, followed by ads and customer support.
How to start a dropshipping business
There are four main steps to start a dropshipping business. They are:
Select the niche and product. You need to define who you are going to sell to, and, then, find out some in-demand products to sell them.
Choose a domain name. As your store is going online, you must select a good name that matches your niche, so the customers may find you online more easily.
Define a hosting platform. There are some options for hosting your store online. Some platforms are totally automated, and others are more basic. You have to establish the necessary features and check the costs involved to decide.
Select a plugin. Plugins may easily connect your store to good suppliers, by automating the import of products directly from their warehouses.
Of course, like with any other business model, dropshipping has many benefits and disadvantages, and it is important to get familiarized with them before deciding if that will work out for you.
Benefits of dropshipping business model
Smaller investment
As mentioned above, the biggest advantage of starting a dropshipping business is precisely the low investment, since there is no need to create an inventory upfront. The products will only be purchased as long as the sale is already made and paid for by the customer. Thus, you are able to build your business from your laptop. And, even when it grows, the costs will probably keep low.
Easy to start
As you won't need to handle physical products, you don't have to manage a warehouse, pack and ship the orders, track inventory, deal with returns, etc. So, you don't need to have any prior experience, you may get a start and learn the rest as you go on.
Flexibility
As said above, you can run your store from a laptop – all you need is an internet connection, in order to communicate with both suppliers and customers. Moreover, you'll be the boss and you can set your own rules, and work at the most convenient hours and frequency for yourself. Also, you may easily test new products and marketing strategies, whenever you want. And, when you take a vacation, for example, you might automate the whole process.
A wide selection of products
You don't have to purchase (and stock) the products you sell unless they are already sold. Then, you can offer a wide range of products, because you can list any new item with no additional cost.
Easy to scale
In a traditional store, when you have more orders, you have more work. But, when it comes to dropshipping, the orders are almost totally processed by the suppliers, that's why you are allowed to expand your business, with less incremental work. And the costs won't change a lot as well.
Disadvantages of dropshipping business model
Low margins
The dropshipping business is so easy to get started that you will probably have many competitors, and that can knock down the prices, this fierce competition may hurt the potential profit margins.
Shipping costs
When you deal with several suppliers, you will have to deal with different shipping costs. So, you will need to calculate carefully the expenses, in order to build a profitable business.
Supplier mistakes
Your supplier is likely to make a mistake. And, even though you are not able to control the process and avoid that, you will have to take responsibility and apologize to the end consumer – who actually bought from your store. Moreover, if your supplier is up to any illegal activities, as the vendor, you'll be complicit.
Low customization
As you don't have a lot of control over the product, it is more complicated to have custom-made and branded items. Any alterations usually require a minimum order quantity to be viable. That also makes it more difficult to build customer loyalty, since there is no branding strategy.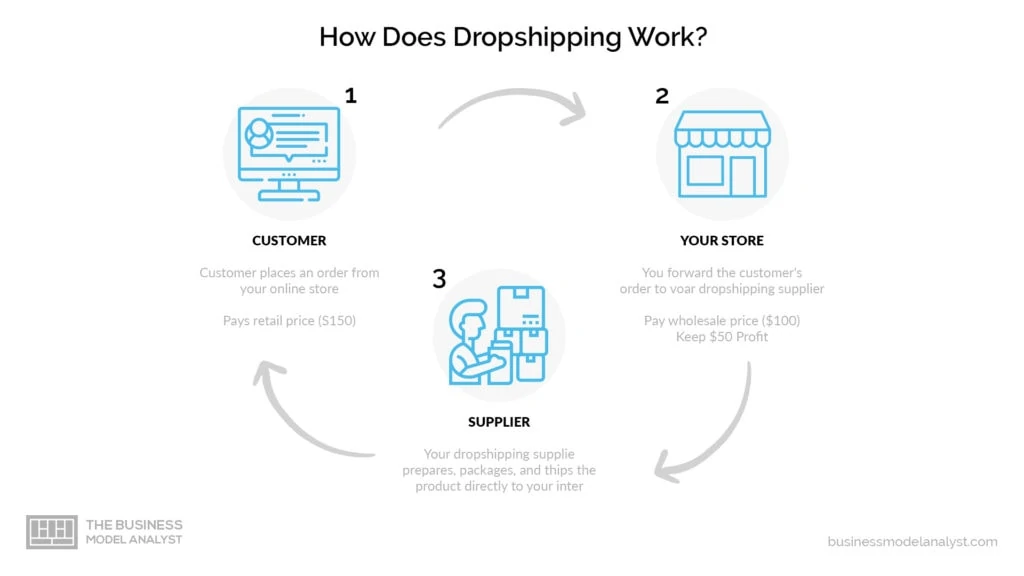 How to choose the right suppliers
And you must have noticed, selecting good wholesalers and/or manufacturers is essential for the success of your venture. So, before you establish any partnership, take a look at the checklist below:
How long does the supplier take to fulfill an order and deliver?
What is its policy regarding returns and damaged products?
Does it have any insurance policy and fraud protection?
How is the customer support?
What are its references online like?
Finally, always have in mind that drop-shippers, as said above, work as middlemen. They select a mix of products and market to the end consumer. So, besides choosing suppliers, you must establish the importance of evaluating the market and the products available.