The PayPal business model is a fintech, and also a classic two-sided platform. On one side, there are merchants, the businesses that use PayPal services in order to make financial transactions, with security and trust. On the other side, there the consumers, the users, mostly individuals, who will make payments through the platform, inside the merchants' websites. If you think back some decades, sending money overseas was a big problem, and PayPal offered a revolutionary solution, by allowing the transactions to be done in a much simpler and cheaper way than banks and other financial companies. Nowadays, PayPal reaches over 200 countries and more than 300 million users all over the world. Let's understand how PayPal's business model has grown so much over the past years.
A brief history of PayPal
PayPal was founded in 1998 and launched one year later, as a money transfer system of Confinity. Back then, Confinity had a strong competitor, X.com, founded by Elon Musk. Instead of fighting for the market, both merged, grew, and took over the industry. The great advantage of PayPal business model was using the dollar as an exchange currency and e-mail as a transfer medium. Any customer could just open an account online, and either deposit money or link it to a bank or credit card account. Within only eight months, the company grew from 12,000 to 2.7 million accounts. And in the summer of 2001, it exploded to nine million users and over 120,000 transactions every day. With these high figures, PayPal went public in 2002 and was acquired by eBay not much longer later.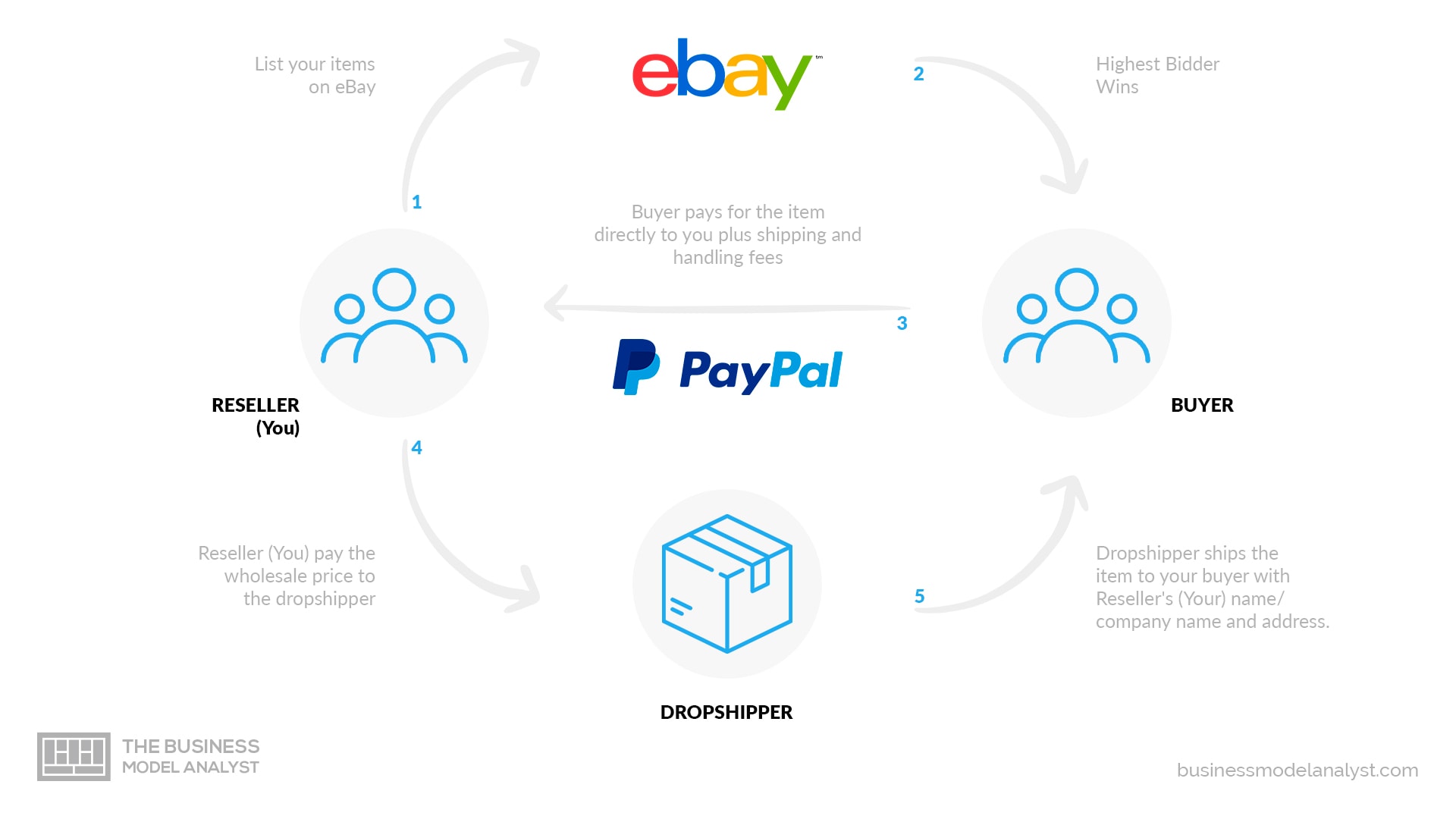 The reasons for the purchase have never been completely explained by eBay, but it is known that 60% of PayPal's transactions were from eBay auctions. And most PayPal users were coming from eBay, who were already used to the payment platform. Currently, PayPal has become the most powerful financial tool in the world, leading online payment solutions.
PayPal solutions
Digital wallet: you can save and access details of your debit and credit cards through your PayPal account, being able to shop and transfer money simply via PayPal ID and password.
One-Touch: PayPal technology allows you to save login details on your personal device, so you can checkout at websites without even typing username and password.
Money transfer: you are able to transfer money to more than 200 countries and over 100 currencies, both to and from a bank account or a PayPal account.
Payment gateway: with a business account, you can sell online and offline and receive payments via PayPal.
Debit card: a PayPal debit card works just like any other bank's, so it can be used to shop (online or offline), withdraw money, and earn rewards over your purchases.
Credit: you are able to get a no-interest credit of $99 – or more if the payment is entirely finished within six months.
Capital loan: a daily payable loan with a lower fee than banks.
PayPal Business Model in a nutshell
Let's take a look at the Paypal Business Model designed in the Business Model Canvas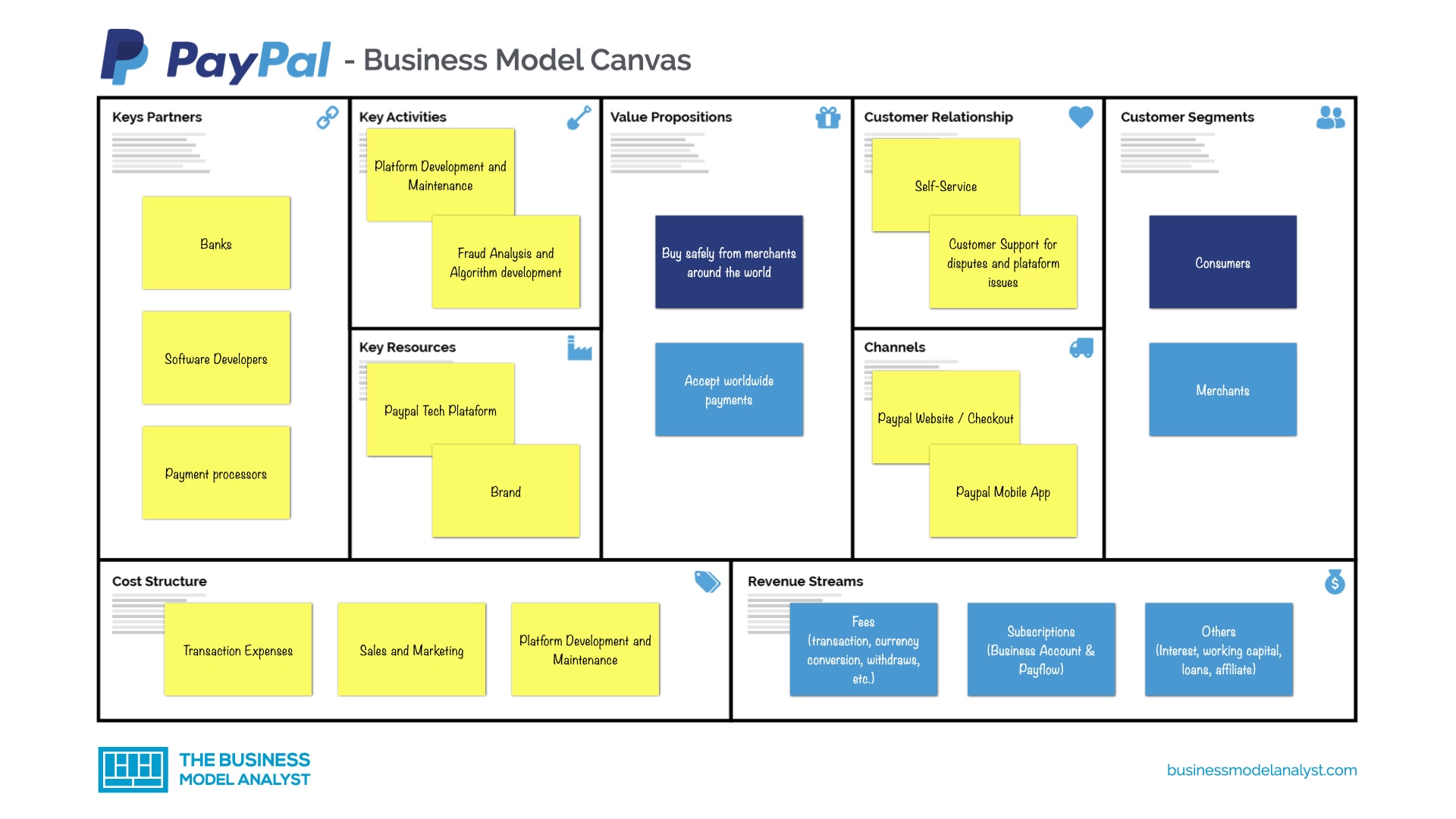 Download High-Resolution PDF of the Paypal Business Model Canvas Now, let's take a look at the elements of PayPal Business Model.
Customer Segments: as PayPal is a two-sided platform, there are two customer segments, consumers and merchants. Consumers are the individuals who shop, send and receive money. Merchants are the businesses that accept payments, both online and offline.
Value Proposition: convenience, security, a trustful brand, and global scale.
Channels: the main channel is PayPal's website, where the customer has most of the transactions. Moreover, there are the Paypal mobile app, as well as Venmo and Xoom, two mobile payment subsidiaries.
Customer Relationships: PayPal is basically self-service, without interaction with the company's team. Anyway, there are more than 8,000 employees in customer service. Besides, the company offers its Buyer and Sellers Protection Programs, in order to ensure satisfaction and confidence on both sides.
Revenue Streams: the revenue streams are mainly transaction fees, but there's much more than this. They are better described in the next item, about the sources of income of PayPal.
Key Activities: mainly platform management between three parties: consumers, merchants, and banks., both for its website and mobile app.
Key Resources: its global technology platform, bank financing, and human resources.
Key Partners: banks, payment processors, software developers.
Cost Structure: PayPal has a cost-driven structure. Its biggest cost is the transaction expenses. Moreover, there are customer support, sales and marketing, product development, operations, and general expenses.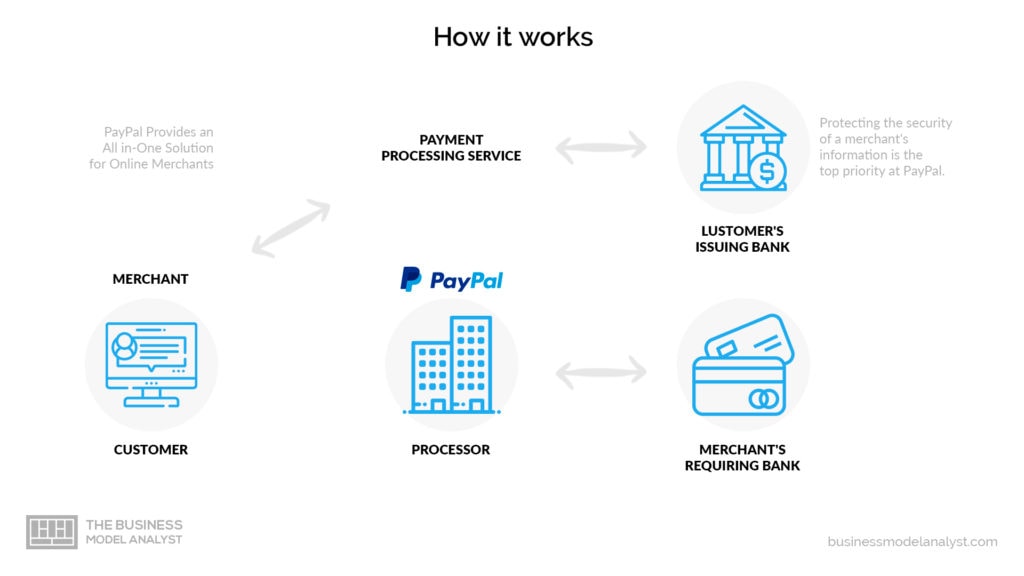 How PayPal makes money
Transaction fees
Regarding individuals, PayPal charges a fee that changes according to the country, each time you send and receive money online. This fee is calculated on the amount sent using a debit or credit card, or PayPal credit. As to business accounts, merchants who use PayPal to sell online pay a fee of 2.9% on the amount they receive for sale, plus US$ 0.30 per transaction. However, bigger amounts have their fees reduced.
International payments
When receiving payments from different countries, PayPal charges fees that include currency conversation costs besides the international payment fee-fees also vary according to the currency.
Business accounts
The Payment Pro-business accounts have some special resources and services, at a cost of $30 per month.
Withdrawal fees
You can receive money through a custom link, but PayPal will charge you when you withdrawal the amount. In the USA, the fee is 2.9% of the total received, plus $0.30. Also, the company charges a fee for each time you withdrawal money with your debit card.
Interests
The money kept in PayPal is deposited in liquid investments, that provide interests as revenue.
Payflow
Payflow is the gateway the merchant accounts can integrate into their websites. There is a free plan, by which the customer enters the payment details on a page hosted by PayPal, and there is a premium option, at a cost of $25 per month, by which the user may design their checkout page. Moreover, PayPal charges a fee of $0.10 for credit card payments and offers other optional features, such as fraud protection, recurring billing, and buyer authentication.
Working capital
You can borrow up to 15% of the last 12 months of sales (up to $85,000). There are no interests and the fee is fixed, and the payments are made as a percentage of PayPal sales. The larger the percentage allocated, the lower the fee.
Business in a box
PayPal offers some solutions in association with Xero and Woo Commerce, and the company earns an affiliate commission on that.
Credit Interest
If you use a credit of $99 or more, paid fully within 6 months, you don't pay for it. But, for any other conditions, the annual percentage rate is 19,99%, counting from the posting date.
PayPal Here
It is an offline mobile application and card reader, that allows you to receive payments from any kind of card.
Other companies
PayPal owns other companies, such as Braintree, Xoom, and Venmo, that add value and revenue sources to the company.