The BlockFi business model involves lending, borrowing, or providing financial services for cryptocurrency assets, as well as offering trading services coupled with financial advisory services. BlockFi generates most of its revenue through interests charged on loans, management fees, and of course, trading fees. 
BlockFi is a financial services provider in the crypto space. It was initially created to provide credit services to markets with limited access to financial products such as fixed deposits, term insurance, motor insurance, recurring deposits, and government bonds. 
In this article, we'll cover everything you need to know about BlockFi's business model, including who owns this company, how it works, how it generates money, and its key competitors. 
A brief history of BlockFi
BlockFi is a New York-based financial services company founded in 2017 by Texas State University graduate Zac Prince and Cornell University graduate Flori Marquez. The company aims to bring the power of institutional-grade financial products to individual investors and to make it easier for people to access and use crypto assets in their everyday lives.
BlockFi's initial focus was on providing crypto-backed loans, allowing individuals and institutions to borrow cash or stablecoins against their crypto assets as collateral. This service quickly became popular among investors looking to access liquidity without selling their crypto holdings. This, in turn, helped establish BlockFi as a trusted player in the crypto lending space.
Over time, the company has expanded its offerings to include a range of financial products and services. This includes interest-bearing accounts that pay interest on crypto holdings, a trading platform that allows users to buy, sell, and trade crypto assets, and financial advisory services to help customers understand and navigate the crypto market.
After the outbreak of the deadly coronavirus disease, BlockFi raised $350 million in a Series D funding round. This was led by Morgan Stanley, whose actions saw the company's valuation rise to more than $3 billion. But even before then, it had been snowballing rapidly, hiring hundreds of employees and expanding its operations around the globe.
BlockFi is also known for its commitment to security and regulatory compliance. They've been working closely with regulators to ensure that all of its products and services comply with local laws and regulations. 
Who Owns BlockFi
Zac Prince owns BlockFi. That said, it's important to note that BlockFi is a privately held company. This means that details of its ownership structure are not publicly available. 
BlockFi Mission Statement:
According to this company's official website, BlockFi's mission is "To earn interest, borrow cash, and trade crypto from the most trusted financial services provider in crypto."
How BlockFi works
BlockFi is a financial services platform that offers a variety of services. One of the most widely used services is the issuance of loans. Under this platform, you can borrow loans in cash or stablecoins. These loans are backed against your crypto assets as they serve as collateral. 
BlockFi allows its users to borrow loans with interest loans that charge as low as 4%. You can receive funds on the same business day, making it a very lucrative platform. Afterward, you can pay off the loan as early or late as possible with no prepayment penalties. 
You can access loans using cryptocurrencies such as Bitcoin, Ethereum, and Litecoin, just to mention a few. But, suppose you want to access a loan; you must start by creating an account with the platform. You must then deposit your crypto assets, including Bitcoin and Ethereum, into your BlockFi account. 
Once the loan is approved, you can withdraw the funds and use them however you intend to. But you must know that should the collateral's value drop to a point below the threshold, the user may be required to add even more collateral which or repay the entire loan. 
BlockFi's interest accounts, also known as BIAs, allow users to earn interest as high as 8.6% every year on their cryptocurrency accounts. This works by BlockFi using the users' deposits and loaning them to institutions and corporate borrowers. 
These borrowers pay interest to BlockFi, which in turn translates to interest for the initial users who deposited with the platform. 
How BlockFi makes money
BlockFi makes money through four primary channels: 
Withdrawal fees 
Trading fees/Spreads 
Interests in crypto-backed loans 
Rehypothecation
Withdrawal fees simply refer to the charges levied on a user when they withdraw funds from their platform. Trading fees refer to those fees which are charged on the total value of the trade, while interests in crypto-backed loans refer to the amount BlockFi makes for availing these loans to its users. Lastly, rehypothecation reuses collateral assets pledged to it as if these were its own propery.
Withdrawal fees
BlockFi charges a withdrawal fee on the withdrawals made on its platform. Sometimes, they charge a flat rate, while other times, they charge a percentage of the total amount being withdrawn. Either way, withdrawal fees are one of the primary channels through which BlockFi makes money.
Trading fees/Spread
The trading fee is typically the amount charged on the total value of a trade. This depends on the asset or commodity being traded. This crypto financial service provider also makes money by earning the spread, which simply refers to the difference between the asking price of an asset and its bid price.
Interests in crypto-backed loans
Like a traditional financial institution, BlockFi also makes money by charging interests on its crypto-backed loans.
Rehypothecation
This is a process where a financial institucion, such as BlockFi, reuses collateral assets pledged to it — like bank deposits and loan collateral —, as if the assets were its own property.
BlockFi Business Model Canvas
The BlockFi Business Model can be explained in the following business model canvas: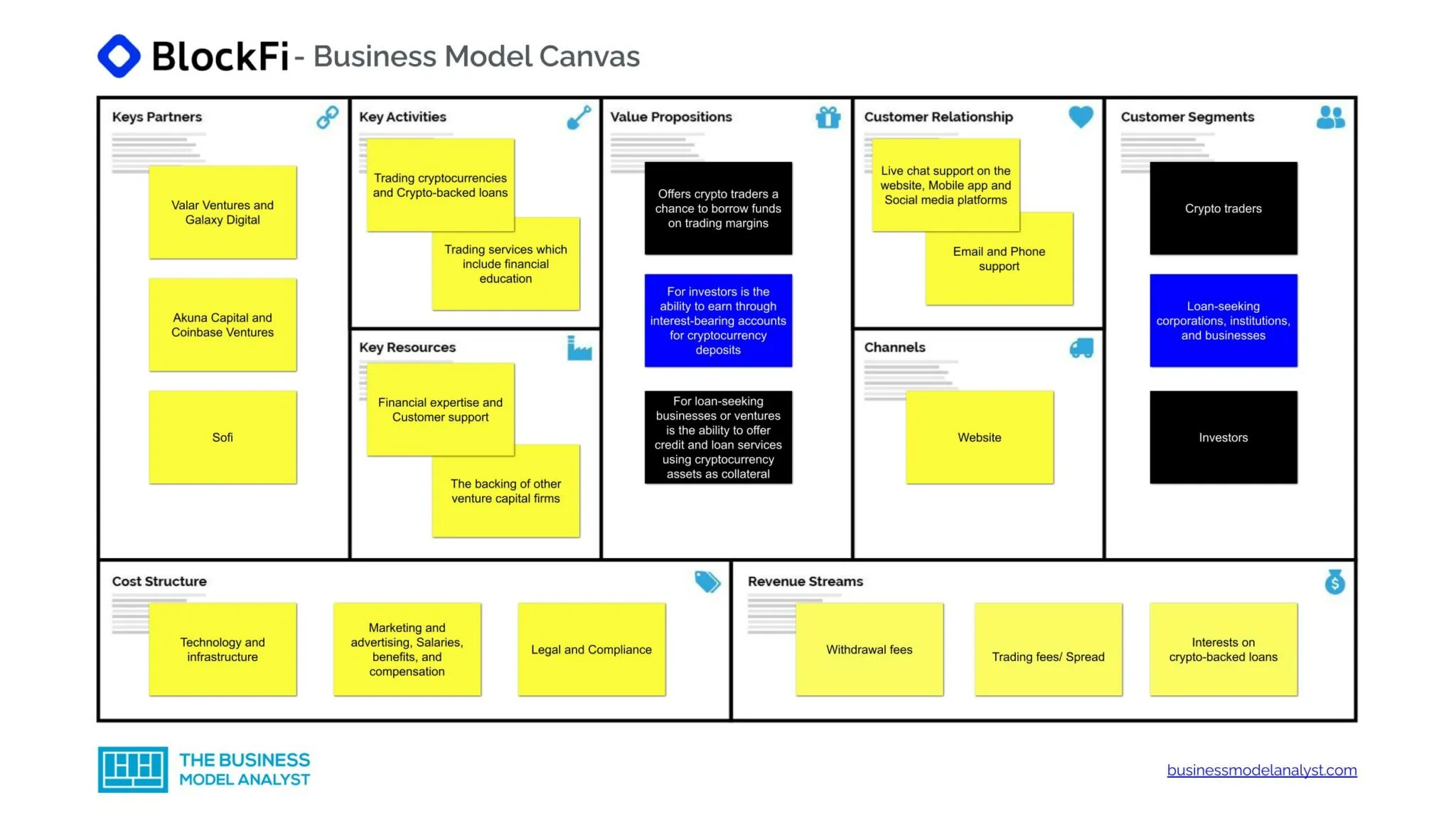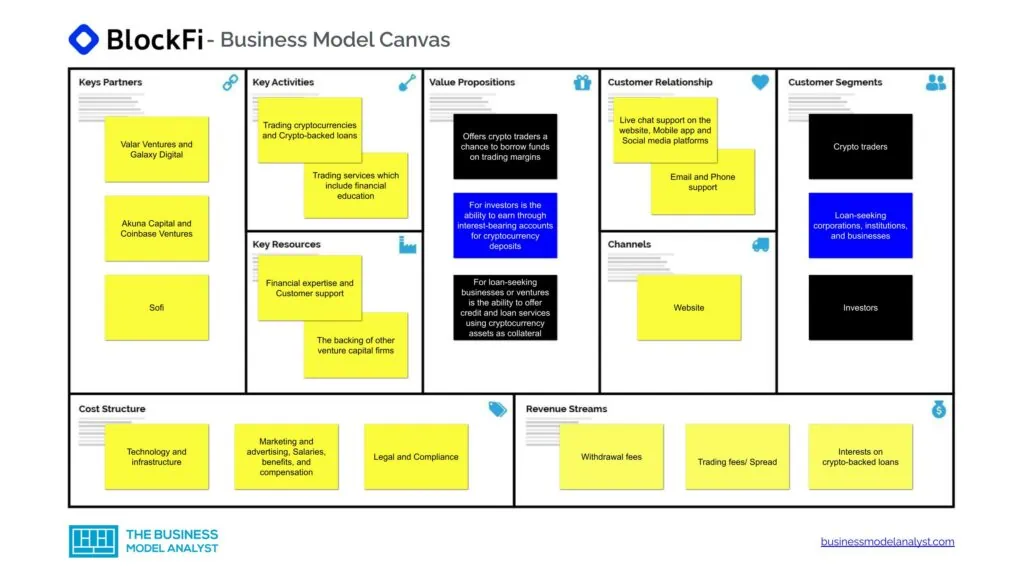 BlockFi Customer Segments
BlockFi customer segments consist of:
Crypto traders: Perhaps the primary customers of this crypto trading platform, crypto traders borrow funds or earn interest on their deposit accounts;
Loan-seeking corporations, institutions, and businesses: As mentioned earlier, this platform allows businesses or loan-seeking corporations to access credit to fund their business operations;
Investors: Investors looking to earn money in the shape of interest greatly benefit from the platform, as they can deposit their crypto holdings into an interest-bearing account. Doing this will allow you to earn a return on your crypto asset without selling it. 
BlockFi Value Propositions
BlockFi value propositions consist of:
BlockFi offers crypto traders a chance to borrow funds on trading margins: Margin trading and lending services offered by this platform allow traders to increase their returns on investments potentially. The access to trade with leverage while using crypto assets as their primary collateral can be a means to enjoy greater buying power and returns;
BlockFi's value proposition for investors is the ability to earn through interest-bearing accounts for cryptocurrency deposits: As a general investor, you can earn interest through returns courtesy of the crypto holdings accounts. And you don't have to sell these assets to earn your profit;
BlockFi's value proposition for loan-seeking businesses or ventures is the ability to offer credit and loan services using cryptocurrency assets as collateral: Through this platform, businesses can enjoy access to funds that could allow them to further their operations or meet their financial obligations. Not only that, but BlockFi offers a range of other financial services, such as interest-bearing accounts for crypto deposits and trading services. Such services can provide them with additional options for managing their crypto assets and generating returns.
BlockFi Channels
BlockFi channels consist of:
BlockFi Customer Relationships
BlockFi customer relationships consist of:
Live chat support on the website
Mobile app (iOS and Android)
Email support
Phone support
Social media platforms
BlockFi Revenue Streams
BlockFi revenue streams consist of:
Withdrawal fees
Interest fees/Spread
Interests in crypto-backed loans
Rehypothecation
BlockFi Key Resources
BlockFi key resources consist of:
Financial expertise: One of BlockFi's key resources is its financial and technical professionals with industry knowledge and experience, allowing them to provide a host of cryptocurrency-related services;
Customer support: One of the most talked about aspects of BlockFi is its customer support. This platform is known to offer some of the most compelling customer services in the crypto industry;
The backing of other venture capital firms: BlockFi has a decent amount of capital from venture capital firms and other investors. They've used this capital to support the company's operations and growth.
BlockFi Key Activities
BlockFi key activities consist of:
Trading cryptocurrencies: BlockFi allows customers to trade their crypto assets through its simple and user-friendly interface. This makes it perfect for people with no trading experience to navigate the platform and make their trades easily;
Crypto-backed loans: Providing crypto-backed loans is one of the key activities at BlockFi and an integral one to BlockFi's business model;
Trading services which include financial education: This platform allows its users to buy and sell a variety of crypto assets, including bitcoin and Ethereum. 
BlockFi Key Partners
According to BlockFi's official website, this platform has set itself apart by being the only independent leader with backing from investors such as:
Valar Ventures
Galaxy Digital
Akuna Capital
Coinbase Ventures
Sofi
Although not much about BlockFi's partners is known, some of the partners that have gone into business with this trading platform include Gemini, Celsius, and BitPay. 
BlockFi Cost Structure
BlockFi's cost structure includes the following:
Technology and infrastructure
Marketing and advertising
Salaries, benefits, and compensation
Legal and Compliance
BlockFi Competitors
Gemini: Founded in 2014, Gemini is a digital asset services provider based in New York. Users can trade a multitude of digital assets on this platform, including Bitcoin, Zcash, and Ethereum;
Robinhood: Robinhood is a commission-free stock trading and investing app that allows the trading of stocks, EFTs, and other options. This platform is widely known for its user-friendly interface but, most importantly, its lack of trading fees or commissions. 
BlockFi SWOT Analysis
Below, there is a detailed swot analysis of BlockFi: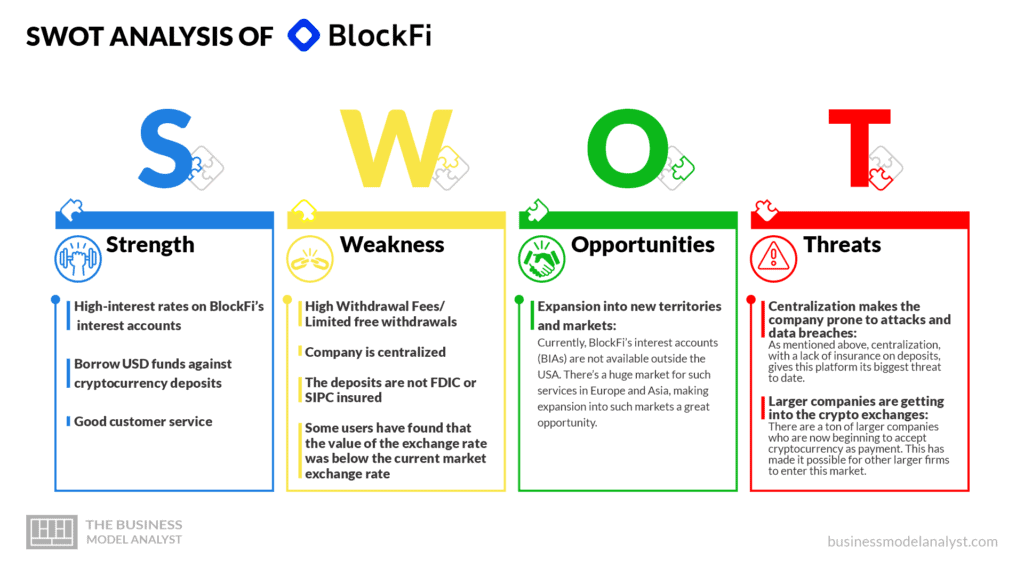 BlockFi Strengths
High-interest rates on BlockFi's interest accounts (BIAs):  BlockFi attracts customers who are looking for high returns on their investments because they offer high-interest rates on BlockFi interest accounts (BIAs);
Borrow USD funds against cryptocurrency deposits: (up to 50% of the value of the collateral): This offering allows customers to access credit and overall liquidity without having to sell their crypto assets;
Good customer service: BlockFi is well-known as a great customer service provider. This has helped spring BlockFi's overall reputation.
BlockFi Weaknesses
High Withdrawal Fees/ Limited free withdrawals: Customers have vented about the high fees they have to pay when they want to withdraw their assets. This can be frustrating as it eats into their returns, making it less appealing to keep trading on this platform;
Company is centralized: Decentralization enhances security, making a company less vulnerable to threats and security breaches. For instance, back in 2020, this platform suffered a data breach. Although they claim that no funds were lost, this has already tarnished their brand's reputation as a secure platform;
The deposits are not FDIC or SIPC insured:  The lack of such insurance means that in the unfortunate event of a hack, as mentioned above, assets held by this company are not protected, and as a result, they may not be recoverable;
Some users have found that the value of the exchange rate was below the current market exchange rate:  Some users have claimed that although the fees are relatively low, the value of the exchange rate (while withdrawing USD funds) is lower than the market rate. 
BlockFi Opportunities
Expansion into new territories and markets: Currently, BlockFi's interest accounts (BIAs) are not available outside the USA. There's a huge market for such services in Europe and Asia, making expansion into such markets a great opportunity.
BlockFi Threats
Centralization makes the company prone to attacks and data breaches: As mentioned above, centralization, with a lack of insurance on deposits, gives this platform its biggest threat to date;
Larger companies are getting into the crypto exchanges: There are a ton of larger companies who are now beginning to accept cryptocurrency as payment. This has made it possible for other larger firms to enter this market. 
Conclusion
If you want to grow the value of your cryptocurrency passively, one of the best platforms that will allow you to do so is BlockFi. It provides a great and, in some cases, superior alternative to the traditional services in the Finance and DeFi sectors. This means that you can earn significantly competitive interest rates on your cryptocurrency. 
You can also earn loans relatively easily and quickly to conveniently meet your impending financial obligations. However, the company's business model revolves around centralization coupled with the short track record in the market, making it a bit risky for those looking to invest in the platform.
All said, BlockFi is a solid platform, with a solid business model, for those looking to grow the value of their crypto holdings passively.