The Zipcar business model is a membership-based model centered around providing car-sharing services to its members. The business model uses principles based on collaborative consumption ideology. The idea allows many people to share the same resources rather than owning them individually. The collaborative consumption idea has many advantages for Zipcar customers, the company itself, and the environment. Its benefits for Zipcar members include cost saving and convenience.
Owning a car is far more expensive than sharing one with several other people, especially if the vehicle will be needed just occasionally. Such a brilliant business model also saves the environment from excessive pollution since car-sharing reduces the number of vehicles on the road. And, of course, the Zipcar company makes a good profit from the business model.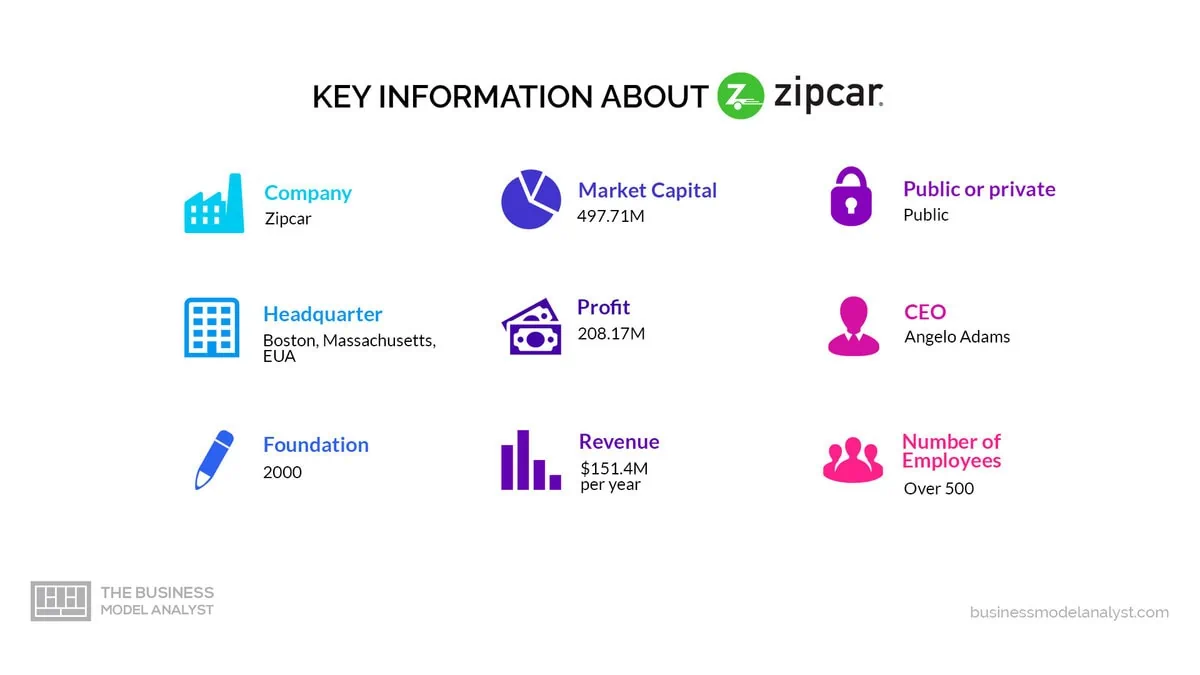 A brief history of Zipcar
Robin Chase and Antje Danielson co-founded Zipcar in January 2000. The company started operations with just a few cars in Massachusetts. The company quickly expanded its operation to other U.S. cities like San Francisco, New York City, and Washington, DC. The company expanded further to the UK in 2004. Its operation in the UK started in London with just a few cars and expanded further to other cities in the UK as the business began to thrive. In 2006, the company expanded to Canada with the Toronto launch. 
The company went public in 2007 as part of the company's effort to raise large funds to expand rapidly. In 2008, Zipcar acquired Streetcar, a UK-based car-sharing company, to expand its own operation further within the UK. As a publicly traded company, Zipcar had to consistently generate high returns for its shareholders while competing keenly with other car-sharing companies. Unfortunately, Zipcar's financial performance wasn't impressive amidst the competition it was facing from other companies and pressure from shareholders. 
In 2013, Avis Budget Group acquired Zipcar for approximately $500. Zipcar got into a stronger financial position after its acquisition in 2013. A few of its operations also became upgraded to offer more flexibility and comfort. For instance, Zipcar launched a one-way car service in 2014 to offer better flexibility. Prior to that time, Zipcar operated a round-trip model. Hence, customers had to return cars to the exact location they picked them up. The practice was sometimes inconvenient. However, the introduction of the one-way trip now allows customers to drop cars off at a location different from where they picked them up.
Who Owns Zipcar
Avis Budget Group owns Zipcar. Avis Budget Group, Inc. is a global provider of the car rental and car-sharing services. In addition to the Zipcar brand, the company owns Avis and Budget brands that both render the same services as Zipcar. 
Zipcar Mission Statement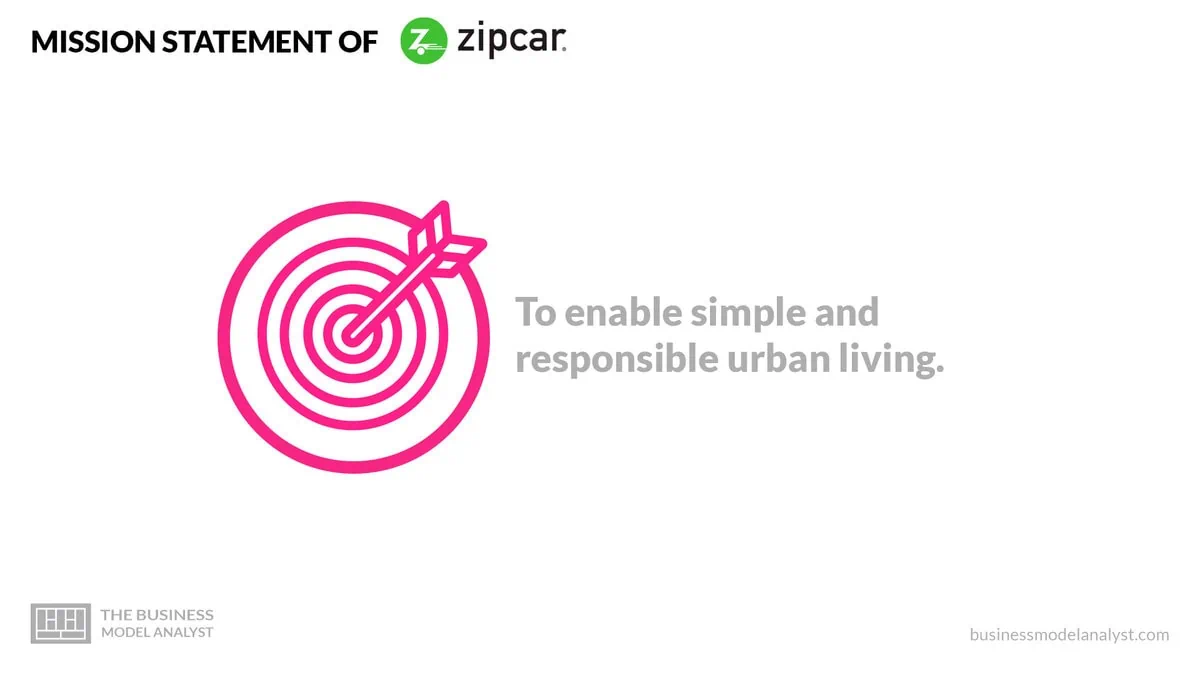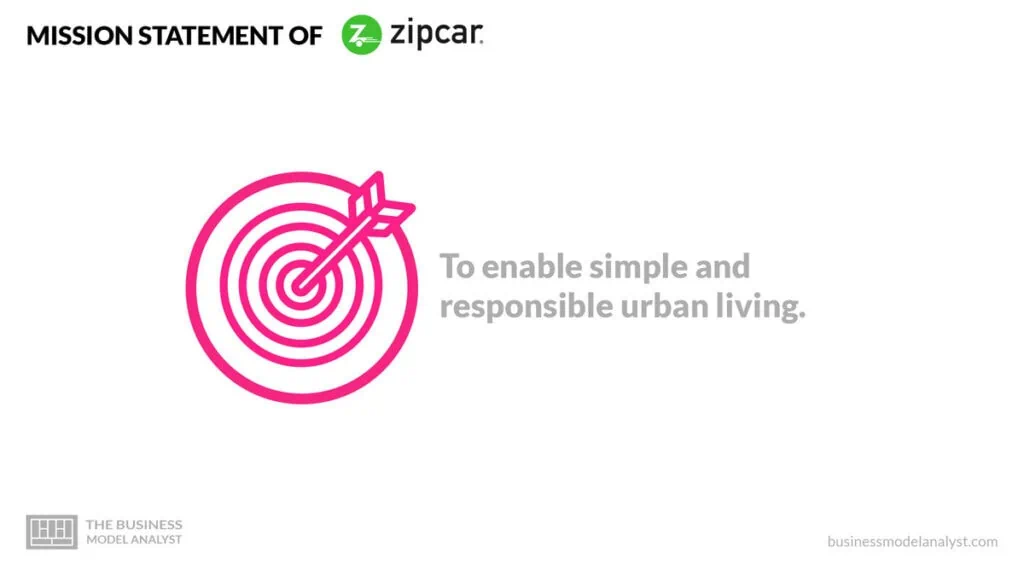 Zipcar's mission statement is "to enable simple and responsible urban living."
How Zipcar works
Zipcar works by rendering car-sharing services to its members. Here are the steps involved in getting a car from Zipcar:
Membership Registration
Anyone who wishes to use Zipcar must first register to become a member of Zipcar. Becoming a member involves online signup, where the new user provides his or her name, address, driver's license, and payment information. New users need to subscribe to a membership plan that suits them. After successful registration, new users will receive an email with instructions on picking up membership cards.
Car Reservation
Members must reserve a car using the Zipcar website or app whenever they need to rent a car. Members will see the list of cars available in their locations. They can choose the type of car they want and where they want to pick it up. Car reservations can last as little as 30 minutes or as long as several days.
Unlock
The Zipcar app will give full instructions on how to gain access to keys and unlock the car. Some cars require the use of membership cards to unlock. 
Drive
Members can drive the car anywhere they desire once they rent it. They are responsible for the cost of fuel and parking fees while their rental period lasts. Members must return the car to the parking spot they chose while reserving it. Any member who returns a car late will have to pay late fees.
Payment
Rental fees will be charged on members' cards based on the duration of the rent. The amount members pay to rent cars varies depending on location and membership plan. The hourly rate ranges between $6 per hour and $14 per hour. Daily rental rate range between $60 to $110.
How Zipcar makes money
Zipcar makes money from the following:
Membership Fee
Zipcar gets an annual fee from all its members. While the company uses the membership fee to cover its operating cost, the company usually has some extra money after covering its operational costs. The extra money adds up to the company's revenue.
Rental Fees
A large percentage of Zipcar's revenue comes from the rental fee. The company uses a portion of the rental fee to expand and manage some of its operations.
Fleet Management Fee
Zipcar recently started rendering fleet management services. The fleet management service is designed to help big organizations manage their vehicle fleets. The fleet management service generates revenue for Zipcar.
Partnership
Zipcar generates money via partnerships with some universities, businesses, and advertisers. Advertisers, in particular, sometimes wishes to offer targeted promotions to Zipcar members. Hence, the reason why partnership deals often exist between Zipcar and advertisers. Such deals generate significant revenue for Zipcar.
Zipcar Business Model Canvas
Let's take a look at the Zipcar Business Model Canvas below: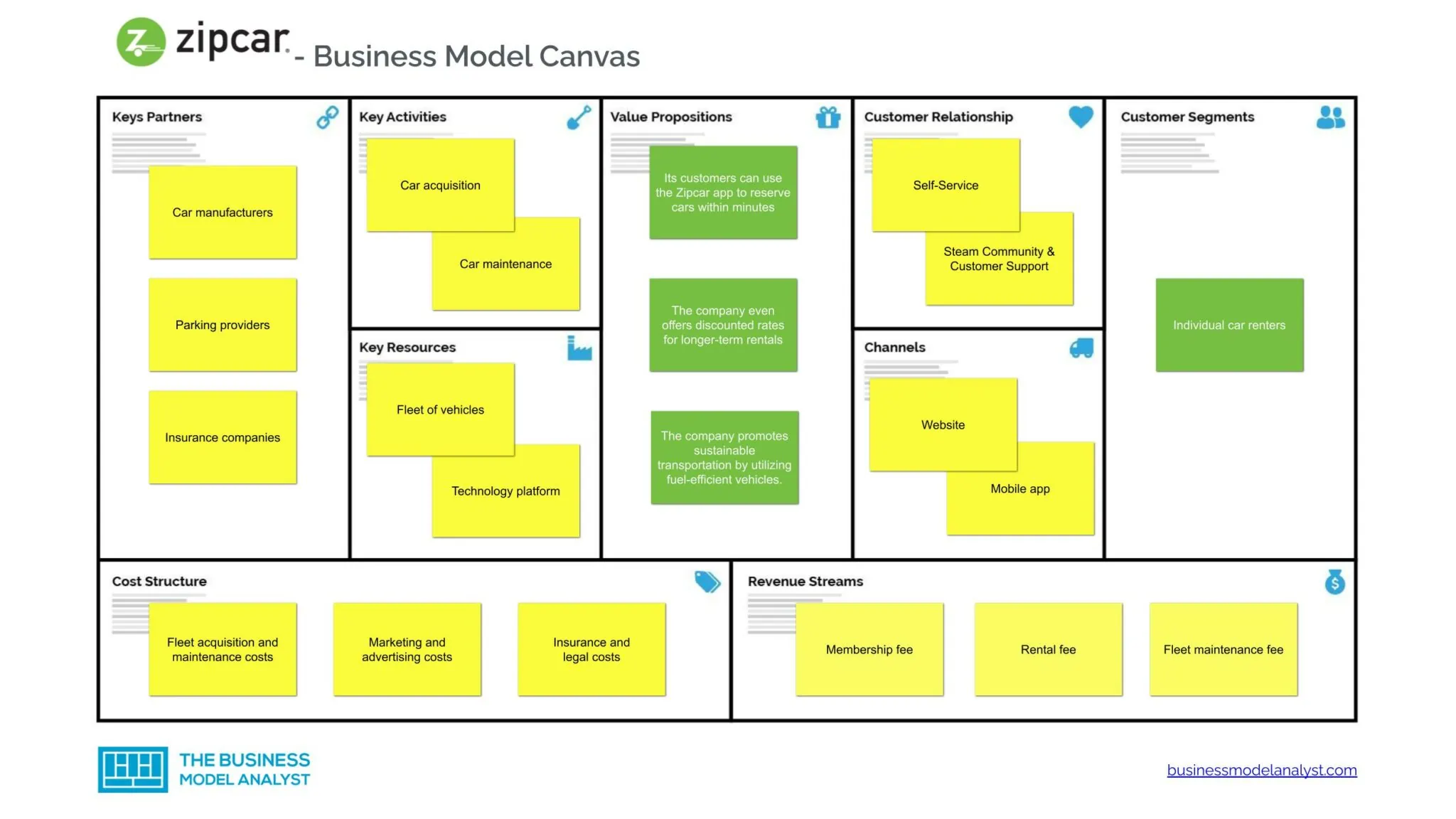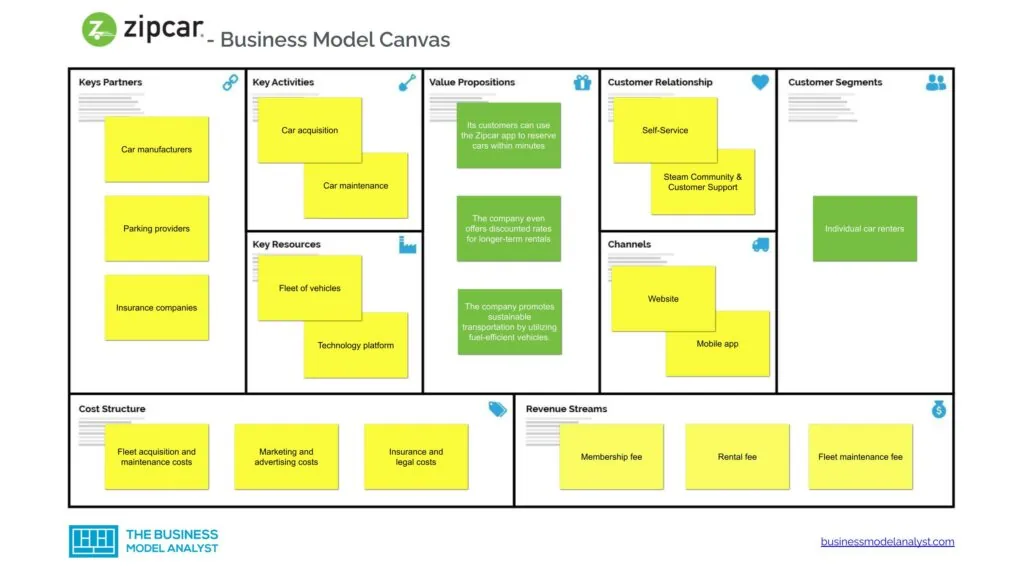 Zipcar Customer Segments
Zipcar's customer segments consist of:
Individual car renters: This segment consists of people who rent cars from Zipcar for personal use;
Small and medium-sized businesses: This segment consists of businesses with just a few employees who sometimes need cars on special business trips or for other business purposes;
Large corporations and government agencies: This segment consists of organizations with a large number of employees who sometimes need cars. Institutions like colleges, universities, and government agencies also fall within this category.
Zipcar Value Propositions
Zipcar's value propositions consist of:
Convenience: Zipcar uses technology that makes things very convenient for all its members. Its customers can use the Zipcar app to reserve cars within minutes, rather than going through the stress of the traditional car reservation method;
Cost savings: The pricing options of Zipcar are very affordable. The company even offers discounted rates for longer-term rentals. The cost of using Zipcar is far lesser than the cost of owning a personal car;
Sustainability: Zipcar's operation is centered around sustainability. The company promotes sustainable transportation by utilizing fuel-efficient vehicles. Also, car-sharing reduces the number of cars on the road and hence reduces air pollution;
Flexibility: Zipcar has varieties of cars for its members. A few examples of the available car it provides include compact cars, SUVs, and even electric vehicles. In fact, the company is working towards using only electric cars in the next decade.
Zipcar Channels
Zipcar's channels consist of:
Zipcar website
Zipcar mobile app
Social media
Zipcar Revenue Streams
Zipcar's revenue streams consist of:
Membership fee
Rental fee
Fleet maintenance fee
Partnership
Zipcar Key Resources
Zipcar's key resources consist of: 
Fleet of vehicles
Technology platform
Employees
Zipcar Key Activities
Zipcar's key activities consist of:
Car acquisition
Car maintenance
Data management
Marketing
Zipcar Key Partners
Zipcar's key partners consist of:
Car manufacturers
Parking providers 
Insurance companies
Maintenance and repair service providers
Zipcar Cost Structure
Zipcar's cost structure consists of:
Fleet acquisition and maintenance costs
Marketing and advertising costs
Insurance and legal costs
Salaries and wages
Administrative costs
Zipcar Competitors
Turo: Turo is an American peer-to-peer car-sharing company. The company links car owners to people who wish to rent cars. Although Turo's peer-to-peer car-sharing service is slightly different from Zipcar's service, the two companies compete directly in the car-sharing market. Turo's peer-to-peer model, in particular, offers a broader range of vehicle options since several individual car owners are willing to share their cars;
Getaround: Getaround is a peer-to-peer car-sharing company, just like Turo. The company operates in several cities in the U.S. The car-sharing options that Getaround offer are very flexible and comfortable. The company also features a mobile app that its customers can use to reserve cars. Its customers can even decide to choose a location delivery option rather than going to a parking spot to get the car they reserved. Getaround's pricings are more affordable compared to Zipcar's pricing, making Getaround a better option for budget-conscious people;
Enterprise Rent-A-Car: Enterprise Rent-A-Car is one of the leading companies in the car rental industry worldwide. The company is well known for its exceptional customer service, which its customers have consistently rated high. The company emphasizes sustainability in various ways. For instance, the company uses fuel-efficient cars like hybrids and high-mileage cars to reduce environmental pollution. Also, it reduces idle time to reduce emissions. Its car rental services are available to individuals, government agencies, and businesses. It offers vehicles like SUVs, luxury cars, trucks, and more;
Uber: Uber is a transportation company that connects passengers with nearby drivers. While this company doesn't use a business model similar to Zipcar, it still competes with Zipcar indirectly. It is an alternative to Zipcar, especially for customers who wish to be driven around rather than driving cars themselves. Uber operates in more than 900 metropolitan areas worldwide and has built a strong reputation.
Zipcar SWOT Analysis
Below, there is a detailed SWOT analysis of Zipcar: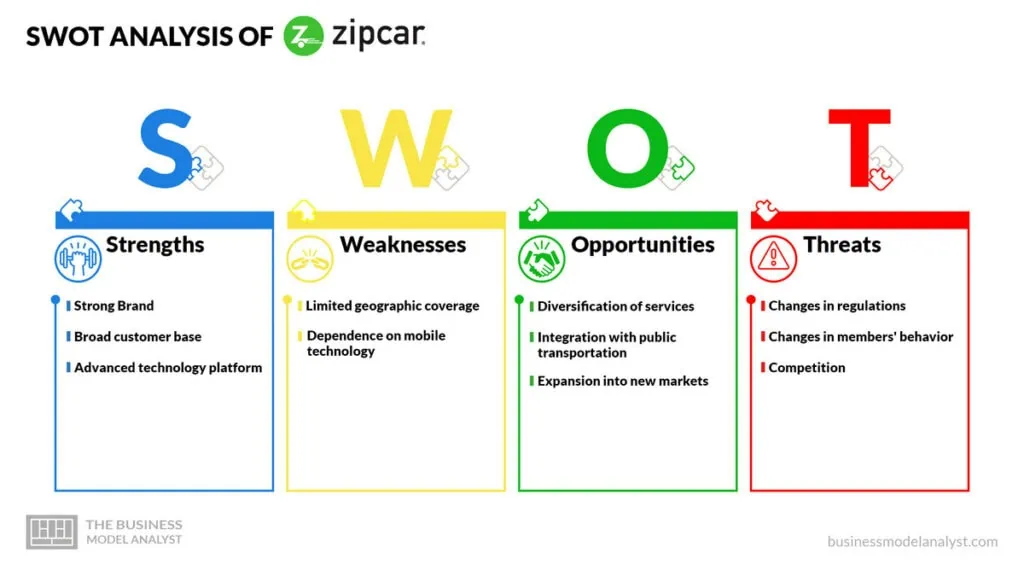 Zipcar Strengths
Strong Brand: Zipcar has operated as a very strong brand for more than two decades. It is widely considered a pioneer in the car-sharing industry. The company's reputation has helped it attract lots of customers, create partnership deals, and lots more. The company's reputation is also the major reason why it has thousands of loyal customers;
Broad customer base: Zipcar customers include a very wide range of demographics. Zipcar currently has more than one million members worldwide. The large customer base helps the company generate large revenue from the annual membership fees its customers pay. It also helps the company achieve growth as the company amends its operation to suit new demands from its members;
Advanced technology platform: Zipcar's advanced technology platform is one of the company's key strengths. The platform has enabled Zipcar to serve its customers efficiently. It also ensures the comfort of all Zipcar users, as they can book vehicles right from the comfort of their homes.
Zipcar Weaknesses
Limited geographic coverage: Although Zipcar operates in many cities around the world, its coverage is yet to be in some parts of the world. Currently, the company focuses on urban areas and top cities around the world. It is high time the company expanded to rural areas also;
Dependence on mobile technology: It's impossible to use Zipcar's services without using mobile technology. While the company works hard to ensure the smooth running of mobile technology, the technology may occasionally experience downtime. And such an occurrence can be very frustrating. It may even discourage some customers from using the Zipcar.
Zipcar Opportunities
Diversification of services: Zipcar has the opportunity to diversify its services within the transportation industry. For instance, it can include bike-sharing options. The company can also start rendering delivery services using its available fleet of cars or render car maintenance and repair services to car owners;
Integration with public transportation: Zipcar can integrate with public transportation to offer more value and comfort to its customers. For instance, integration with public transportation can enable Zipcar's members to seamlessly use public transport for some parts of their journey before they pick up a Zipcar to complete their journey;
Expansion into new markets: Zipcar has the opportunity to expand into untapped markets. For instance, car-sharing services are not yet widely available in places like Asia and Africa currently. Zipcar should increase its operation in such areas to get more members. Also, the company can expand to new markets, even domestically, by venturing into new transportation services.
Zipcar Threats
Changes in regulations: Zipcar's operations are subject to regulations that exist within the company's location. Licensing regulations, parking regulations, and insurance regulations can all pose a threat to the company if they change to become unfavorable to the company;
Changes in members' behavior: The success of Zipcar depends largely on the behaviors of its members toward the company's offers. There is a chance that the behavior of its members changes as new technologies rise. The method of transportation that people will embrace in the future is hard to predict. Hence, there is a slight chance Zipcar will experience a decline due to changes in members' behavior;
Competition: The intense competition that Zipcar faces from other car-sharing companies can be considered a threat to Zipcar. The company needs to continuously differentiate itself from its competitors using various innovative ideas to stay relevant.
Conclusion
The Zipcar business model has revolutionized the transportation industry by offering an affordable and convenient alternative to car ownership. Both individuals and businesses can now have easy access to cars as needed without making any car purchases. The Zipcar business model also reduces carbon footprint, which is really what the world needs right now, as the global warming issue is a major concern. Overall, this business model demonstrates the importance of addressing environmental concerns while offering great value to customers.