Since its creation in 2005, YouTube has become the leading online video platform, with over 1.5 billion active users and 300 hours of content uploaded every minute, so, it's no wonder that businesses are eager to capitalize on this powerful channel. When it comes to platforms for video creators, it seems that there is no other option like YouTube. But is it really the case? Let's explore the YouTube business model in detail, to understand the giant from inside.
A Brief History of YouTube
YouTube was founded by Chad Hurley, Steve Chen, and Jawed Karim — three genius people. How did they come up with the idea? They just wanted to find a video-sharing platform to send videos to each other. When they couldn't find one, they decided to create a new platform themselves.
The first video ever uploaded on YouTube was "Me at the zoo", by its own creators. It was 2005 when the website was officially launched, and it was also the year that YouTube managed to collect its first one million views, with a Nike advertising video that went viral, featuring the famous football player Ronaldinho as the main character.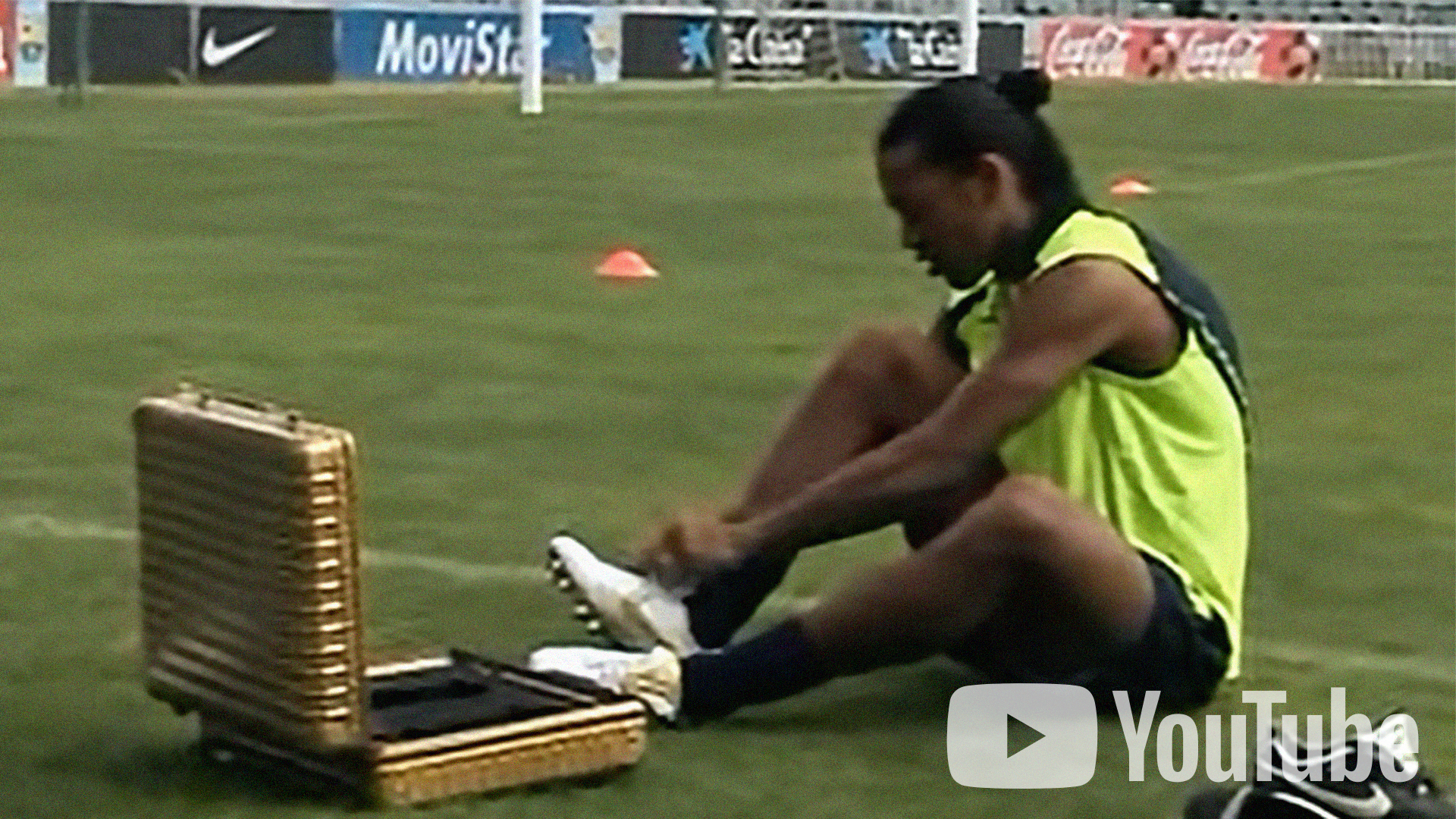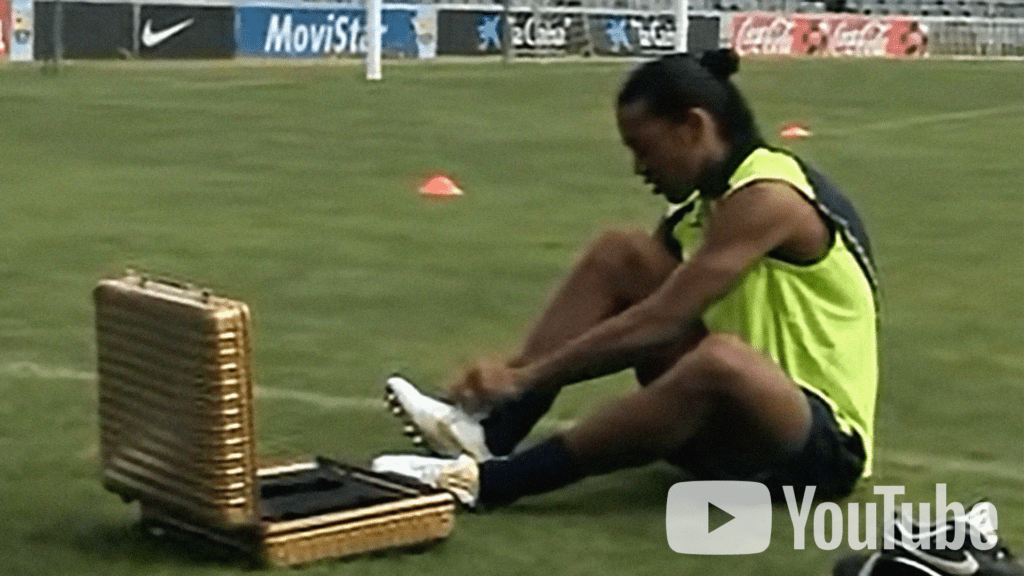 The turning point in YouTube's history was when Google decided to buy it for US$ 1,65 billion. This acquisition made a huge buzz in the media and put YouTube on the road to success, making it the primary platform to search for videos.
YouTube Mission Statement
"To give everyone a voice and show them the world."
How Does YouTube Make Money?
Currently, YouTube is a giant with 2,3 billion users worldwide, who watch around one billion hours of video on the platform on a daily basis.
This loyal army of video watchers brings YouTube around US$ 9 billion in annual revenue!
Now that we know how YouTube started, and what is its mission statement, it's time to reveal the main secret — how does YouTube make money? After all, running such a big platform with so many videos must cost a fortune!
The primary revenue sources we'll discuss shortly include advertising (the largest source of YouTube income), paid memberships, collaborations & sponsorships.
We know you're triggered to learn more. So, let's discuss YouTube's revenue model in more detail.
Advertising
As we've mentioned, advertising is the primary source of YouTube's income. It's being stated in YouTube's official statement. The platform offers two types of advertising: 1) video ads that appear before, during, or after the video and starts playing automatically, and 2) display ads that appear on the right side of the screen or as a banner at the bottom of the screen. According to estimations, in 2021, YouTube generated around US$ 21 bln from advertising.
YouTube Premium
YouTube also offers a premium membership that allows users to watch videos without ads, download videos to watch offline, and have exclusive access to content from YouTube creators. The price for this service is US$ 11.99 per month, and this subscription-based revenue is another income source for the platform.
Super Chat
Another way YouTube makes money is by offering users the chance to pay to have their message highlighted in the chat stream during a live broadcast. This feature is called Super Chat, and it allows fans to directly support their favorite creators. The prices for Super Chat start at US$ 0.99 and can go up to US$ 500.00 per message.
Channel Memberships
Similar to Super Chat, channel memberships offer fans a way to support their favorite creators. From US$ 0.99 to US$ 49.99 per month, YouTube users can access exclusive content, create customized emojis, receive live chat badges, and more.
YouTube Merchandise
Some YouTube creators also sell branded merchandise to their fans as another way to generate revenue. This could include anything from t-shirts and mugs to hats and phone cases.
YouTube Business Model Canvas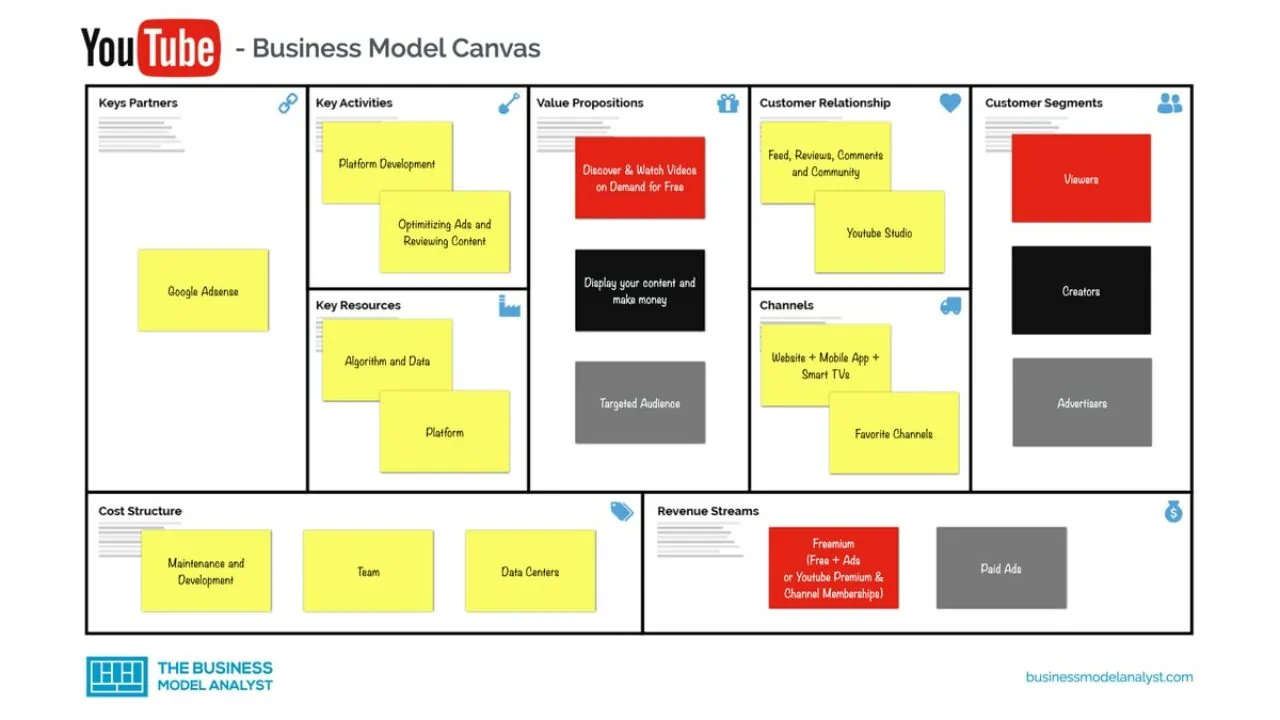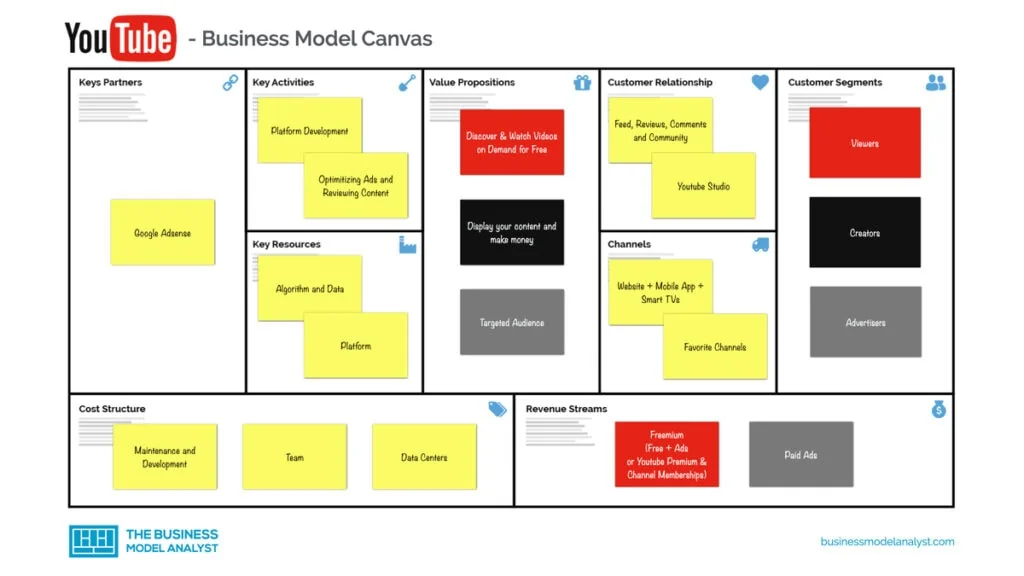 YouTube customer segments include
Viewers: Individuals that watch YouTube videos without uploading anything;
Content creators: People who create and upload YouTube videos;
Advertisers: Businesses or individuals that place ads on YouTube.
YouTube Value Proposition
Viewers: Access to a huge range of videos on any topic for free;
Content creators: Platform to showcase talent and creativity, build an audience, and make money from advertising;
Advertisers: Connect to a relevant audience through video content that they are already engaged with.
YouTube channels
Youtube.com website
YouTube mobile app
Apps on smart TVs
Google Ads
YouTube customer relationships
Customer Care
Reviews
Sharing Function
Google Analytics
Content Creators
YouTube revenue streams
Advertising
Subscriptions
Super Chat
Podcast Merch
Paid memberships
YouTube main partners
YouTube key activities
Content reviews
Website maintenance
Partnerships with other websites and platforms
Server space to store videos
Advertising
Community management
YouTube key resources
Platform
Content
Traffic
Algorithm
Google Adsense
YouTube cost structure
Creator payments
Salaries
IT Operations
Website maintenance
Marketing
Property rights
YouTube competitors
Vimeo: Offers ad-free viewing and high-quality videos;
Metacafe: Video sharing site for shorter videos and entertainment;
9GAG TV: A platform for funny videos, GIFs, and memes;
DailyMotion: Video sharing site with a focus on high quality and fun.
YouTube swot analysis
Below, there is a detailed swot analysis of YouTube: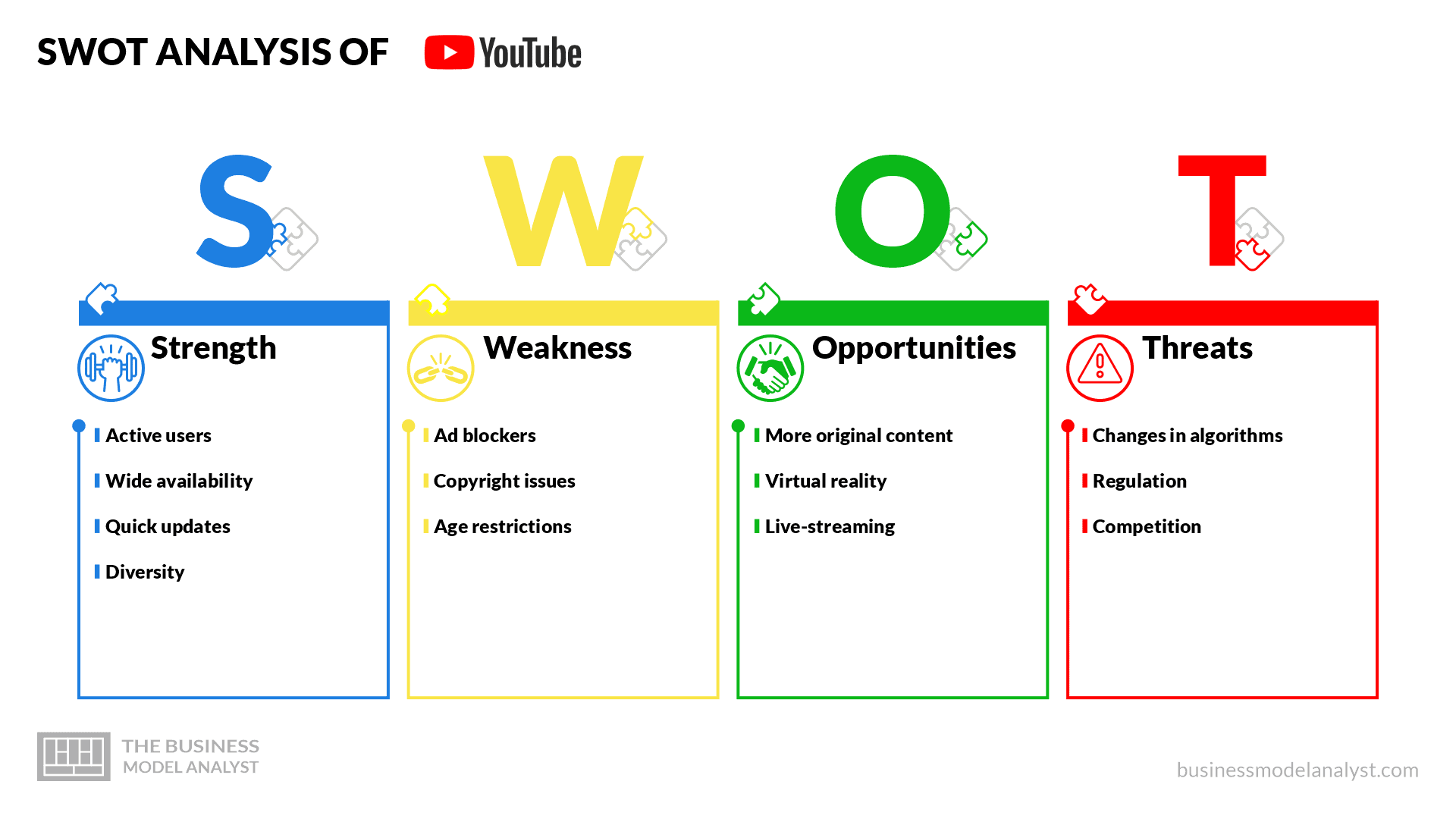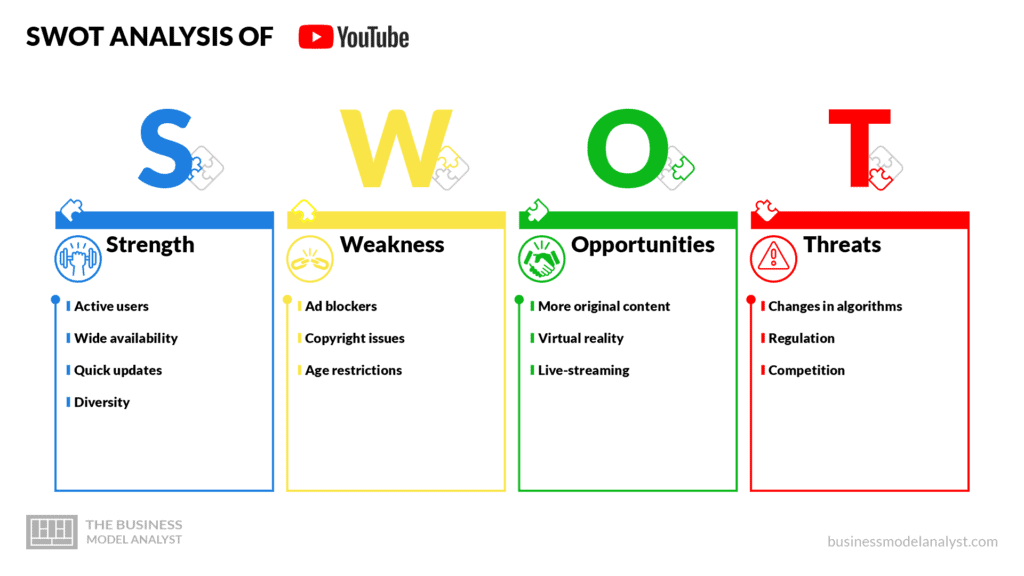 YouTube Strengths
Active users: The platform has billions of monthly active users;
Wide availability: YouTube is available in over 100 countries and 80 languages;
Quick updates: There are over 400 hours of content uploaded to YouTube every minute;
Diversity: YouTube offers a wide range of content, from music to gaming to beauty.
YouTube Weaknesses
Ad blockers: Some users use ad blockers, preventing YouTube from generating revenue from ads;
Copyright issues: There have been several instances of copyright infringement on YouTube;
Age restrictions: YouTube is not available to users under 13.
YouTube Opportunities
More original content: YouTube can create more original content, like TV shows and movies;
Virtual reality: YouTube can explore virtual reality technology and create VR content;
Live-streaming: YouTube can focus on live-streaming events, such as concerts and sports games.
YouTube Threats
Changes in algorithms: Google, which owns YouTube, regularly changes its algorithms. These changes can impact the visibility of YouTube videos;
Regulation: Governments can regulate YouTube and force it to remove certain types of content;
Competition: Many other video-sharing platforms, such as Vimeo and DailyMotion, are trying to grow.
Conclusion
There we have it; the Youtube business model, a company dominating the global video content industry for centuries. As you see, it all started with the pure idea of making life easier. Further, it's about an educated approach to business organization.