The Thumbtack business model is centered on a two-sided marketplace model. Thumbtack is an online platform that connects customers in the United States with local professionals in various service categories, such as home improvement, education and tutoring, wellness, personal training, and more.
A two-sided marketplace business model refers to a platform or business that facilitates transactions and interactions between two distinct groups of users: buyers and sellers, customers and service providers, or consumers and producers. 
As its primary value proposition, Thumbtack aims to provide a convenient and efficient way for customers to find, research, and hire local professionals based on their individual needs. For professionals, Thumbtack offers a platform to showcase their services, reach potential customers, and grow their businesses.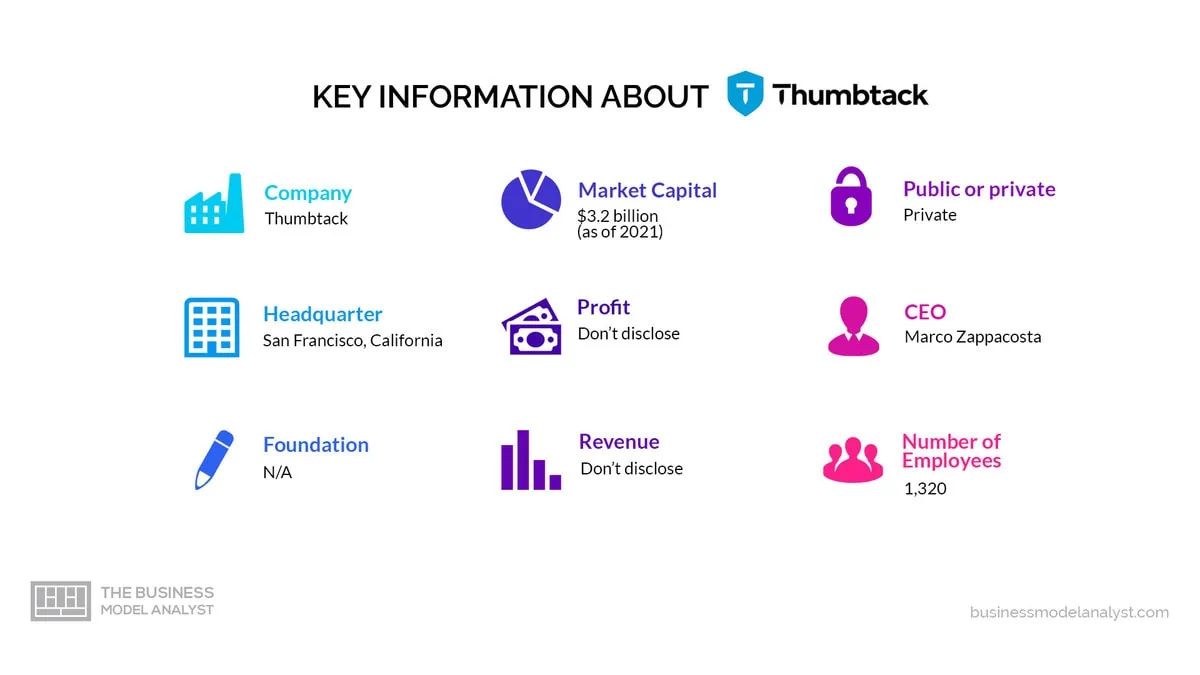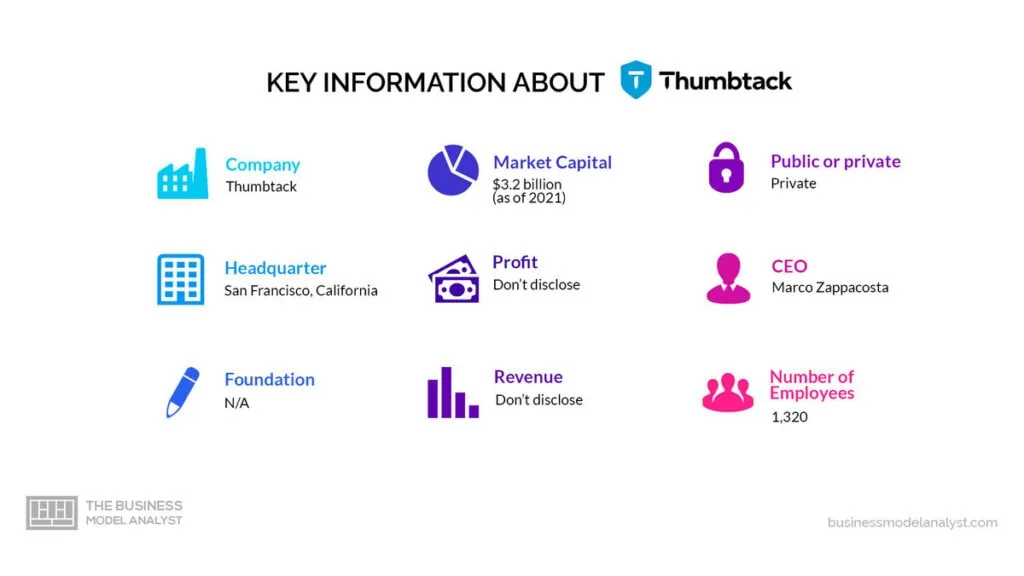 A brief history of Thumbtack
Thumbtack, a renowned online platform connecting customers with local professionals, has a fascinating history intertwined with its services and ownership. The company was established in 2008 by three enterprising individuals: Marco Zappacosta, Jonathan Swanson, and Sander Daniels.
The trio envisioned a solution to simplify the process of finding reliable professionals for various services. They aimed to create a virtual marketplace where customers could seamlessly connect with skilled professionals to fulfill their diverse needs.
The company attracted notable investors, securing $18.2 million in seed and Series A funding by 2013. Backed by Javelin Venture Partners and MHS Capital, Thumbtack was poised for expansion.
2015 proved to be a major year for Thumbtack. Through a Series D funding round led by Baillie Gifford and Tiger Global Management, Thumbtack secured $125 million. This substantial investment cemented Thumbtack's status as a major player in the service industry.
Thumbtack recently made headlines by securing an impressive $275 million in funding. This substantial investment raised the company's valuation to an impressive $3.2 billion, emphasizing its steady growth and dedication to expanding its home management services. 
The significant funding infusion highlights Thumbtack's position as a trusted and influential platform in the service industry, reinforcing its commitment to providing seamless connections between customers and professionals.
Today, Thumbtack has facilitated the start of over 70 million projects on its platform. This impressive number underscores the platform's reach and impact in connecting customers with skilled professionals.
Who Owns Thumbtack
Thumbtack is owned by a group of investors and shareholders. The company's ownership is distributed among its founders, Marco Zappacosta, Jonathan Swanson, and Sander Daniels, as well as various venture capital firms, including Collaborative Fund, Baillie Gifford, and Tiger Global Management, and other investors (a total of 24) who have provided funding throughout the company's history.
Thumbtack Mission Statement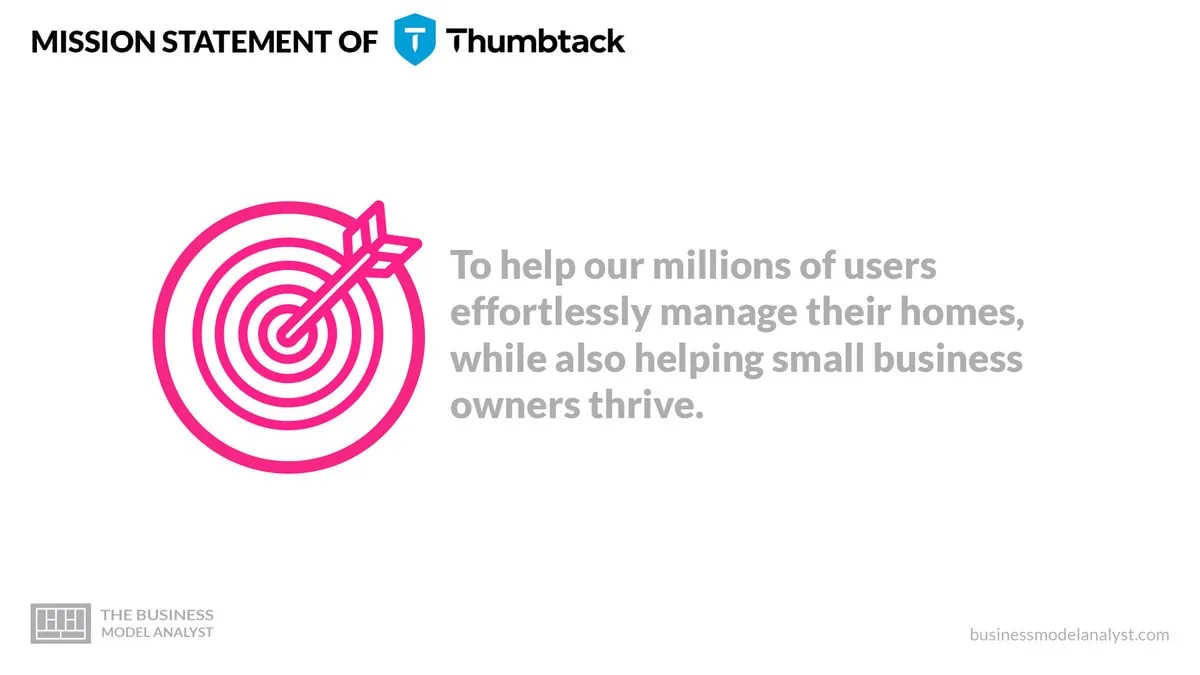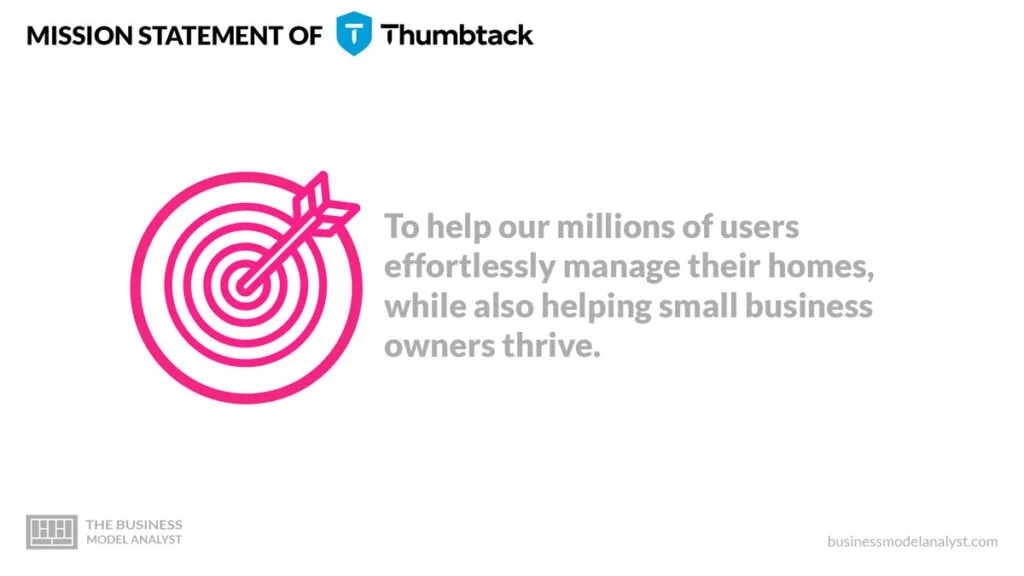 Thumbtack's mission statement is, "to help our millions of users effortlessly manage their homes, while also helping small business owners thrive."
How Thumbtack works
Thumbtacks works as an online platform that connects customers with local professionals across a wide range of service categories.
Customers begin by submitting detailed service requests on the Thumbtack platform. They provide information such as the type of service needed, their location, budget, and any specific requirements.
Local professionals, including contractors, freelancers, and small businesses, create profiles on Thumbtack. These profiles highlight their skills, experience, certifications, customer reviews, and photos of previous work. They serve as an essential tool for customers to evaluate and select the right professional for their needs.
Thumbtack employs a sophisticated matching algorithm that analyzes customer requests and matches them to those professionals. The algorithm considers factors like the service category, location, availability, and expertise of professionals to provide the most relevant matches.
Thumbtack presents customers with a list of recommended professionals based on the matching algorithm. Customers can review the professionals' profiles, ratings, and reviews to make an informed decision.
Customers can directly communicate with professionals through Thumbtack's messaging system to discuss project details, ask questions, and request price quotes. Professionals typically provide personalized quotes based on the specific requirements outlined by the customer.
Thumbtack does not involve itself in the hiring process; it is up to the customer to finalize the details directly with the selected professional.
How Thumbtack makes money
Pay-per-Lead Model/ Lead Qualification fees
This is also known as fees for leads, meaning professionals pay for each customer lead they receive. The cost of each lead depends on various factors, such as the service category and the level of competition in the market.
Thumbtack operates on a credit-based system, where professionals purchase "credits" or "contacts" to access customer leads or job requests. Each lead requires a certain number of credits to unlock the customer's contact information.
When professionals choose to pursue a lead, they use their purchased credits to obtain the customer's contact details.
Subscription Plans
Thumbtack may provide optional subscription plans for professionals, offering additional benefits and features for a recurring fee. These plans could include perks such as priority customer support, increased visibility, or access to exclusive leads.
For instance, in 2022, this company launched a membership program called Thumbtack Plus, which allows homeowners to receive project planning support from its home specialists, amongst other essential features. 
At the time of writing, the membership fees for customers stood at an annual rate of $49. 
Thumbtack Business Model Canvas
The Thumbtack Business Model can be explained in the following business model canvas: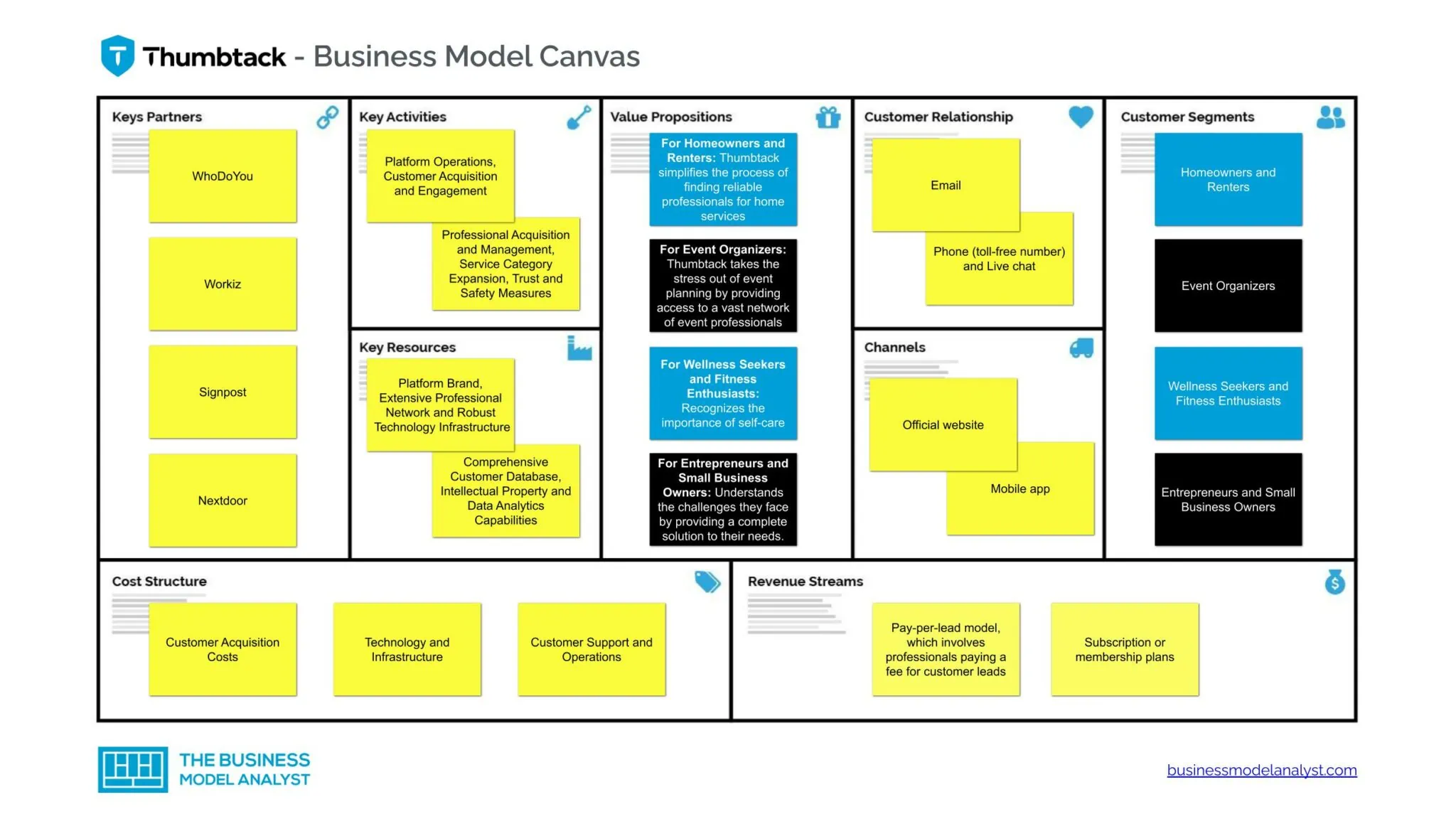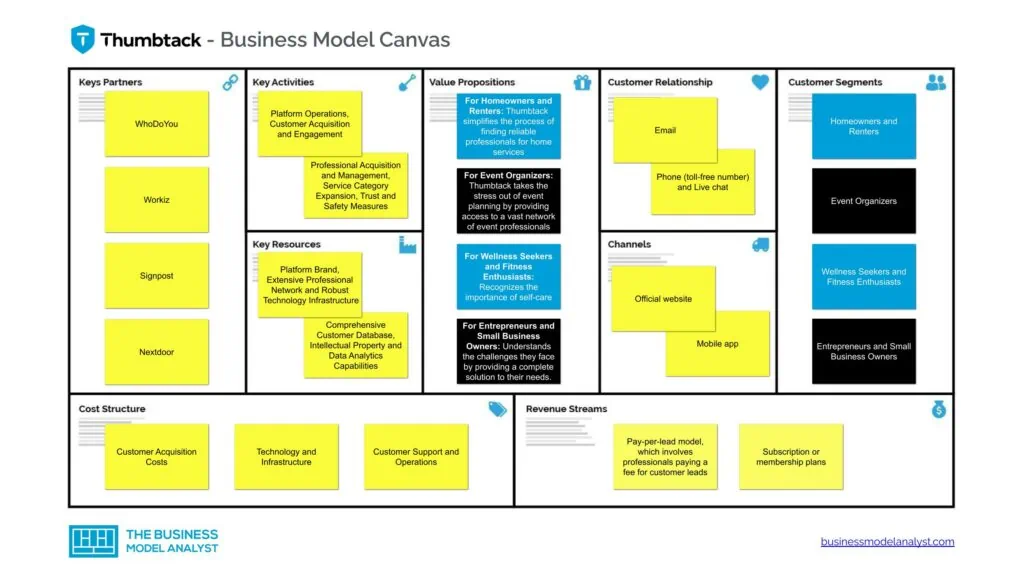 Thumbtack Customer Segments
Thumbtack customer segments consist of:
Homeowners and Renters: Thumbtack serves as a reliable resource for homeowners and renters seeking assistance with their home-related projects. Whether it's a renovation, repair, or maintenance task, Thumbtack connects customers with skilled professionals who can deliver quality results;
Event Organizers: Event organizers turn to Thumbtack to find professionals who can bring their visions to life. From weddings to corporate events, Thumbtack offers a wide array of services, including event planning, catering, photography, DJ services, and venue decoration, ensuring every detail is executed flawlessly;
Wellness Seekers and Fitness Enthusiasts: Thumbtack provides a platform for wellness seekers to prioritize their self-care and well-being. Whether it's finding a personal trainer, yoga instructor, massage therapist, or holistic healer, Thumbtack connects individuals with professionals who can support their journey to a healthier lifestyle;
Entrepreneurs and Small Business Owners: Thumbtack understands the unique needs of entrepreneurs and small business owners. The platform offers a wide range of services that provide business requirements, including graphic design, web development, marketing, consulting, and administrative support, empowering businesses to thrive and grow.
Thumbtack Value Propositions
Thumbtack value propositions consist of:
For Homeowners and Renters: Thumbtack simplifies the process of finding reliable professionals for home services, ensuring that every project, big or small, is handled with expertise and care. From skilled contractors to handy individuals, Thumbtack connects customers with professionals who can transform their spaces into dream homes;
For Event Organizers: Thumbtack takes the stress out of event planning by providing access to a vast network of event professionals. Whether it's a grand celebration or an intimate gathering, Thumbtack connects event organizers with top-notch vendors who can bring their unique visions to life, creating unforgettable experiences;
For Wellness Seekers and Fitness Enthusiasts: Thumbtack recognizes the importance of self-care and offers a platform where wellness seekers can find trusted professionals who prioritize their well-being. From personal trainers who customize fitness programs to massage therapists who provide relaxation and rejuvenation, Thumbtack connects individuals with professionals dedicated to their holistic wellness;
For Entrepreneurs and Small Business Owners: Thumbtack understands the challenges entrepreneurs and small business owners face and provides a one-stop solution for their business needs. Whether it's finding a talented designer for branding or a digital marketing expert to enhance their online presence, Thumbtack connects businesses with professionals who can drive success.
Thumbtack Channels
Here are the various channels through which you can access Thumbtack:
Official website
Mobile app
Thumbtack Customer Relationships
Here are ways to get in touch with the customer support team at Thumbtack:
Email
Phone (toll-free number)
Live chat
Thumbtack Revenue Streams
Here are Thumbtack's revenue streams:
Pay-per-lead model, which involves professionals paying a fee for customer leads;
Subscription or membership plans.
Thumbtack Key Resources
Thumbtack key resources consist of:
Platform Brand: Thumbtack has established a solid and reputable brand that resonates with customers and professionals alike. The brand embodies trust, convenience, and a wide array of service options, contributing to Thumbtack's market position;
Extensive Professional Network: Thumbtack's extensive network of skilled professionals serves as a valuable asset. These professionals bring their expertise and services to the platform, ensuring a diverse and comprehensive selection for customers;
Robust Technology Infrastructure: Thumbtack's technology infrastructure forms the backbone of its platform. It enables efficient matching algorithms, secure communication channels, and seamless service delivery, ensuring a smooth and reliable experience for users;
Comprehensive Customer Database: Thumbtack's comprehensive customer database is a treasure trove of insights. It houses valuable information about customer preferences, historical interactions, and feedback, enabling personalized experiences and targeted marketing efforts;
Intellectual Property: Thumbtack's intellectual property, including trademarks, copyrights, and proprietary algorithms, sets it apart in the competitive landscape. These assets protect Thumbtack's unique features and contribute to its overall differentiation;
Data Analytics Capabilities: Thumbtack leverages data analytics to gain valuable insights into customer behavior, market trends, and service demand. These insights inform strategic decision-making, enhance the platform's performance, and drive continuous improvements;
Strategic Partnerships: Thumbtack has cultivated strategic partnerships with industry organizations, professional associations, and service providers. These collaborations expand Thumbtack's reach, bring in new service categories, and foster innovation within the platform;
Financial Strength: Thumbtack's financial resources, including investments and capital reserves, provide a solid foundation for its operations. These resources support ongoing platform enhancements, marketing campaigns, and customer acquisition strategies.
Thumbtack Key Activities
Here are the main activities of Thumbtack:
Platform Operations, including maintaining server infrastructure, monitoring platform performance, and optimizing user experience;
Customer Acquisition and Engagement;
Professional Acquisition and Management, including marketing to professionals, vetting their qualifications, and providing support to ensure their success on the platform
Service Category Expansion, including conducting market research, analyzing customer needs, and onboarding professionals in emerging service areas;
Trust and Safety Measures;
Data Analysis and Insights;
Customer Support and Success.
Thumbtack Key Partners
Here are some of Thumbtack's main partners:
WhoDoYou
Workiz
Signpost
Nextdoor
Digs software 
Thumbtack Cost Structure
Here is a brief overview of Thumbtack's cost structure:
Customer Acquisition Costs: Thumbtack incurs expenses related to marketing and advertising efforts to attract new customers to the platform. These costs cover promotional campaigns, digital advertising, partnerships, and other initiatives aimed at expanding Thumbtack's user base;
Technology and Infrastructure: Thumbtack invests in its technology infrastructure to ensure a robust and secure platform. This includes expenses related to server maintenance, software development, data storage, cybersecurity measures, and ongoing technological enhancements;
Customer Support and Operations: Thumbtack allocates resources to provide customer support services, addressing user inquiries, resolving issues, and ensuring a positive user experience. This includes costs for maintaining support channels, staffing support teams, and ongoing training;
Professional Acquisition and Management: Thumbtack incurs costs related to acquiring and managing a diverse network of professionals on its platform. This involves marketing to professionals, vetting their qualifications, providing support, and facilitating onboarding;
Research and Development: Thumbtack invests in research and development activities to enhance its platform's features, user experience, and matching algorithms. This includes conducting market research, gathering user feedback, and continuously implementing technological advancements to improve the platform;
Administrative and Overhead Expenses: Thumbtack incurs administrative and overhead expenses necessary for day-to-day operations. This includes costs related to office rent, utilities, legal services, employee salaries, and general administrative functions;
Compliance and Regulatory Costs: Thumbtack allocates resources to ensure compliance with relevant laws, regulations, and industry standards. This includes costs associated with data privacy, consumer protection, and other legal and regulatory requirements.
Thumbtack Competitors
TaskRabbit: TaskRabbit is an online platform that connects users with local freelancers for various tasks and services. It primarily focuses on household chores, errands, and small-scale projects, offering a different approach to service fulfillment;
Fiverr: Fiverr is a global online marketplace that allows users to hire freelancers for a wide range of services. While Thumbtack focuses on local service providers, Fiverr offers a platform for remote work and supplies a broader scope of services such as graphic design, writing, programming, and more;
Yelp: Yelp is a popular online platform that provides user-generated reviews and recommendations for local businesses, including service professionals. While Yelp focuses on providing business information and customer reviews, it also offers a way for users to connect with professionals directly;
HomeAdvisor: HomeAdvisor is an online marketplace specifically providing home improvement and maintenance services. It connects homeowners with qualified professionals in areas such as remodeling, landscaping, and repairs, offering specialized expertise in the home services industry;
Handy: Handy is a digital platform that connects users with home cleaning and handyperson services. It focuses on on-demand home services and offers a simplified booking process for customers seeking immediate assistance;
Upshift: Upshift is a platform that connects businesses with flexible, on-demand workers for temporary staffing needs. It provides companies with access to a pool of pre-screened and qualified workers, offering a different approach to staffing solutions compared to Thumbtack's service-based marketplace;
Jobble: Jobble is a gig economy platform that connects businesses with hourly workers for temporary job opportunities. It focuses on flexible staffing solutions for industries such as retail, hospitality, and events, providing an alternative option for businesses seeking short-term staffing;
Helpware: Helpware is a company that specializes in providing outsourced customer support and back-office services to businesses. While not directly competing with Thumbtack, Helpware offers different services in the outsourcing industry.
Thumbtack SWOT Analysis
Below, there is a detailed SWOT Analysis of Thumbtack: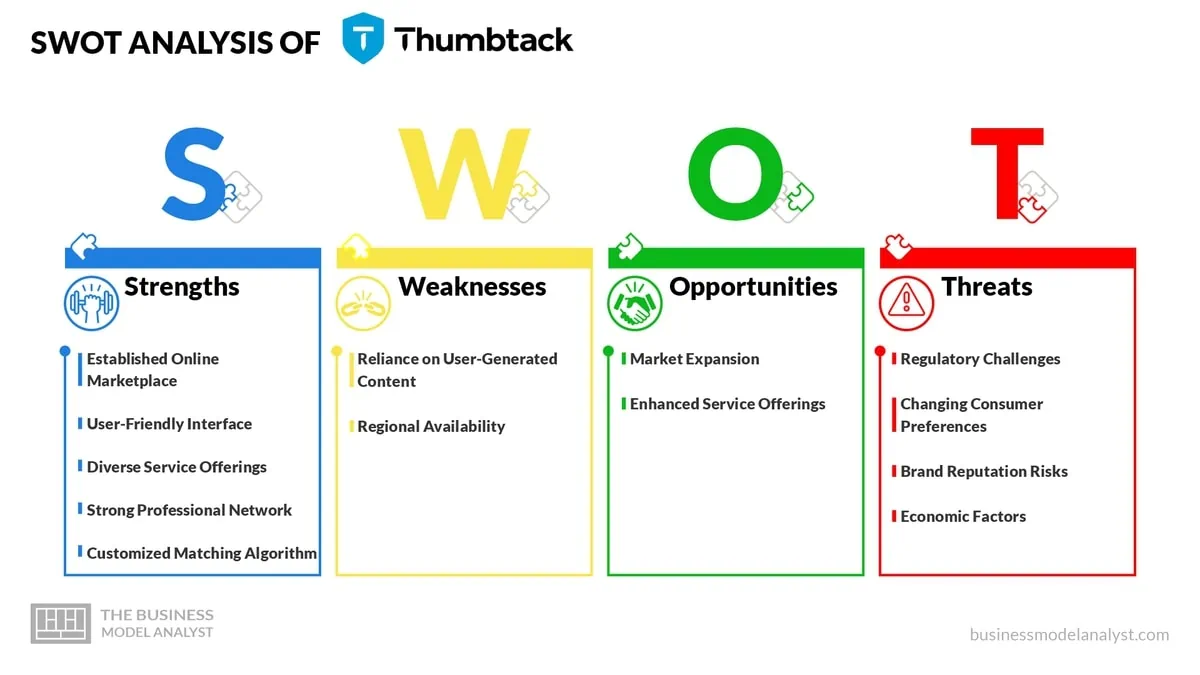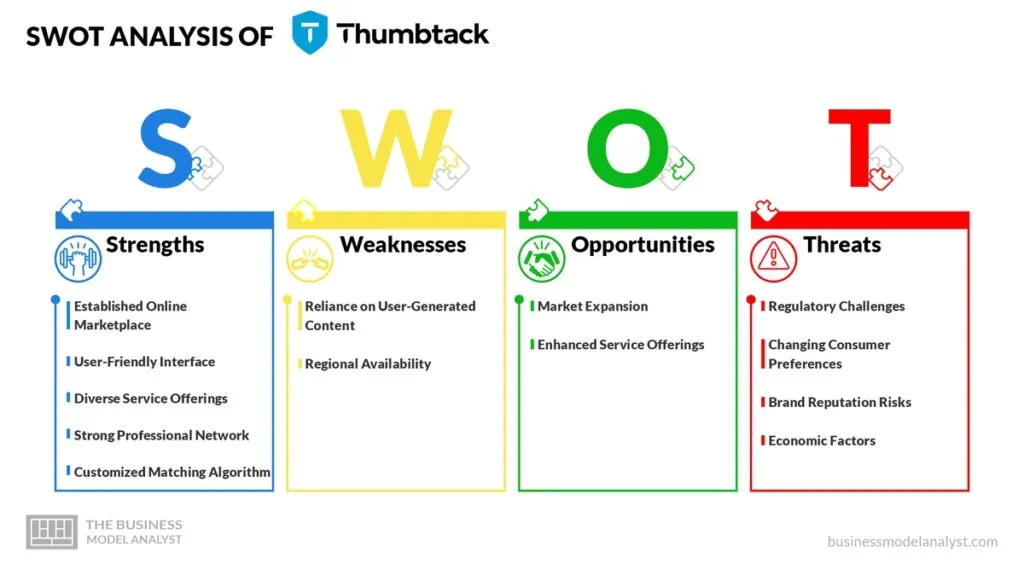 Thumbtack Strengths
Established Online Marketplace: Thumbtack is a leading online marketplace connecting customers with professionals across various service categories. The platform's solid reputation and broad reach contribute to its strength in the industry;
User-Friendly Interface: Thumbtack's user-friendly interface and intuitive design make it easy for both customers and professionals to navigate the platform. This enhances the overall user experience and encourages engagement;
Diverse Service Offerings: Thumbtack boasts a diverse range of service offerings, supplying various customer needs. This variety positions Thumbtack as a one-stop destination for finding professionals in various domains, expanding its market appeal;
Strong Professional Network: Thumbtack has built a strong network of professionals, including skilled individuals and businesses, offering services across different categories. This extensive network ensures a large pool of customer options, enhancing the platform's value proposition;
Customized Matching Algorithm: Thumbtack's matching algorithm effectively connects customers with relevant professionals based on their specific service requirements, location, and preferences. This personalized approach enhances customer satisfaction and increases the likelihood of successful service engagements.
Thumbtack Weaknesses
Reliance on User-Generated Content: Thumbtack heavily relies on user-generated content, such as reviews and ratings, to evaluate professionals. While this approach encourages transparency, it also leaves room for potential biases and inaccuracies in assessing the quality of service providers;
Regional Availability: Thumbtack's availability and coverage may be limited in certain geographic areas, hindering its potential reach and impact. Expanding to new regions and ensuring consistent service availability could be a challenge.
Thumbtack Opportunities
Market Expansion: Thumbtack has the opportunity to expand its presence into new geographic markets, both domestically and internationally. Exploring untapped regions and targeting emerging markets can fuel growth and increase the platform's user base;
Enhanced Service Offerings: Thumbtack can explore the introduction of new service categories and expand existing ones to meet evolving customer demands. Continually adapting and innovating its offerings can attract new customers and professionals to the platform.
Thumbtack Threats
Regulatory Challenges: Thumbtack operates within a regulated industry, and changes in regulations or legal requirements can pose challenges to its operations. Adapting to evolving legal frameworks and compliance standards is essential to mitigate potential risks;
Changing Consumer Preferences: Shifts in consumer preferences and demands for specific types of services or features can impact Thumbtack's market position. Staying attuned to customer needs and trends is crucial to remain competitive in a rapidly evolving industry;
Brand Reputation Risks: Thumbtack may face reputational risks associated with negative customer experiences, professional misconduct, or data breaches. Maintaining a strong focus on quality assurance, customer support, and data security is vital to safeguarding the brand's reputation;
Economic Factors: Economic fluctuations and downturns can impact Thumbtack's business. Changes in consumer spending habits and economic uncertainty may affect the demand for services and professionals' willingness to invest in the platform.
Conclusion
Thumbtack has disrupted the service marketplace industry with its innovative platform, revolutionizing how customers connect with skilled professionals. The company's strong brand presence, intuitive interface, and extensive range of services have propelled it to the forefront of the market.
Looking ahead, Thumbtack's growth prospects are promising. Expanding its footprint into new markets, both locally and internationally, presents an exciting opportunity to bring its seamless service-matching experience to a broader audience. 
Continuous platform enhancements, strategic alliances, and the introduction of novel service categories will enable Thumbtack to maintain its competitive edge and meet the evolving needs of its users.