The Red Bull mission statement is "giving wings to people and ideas." And the Red Bull vision statement is "upholding Red Bull standards while maintaining the leadership position in the energy drinks category when delivering superior customer service in a highly efficient and profitable manner."
Since its establishment in Austria in 1987, Red Bull has gained considerable notoriety as a prominent global company and one of the most recognizable soft drink brands on the market. This success was achieved through effective marketing campaigns and strategic business tactics that have allowed Red Bull to acquire an international presence. As part of its mission to sustain growth and secure future success, Red Bull has formulated core values, visions, and mission statements that direct internal activities and inform its public image. The iconic blue can design only further emphasizes this powerful brand identity. 
Red Bull's vision statement looks ahead to a future where it will remain at the forefront of innovation, with high standards of leadership ensuring it is maintaining its competitive advantage in the sector. The mission statement, meanwhile, emphasizes creative adaptability by highlighting the importance of progressive ideas while outlining their commitment to sustainability in environmental practices. Red Bull's core values set clear expectations when it comes to how they conduct business internally, while creating an atmosphere conducive to collaboration amongst staff members.
Red Bull Mission Statement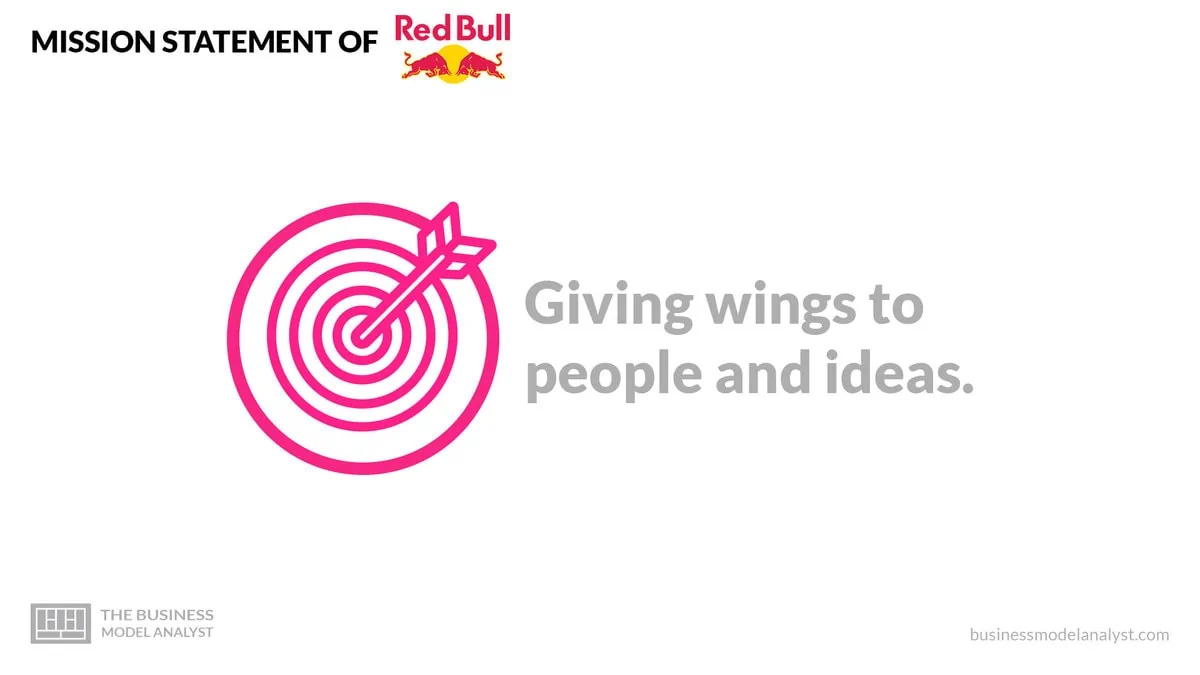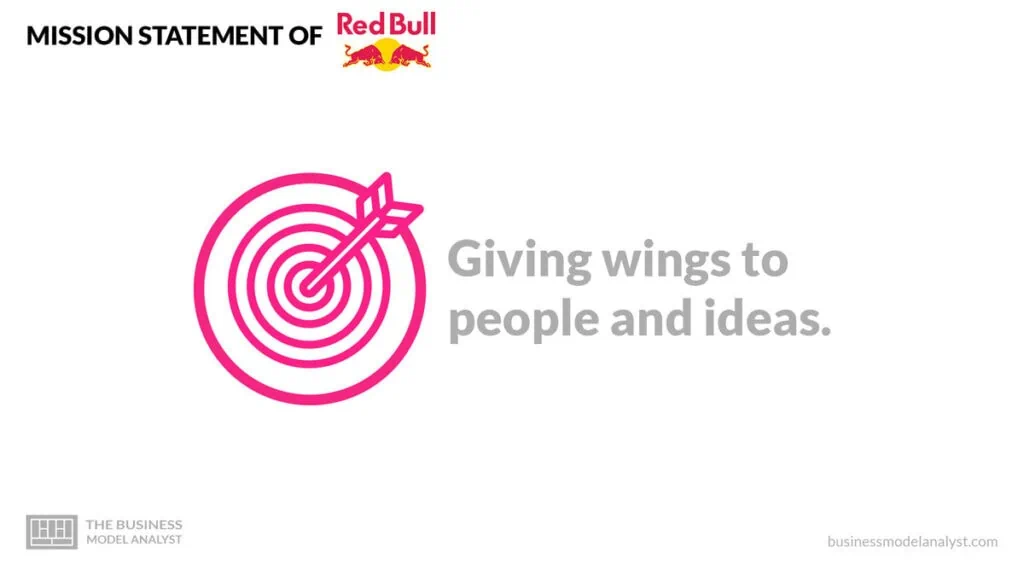 Red Bull's mission statement is "giving wings to people and ideas." On the surface, this statement implies that the company seeks to provide its energy drinks to give customers a boost in energy. But there is more to Red Bull's mission than simply selling beverages. The spirit of the mission is not only rooted in providing energy, but also in fueling progress and inspiring individuals and groups to soar beyond their current boundaries. 
In practical terms, Red Bull strives to empower its employees, partners, customers, and other stakeholders with the tools necessary for achieving unprecedented success. This includes providing leadership training programs for workers at all levels, sponsoring events that promote unique talents, supporting up-and-coming athletes, collaborating with educational institutions on initiatives such as internships and scholarships, cultivating diverse employee networks, and initiating sustainable programs designed to reduce emissions from operations or investments in renewable energy sources such as wind farms. 
In addition, energizing people means much more than just physical health — it encompasses mental well-being too. In this vein, Red Bull sponsors numerous cultural activities, including music festivals, art exhibitions, theater performances, and movie premieres, which aim to expand our horizons by exposing us to new perspectives on creativity and culture. They also support nonprofits that fight against climate change and organizations that are devoted to promoting gender equality or alleviating poverty challenges across countries around the world. 
All these efforts contribute towards Red Bull's ultimate mission: "Giving wings to people and ideas" — enabling them to reach their goals faster (or even surpass them) while embodying thrilling experiences along the way.
Distinguished products and services
Red Bull is known to provide "distinguished products and services," as reflected in its commitment to producing top-tier, high-quality goods. This applies directly to their energy drink, which is the most recognizable product of their brand. In order to make sure that they are producing a superior product, they employ strict methods and standards when it comes to production and ingredients. This also applies to the other products that Red Bull has developed over time. 
The company puts significant resources into research and development endeavors to gain a further understanding of consumer needs, allowing them to improve current recipes and introduce new drinks and snacks with superior quality across the world. All these efforts sustain Red Bull's commitment to delivering top-notch products and services globally.
Improving lives
Red Bull is committed to improving lives through its involvement in sporting activities, teams, and events around the world. Through its sponsorships, Red Bull seeks to increase access to and engagement with sports, enabling individuals from diverse backgrounds to participate. This sponsored activity can help enrich communities and provide support for local athletes who may not otherwise have the opportunity to compete or improve their skills on a professional level.
Red Bull goes above and beyond just profit-making by providing grants, equipment, and other forms of assistance to recreational teams who might otherwise not have the opportunity to participate in competitive sports. This commitment to doing charitable work helps Red Bull create positive changes for society at large by promoting healthy lifestyles for people around the world.
Red Bull Vision Statement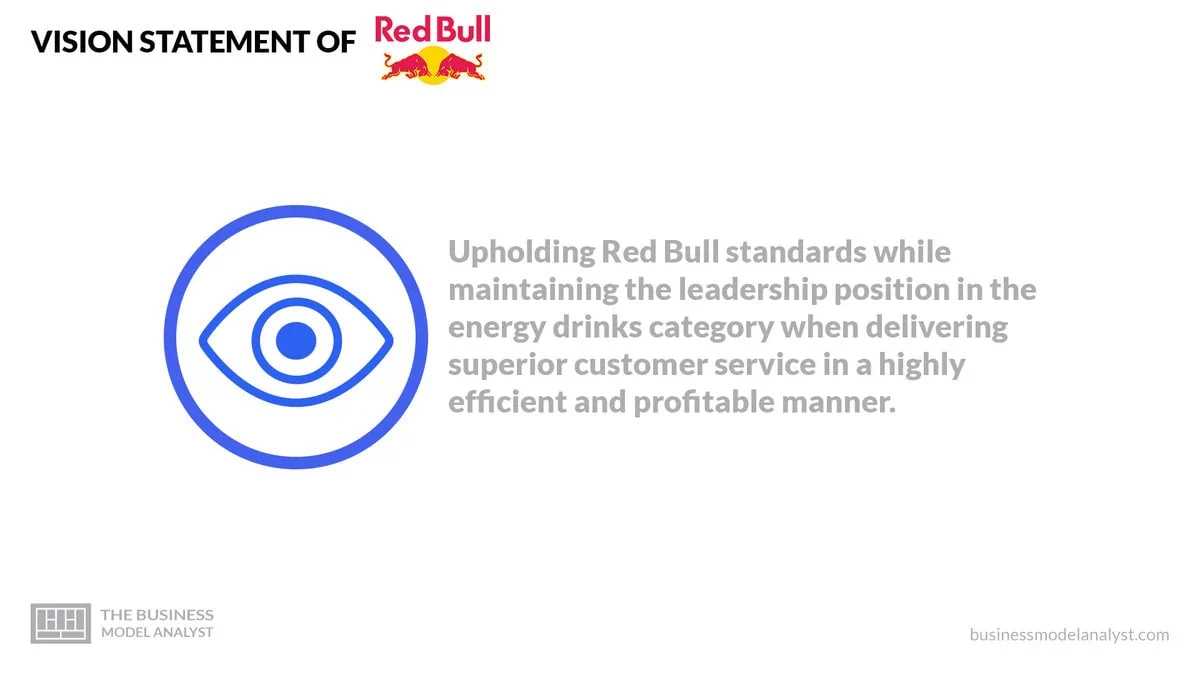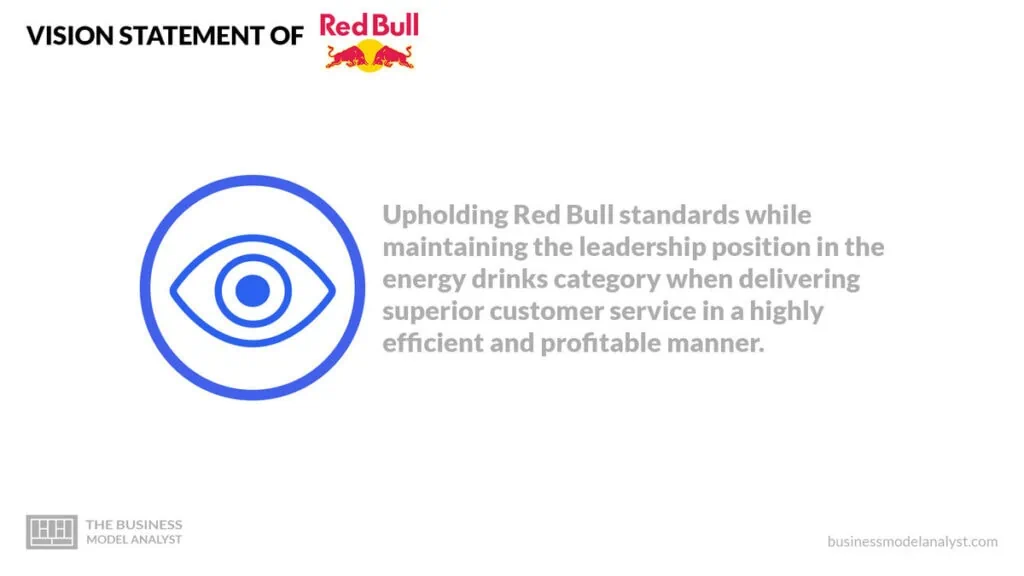 Red Bull's vision statement is "upholding Red Bull standards while maintaining the leadership position in the energy drinks category when delivering superior customer service in a highly efficient and profitable manner."
Red Bull's vision statement emphasizes its commitment to excellence and maintaining its position as a market leader in the energy drink industry. The company strives for superior customer service, efficiency, and profitability. They also prioritize upholding Red Bull standards across all facets of the business. 
It is imperative for Red Bull to remain at the forefront of the beverage industry, upholding rigorous standards that they and their suppliers must adhere to. To stay ahead of the game, they need to continuously innovate and invest in research, development, and personnel. By doing so, Red Bull will be able to take full advantage of any opportunities presented before them. 
At the core of Red Bulls' success is outstanding customer service; they prioritize providing products that exceed customers' expectations, which has enabled loyalty from consumers both domestically and internationally. Red Bull also ensures customers have access to helpful resources. Hence, they are knowledgeable about available products and any accompanying offers or discounts, which not only contributes to strong relationships between consumers/sellers but also drives overall profitability and average market share gains over competitors like Coca-Cola. 
Red Bull's purpose is not only about maximizing profits (although they are currently printing cash); to ensure success, the efficient delivery of their products is essential. Streamlining processes to reduce time, labor costs, and transportation expenses while still delivering top-quality beverages is paramount to keeping goals achievable without over — or underspending on activities necessary for completion.
Maintaining Red Bull Standards
Maintaining Red Bull standards is of the utmost importance to the company, as it strives to protect its reputation and uphold the vision of offering unique products that are centered on energy, passion, and fearlessness. From quality assurance to training for employees and other stakeholders, Red Bull has established quality processes and practices that aim to ensure a high level of customer satisfaction. The company has strict standards in place for all products offered under its brand name, covering all areas from production, distribution, marketing, and sales.
Through these stringent quality assurance measures, Red Bull is able to uphold their standards across different markets globally. By prioritizing excellence over quantity, they are able to not only protect their brand's integrity, but also demonstrate a solid commitment to customer satisfaction.
This has enabled them to foster a loyal clientele who can be sure of receiving an unbeatable experience every time they enjoy their beverage or utilize any other related services like attending sponsored events or engaging with digital content created by them. Consequently, it is this consistent dedication to delivering optimal results that have kept customers coming back for many years now.
Leadership
Red Bull leads its industry in the energy drink sector through a commitment to its products and people. This is demonstrated in Red Bull's leadership philosophy, which emphasizes its customer-centered approach to developing strong relationships with customers and employees. The Red Bull leadership team works hard to ensure the company values are firmly embedded in its corporate culture and business strategy.
Leadership also plays an essential role in inspiring innovation within the organization; innovative ideas conceived by management are encouraged throughout every level of Red Bull's operations. The company instills an entrepreneurial spirit in its staff members so that they can create unique solutions for customer needs while remaining close to their core products. To foster this kind of thinking, Red Bull invests heavily in research and development, giving them access to new technology that can improve product quality or drive down costs. Such investments represent an underlying commitment from the leadership team for continued growth and market share expansion.
Core Values
Red Bull's core values of "people, ideas, and culture" are strategic to the success of the company.
People come first at Red Bull; the company is dedicated to investing in its employees and giving them a sense of ownership over their work. The company offers competitive salaries and supports career growth opportunities so that people can reach their full potential. This, in turn, helps it capitalize on ideas from its experts and grow. Red Bull also offers flexible schedules for employees, as well as a range of benefits that promote a healthy work-life balance. 
The second core value, "ideas," is what has helped propel this brand forward. By listening to its consumers, researchers, creators, marketers, salespeople — basically, anyone who interacts with the product or brand — Red Bull can gain insights into what their customers want and how they should modify their strategy to meet those needs. This allows them to create innovative solutions that have pushed the boundaries of marketing communication across all industries.
The final core value, "culture," is essential for any successful business endeavor. Creating a culture of inclusion is paramount to the success of any business endeavor. When an atmosphere of respect and appreciation for diversity and different backgrounds is fostered, it not only encourages existing employees to stay, but also enhances the ability to attract new talent. Red Bull emphasizes this sense of inclusiveness by celebrating diversity rather than marginalizing or scrutinizing it.
Conclusion
Red Bull has developed a powerful mission and vision statement that serves as the foundation for success for this global brand. Its vision to remain focused on its principles and maintain high standards allows it to stay ahead of the competition. Its core values ensure that everyone is treated with respect and integrity, while also encouraging innovation and creativity.
These strategies have enabled Red Bull to become one of the most successful companies in the sector, dominating market shares worldwide. The mission and vision statements are two essential elements behind this remarkable achievement, showing the need for them to be taken into consideration when developing a business plan or strategy.