It's nearly impossible to discuss the modern fitness equipment industry without mentioning Peloton Interactive, Inc. It is a publicly-traded, exercise equipment and home fitness company that is based in the U.S. In this article, we'll delve deeper into the Peloswot ton business model, how the brand operates, as well as its strengths, weaknesses, and untapped potential.
A Brief History of Peloton
The company was started as an idea by John Foley, a former Barnes & Noble e-commerce executive. He noticed that not only did people prefer instructor-led workouts, but they were more effective too. However, most people found it hard to carve out the time to go to the gym regularly.
With that in mind, he pitched the idea of a home-based instructor-led workout to several colleagues. Together they officially formed Peloton Interactive, LLC in 2012. That same year, the company was able to raise nearly $4 million in seed money from various investors and was able to fund its first Kickstarter product in 2013. This spurred on further interest in the project and by 2014 they had rolled out their first line of stationary bikes.
Who Owns Peloton
Peloton is controlled by the founder and former CEO of the company John Foley, who, along with his wife and other insiders, hold a majority of voting shares.
Peloton Mission Statement
Peloton uses technology and design to connect the world through fitness, empowering people to be the best version of themselves anywhere, anytime.
How Peloton Makes Money
Let's take a look at how Peloton generates revenue:
Sales of Exercise Equipment: The most prominent revenue stream of the company comes from its sale of various types of high- and mid-range indoor exercise equipment like stationary bikes, treadmills, dumbbells, and so on. They also market various supportive technologies like the Peloton Guide, a form of body tracking technology, and the Peloton application;
Sales of Fitness Apparel and Accessories: Along with the sale of exercise equipment the company also markets a wide range of fitness apparel and accessories like fitness wear, gym bags, yoga mat, towels, water bottles, cycling shoes, biomonitoring devices, and so on. Though this is not a major part of their revenue stream, it does show significant room for growth and is a great branding opportunity;
Monthly Subscriptions: Another key part of the Peloton business model is the instructor-based fitness classes that users can take from home. The program offers thousands of classes by expert fitness instructors, all of which can be accessed after paying a monthly subscription fee. The basic plan is $39/month and is a compulsory part of the package once you buy the equipment.
Peloton Business Model Canvas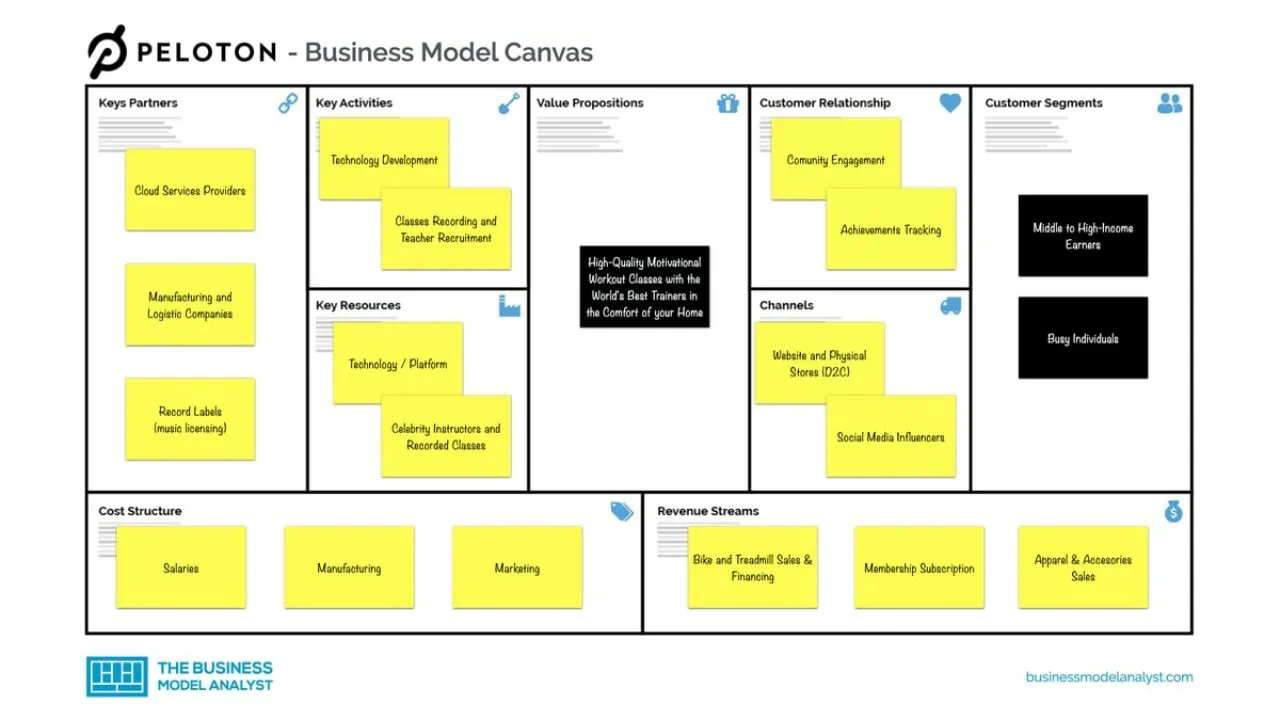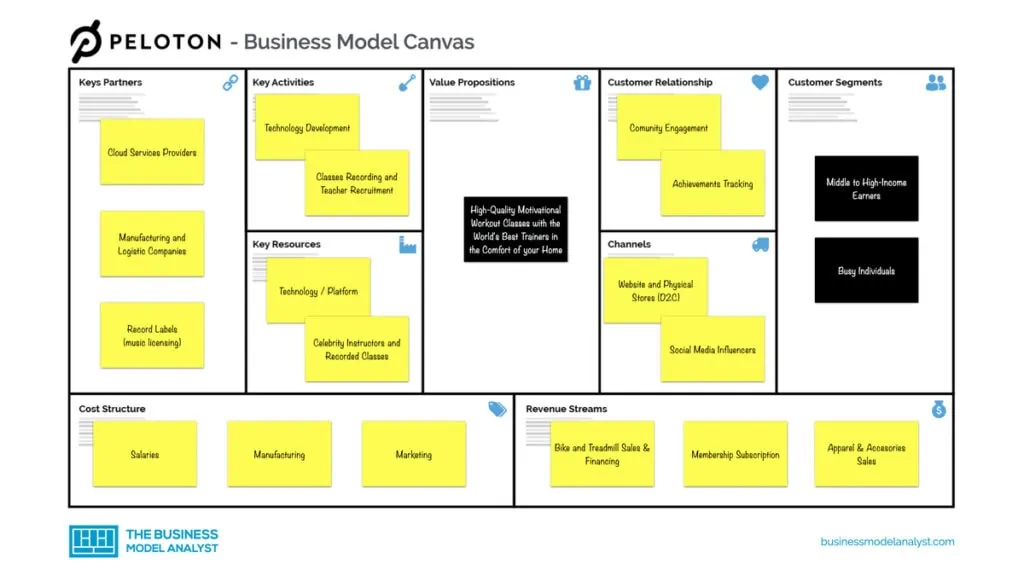 Here's a closer look at the Peloton business model:
Peloton's Customer Segments
Celebrities and other high-profile members of society: The company is also popular among many celebrities and other prominent individuals because it allows them to work out effectively at home, avoiding the distractions and safety issues their status may have caused them by working out in a generic gym;
Tech-savvy individuals: Individuals who believe strongly in a more tech-forward society and support forward-thinking technological solutions to modern problems will feel at home with the Peloton brand.
Peloton's Value Propositions
Increased Workout Effectiveness: Instructor-led workouts are more effective than solo workouts, especially when the instructors include various experts and well-known names in the world of fitness;
Interactive Workout Session: Peloton instructor classes offer a more engaging home workout than most competitors. The platform also offers a social feature that allows you to share the workout with your close friends and build a sense of community as well as a friendly competition;
Enhanced Customer Experience: With professional instructors and a wide array of curated music, Peloton helps you realize that exercise can be an enjoyable activity as well;
Convenience: You're not only paying for the equipment and services, but also for the convenience of being able to work out effectively at home;
Social Status and Branding: The Peloton brand has been endorsed by a respectable number of celebrities and prominent figures. Also, the trendy and prominent social image of the brand gives members a sense of belonging to a high-class community of individuals.
Peloton's Channels
Physical studios and showrooms
Website
App
Social media
Peloton's Customer Relationships
Social media marketing
Content marketing
Dedicated personal assistance
Self-service
Fitness community
Customer feedback solicitation
Peloton's Revenue Streams
Sales of fitness equipment, apparel, accessories, and technology
Monthly subscription plans
Peloton's Key Resources
Fitness instructors
Human resources
Media collaborations
Equipment
Manufacturing partnerships
Distribution network
Infrastructure and studios
Digital production
Application
Online presence
Patents
Peloton's Key Activities
Product research and development
Manufacturing
Delivery
Marketing, branding, and content creation
Sales
Customer service
Fitness instruction classes
Celebrity classes
Special events
Peloton's Key Partners
Instructors
Westin Hotels
JBL (headphone company)
Urbanears (headphone company)
Eva (yoga block company)
Roku TV
ESPN
Peloton's Cost Structure
Personnel and instructor payments
Administrative and operational costs
Maintenance of physical infrastructure
Branding and marketing
Shipping
Peloton's Competitors
Life Fitness: Fitness equipment company that specializes in the manufacturing and distribution of stationary bikes and treadmills;
SoulCycle: Fitness company owned by the Equinox Group, that provides indoor cycling and spinning workouts;
NordicTrack: Fitness equipment manufacturing company that produces strength training equipment, treadmills, exercise bikes, ellipticals, and other fitness accessories;
Bowflex: Fitness equipment manufacturing brand based in Vancouver, owned and marketed by Nautilus, Inc.
Peloton's SWOT Analysis
Below, there is a detailed swot analysis of Peloton: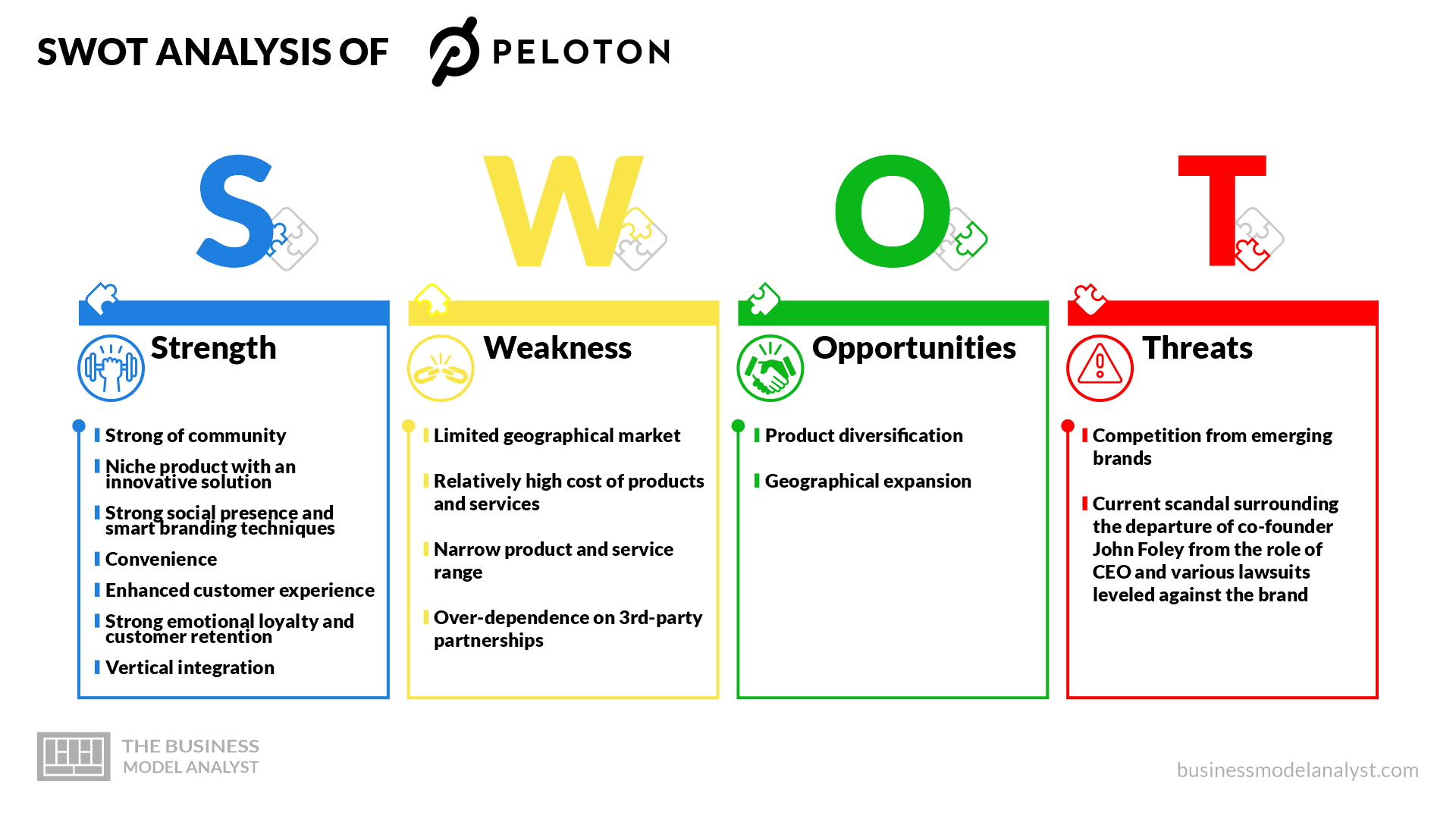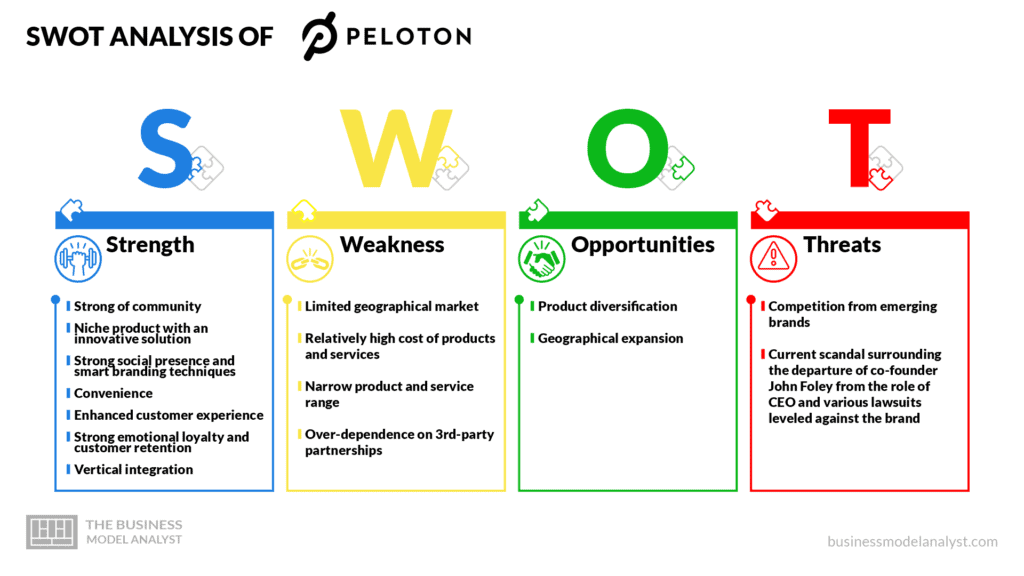 Peloton's Strengths
Strong of community
Niche product with an innovative solution
Strong social presence and smart branding techniques
Convenience
Enhanced customer experience
Strong emotional loyalty and customer retention
Vertical integration
Peloton's Weaknesses
Limited geographical market to the United States, Canada, the UK, and Germany
Relatively high cost of products and services
Narrow product and service range
Over-dependence on 3rd-party partnerships
Peloton's Opportunities
Product diversification
Geographical expansion
Peloton's Threats
Competition from emerging brands
Current scandal surrounding the departure of co-founder John Foley from the role of CEO and various lawsuits leveled against the brand
Conclusion
Peloton is a strong brand and, though the recent scandals surrounding the company have brought a cloud of uncertainty surrounding its future, it will always be remembered for the innovative and forward-thinking solutions it brought to the fitness industry.