The Nordstrom mission statement is to "continue our dedication to providing a unique range of products, exceptional customer service, and great experiences." And the Nordstrom vision statement is, "We believe fashion is a business of optimism, and in that spirit, we continue to grow and evolve. Free shipping and free returns, mobile shopping, and exciting new retail partnerships offer us continued opportunities to serve more customers in more ways with a fresh, relevant shopping experience and inspiring style. Fashion changes. Shopping changes. Our commitment to happy customers doesn't."
In 1901, John Nordstrom and Carl Wallin founded the now-renowned Nordstrom Corporation — a leading provider of luxury goods in the American department store industry. This company has experienced tremendous growth since its inception as a single shoe store, expanding to become a multi-store chain specializing in products, including jewelry, clothing, fragrances, accessories, and more.
While this success can be attributed to strategic investments and dynamic strategies employed by Nordstrom, what truly sets them apart from other companies in the same field is their commitment to having core mission and vision statements that fuel their management foundation. Consequently, it's no wonder they have managed to etch their name into history.
Nordstrom's mission statement emphasizes the importance of treating customers and employees with respect and kindness, providing high-quality merchandise, and delivering exceptional customer service — all key elements for sustained success. Nordstrom also  recognizes the need to remain ahead of innovation to effectively carry out day-to-day operations and secure ongoing growth. This holistic approach has contributed to their current position in the industry. 
Drawing from its mission statement, Nordstrom's vision focuses on establishing reliability by going above and beyond for customers and continually innovating customer service within its sector. Now more than ever, Nordstrom seeks to embrace changes to sustain growth and maintain progressive standards within their specialty field, with the ultimate goal of becoming a global leader in fashion retail across all channels.
To this end, Nordstrom has implemented core values such as employee responsibility, integrity, teamwork, accountability & excellence so that everyone is united under common practices while working toward achieving corporate goals. These values ensure that every employee remains motivated enough to reach and uphold these standards, eventually leading to accomplishing objectives regardless of long-term plans.
Nordstrom's mission statement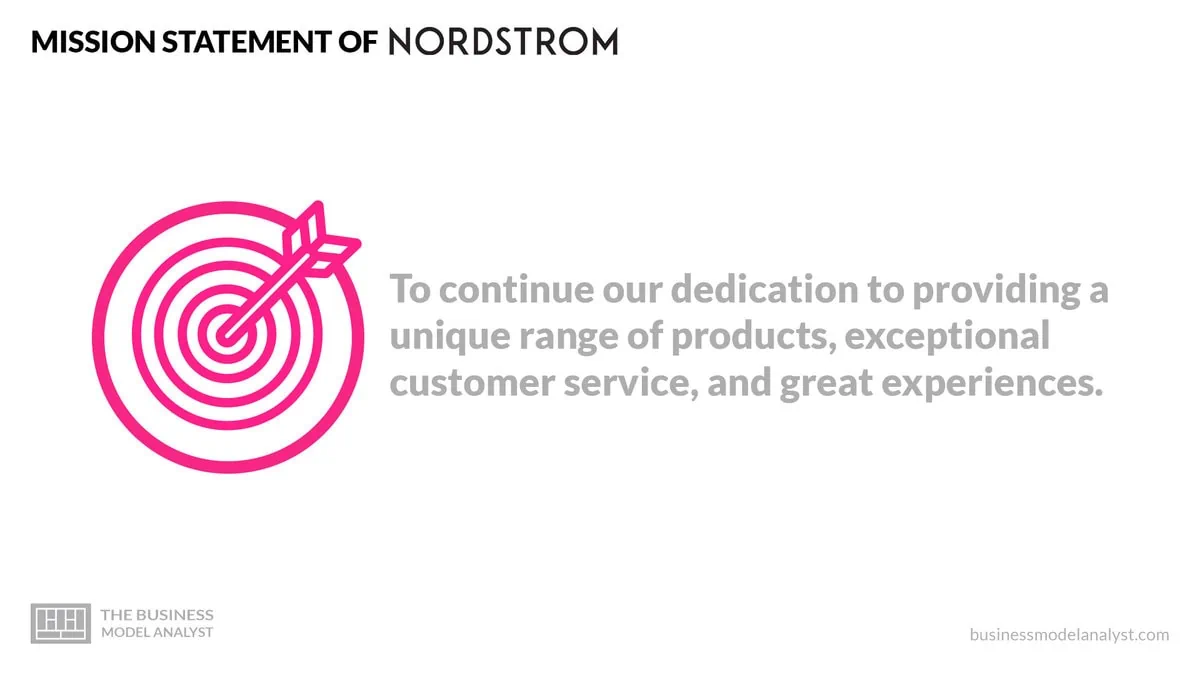 Nordstrom's mission statement is to "continue our dedication to providing a unique range of products, exceptional customer service, and great experiences."
Nordstrom strives beyond just providing their customers with exceptional items, but also creating an environment for a pleasant shopping experience. It seeks to expand its reach by offering an ever-expanding selection of products and services available both in-store and online.
Nordstrom's commitment begins with its products and its employees. It believes that by hiring talented individuals focused on delivering great service, it can achieve success. It promotes personal growth within the company by providing its associates with education and training opportunities, while inspiring them to strive for excellence in every interaction they have with customers. 
The company also works hard to ensure customer satisfaction through its loyalty programs, such as "The Nordy Club," which rewards returning customers based on their purchases and sales activities over time, offering them exclusive discounts and benefits.
Ultimately, Nordstrom's mission statement reflects these values: providing quality products; delivering exceptional employee-driven customer service; keeping up with modern trends while staying true to timeless fundamentals; encouraging personal growth within its team; ensuring customer satisfaction before, during, and after shopping experiences; offering innovative perks and rewards programs designed specifically around customers' needs; rewarding loyal shoppers through tasteful methodologies; all working together towards creating better lives through style.
These values can be grouped under these elements:
Best customer service
At Nordstrom, customer service is at the heart of everything they do. They are dedicated to providing customers with an exceptional shopping experience and focus on meeting customer needs through meaningful connections; from helping shoppers select the perfect outfit for a special occasion to efficiently resolving any issues or concerns. 
Nordstrom takes pride in recognizing that every customer is unique and has individual wants and needs. To ensure that each customer's experience is tailored to them, Nordstrom employs knowledgeable staff members who have been trained to provide quality assistance when needed. Their staff strives to be friendly and accommodating so that customers feel welcome, whether they're coming into an in-store boutique or shopping online.
In addition to having helpful staff, Nordstrom also provides various additional services, such as restaurant options within stores, coffee shops, spas, free shipping, and free returns both online and in-store (with certain exclusions).
These services are provided to make customers feel more at ease while shopping. Whether it's free shipping or a place where friends can meet up for lunch after browsing around the store — these details make all the difference when it comes down to providing excellent customer service.
By taking steps towards continuously improving its customer service approach by listening closely to feedback from shoppers around the world, Nordstrom has evolved into an iconic company renowned for its excellence in offering quality products with superior client care at reasonable prices.
It's this commitment that makes Nordstrom not just another retailer, but one whose mission is centered around delivering unparalleled levels of expertise and sophistication in every aspect of their operations — starting off with best-in-class customer service.
Selection and Quality
Nordstrom considers selection and quality to be pivotal factors in ensuring their patrons receive the best service, quality, and value. Selection is important to Nordstrom, as they strive to offer a full selection of merchandise — from basic staples to special pieces with unique designs and fabrics, popular brands, and new trends. Their goal is to provide customers with an assortment of products that meet their needs and make them feel inspired.
In addition, Nordstrom recognizes that customer preferences vary greatly, which is why they work hard to bring a diverse range of styles in all sizes and colors into the store or online shop. 
The quality of what they sell is also paramount to fulfilling their mission statement. They recognize that many retailers may offer similar selections at lower prices, but it's the exceptional quality that makes them stand apart from the competition. Items in-store undergo rigorous standard testing before being made available for sale so that customers can trust the quality assurance of each product purchased at Nordstrom.
Employees are also trained in product knowledge, so when customers come into stores seeking advice or guidance on any product queries, they have access to experienced staff prepared to help them find exactly what suits their needs best. 
Value
Nordstrom's value lies in its commitment to providing customers with exceptional quality and luxury at competitive prices. Nordstrom consistently strives to exceed customer expectations by offering superior quality apparel, footwear, accessories, and home decor. The company also provides services such as free in-store styling advice and personal shopping assistance.
In addition to its apparel offerings, Nordstrom offers a meticulously crafted selection of jewelry, cosmetics, fragrances, and more. The retailer's rewards program allows customers to earn points for every dollar spent, which can be redeemed for future purchases. With all these elements combined into one comprehensive package, Nordstrom is able to offer customers unparalleled value on everything from casual wear to formalwear. 
Their consistency in upholding superior standards of quality operation, diligence to detail, and commitment to providing only quality goods contribute greatly to their distinguished reputation — that of offering top-notch products at competitive prices coupled with unparalleled customer service in both their physical stores and online. 
Nordstrom's Vision Statement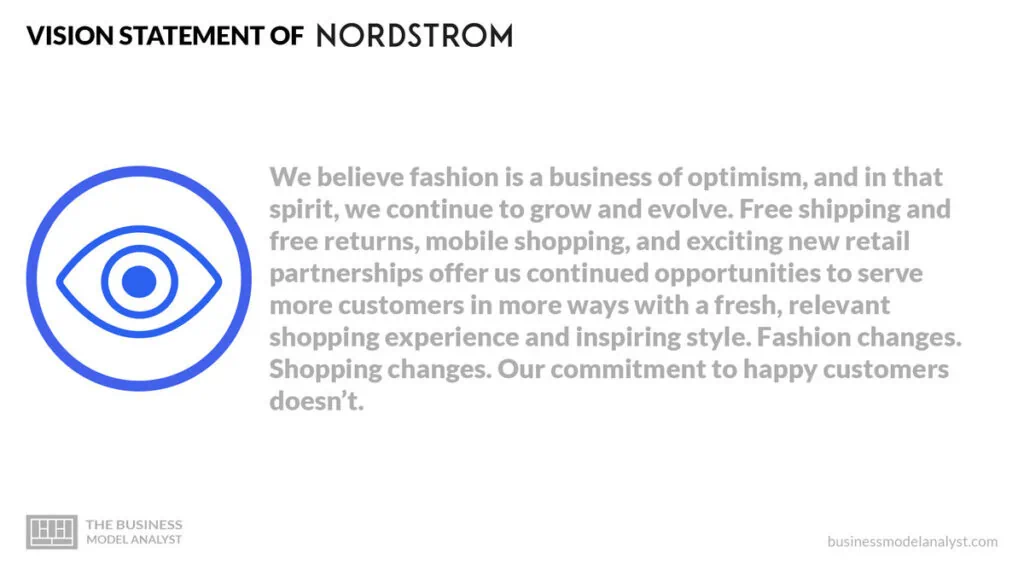 Nordstrom's vision statement is, "We believe fashion is a business of optimism, and in that spirit, we continue to grow and evolve. Free shipping and free returns, mobile shopping, and exciting new retail partnerships offer us continued opportunities to serve more customers in more ways with a fresh, relevant shopping experience and inspiring style. Fashion changes. Shopping changes. Our commitment to happy customers doesn't."
Nordstrom's vision statement is all about optimism and growth. It expresses its commitment to offering customers a great shopping experience while staying relevant as fashion, trends, and technology continue to evolve. The company envisions a future of continued opportunities for serving customers in more ways through free shipping, free returns, mobile shopping, and new retail partnerships.
They want to provide customers with fresh, inspiring styles that make them happy no matter how the marketplace shifts. Nordstrom's vision for the future is an environment where everyone can find what they need with ease and enjoy a shopping experience that leaves them feeling fulfilled.
Its vision statement is made up of the following components:
Continue to Evolve
Nordstrom's Vision Statement emphasizes the need to continue to evolve to stay ahead of the curve. As fashion and retail trends are ever-changing, Nordstrom must continue to find ways to adapt its business model to meet the needs of consumers. This includes being able to identify new trends quickly and effectively, as well as respond quickly and efficiently when those trends change or shift.
In addition, Nordstrom must be willing to invest in staying up-to-date with technologies and software that will help them keep track of customer behaviors so that they can better anticipate future trends. Nordstrom must also stay flexible enough to accommodate different types of customers who are looking for different types of services or products from their brand.
Staying ahead of the fashion retail industry requires a commitment from the Nordstrom leadership team continuously; this means that they have an obligation not just to know current trends, but also to sense when changes may be coming and develop strategies accordingly.
For example, this could include increasing focus on sustainability practices or embracing digital transformation initiatives such as improving digital marketing efforts, launching apps for customers, or providing more online payment options. All these strategies contribute towards staying agile within an ever-changing market landscape like the one present in the fashion retail space today.
Investing in research is also essential so that Nordstrom can remain informed about changing consumer habits and preferences and adjust their services accordingly over time. 
Unchanging Commitment to Customers
The company recognizes that its customers are the driving force behind the success of their business. As such, Nordstrom prioritizes providing an outstanding experience for every customer who visits its stores or shops online. As such, Nordstrom has committed to delivering excellent service with expert advice and a relaxed atmosphere wherein all customers can feel comfortable, informed, and welcomed. Their commitment to customers is unwavering and steadfast.
From the time a customer arrives, until they leave Nordstrom, they are met with knowledgeable sales staff who help them find exactly what they need in an efficient and friendly manner. They take pride in being able to help customers find just what they're looking for, as well as provide helpful style advice that suits their preferences. This kind of personalized service gives each customer a truly unique shopping experience — one that keeps them coming back again and again for more of Nordstrom's quality products. 
Customer satisfaction at Nordstrom does not end once someone has completed their purchase; rather, it is extended through prompt delivery timelines and easy returns if purchased items do not meet expectations or are unsuitable for some reason. In addition to this assurance of satisfaction after purchase, Nordstrom offers further options such as free alterations on clothes bought from their stores so that customers can get the perfect fit each time — yet another way in which customers are made to feel valued. 
The commitment to keeping customers happy at the forefront of operations is part of what makes Nordstrom stand out among many other retailers today — their unchanging commitment to customers ensures that everyone receives top-notch service throughout their entire shopping experience, every single time they visit.
Core Values
Nordstrom's core values include the following.
We're family
Integrity
Be honest
Respectful communication
At Nordstrom, family values are of utmost importance. The company has set a precedent in the industry by committing to building meaningful relationships with both its employees and customers. This allows them to foster a communal atmosphere where everyone feels welcomed and appreciated as part of the Nordstrom experience.
The management understands that every customer's journey is unique and strives to personalize their shopping experience through this close-knit bond between customer service agents, sales associates, store directors, and other peripheral staff members. By addressing each customer's individual needs, they ensure full satisfaction and that the customer perceives spending money at Nordstrom as an enjoyable event rather than a burdensome errand. 
Integrity is another core value at Nordstrom, which helps cement the familial relationships mentioned earlier. This value involves upholding one's commitments, even if it means sacrificing short-term gains for long-term success. By creating an environment of mutual trust among all stakeholders, Nordstrom can develop successful business partnerships as well as sustainable working conditions for its customers and employees alike.
The leadership team also prioritizes integrity to continue delivering quality products with exceptional service no matter what external events may come their way, thus providing adequate protection during difficult times such as economic downturns or when dealing with external emergencies like pandemics. 
Being honest (authenticity) also plays a pivotal role in how Nordstrom operates in terms of communication regarding objectives and goals within the organization itself, as well as towards any potential customers or investors they encounter on their path. Being honest while delivering information helps maintain credibility so that clients feel comfortable trusting them with desirable projects or high-end services because they can rest assured knowing they are being dealt with fairly while doing business with Nordstrom. 
Respectful communication is fundamental to Nordstrom's operations, as it takes into account the necessary language conventions when interacting with various audiences, especially those who need more sensitivity, such as children and financially-challenged owners. By setting respectful standards for any interaction — involving customer service personnel, partners, retail workers, etc. — Nordstrom not only preserves its moral code but also allows entry into delicate conversations without damaging its reputation.
All of these values form a solid base on which further growth can be achieved, resulting in improved efficiency, productivity, and loyalty, while also increasing job satisfaction and safety rules, motivating personnel, and ensuring corporate welfare adheres to applicable regulations and ethical guidelines.
Conclusion
Nordstrom has established a mission and vision statement that encapsulates its commitment to providing exceptional customer service and quality products. They have also implemented core values that reinforce their goals of becoming a global leader in fashion retail across all channels. It is these missions, visions, and values that have contributed to the remarkable success of Nordstrom Inc. over the years. Despite being over a century-old company, they still maintain an impressive level of relevance in today's market by remaining ahead of innovation while continuing to serve customers respectfully and kindly.