Is Costco Profitable? The company's twelve-month profit for the quarter that ended on February 28, 2023, was $28.285 billion, a 6.33% rise year-over-year. In 2022, the company made an annual gross profit of $27.572 billion, or a 9.22% increase from the previous year. In 2021, Costco's gross profit was $25.24 billion, a 15.69% increase from 2020. From these statistics, Costco is a profitable and successful company. Founded in 1976, the membership warehouse club provides its members with various reasonably priced products.
Timeline of Costco Financial Growth and Funding
1976-1999: Costco was birthed in 1976 when Sol Price, an innovator in warehouse club retailing, launched the inaugural Price Club in San Diego. James D. Sinegal and Jeffrey H. Brotman launched the first Costco branch in 1983 in Seattle. The Price Company, Price Club's corporate parent, would merge with Costco in 1993, becoming Price/Costco. The company changed its name again in 1997 to Costco Companies, Inc, before adopting Costco in 1999.
During the early 21st century, Costco operated stores in Canada, the United States, Australia, the Far East, Europe, and Mexico. The company was often praised for giving its employees higher pay and attractive benefits than other companies in the same field. When Price Club was established, the wholesale club theory was new yet promising. These wholesalers required shoppers to become members by paying an annual fee to reduce overheads and ensure products were sold at a mean of 9% over the manufacturer's cost.
In 1978, a year after launching operations, Price Club registered a net loss of $750,000 on $16 million worth of sales. By 1980, Price Club had four stores in Arizona and California, generating $150 million in annual sales. The company went public in 1980 and launched two stores in Virginia in 1984 before opening another in 1986 in Maryland. The company also opened stores in Montreal, following a joint venture with Steinberg, a Canadian company, and New Mexico.
Price Club was keen on owning the land where its warehouses stood. As a result, it created the TPCR Corporation subsidiary to work on land development and management. Price Club collaborated with developers through the subsidiary to attract other retailers to its property sites.
By 1985, Price Club's profits had hit $45 million on $1.9 billion in sales. Price Club acquired a grocery distributor, A.M. Lewis, in 1986 before launching two furnishings outlets in 1988. The company acquired Steinberg's share of the Montreal-based store in 1990 and continued expanding in other markets, including British Columbia, Colorado, and California. In March 1991, Price Club finalized a 3.45 million common stocks public offering, with proceeds of around $200 million used to reduce the company's debt and fund expansion.
In September of the same year, Costco's net income increased by 72%. Costco launched a store in Mexico City in collaboration with Controladora Comercial Mexicana in 1992. The company opened another store the following year. Due to high land prices, increased competition, and traffic congestion, Price Club shut down two stores in 1992 on the East Coast. In the same year, the company's earnings fell for the first time since 1980.
In 1994, the Price Club founder Sol left the company to establish Price Enterprises independently. The company relocated its headquarters to Issaquah from Kirkland in 1996. Costco launched its website in 1997. By 1999, Costco's warehouses were generating $91 million on average annually.
To offer better prices, the company started making its own products. Speaking to Fortune magazine in 1999, Sinegal, the CEO, said: "We sell a six-pack of Kodak 200-speed film for $21.99. Then we have our own [private-label brand] for $6.99. How can you not provide that value for your customers? That doesn't mean we want to get rid of Kodak. But at some point, a vendor's going to realize that option is open. And it does create leverage for us."
The company also partnered with factories from different parts of the world to produce good quality items and sell them at a price lower than the original brands. By 1999, approximately 12% of the company's products were launched with the Kirkland brand name.
2000-2010: Costco's net sales for the 2001 fiscal year were $34.14 billion, while membership fees totaled $66 million. As a result, the overall income for 2001 was $34.8 billion, registering a $2.6 billion increase over the 2000 fiscal year's revenues of $32.16 billion. Despite the rise in net sales, the company recorded a drop in net income from $631 million in 2000 to $602 million, attributed to high operating expenses.
Earnings per share also dropped to $1.29 per share from $1.35. The company's value also dropped slightly. In 2001, the company registered significant growth compared to the previous ten years. In the second quarter of the 2002 fiscal year, Costco's net sales rose by 13% compared to the previous year. Costco launched two stores in Puerto Rico in November 2001.
The same year, the company experienced a sudden drop in earnings following an energy crisis on the U.S. West Coast that triggered a sharp rise in energy prices. In 2001, Kirkland Signature brand's olive oil accounted for 15% of total sales in the U.S., while wine sales were over $500 million.
Costco partnered with American Express in 2001 to provide customers with membership to American Express and Costco under one card. By the end of 2001, nearly 1.9 million Costco members had co-branded cards. Costco's eCommerce sales hit $73 million in the same fiscal year. Experts said the company would hit the $100 million mark by the end of the 2002 fiscal year.
The Special Order Kiosk program was launched the same year, allowing members to place special orders on big-ticket products like furniture, tires, Sealy mattresses, and bathroom fixtures from Kohler and Grohe. The company launched another cash card program in 2002, allowing members to use it for returned items and gifts. Costco launched its second Home store in Tempe, Arizona, in 2004.
In 2005, Costco replaced its inaugural warehouse in Seattle with a new one within the same building and address. By 2010, the company's significant services included shopping, food service, Trave, and a photo center. The company partnered with Mypublisher.com the same year to publish calendars and books.
2011-2019: In 2011, Costco opened two warehouses in Australia. One was in Sydney's West and another in Canberra. The company became the first firm to rise from zero to $3 billion in sales in less than six years. During that time, Costco recorded $97.062 billion in the 2012 fiscal year that ended on August 31.
Jeffrey H. Brotman, Costco's co-founder, chaired the company's board of directors starting in December 2013. He collaborated with James Sinegal, director and co-founder, Richard A. Galanti, the CFO, and CEO and president, W. Craig Jelinek. Jelinek and Sinegal remained board members until 2018 when Sinegal stepped down. Costco appeared in the 2014 Fortune List of Top Revenue-Generating Companies.
The company was the third-biggest retailer in the U.S. in 2014. By 2016 Costco had 86.7 million members. This number rose to 90.3 million in 2017 and hit 94.3 million in 2018. The company's membership hit the 105.5 million mark in 2020. Costco's inaugural store in Shanghai was launched in 2019. The company was ranked at number 14 on the Fortune 500 rankings of the largest corporations in the U.S. based on total revenue the same year.
Costco Financial Performance: Revenues, Expenses, and Profits
Costco has been growing its revenue and profits over the past few years. It remains among the best-performing retailers, with its operating and gross margins hardly changing in the past ten years. The company's average operating margin for the past ten years has been 2.95%, while its average gross margin within the same time has been 12.84%.
Costco has a solid business with a clear investment potential compared to other companies in the same industry. In the 2022 fiscal year, the company recorded $222.7 billion in net sales. This was a 16% increase and a comparable sales rise of 14%. Net income for the same period was $5.8 billion. This was a 17% increase.
Costco Revenue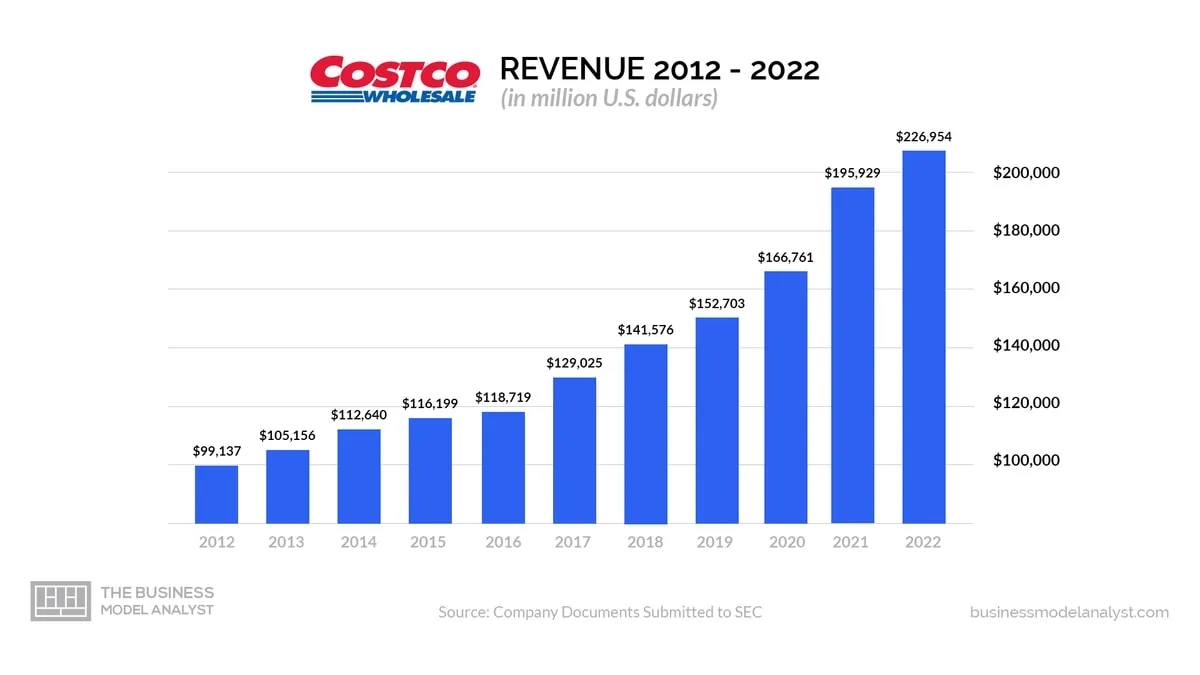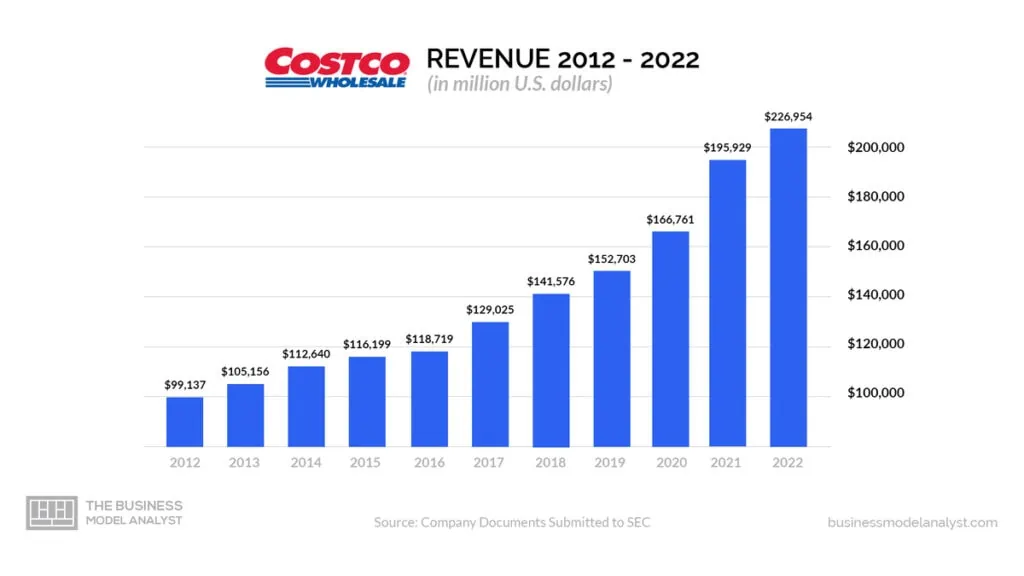 Costco's revenue for the February 28, 2023 quarter was $55.266 billion. This was a 6.48% rise year-over-year. Revenue for the twelve months ending within the same period increased by 11.5% to $234.390 billion. Costco's annual revenue for 2022 increased by 15.83% from the previous year to $226.954. In 2020, Costco recorded a yearly income of $166.761 billion. In 2021, the company generated $195.929 billion. This was a 9.21% and 17.49% increase from the previous years, respectively.
Costco Expenses
Costco's operating expenses for the February 28, 2023 quarter were $53.363 billion, increasing by 6.53% year over year. The annual operating costs for the same period were $226.448, an 11.67% rise year-over-year. The company's operating expenses for 2022 were $219.161 billion, a 15.82% increase from the previous year. In 2021, Costco spent $189.221 billion in operating expenses.
This was a 17.29% rise from 2020. In 2020, operating expenses were $161.326 billion, a 9.03% increase from the previous year. Total non-operating expense/income for the February 28 quarter was $0.080 billion. This was an 827.27% drop year-over-year. The overall non-operating expenses/income for the twelve months ending within the same period increased by 3180% year-over-year to $154 million. In 2022, the overall non-operating expenses/income was $0.47 billion, a 267.86% drop from 2021.
Costco Profits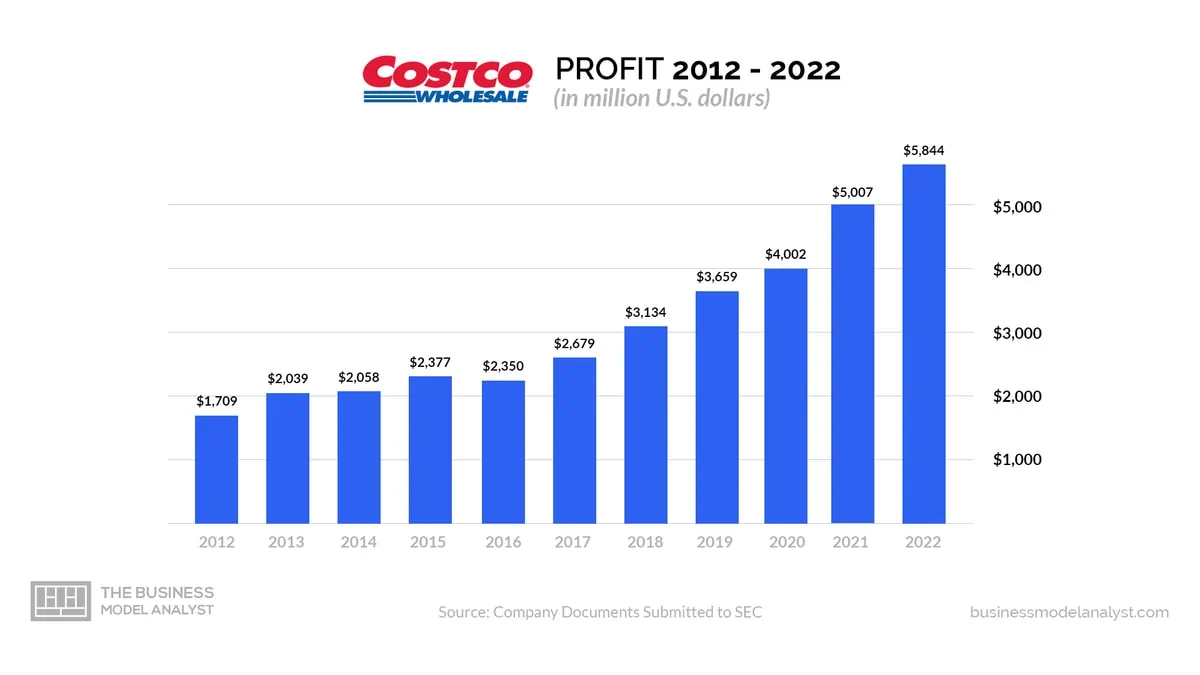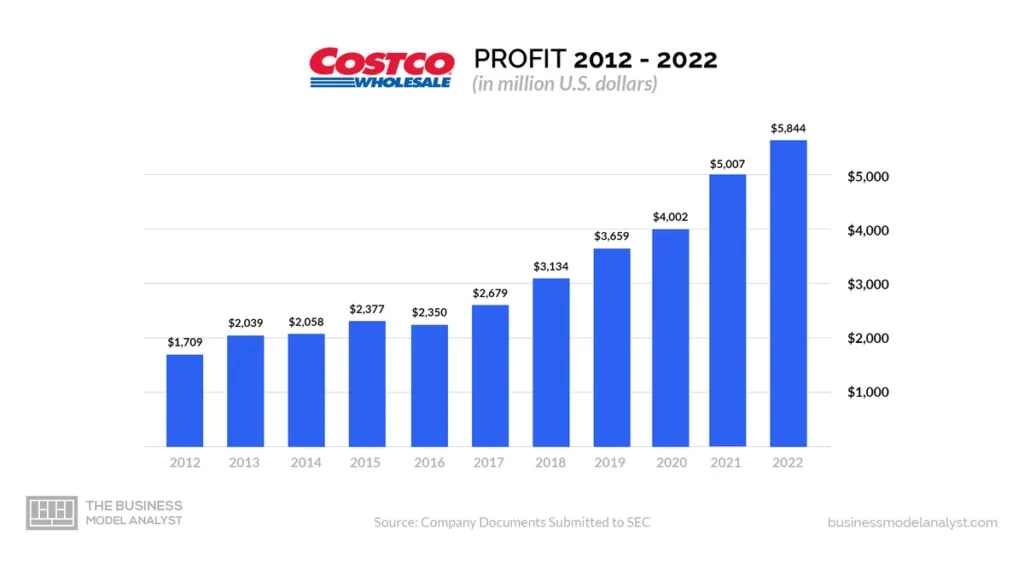 During the 2021 fiscal year, Costco sold merchandise worth $192 billion and generated $3.9 billion from membership fees. The company's gross margin was approximately 11% without membership fees. A significant percentage of Costco's profit comes from membership charges. In 2021, for example, the company's merchandising costs were $170 billion against $192 billion in revenue.
Administrative, general, and selling expenses were $18.5 billion. The company recorded a total profit of $5.2 billion that year. Costco's gross profit for the February 28 quarter was $6.843 billion, a 7.14% rise year-over-year. Gross profit for the twelve months ending within the same period increased by 6.33% year-over-year to $28.285 billion. The gross profit for 2022 increased by 9.22% from 2021 to $27.572 billion. In 2020, Costco registered a 15.69% increase from 2020 to get a $25.245 billion gross profit.
Potential for Profitability
Costco has undoubtedly been on an impressive upward trajectory over the years. Still, there is always a lot a company can do to reach greater heights profit-wise. Here's what Costco can do to increase its revenue and profits.
Enhance its online presence. Smartphones have become more popular, meaning the number of people shopping online has also increased. Costco can use that opportunity to create a user-friendly eCommerce platform. Doing so will encourage both members and non-members to shop online.
The company has recorded poor online sales in the past. For example, in 2019, eCommerce contributed a paltry 4% of the company's total revenue. In quarters three and four of 2020, Costco expanded its eCommerce platform to boost demand for its online shopping. These efforts increased the company's online sales to some extent. Continued expansion of the Costco eCommerce platform can go a long way in boosting its online sales and revenue.
Health-conscious consumers. Today, more people are becoming more health conscious. As a result, Costco can leverage this opportunity to encourage healthy alternatives in its grocery and food court section.
Digital advertising. Nearly everybody has an account on multiple social media platforms, and the number of active users is growing rapidly. As a result, Costco can leverage this opportunity to reach prospective members through advertising its services digitally. Costco can promote its services and products significantly through social media.
Global expansion. Costco has a massive opportunity to penetrate new markets and launch new warehouses globally.
Expansion through acquisition. To expand to related sectors such as delivery services, Costco can acquire small or medium companies within the industry. The company can replicate its 2020 acquisition of Innovel Solutions, which gave it an additional revenue stream.
Embracing flexible purchase alternatives. Some of Costco's competitors have introduced curbside pickup services to grow their sales. According to analysts, the demand for curbside grocery services will continue growing. As a result, Costco can increase its grocery revenue by embracing a flexible curbside pick that many customers desire.
Conclusion
Despite the company's various challenges during its early stages, Costco has enjoyed significant success and stable profits over the years. Still, Costco can improve its revenue and grow its profits by leveraging the opportunities we've discussed above.