Adidas is a well-known company that creates and produces sporty and fashionable footwear, clothes, and accessories. It was founded by Adi Dassler in 1949 in Germany, and it has since grown to become one of the most renowned sportswear manufacturing companies in the world. Adidas is highly respected for its premium goods and avant-garde style.
The company has advanced significantly in its field of business throughout the years and recorded various successes that have made it a force to be reckoned with. The brand's collaboration with some of the biggest names in sports, like Lionel Messi and James Harden, among others, is one of its most illustrious accomplishments. This collaboration has improved the brand's recognition and appeal to sports fans worldwide. Innovating constantly to improve the functionality and comfort of its products, Adidas is always at the forefront of the industry. 
Notwithstanding its achievements, Adidas nevertheless faces several difficulties. One of the biggest obstacles is the fierce competition, with companies like Nike and Under Armour battling for market dominance. Moreover, economic ambiguity and shifting consumer tastes may impact the brand's performance.
Below, there is an in-depth Adidas SWOT analysis to determine its strengths, weaknesses, opportunities, and threats. When making strategic decisions and identifying areas for improvement, this analysis can offer insights into the company's internal and external issues, current position in the market, and future possibilities.
Strengths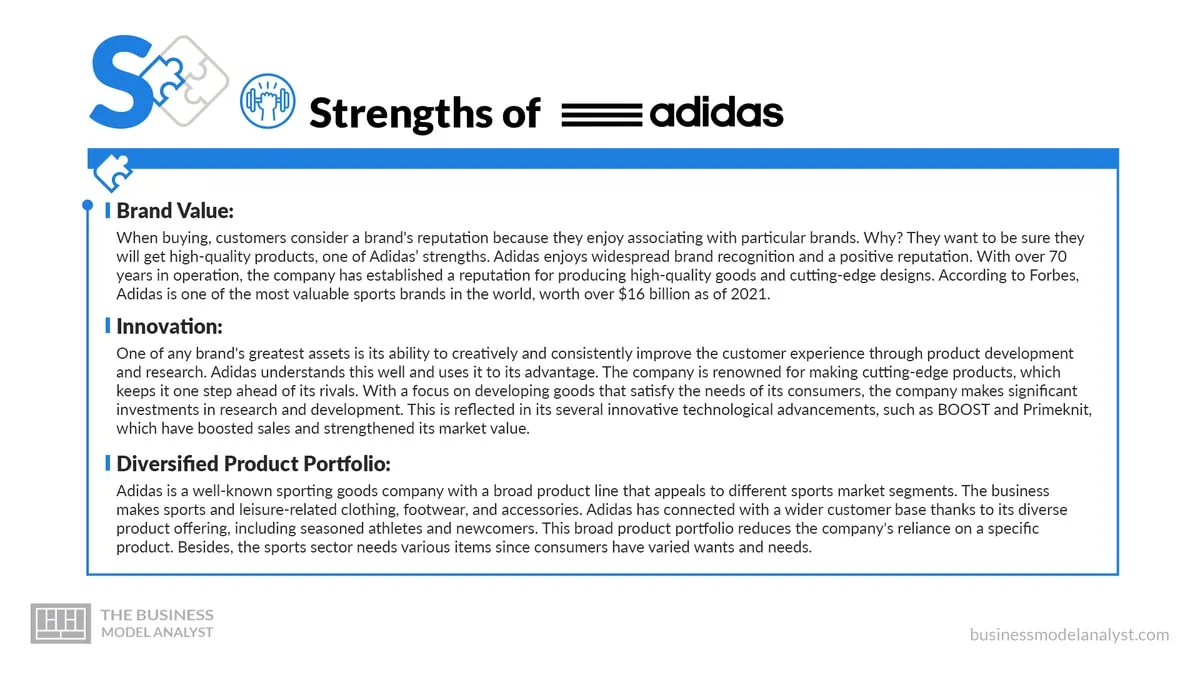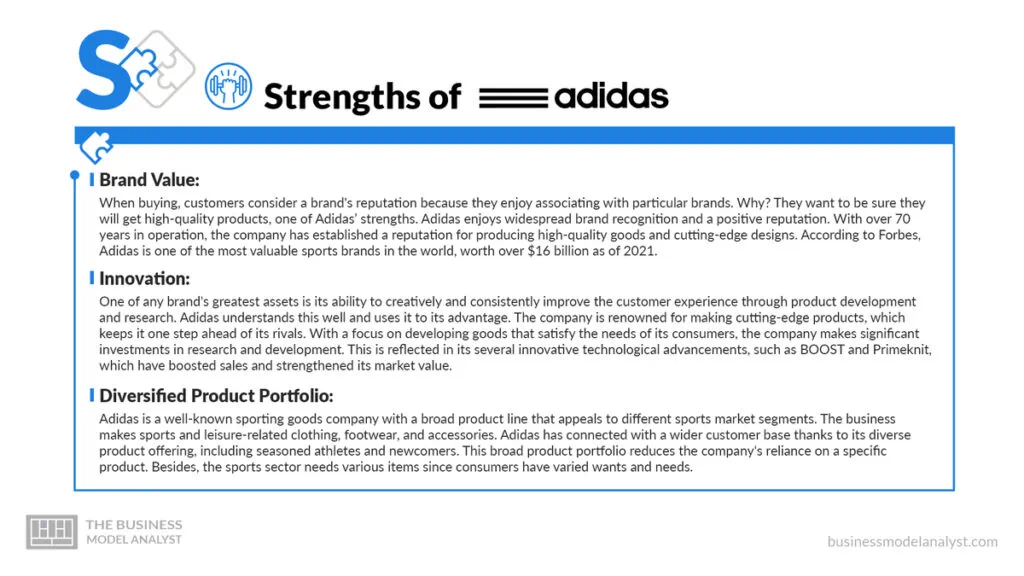 Adidas owes its massive success in the global market to quite several factors. Below, there are some of them:
Brand Value
When buying, customers consider a brand's reputation because they enjoy associating with particular brands. Why? They want to be sure they will get high-quality products, one of Adidas' strengths. Adidas enjoys widespread brand recognition and a positive reputation. With over 70 years in operation, the company has established a reputation for producing high-quality goods and cutting-edge designs. According to Forbes, Adidas is one of the most valuable sports brands in the world, worth over $16 billion as of 2021.
Innovation
One of any brand's greatest assets is its ability to creatively and consistently improve the customer experience through product development and research. Adidas understands this well and uses it to its advantage. The company is renowned for making cutting-edge products, which keeps it one step ahead of its rivals. With a focus on developing goods that satisfy the needs of its consumers, the company makes significant investments in research and development. This is reflected in its several innovative technological advancements, such as BOOST and Primeknit, which have boosted sales and strengthened its market value.
Diversified Product Portfolio
Adidas is a well-known sporting goods company with a broad product line that appeals to different sports market segments. The business makes sports and leisure-related clothing, footwear, and accessories. Adidas has connected with a wider customer base thanks to its diverse product offering, including seasoned athletes and newcomers. This broad product portfolio reduces the company's reliance on a specific product. Besides, the sports sector needs various items since consumers have varied wants and needs. A large selection of items also aids Adidas in maintaining market dominance and attracting more consumers. Also, Adidas' broad range of products has helped it grow its global clientele. Adidas has successfully dominated a significant portion of the worldwide sports market thanks to different products tailored to various geographic needs.
Strategic Partnerships and Endorsements 
Customers would choose to purchase from brands with which they are more closely associated. They would also do the same if a particular brand were associated with their preferred celebrities, influencers, or other brands. Adidas forges strategic alliances with well-known sports organizations, athletes, and celebrities, increasing its brand recognition and boosting revenue. By working with influencers and developing creative marketing initiatives, Adidas has also taken advantage of the power of social media.
Global Presence and Distribution Network
Sporting needs and preferences span countries and continents, rather than being limited to a single geographic region. These requirements must be satisfied, and Adidas is doing so. The company has a solid international presence and conducts business in more than 160 countries. It has a robust distribution network comprising relationships with independent retailers, e-commerce platforms, and brick-and-mortar locations, making it acquire customers in many markets and geographic areas.
Digital Presence
Any business would be wise to evolve with the world as it does. Adidas has already adapted to the new technologies emerging daily, especially with e-commerce becoming increasingly popular among consumers and manufacturers. Adidas has a significant internet presence and an online storefront for customers. Additionally, the business uses social media to interact with customers and foster a feeling of brand community. To improve the client experience, Adidas has also adopted cutting-edge technology like augmented and virtual realities.
Social Responsibility and Sustainability
Customers are turning to eco-friendly items as they become more conscious of the environment and concerned about keeping it clean, clear, and carbon-free. Adidas is a well-known international company that acknowledges sustainability and CSR significance. The company has made several efforts to lessen its environmental impact. Adidas has committed to employing entirely recycled polyester in its products by 2024, one of its most significant sustainability initiatives. Sportswear frequently contains polyester, produced using non-renewable resources like petroleum, which pollutes the environment. Using recycled polyester, Adidas can reduce its carbon footprint and save natural resources. Adidas has also pledged to become carbon-neutral by 2050. By 2030, the corporation wants to cut its greenhouse gas emissions by 30% compared to the baseline year of 2017. Adidas is also investing in sustainable energy sources like solar and wind energy to lessen its reliance on fossil fuels.
Financial Performance
Adidas has steady revenue growth and profitability, contributing to its financial performance. In 2020, the business recorded €23.8 billion in revenue, an increase of 2% from the previous year, and €1.4 billion in net income. Adidas can invest in R&D and keep innovating its products and services because of its stable financial situation.
Weaknesses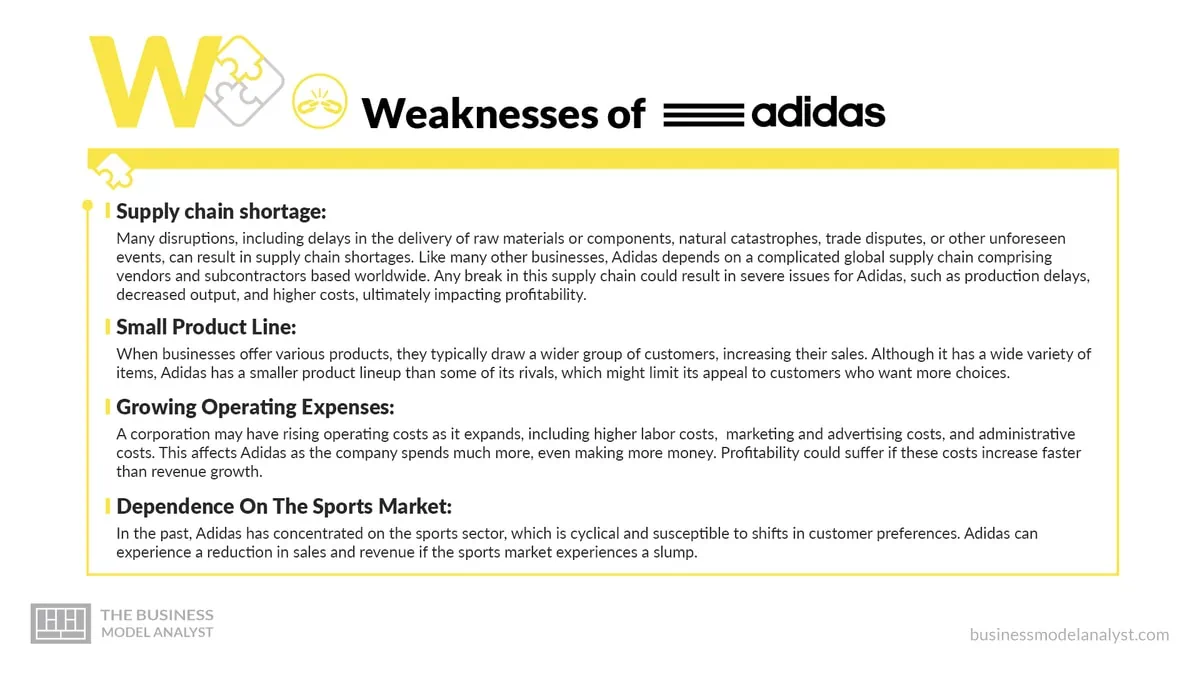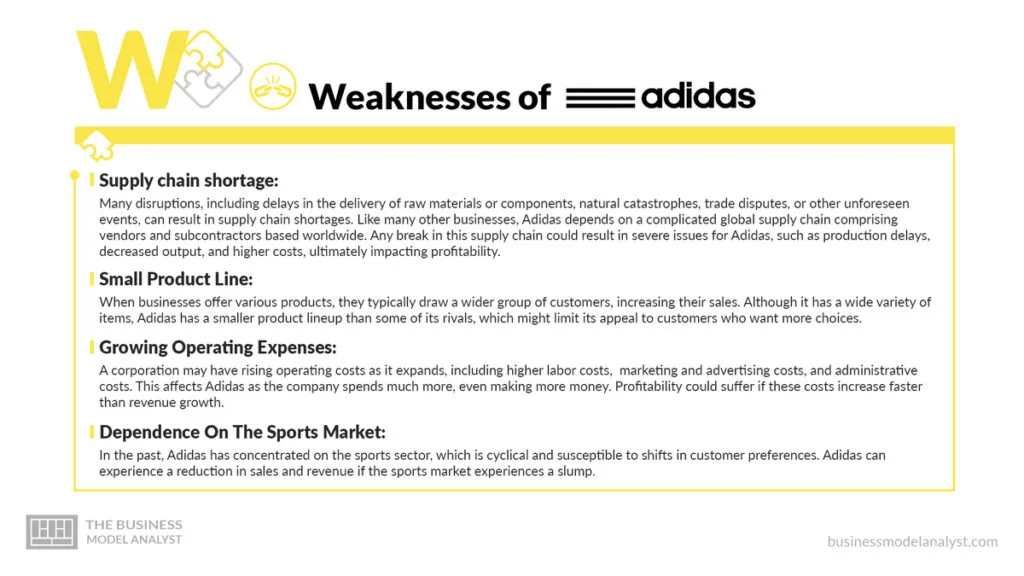 While Adidas has stunned both competitors and consumers with its stellar market performance, it is not without its drawbacks. Below, there are some of Adidas' weaknesses:
Supply chain shortage
Many disruptions, including delays in the delivery of raw materials or components, natural catastrophes, trade disputes, or other unforeseen events, can result in supply chain shortages. Like many other businesses, Adidas depends on a complicated global supply chain comprising vendors and subcontractors based worldwide. Any break in this supply chain could result in severe issues for Adidas, such as production delays, decreased output, and higher costs, ultimately impacting profitability.
Small Product Line
When businesses offer various products, they typically draw a wider group of customers, increasing their sales. Although it has a wide variety of items, Adidas has a smaller product lineup than some of its rivals, which might limit its appeal to customers who want more choices.
Growing Operating Expenses
A corporation may have rising operating costs as it expands, including higher labor costs,  marketing and advertising costs, and administrative costs. This affects Adidas as the company spends much more, even making more money. Profitability could suffer if these costs increase faster than revenue growth.
Dependence On The Sports Market
In the past, Adidas has concentrated on the sports sector, which is cyclical and susceptible to shifts in customer preferences. Adidas can experience a reduction in sales and revenue if the sports market experiences a slump.
Outsourced Manufacturing
Adidas outsources much of its production to plants in nations with cheaper labor prices. Although this approach may result in cost savings, it also exposes the business to risks related to poor working conditions, violations of labor regulations, and supply chain interruptions.
Intense Competition
Other major international companies like Nike, Under Armour, and Puma fiercely rival Adidas. If Adidas cannot distinguish itself from its rivals, this competition may result in price wars and decreased profitability. Adidas may need to consider expanding its product line to appeal to a broader range of customers to stay competitive. 
Slow Response To Fast Fashion Trends
Because of how quickly things move in the fashion industry, businesses that fall behind their rivals risk losing market share. Adidas struggles to react swiftly to shifts in consumer tastes, which might affect sales and earnings.
Limited Presence In Emerging Markets Of Developing Countries
Adidas' weak presence in underdeveloped nations' growing marketplaces may limit its potential for expansion. These markets have much room for growth but also present special difficulties, like fluctuating currencies, unstable governments, and divergent cultures. If Adidas wants to establish a market in these regions, the company must find a way to flourish regardless of the difficulties.
Expensive products
Adidas is a well-known company associated with top-notch athletic gear. The brand has a reputation for making high-quality, stylish footwear and clothing, but this reputation comes with a premium price tag. Some clients constantly search for the most terrific deal in a cutthroat marketplace. Adidas' items may lose market share and sales when more affordable competitors are frequently accessible and produce the same high-quality sports gear. It might also consider providing more economical solutions to appeal to a larger audience. If Adidas refuses, its brand acceptance can suffer, as even the most prosperous businesses can lose ground from failing to adapt to shifting market conditions.
Opportunities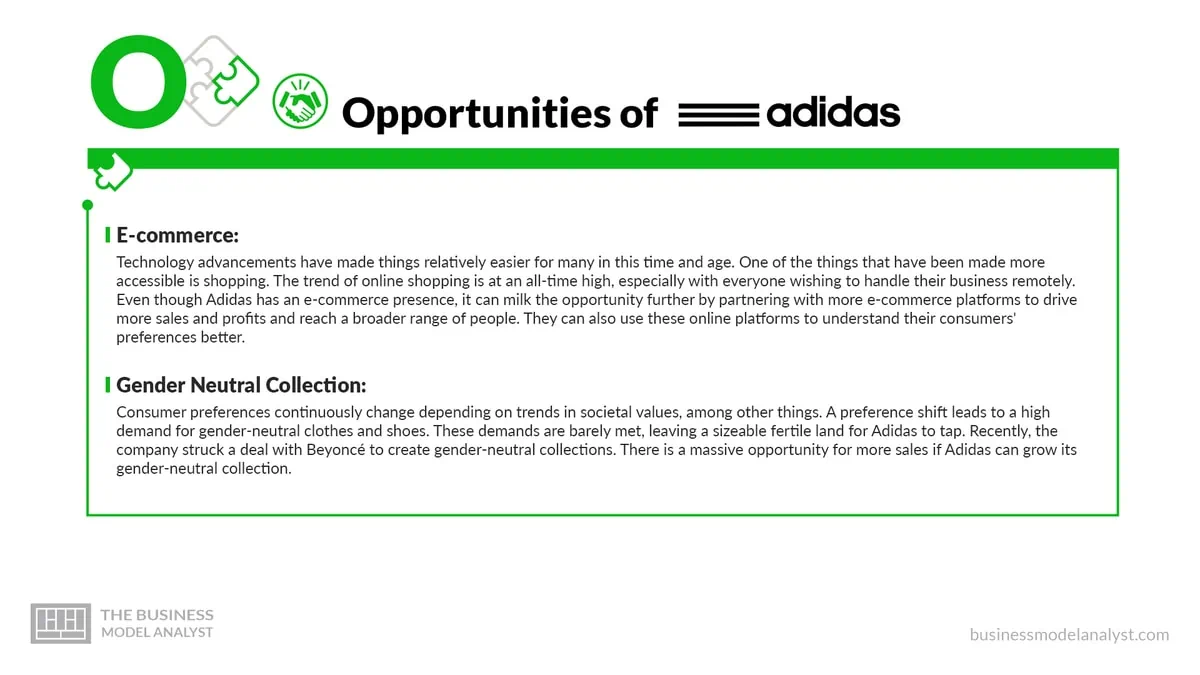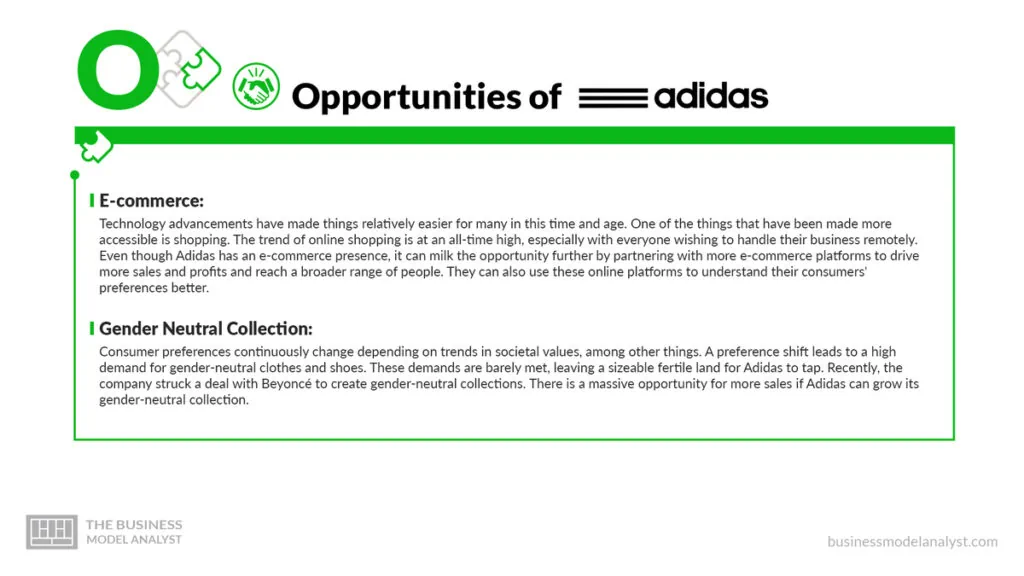 Although Adidas has done well, there is still more room for improvement. Here, there are some opportunities in the market Adidas can take advantage of or strengthen its position in:
E-commerce
Technology advancements have made things relatively easier for many in this time and age. One of the things that have been made more accessible is shopping. The trend of online shopping is at an all-time high, especially with everyone wishing to handle their business remotely. Even though Adidas has an e-commerce presence, it can milk the opportunity further by partnering with more e-commerce platforms to drive more sales and profits and reach a broader range of people. They can also use these online platforms to understand their consumers' preferences better.
Gender Neutral Collection
Consumer preferences continuously change depending on trends in societal values, among other things. A preference shift leads to a high demand for gender-neutral clothes and shoes. These demands are barely met, leaving a sizeable fertile land for Adidas to tap. Recently, the company struck a deal with Beyoncé to create gender-neutral collections. There is a massive opportunity for more sales if Adidas can grow its gender-neutral collection.
Growing Sportswear Industry
The need to participate in sports and remain fit keeps rising; it is not restricted by territory. This need has also led to an increase in the demand for sportswear items and accessories. By figuring out where the demand for these sportswear items and accessories is emerging, Adidas can supply products to fulfill these demands and increase sales.
Demand For Premium Products
Usually, people want what is best whenever they shop and try as much as possible to get premium products. The only reason they don't is that they lack the means and purchasing power to do so. However, with the improved economic situation in developing countries comes a better standard of living for consumers. This means that as their buying power increases, people now demand luxury and premium products like the ones produced by Adidas. In light of this, Adidas can target consumers under this category in all geographical areas, especially developing countries, and meet the demand for premium sportswear clothing and shoes.
Using Smart Material
The road to fitness is not often easy — as people ply this road, usually by participating in sports, they want to feel as comfortable and functional as possible. Many sportswear manufacturers make the mistake of producing sports clothing and shoes using uncomfortable designs or materials. This problem allows Adidas to use smart materials and technology to make sports gear more convenient, comfortable, and functional. This would further consolidate Adidas' position as a global leader in the industry.
Expanding To Emerging Markets
There is a potential market for Adidas in India, Brazil, and most of Africa. These markets have not been explored or touched by any sportswear manufacturing company. The interest in sports in these countries is also increasing, so Adidas can grab this opportunity to enter these markets.
Product Diversification
Adidas can begin to branch into new market categories that are not entirely different from sports by expanding its product portfolio. The company should not depend entirely on sportswear. Consumer preferences change regularly, and there might be a time when sports will not be the main big thing. They would be ready for such shifts by branching out to other categories.
Collaborations.
Adidas can collaborate with many people to raise awareness and increase sales. As such, the company expands its brand visibility and reaches a broader range of people. Also, by collaborating with some brands, the company could create more innovative and customer-appealing products.
Sustainability
People are continuously becoming aware of their environment and how much damage has been done to it. To save their environment and the earth in general, people are trying as much as possible to do away with activities that negatively affect the earth and embracing eco-friendly activities and products. Adidas can also dig deeper into this idea of sustainability by using recycled materials for manufacturing their products and designing products that can easily be recycled. This way, Adidas will be a significant player in the circular economy and can build a thriving business.
Sporting Equipment Production
Although Adidas and its rivals are well-known for their sportswear collections, diversifying into the manufacture of other athletic goods might be a wise step for the company. Sports enthusiasts have a high demand for sporting goods like basketball hoops, tennis rackets, golf clubs, and soccer balls. Adidas would have a competitive edge if they could manufacture and market these goods before their rivals. This also allows Adidas to diversify its revenue streams and increase its product line. As such, it would better withstand economic downturns or changes in consumer tastes. Also, sporting goods typically have a higher profit margin than sportswear, which could improve the businesses' bottom lines.
Threats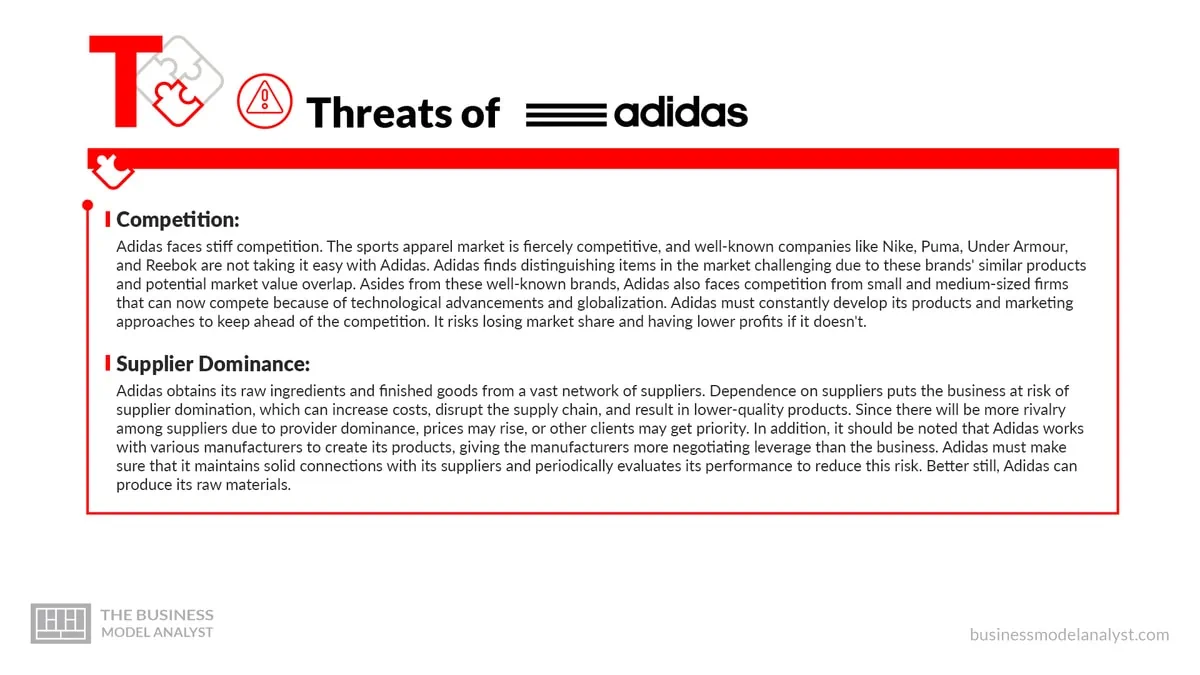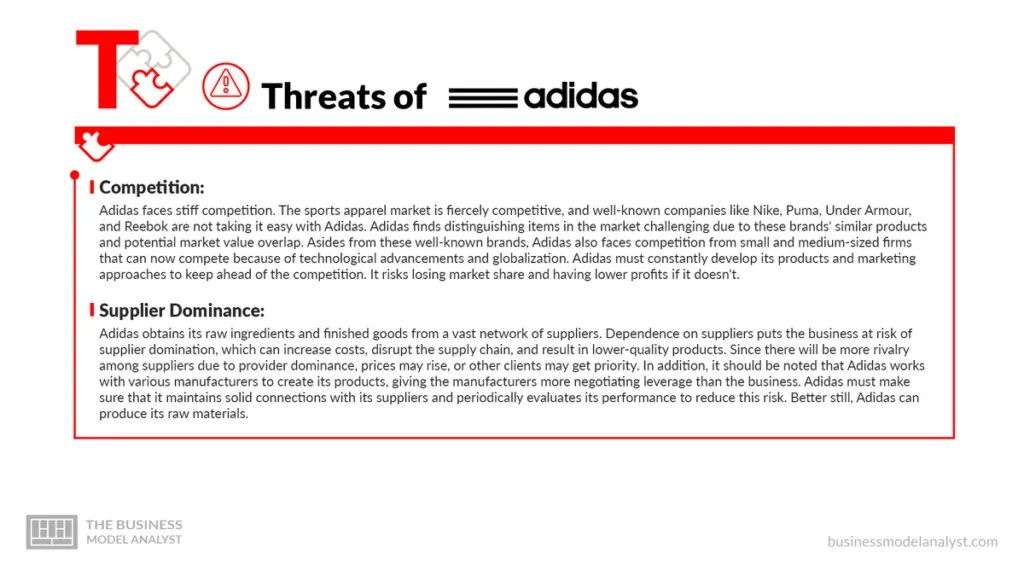 Here, there are some of the threats Adidas faces:
Competition
Adidas faces stiff competition. The sports apparel market is fiercely competitive, and well-known companies like Nike, Puma, Under Armour, and Reebok are not taking it easy with Adidas. Adidas finds distinguishing items in the market challenging due to these brands' similar products and potential market value overlap. Asides from these well-known brands, Adidas also faces competition from small and medium-sized firms that can now compete because of technological advancements and globalization. Adidas must constantly develop its products and marketing approaches to keep ahead of the competition. It risks losing market share and having lower profits if it doesn't.
Supplier Dominance
Adidas obtains its raw ingredients and finished goods from a vast network of suppliers. Dependence on suppliers puts the business at risk of supplier domination, which can increase costs, disrupt the supply chain, and result in lower-quality products. Since there will be more rivalry among suppliers due to provider dominance, prices may rise, or other clients may get priority. In addition, it should be noted that Adidas works with various manufacturers to create its products, giving the manufacturers more negotiating leverage than the business. Adidas must make sure that it maintains solid connections with its suppliers and periodically evaluates its performance to reduce this risk. Better still, Adidas can produce its raw materials.
Fake Products
Counterfeit goods may significantly impact the reputation of Adidas' brand and financial results. Since they are of low quality, they harm the brand's reputation, diminish client loyalty and hurt sales. Adidas must take decisive action to stop creating and distributing fake goods. This entails strengthening supply chain controls, collaborating with law enforcement to track down and prosecute counterfeiters, and raising public awareness of the dangers of purchasing fake goods.
Economic Downturns
Consumer spending on luxuries like sports gear and shoes decreases during economic downturns, affecting Adidas' sales and profitability. Adidas must diversify its product offerings and markets to lessen its dependency on one market. Also, it must be flexible and responsive to economic changes, adjusting its pricing and marketing plans accordingly.
No Recognized Trademark
Adidas's brand is one of its most valuable assets. However, in some markets, the company's trademark is not protected, exposing the company to the risk of intellectual property theft. In 2019, it lost a suit over its tri-strip logo, meaning they do not have a right over it.
Changing Consumer Preferences
To be relevant and competitive, Adidas must stay ahead of the changes in consumer tastes. If not, its brand loyalty and sales may suffer. Adidas must spend money on market research and analysis to identify trends and modifications in consumer preferences. However, it must be flexible and sensitive to these changes, modifying its product lineup and marketing tactics.
Lawsuits
Adidas was sued in 2021 by Nike for allegedly utilizing the Flyknit technology to produce shoes without a license. Due to these allegations, a full investigation of the brand is now necessary. Such lawsuits may significantly harm Adidas's finances and reputation. These lawsuits will cost Adidas a lot for legal counsel, and even more, if they lose the case. Lawsuits can result from many things, such as contract violations, trademark infringement, and product faults.
Adidas must employ efficient risk management measures, such as contract management, product quality assurance, and adherence to legal and regulatory standards. 
Conclusion
Adidas is a market leader in sportswear, boasting a solid brand identity, cutting-edge products, and a significant global footprint. The business has been operational for over 70 years and has established a strong reputation for performance, quality, and innovation. Since it was founded by Adi Dassler and his brother, Rudolf Dassler, it has developed into one of the world's most well-known and admired brands.
Adidas has also created several incredible items over the years, such as the Ultraboost running shoe, which is well-known for its comfort and performance, and the Superstar sneaker, a cultural symbol in hip-hop. The company has also contended with issues including fierce rivalry from other sportswear manufacturers, shifting consumer tastes, and COVID-19's effects on the world economy. Adidas has a solid basis with a legacy of invention, quality, and performance.
To stay ahead of its rivals, expand, and maintain its success, the company must adapt to shifting market conditions, prioritize innovation, and uphold its brand image.