The Cisco business model focuses on selling networking equipment and other high-technology services to organizations and businesses. In the early days of Cisco, its business model was a little bit different from what it is today. Cisco used to focus only on providing networking hardware like routers and switches needed to connect computers within the same local area network (LAN). Now, Cisco's business model has expanded to adapt to new technology trends, especially as businesses and organizations directly connect their networks to the internet, rather than using LANs.
Cisco's financial performance and market position both clearly show that the Cisco business model is highly successful. Every year, the company generates positive cash flow. For instance, in 2022. Cisco generated $51.56 billion in revenue. The strong cash flow enables the company to invest in research and acquire other companies. Cisco has acquired more than 200 companies since it was founded. Some of the notable acquisitions include WebEx, OpenDNS, and Meraki.
A Brief History of Cisco
Sandy Lerner and her husband Leonard Bosack Lerner founded Cisco in 1984. Prior to that time, the couple (later divorced) worked at Stanford University. They directed the computer facilities of two different departments at the university. The couple got the inspiration to establish Cisco after they successfully connected the computer networks of two different departments at Stanford using a specialized router. At that time, such a connection was hard to set up.
In 1986, Cisco sold its first product, which was a multiprotocol router that could connect different computer networks together. It became highly demanded immediately after it was launched. Cisco made lots of money from its first product, though it wasn't enough to expand the company's products. As a result, Cisco sought financial backup from Sequoia Capital, a venture capital firm, to get cash for expansion in 1987.
In 1988, John P. Morgridge joined Cisco as CEO of the company. Morgridge grew Cisco from $5 million in sales to over $1 billion in sales. The number of employees within the company also grew so rapidly under his management. Morgridge took Cisco public in 1990. 
Who Owns Cisco
As a publicly traded company, Cisco is majorly owned by institutional investors like The Vanguard Group, State Street Corporation, and BlackRock. Currently, The Vanguard Group is the largest shareholder of Cisco, though it's important to note that Cisco's ownership structure changes constantly as shareholders buy and sell the company's stocks. All major shareholders of Cisco can vote on significant decisions pertaining to the company. For instance, they can influence decisions related to acquisitions, and mergers. However, shareholders don't oversee the day-to-day operation of the company. The company's executive leadership team is in charge of daily operations. The current CEO of the company is Chuck Robbins. He is also one of the company's shareholders. 
Cisco Mission Statement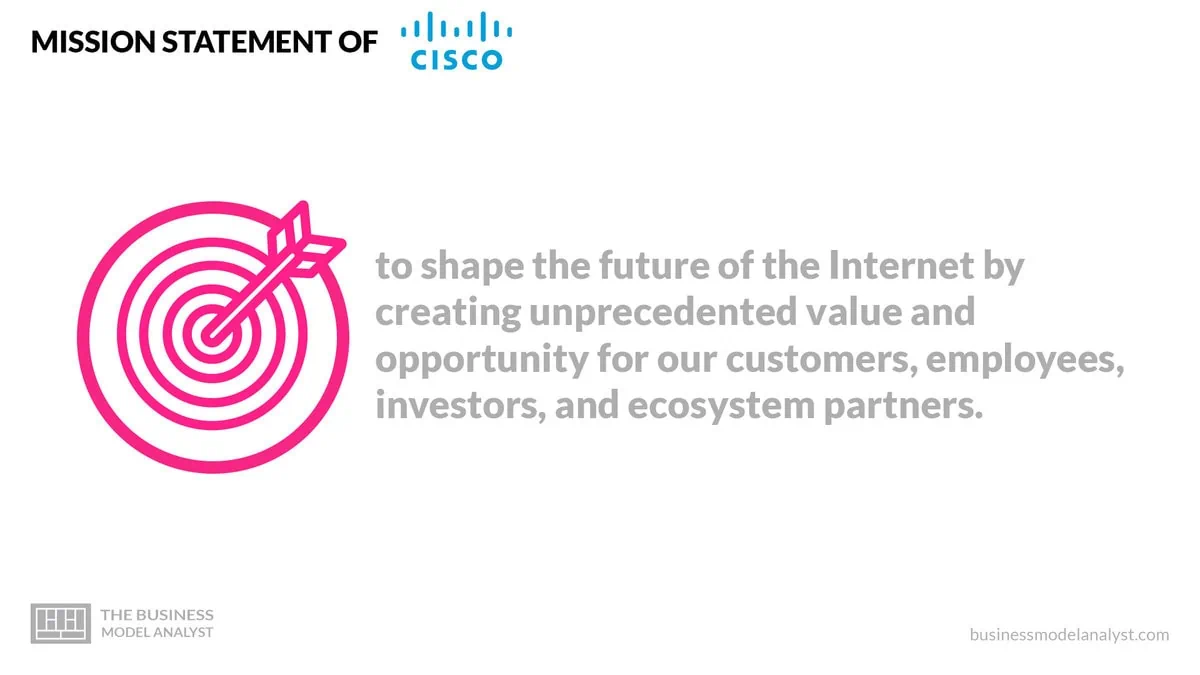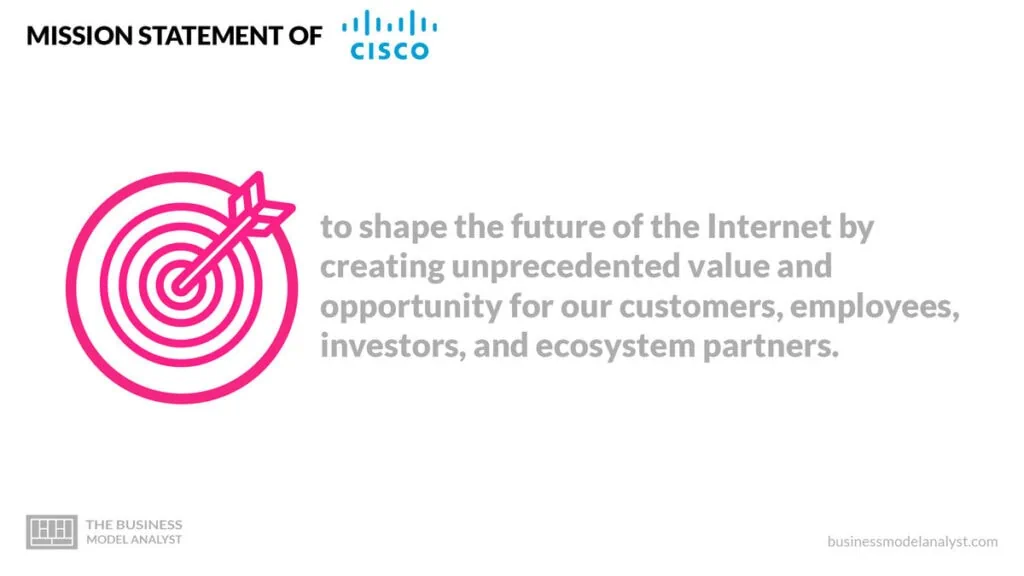 Cisco's mission statement is to shape the future of the Internet by creating unprecedented value and opportunity for our customers, employees, investors, and ecosystem partners.
How Cisco works
Cisco provides the technology and infrastructure that businesses and organizations required to enjoy robust and secure networks. Cisco organizes the solutions it renders into six categories, which are:
Secure, Agile Networks
This solution consists of networking technologies like enterprise routing, and switching. Cisco's switching portfolio includes both campus switching and data center switching offerings. The switching portfolio also includes multigigabit technology to manage higher bandwidth. Cisco's enterprise routing portfolio consists of technology that can interconnect public and private wireline. 
Internet for the Future
The products within this category are those designed to transform how people connect to the internet and cloud environment. A few examples of them include 5G and routed optical networking. Cisco strongly believes that silicon and optics are the basic technologies required to transform the future of the internet. Hence, the company is also developing products that use those technologies.
Collaboration
Products within this category include software and devices that allow distributed teams to collaborate easily. One of the major aims of this solution is to enhance hybrid work and remote work as well as inclusiveness. Cisco's offerings within this portfolio include software offerings, subscription arrangements, and perpetual licenses.
End-to-End Security
Products within this category are designed to secure networks. They include Security Endpoints, Cloud Security and SecureX solution, Unified Threat Management, and Zero Trust. 
Optimized Application Experiences
The technologies within this category facilitate end-to-end visibility of Cisco's customer's networks, applications, multi-cloud infrastructures, and internets. The purpose of such end-to-end visibility is to allow Cisco to help its customers manage the systems they utilize. 
Services
Cisco provides some services and support to its customers to ensure that they gain maximally from the products they purchase. The company also provides advisory services regarding networking and related technologies. Customers who need to migrate to new technology platforms can also contact Cisco to get migration services.
How Cisco makes money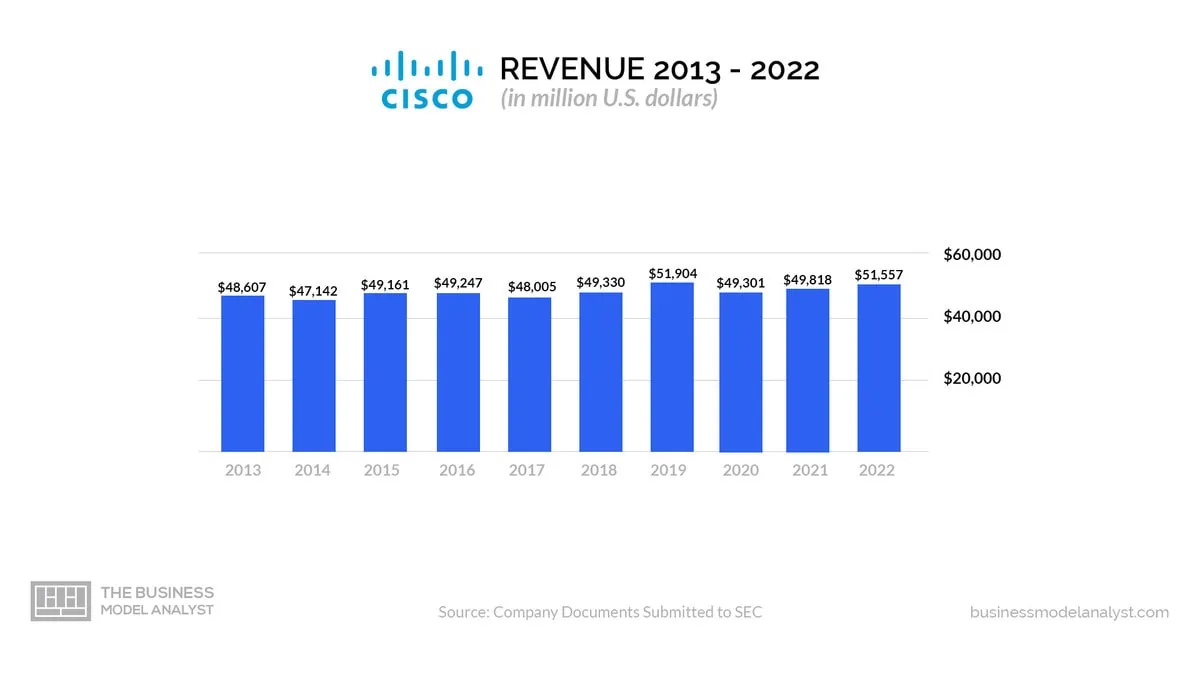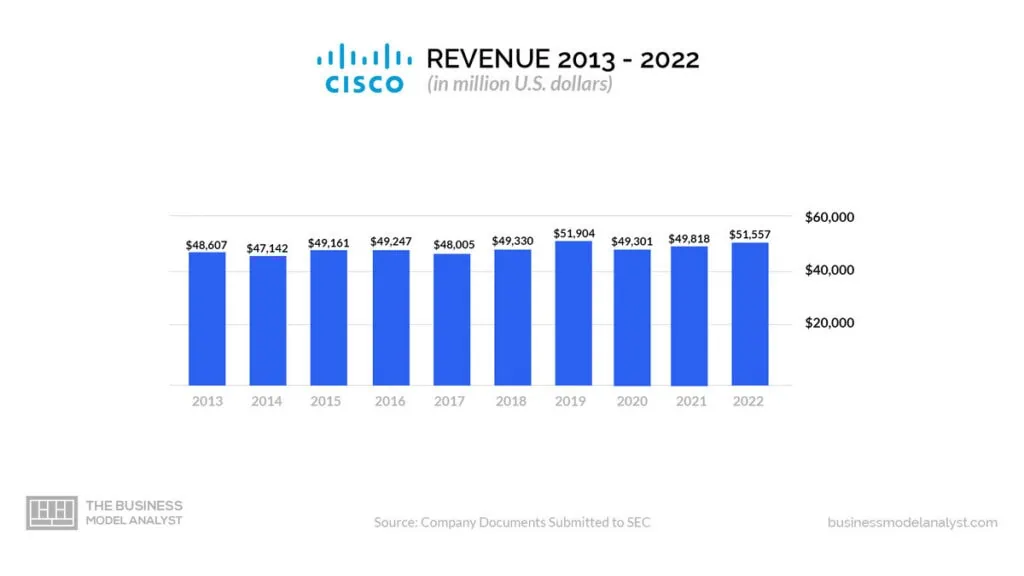 Cisco makes money from the following:
Hardware Sales
Cisco generates money by selling networking hardware like switches, routers and wireless access points, security devices, collaboration equipment, and data center equipment. Currently, hardware sales generate more than 50% of Cisco's revenue. 
Licensing
Cisco has various software licensing models like term-based licenses and subscriptions. Each licensing model generates money for Cisco. Cisco's customers can freely choose the licensing option that suits their needs. The company has a cloud-based licensing solution known as smart licensing that helps its customers easily activate licenses, transfer licenses between devices, and monitor license usage. 
Services
Cisco renders services like consulting services, managed services, cloud services, and technical support. Each of these services generates money for the company.
Cisco Business Model Canvas
Let's take a look at the Cisco Business Model Canvas below: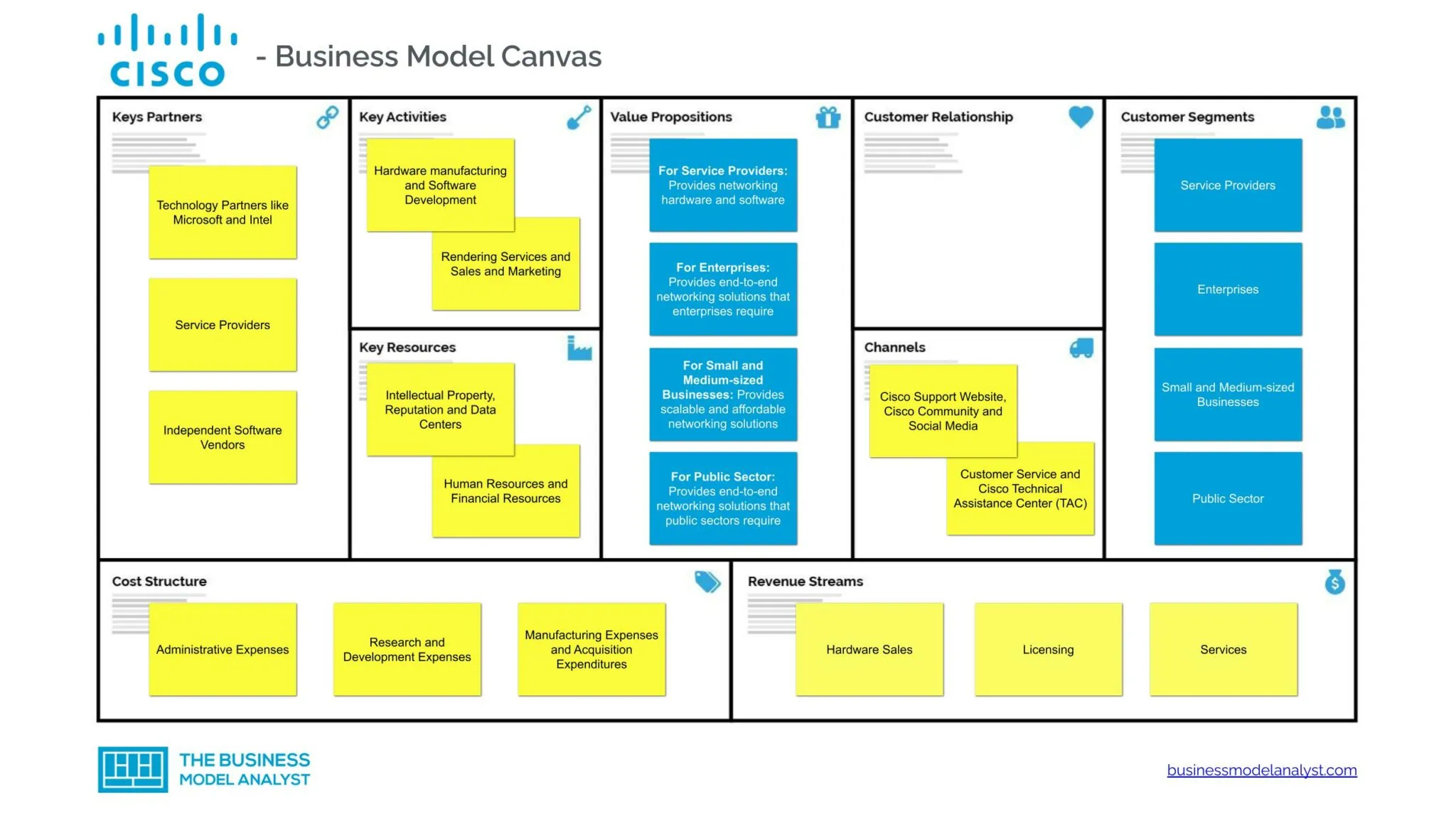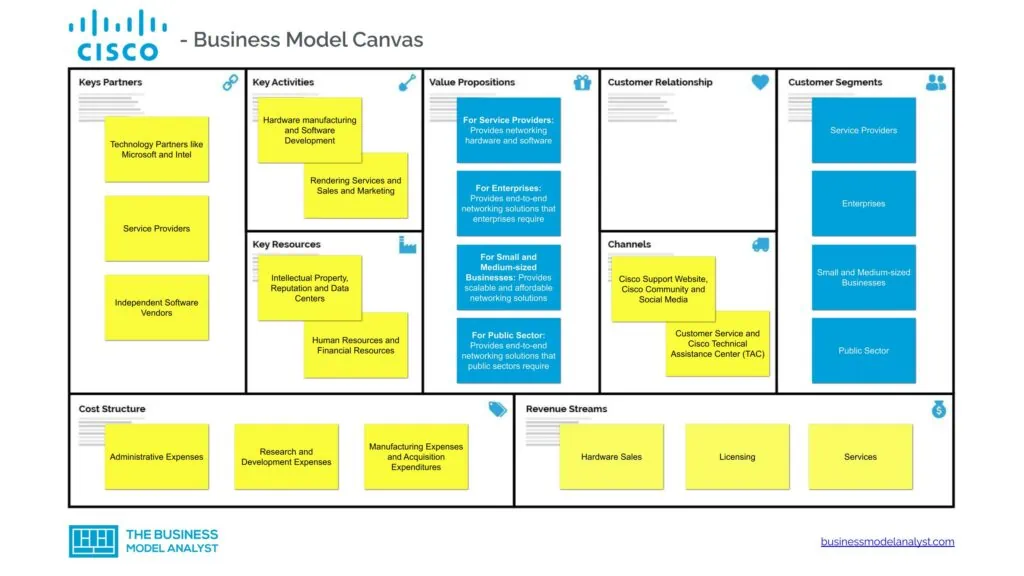 Cisco Customer Segments
Cisco's customer segments consist of:
Service Providers: This segment consists of internet service providers, telecommunication companies and cable companies;
Enterprises: Multinational corporations and government agencies with large organizations make up this segment;
Small and Medium-sized Businesses: This segment consists of small and medium-sized businesses whose operations require networking solutions;
Public Sector: This segment consists of governments at all levels and educational institutions.
Cisco Value Propositions
Cisco's value propositions consist of:
For Service Providers: Provides networking hardware and software that service providers require to render high-quality services to their customers;
For Enterprises: Provides end-to-end networking solutions that enterprises require to automate operations, collaborate, improve productivity and reduce operational costs;
For Small and Medium-sized Businesses: Provides scalable and affordable networking solutions that improve productivity and streamline operations;
For Public Sector: Provides end-to-end networking solutions that public sectors require operating efficiently while maintaining the privacy of their data and networks.
Cisco Channels
Cisco's channels consist of:
Cisco Support Website
Cisco Community
Social Media
Customer Service
Cisco Technical Assistance Center (TAC)
Cisco Revenue Streams
Cisco's revenue streams consist of:
Hardware Sales
Licensing
Services
Cisco Key Resources
Cisco's key resources consist of: 
Intellectual Property
Reputation
Data Centers
Human Resources
Financial Resources
Cisco Key Activities
Cisco's key activities consist of:
Hardware manufacturing
Software Development
Rendering Services
Sales and Marketing
Cisco Key Partners
Cisco's key partners consist of:
Technology Partners like Microsoft and Intel
Service Providers
Independent Software Vendors
Cisco Cost Structure
Cisco's cost structure consists of:
Administrative Expenses
Research and Development Expenses
Manufacturing Expenses
Acquisition Expenditures
Cisco Competitors
Juniper Networks: Jupiter Networks is an American multinational company that builds networking equipment and software, The company also renders IT services. The company was founded by Pradeep Sindhu in 1996 and quickly grew to become a major player in the networking and telecommunications industry. Just like Cisco, the company creates high-quality hardware and software. As a result, it has a strong reputation that makes it one of the top Cisco competitors;
Huawei: In addition to the consumer devices like tablets and smartphones that Huawei manufacture, the company also manufactures networking equipment like switches, and routers. In the U.S., Huawei doesn't compete keenly with Cisco due to government restrictions on Huawei. However, the company competes keenly with Cisco outside the U.S. Huawei's competitive price on its quality products is one of the key strengths the company leverages to dominate many regions around the world;
Netgear: Netgear is an American computer networking company. The company produces networking hardware like switches, routers, and network-attached storage devices. Netgear competes keenly with Cisco, especially in the small and medium-sized business market. Most budget-conscious customers prefer Netgear products to Cisco products because Netgear's products are designed to be very affordable;
Hewlett Packard Enterprise (HPE): Hewlett Packard Enterprise is an American multinational information technology company. Some of the IT products and services HPE offers include storage, software and networking. Its networking portfolio is the reason HPE is one of Cisco's competitors. Its networking products are highly reliable and secure. HPE products offer high performance. For instance, HPE switches support advanced features like automation and analytics. The company constantly strives to develop innovative technologies faster than other companies like Cisco;
Extreme Networks: Extreme Networks is an American networking company. The company produces both wired and wireless network equipment. The company competes well with Cisco, especially in terms of software-driven networking solutions. Its software provides greater automation and control over network infrastructure. 
Cisco SWOT Analysis
Below, there is a detailed SWOT analysis of Cisco: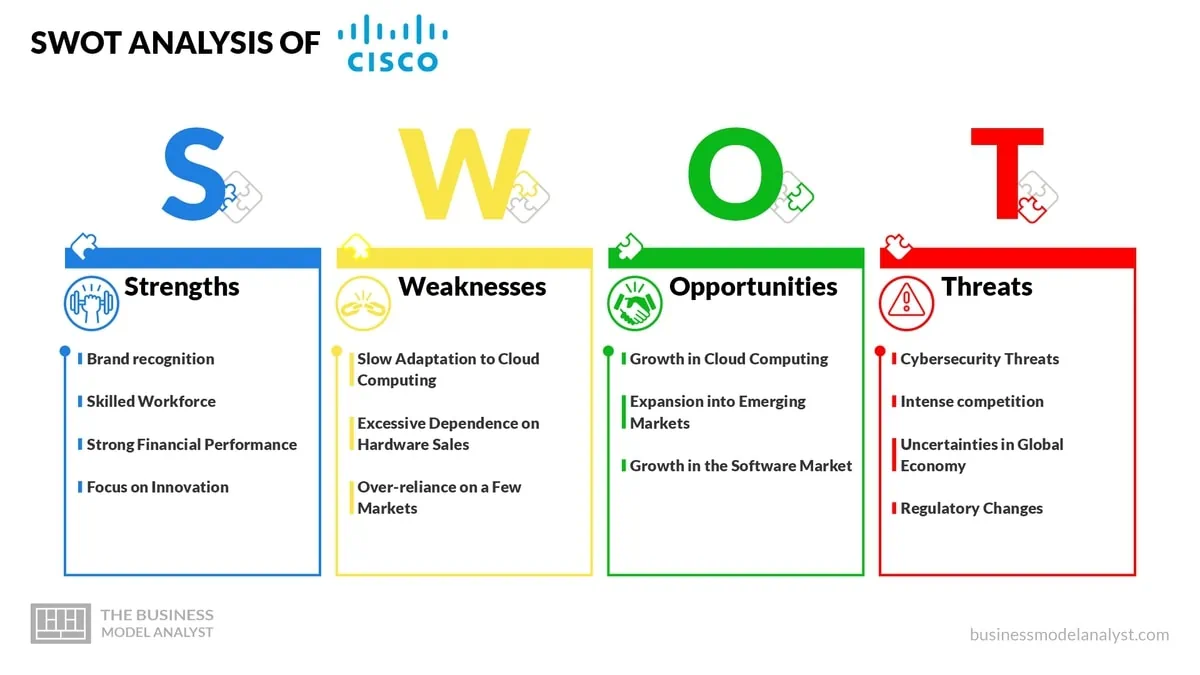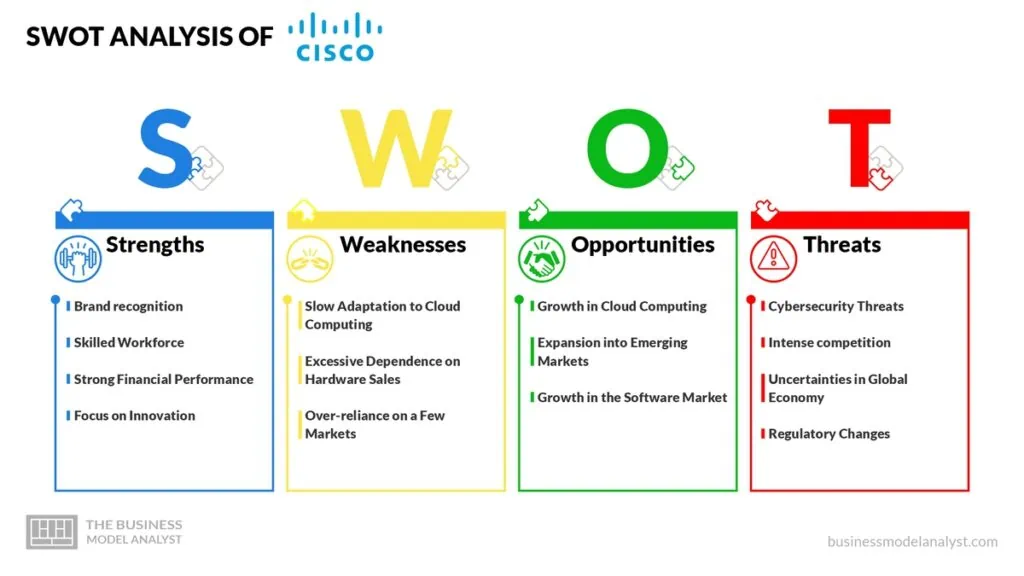 Cisco strengths
Brand recognition: Cisco is a reputable brand in the networking industry. The company is well-recognized and trusted in more than 165 countries. Its reputation has helped it secure profitable partnerships with various businesses worldwide.  Also, the reputation has helped the company gather lots of loyal customers;
Skilled Workforce: Cisco's workforce comprises highly skilled professionals. The skilled workforce allows the company to innovate and be ahead of most of its competitors;
Strong Financial Performance: Cisco's revenue base is highly stable. The strong cash flow allows the company to invest in research and development. It also enables the company to acquire other companies and expand;
Focus on Innovation: Cisco has been able to stay ahead of its competitors majorly because of its focus on innovation. The company constantly improves its products and introduces new products. This practice allows the company to keep track of the emerging needs of its customers.
Cisco Weaknesses
Slow Adaptation to Cloud Computing: The rate at which Cisco is adapting to cloud computing is slower than the rate most of its competitors are adapting to cloud computing. The slow adaptation to cloud computing is causing the company to lose some market shares in cloud computing to its competitors;
Excessive Dependence on Hardware Sales: Cisco depends excessively on the sales of hardware to generate revenue. This dependence may affect the company negatively in the future as technology keeps evolving towards software-defined networking;
Over-reliance on a Few Markets: Although Cisco operates in several countries, a very large percentage of its revenue comes from North America. Hence, the company's financial status may be affected by economic downturns in the region. The company needs to create strategies to generate significant revenue from all the markets where it exists to avoid such from occurring.
Cisco Opportunities
Growth in Cloud Computing: Cisco isn't yet dominant in cloud computing. Hence, the company has the opportunity to grow in cloud computing. Cisco will benefit immensely from cloud computing as the global cloud traffic keeps increasing;
Expansion into Emerging Markets: Cisco has the opportunity to expand into emerging markets like Africa and Asia. The demand for networking equipment is high and growing in such markets, so Cisco will thrive there;
Growth in the Software Market: Cisco has the opportunity to grow in the software market, especially now that software-based networking solutions are gradually replacing hardware-based networking solutions. The company can easily leverage its existing hardware products to grow in the software market. 
Cisco Threats
Cybersecurity Threats: As one of the top providers of networking solutions, the reputation of Cisco depends greatly on its ability to protect the networks and data of all its customers. Cybercriminals have always targeted providers of network solutions, which is why a company like Cisco faces cybersecurity threats. Any successful cyberattack on Cisco can lead to great financial losses and loss of trust;
Intense competition: Most of Cisco's competitors are so strong that they may greatly reduce Cisco's relevance if the company stops seeking new means to dominate markets;
Uncertainties in Global Economy: The overall economy of countries where Cisco operates determines the level of revenue the company generate. As a result, an economic downturn in such countries can negatively affect Cisco's revenue;
Regulatory Changes: Government regulations can also impact Cisco's operation and hence its revenue. In the past, there have been some instances where government regulations negatively affected networking companies in certain countries. For instance, the ban that the U.S. government placed on the supply of Huawei telecommunications equipment to U.S. government agencies has hindered Huawei from thriving in the U.S. In the future, similar bans may be placed on Cisco in some regions.
Conclusion
Clearly, Cisco uses a very successful business model that currently focuses on selling networking equipment and other high-technology services to its customers. However, it's important to note that the company's business model is gradually expanding to keep up with the changing needs of the networking and telecommunication industry. It will be interesting to see Cisco maintain its dominance in the networking and telecommunication industry even in future after lots of industry needs have changed.