Business Model Canvas SWOT Analysis Assessment Spreadsheet
The Business Model Canvas SWOT Analysis Assessment Spreadsheet is a great tool to evaluate how strong your business model is.
"Assessing your business model's overall integrity is crucial, but looking at its components in detail can also reveal interesting paths to innovation and renewal." A. Osterwalder, Y. Pigneur, p.216 (2010)
In addition to having the canvas with its 9 building blocks and post-its to fill them, the SWOT analysis tabs help you analyze the strengths, weaknesses, opportunities, and threats of your business model and visualize with a complete dashboard where your business model canvas needs to improve. The .xlsx file works in any version of Microsoft Excel.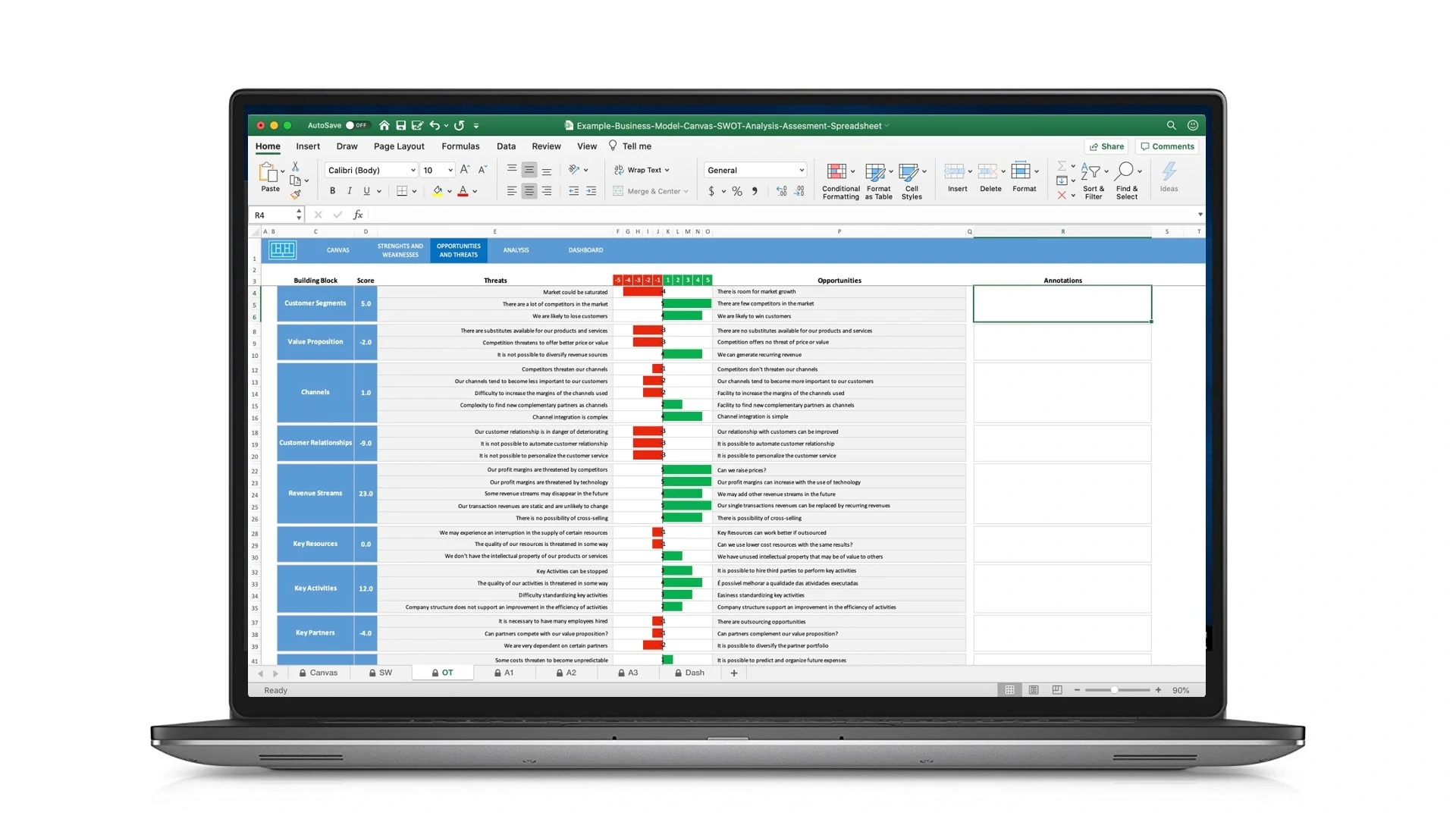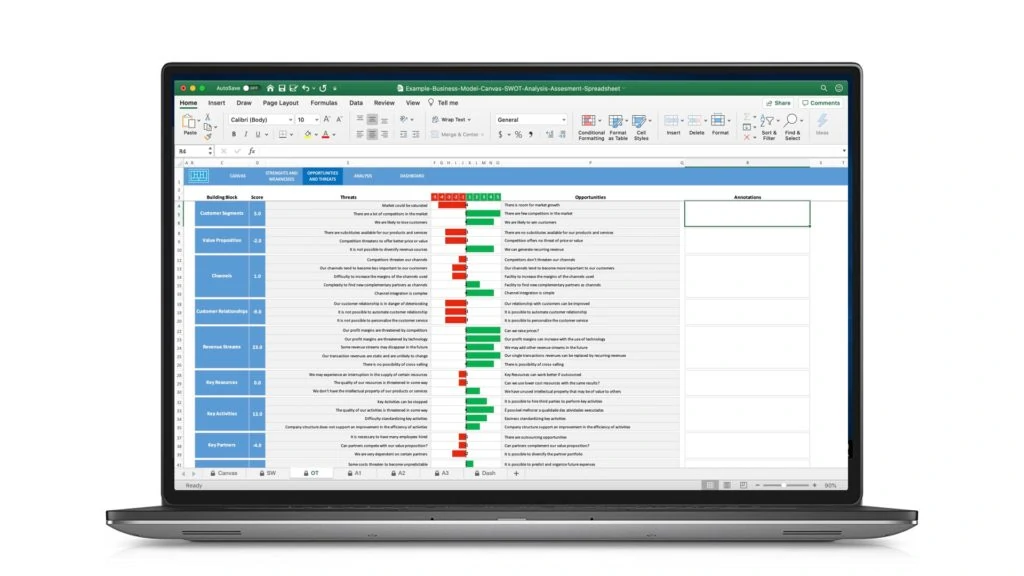 Complete SWOT Analysis using pre-defined questions to assess your business model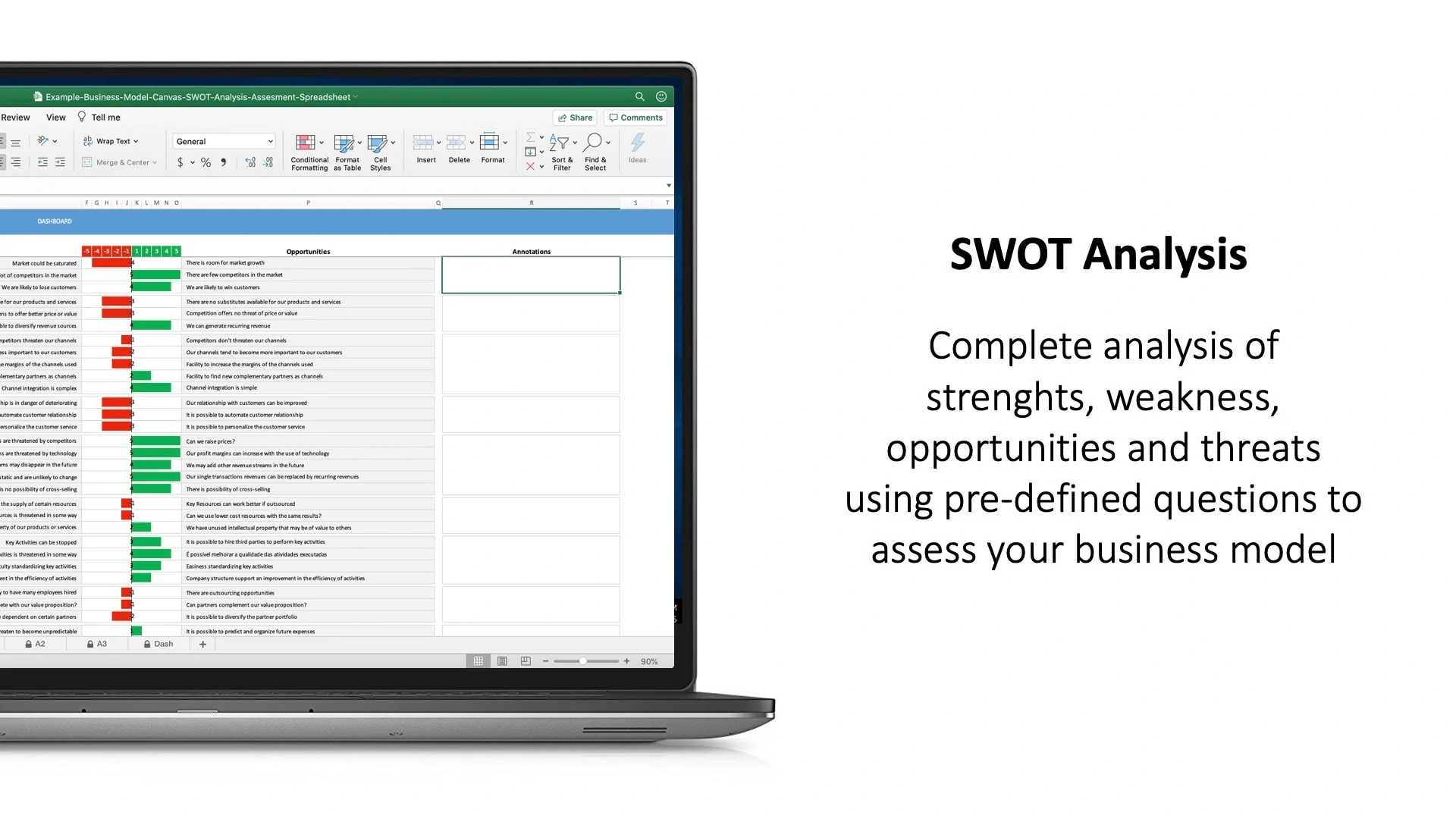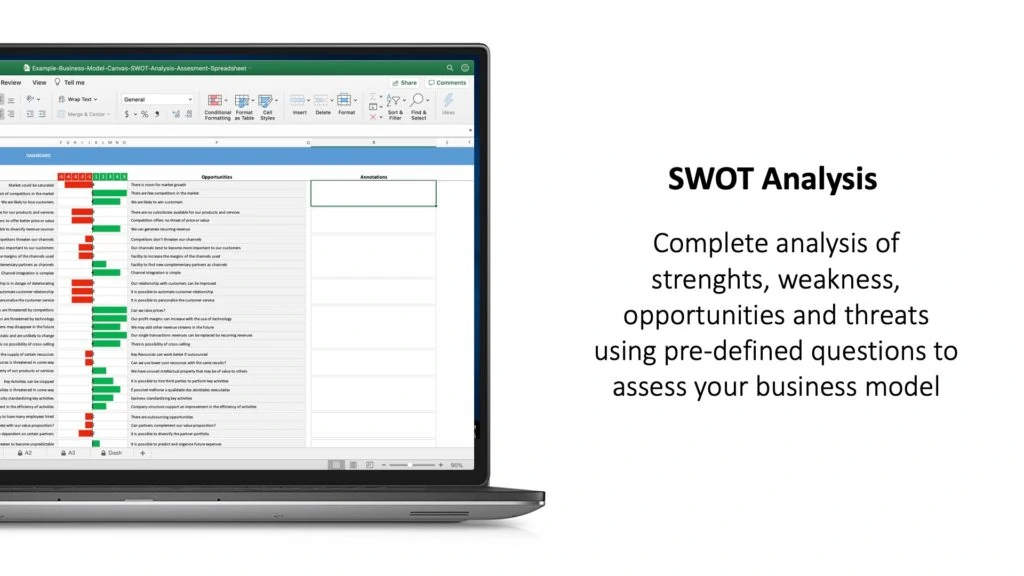 Use the scoreboard to track the points of each block and the room for improvement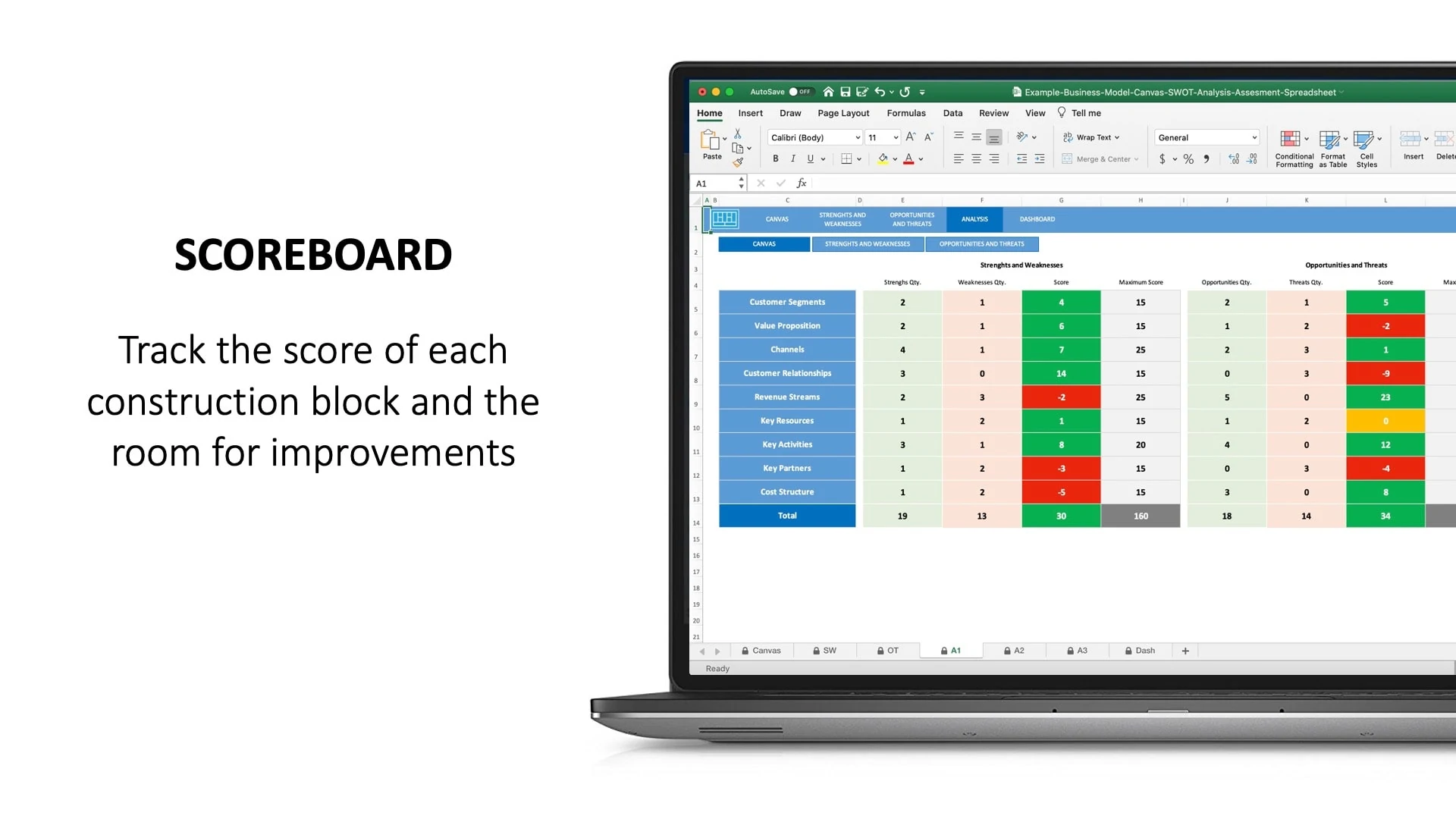 Visualize the score of each block in the business model canvas view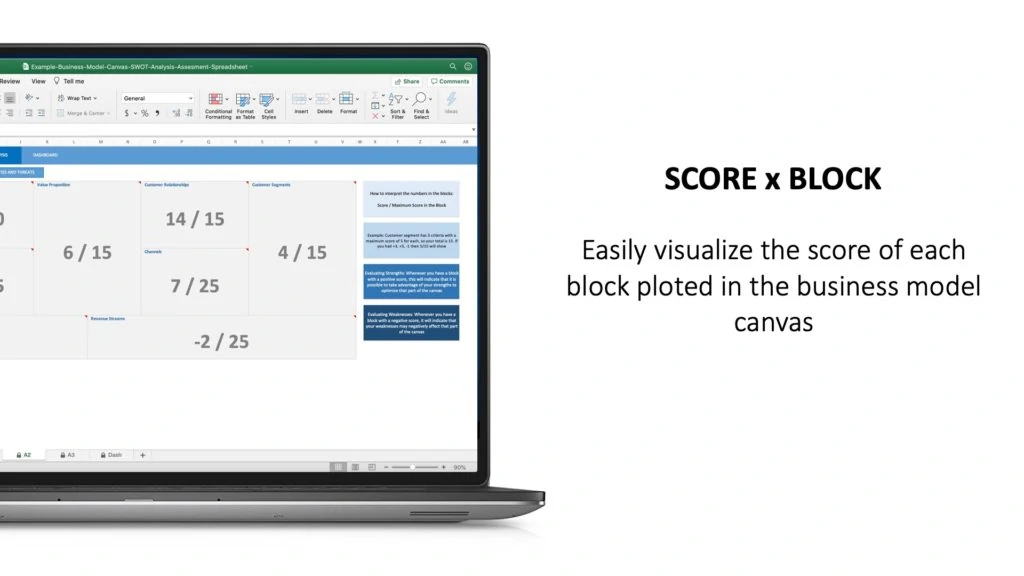 Enjoy the canvas included to design your business model and use it as a reference for the swot analysis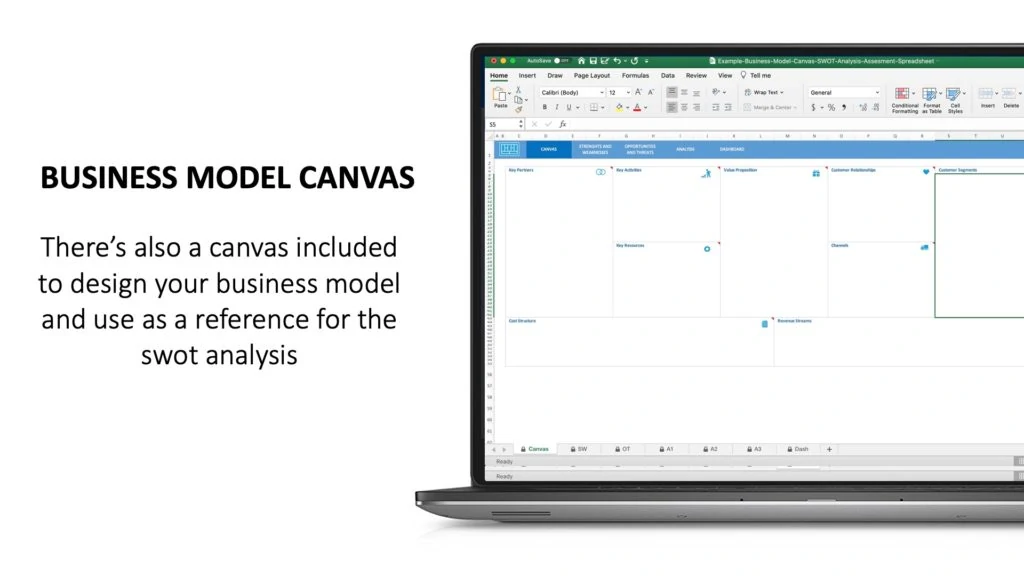 This is to say, SWOT analysis provides the main angles that allow you to evaluate your business model. Those viewpoints within SWOT analysis consist of four main aspects. On the one hand, strengths and weaknesses, which provide information to a business 'where are they now, on the other hand, opportunities and threats, to recognize future evolution in the business.
Why should you assess your Business Model Canvas?
The Business Model Canvas assessment should take place in a teamwork environment where consultants and managers must:
Draw the current screen of the business model
Evaluate it against the competition and rising customer expectations
Identify your strengths and weaknesses and areas for improvement.
For this reason, the Business Model Canvas methodology can be seen as an input for a complete SWOT analysis, which is usually conducted by management teams during the strategic planning process.
By conducting an assessment with your team, you can achieve a shared understanding and involve the entire team in analyzing the current status of your business model and the actions you, as a team, plan to take.
The Business Model Canvas methodology is also used by entrepreneurs and investors at an "early stage" to:
Understand how established companies operate in the sector
Identify the most powerful "critical points" that the company can address to successfully enter the market
Design a new business model to address the pain points
Develop a simplified proof of concept of the Business Model to test its feasibility
After a trial period, analyze the effectiveness of the new business model and change it, pivoting if necessary to a different one