The toolbox of the Business Model Innovator
Instant Download Includes (With Lifetime Updates and Future New Releases)
70+ Super Guides

50+ Trend Business Ideas
 6 Presentation Templates
SWOT analysis spreadsheet
Description:
How do you build a company that changes the world?
Start with the right business model.
Ideal for executives, digital entrepreneurs, and business administration students, the All Products Bundle has everything you need to design, test, and run a successful business model.
This bundle of guides and presentations teaches the strategies the world's largest companies use to stay profitable year after year – and how to make them work for your business.
Perfect for organizations of any size.
Whether you're optimizing an online business or working as a consultant with larger entities, the contents included will help you make smarter, more profitable decisions.
Avoid common business modeling pitfalls, strengthen your knowledge of business concepts, and present your work with confidence using the All Products Bundle.
What's Included:
Super Guides Bundle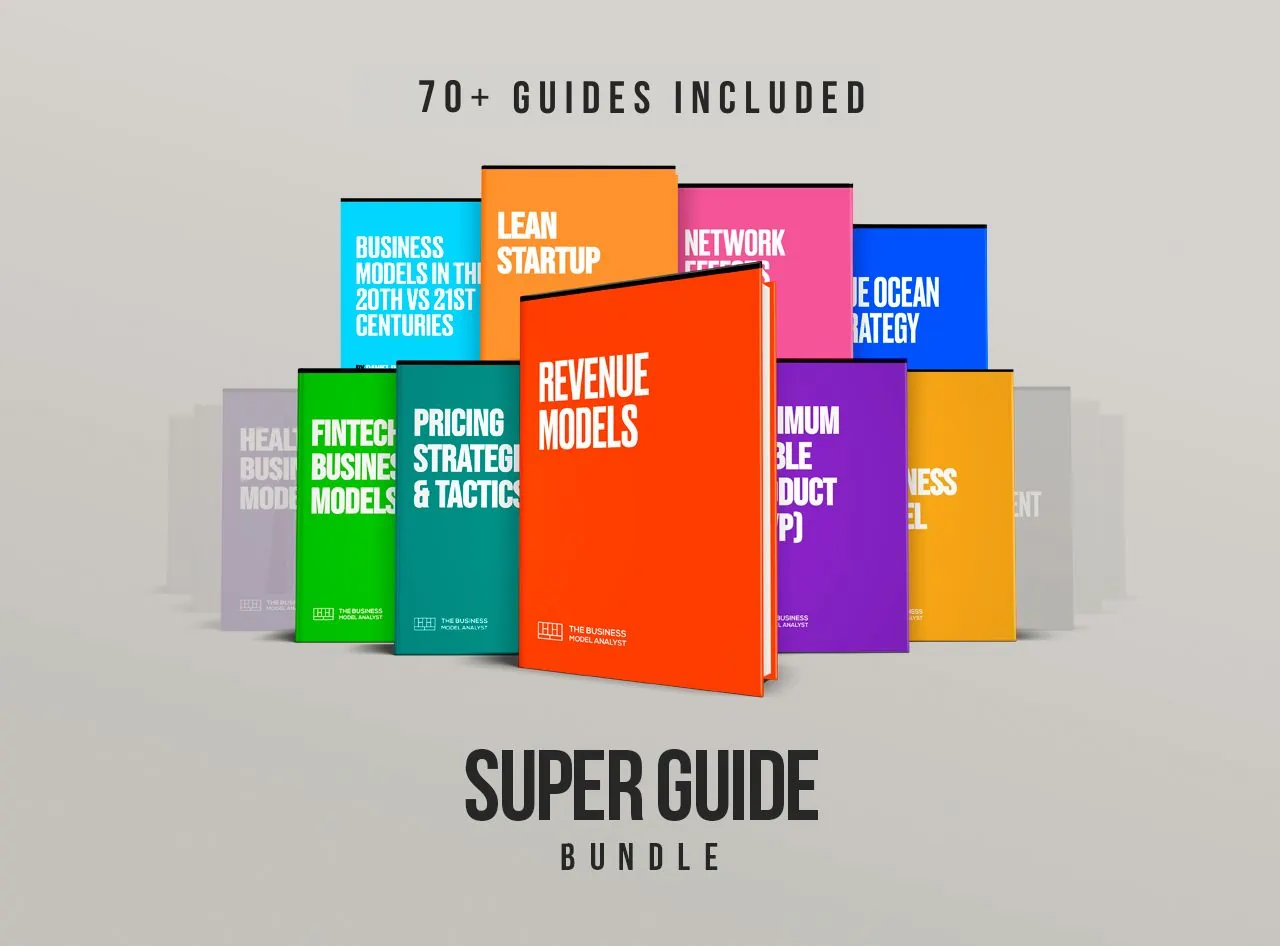 One of our most popular items, the Super Guides Bundle covers everything you need to know about modern business model design. Contains all our Super Guides (regular $35 each):
Business Model Assessment

Business Model Testing

Revenue Models

Business Models in the 20th vs 21st Centuries

Scalable Business Models

Consulting Business Models

SaaS Business Models

Insurtech Business Models

Fintech Business Models

Blue Ocean Strategy

Business Model Evolution

Network Effects

Business Model Sides

Transitional Business Models

Business Model Evolution

Scalable Business Models
Edtech Business Model
Healthtech Business Models
Minimum Viable Product (MVP)
Lean Startup
Open-Source Business Models
Pricing Strategies & Tactics
As-a-Service Business Models
Long Tail Business Model
Freemium Business Models
Empathy Map
Business Model Metrics and KPIs
Web 3.0 Business Models
Agritech Business Models
Product-Market Fit
Bundling and Unbundling Business Models
Cost Models
Decentralized Business Models
Lean Canvas
Wealthtech Business Model
Outsourcing Strategies
Real Estate Business Models
Google Business Model
Customer Relationship Strategies
Distribution Strategies & Tactics
Foodtech Business Model
Amazon Business Model
Cost Reducing Strategies and Techniques
Sales Tactics & Strategies
Strategy Planning Tools and Models
How Companies Make Money
Mental Models
Balanced Scorecard
Effective Brainstorming Techniques
The Perfect Business Plan
Customer Success Strategies
The Perfect Marketing Plan
Competitive Analysis Strategies
Company Mission Statements
Business Model Canvas Explained
Exponential Business Models
Go-to-Market Strategies
Value Creation
The Flywheel Effect
Franchising Business Model
Pricing Strategies for Ecommerce
API Business Models
Growth Hacking Techniques
AI Business Models
Retailtech Business Model
Pricing Strategies for SaaS
Hotel Business Models
Digital Transformation Strategies
Negotiation Strategies and Techniques
Top 100 Venture Capital Firms
Startup Funding Strategies
Project Management Frameworks
Pricing Strategies for Service Providers
OKR Essentials
Cognitive Biases
Customer Journey
Pricing Strategies for Retailers
Presentation Bundle
Whether you're presenting to clients or working through the models yourself, you'll appreciate the look and feel of our customizable Powerpoint Presentation Templates (regular $39 each).
Features 2 color schemes, dark and light versions, Wide (16:9) and Standard (4:3) formats:
Business Model Canvas Presentation Template

Empathy Map Presentation Template

Blue Ocean Strategy Presentation Template
Lean Canvas Presentations Template
Business Plan Presentation Template
Marketing Plan PResentation Template
SWOT Analysis Assessment Excel Spreadsheet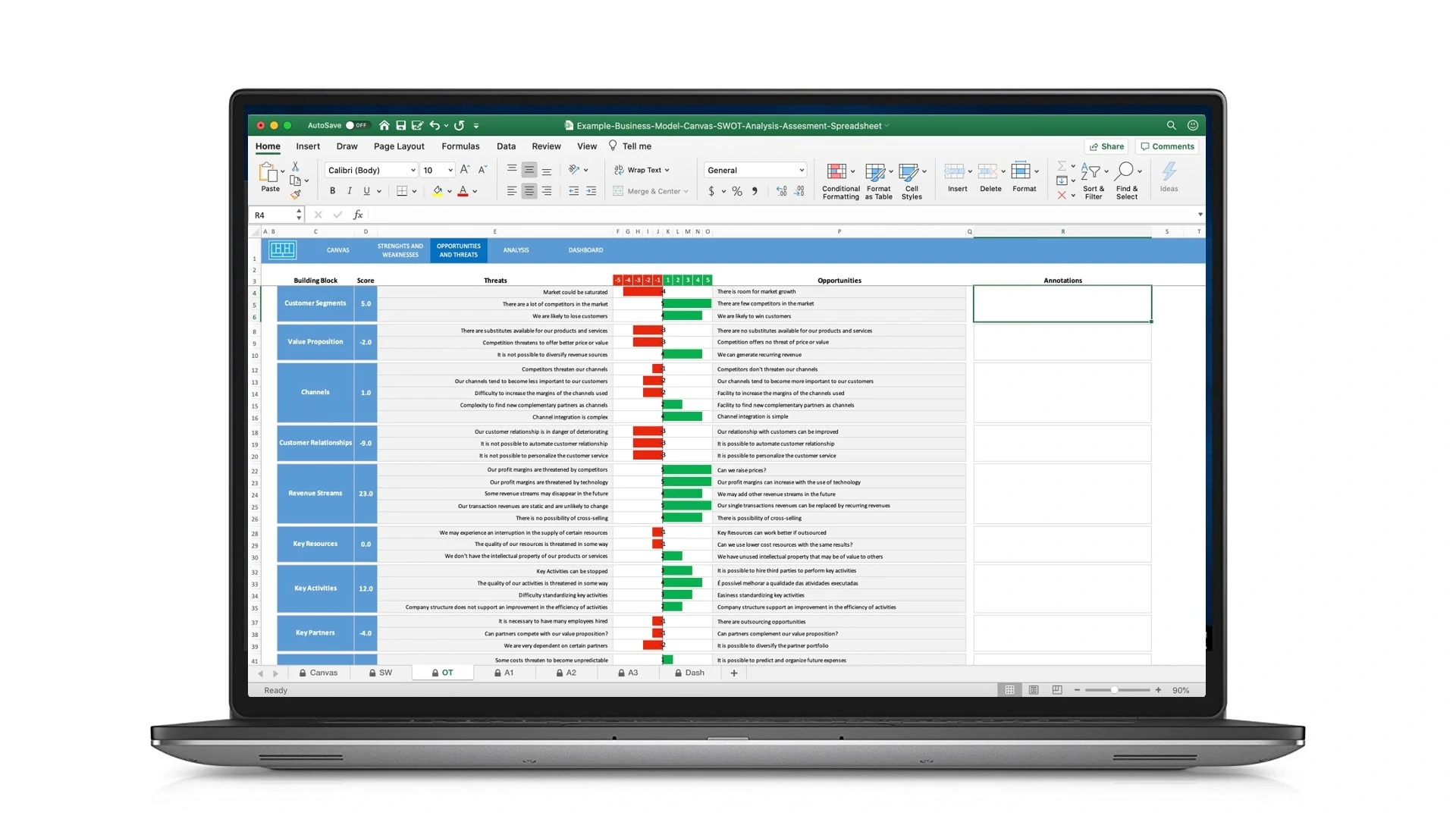 Essential for any business model, our SWOT analysis template offers predefined questions to help assess your business. Excel spreadsheet (regular $75):
Track the score of each block and note room for improvements

Visualize your score using our Score x Block view

Canvas include for reference and editing during SWOT analysis
Achieve a shared understanding of your models' strengths and weaknesses by using this SWOT template with your team.
Trend Business Ideas Bundle
If you are constantly wondering what new technology or consumer behavior will generate the next business ideas but don't know where to look or just don't have enough time, our reports were made for you!
Every day new trends emerge and take markets by storm. But with a busy schedule, how do you find out about them? Our reports curate the trends that will help you surf new waves of monetization before your competition does.
Check our full report list:
Gummification
RoboManicure
Immersive Audio
Distance Medicine
Mild-High Weed
Gamescription
Natural Beauty
Finite Social Networks
Pollution Protection Skincare
Work Surveillance Software
Alternative Milk Powder
Micro Subscriptions
Small Energy Turbines
Alternative Tanning
Robot Retail
Psychedelic Retreats
No Code Startups
Sleep Optimization
On-Demand Executives
Emotional Wellness
Work From Home Tech
Ketamine Therapy
Micro Frontend
Scalp Detox
FemTech
NFT Galleries
Zero-Alcohol Drinks
Penny Payments
Fasting as a cure
Robotic Process Automation (RPA)
Purificaiton Tech
AI Writing
Micro Consulting
Acceleration Maturation
Plantable Packaging
Stylish Solar
Beard Growth Products
Audio Healing
Metabolic Health
Tiny Machine Learning
Microlearning
Functional Beverages
Faux Niche Meat
Psycobiotics
Micropreneurism
Niacinamide Supplement
Micro Adventures
Upcycled Snacks
Workplace Productivity Analytics
Meta Societies
Blue Light Skincare
Microbiome Therapeutics
Sustainable DTC
AI Image Generators
Are you ready to innovate?
Take your business model to the next level using the tools and knowledge only professional analysis can offer.
With the All Products Bundle, you'll be one step closer to setting up a profitable, innovative business model.
Instant access to files. Includes lifetime updates for Super Guides.