Buy all our courses and save!
Our All Courses Bundle includes all the courses that we have. There are over 6 hours of content.
Plus, you'll also get lifetime access to all our guides along with lifetime updates, which means you can have access to every new course we release in the future, without any additional costs.
Check our course details:
Business Model Innovation with ChatGPT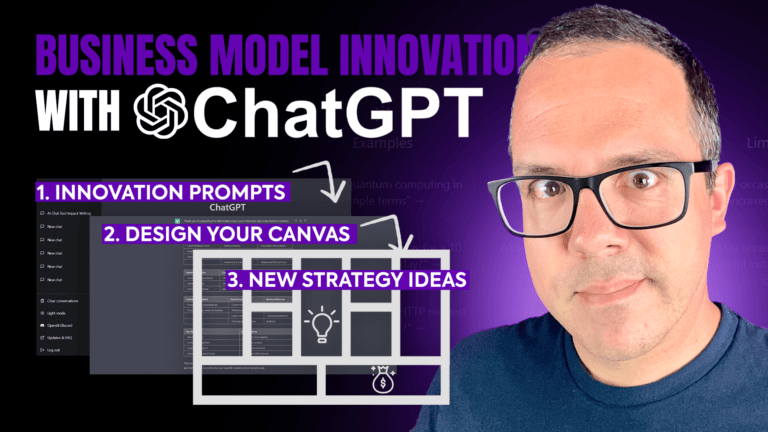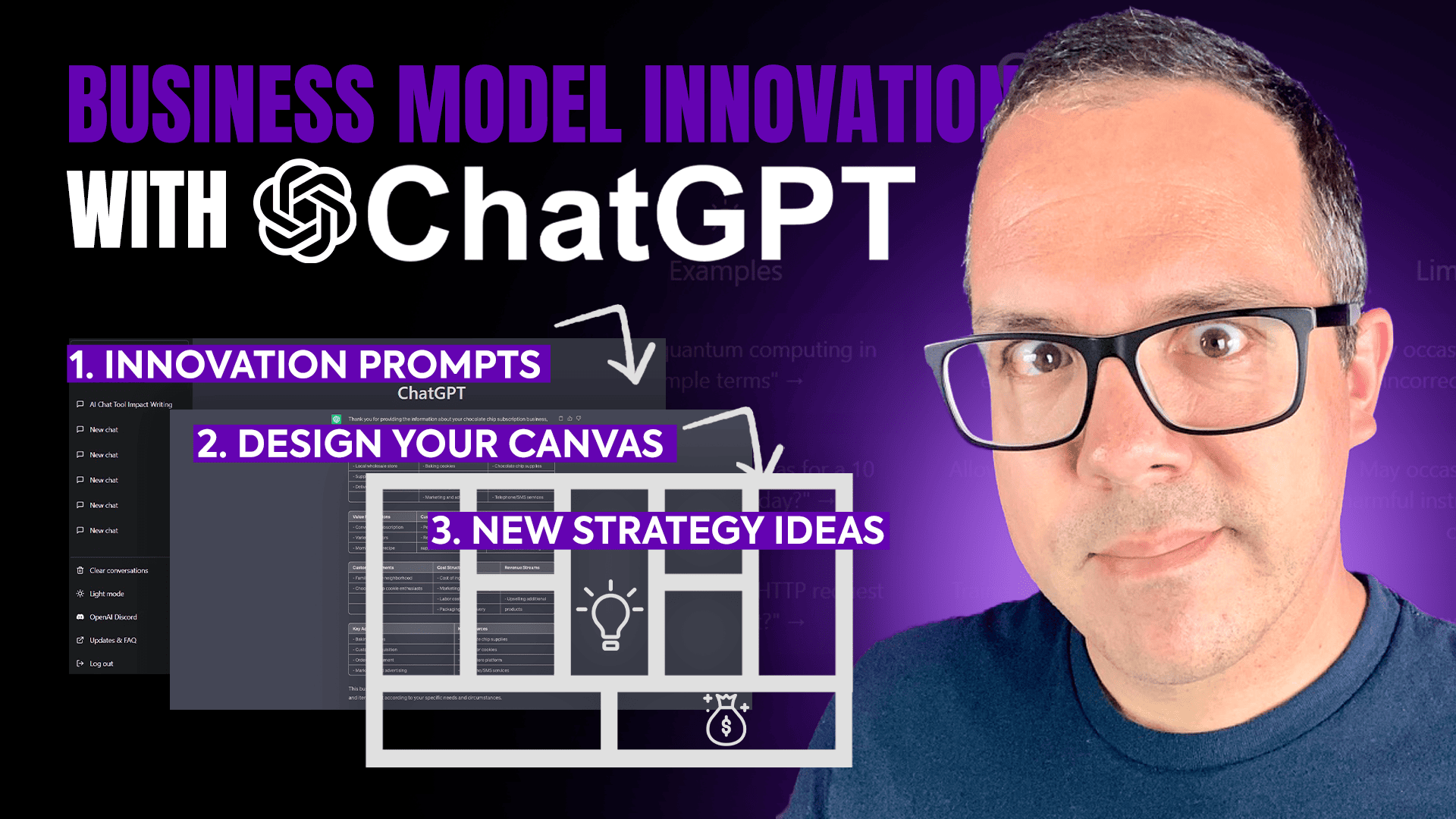 Welcome to our cutting-edge course: "Business Model Innovation using ChatGPT". This course is meticulously designed for professionals, entrepreneurs, and innovators seeking to leverage the power of advanced AI technologies in reshaping and innovating their business models.
In this course, you will discover the immense potential of ChatGPT, OpenAI's premier language model, as a tool for disruptive innovation. You will gain an in-depth understanding of how this powerful AI can be harnessed to revamp your business strategies, streamline operations, enhance customer engagement, and ultimately transform your entire business model.
We start by providing a comprehensive introduction to ChatGPT, guiding you through its core capabilities, applications, and limitations. We will then delve into real-world examples of businesses successfully using ChatGPT for strategic innovation. The case studies chosen for this course span a wide range of industries, providing a diverse array of creative ideas for application in your own business.
From the foundation, we will dive into the application phase, where you will learn to craft AI-driven solutions that address your business's unique challenges. You will learn to model conversations, develop interactive chatbots, automate customer support, and much more. Hands-on exercises and collaborative projects will ensure you get a practical understanding of these concepts.
By the end of the course, you will be able to envision, strategize, and implement a business model enhanced by ChatGPT, giving your enterprise a competitive edge in today's fast-evolving digital landscape. This course will empower you with the knowledge and skills to leverage the best of AI, shaping the future of your business.
Join us on this exciting journey and unlock the power of AI in your business with "Business Model Innovation using ChatGPT".
Key Features:
Comprehensive understanding of ChatGPT and its applications
Real-world case studies from diverse industries
Hands-on exercises and collaborative projects
Step-by-step guidance on leveraging ChatGPT for business innovation
Access to a vibrant community of like-minded professionals and innovators
Exclusive access to 50+ Secrect Prompts to Hack Business Models
14 lessons with over 3 hours of content
Lifetime access to the course, along with all future updates
How to Create a Startup with ChatGPT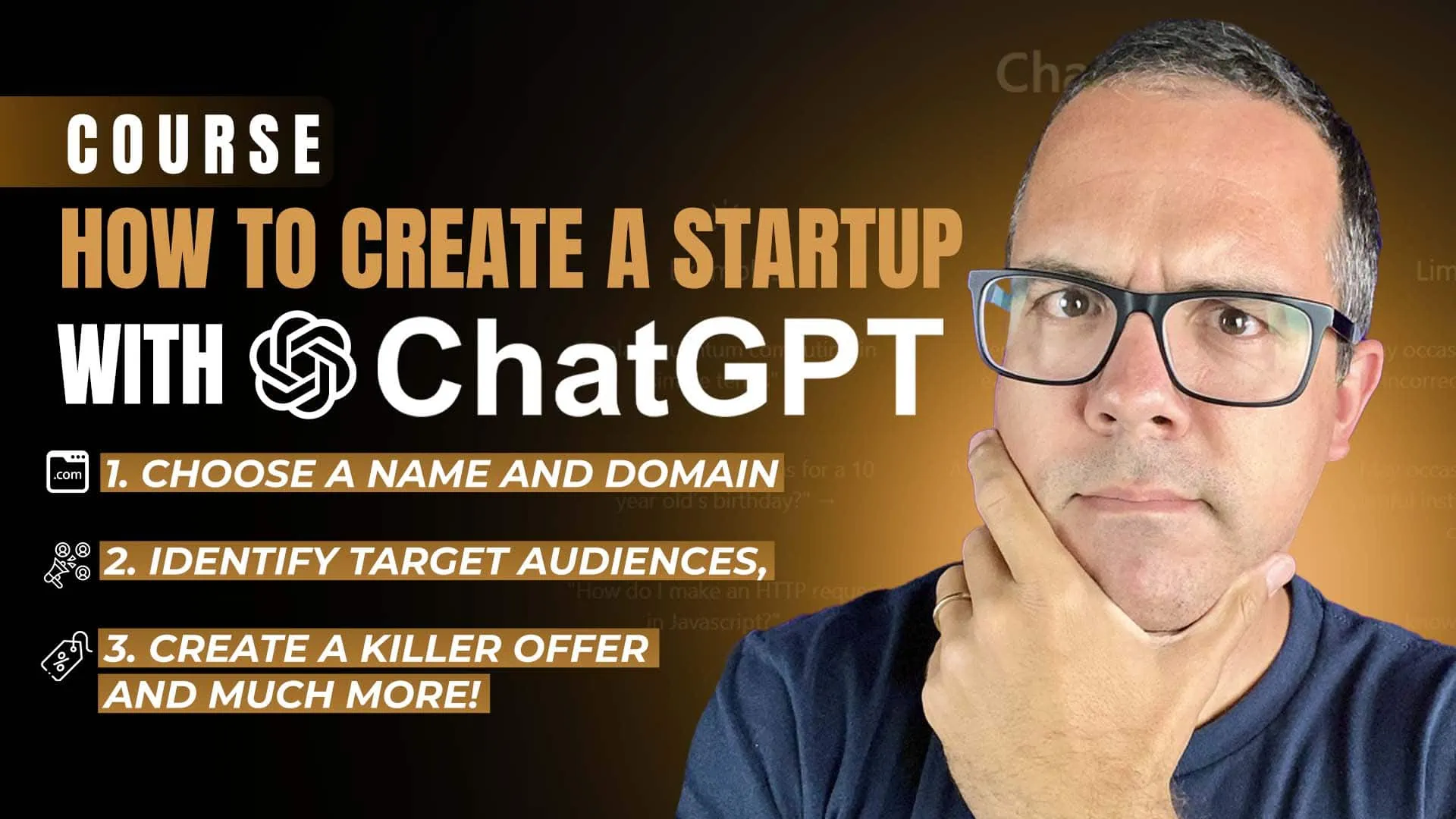 Step into the future of entrepreneurship with our innovative and highly informative course: "How to create a startup with ChatGPT". This in-depth program is meticulously designed to empower the modern entrepreneur and skillfully merge the dynamic worlds of artificial intelligence and the global startup scene.
This course isn't just a learning experience; it's your blueprint to success. Consisting of 15 captivating lessons, it uncovers the secrets of leveraging the potential of ChatGPT, to fuel and accelerate your startup journey.
You will start by mastering the essentials of ChatGPT, followed by the process of formulating distinctive business ideas, the art of effective startup branding, and insightful techniques to identify and comprehend your target market. More importantly, you'll understand how to determine the unique problems your startup can resolve.
As you progress, you will dive deeper into the nuances of market sizing and competitive analysis, strengthening your entrepreneurial foundations. The course features comprehensive lessons on ideating products and services that are impossible to resist. Furthermore, it dives into the heart of startup triumph – constructing compelling content marketing strategies, sales planning, and deploying powerful go-to-market tactics.
The finale of the course arms you with the ability to craft an engaging business plan and construct a versatile business model. It ensures you grasp critical operational metrics and teaches you how to analyze and forecast your financial statements. Every lesson is an integral part of the path toward startup victory.
If you are eager to elevate your entrepreneurial aspirations, this is your golden opportunity. As the saying goes, every great journey begins with a single step. Your first step? Register now for "How to create a startup with ChatGPT". It's time to breathe life into your future startup. Don't keep success waiting. Embrace it.
Key Features:
Follow a step-by-step, comprehensive startup guide
Gain in-depth understanding of ChatGPT
Learn to generate unique AI-driven business ideas
Identify and understand your target audience
Uncover key problem areas your startup can solve
Ideate irresistible products and services
Exclusive access to 50+ secret prompts strategically build your startup
15 lessons with 3 hours of content
Lifetime access to the course, along with all future updates
Buy our All Courses Bundle and save!