Zara is by all means a household name in the world of fashion. The company attracts polarized views within the fashion industry, with some calling the Zara business model revolutionary and others seeing it as exploitative and unauthentic. Despite this, the company is certainly successful, with the company being branded with a value of nearly $13 billion in 2022.
Let's take a look at the Zara business model, the history of the company, and most importantly, how it makes money.
A brief history of Zara
Year, name change, type of company, business model, number of stores, employees, valuation, number of products sold, famous for little advertising, criticisms, effects on the industry
The company known as Zara was started in 1975 by Amancio Ortega and Rosalía Mera. It was initially named Zorba, but the name was quickly changed since it shared the same name with a local bar. The first store was opened in Galicia, an autonomous community located in the northern part of Spain. They specialized in the sale of cheap imitations of popular, high-end fashion trends.
The company opened several more stores throughout Spain in the 1980s, but did not achieve truly massive growth after Amancio Ortega developed the concept of "fast fashion". He then changed the design, manufacturing, and distribution procedure to reflect this new business model and achieved a significant reduction in the production process, and responded to changes in a high-end fashion more quickly.
These changes were mostly centered on the core tenets of the fast fashion philosophy. These included:
Rapid trend replication through the use of primary information technology;
Significant increases in productivity through the practice of groups of designers working on products instead of individual designers;
They use cheap materials for their products;
Competitive pricing by taking advantage of low-quality materials and cheap labor, usually outsourced offshore to certain countries because of their more cost-effective (cheaper) wage structure.
Who Owns Zara
Zara is owned by Industria de Diseño Textil, S.A. (Inditex), a Spanish multinational clothing company that has its headquarters in Arteixo, Galicia, in Spain. Inditex is the largest fast-fashion group in the world, with a market capitalization of $73.7 billion in 2020. Zara makes up its largest subsidiary with 2,007 stores in 96 countries, which contribute about 70% of the total sales volume of the Inditex Group.
Zara's Mission Statement
Zara's mission statement is simply to "give customers what they want, and get it to them faster than anyone else."
This perfectly represents the key value propositions of; being able to provide cheap, near-replicas of high-end fashion trends and deliver them quickly, with a 15-day lead time between the initiation and completion of the entire production process of a single item.
How Zara makes money
Let's take a look at how Zara makes money.
Revenue from Retail Sales
Zara is said to sell over 450 million products a year, and a significant portion of these sales come from its retail stores. The company has thousands of retail outlets in nearly 100 countries. These physical locations provide male, female, and children's clothing and accessories, as well as a range of other products such as beauty products, shoes, and perfumes.
Revenue from Online Sales
Online sales also make a significant contribution to the total sales volume of Zara. E-commerce sales for the year 2022 were said to have contributed $8.6 billion to the total sales revenues. This represents a continuation of a steady uptrend in its online sales revenue with $6.1 billion generated in 2021, $4.8 billion in 2020, and $2.9 billion in 2019. The company has plans to further increase its online presence and still projects significant room for growth.
Zara's Business Model Canvas
Let's take a look at the Zara Business Model Canvas.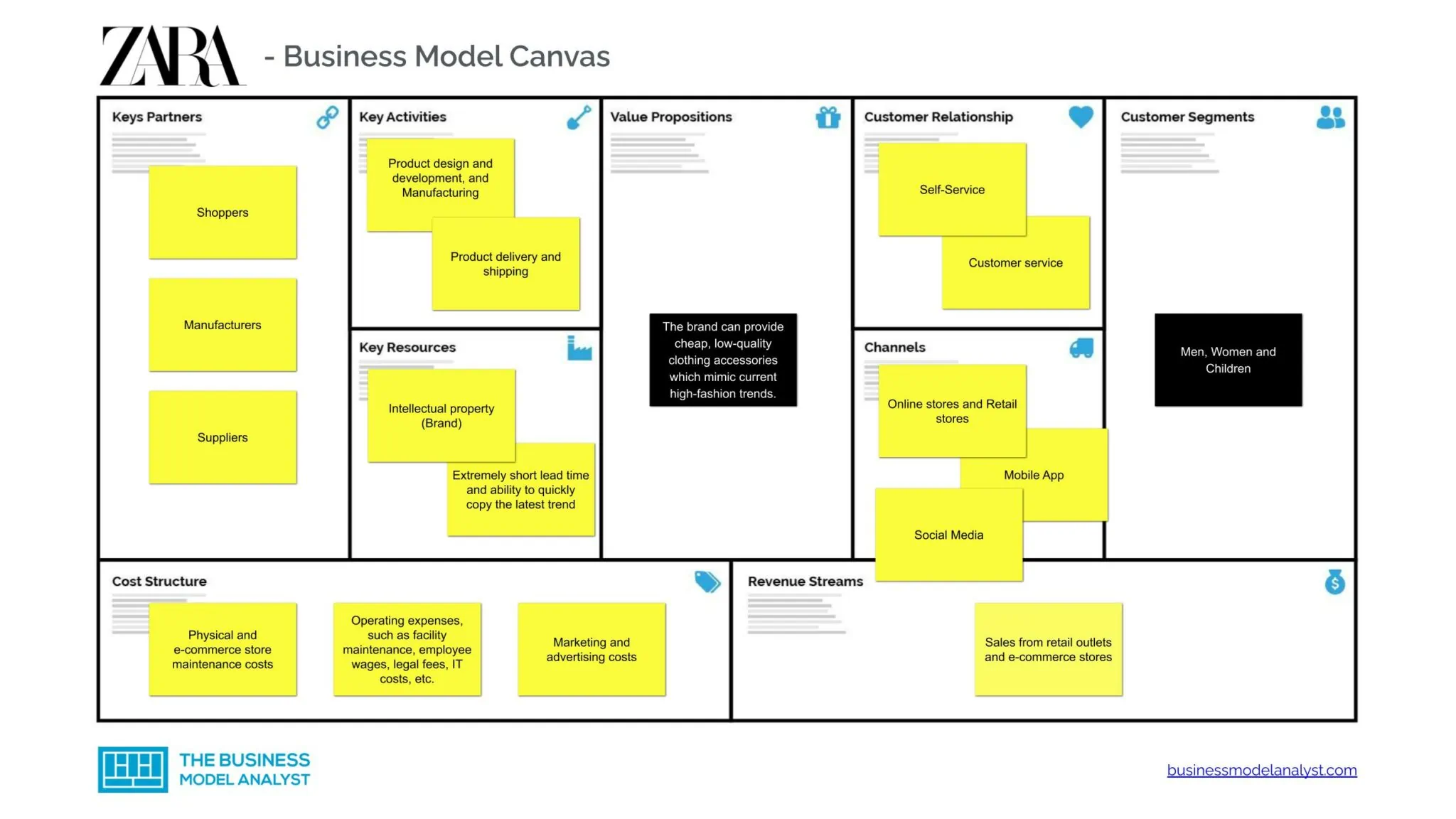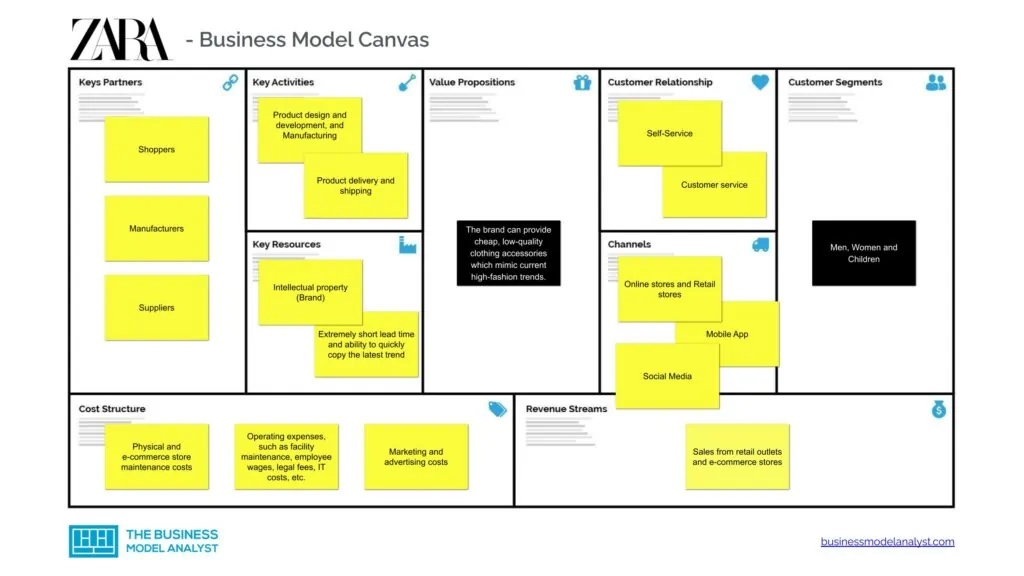 Zara's Customer Segments
Zara customer segments consist of:
Trend-focused, but budget-conscious fashionistas: The Zara business model involves providing pocket-friendly, but trendy clothing and accessories to men, women, and children. Amongst adults, their primary customer segment is younger adults between 18-40 who are fashion-conscious, tech-savvy, and environmentally conscious.
Zara's Value Propositions
Zara value propositions consist of:
The brand can provide cheap, low-quality clothing accessories which mimic current high-fashion trends.
Zara's Channels
Zara channels consist of:
Retail stores
Online stores
Website
Advertising
Clothing and accessories
Social media platforms like YouTube, Twitter, Facebook, Pinterest, and Instagram
Newsletters
Apps
Press
Zara's Customer Relationships
Zara customer relationships consist of:
Zara has a transactional relationship with its customers since the company does not build long-term, personalized services for its customers but simply supports transactional services;
Self-service is also one of the Zara customer relationships, since shoppers are allowed to choose through the available retail catalog and purchase items without the need for significant assistance;
Customer service it's one of the most important sectors of the business structure and helps customers with any complaints they may have;
The Zara social media platforms and brand identity offers loyal customers a sense of community when they purchase Zara products.
Zara's Revenue Streams
Zara revenue streams consist of:
Sales from retail outlets and e-commerce stores
Zara's Key Resources
Zara key resources consist of:
Revolutionary fast fashion business model
Extremely short lead time and ability to quickly copy the latest trend
Cheaply off-shored labor costs and cost-friendly clothing material
Intellectual property
Dedicated staff
Very low advertising costs of only 0.3% of total revenue.
Zara's Key Activities
Zara key activities consist of:
Product design and development
Manufacturing
Product delivery and shipping
Maintenance of headquarters, retail outlets, and online platform
Advertising and market
Product development and design
Monitoring the newest and most popular fashion trends through the use of information technology like social media
Zara's Key Partners
Zara key partners consist of:
Shoppers
Manufacturers
Suppliers
Inditex
Zara's Cost Structure
Zara cost structure consists of:
Physical and e-commerce store maintenance costs;
Operating expenses, such as facility maintenance, employee wages, legal fees, IT costs, etc.;
Marketing and advertising costs;
Research and Development.
Zara's Competitors
Here are some of the top competitors to the Zara business model.
Shein: It's a Chinese fast fashion retailer which focuses on the sale of affordable apparel sourced from the wholesale market and enjoys a significant online presence. It is valued at $220 billion, making it the most valuable fashion retailer in the world in 2022;
H&M: It's a Swedish multinational clothing company that was founded in 2008 and is second to only Intidex in terms of size. The company currently has over 4,800 stores open worldwide;
Gucci: This is a high-fashion luxury brand that offers a wide range of high-end clothing and accessories such as bags, shoes, home decorations, and so on. According to data from 2019, it generated $9.6 billion in sales from its 487 stores;
Forever 21: It's a multinational fast fashion retailer which Sells clothing to men, women, and children as well as other accessories such as bags, shoes, cosmetics, perfumes, and so on. It is headquartered in Los Angeles, California, and operates 540 locations worldwide;
Uniqlo: This is a Japanese clothing company that specializes in the design, manufacture, and distribution of casual wear. It was founded in 1973 and has over 30,000 employees.
Zara's SWOT Analysis
Let's take a look at swot analysis of Zara business model.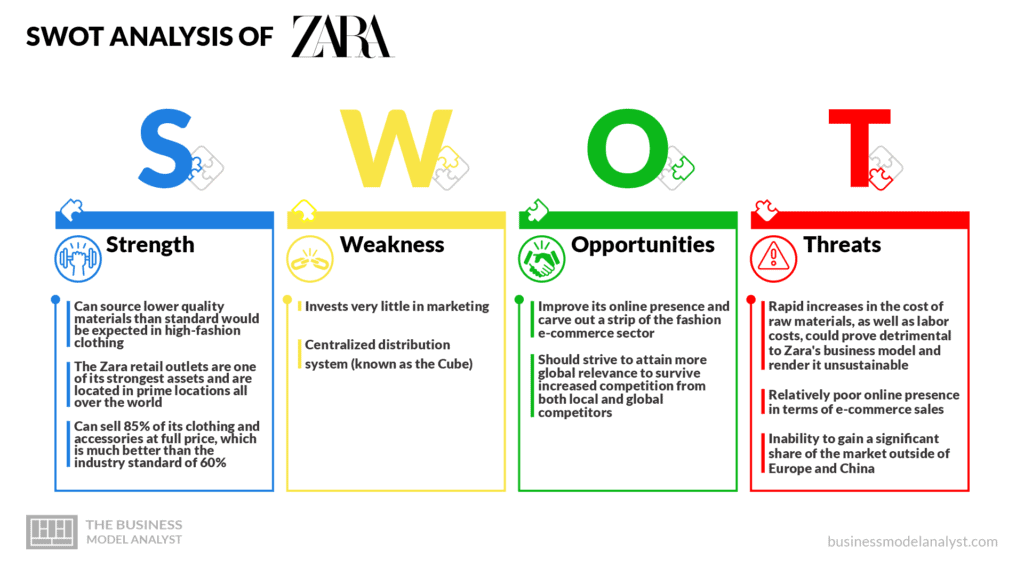 Zara's Strengths
The brand takes advantage of the cost-effective wage structure of some of the countries to which it off-shores its manufacturing process such as Bangladesh, Armenia, Spain, Morocco, Turkey, and Portugal;
Zara can source lower quality materials than standard would be expected in high-fashion clothing, allowing them to save significant costs;
The company spends significantly less than its main competitors on marketing and advertising. This has two beneficial effects. First of all, it gives the company the impression of being a high-fashion brand by creating an artificial sense of exclusivity and scarcity;
The Zara retail outlets are one of its strongest assets and are located in prime locations all over the world;
The fast fashion business model which the company operates allows them to quickly copy high-fashion trends and create near replicas that can quickly be sold at cheaper prices while the fashion style is still popular;
The ability of the company to leverage its significant understanding of fashion trends on social media to quickly detect and copy these trends, allowing them to produce over 11,000 distinct items a year;
The company can sell 85% of its clothing and accessories at full price, which is much better than the industry standard of 60%;
Zara produces most of its clothes seasonally, with only 15% to 25% of its clothing articles being produced in advance. This allows the company to respond to rapid changes in trends during particular seasons and avoid having leftover unsold inventory, which also helps create artificial scarcity and drive up clothing prices.
Zara's Weaknesses
The company invests very little in marketing, a strategy which may backfire eventually since its competitors invest at least 10x as much as Zara in terms of advertising;
The centralized distribution system (known as the Cube) puts the production process at risk of significant disruption and even catastrophic failure due to having a single vital weak point.
Zara's Opportunities
The brand should improve its online presence and carve out a strip of the fashion e-commerce sector;
Zara should strive to attain more global relevance to survive increased competition from both local and global competitors.
Zara's Threats
Since a significant portion of Zara's sales are made in Europe, this leaves it open to increased competition from the growing popularity of some of its competitors on the continent;
The inability of Zara to gain a significant share of the market outside of Europe and China has left it open to an increasing pool of global competitors;
Zara has been accused of committing various labor violations such as exploitative labor, unsafe working conditions, and even child labor;
The fast fashion business model which involves copying recent high-fashion trends from other designers has been seen as inauthentic and a blatant infringement of trademark rights. This has embroiled the company in various lawsuits over alleged trademark violations, as well as copycat fashion scandals;
Rapid increases in the cost of raw materials, as well as labor costs, could prove detrimental to Zara's business model and render it unsustainable;
Its relatively poor online presence in terms of e-commerce sales could mean that the company may fail to attain a significant online retail market share.
-> Read More About Zara's SWOT Analysis
Conclusion
Fast fashion was one of the most significant revolutions in the fashion industry in the last century. Zara has been at the very forefront of this movement for almost five decades and has shown strong growth as well as the potential for further development. Though the company enjoys a large market share in Europe, it still has room to compete for a wider global customer base, as well as utilize the ever-expanding opportunities offered by E-commerce.