Headquartered in Austin, Texas, Whole Foods Market is the largest multinational chain of supermarkets that focuses on the sale of natural and organic foods free from artificial ingredients and hydrogenated fats. Whole Foods Market prides itself as the healthiest source of local, organic, and plant-based products. They offer products in categories of meat and poultry, grocery, coffee and tea, nutritional supplements, beauty products, bakery, seafood, and household goods. Whole Foods have stores in Austin, Canada, and the United Kingdom. Whole Foods operates with subsidiary companies such as WFM Beverage corp, Allegro Coffee Company, Fresh Fields Market Canada, Inc, and many more. Whole Foods was founded by John Mackey, Craig Weller, Renee Lawson Hardy, and Mark Skiles. In 2017, Amazon acquired Whole Foods and broadened its horizon. It competes with Kroger, Sprouts Farmers Market, Trader Joe's, Raley's, Publix, The Fresh Market, Instacart, etc. However, it stands out by establishing itself as the market leader in the organic and natural foods segment. It also invests in customer satisfaction and store quality.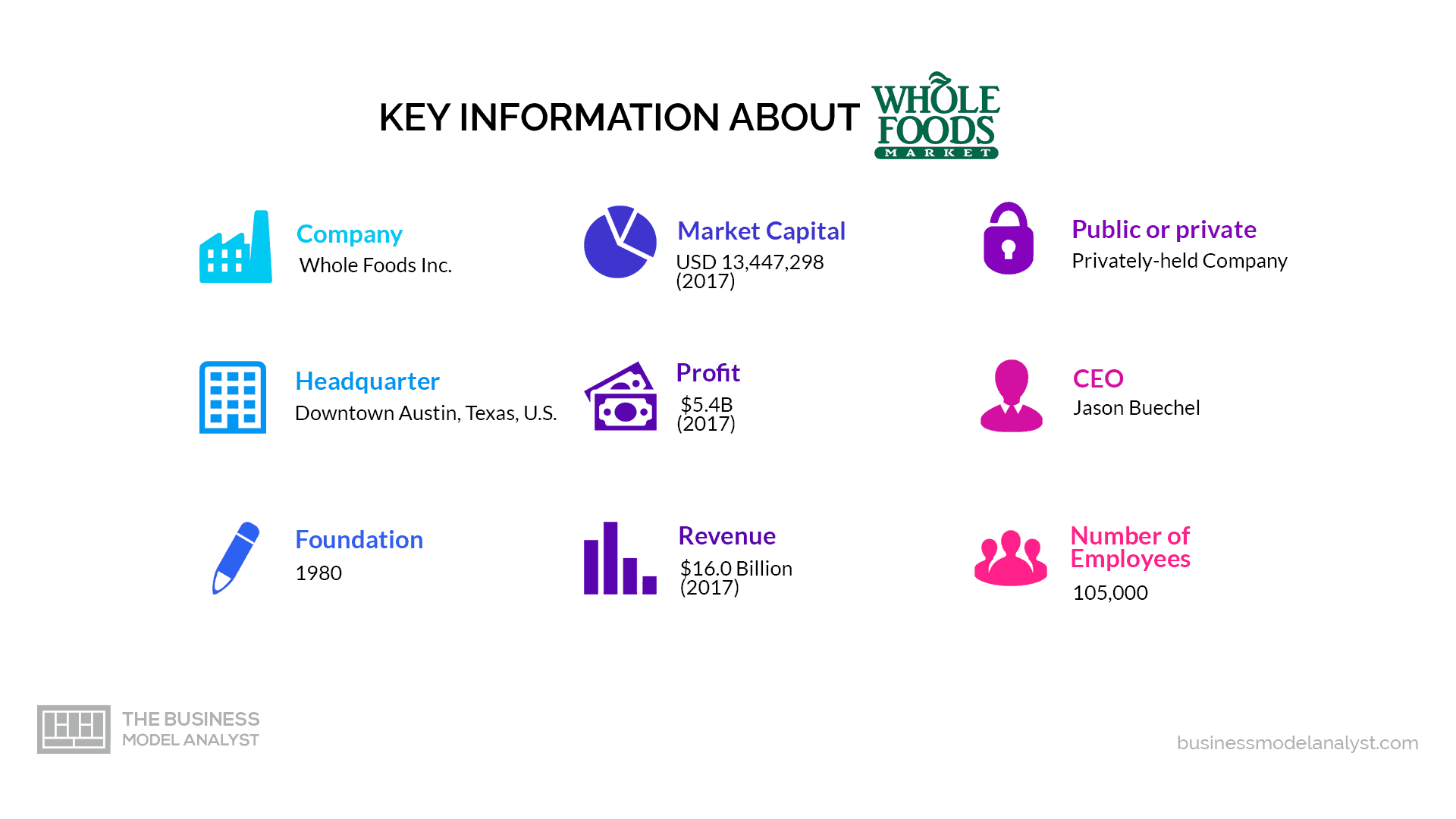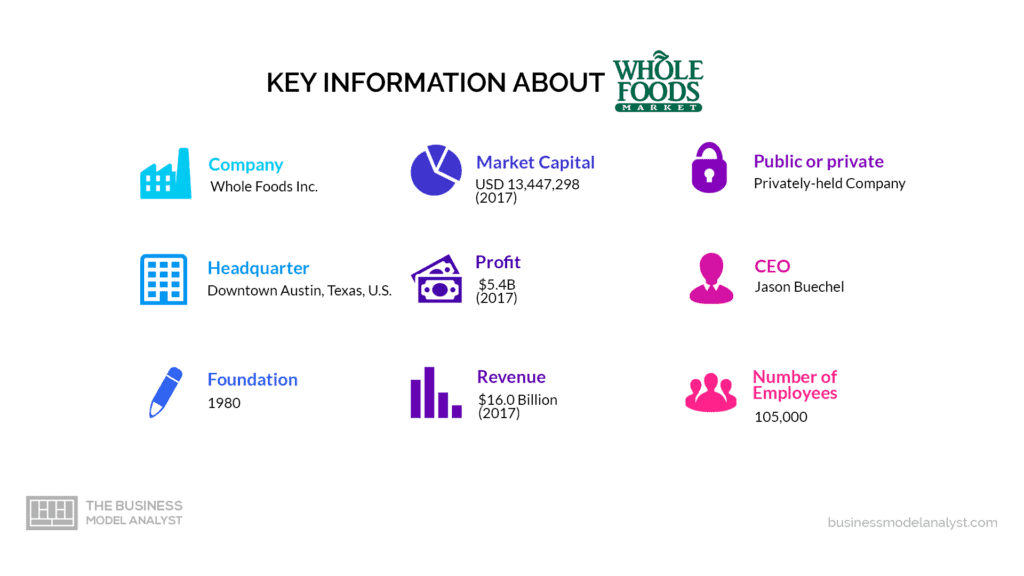 A brief history of Whole Foods
The journey of Whole Foods started on the 20th of September 1980, when John Mackey dropped out of college to open a health food store in Austin, Texas, United States, with $45,000 that he had gathered. He named it "Safer Way." Officially, Whole Foods Market came into existence as John Mackey, and Renee Lawson Hardy joined forces. Later, the duo joined forces with Mark Skiles and Craig Weller, who owns Clarksville Natural Grocery. This development birthed the first Whole Foods Store in Austin. The store is relatively larger than an average health food store, allowing more space to store food items. An unfortunate incident of flood occurred. However, Whole Foods survived the disaster thanks to its robust and loyal customer base. 
John Mackey was chosen to lead the company as it grew. Whole Foods Market acquired new stores in the mid-1980s in Austin, Dallas, and Houston. In 1988, Whole Foods Market spread its wings outside Texas for the first time by acquiring the New Orleans company. In no time, Whole Foods Market grew to a national level by acquiring food chains nationwide. In 1991, Wellspring Grocery, located in North Carolina, was purchased. Other food chains purchased include Massachusetts and Rhode Island's Bread and Circus in 1992, Southern California's Mrs. Gooch's in 1993, Northern and Mid-Atlantic States and Illinois' Fresh Fields in 1996, Florida's Bread of Life in 1997, Michigan's Merchant of Vino in 1997, and Georgia's Harry's Farmer Market in 2001. 
Whole Foods Market became a publicly traded company in 1992. After meeting the official standards set by the U.S. Food and Drug Administration for organic, Whole Foods Market created additional regulations for its natural food by banning unhealthy substances such as hydrogenated fats, high-fructose corn syrup, artificial coloring, and many more. It also puts in place measures to execute animal slaughtering and human care. A reorganization of the company board was conducted in May 2017 because sales dropped. On August 24 of that same year, Amazon was announced to have purchased Whole Foods, closing the deal at over $13 billion.  
Who Owns Whole Foods
John Mackey and Renee Lawson Hardy founded Whole Foods in 1980. They later joined hands with Mark Skiles and Craig Weller. However, on August 24, 2017, Whole Foods landed in Amazon.com's possession at the cost of $13.7 billion. For the first time, Amazon, an online powerhouse, had a brick-and-mortar organic grocer. There is a considerable advantage to both parties. Amazon came with some cultural shifts, while Whole Foods offers a physical appearance. The relationship has, since then, pressed on. 
Before Amazon purchased Whole Foods, John Mackey, out of a takeover concern, had offered to sell the company to Albertsons and Warren Buffett, but neither was interested. The CEO of Whole Foods is Jason Buechel, who took over on September 1, 2022.
Whole Foods Mission Statement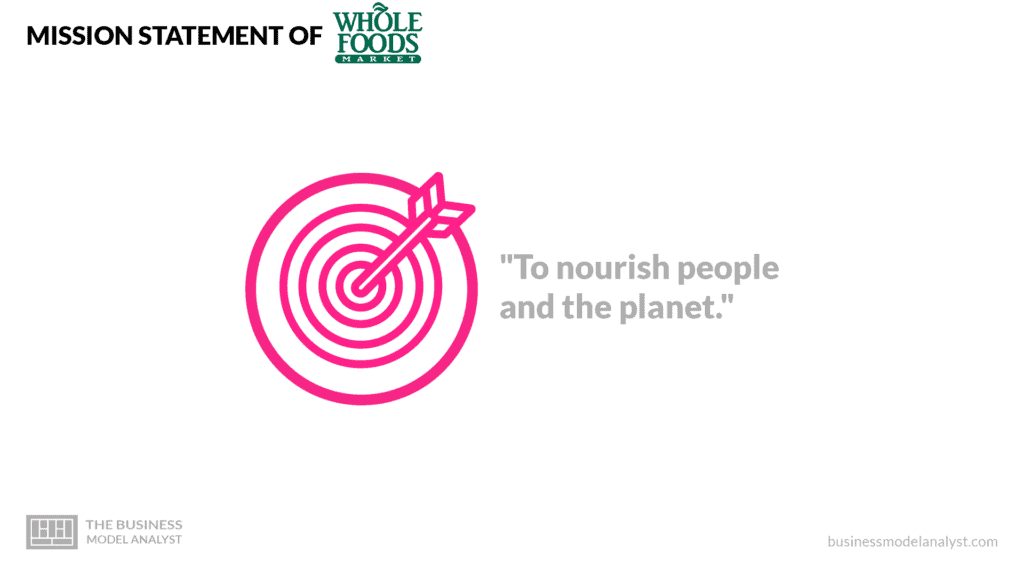 Whole Foods' mission statement is "to nourish people and the planet." It is "a purpose-driven company that aims to set the standards of excellence for food retailers."
How Whole Foods works
Customers need to purchase online or walk into any of the stores. To order online, customers need to download the relevant app on either the app store or Google store. It can also be accessed online. Once that is done, the products will be available for customers to shop. After picking and confirming the items to be purchased, all left is tracking the delivery. 
For the physical stores, customers can easily walk in to purchase anything they want. Discounts and gift cards are available for customers to enjoy under certain conditions.  
How Whole Foods Makes Money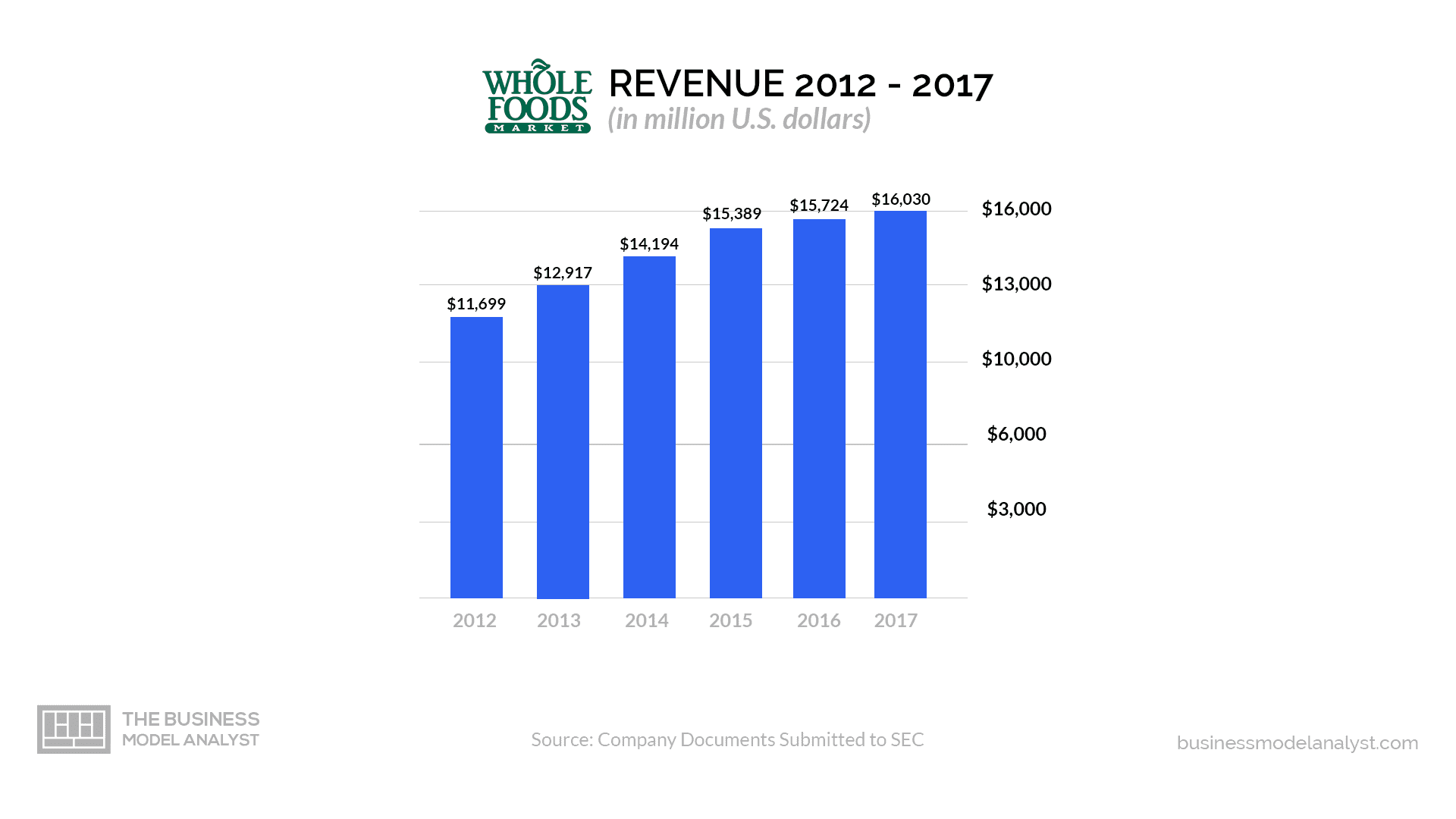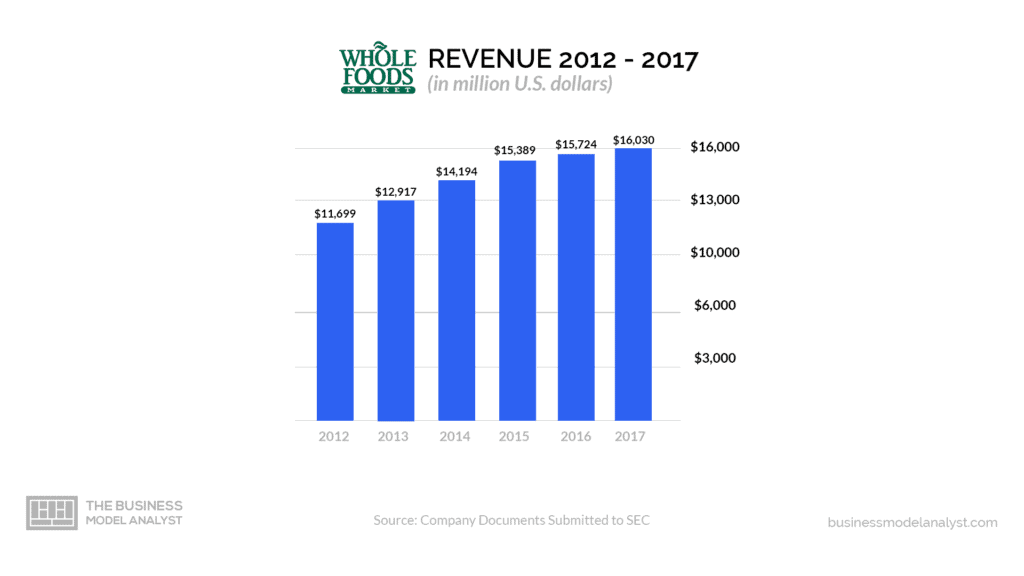 Whole Foods makes money mainly through its domestic operations. It generates profit through:
Natural and organic food
Beverages
General Merchandise
Natural and Organic Food: 
Whole Foods is reputable in selling raw and organic food items. They also offer catering services by providing food items for their customers. It does not sell drugs. However, it sells vitamins and supplements. Whole Foods' revenue is estimated to be on par with global rates.
Beverages:
Whole Foods sells juices, sparkling water, coffee drinks, kombucha, and more. According to Statista, Whole Foods' revenue from food and beverages is similar to that of Walmarts from 2018-2021 in the United States. 
General merchandise:
Additionally, Whole Foods sells general merchandise such as beauty products, home appliances, shoes, clothes, and more.  
Whole Foods Business Model Canvas
The Whole Foods Business Model can be explained in the following business model canvas: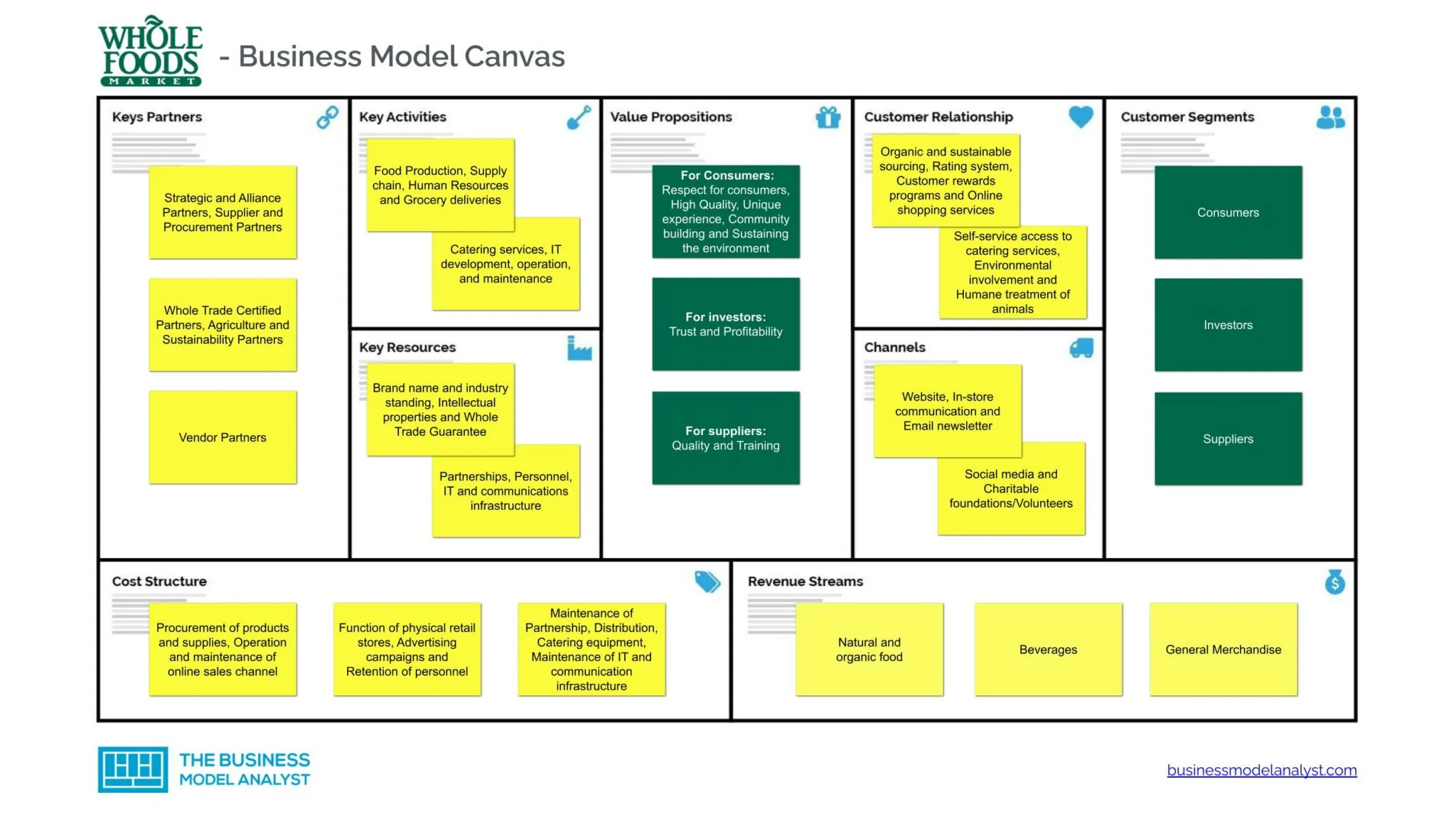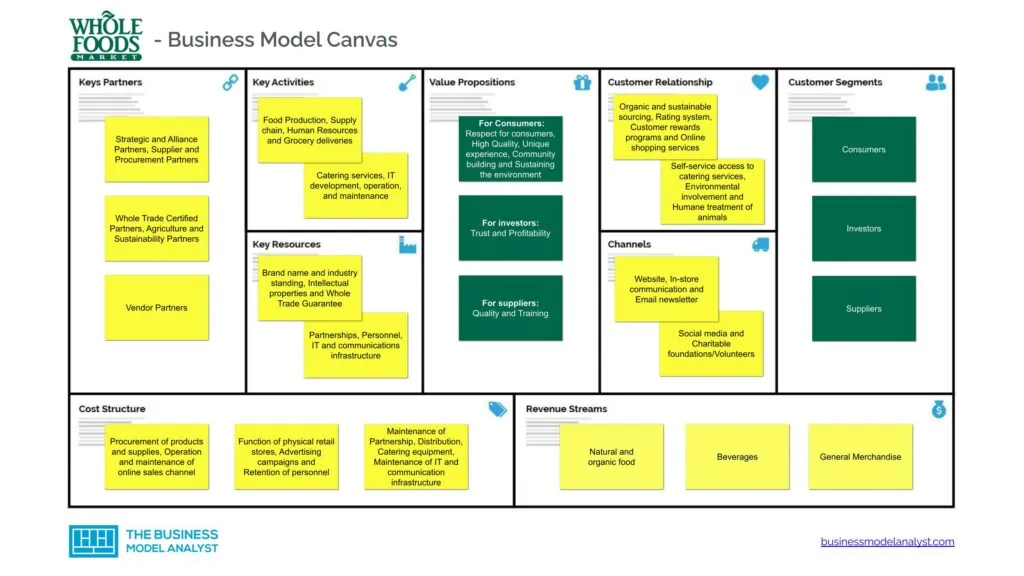 Whole Foods Customer Segments
Whole Foods' customer segments consist of:
Consumers: Consumers are those who purchase goods and services. They enjoy the quality of the products as well as discounts. Whole Foods sells over 25,000 certified organic foods. The Typical Whole Foods customer is usually between ages 25 to 39 with a monthly income of over $1000. Lower prices stores are specifically targeted at millennials and low-income customers;
Investors: Whole Foods creates wealth for its investors through blooming profits and growth;
Suppliers: Whole Foods serve as the middleman between consumers and vendors. With numerous stores worldwide, it becomes easy for suppliers to stock their goods on Whole Foods' shelves.
Whole Foods Value Propositions
Whole Foods' value propositions consist of:
Value propositions for Consumers: 
Respect for consumers: Whole Foods recognizes its customers as its lifeblood and promises to provide them with high-quality goods and services in return for their loyalty. By informing customers about the ingredients in their products, being transparent about where their products come from, and offering a shopping experience that is exclusive to their stores, Whole Foods has traditionally created and captured value. The company does this in a multitude of ways, which include:
High Quality: Although the USDA (United States Department of Agriculture) does not mandate certification for merchants, Whole Foods makes sure that every one of its locations is Certified Organic. Additionally, Whole Foods collaborates with outside certifiers to confirm that the business handles organic products in compliance with USDA regulations;
Unique experience: Whole Foods focuses on the customer experience to create a welcoming, lively ambiance representing the neighborhood. Each shop provides products from the area, regional flavors, and community events like cooking classes;
Community building: By safeguarding the planet and the resources available for future generations via sustainable operations, the organization balances its requirements and the world's needs. Businesses have obligations to their communities as residents, like any other citizen. Five percent of Whole Foods' after-tax profits are donated to nonprofit groups, with nearly 75% going to local causes. The environmental advantages of the growing increase in organic farms, dairies, ranches, and sustainable farming practices have also been highlighted by Whole Foods Market;
Sustaining the environment: Whole Foods understands that its consumers need a safe planet to enjoy their products. As such, they foster environmental sustainability by using organic farms, dairies, and sustainable farming practices. Whole Foods Market became a part of the Marine Stewardship Council (MSC) in May 1999. The MSC is a worldwide, independent, non-profit group that supports sustainable fisheries and ethical fishing methods to protect fish stocks for future generations. 
Value propositions for investors: 
Trust and Profitability: Amazon and its partners helped save Whole Foods when it was in trouble. Together with the parent firm and all stakeholders, the business pledges to achieve profitability, prosperity, and continued growth. Because Whole Foods views itself as a trustee of the owners' money, being frugal is crucial. Profits are not made by exploiting people; instead, they are made through voluntary trade for mutual benefit. Yields produce wealth, prosperity, and extra resources.
Value propositions for suppliers:
Quality: Whole Foods sells high-quality products, making it easier for the suppliers to sell. As such, consumers are already convinced to buy Whole Foods products. All the suppliers need to do is to be on their best behavior and seek their customers' satisfaction for lifetime retainment;
Training: Whole Foods go the extra mile by ensuring it trains its suppliers to be the best at their jobs and how to maximize their profits. At the end of the day, this is a win-win for Whole Foods, the suppliers, and consumers. Whole Foods sells more products, the suppliers make more money, and the consumers get quality foods for their money.
Whole Foods Channels
Whole Foods channels consist of:
Website
In-store communication
Email newsletter
Social media
Charitable foundations/Volunteers
Whole Foods Customer Relationships
Whole Foods customer relationships consist of: 
Organic and sustainable sourcing
Rating system
Customer rewards programs 
Online shopping services
Self-service access to catering services
Environmental involvement
Humane treatment of animals
Whole Foods Revenue Streams
Whole Foods' revenue streams consist of:
Natural and organic food
Beverages
General Merchandise
Whole Foods Key Resources
Whole Foods' key resources consist of: 
Brand name and industry standing
Intellectual properties
Whole Trade Guarantee
Partnerships
Personnel
IT and communications infrastructure
Lowered pricing
Adherence to National Organic Program standards
Whole Foods Key Activities
 Whole Foods' key activities consist of:
Food Production
Supply chain
Human Resources
Grocery deliveries
Catering services
IT development, operation, and maintenance.
Whole Foods Key Partners
Whole Foods' key partners consist of: 
Strategic and Alliance Partners
Supplier and Procurement Partners
Whole Trade Certified Partners
Agriculture and Sustainability Partners
Vendor Partners
Whole Foods Cost Structure
Whole Foods' cost structure consists of:
Procurement of products and supplies
Operation and maintenance of online sales channel
Function of physical retail stores  
Advertising campaigns
Retention of personnel
Maintenance of Partnership
Distribution
Catering equipment
Maintenance of IT and communication infrastructure
Whole Foods Competitors
Whole Foods SWOT Analysis
Below, there is a detailed swot analysis of Whole Foods: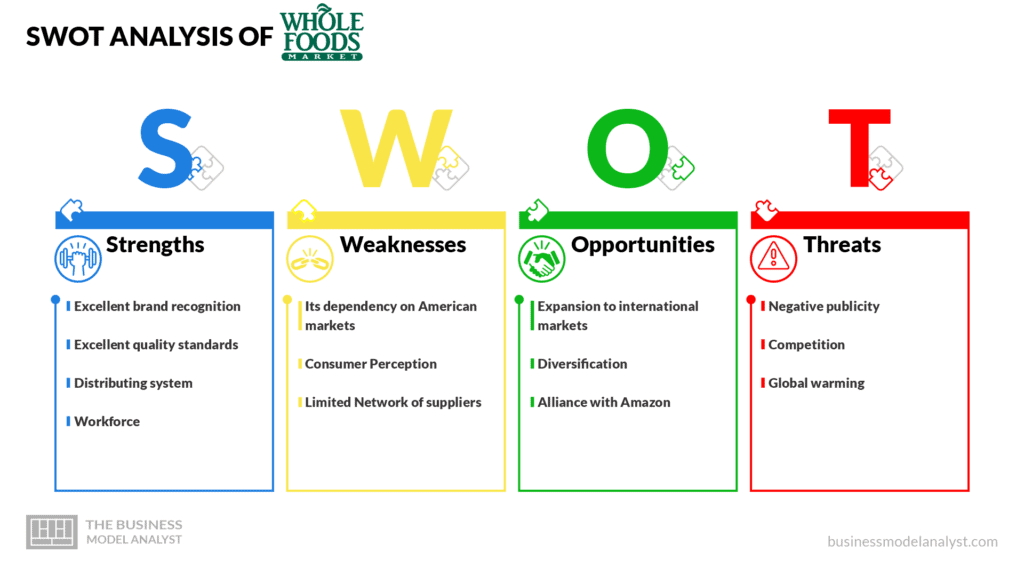 Whole Foods Strengths
Below are the strengths of Whole Foods;
Excellent brand recognition: A brand's image determines how well the company fares. It gives an oversight of what the company is all about. Consumers prefer brands with a good reputation and recognition over brands with no or low reputation. Since its establishment, Whole Foods has enjoyed an excellent brand reputation and recognition, which the company has maintained over the years. In a survey conducted on 2015's reputation institute, Whole Foods ranked 3rd among the most trusted retail companies in the annual survey. Whole Foods' high reputation has helped it stand out from its competitors. As a result, the customer base grows steadily;
Excellent quality standards: A product with superior quality sells far better than products with a lesser rate. It's safe to say that Whole Foods' watchword is the provision of high-quality food products in its stores. It never compromises the quality of its products, which has allowed the company to establish a loyal customer base. Whole Foods keeps setting the bar higher with the products they sell. Ingredients such as sweeteners, artificial flavors and colors, and hydrogenated fats that are most common in other companies' products are banned in Whole Foods products because the company resolved to deliver the healthiest food products to consumers. The company forbids any form of ranching, fishing, and farming that does not meet its great and high-quality standards. Whole Foods' target audience is consumers from upper to middle, well-educated, and individuals who prefer healthy choices and quality food products;
Distributing system: Over the years, Whole Foods has created a strong relationship with its distributors. The company allows them to promote the company's products while also spending on the training of its sales crew, so they can explain to distributors how to maximize profit from the items they buy;
Workforce: Whole Foods employees are highly engaged because of the organizational culture within the stores. It dramatically benefits Whole Foods' market by allowing the company to optimize outputs while lowering training and recruitment budgets.
Whole Foods Weaknesses
The following factors are considered to be weaknesses of Whole Foods;
Its dependency on American markets: One of the major weaknesses of Whole Foods is its dependency on American markets.  In 2015, it accumulated 97% of the US market total revenues. If, by any chance, the American economy collapses, it will amount to a great loss on Whole Foods' end. During the previous recession in the American economy, the company suffered from lower profits. If there is another recession in the American economy, the company will deal with a larger blow, almost irreparable to its earnings and revenues. Whole Foods limited its operations to the UK and Canada as its international branches;
Consumer Perception: Whole Foods experienced low sales because of its overcharging, leading to some stores declining. Adverse reactions have arisen from Whole Foods consumers. Some of its consumers believe that Whole Foods intentionally sells its products at very high prices. The company has been given the slogan "Whole Paycheck" because of the belief that the company's prices can swallow a customer's entire salary. This consumer perception has contributed to weakening the company's brand image;
Limited Network of suppliers: Whole Foods has a minimal network of suppliers because it is obsessed with outstanding quality standards. These limited networks may delay the swift growth of the company's activities.
Whole Foods Opportunities
Written below are some opportunities that Whole Foods can enjoy:
Expansion to international markets: It is widely known that Whole Foods is overly dependent on the American market, allowing it to expand to and explore international markets. Whole Foods can diversify to other parts of the global markets. Although Whole Foods has branches in the UK and Canada, it must explore other international markets to expand its market share. The company can look into Asia and Europe as potential revenue boosters;
Diversification: Whole Foods has established 365 stores to combat the issue of expensive products. Three hundred sixty-five stores is a low-cost market that aims to provide consumers with healthy, cheap, and still nutritious meals every day. The stores offer organic food options to the low-class, middle-class, and millennials. However, they are a tiny fraction of the original superstores. Because Whole Foods is criticized for being an expensive store, it established 365 stores to address the complaints;
Alliance with Amazon: Amazon announced some years back that it would buy Whole Foods market and sell its products on its website. The transaction was successful on August 28, 2017. This purchase has led to excellent revenue growth and increased employee involvement in the company.
Whole Foods Threats
The following are threats to Whole Foods:
Negative publicity: Whole Foods has faced various media backlash and bad publicity because of how it handled the overcharging consumer criticism it had in 2015. This gave room for more complaints to arise from other consumers who were dissatisfied with Whole Foods' prices. This issue led to the company being hit with a lawsuit that was eventually settled with $500 000 as compensation. After that time, the sales growth of Whole Foods declined, and the company was struck with negative publicity;
Competition: There is a steady increase in the match against Whole Foods. Although Amazon has bought the company, Whole Foods has not managed to prevent competition, especially major competitors like Walmart that have plans to overtake the company. Steadily, Whole Foods faces intense competition from its competitors, who use competitive pricing to outshine it;
Global warming: Climate change is a real threat to Whole Foods. It can change, reduce or destroy food output.
Conclusion
Whole Foods Market is a famous American multinational supermarket selling natural and organic food. They sell high-quality products without hydrogenated fats, artificial flavors and colors, and preservatives. In the United States of America, Whole Foods is one of the companies that is recognized as a USDA Certified Organic grocery market. It is one of the most recognized and largest organic and natural food supermarkets in the United States of America. Although the company has successfully maintained its position since its establishment, it faces several threats that might reduce its market share. However, Whole Foods can lower its prices and maintain its high-quality standards to attract new consumers and retain old ones. The company can also offer discounts for its long-standing consumers on random occasions, while offering a general discount on special events and holidays. Talented and exceptionally skilled employees should be allowed to handle the public relations department, so feedback, complaints, and criticism will be handled well.