Who Owns Nike? Nike, Inc. is owned by Phil Knight and Bill Bowerman. Founded in 1964, it is an American multinational corporation that manufactures and sells clothing, footwear, and accessories. Currently, John Hoke serves as the company president and CEO.
Since its founding, Nike has grown to be the world's largest supplier of athletic footwear, clothing, and sports equipment, with a revenue of $49.1 billion as of 2022 and 76,700 employees worldwide. The company alone is valued at $185.1 billion.  For this, it was listed as one of the most valuable sports brands in the world. Nike's headquarters is located in Beaverton, Oregon.
Initial Owners
Nike was founded by Phil Knight, a track and field athlete, and his coach, Bill Bowerman. They founded the company to "bring inspiration and innovation to every athlete" and offer high-quality footwear at a low cost. Here is brief information about the initial co-founders of Nike.
Who is Phil Knight?
Phil Knight is a billionaire businessman. He was born in Portland, Oregon, on February 24, 1938, to Bill Knight, a newspaper publisher (formerly a lawyer). He grew up in the Eastmoreland neighborhood in Portland and attended Cleveland High School. Phil continued his education at the University of Oregon, participating in track and field events and serving as a sports reporter. He later earned a business degree in 1959 at Stanford University.
Before Nike (formerly Blue Ribbon Sports) thrived, Phil worked as a CPA at Coopers and Lybrand before he went to work at Price Waterhouse. Later, at Portland State University, Phil became an accounting professor. Phil founded a running team called Athletics West, along with Bill Bowerman and Geoff Hollister.
Who is Bill Bowerman?
Bill Bowerman was a track and field coach and the co-founder of Nike. He was born in Portland, Oregon, on February 19, 1911, and grew up in Fossil. Bill attended Medford High School, where he played football in his junior and senior years.
At the University of Oregon, Bill studied journalism and played football before joining the track team. After his graduation, he taught Biology and was also a football coach at Franklin High School in Portland. He later became the head track coach at the University of Oregon, his alma mater.
Initial Investment
The founders initially funded Nike (then Blue Ribbon Sports). Bill Bowerman and Phil Knight pooled  $500 each to start Blue Ribbon Sports. Subsequently, the business was funded by bank loans. Presently, the company has various shareholders.
History And Growth 
Nike was formerly known as Blue Ribbon Sports (BRS). It was founded on January 25, 1964, by two entrepreneurs, Phil Knight, and Bill Bowerman. Phil Knight once wrote a thesis about moving the production of running shoes to Japan, where labor was cheaper. He tested his theory during his trip to Japan, where he made a deal to export shoes to the United States. Bill Bowerman, who believed in providing competitive advantages for athletes like innovations in their footwear, supported Phil's venture. Blue Ribbon Sports started operating as a distributor for Onitsuki Tiger, a Japanese shoemaker, becoming the Western distributor for the brand. The shoes were distributed from Phil's car trunk. Often, Phil attended sports shows to show athletes, coaches, and fans the footwear.
However, Phil and Bowerman had full-time jobs, and Phil could only sell during weekends. This prompted them to hire their first full-time employee, Jeff Johnson. Phil made more orders after noticing the high demand, while Jeff managed Blue Ribbon Sports and helped make adverts and provide marketing materials. He opened the first store, put a mail order system in place, and created several shoe designs. Despite making huge sales, Phil faced major financial problems due to delayed shipment from Japan. This hindered him from getting loans from banks due to the delay in his loan payment.
After enjoying commercial success between 1964 and 1971, the friction between Phil and the Japanese company made the relationship between Blue Ribbon Sports and Onitsuki Tiger end. This prompted Blue Ribbon Sports to launch a footwear line, which became a huge success. Blue Ribbon Sports was later rebranded as Nike, as suggested by Jeff Johnson, and would later have its official logo called The Swoosh, and was registered with the U.S. Patent and Trademark by 1974. Nike has used "The Swoosh" since 1971.
Nike's products are marketed under brand names — such as Nike Air, Nike Blazers, Air Max, etc. —, or under its subsidiaries, including Converse and Air Jordan. Aside from manufacturing sports equipment and sportswear, Nike also sponsors celebrity athletes, professionals, and college sports teams. This helps Nike promote its products.
In addition, Nike maintains a strong relationship with the University of Oregon through Phil Knight's partnership with the university. The partnership has improved and maintained the university's athletic apparatus and reputation.
Mergers And Acquisitions
Over the years, Nike, in a bid to increase its brand ability and diversity, has acquired various clothing and footwear companies, as well as selling some. In 1988, Nike made its first acquisition, which was the purchase of Cole Haan, a footwear company. After, it purchased Bauer Hockey in 1994. Considering its previous acquisitions' success, Nike acquired Hurley International (a surf clothing company) in 2002. Then in 2003, it acquired Converse, a sneaker company. In like manner, Starter and Umbro were purchased later on.
However, Nike began to sell some of its subsidiaries to refocus its business priorities. It sold Starter In 2007 and Bauer Hockey in 2008. Nike proceeded to sell Umbro in 2012 and sold Cole Haan in 2013. As of 2020, the only subsidiary owned by Nike (among the ones earlier purchased) is Converse. Inc.
In early 2018, Nike purchased Zodiac; a company focused on data analysis. Furthermore, Celect, a predictive analytics company, was acquired in 2019. These moves were targeted at enhancing the relationship between Nike and its customers. In 2021, Nike acquired Datalogue, a digital sales and machine learning technology company. Nike also purchased RTFKT Studios, a virtual shoe company that makes NFTs.
It was also announced in 2021 that Nike worked with Newlight Technology to research and make eco-friendly materials for the footwear brand. The company's most targeted sectors are textiles at about 46% and information technology at 19%.
Shareholders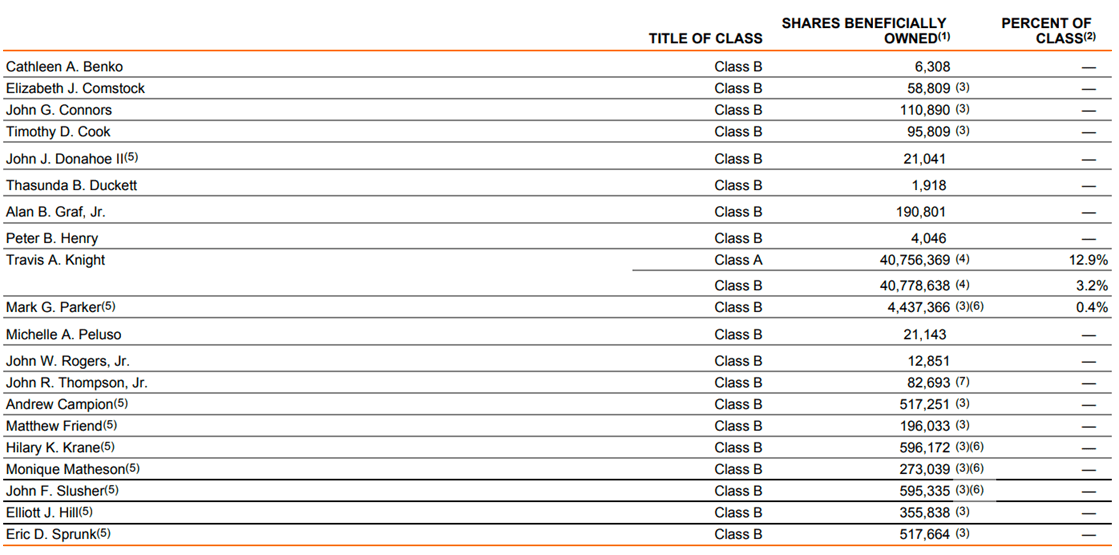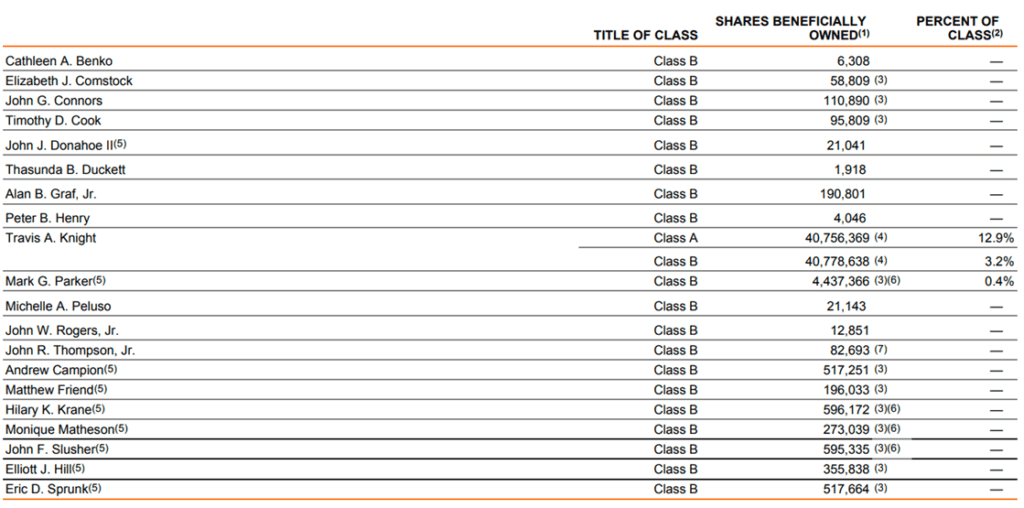 Various stakeholders own Nike's shares, including the founder and other internal individuals and institutions.
Nike has two stock classes:
Class A: This is not available on the open market and can not be converted to Class B shares;
Class B: the normal shares available to investors.
Phil Knight owns 9.3% of outstanding class A shares and 0.9% of outstanding class B shares. Phil owns 2.6% of all outstanding shares in the company. Matt Parker, the current executive chair of Nike and ex-president and CEO, holds 0.09% of outstanding shares. Andrew Campson, the current chief operating officer, has 0.01% outstanding shares.
Asides from individual shares, major institutional shareholders are Swoosh, LLC, which holds 16.5% of Nike's stock. Swoosh is a limited liability company created by Phil Knight to hold many Nike shares. Vanguard Group, Inc has 7.0% of shares, and Black Rock, Inc holds 5.9% of total outstanding shares.
Controversy
Although Nike is a successful brand, it has a long history of controversy because of its labor practices. The company focuses on making high-quality goods with cheaper labor. This made the company move its factories between Japan, Korea, and China. The poor working conditions and pay led to mass protests online and around Nike's retail shops and planned expansions. Adequate measures have been taken to improve labor conditions at its factories.
Conclusion
Nike is a giant in athletic clothing and accessories. Since 1964 when it was founded, it has become one of the most successful companies in the world. Although Phil Knight has stepped down from being CEO and is now a Chairman Emeritus, he remains vital to the company's growth and success. Presently, Nike is well positioned for more success because it continues to evolve in its production and sustainability while maintaining strong customer relationships. With its international and digital expansions, its share price is bound to grow exponentially.