Our workspaces are a daily part of our lives, but sometimes they can be really expensive, especially for freelancers or those who are just starting a business. The WeWork business model has been built precisely on this demand: the company offers shared workspaces for co-working.
WeWork builds physical and virtual offices for entrepreneurs and companies, from different sectors and domains, from services to start-ups. Currently, WeWork operates in more than 700 locations in 150 cities of 38 countries all over the world, turning into one of the largest co-working chains on the planet.
A brief history of WeWork
WeWork's foundation goes back to 2008, with Adam Neumann and Miguel McKelvey. Neumann had previously served in the Navy and Military of Israeli and came to America to start his own business. In New York City, he met McKelvey, an architect who also wanted to establish a company, but had no clue how to begin.
Both were living in a huge space building, and they came up with the idea to share the vacant space. For that, they founded GreenDesk, which would provide eco-friendly co-working solutions to small businesses and independent professionals in Brooklyn.
In 2010, GreenDesk was sold, and the pair started developing WeWork, which had its official launching the following year, in the SoHo district. The company gained traction very quickly, which allowed a fast expansion. In 2014, WeWork would expand to other cities in the U.S., in 2015 to Europe, in 2016 to China and India, and in 2017 to Latin America.
The growth attracted attention from investors and, up until now, WeWork has raised over $1.43 billion in seven rounds of funding, with investments from high-profile companies such as Goldman Sachs, J.P. Morgan, and Harvard Management Company.
WeWork went public in 2020. Nowadays, it is worth $9 billion.
WeWork's Mission Statement
Empowering tomorrow's world at work.
How WeWork makes money
WeWork applies four types of memberships :
1. All Access
It is the cheapest form of membership, the favorite one by most freelancers and solo workers. The clients are offered many desks in a workspace to choose where to work. They can follow their own hours and schedules.
2. Dedicated Desks
As the name already suggests, in this plan, the clients have their own assigned desks, dedicated to their business, and these desks will always be booked for them, as long as the plan is still valid. It is a nice alternative for those who want a more stable option, but still don't need a private space.
3. Standard Offices
This is the best option for small teams or solo workers who require privacy. The offices can be decorated as the client desires, and they usually accommodate as many as twenty people.
4. Office Suite
The office suite is suitable for as many as 100 people, so it is indicated for larger businesses that do not need/want to buy their own spaces. There are different options of layout and the environment can be customized, including reception desks, conference rooms, executive offices, and more.
5. Full-floor Office
This brings the same concept of the Office Suite but maximized into a full floor. It offers the highest level of exclusivity and privacy with the client's own branded entry, conference rooms, executive offices, etc., for over 100 workers.
WeWork's Business Model Canvas
Let's take a look at the WeWork Business Model Canvas below: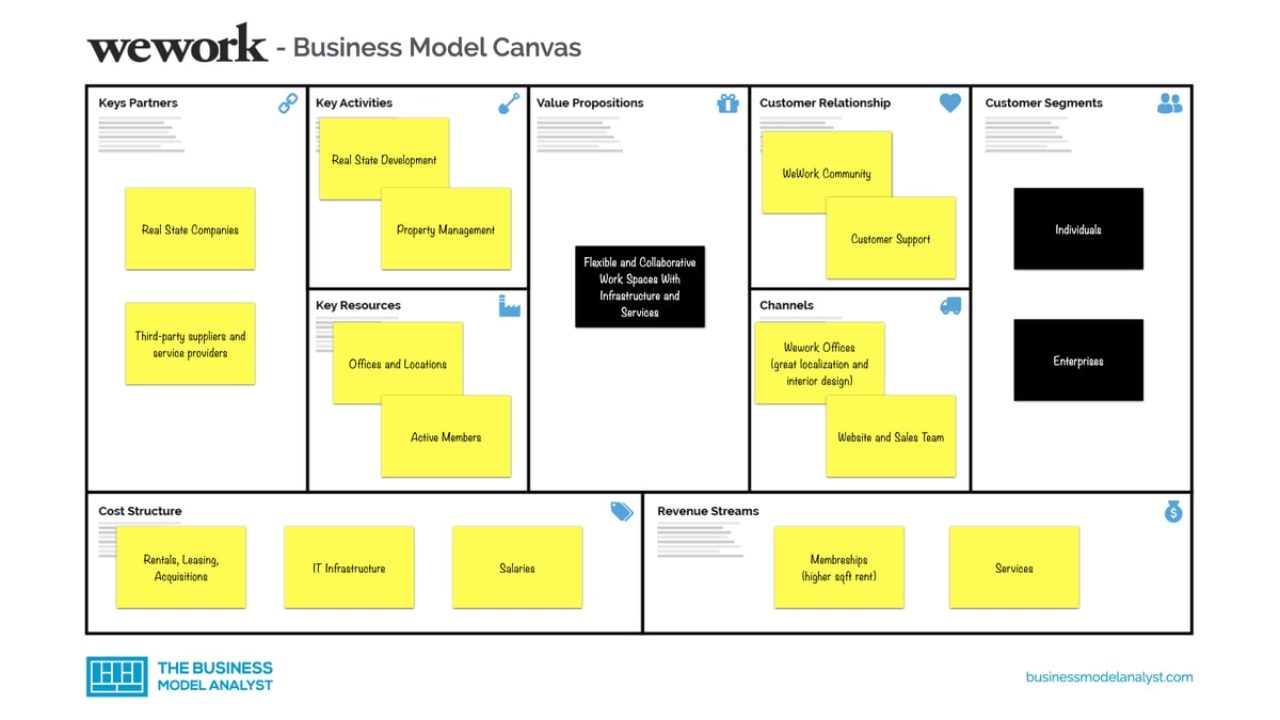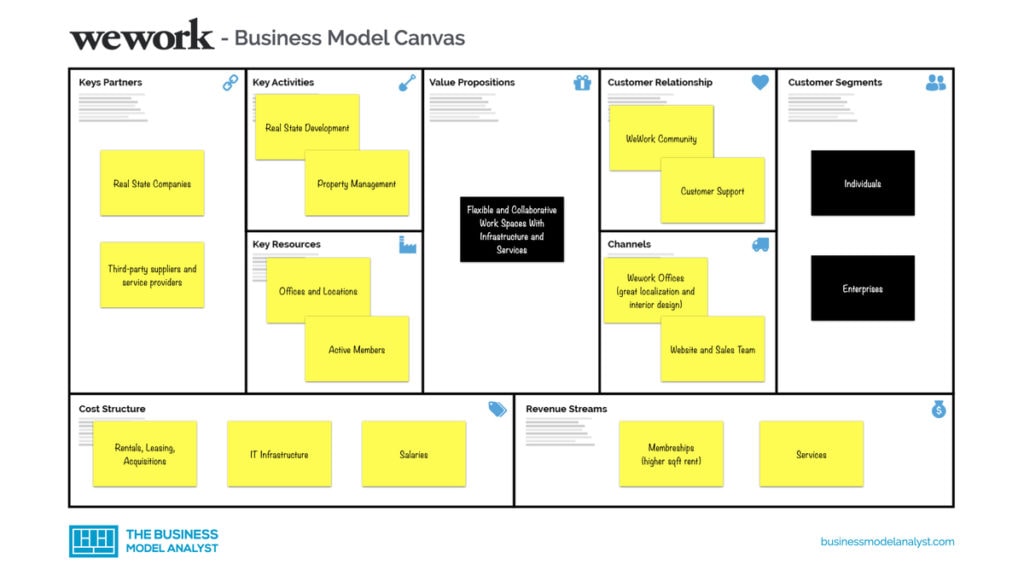 WeWork's Customer Segments
WeWork's customer segments consist of:
Individuals: Freelancers, independent professionals, solo entrepreneurs;
Enterprises: Small, medium, large-sized businesses, startups.
WeWork's Value Propositions
WeWork's value propositions consist of:
Flexible pricing model
Quality facilities
Amenities & services provision
International reach
Community atmosphere
Event spaces
Great location
No upfront costs
WeWork's Channels
WeWork's channels consist of:
WeWork Offices
Website and app
Sales team
Word of mouth
Online and offline marketing
Social media
WeWork's Customer Relationships
WeWork's customer relationships consist of:
WeWork connected community
Customer support
Sales team
Social media
WeWork's Revenue Streams
WeWork's revenue streams consist of:
WeWork's Key Resources
WeWork's key resources consist of:
Human resources
Offices and locations
Physical assets
IT structure
App and web services
Partners and service providers
Active members
WeWork's Key Activities
WeWork's key activities consist of:
Real-estate development
Property management
Consulting services
Virtual office development
Software development
Events management
Customer support
Market development
Marketing and sales
WeWork's Key Partners
WeWork's key partners consist of:
Investors
Real-estate companies
Landlords and properties owners
Brokers and referral network
Third-party suppliers and service providers
Alliance companies
WeWork's Cost Structure
WeWork's cost structure consists of:
Rentals
Acquisitions
Leasing
Salaries
IT infrastructure
Payment fees
General and administrative
WeWork's Competitors
IWG: A Switzerland-based multinational corporation founded in 1989 as Regus and taken public in 2000. It operates several brands that provide short-term office space to companies;
Knotel: Founded in 2016, it has recently become a unicorn. It operates in 15 cities across 3 continents, with plans to eventually double the number of cities it does business in;
Industrious: Founded in 2013, rather than leasing space and then renting it out to companies, it has been functioning as a management company for its landlord partners, with 90 locations in more than 45 U.S. cities;
Convene: Founded in 2009, its approach is to operate part of a building as a co-working space through a management agreement or partnership lease, and then offer its hospitality services to all tenants in the building;
CommonGrounds: A California-based startup that uses a reusable version of drywall to install a movable wall system intended to quickly prepare new spaces for tenants. Though the company currently has just 8 locations, it has plans to expand to 50 locations;
Studio by Tishman Speyer: The real estate giant Tishman Speyer aims to combine the flexibility of co-working's short-term leases with high-end building services;
The Wing: A co-working space only for women that also aims to act as a professional network and community, with women-targeted amenities, like mother's rooms, and events featuring high-profile women like Shonda Rhimes;
Impact Hub: A Vienna-based global network of community and co-working spaces targeted at businesses and nonprofits that aim to create social good, it relies on over 100 spaces in more than 50 countries;
Servcorp: An international, Australia-based company that leases out office space in some of the world's most iconic buildings, by enforcing a dress code. It has more than 160 co-working sites in over 20 countries.
WeWork's SWOT Analysis
Below, there is a detailed swot analysis of WeWork:
WeWork's Strengths
Reach: WeWork has workspaces in the major developed countries in the world, like the U.S., Canada, Germany, and the UK. And as it offers offices in over 38 countries, that makes the brand considered international;
Stakeholders: WeWork valuation has, in a good part, been built over the names that fund the company, such as Softbank, J.P. Morgan, and Benchmark;
Staff: Currently, there are more than 15,000 people working for the company, and dedicated human resources are great assets for an organization;
Price: Compared to its competition, WeWork offers very economical workspaces, with interesting amenities and useful services;
Business Segmentation: WeCompany, the parent organization of WeWork, has many subsidiaries, such as WeLive, WeRise, and WeMRKT, besides WeWork. These multiple segments enable the brand to reach more people, thus widening the business;
Secrecy: WeWork does not share any information about its tenants.
WeWork's Weaknesses
Intense environment: Some people avoid WeWork offices because of the intense work environment inside, which, for some of them, can even be classified as stressful. Besides, for the newcomers, it is sometimes difficult to adjust because the people who are already there are pretty familiar with everything and everyone, while the new ones may feel like they are outsiders;
Overcrowding: The collective space at WeWork can be overcrowded sometimes, and there are plenty of people who enjoy working in a quiet place, with just a few others, to avoid a lack of concentration;
Marketing: As the advertisement agency of WeWork is its in-house agency, under WeCompany's umbrella, it is sometimes inefficient because it is not able to focus on each subsidiary separately.
WeWork's Opportunities
Mail System: Currently, WeWork provides mail handling regarding receiving. The company could start working with an on-demand delivery service, to attract more sophisticated users;
Alliances: WeWork is globally expanding, and it might merge, acquire and partner up with other companies to accelerate the process.
WeWork's Threats
Competition: There are lots of competitors, all over the world, which offer the same products and services, at low switching costs, so it needs to provide a unique experience for its customers.
Conclusion
WeWork has gained space as an innovative way of leasing out workspaces, with flexible and low prices. It is also backed by some of the most famous and successful companies in the world, such as Microsoft, IBM, Amazon, Airbnb, and Samsung. Currently, it is looking for expansion in the Eastern countries.