Warby Parker is an eyewear firm that manufactures and sells quality and trendy prescription glasses, sunglasses, and other eyewear accessories to its customers through the company's online channels or its retail outlets in cities across various states in the U.S. and Canada.
A brief history of Warby Parker
Warby Parker was launched in 2010 by four students of tswohe Wharton School of Business at the University of Pennsylvania. Some of the features of the initiatives introduced by the quartet include affordability, bypassing orthodox channels by designing frames in-house, and taking cognizance of customers' specifications.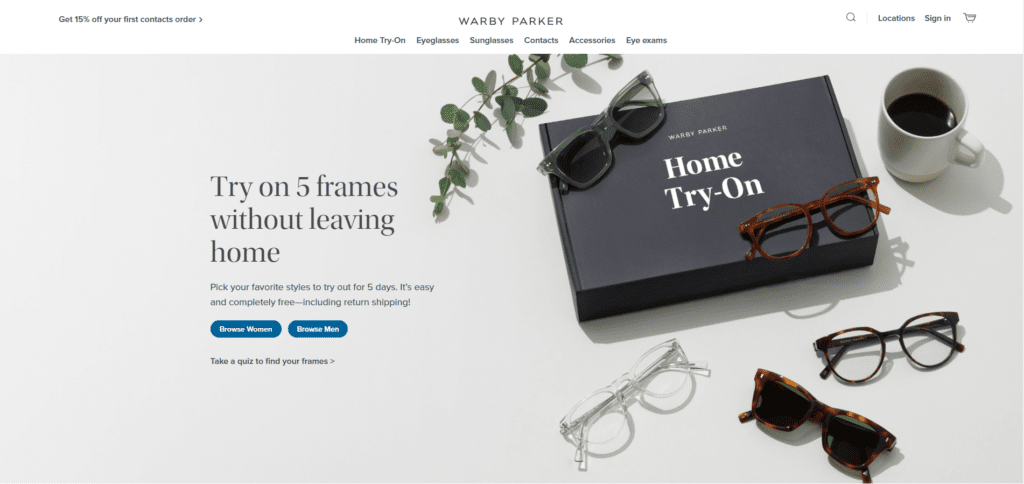 The company which was set up under the Wharton School's Venture Initiation Program was created to close the perceived existing lacuna between users of medicated glasses and the providers of such services. Though the idea was hatched in 2008, the business did not commence operations until two years later.
Who Owns Warby Parker
Warby Parker was founded in 2010 by Neil Blumenthal, Andrew Hunt, David Gilboa, and Jeffrey Raider, who were students of the Wharton School of Business. The company is officially incorporated under the name JAND Inc, while the name "Warby Parker" derives from two characters featured in a journal authored by Jack Kerouac. 
From the first time it attracted investors' funding in 2011 to date, Warby Parker has raised over $350 million in about six rounds of funding, with notable investors such as American Express, Felicis Ventures, First Round, Interplay Ventures, and General Catalyst Partners in its ownership structure. 
Warby Parker's Mission Statement
The mission statement of Warby Parker is "Warby Parker was founded with a rebellious spirit and a lofty objective: to offer designer eyewear at a revolutionary price while leading the way for socially conscious businesses."
How Warby Parker makes money
Warby Parker deals in several eyewear products, from regular glasses to sunglasses. It also sells lenses and other eyewear accessories directly to customers at cheaper rates. The detail of the company's various sources of revenue is as spelled out below.
Regular Glasses
The company sells both male and female regular eyeglasses at an average price of $95. There are about 89 and 101 different styles of glasses for men and women, respectively.
Prescription Sunglasses
Prescription sunglasses that go for about $150 are also sold by Warby Parker. The polarized version of the prescription lenses, which has 39 and 50 styles for men and women respectively, is sold at the average price of $275.
Colonel Monocle
Warby Parker also sells Colonel Monocle, which also includes prescription lenses. The monocle which is unisex goes for $50.
Accessories and Value Added Services
Warby Parker sells all manner of eyewear accessories and also offers value-added services. It sells frames and replacement lenses, and also delivers orders to the homes of customers. The company does not charge for the shipping of goods unless customers prefer to accelerate their orders. And in such cases, customers are requested to pay $30.
Warby Parker's Business Model Canvas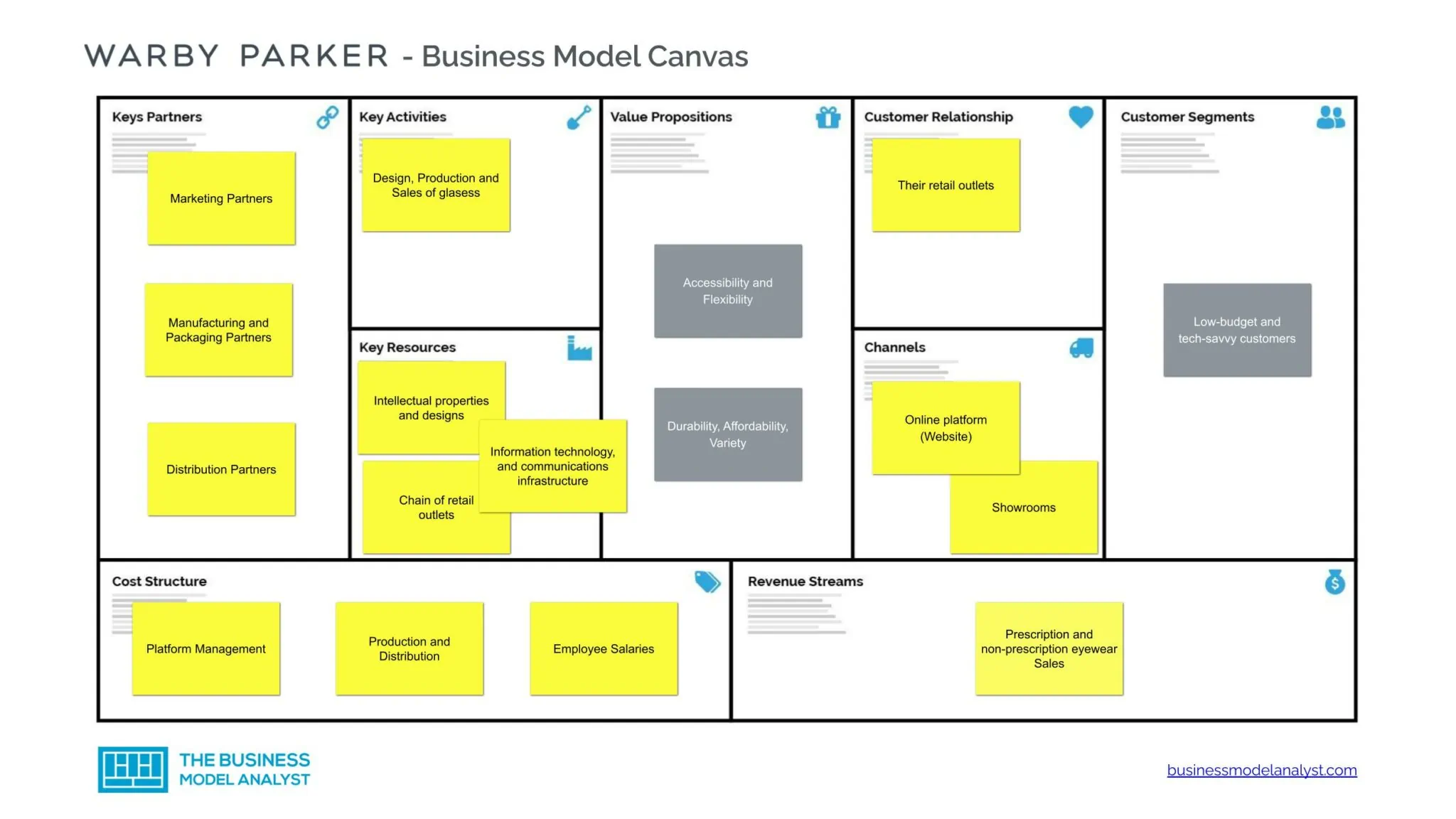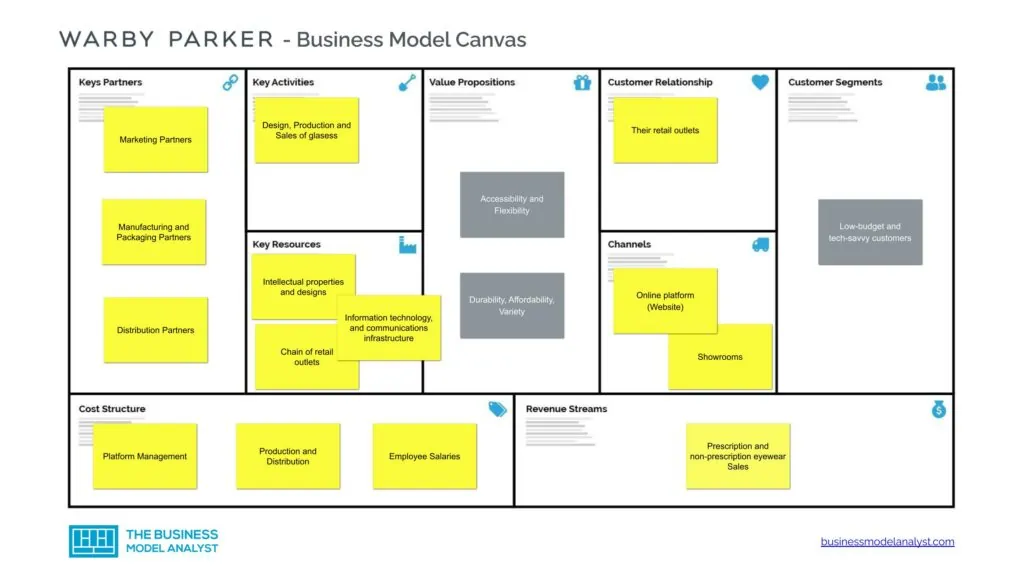 The Warby Parker business model allows the trademark to present itself as a lifestyle choice and an idiosyncratic designer brand. The specifics of the mechanism of the business model are as stated below.
Warby Parker's Customer Segments
Warby Parker's customer segments consist of:
Warby Parker operates as an online and offline retailer of prescription glasses and sunglasses and seeks to avail customers with high-quality and fashionable products at affordable prices. The company's business model appeals more to low-budget and tech-savvy customers, especially the younger generation who have a flair for fashion.
Warby Parker's Value Propositions
Warby Parker's value propositions consist of:
The following are some of the means through which Warby Parker affords value to its clients:
Accessibility and Flexibility
Warby Parker's online channels provide customers with the means to place orders with ease and also to have ordered packages delivered in the comfort of their homes. The platform also affords customers the means to input personalized features in the designs of their products; they are offered deliveries of five designs of the ordered products to try them out at their convenience.
Durability/ Affordability
Warby Parker stresses the need for the quality of ordered products not to be compromised. Also, the near monopoly or oligopoly enjoyed by the dominant corporation(s) before them, creates windows in the market wherein those who cannot afford the products of the dominant firm(s) could be easily won over with relatively lower pricing.
Warby Parker adopts a product differentiation strategy. It entails the production of different types and designs of a particular product to provide customers with an array of products to choose from.
Social Corporate Responsibility/Advertising
Warby Parker provides glasses for those who cannot afford their products, especially those in low-income countries, with each patronage of their high-end products.
Warby Parker's Channels
Warby Parker's channels consist of:
Warby Parker manufactures and sells a variety of quality products directly to consumers by integrating online and offline buying processes at more affordable prices that undercut the competition by cutting off middlemen.
The online platform provides an easy and effective means of interacting with customers, which allows them to place orders for products with customized features. The company's offline service entails retail outlets with showrooms where customers pick up orders and shop from the shelves.
Warby Parker's Customer Relationships
Warby Parker's customer relationships consist of:
Warby Parker operates a fully self-service online operation wherein customers can provide prescription information, browse the company's list of frames, make purchases and take deliveries, without interacting with the company's sales officers or intermediation or middlemen.
Customers also buy their products and accessories from the shelves in their retail outlets. Warby Parker also has several retail outlets located in cities in different states in the United States and Canada.
Warby Parker's Revenue Streams
Warby Parker's revenue streams consist of:
Warby Parker is not a publicly listed company and as such, its financial reports are not published in the public domain. However, the report has it that the revenue accrual to the company was about $100 million in 2015; a huge leap from its 2013 revenue put at about $35 million. The two major revenue streams of the company are as stated below:
Online Channel: The sale of prescription and non-prescription eyeglasses through the firm's online and mobile platforms;
Retail Outlets: The sale of prescription and non-prescription eyeglasses through the firm's retail outlets in cities in various states in the U.S. and Canada.
Warby Parker's Key Resources
Warby Parker's key resources consist of:
The key resources of Warby Parker are its intellectual properties and designs, its online portal, its information technology, and communications infrastructure, its personnel, its chain of retail outlets, its products, and supply chain, and its partnerships. The company has no patent registered in its name yet.
Warby Parker's Key Activities
Warby Parker's key activities consist of:
Warby Parker is involved in the design, production, and sales of prescription glasses, sunglasses, contacts, and other eyewear accessories like lens cleaning wipes and cases. It operates both online and offline. The online service allows customers to order for their products that suit their specifications, while on-the-shelf purchases could also be made by customers from their retail outlets in cities in various states in the U.S. and Canada.
Warby Parker's Key Partners
Warby Parker's key partners consist of:
Warby Parker works in synergy with other firms to provide efficient and robust services to customers. These partners are classified as specified below.
These consist of an array of companies that provide direct support in the marketing of the company's products and services, a network of websites that drive traffic to the company's online retail channels in return for commissions on sales, and nonprofit organizations in the discharge of its social corporate responsibilities through various charity projects and the attendant endorsements.
Manufacturing and Packaging Partners
They include firms that manufacture some of the parts or special designs of the products that are outsourced.
Warby Parker provides quality products and efficient services at cheaper prices to its customers. This is achieved by cutting out middlemen and collaborating with distribution and delivery firms that have a high level of expertise in this sphere.
Warby Parker partners with firms that help in ensuring timely and adequate supplies of its products. These firms ensure the unabated flow of raw materials, tools, and equipment needed to get the job done.
Warby Parker's Cost Structure
Warby Parker's cost structure consist of:
Costs incurred by Warby Parker include expenses on the remuneration of its staff, maintenance of its online and mobile retail platforms, and its information technology and mobile infrastructure. The company also incurs costs in the production and distribution of its products and the payment of contractors, vendors, and other professional service providers.
Warby Parker's Competitors
Warby Parker faces an increasing competition from both the dominant and start-up firms in the industry. Glasses USA is said to record about 130,000 visitors to its site daily, while Zenni offers its products at prices said to be lower than what Warby Parker offers. EssilorLuxottica is the largest eyewear company in the world and has a more recognizable worldwide brand.
Some of Warby Parker's top competitors are as listed below:
Glasses USA
Bausch & Lomb Inc.
CooperVision
Johnson & Johnson
EssilorLuxottica
Zenni
EyeBuyDirect
Warby Parker's SWOT Analysis
Below is an in-depth SWOT analysis of Warby Parker: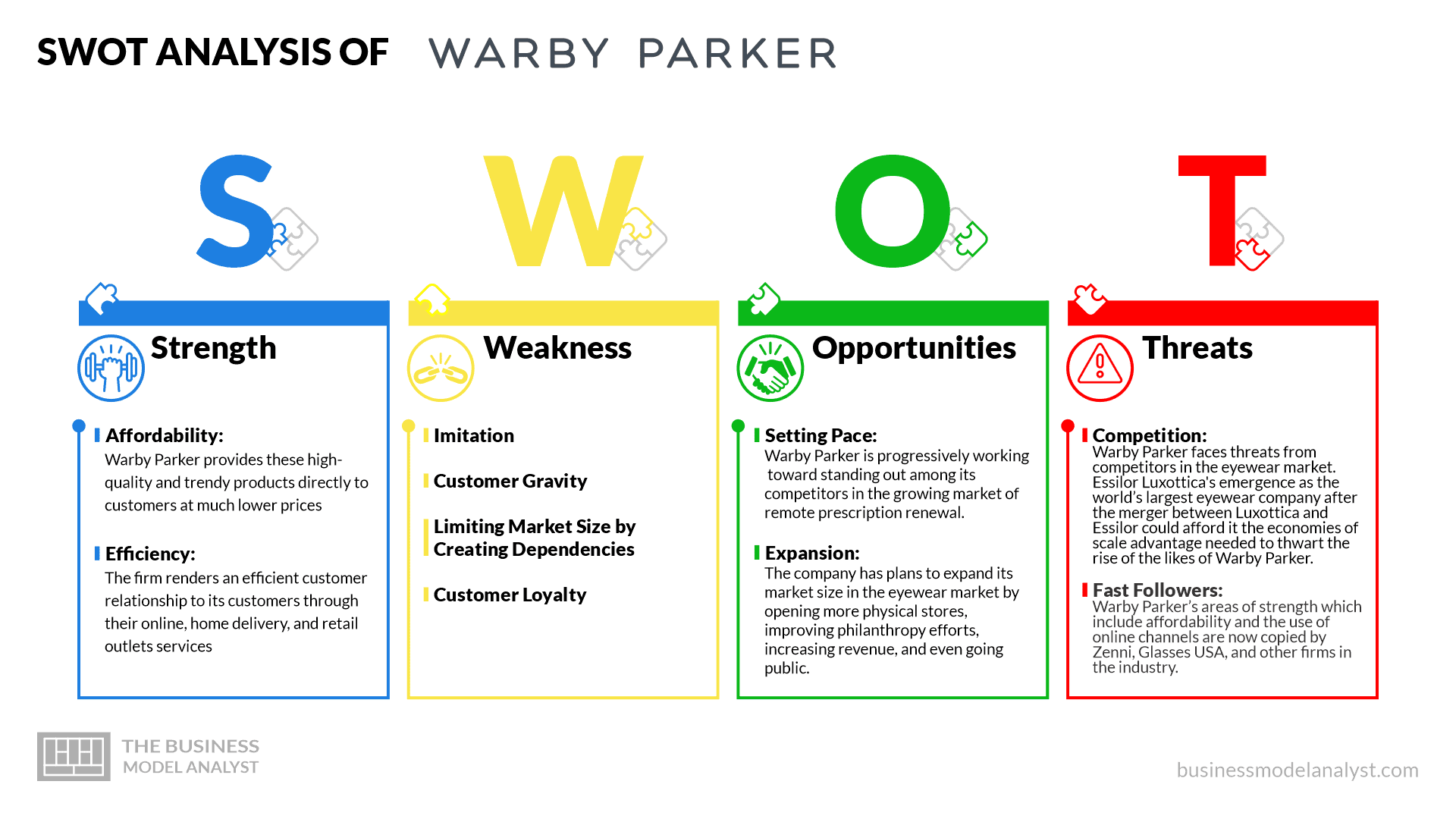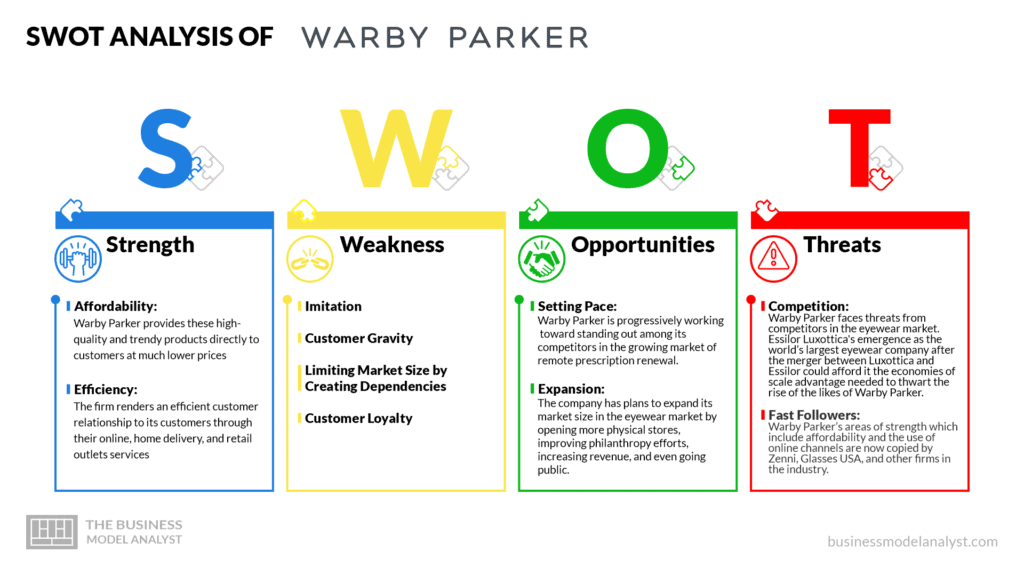 Warby Parker's Strengths
Affordability: Warby Parker provides these high-quality and trendy products directly to customers at much lower prices;
Efficiency: The firm renders an efficient customer relationship to its customers through their online, home delivery, and retail outlets services.
Warby Parker's Weaknesses
Imitation: The dominant companies in the market could adopt the Warby Parker business model to stall them from taking more share of the market;
Customer Gravity: A business initiative that acutely gravitates towards customers' views and wants, might miss out on vital insights that could be gotten from competitors and through research;
Limiting Market Size by Creating Dependencies: Donating products to those who cannot afford them creates a dependency syndrome where beneficiaries of donations would prefer to be given the products for free, even when they can afford them;
Customer Loyalty: Warby Parker's emphasis on its affordable products does not help in convincing those who have preferences for expensive products to toe their lane.  
Warby Parker's Opportunities
Setting Pace: Warby Parker is progressively working toward standing out among its competitors in the growing market of remote prescription renewal;
Expansion: The company has plans to expand its market size in the eyewear market by opening more physical stores, improving philanthropy efforts, increasing revenue, and even going public.
Warby Parker's Threats
Competition: Warby Parker faces threats from competitors in the eyewear market. EssilorLuxottica's emergence as the world's largest eyewear company after the merger between Luxottica and Essilor could afford it the economies of scale advantage needed to thwart the rise of the likes of Warby Parker;
Fast Followers: Warby Parker's areas of strength which include affordability and the use of online channels are now copied by Zenni, Glasses USA, and other firms in the industry.
Conclusion
Warby Parker was birthed through the effort of the progenitors to solve a real-life problem, but that is not all, the novelty of its setup cannot be ignored. It is one of the first vertically integrated direct-to-consumer brands that attempt to leave positive impressions in the hearts of customers.