The Walmart mission statement is "to save people money so that they can live better." And the Walmart vision statement is "to be the destination for customers to save money, no matter how they want to shop." 
Walmart is one of the largest retailers in the world. Part of its success can be attributed to how carefully and strategically the company applies its corporate mission and vision statement, which are in line with its founder's core ideals. But that's just part of the whole equation. Walmart has millions of employees worldwide, a true testament to the company's effective human resource management. 
This company's corporate mission and vision statements are the fundamental driving force behind its global success. Part of it includes incorporating principles from Porter's model, which is useful when working a competitive advantage against its rivals, including Home Depot, Costco, and Wholefoods. 
The same can be said about Walmart's growth strategies, which include market penetration and market growth that align with its corporate mission and vision statement. In this article, We'll dive deeper into Walmart's mission and vision statement.  
Walmart Mission Statement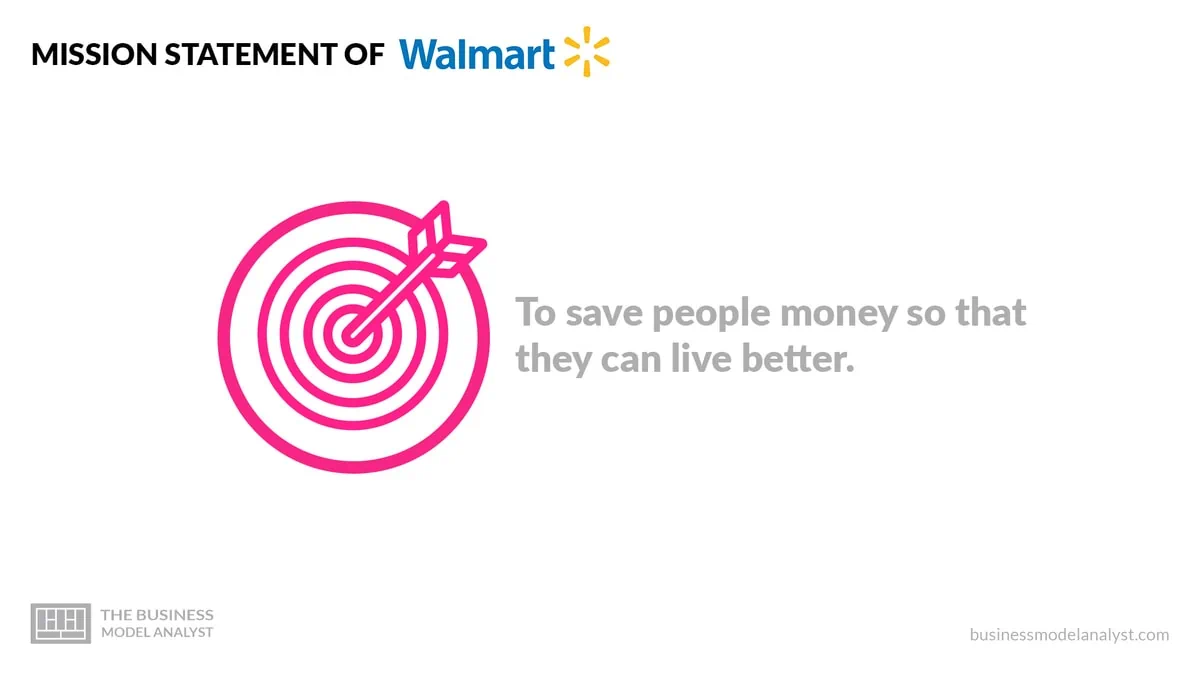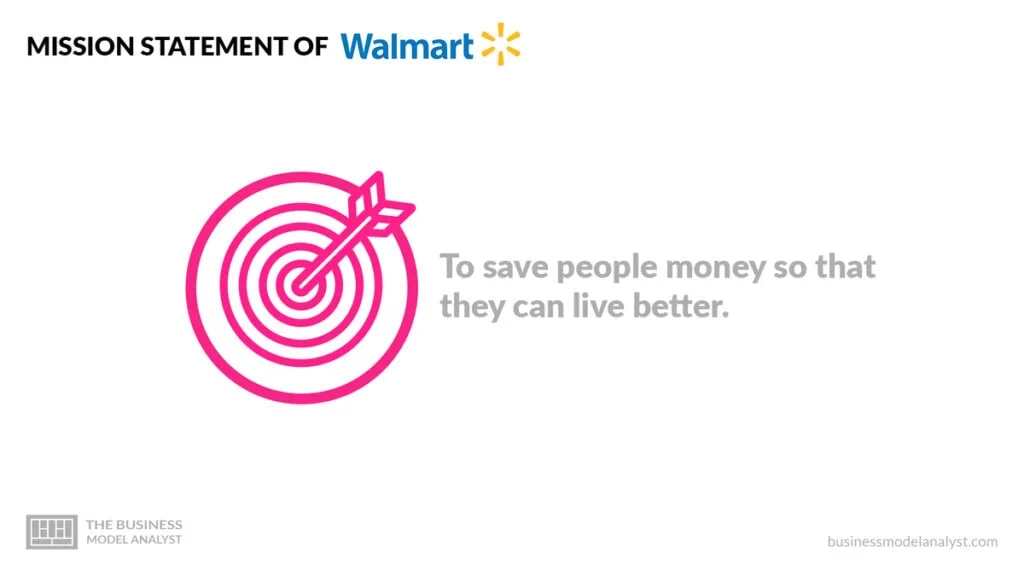 Being one of the largest retailers in the world, Walmart has one of the most straightforward and concise mission statements, which is, "to save people money so that they can live better." This has been its mission since its inception back in 1962.
Save Money
According to one of their reports, this mission statement helps families adequately stretch their paychecks to allow them to provide for their families. The company achieves this through its everyday low price (EDLP) strategy, which ensures that customers get the best value for their money on every purchase.
One thing that's clear from Walmart's mission statement is that this company is using its position and status to create attractive price points for its customers. Walmart realized that saving money is one of the universal goals of all customers across all socioeconomic backgrounds.
Live Better
But Walmart's mission goes beyond just saving money. Walmart also believes that its status as one of the largest retailers helps it achieve its mission as they make a difference on big social issues. The company's goal is to help people live better, in terms of health, education, and environmental sustainability. 
Walmart has taken several carefully calculated steps to help it achieve this; some of them include investing in sustainable sourcing and reducing waste in its operations. They've also provided affordable healthcare services and educational opportunities to their employees.
Walmart Vision Statement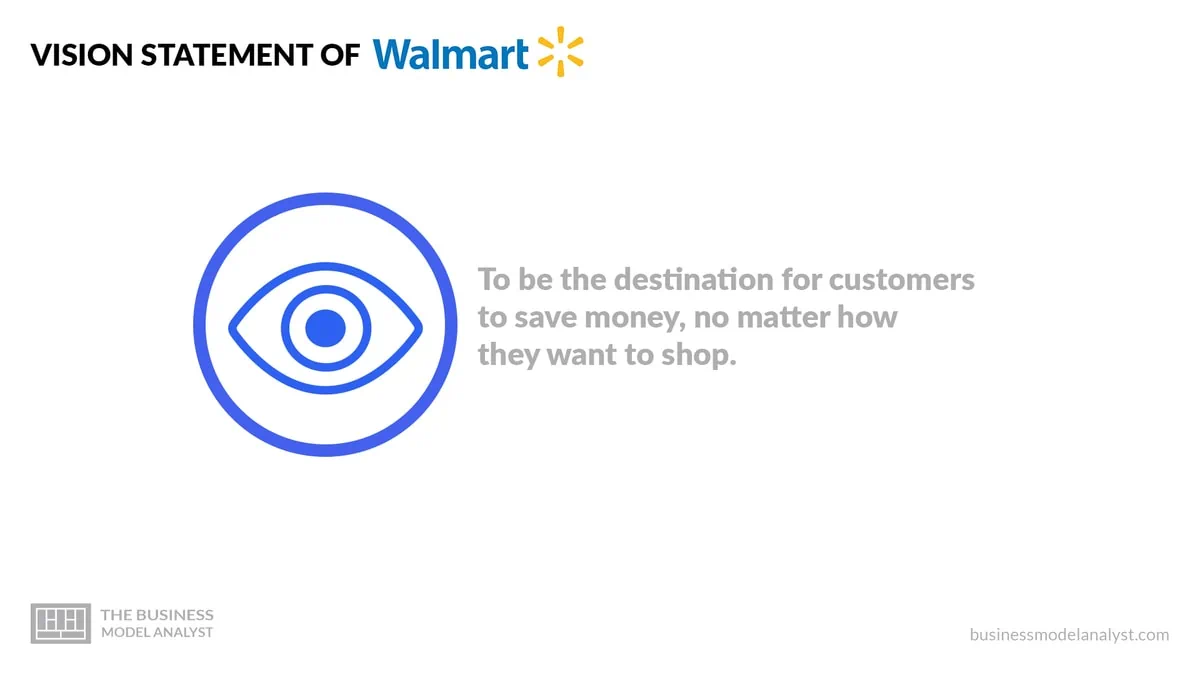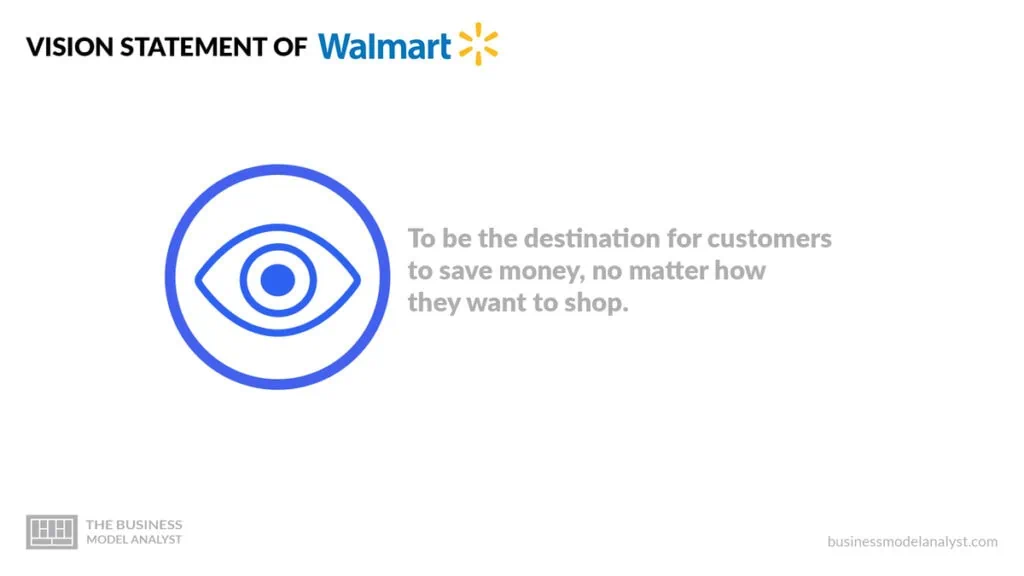 Walmart's vision statement is to be the destination for customers to save money, no matter how they want to shop. It also aims to build a better world — helping people live better and renew the planet while building thriving, resilient communities.
The vision statement is in line with creating opportunities, building a sustainable future, bringing communities closer together, and advancing diversity, inclusion, and equity. 
Creating Opportunities 
Creating opportunities simply refers to providing people with the tools, resources, and support necessary to achieve their goals while reaching their full potential. Walmart envisions a future full of opportunities. And it means more than just providing job opportunities. It means investing in people and helping them build careers, improve their skills, and grow as individuals.
Walmart has been serving its community for decades and aims to continue on that trajectory by creating opportunities for its associates worldwide. Currently, Walmart has created opportunities for more than 2 million of its associates worldwide. 
The company aims to be an inclusive and equal opportunity giver, allowing people to get jobs. And regardless of the kind of jobs they get, or where they start, Walmart believes in arming its employees with the tools necessary to advance their careers and skills. 
Building a Sustainable Future
Walmart firmly believes in creating a sustainable future. As part of its vision statement, Walmart is working tirelessly to be supplied with 100% renewable energy. And true to this, the retail giant became the number one user of on-site solar power back in 2012. 
Walmart's vision includes a goal to power 50% of its operations with renewable energy by 2025. To achieve this, it's investing in various renewable energy projects, including solar, wind, and hydropower. 
But Walmart's sustainable future includes using renewable energy, reducing waste, and promoting sustainable products. Walmart firmly believes that its customers don't have to choose between sustainable and affordable products. 
Walmart envisions a future where it promotes sustainable products and practices throughout its supply chain. It launched a sustainability index, which rates products based on their environmental and social impact. This tool allows customers to make more informed decisions about the products they purchase and encourages suppliers to adopt more sustainable practices.
They also support their local farmers and, to a larger extent, their community by selling locally grown farm produce. What this means is that customers get broader access to fresh vegetables and fruits. It also means more sustainable products as the foods are healthier while delivery trucks get to travel lesser miles than they typically do at other retailers. 
And lastly, ​​Walmart has taken significant steps to reduce waste within its operations. They've implemented several initiatives to achieve this, including minimized packaging, which involves using more compact packaging and reducing the use of excess materials. Additionally, the company has launched a program to reduce food waste by donating unsold food to local charities and food banks.
Advancing Diversity, Inclusion, and Equity
Diversity, inclusion, and equity are all factors that determine a company's success because the workforce is a company's heartbeat. Walmart has recognized the importance of creating a culture that embraces and celebrates differences, fosters inclusion, and promotes equity in the workplace.
But Walmart's commitment to advancing diversity, inclusion, and equity is not just a lofty goal but a core business strategy. The company recognizes the importance of having a diverse and inclusive workforce that helps to attract and retain top talent, enhance innovation and creativity, and drive business growth.
Charitable Giving and Philanthropy
One of the ways Walmart aims to bring closeness within communities is through charity and philanthropy. The company operates globally and gives back locally. Walmart has, in recent years, making it a priority to become more involved in charitable giving and philanthropic efforts.
One of Walmart's key initiatives involves the Walmart Foundation, which focuses on four core areas: fighting hunger, empowering women, promoting sustainability, and strengthening communities. The foundation has given millions of dollars in grants and donations to organizations that address these issues, including Feeding America, Save the Children, and the Environmental Defense Fund.
According to one of its reports, Walmart and its foundation gave an average of $19 million each week in cash and in-kind contributions worldwide back in 2012. The foundation alone provided more than a billion in cash and in-kind donations in the United States alone. Such huge numbers outline Walmart's impressive contribution toward realizing its philanthropic vision.
Conclusion
Walmart's mission and vision statement is a testament to the company's commitment to serving its customers, associates, and communities. This giant of a retail company aims to help the world become a better place by starting with competitive prices that attract customers while leaving something out of their paychecks to take care of their families. 
And although the company's mission and vision statement may have evolved, Walmart's dedication to providing its customers with the best prices and shopping experience has remained constant. And for this reason, it's fair to believe that its mission and vision will continue to guide its decisions and shape its future.