The Upwork Business Model centers on providing a freelancing platform for companies and individuals to interact with freelancers and freelance agencies providing all sorts of services. Upwork had over five million registered clients and over twelve million freelancers registered with the company, with over $1 billion worth of jobs posted by 2017.
The Company's mission, as stated by Hayden Brown, the CEO, is "…to create economic opportunities, so people have better lives. It attracts people to Upwork who want to accomplish extraordinary things. And it's the 'what' that guides where and how we seek to have an impact." They have consistently done this, enlisting Upwork among the list of 100 Most Influential Companies of 2022 by TIME.
A brief history of Upwork
In 1998, Beerud Sheth, who graduated from MIT, and Srini Anumoli, who previously worked at Wall Street, founded Elance in Jersey City. They grew to have 22 employees and relocated to Sunnyvale, Silicon Valley, California, in December 1999. The first service they offered was the Elance Small Business Marketplace.
Additionally, in 2003, Stratis Karamanlakis and Odysseas Tsatalos founded oDesk 2003. Even though they intended to make it a staffing company, oDesk became an online marketplace for people to register and use the platform users to find and hire remote workers. oDesk and Elance merged on the 18th of December 2013, to form Elance-oDesk. It later became Upwork in 2015. The company wasn't only rebranded; it was also upgraded.
From 2009 to 2014, Upwork was listed on the Inc. 5000 list. It went public on the New York Stock Exchange on April 27, 2019.
Who Owns Upwork
Upwork Inc. is a publicly traded company with shares available for sale on a stock exchange. It is listed on the NASDAQ stock exchange as "UPWK." Several individual and institutional shareholders, therefore, own the company. The holders with the most significant shares, according to Fintel.io include Vanguard Group Inc, Capital International Investors, BlackRock Inc., Hawk Ridge Capital Management Lp, Baillie Gifford & Co, ATOMVEST Ltd, NAESX, Greenoaks Capital Partners Llc, — Vanguard Small-Cap Index Fund Investor Shares, and IWM — iShares Russell 2000 ETF.
Upwork Mission Statement
Upwork's mission statement is "to create economic opportunities, so people have better lives."
How Upwork works
Upwork provides a platform for individuals and businesses to find top-level talent and talent agencies for their needs.
It is for two sets of people:
The talents (freelancers and agencies); and
The contractors (businesses or individuals hiring talent).
Getting started is simple. The freelancer signs up, creates his/her profile, and sends proposals to job postings to find the right job. Upwork provides a platform for the freelancer to communicate and collaborate with his employer.
For the contractors, the process is as simple — the business/individual signs up on the platform. Upwork then suggests talents that fit the needs of the contractor. The contractor can also make job posts containing the details and description of the job. Upwork provides a platform for contractors to communicate and collaborate with freelancers. Upwork also provides a platform for payment. Once you've engaged your talent, use the platform's tools to communicate, collaborate, and securely pay for your project.
How Upwork makes money
Upwork has proven over the years to be highly profitable for its shareholders. It generated a revenue of about USD 618 million in 2022, according to Macrotrends.net. To generate most of its revenue, the company charges a fee for every completed job on its platform. The fee is charged from the clients and the freelancers. How each customer segment operates is, however, different.
Here is a list of how Upwork makes money:
Freelancers
Clients
Others
Freelancers
It charges service fees from freelancers based on the type of client they work with. Clients are categorized into:
Non-Enterprise Clients: With this type of client, Upwork charges the freelancer a sliding fee based on the lifetime earnings from the Non-Enterprise client. It considers every contract – hourly, fixed-price, or projects from the Project Catalog. The service fees are charged as follows:

20% – $500 and below
10% – $500.01 to $10,000
5% – $10,000 and above
Enterprise Clients: In this category, individual contracts are negotiated by Upwork per case with these companies.
The service fee on Enterprise contracts is a flat rate of 10%. Client profiles are designated as Enterprise clients by a badge.
Clients
Clients on Upwork are billed as follows:
$14.99 per month subscription fee for clients on Upwork Plus;
Customized pricing based on the service level needed for Upwork Enterprise clients.
For Payroll Services, 23% is deducted from the employee's pay — 10% for Upwork and 13% for payrolling costs;
A compulsory fee of 3% is charged on payments by all clients to cover administration and payment processing costs.
Others
Purchase of Connects: Connects are virtual tokens for freelancers to bid for jobs. Some connects are given to freelancers for free at registration. After the initial connects are exhausted, more must be purchased from Upwork;
Advertising: Like other online services, Upwork sells ad spaces to generate additional income.
Upwork Business Model Canvas
The Upwork Business Model can be explained in the following business model canvas: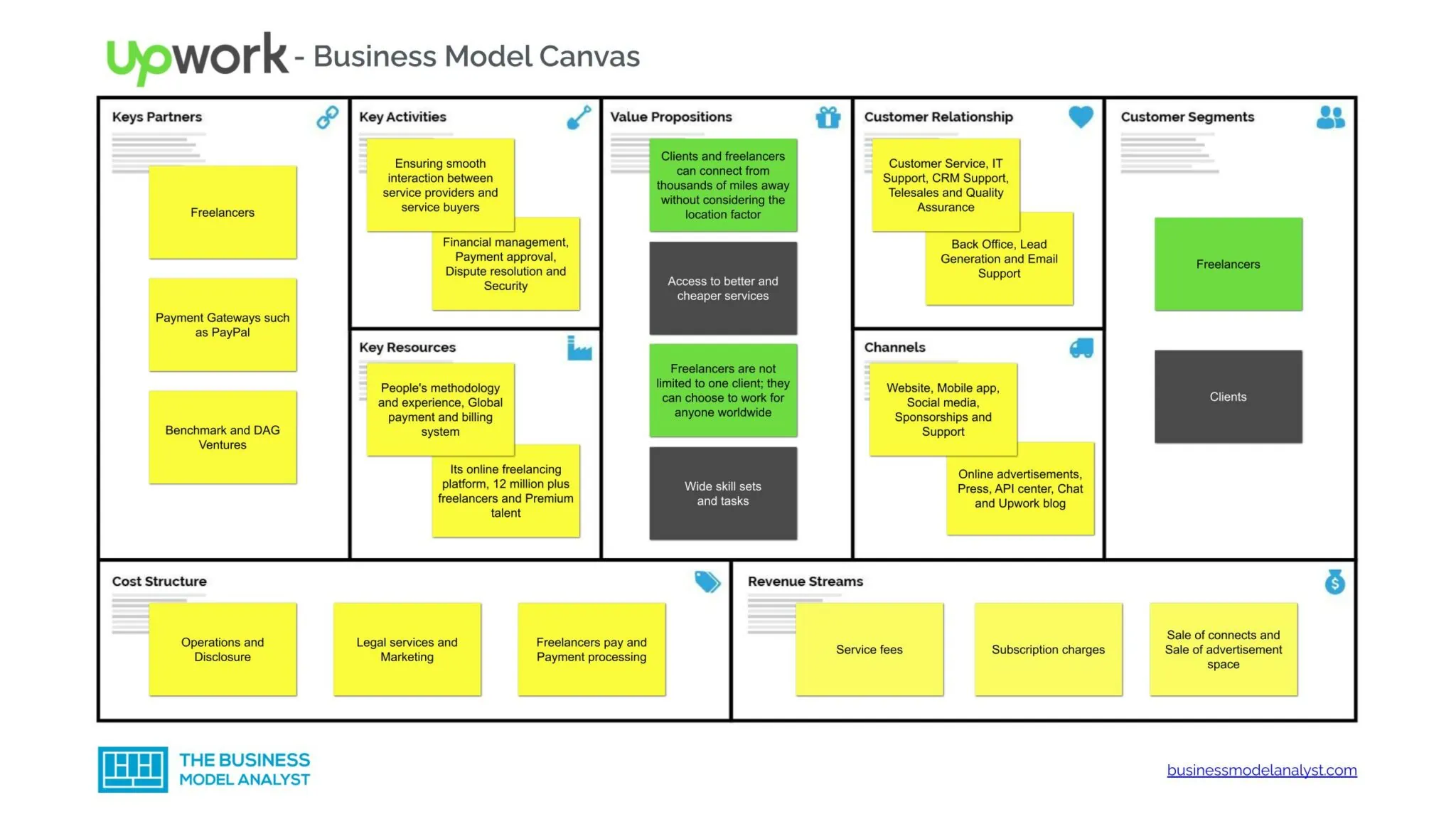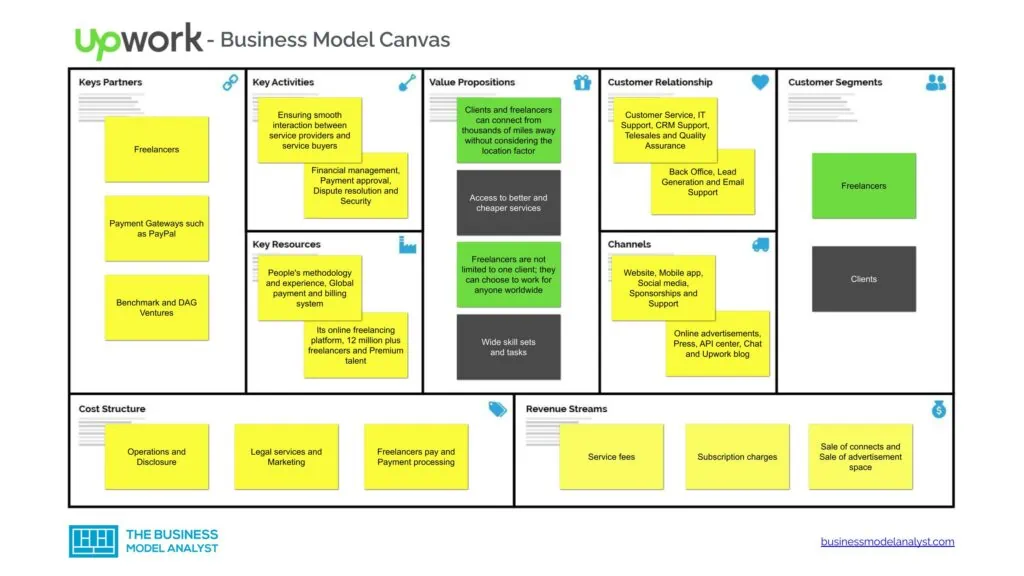 Upwork Customer Segments
Upwork's customer segment consists of the following:
Freelancers: Freelancers on Upwork advertise and provide different services (talents) to clients. Upwork serves to connect talented professionals to jobs. It is a strong marketing channel for freelancers to advertise their services and connect with employers easily. Freelancers enjoy working with quality clients and timely and secure payments. Freelancers on Upwork enjoy flexibility in their work schedules and can work remotely, which is why many professionals favor the platform;
Clients: Having over twelve million registered freelancers, Upwork provides an excellent platform for individuals and small businesses to source for top-notch talent to work for them. Clients get fast, secure, and quality access to experts for, 10000+ skills across 90+ categories with a direct-to-talent approach. Upwork offers a direct-to-talent approach as a more modern intermediary than staffing agencies and recruiters. It provides high-quality and independent features focused on building trusted relationships and confidence in remote work. Clients on Upwork don't have to fear remote work, as Upwork is an effective platform for instilling trust.
Upwork Value Propositions
Upwork's value propositions to clients, freelancers, and freelance agencies include:
Globalization: Upwork has a very wide outreach, which ensures that clients and freelancers can connect from thousands of miles away without considering the location factor;
Access to better and cheaper services: Since clients can connect to freelancers worldwide, they can find the best option. They can hire the most affordable services and experts;
Diversity: Freelancers are not limited to one client; they can choose to work for anyone worldwide;
Easy to use: Upwork's flexibility ensures easy registration by freelancers and clients. Clients can easily access freelancers and choose what suits their businesses best. Also, clients can track improvements in their projects. Freelancers can also be paid using various payment options;
Wide skill sets and tasks: Employers have access to a wide skill set. They can analyze candidates based on prior work, as they get bidding from multiple freelancers. Additionally, freelancers can access a wide range of tasks and clients from different countries. Upwork verifies good employers, which ensures security for freelancers.
Upwork Channels
Upwork's channels consist of:
Website
Mobile app
Social media
Sponsorships
Support
Online advertisements
Press
API center
Chat
Upwork blog
Upwork Customer Relationships
Upwork's customer relationships include:
Customer Service
IT Support
CRM Support
Telesales
Quality Assurance
Back Office
Lead Generation
Email Support
Upwork Revenue Streams
Upwork's revenue streams consist of the following:
Service fees
Subscription charges
Sale of connects
Sale of advertisement space
Upwork Key Resources
Upwork's key resources include:
People's methodology and experience
Global payment and billing system
Its online freelancing platform
12 million plus freelancers
Premium talent
Upwork Key Activities
Upwork's key activities consist of:
Ensuring smooth interaction between service providers and service buyers
Financial management
Payment approval
Dispute resolution
Security
Time tracking
Project management
Upwork Key Partners
Upwork's key partners include:
Freelancers
Payment Gateways such as PayPal
Benchmark
DAG Ventures
Upwork Cost Structure
Upwork's cost structure consists of:
Operations
Disclosure
Legal services
Marketing
Freelancers pay
Payment processing
Upwork Competitors
Upwork's competitors in the marketplace include:
Upwork SWOT Analysis
Upwork is a product of a merger of two companies. It has a long history of providing opportunities for freelancers and business owners. Below, there is a detailed swot analysis of Upwork: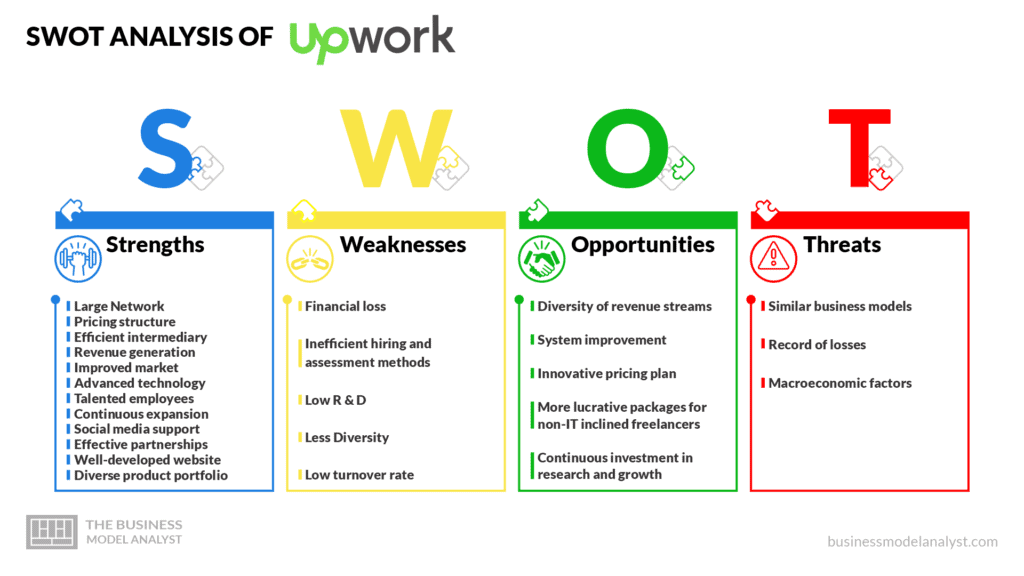 Here are its strengths:
Upwork Strengths
Large Network: Upwork is one of the largest freelance talent marketplaces. It boasts over 12 million registered freelancers and over 5 million clients, creating an enormous freelance network for its global users. Over 6 billion job postings have been made on the platform by its members in animation, architecture, accounting, art, business development, copywriting, customer support, design and illustration, engineering, electronics, finance management, marketing, and other areas;
Pricing structure: Upwork provides services at the lowest cost-per-hire of all the leading freelance marketplaces, making it preferable for many freelancers and clients (small businesses and individuals). The cost of transactional services for freelancers and clients in Upwork is a fraction of the cost of other freelance marketplaces. By doing so, the company has a competitive edge over rival freelance marketplaces;
Efficient intermediary: Within the freelance marketplace industry, Upwork Inc. is the most consistent and effective driver of new business. The company helps clients by connecting them with freelancers that match their work needs. They also help the clients hire talents and communicate and collaborate with them. The company's website is also a platform for registered freelancers to showcase their skills, add portfolios, create projects for the project catalog feature and sell/hire services to clients;
Revenue generation: Over the years, Upwork has maintained a strong financial position, consistently increasing its gross revenue. Its asset base has remained unmoving, while its liabilities are within the normal range. Upwork Inc. can afford higher levels of Return on Capital Expenditure than its competitors. This is because the company generates most of its revenue from its transactional services for freelancers and clients, which cost less than those provided by other freelance marketplaces. Its efficient operations and low operational costs make these reductions in transactional services possible;
Improved market: Upwork has a track record of consistently improving its business process. This has led to an improvement in the quality of its services over the years;
Advanced technology: Upwork uses advanced technology in all its businesses, making them more efficient. Most of the manual, repetitive procedures in its businesses are automated through a tightly controlled process. This allows it to manage more transactions using fewer resources and employees;
Talented employees: Upwork benefits from qualified and experienced employees and can leverage its skilled human capital. These dedicated people have been able to help Upwork Inc. to reach millions of users successfully;
Continuous expansion: Upwork keeps expanding its offerings, maintaining a competitive advantage within the work marketplace industry;
Social media support: The company uses social media channels like Facebook, Twitter, and LinkedIn to inform its customers about new products and services. The company also interacts with its customers for feedback through these channels;
Effective partnerships: Upwork has a range of partnerships that allows it to provide various services for its customers. These partnerships also add to Upwork's resources;
Well-developed website: This serves as a platform to showcase its services. It also allows its freelance members to showcase their skills and sell/hire services to clients. The website has a blog for sharing information about its products and services, serving as a medium to attract new customers;
Diverse product portfolio: Upwork has a product portfolio that consists of multiple products and services, which allows it to offer a diverse range of solutions for its customers;
Low commission: The commission charged on every completed transaction is lower than other competing freelancing websites. Clients with premium accounts are charged lesser fees.
Upwork Weaknesses
Despite its strengths, Upwork isn't without its weaknesses. Below are some of them:
Financial loss: Although they generate much revenue, they also record losses. Upwork has recorded a lot of cash flow problems that resulted from spending more money on marketing than it generates from transactions;
Inefficient hiring and assessment methods: Hiring freelancers can sometimes be strenuous. Also, the process of assessing them to detect fraud is not efficient enough
Low R & D: The research and development, when compared to the competitors, is low. The resources and space for research and developing products are available, but not put to use;
Less Diversity: The main focus is on freelancers based on technology, which limits the level of Upwork's diversity compared to its competitors;
Low turnover rate: Research shows a low level of turnover rates from its employees, which has reduced the output of the company toward its clients.
Upwork Opportunities
Diversity of revenue streams: Upwork can add more products to its current offerings to make more money;
System improvement: They can improve the fake profile detection system and method of payment;
Innovative pricing plan: Even though Upwork's pricing plan is among the best in the marketplace, it can still improve to secure market share;
More lucrative packages for non-IT inclined freelancers: A larger revenue is generated from freelancers attached to the IT sector. However, other means of revenue can be generated by providing lucrative packages for freelancers in other sectors;
Continuous investment in research and growth: To sustain and even accelerate its pace, Upwork must continuously invest in research and development.
Upwork Threats
Similar business models: Competitors can develop similar business models, thereby undermining Upwork's hold in the marketplace. Additionally, there is currently stiff competition from other freelancing websites with similar services and pricing structures;
Record of losses: The losses recorded by Upwork are threats to its growth, as such money could have been utilized to expand its offerings and user base.
Macroeconomic factors: Upwork can be affected by macroeconomic factors such as inflation, fiscal policy, and pandemic restrictions.
Conclusion
Upwork is a platform for freelancing that enables freelancers all over the world to connect to top clients. Freelancers create profiles where they market themselves to clients. Clients can also post jobs for hire or choose to hire automatically created services from the project catalog. For Upwork, the more you earn, the lower the commission you have to pay. Currently, it is one of the leading freelance platforms in the world. However, there is still room for it to improve its offerings, increase its market share and accelerate its growth to stay ahead of its competitors.