The Twitch business model is based on premium features offered through subscriptions in a free live-streaming video platform. The company was founded in 2011 by five people: Justin Kan, Emmett Shear, Kyle Vogt, Kevin Lin, and Michael Seibel. It is headquartered in San Francisco, California, with servers worldwide to enable content creation for its viewers.
The platform allows content creators to share audiovisual content, even though it primarily focuses on the live-streaming of video games. Users can stream interesting subjects, such as art, sports, music, and even cooking. The platform also has chat channels, making it more engaging and interesting. 
Steadily, Twitch grew, and two years later, in 2013, it had about 45 million viewers. Amazon became interested in the potential and business model of this rapidly growing business and, in 2013, acquired Twitch for $970 million.
Although Amazon bought Twitch, Twitch's operations are not dependent on the parent company, although it has relations with Amazon products. Over the years, it has made a name for itself in the online video streaming market. It tops the industry, with over half of the overall market share. In 2020, it generated about $217 million.
A brief history of Twitch
Twitch was founded in 2011 by five people: Emmett Shear, Kyle Vogt, Michael Seibel, Justin Kan, and Kevin Lin, with its headquarters in San Francisco, California. The company began as Justin.tv in 2005 and grew speedily to become one of the major names in the live-streaming platform and eSports industries. In 2011, Twitch was forked as an off-shoot subsidiary company of Justin.tv., which was founded by Justin Kan but only focused on a live stream of the day-to-day life of Justin. 
However, Twitch enjoys being the biggest live-streaming platform in the world, and its focus has shifted from just one thing to everything in real life, eSports and video games. Justin.tv started with just a few people, but eventually allowed others to join. Chat rooms on Justin.tv were referred to as accounts, and the base used by users for live streaming was known as broadcasts. At some point, the platform separated its contents into categories, but the niche which grew speedily was eSports. 
In June 2011, a new platform specifically designed for gaming, Twitch TV, was launched. Twitch's growth was exponential in its first year, with about 3 million monthly visitors. By 2012, it had over 20 million monthly visitors. In 2014, it had 55 million visitors. 1.8% of peak internet traffic was solely Twitch, surpassing Amazon, Facebook, and Valve. As a notable name in the content creation and video games world, Twitch attracted tech giants Google and Amazon with its growth, but Amazon won the bidding war. It successfully bought Twitch for $970 million in August 2014. By then, Twitch Interactive dominated the eSports and gaming world with little to no competition. It progressed to acquire an agency, GoodGame Agency, in late 2014 and Curse Inc., a network of gaming sites. 
In 2016, Twitch Prime was introduced; it is a subscription service available to content creators and viewers who already have Amazon Prime subscriptions. Through this service, Twitch users get extra benefits like free in-game content, ad-free streaming, discounts on purchases made in games, etc. Eventually, the subscription service was renamed to Prime Gaming to align with the selection of services of Amazon Prime. Twitch has made deals with great streamers, such as Blizzard Entertainment, and became the official streaming partner of the Overwatch League in 2018. Two years later, in May 2020, Twitch launched its safety advisory council comprising academics, streamers, and policy institutes. Twitch continues to dominate the gaming and eSports market, with about a hundred million monthly users. Also, it has expanded to offer creative and interesting content, affiliate programs, music broadcasts, and for streamers.
Who Owns Twitch
In 2011, Twitch started as an off-shoot of Justin.tv before it was merged with its forerunner. The parent company that ran the two TVs, Justin and Twitch, rebranded to become Twitch Interactive. Amazon acquired Twitch after the merger.  
Currently, Twitch Interactive is a subsidiary company under Amazon Inc. As such, the President and CEO of Amazon Inc., Jeff Bezos, is the current owner of Twitch.
Twitch Mission Statement
Twitch's mission is, "to help people do what they do more pleasingly."
How Does Twitch Work?
The video streaming platform allows users to live stream their desired content. Twitch focuses on streaming live video games, but content creators can also decide to explore more interesting subjects. Also, there are chat channels on the platform. Contents on Twitch can be viewed live or on-demand on the website, gaming consoles, mobile apps, and smart TVs.
Streamers can chat directly with their audience, which is an added advantage for the company. Users can subscribe to their favorite streamer channel to support and cheer them. Some other features on Twitch include:
Subscriber badges;
Emotes: This is used to express emotions via chat;
Cheermotes are animated emotes used by viewers to support streamers with bits, the company's internal digital currency.
How Twitch Makes Money
Although some of its content and advanced features are premium, most content is accessed freely. Twitch runs a freemium business model, increasing its brand awareness and enticing and keeping users at a faster pace.
Even though Twitch is mostly free of charge, its estimated annual revenue is around $500 million. Over the years, the company has managed to carve out different revenue streams – users' subscription fees, merchandise sales, offering Bits: Twitch's digital currency, and running video advertisements. Asides from that, its parent company's influence creates more sales opportunities.
Bits, Twitch's digital currency
Bits, also referred to as Cheer Bits, are the company's internal digital currency used on the platform. Viewers use them to cheer and support their favorite streamers. Bits can be purchased on the platform, with price packages varying from $1.40 for 100 bits to 25,000 bits for $308. Streamers receive a part of every bit sent their way. They get about 60% to 80% of the revenue from Bits. The percentage of the streamer gets on some factors, such as geography, the number of bits received the popularity of the streamer, etc.
Subscriptions
To support and cheer on their favorite streamers, Twitch users may subscribe to a channel to show their support for the content creator. The subscription model is divided into three; $4.99, $9.99, or $24.99 monthly. Besides the pleasure of supporting a streamer financially, the subscriptions come with some benefits, such as:
Badges for subscribers. These are customized icons beside the subscriber's username inside the channel's chat room;
Access to competitions designated solely for subscribers and hosted by streamers.
Ad-free contents;
Exclusive access to chat rooms;
Access to emojis that are specific to their favorite streamer. Such emojis are only available for subscribers of those channels.
The company generates income through an agreement with the content creator, referred to as a revenue share agreement. A 50% share of every subscription goes to Twitch once sold via the platform. Popular streamers enjoy an increase in the percentage share. Some can enjoy 60% to 90% of their subscription revenue.
Merchandise
This is where the parent-company partnership is fully on display. It was launched in October 2017, and Twitch fans can buy Twitch-owned merchandise only on Amazon. But due to the fandom, the merchandise is sold at higher margins. Amazon itself handles everything from payment to shipping. Fortunately, purchasing the merchandise is less stressful for Twitch users subscribed to Amazon Prime. Asides clothes, users buy accessories for their dogs or gift cards. 
Advertising
An average Twitch user is about 21 years old, according to Statista. Naturally, this age group has a smaller income than older people, and most cannot pay for any premium features of Twitch. So, Twitch activated video ads on their content to compensate for the free package's lack of revenue. Content creators get paid by Cost Per Mile (CPM). Depending on the CPM performance, a certain percentage of the ad goes to the streamer, while the rest goes to Twitch.
Every content creator has a designated contract that specifies their incentives and rates. Precisely, it comes with a confidentiality clause, making it hard to decode the amount a content creator makes from advertising. Streamers get to decide where they want the ads to play – before the video starts or in between the streaming. June, October, November, and December are the months when advertisers pay for ad space the most, making CPM prices seasonal.
Twitch Business Model Canvas
The Twitch Business Model can be explained in the following business model canvas: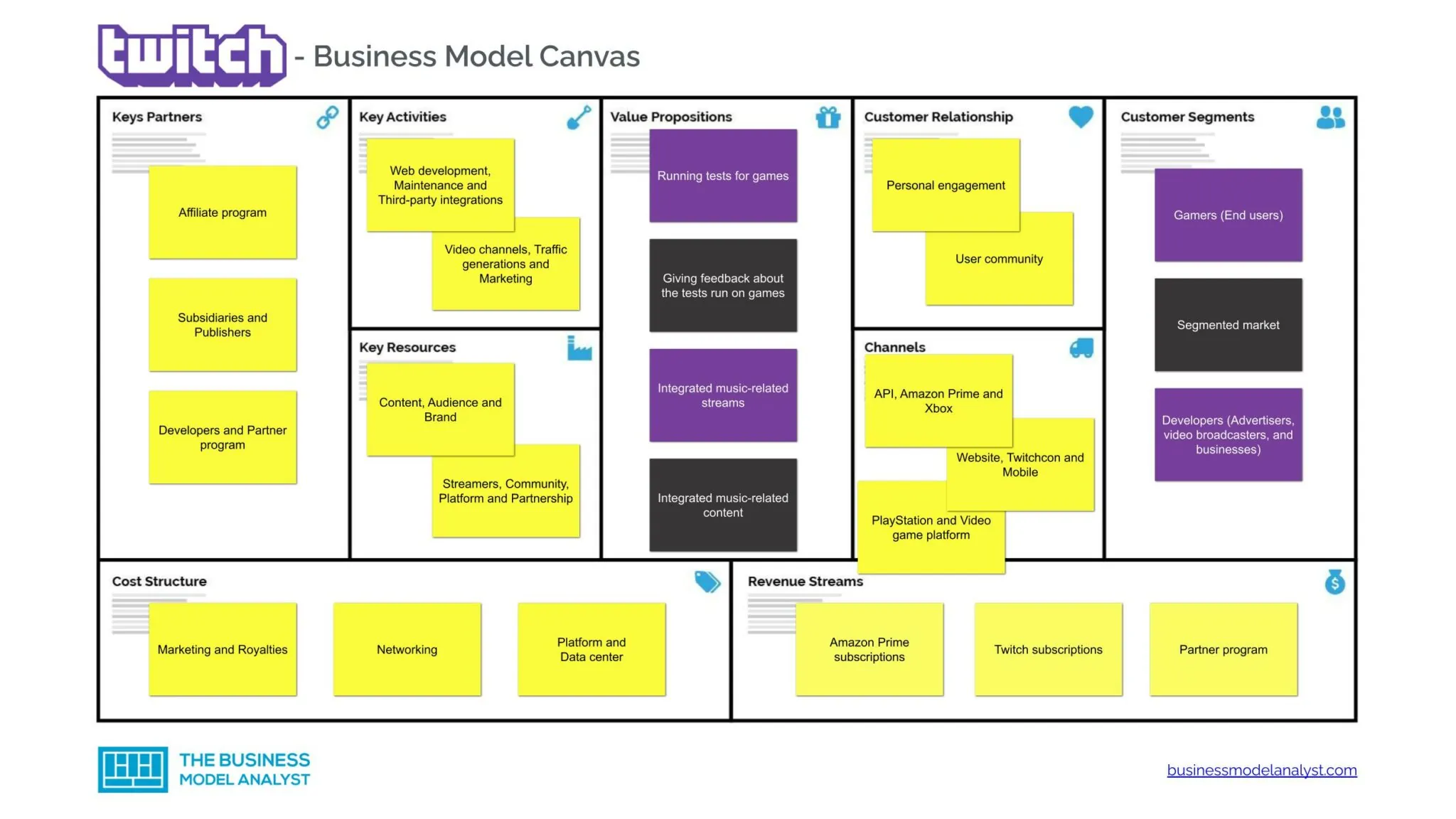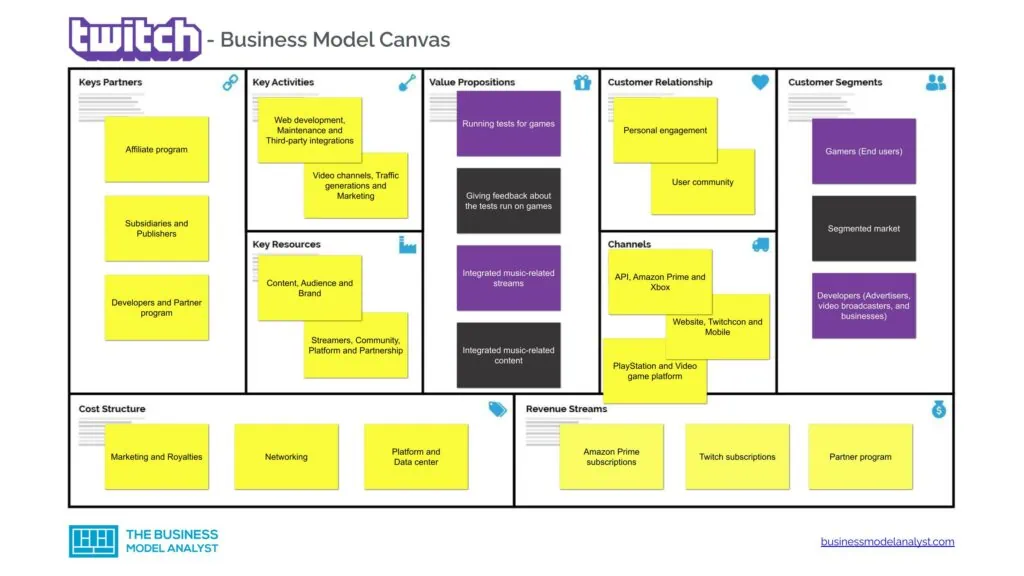 Twitch Customer Segments
Twitch's customer segments include:
Multi-sided
Gamers (End users)
Segmented market
Developers (Advertisers, video broadcasters, and businesses)
Twitch Value Propositions
Twitch's value propositions are:
Running tests for games;
Giving feedback about the tests run on games;
Integrated music-related streams;
Integrated music-related content;
An online community for gamers.
Twitch Channels
Twitch's channels are:
API
Amazon Prime
Xbox
Website
Twitchcon
Mobile 
PlayStation
Video game platform
Twitch Customer Relationships
Twitch's customer relationships include the following:
Personal engagement;
User community;
The content on the website can be seen on demand or viewed live.
Twitch Revenue Streams
Twitch's revenue streams are:
Amazon Prime subscriptions
Twitch subscriptions
Partner program
Twitch Key Resources
Twitch's key resources consist of:
Content
Audience
Brand
Streamers
Community
Platform
Partnership
Twitch Key Activities
Twitch's key activities comprise:
Web development
Maintenance
Third-party integrations
Video channels
Traffic generations
Marketing 
Twitch Key Partners
Twitch's key partners include the following:
Affiliate program 
Developers
Subsidiaries
Publishers
Partner program 
Twitch Cost Structure
Twitch's cost structure is as follows:
Marketing
Royalties
Networking
Platform
Data center
Twitch retains $2.50 of every $4.99 channel subscription 
Twitch Competitors
YouTube: YouTube is a global online video-sharing and social media platform headquartered in San Bruno, California. It was launched on the 14th of February 2005, by Jawed Karim, Steve Chen, and Chad Hurley. Google bought it in October 2006 for $1.65 billion, which expanded its business model. YouTube is the 2nd most visited website, with over 2.5 billion monthly users, who watch more than one billion hours of videos every day. Its products include; YouTube Kids, YouTube Music, YouTube Premium, YouTube Shorts, and YouTube TV;
YouNow: This American broadcasting service platform is a place where users interact with video streams of other users or stream their video. YouNow is available on Android and iOS applications, as well as on their website. It also offers podcasting services. Adi Sideman founded it, but the current CEO is Jon Brodsky. YouNow was launched on September 12, 2011, and became popular due to some changes to its services. Most of YouNow users are under the age of 24. The platform features games, music, interaction with fans, and dance. It also has a tag-based topic system that allows users to search for the content of their choice;
Restream: This freemium cloud multistreaming platform is a Ukrainian-American startup founded in 2014 by Alexander Khuda and Andrew Surzhynskyi with headquarters in Austin, Texas but headed by Khuda as the CEO. Restream allows content creators to stream video content they are live-streaming or have captured to many video platforms or social networks. The services are available for all operating systems, such as Linux, Windows, and macOS. Some features include; Restream Chat, Restream Scheduler,  Restream Analytics,  and Restream Go Live. Restream services are integrated with about 35 streaming platforms from the United Kingdom, United States, South Korea, India, Japan, Russia, China, and Germany;
Vimeo: Vimeo's business model is based on Software as a Service (SaaS) platform. The American video hosting and sharing platform have its headquarters in New York City. It delivers high-definition video across various devices and has various tools for creating videos, broadcasting, editing, etc. It generates revenue through subscription plans;
Nimo TV: Nimo TV was launched in China in October 2012 as a streaming platform primarily focused on creative content for eSports and streaming electronic games. Currently, it is available for Windows, macOS, Linux, iOS, and Android.
Twitch SWOT Analysis
Here's a brief look at the SWOT analysis of Twitch: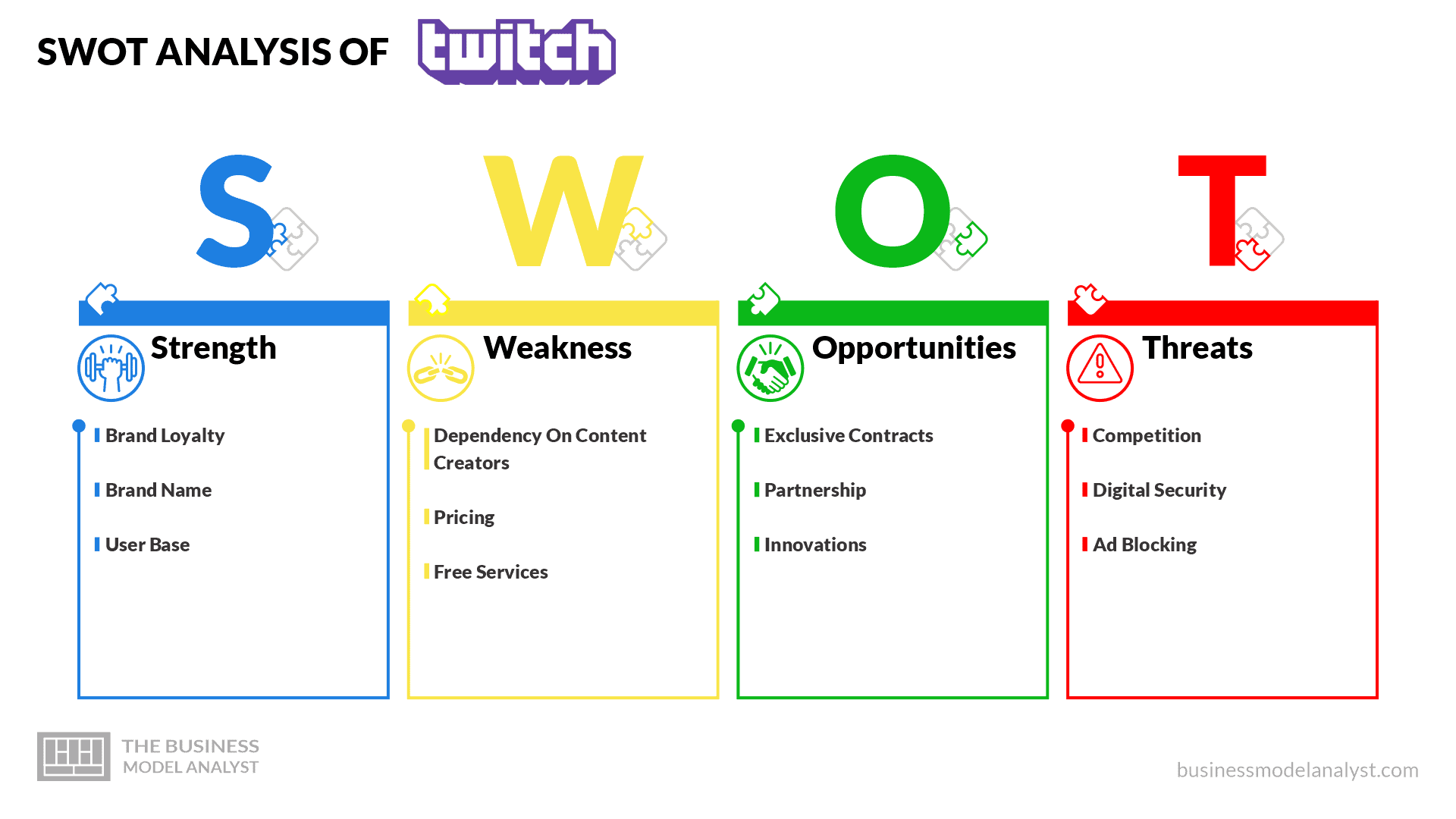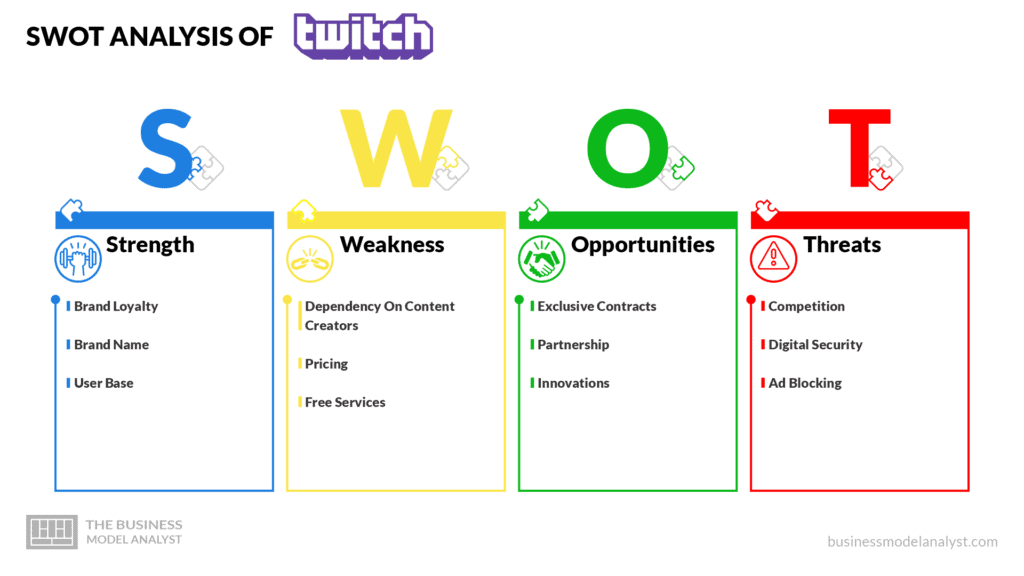 Twitch Strengths
Here are some of Twitch's strengths:
Brand Loyalty: Twitch has many loyal viewers and streamers, partly due to the exceptional services that companies offer. Who wouldn't stay around for premium content? Twitch serves as the base for the biggest content creators, which ultimately attracts loyal users, making the company one of the biggest shots in the industry;
Brand Name: Twitch is undoubtedly one of the biggest names in the online streaming industry. Over the years, it has earned substantial recognition because it is one of the first gaming streaming services. It also enjoys a great reputation because of Amazon, its parent company;
User Base: Every day, Twitch has above 25 million users on its platform, making at least 750 million users each month. Besides, the company has over 44 million users and about 9 million active content creators. All of these sum up to give Twitch a gigantic boost.
Twitch Weaknesses
Below are written some of Twitch's weaknesses:
Dependency On Content Creators: It is indisputable that Twitch has an enormous user base. But, the users only follow content creators. This implies that once content creators are removed or leave the platform, most viewers will leave and follow their favorites. Sadly, Twitch itself does not entice users. They depend on streamers to bring in views and on content creators to grow their businesses. 
Pricing: Another concern for Twitch streamers will have to be the not-so-affordable prices charged by the company. The company charges a commission of about 50% on the subscription fees paid by viewers. Meanwhile, their competitors take a lesser percentage of the commission. With better options out there, streamers can switch to competitors.
Free Services: Most of the services provided by Twitch are free. Viewers are free to see any stream without paying subscription fees. Even though there is exclusive content that can only be accessed after paying subscription fees, most of the available content is free. Viewers on the free model generate revenue for the company, which is a threat to the company's financial growth.
Twitch Opportunities
The following are some opportunities that Twitch can enjoy:
Exclusive Contracts: Even though one of Twitch's weaknesses is its reliance on its streamers, it tries to convert it into a strength by offering streamers exclusive contracts that keep them on the platform. As such, content creators and their viewers will stay with the company. In addition, content creators get added benefits that keep them on the platform even after their contract expires;
Partnership: Currently, Twitch is a well-recognized platform with an enormous user base, but it can also expand its benefits by getting into mutually beneficial partnerships. With this, Twitch brings in more users and has more product segments. The company focuses on gaming and gamers, but with partnerships, it can expand untouched areas, like broadcasting;
Innovations: Twitch is known for being innovative. Nonetheless, technology constantly evolves. The company can improve and add more features to its products to provide content creators and viewers with a more pleasant experience when using the platform, boosting its revenues and user base.
Twitch Threats
Some of the threats Twitch faces are:
Competition: More than half of the live-streaming video market is in the clutch of Twitch. Nonetheless, this makes it a target for strong competitors. For example, Facebook and YouTube have also entered the market with similar products, and such competition will continue because of the massive rise in the popularity of video streaming platforms.
Digital Security: Companies that run a digital business model can never escape the threat of digital security. They are always at risk, and Twitch is not left behind. Twitch accounts for a crucial amount of user data, including their financial and personal data. The company will be in trouble if an unauthorized person gets access to the information.
Ad Blocking: Ads can be very annoying, and users solve this problem by using ad-blocking tools, but ad-blocking reduces the revenues gotten from ads. As such, it is a massive threat to Twitch's income. When advertisers realize that their products are not making waves as expected, they can pull out, causing a loss for Twitch.
Conclusion
Twitch continues to dominate the live-streaming market, providing excellent video live-streaming services on gaming, gaming streaming, and gamers. Over time, it expanded its services to accommodate live-streaming for artists and general audiences. After it became the 4th largest source of traffic on the internet, it was acquired by Amazon. Twitch makes money by offering subscription plans with attractive side benefits to attract users. It has millions of loyal content creators and viewers due to the pleasant experience it provides.