Toyota is one of the leading automakers in the world, and its strong brand recognition has assured a significant share of the worldwide market. Such a global position has made it a sustainable long-term business model. Let's take a look at the Toyota business model.
A brief history of Toyota
The history of Toyota began in the 1920s, as a loom manufacturer founded by Sakichi Toyoda. In little time, Toyoda developed and sold the patent for an automated loom and, after that, decided to enter the automobile industry. The first vehicles were made in the early 1930s, but Toyota Motor Company would be established only in 1937.
The company started by manufacturing compact cars and, later, expanded to other types, such as pickups, SUVs, trucks, and sports cars. Nowadays, Toyota is one of the largest car manufacturers in the world, with more than 10 million vehicles sold annually. The multinational company is headquartered in Japan, but it has operations in 27 countries and sells to more than 170 countries in the world.
Who Owns Toyota
Toyota is a part of Toyota Motor Corporation, which has Takeshi Uchiyamada as the Chairman and Akio Toyoda as the President. Among many subsidiaries, the company has the following divisions: Lexus, Ranz, Scion (which had its activities suspended in February 2016), and Toyota itself.
Toyota's Mission Statement
Toyota's mission statement is "To attract and attain customers with high-valued products and services and the most satisfying ownership experience".
How Toyota makes money
It is true that 90% of Toyota's revenue comes from automotive sales, but the company also generates revenue from other operations, such as financial services, investments, and machinery.
Toyota's Automotive Business: Most of Toyota's automobile sales take place in Japan and North America. Its strongest and most profitable brand is Lexus, with more than 10 million sales all over the world;
Toyota's Financial Services Business: Its financial services division grows faster, but it still represents only around 6% of Toyota's business model's revenue. It focuses on automotive sales financing, credit cards, and others, operating in 30 countries (about 90% of Toyota Motor Corporation markets);
Toyota's other business: Toyota holds stakes in other automotive manufacturers, such as Subaru, Isuzu, and Mazda. It also has interests in biotechnology, robotics, aerospace, etc. Lately, the company has been particularly oriented towards developing hybrid electric vehicles and related technology.
Toyota's Business Model's Performance
Quality
Toyota invests in development, design, production, and after-sales in order to maintain top quality. That has put the brand among the top automotive ones in terms of reliability, quality, and durability.
Speed and dependability
Toyota has managed to reorganize its production flow, by focusing on simplicity, thus increasing the speed of delivery. Now, the company has a just-in-time production system, with a controlled cost structure.
Suppliers
Toyota aims at building a strong foundation at all stages of the supply chain, from development to after-sales. In order to reach that, the company has built close and trustworthy relationships with most of its suppliers, by minimizing the number of suppliers, thus creating a long-term partnership and, this way, achieving cooperation, cost reduction, and quick response to fluctuations and innovations.
Wide range and cost
Toyota's business model is not based on just one car, instead, it provides a wide range of products to the customers, since the company produces different models for different markets, in a well-established flexible production system. Besides, Toyota has managed to manufacture high-quality vehicles at reasonable prices. The company has tested and implemented several initiatives to reduce its operating costs and focused on local production capacities to meet the customers' demands.
Toyota's Business Model Canvas
Let's take a look at the Toyota Business Model Canvas below: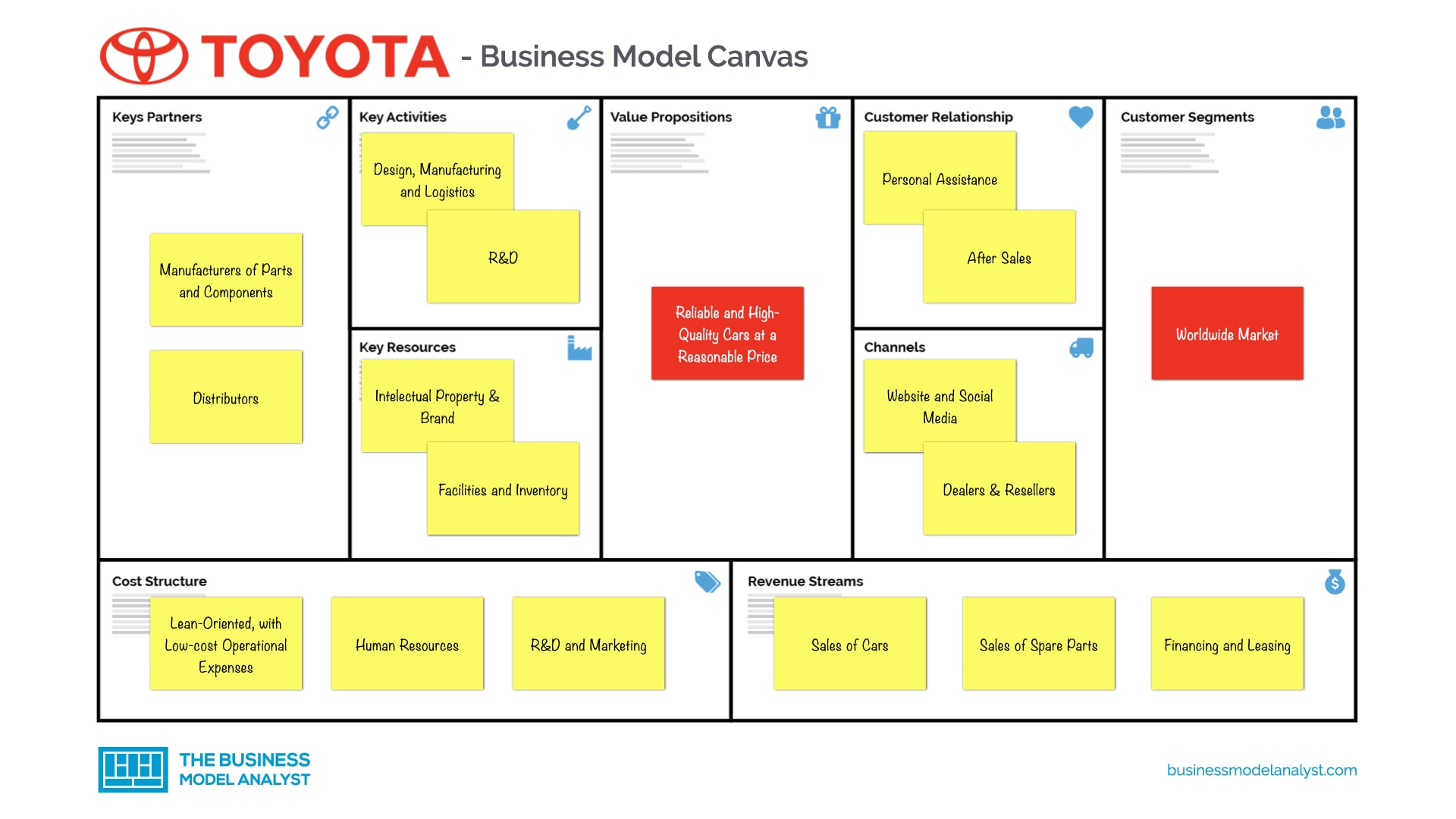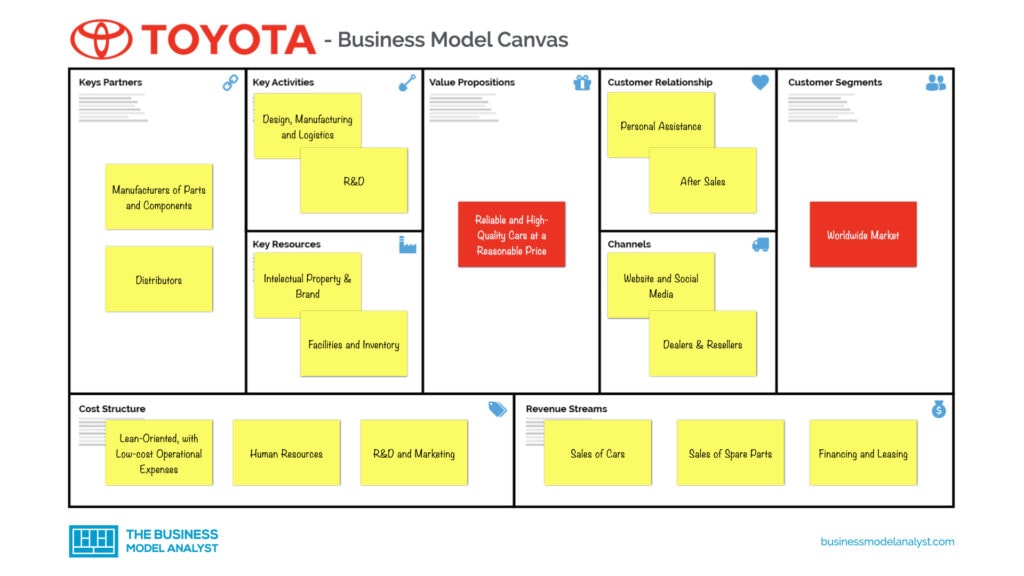 Toyota's Customer Segments
Toyota's customer segments consist of:
General worldwide public
Freight companies
Toyota's Value Propositions
Regarding Toyota's value propositions, it can be described as reliable and high-quality cars at a reasonable price.
Toyota's Channels
Toyota's channels consist of:
Dealers
Resellers
Service Centers
Branches
Showrooms
Website
Social media
Toyota's Customer Relationships
Toyota's customer relationships consist of:
Reputation
Quality
Footprint
Delivery time
Personal assistance
After-sales
Toyota's Revenue Streams
Toyota's revenue streams consist of:
Sales of products (automobiles, commercial vehicles, and engines)
Sales of spare parts
Services of banking
Financing, leasing
Commissions
Sales from non-automotive businesses
Toyota's Key Resources
Toyota's key resources consist of:
Human resources
Intellectual property
Partners
Facilities
Brand
Inventory
Toyota's Key Activities
Toyota's key activities consist of:
Manufacturing
Engineering
Design
Assembling
Supply chain
R&D
Logistics
Toyota's Key Partners
Toyota's key partners consist of:
Manufacturers of parts and components
Suppliers
Dealers
Distributors
Toyota's Cost Structure
Toyota's cost structure can be described as lean-oriented, with low-cost operational expenses, which include:
Manufacturing facilities and operations
Raw materials and components
Distribution and logistics
Staff compensation
Investments in technology and R&D
Maintenance
Marketing and advertising
Conclusion
Toyota has always followed its "Five Main Principles" since its foundation. They have been revised and, nowadays, the company has a set of values and guidelines that actually guide all of its decisions and operations. Besides, according to its Corporate Governance Report from 2019, Toyota has been focusing on innovative technology, especially in robotics and artificial intelligence, in order to follow any tendencies and to create new mobility services. Moreover, the company has been a leader in environmentally friendly vehicle technologies and has set a goal of killing off carbon dioxide emissions from its automobiles by the year 2050.
As to the challenges Toyota may face, its biggest one should probably remain competition from many well-established brands around the world, particularly because the company competes in all classes of vehicles, all over the globe. That's why the company is always investing in innovation and in developing new products and tools, in order to keep adapting and anticipating how the automotive industry might change, react accordingly, and avoid losses.