While the Tinder business model is based on freemium services, subscribers can pay to access a wide range of premium features and functionality. Tinder is one of the most popular and fastest-growing dating applications and social startups. The app addresses the physical and social hurdles of building new friendships and nurturing them into worthwhile relationships. Tinder won the Best New Startup Crunchies Award from TechCrunch for running an exclusive business and operating model a few years ago. Statistics demonstrate that Tinder is the most popular dating application in the US. 
A brief history of Tinder
Jonathan Badeen, Sean Rad, Joe Munoz, Justin Mateen, Chris Gylczynski, Dinesh Moorjani, and Whitney Wolfe founded Tinder. According to Rad, Tinder was established based on the theory that people can approach others comfortably if they are convinced they are interested in approaching them. 
Initially, the team incubated the app at Hatch Labs, launching it officially in 2012. The team seeded and tested its application in different college campuses. Tinder made its inaugural acquisition in 2015 when it bought Tappy for an unrevealed amount. The company later acquired Humin in 2016. Tinder evolved fast, processing more than a billion swipes and generating twelve million matches daily by 2014. Tinder is the premier company to utilize the swipe feature in history. 
Today, many applications have adopted the functionality. In 2015, Tinder launched new features like the ability to reverse or rewind a "swipe left" decision. The super-like functionality became effective in 2016, followed by the boost feature, which artificially promotes a user's profile to users within their proximity. According to the then Bank of America Merrill Lynch, Tinder's value in July 2015 was $1.35 billion. Today, the Los Angeles, California-based company employs more than 1,000 employees. 
Who Owns Tinder
Match group, an American technology and internet company based in Dallas, owns Tinder. The company bought Tinder from its founders in 2017. 
Tinder Mission Statement
Tinder's mission statement is "To increase romantic connectivity worldwide."
How Tinder works
Tinder is an easy-to-use application. All you need to do is download it and set up your profile. Here is a guideline to help you understand how Tinder works.
Set up Your Profile
After downloading Tinder for the first time, you should begin setting up your profile. To access the profile screen, press the profile icon and click the pencil button to edit and upload your profile photo. This is the picture people will see when swiping. You can upload other images on your profile as well. You can use the Smart Photos option, which evaluates your pictures and selects the best to appear first. 
Click below the photos section at the Edit Profile screen to add details on yourself, such as where you went to school and where you work. You can hide your distance and age and designate your gender from this section. 
Adjust Settings
Click the settings button at the Profile screen to reveal the Settings screen. Here, you can adjust your preferred gender on Tinder, the age range, searching distance, and whether your profile should appear on Tinder's feed or not. Here, you can declare your username, include your anthem, and enable features like Boosts, Super Likes, Tinder Gold, Tinder Plus, and Tinder Platinum. 
Start Swiping
Press the Fire icon on the screen in the navigation bar to reveal a feed of people you can either swipe left or right on. Swiping right shows interest, while swiping left indicates a rejection. You can also press the red X button beneath photos to reject an individual, or the green heart to show interest. 
Tinder will alert you once a match is identified. To find more details about someone before swiping, press on their profile photo. You will reveal their profile with linked accounts and more comprehensive information, or slide across their photo collection to reveal more photos. If you're impressed by what you see, you can press the heart button or X button to show disinterest. 
If you're very interested in an individual, press the blue star button under their photos. Suppose you liked or rejected an individual accidentally, press the yellow rewind button beneath their pictures. However, rewinding or reversal is only available for Tinder Plus users. 
Buy boosts to increase your profile's visibility to swipers within your proximity. Press the purple lighting button beneath photos and choose to Boost Me. Buying a boost places your profile on top of other profiles in your region for 30 minutes and gives you more matches. The cost of one boost is £3.99. Worth mentioning is that you can swipe on groups to hang out with groups of people on Tinder. 
Chatting with People
Once Tinder identifies a match for you with a group or individual, you will get an opportunity to initiate a chat with them, inform your friends, or continue swiping. Press Send a Message to reveal the chat experience. Here you can send GIFs from GIPHY or text responses. Tap the Chat icon to reveal all your chats feed. 
How Tinder makes money
Tinder's free service offers limited features. As a result, it offers premium features through which users can pay to access advanced features. Tinder users can subscribe to premium services monthly, bi-annually, or annually. Tinder generates income through:
In-app purchases
Tinder offers three in-app premium purchases. These are super likes, boosts, and super boosts that can give you advantages to find a partner. 
Subscriptions
Tinder has three subscriptions plans with different prices and benefits, these plans are:
Tinder Plus: Users pay approximately $7.99 per month to access Tinder Plus. The price drops when you buy a more extended subscription. Using Tinder plus increases the visibility of your profile to more single people, increasing your matches in a limited time. Upgrading allows users to limit the number of people who can see their profile;
Tinder Gold: Tinder users pay approximately $24.99 monthly to use Tinder Gold, but the price can be less if you pay bi-annually or annually. Tinder gold gives you access to a daily choice of personalized matches, courtesy of the Tinder Picks functionality. Tinder gold users don't need to swipe to match. Further, they can swipe right on different profiles simultaneously;
Tinder Platinum: Upgrading to Tinder Platinum allows you to unlock priority likes and messages before matching features. This subscription option is the most expensive and feature-rich. It also includes all the features available in Tinder gold and Tinder plus. Tinder platinum is ideal for you if your texting skills and profile are above-average and attractive. 
Sponsored sports
Tinder uses this approach to keep their users informed about the goings on in the world of sports. In return, Tinder earns revenue from the sporting organizations that post sponsored content on the app. 
Advertisements
Tinder integrates various advertisement formats such as native ads, video ads, and banners on the platform. Advertisers get to reach a wide audience, attract potential customers, and increase their chances of boosting their revenue. On the other hand, Tinder generates income from charging the advertisers. 
Tinder Business Model Canvas
Below, there is the Tinder Business Model Canvas: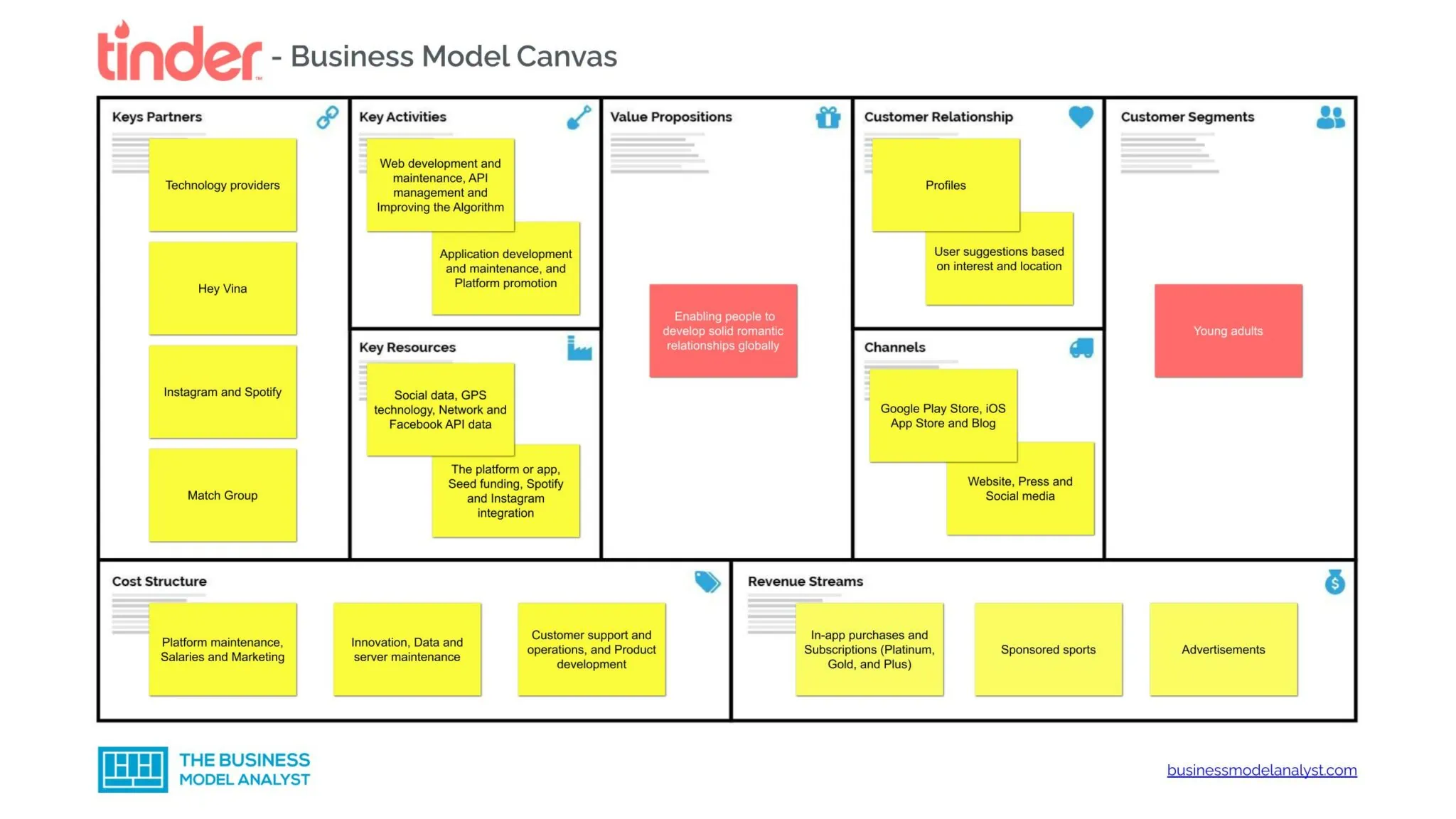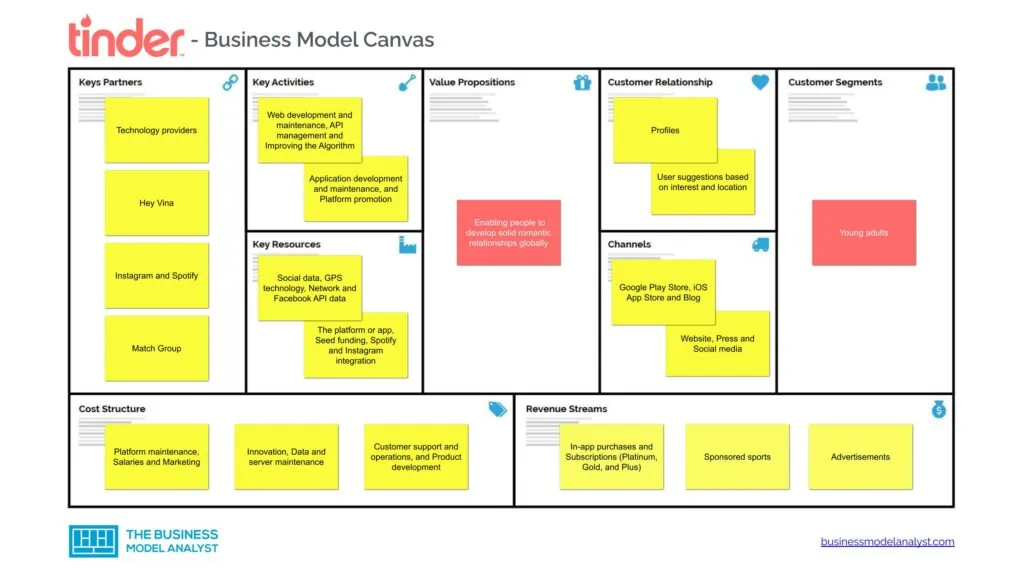 Tinder Customer Segments
Tinder's customer segments consist of:
Young adults: Men or women that are 18 years old or above, and are looking for a match.
Tinder Value Propositions
Tinder's value propositions include: 
For young adults: Enabling people to develop solid romantic relationships globally.
Tinder Channels
Tinder's channels consist of:
Google Play Store
iOS App Store
Blog
Website
Press
Social media
Tinder Customer Relationships
Tinder's customer relationships consist of:
Profiles
User suggestions based on interest and location
A match for people interested in each other's profiles
Swipe left or right to reject or accept a suggestion
Tinder Revenue Streams
Tinder's revenue streams consist of:
In-app purchases
Subscriptions (Platinum, Gold, and Plus)
Sponsored sports
Advertisements
Tinder Key Resources
Tinder's key resources consist of:
Social data
GPS technology
Network
Facebook API data
The platform or app
Seed funding
Spotify and Instagram integration
Tinder Key Activities
Tinder's key activities consist of:
Web development and maintenance
API management 
Improving the Algorithm 
Application development and maintenance
Platform promotion
Tinder Key Partners
Tinder's key partners consist of:
Technology providers
Hey Vina
Instagram and Spotify 
Match Group
Tinder Cost Structure
Tinder's cost structure consists of:
Platform maintenance
Salaries
Marketing
Innovation
Data and server maintenance
Customer support and operations
Product development
Tinder Competitors
Hinge: This is an ideal platform for people looking for serious relationships. It allows users to send a like, message, or both to their potential match's comments and photos. However, they must be interested in you to respond to your comment or match with you. Hinge has a dealbreaker feature that allows users to define their preferences to specific people. For instance, you can define smoking and drinking as a deal-breaker, and the app will only display teetotalers and non-smokers. Hinge's smart algorithm tracks your success rate and preferences and establishes whether you went on a date with your match before showing the "most compatible" feature;
Plenty of Fish: This platform features numerous features. Users browse matches via different filters and algorithms based on interests, preferences, and appearance. They can send messages, check their profiles, or click the non-committal "meet them" button. With these features, users get different options for interacting with other users online. Millions of users are registered on Plenty of Fish, increasing a user's chances of finding a match;
Match.com: Available in 50 countries, match.com has approximately 9.9 million paid users. The platform has been in the market for about 20 years and is one of the best alternatives for Tinder;
OkCupid: This platform has evolved over the years, with its solid algorithms positioning it among the best online dating platforms available. OkCupid features a well-streamlined design and gives users more opportunities to connect with prospective matches. OkCupid helps users find matches based on shared interests. From their list of matches, users can browse through profiles and message people they are interested in;
Bumble: One of Tinder's founders created Bumble after a nasty breakup. The platform has carved a niche as a female-friendly application. The difference between Tinder and Bumble is the same-gender matches;
Tastebuds: This platform is ideal if you're looking for someone with whom you share music taste. It allows you to create a profile and add your music preferences and tastes before pairing you with people with similar tastes. You can integrate your Spotify profile, allowing prospective matches to analyze your music preferences. Tastebud's paid version gives users advanced features such as ad-free swiping and incognito mode;
Badoo: This is a global platform available in more than 190 countries. The platform's thorough verification process eliminates online dating dangers like catfishing. Badoo is the ideal platform for people looking for a reliable and safe Tinder alternative.
Tinder SWOT Analysis
Below, there is a detailed SWOT analysis of Tinder: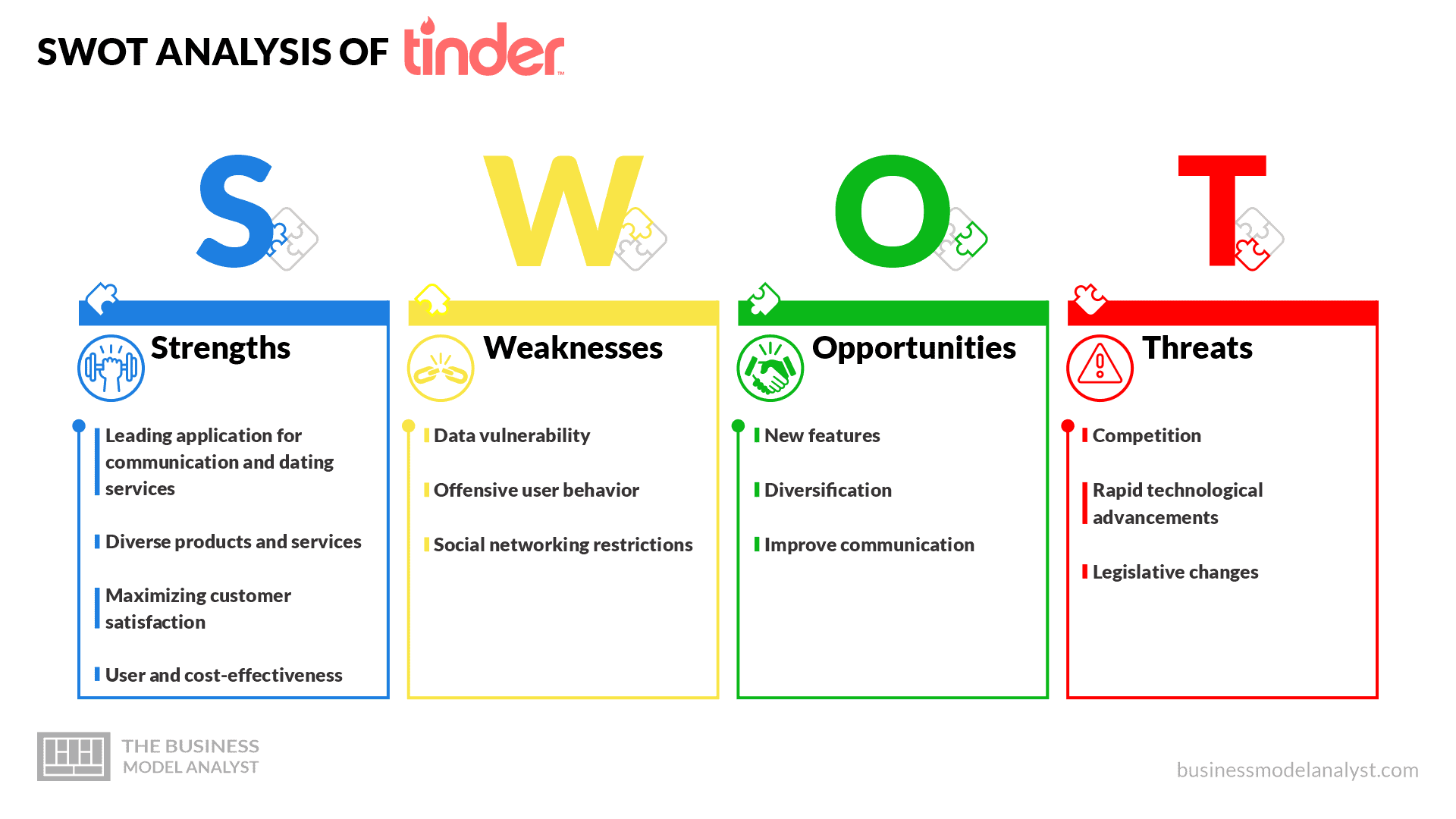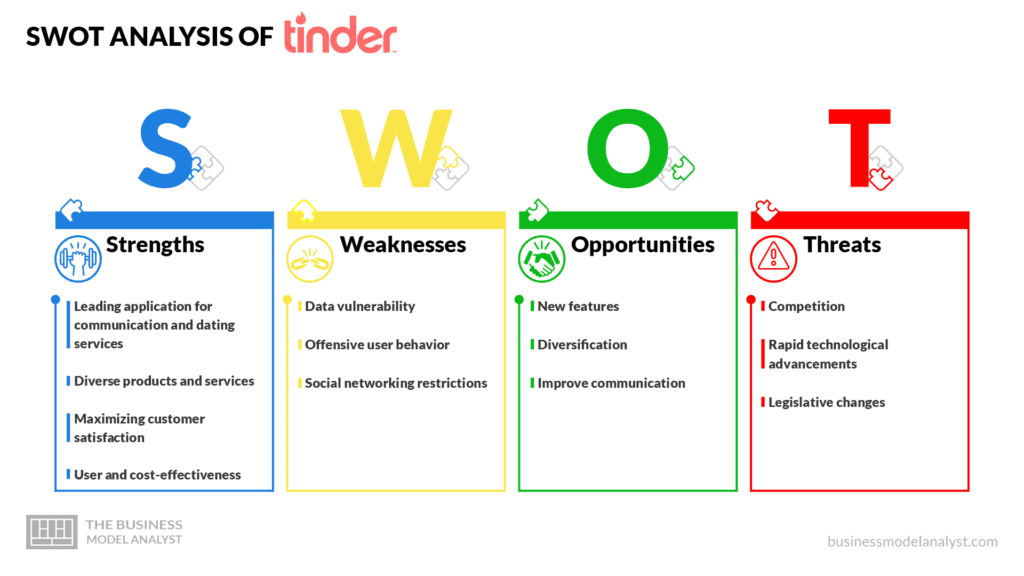 Tinder Strengths
Leading application for communication and dating services: The company has created a solid application to cater to the rising demand for dating services globally;
Diverse products and services: This approach has improved Tinder's brand value. Diversification plays a core role in the company's quest to reach a wider audience and identify new markets;
Maximizing customer satisfaction: Tinder tracks and collects data about social media users to create a personalized experience for users and improve the company's database;
User and cost-effectiveness: Tinder is a cheap-to-use dating application. Its user-friendliness is one of the platform's unique selling points. 
Tinder Weaknesses
Data vulnerability: While Tinder tries to maintain user anonymity, information leak is likely to occur;
Offensive user behavior: Limited information between users increases abusive behavior and predatory risks. Insulting user behavior can damage Tinder's reputation;
Social networking restrictions: People using social media platforms often restrict their data from third-party access, hindering Tinder's ability to find the right match for its users. 
Tinder Opportunities
New features: To maintain a lead in the dating industry, Tinder must develop new functionalities to improve user experience;
Diversification: Tinder should venture into other markets and services to improve its position in the industry;
Improve communication: Tinder can boost human interaction and communication, allowing them to enhance their lives. This can improve Tinder's reputation while promoting its brand equity. 
Tinder Threats
Competition: Rising competition in the match-making and online dating industry is Tinder's core threat. With numerous platforms available, people are now exploring other options, which can negatively impact Tinder's market position;
Rapid technological advancements: With technological advances come new alternatives and rivals, which can affect the popularity of Tinder;
Legislative changes: Tinder faces frequent legal amendments which can inhibit its operations. Such changes can hinder the tracking of user data, thwarting Tinder's structure, strategy, and functions. 
Conclusion
While Tinder is one of the most popular dating apps globally, there is room for improvement. With technological advancements encouraging new companies to venture into the market, Tinder should focus on developing new features to improve user experience. Doing so is critical for retaining existing users, reaching a wider audience, and attracting new ones.