The Steam business model is designed as a platform for video game distribution where users can view, purchase, play, and even discuss video games. The gaming industry is categorized into: PC, Console, and Mobile gaming. While Console and Mobile gaming are dominated by other big game corporations — such as PlayStation (Sony) and Xbox (Microsoft) —, PC gaming is dominated by Steam. Since its launch, Steam serves a variety of game categories, including sports, strategy, racing, etc., and has raked in billions of dollars in sales revenue. Steam has gone on to become the most popular PC gaming platform in the world.
A brief history of Steam
Steam, owned by Valve Corporation, was launched in September 2003. The platform was developed in 2002 as a solution to Valve's need for a platform to update their multiplayer games.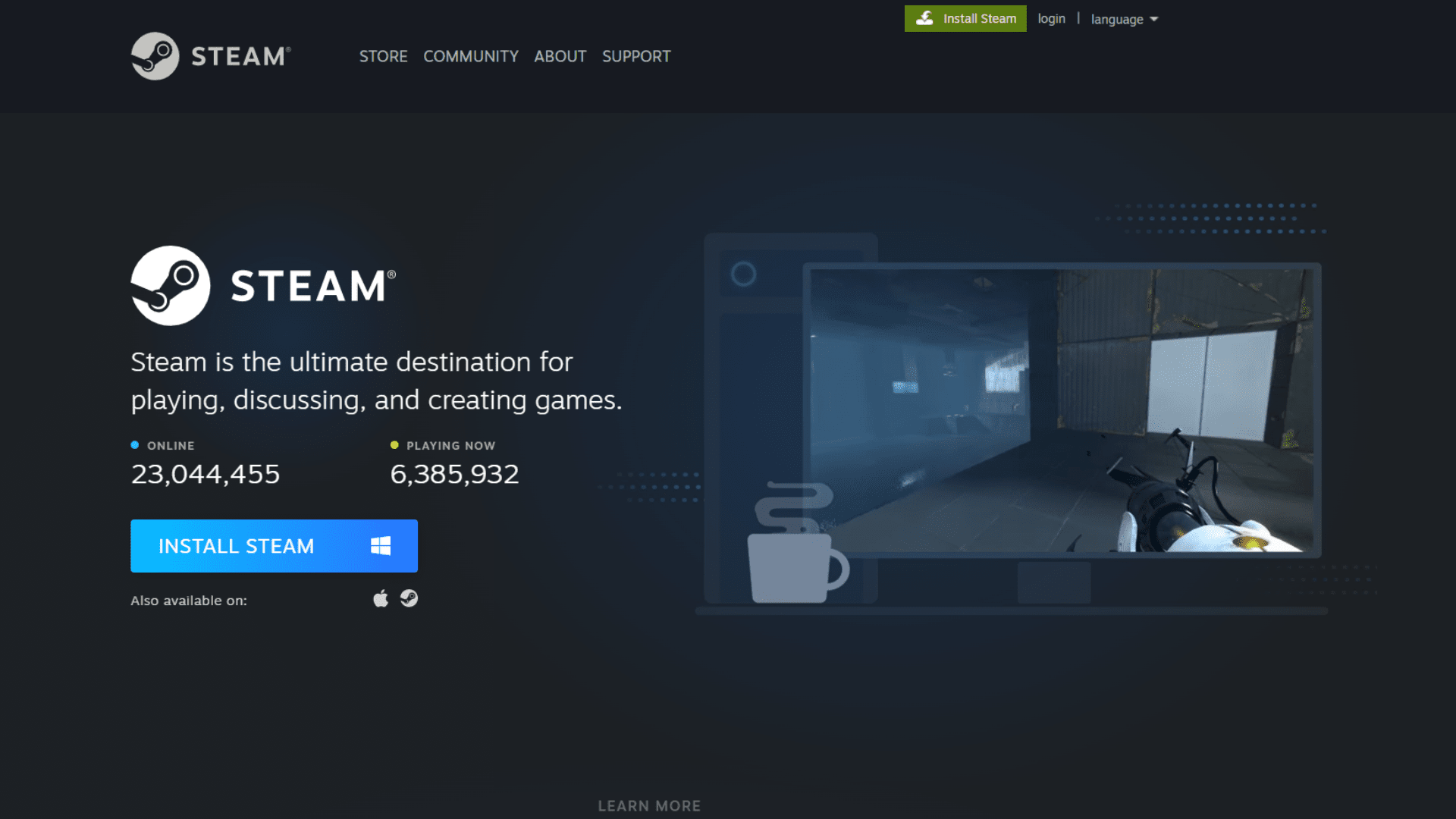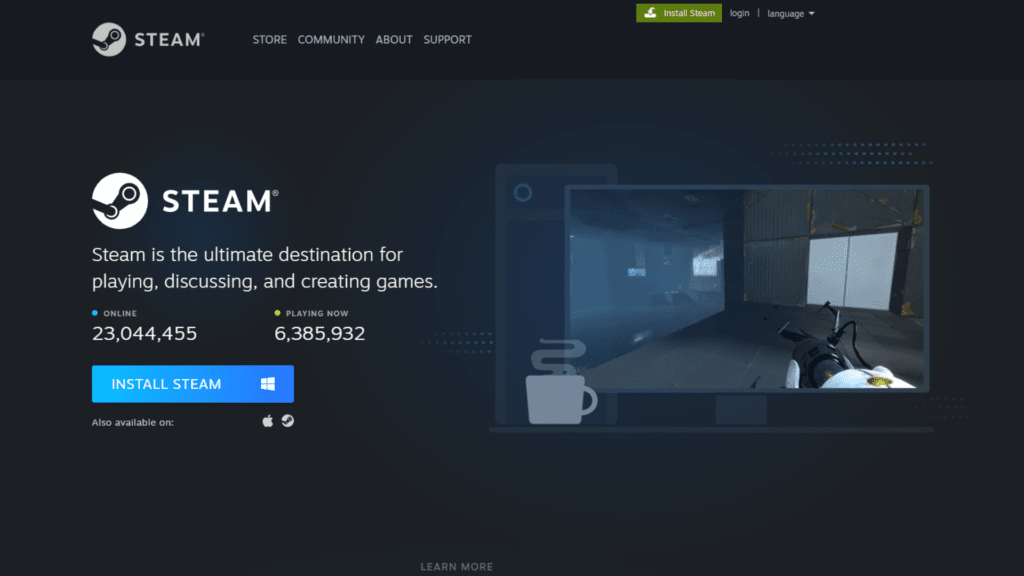 Valve was founded in 1996, by Gabe Newell and Mike Harrington. Gabe Newell dropped out of Harvard University in 1983 to work for Microsoft. He was a significant member of the Microsoft Development team and had stakes in the company. While in Microsoft, he met Mike Harrington and they both left Microsoft in 1996. Newell sold his stake for $500 million. The money was used to establish their game start-up, which they named Valve LLC. They started their operations in Kirkland, Washington, and started working on their first game: Half-Life.
The company released Half-Life in 1998, which became an iconic brand later. At that period, games were usually distributed and published through physical stores (in the form of CDs). This presented Valve with challenges in finding a publisher for its game. Eventually, a Washington-based publisher, Sierra On-Line, took a chance with them and started distributing Half-Life. Within a few months, it had sold over a million copies worldwide.
In 2000, Harrington departed the company, leaving Newell as the sole head of the company. At about this same time, Valve renegotiated its contract with Sierra and got the rights to digitally distribute its games. Migrating to a digital distribution format was important due to the many challenges it faced with the first version of Half-Life. There were challenges on piracy, breaking of multiplayer games due to patched versions, and cheating. In 2002, Valve released its beta version of Steam to the public, and it amassed over 300,000 users. The official version of Steam was eventually unveiled on September 12th, 2003.
Who Owns Steam
Steam is owned by Valve Corporation, which is headquartered in Bellevue, Washington, USA. Valve also owns the franchises Half-Life, Counter-Strike, Portal, Day of Defeat, Team Fortress, Left 4 Dead, and Dota.
Steam's Mission Statement
Steam turns any PC or Mac into a gaming powerhouse by providing instant access to a huge library of titles, and by automatically keeping a user's games completely up to date.
How Steam makes money
Steam currently has one billion registered accounts, with about 120 million monthly active players. With such a humongous number of users and monthly active players, there is no doubt that Steam would be reaping a fortune from their users. Let us take a look at some of the ways they make money from their business model.
Commission
Steam makes its most revenue from commission charged on every game sold on its platform. Steam charges a commission of 30% only from the first $10 million in sales. For all sales between $10 million and $50 million, the commission is 25%. For every sale after the initial $50 million, Steam charges a 20% cut.
Hardware Sales
Valve released its own gaming hardware to strengthen the position of Steam. It rivals other big players in the industry. The handheld device comes in three different versions that cost $399 (64 GB), $529 (256 GB), and $649 (512 GB), respectively.
Developer Fees
In order to help developers build and distribute their games on the Steam platform, Steam offers them a bundle of tools and services. These tools and services include: Feature broadcasts, early access to players, enabling developers to sell bundles and downloadable contents, announcements of events, updates, etc. A so-called "greenlight fee" is charged before users can access them.
Licensing Fees
A licensing fee is charged for the establishment of a Steam PC Café. A Steam PC Café offers visitors the same Steam experience available to them at home. Visitors to the Café can access their entire game libraries, chat with friends, and do lots more. Steam charges a one-time installation fee of $29.99 and a monthly subscription fee of $9.99 per license.
Steam's Business Model Canvas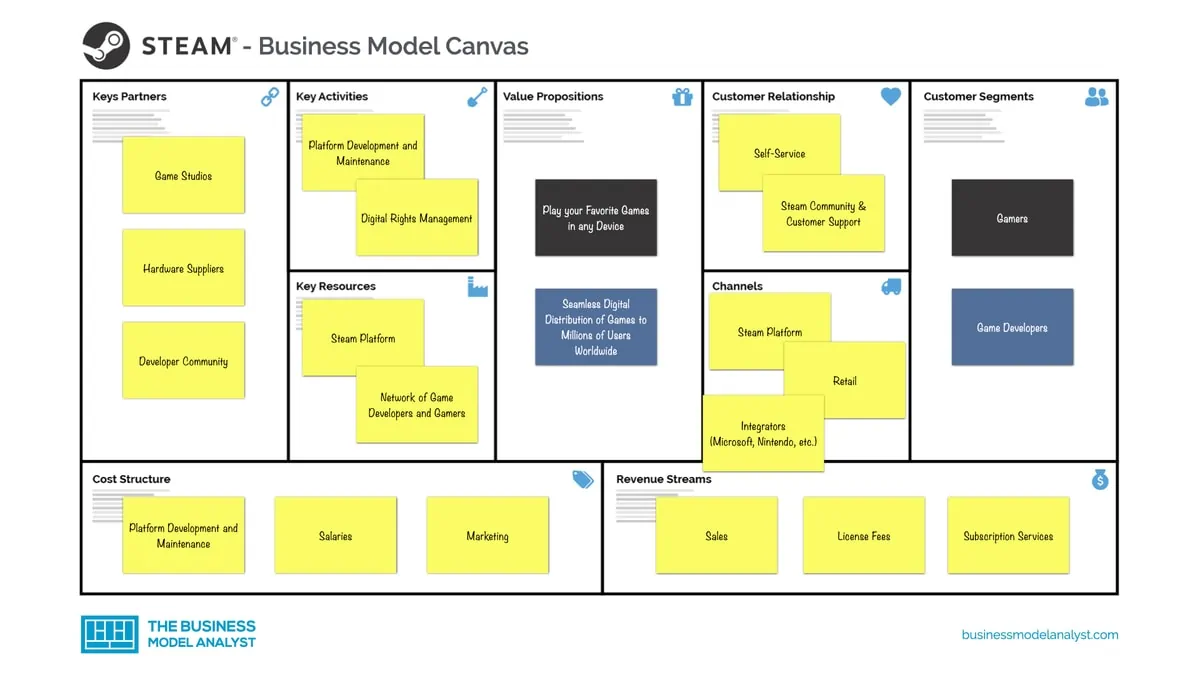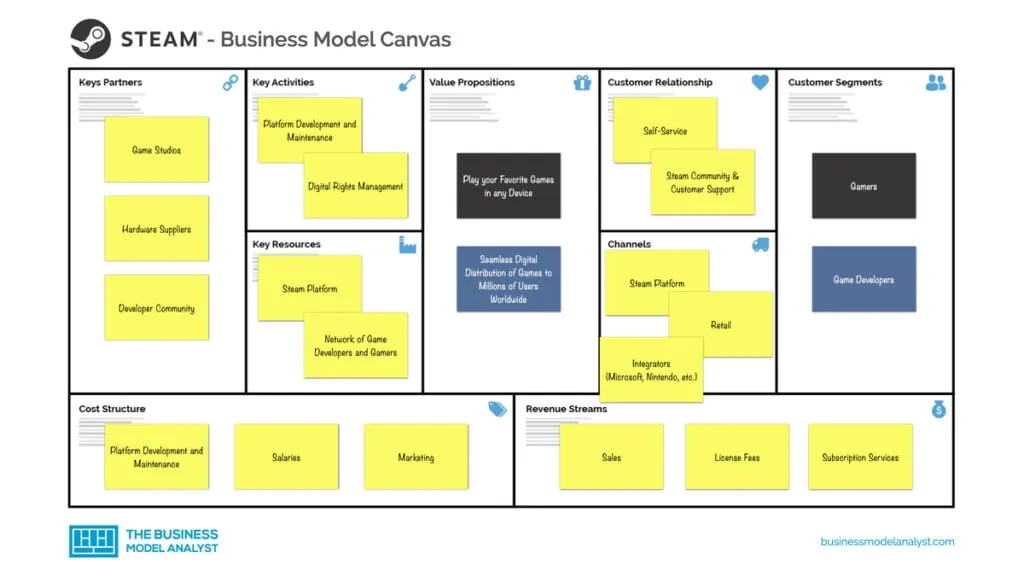 Let's take a look at the Steam Business Model Canvas below:
Steam's Customer Segments
The Steam customer segments consist of:
Gamers: Users who need an ultimate entertainment platform where they can play games with their friends in any computer or device;
Game Developers: Game developers who need a platform to distribute their games to users.
Steam's Value Propositions
The Steam value propositions consist of:
Gamers: Providing cloud-based to allow you play your favorite games in any device with additional services such as matchmaking and anti-cheat protection;
Game Developers: Providing a seamless digital distribution of games to millions of users worldwide.
Steam's Channels
The Steam channels include:
Steam Platform
Integrations (Microsoft, Nintendo, etc.)
Retail
Steam's Customer Relationships
The Steam customer relationships consist of:
Steam Community
Customer Service
Social Media
User Experience
Support
Steam's Revenue Streams
The Steam revenue streams include:
Sales
License Fees
Subscription Services
Steam's Key Resources
The Steam key resources include:
Platform
Developers
Employee Knowledge
Steam Cloud
Steam's Key Activities
The Steam key activities include:
Platform Maintenance
Software Development
Digital Right Management
Payment Processing
Customer Service
Steam's Key Partners
The Steam key partners include:
Gamers
Game Developers and Studios
hardware Suppliers
Steam's Cost Structure
The Steam cost structure includes:
Salaries
Platform Maintenance
Management and Administration
Steam's Competitors
Epic Games: Epic Games, founded in 1991, is a video game and software development company. It released its first video game, ZZT, in 1991, after which several others have been released. In 2017, it released Fortnite Battle Royale, which led to an increase in Epic Game's market share in the PC gaming industry. It is considered Steam's top competitor;
Origin: Origin is a digital distribution, digital rights and social networking platform developed by Electronic Arts for buying and playing of video games. In order to match Steam's services, Electronics Art added cloud game saves, auto-patching, achievements, and cross-platform releases into Origin. The most commonly played games on this platform are Assassin's Creed Series, Theme Hospital, The Sims, Battlefield, The Batman Series, FIFA, The Witcher 3, and SimCity 2000;
Itch.io: Itch.io is a platform for users to sell, host and download indie video games. It was launched by Leaf Corcoran in 2013. The platform also allows users to host game jams, where participants can create games within a time limit of three days. In 2015, the company released a desktop app that lets users install games and other contents, and play any browser-based games through the app even while offline;
GOG.com: GOG, formerly known by its old name, Good Old Games, offers video games through its digital platform GOG Galaxy. The platform allows users to buy and play games, and share it with their friends on GOG.com. GOG runs a strictly no Digital Rights Management (DRM) policy, which means that users are free to do anything with the purchase made on the platform. Some popular no-DRM games on the platform include The Witcher 3 and Original Sin 2.
Steam's SWOT Analysis
A detailed SWOT analysis of Steam is below: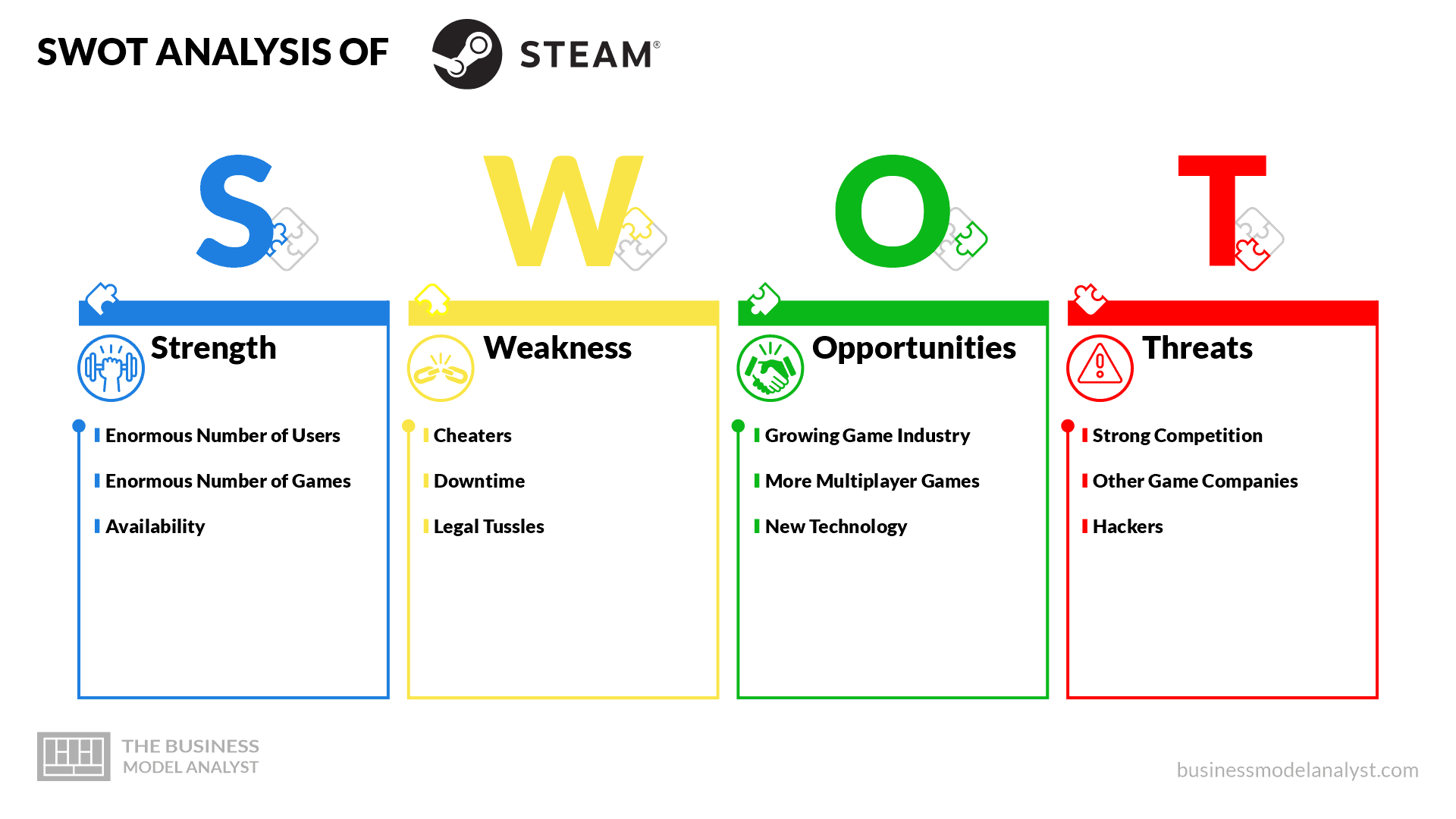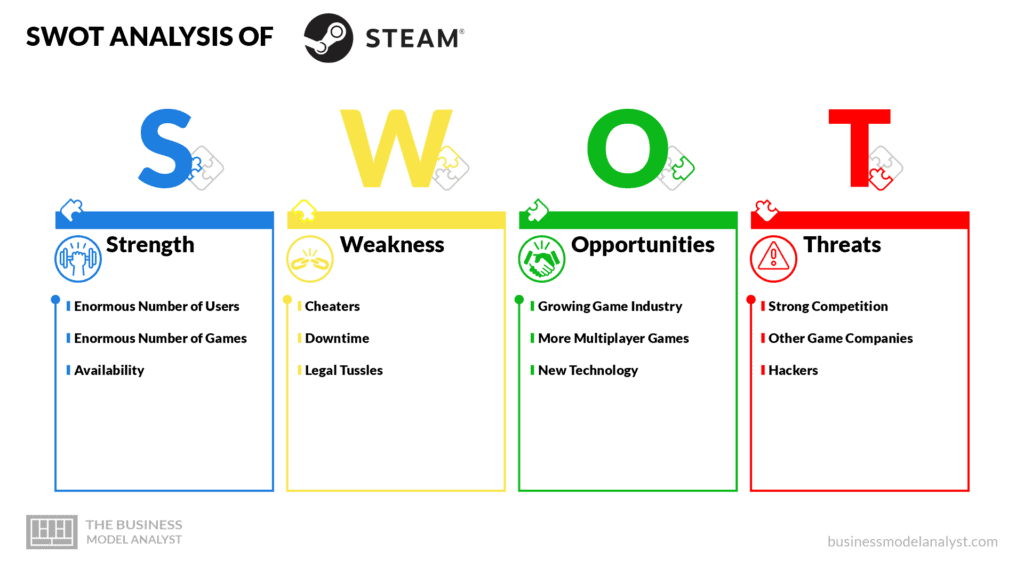 Steam's Strengths
Enormous Number of Users: Steam had approximately 120 million monthly active players as of 2020;
Enormous Number of Games: Steam is currently home to over 50,000 games;
Availability: Games on Steam can be played anywhere with internet connection.
Steam's Weaknesses:
Cheaters: Cheaters are often a nuisance on Steam. They negatively affect the gaming experience for other players;
Downtime: Downtime is experienced during maintenance schedules, while sometimes it could be as a result of hardware failure, a problem with a point-of-presence provider, or a problem with the network;
Legal Tussles: Steam sometimes gets into legal tussles with partners, which could slow down the release of some games and content.
Steam's Opportunities
Growing Game Industry: The video game industry grew by 23% during the Covid-19 pandemic from the prior year, and it is projected that revenue will reach $219 billion by 2024;
More Multiplayer Games: Steam adds an average of 6,000 to 8,000 new games to its list every year since 2017;
New Technology: The introduction of new technologies is making the gaming experience on Steam better and more seamless.
Steam's Threats
Strong Competition: Steam faces increasing competition from other big gaming platforms, such as Epic Games, EA, and GOG.com. They are encroaching on Steam's market share;
Other Game Companies: Other game companies, such as PlayStation and Xbox, rival its hardware businesses;
Hackers: Hackers are always on the prowl to exploit Steam's flaws and steal users accounts and data.
Conclusion
Steam provided an innovative solution to a pressing problem at its time of launch. It helped solve the problems of game piracy, connection between gamers and tracking of sales. Though Steam continues to face increasing competition from existing and new gaming platforms, its enormous user base and continuous innovation still keep it ahead of others in the industry. Some industry experts believe that the PC game niche is becoming matured, hence there have been calls for Steam to grow beyond its core demographic of male gamers who download full PC games.